How To Create The Cutest Bratz Doll Halloween Costume
Want to create a picture-perfect Bratz Doll Halloween costume? Here's everything you'll need to be the cutest Bratz Doll at the Halloween party.
This post may contain affiliate links, which means I'll receive a commission if you purchase through my link, at no extra cost to you. Learn more: Affiliate Disclaimer.
It's super trendy right now to go as one of the Bratz Dolls for Halloween. The clothes that these dolls wear fits in with the Y2K aesthetic, which is insanely popular right now.
College girls especially are loving the Bratz aesthetic for a Halloween costume.
So if you want to create the perfect Bratz Doll Halloween costume, keep on reading! We'll share the essential pieces you need for this costume, give you some inspiration, and help you find where to shop for your costume essentials.
Bratz Doll Halloween Costume Essentials
Bratz costumes aren't hard to put together, but you will need a few key essentials. Here are the most important pieces of clothing that you'll need to create a DIY Bratz Doll costume:
Bratz Doll Tops
The easiest way to ensure that everyone knows what you're dressed up as is to wear a top that says "Bratz" on it. The logo not only signifies what your costume is, but it's also super cute and aesthetic.
Here are some cute Bratz-inspired tops you can wear with your costume:
If you can't find a top you like, you can always DIY it. Two options for creating your own Bratz shirt are fabric paint or iron-ons.
If you feel like you're a relatively good artist, you can use fabric paint to paint on your own logo to your top. This option is perfect if you want something more unique.
For those of us who aren't so crafty, iron-ons are super easy ways to customize clothing. Just get print out the Bratz logo onto a sheet of iron-on transfer paper.
Then follow the instructions from your transfer paper to iron it on to the top of your choice.
Bratz Doll Costume Bottoms
Bratz Dolls are usually wearing either super short miniskirts or flared pants. They typically dress in fun prints and bold colors.
Here are some perfect bottoms that you can wear for your Bratz Doll costume:
Bratz Doll Halloween Costume Accessories
Bratz Dolls are typically super glammed up wherever they go. Some fun accessories for your Bratz costume would be a cute purse, pink heart sunglasses, fuzzy ponytail holders, or a bedazzled belt.
Here are some perfect accessories for your Bratz Doll Halloween costume:
Bratz Doll Shoes
The Bratz characters tend to wear super chunky boots with most of their outfits. Here are some super cute chunky shoes you can wear for your Bratz Doll Halloween costume:
Bratz Doll Halloween Costume Inspiration
Need some inspo from real-life Bratz Doll Halloween costumes? Here are some of the cutest Bratz costumes from around the web that you can use as inspiration for your own costume:
1. Plaid Skirts And Silver Necklaces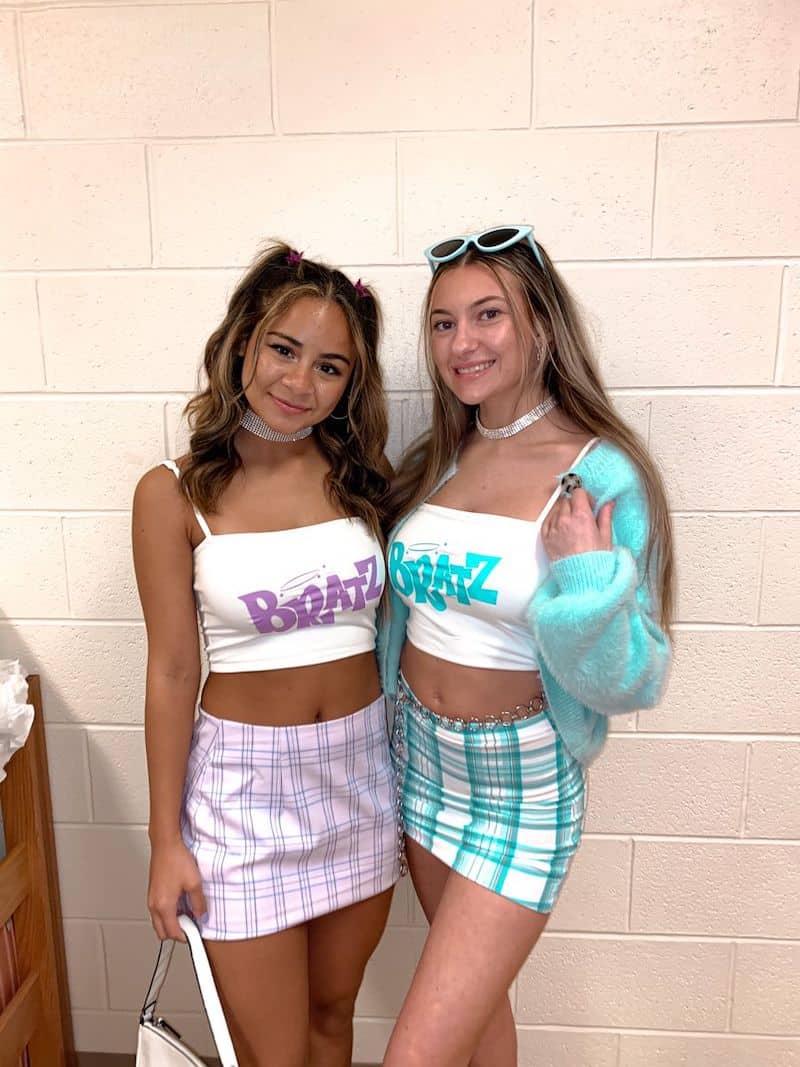 How adorable is this Bratz Halloween costume for best friends?
A great way to turn this into a group costume is to assign each friend a different color. For example, one friend wears all pink, another purple, and the third wears teal.
You're all still Bratz Dolls but you've put your own spin on the costume! So cute and fun.
[RELATED: 23 Creative Trio Halloween Costumes For College Girls]
Recreate this Bratz Halloween costume for best friends:
2. Pink And Purple Bratz Dolls
This is a super fun and girly take on the Bratz Doll costume idea. Wear a pink or purple skirt with a matching logo top, put some body glitter on, and accessorize with a heart-shaped choker necklace.
Such a fun Y2k-inspired take on the Bratz Doll costume trend! Recreate this look:
3. Y2k Vibes Bratz Costume
Patterned skirts, knee high socks, and fuzzy jackets give these Bratz costumes a super cute Y2k vibe. This is also a great example of how you can take this costume in different directions!
These girls dressed very differently from each other but still look so cute in their costumes!
Recreate this fun Bratz doll costume idea:
4. Girly And Grunge Bratz Dolls Costumes
Here's another example of two girls who dressed very differently but still achieved such a cute Bratz doll look!
Some of the Bratz Dolls tend to dress more girly, while others have a grunge look to them. If you're dressing up with your bestie, you can each decide which direction you want to go with it.
Recreate the grunge Bratz doll costume:
Recreate the girly Bratz doll costume idea:
Where To Shop For A Bratz Doll Halloween Costume
Not sure where to start looking for your Bratz costume essentials? There are a few stores that carry a ton of super cute Y2k inspired clothing that would be perfect for a Bratz Doll costume.
Amazon has an incredible selection of Y2k and Bratz doll inspired pieces. Just type 'Bratz costume' in the search bar and you'll get thousands of cute clothes, accessories, and shoes that match the Bratz aesthetic.
Another great spot to look is a store called Dolls Kill. They have a current collab running with the Bratz official brand, so they have a ton of licensed clothing available. You'll find clothes, home items, and accessories with the Bratz branding on it.
Urban Outfitters is another one of my favorite places to shop for Y2k-inspired pieces. They have a whole section on their website dedicated to 2000s Nostalgia, so you know you'll find some good stuff!
This post was all about how to put together the perfect Bratz Doll halloween costume.
You may also like: