How To Get Cheap Braces For College Students
Have you been looking for cheap braces for college students?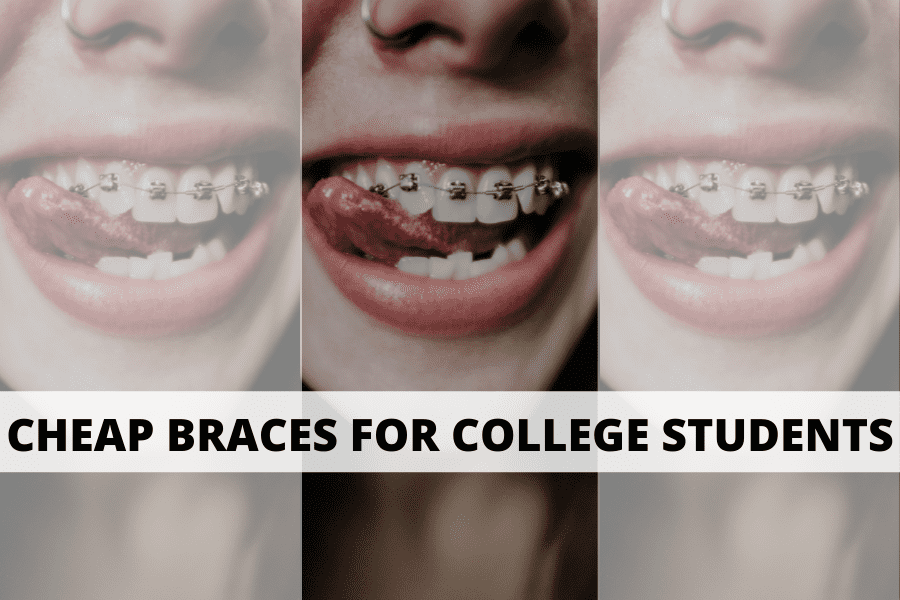 This post may contain affiliate links, which means I'll receive a commission if you purchase through my link, at no extra cost to you. Learn more: Affiliate Disclaimer.
Braces can be EXPENSIVE! On average, traditional braces cost anywhere from $2,500 to $10,000. That's a lot of money, especially when you're a broke college student. Luckily, there are a few ways that college students can lower the cost of dental care.
This post is all about how to get cheap braces as a college student.
Do You Need Braces?
Crooked or crowded teeth may seem like just a cosmetic issue, but they can actually have a negative impact on your health.
If your teeth are seriously misaligned, you may not be able to clean between your teeth as effectively. This allows plaque and bacteria to build up, which can cause cavities, bad breath, and a risk of tooth decay if it goes unaddressed.
Not only does a crooked smile negatively impact physical health, but it can also take a toll on mental health. Unfortunately we live in an image-obsessed society. People often associate straight teeth with wealth and cleanliness. This can lead people with crooked teeth to be very self-conscious about their appearance.
So do you actually *need* braces? Maybe! If your crooked smile is harmful to your mental or physical health, it's probably time to talk to an orthodontist. The only problem is, even if you need braces they can be crazy expensive. And if you're a college student it can be really hard to afford the high price tag.
How To Get Cheap Braces For College Students
If you're looking for ways to bring down the cost of braces for college students, there are a few different programs you can look into.
Look For A Nonprofit
There are several nonprofits out there that help provide free or lower cost dental work for children and adults. Your best bet will be to look for nonprofits in your area that offer help paying for braces. Keep in mind that you will most likely have to come from a low-income household to apply for assistance.
If you are having trouble finding local nonprofits, there are a few nationwide nonprofits in the United States that you can check out.
Smiles Change Lives is a nonprofit organization that matches children from low-income families to orthodontists who are willing to do dental work for a reduced price. They work specifically with children, so if you are over 18 you will need to find another organization.
Another nonprofit that offers free or reduced cost braces is Smile for a Lifetime. They are an international program that provides orthodontic care to disadvantaged children and young adults who normally would not be able to afford treatment. The only cost you will have to pay is the $500 application fee if you qualify.
Enroll In A Dental Savings Plan
Dental Savings Plans are very similar to a dental insurance plan, however you don't have a deductible or yearly maximum. Instead, you pay a monthly membership fee in exchange for significant discounts on treatment plans.
One dental savings plan, Careington, claims to save you 10% to 60% off of dental treatments. Their plans start at $10 per month so it's definitely worth looking into.
DentalSave is another dental discount plan that aims to bring the subscription business model to dentistry. By buying a dental saving plan membership with DentalSave, patients pay reduced fees at participating locations. The membership gets you 25% to 50% off of dental procedures.
Check Out A Nearby College Of Dentistry
If there's a dental school close to your college, it's definitely worth checking if they have any openings for braces.
This is actually a good life hack if you need anything done professionally but you don't want to pay full price! Students always need to get practice before they become certified in their field. You will often find schools offering discounted services so that their students can practice on real people.
I used to always get my hair done by students at the Aveda institute near my college. I got super discounted hair services, and all of the students had an instructor nearby to oversee them so I didn't feel too nervous about having a beginner working on my hair.
Dental schools are the same way! They offer discounted rates on their procedures so that their dentistry and orthodontics students can get practice. Your braces won't be completely free, but you'll likely get a heavily discounted rate.
Ask Your Orthodontist
When all else fails, it doesn't hurt to ask your orthodontist if they're willing to work out a discount or flexible monthly payments. You may be able to get dental coverage at a lower total cost if you pay upfront or put down a higher deposit.
Your orthodontist may also have recommendations on nonprofit or government assistance programs in your area that can help cover the cost of orthodontic braces.
Can You Get Free Braces As A College Student?
Unfortunately, it's pretty much impossible to get completely free braces as a college student. Even nonprofits that cover the cost of braces will typically charge an application fee of some sort.
However, if you're looking for lower costs, there are definitely options out there. As mentioned above, you can look for discount plans, nonprofit organizations, or a dental school clinic in your area. Another option is to look into alternatives to braces.
Affordable Braces Alternatives
Many college students are skipping the adult braces and instead getting clear aligners in order to achieve straighter teeth. Clear aligners are plastic trays that fit around your teeth and gently move them over time.
Your orthodontist likely offers Invisalign as an option for clear aligners, but Invisalign can be as expensive as traditional braces (sometimes even more!). Plus, you have to go into your orthodontist's office for the initial consultation and for regular checkups.
The most affordable braces alternatives are at-home aligners. They are cheaper than in-office clear aligners because you can do everything at home yourself. They will send you a kit for taking impressions of your teeth.
After you send the impressions back, they will analyze them to come up with a custom treatment plan. Then they send you your aligner sets and set up virtual checkups to track your progress.
Here are some of the most popular brands of at home aligners:
1. Byte
The average treatment time is 3 to 4 months.
Total treatment cost is $1,895 or $82 per month with their treatment plan.
Byte accepts HSA, FSA, CareCredit, and Splitit.
2. Smile Direct Club
Treatment time of 4 to 6 months.
The full treatment plan costs $1950 or $89 per month with the payment plan.
Your insurance may cover some of the cost of aligners.
3. NewSmile
Lowest cost – treatment plan starts at only $1295 or $66 per month on the payment plan.
They provide daytime or nighttime treatment options.
NewSmile accepts HSA/FSA.
This post was all about finding cheap braces for college students.
You may also like: