This post is all about how to throw successful college dorm parties.
This post may contain affiliate links, which means I'll receive a commission if you purchase through my link, at no extra cost to you. Learn more: Affiliate Disclaimer.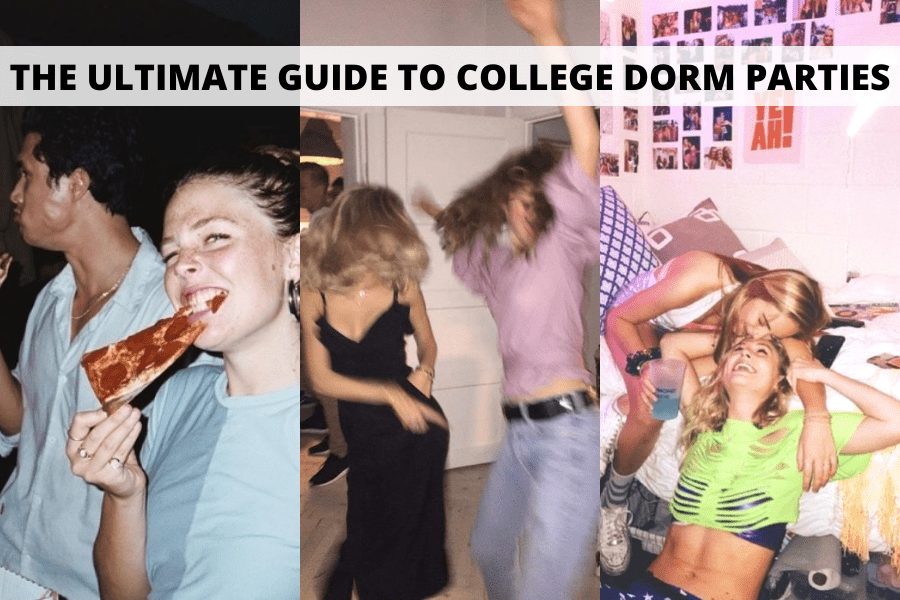 If there's one thing that college students know how to do, it's party! Obviously college is about WAY more than just partying. But it's totally possible to be a good student and still go out to parties and socialize with fellow students.
If you're moving into a dorm soon, you may be wondering what college dorm parties are like and how to throw a successful one.
In this guide, I walk you through how to throw a college dorm party, what to do after, and some essential tips to know before you throw (or attend) a party in a dorm room.
How To Throw A College Dorm Party
Invite People You Know
If you want to have a successful party that doesn't get too out of control, you'll definitely want to stick to inviting people that you know. People are much more likely to respect your space if they know who you are.
Inevitably, people will bring their friends or significant others so there may be a few people there that you don't know personally. But things will go a lot smoother if you know at least the majority of your guests.
Not sure who to invite? Reach out to people on your dorm floor, friends you've made in class, your roommates friends, etc.
Get To Know Your RA Ahead Of Time
One important step to make sure your party goes off without a hitch is to get on your RA's good side. If you're friends with your dorm's Resident Assistant, it's much less likely that they'll shut your party down.
If you have a really cool RA, you could even let them know ahead of time that you'll be having people over and there may be loud music. They'll likely just ask you to keep the volume at a reasonable level.
In my experience in college, most RA's are very chill. After all, they are fellow college students who like to have fun too. But I have heard of people who had really strict RA's so be aware that you may get a knock on your door if the volume gets too loud.
Create A Good Party Playlist
Every college dorm party needs a good playlist! Make sure you put together a bomb playlist ahead of time so that you're not standing by your phone changing the music all night.
If you don't have time to put your own playlist together, there are tons of good ones available on Spotify already. Find a playlist that fits the vibe of your party and turn the volume up!
Games For College Dorm Parties
Every college party needs some good games and activities to keep people occupied. Here are some of the best games to play at college dorm parties:
Beer Pong – a CLASSIC party game that every college freshman learns how to play. All you really need for this game is a long table, ping pong balls, and some red solo cups. Make sure to fill the cups with water only so you're not splashing any other liquids around and ruining the carpets. Not sure how to play beer pong? Read the full rules here.
Never Have I Ever – this is such a fun game to play at parties. It's such a fun game to break the ice and get to know people a little bit better without being too serious. This can just be played without any equipment but if you want a more structured version, you can buy the official game on Amazon.
Mario Kart / Super Smash Bros – if someone has a game console that they can bring over, it can be so much fun to play some video games at college parties. Obviously not everyone will be able to play at once, but you can take turns and watch other people play when it's not your round. Just make sure you have enough controllers for at least 4 people to play at once!
Cards Against Humanity – This is the perfect game to play at college parties if you have a smaller group (less than 15 people I'd say). If you've never played before, it's basically like a super naughty version of Apples to Apples. You can buy it on Amazon here.
College Dorm Party Decor
College parties are generally pretty casual, so you don't need to go too overboard with decor. Some of my favorite decorations for dorm parties are LED light strips, funny tapestries, neon lights, and posters. I've linked a few fun decorations below!
We also have a full post about the best college dorm party decorations.
College Dorm Parties Food And Drink
If you're inviting people over for a party, they're probably going to expect that you'll provide some food and drinks. Don't worry, you don't need to go too overboard! College kids will usually be happy with a bag of chips and some soda or juice to mix with.
If you do want to prepare something a little more substantial, here are some super easy ideas for food you can serve at your college dorm party:
Pizzas (or pizza rolls!)
Chips, Salsa, & Guacamole
Candy (M&M's, Hershey's kisses, and skittles are usually crowd pleasers)
Pub mix or any kind of trail mix
Different types of popcorn
Buffalo wings
As far as drinks go, it's a good idea to have water and some kind of soft drink to serve. Most dorms are pretty strict about alcohol and it's a serious offense to provide alcohol to minors. If your guests are 21+, make sure to tell them to bring their own alcoholic drinks.
Themes For College Parties
You don't need a theme to have a successful college party, but it can be so much fun! If you do decide to have a theme, make sure you tell people a few days ahead of time so they can get their costumes ready.
Here are some super fun theme ideas for college dorm parties:
Cowboy/girl Theme
Have everyone wear cowboy hats and western style clothes. This is such a popular costume for halloween lately so chances are a lot of people will already have a cowboy hat laying around!
Recreate this theme idea:
Disco Theme Party
I'm obsessed with the disco aesthetic as a party theme. Everyone can wear metallic clothing and you could have a few disco decorations hung around your room. Obviously you have to blast the disco music if you use this party theme!
Recreate this party theme idea:
Beach Party
This theme is easy because pretty much everyone has a swimsuit or some beach clothes they can wear! Serve up some tropical punch, play island music, and pretend you're on a beach instead of in a dorm room. If you want to go a little overboard, fill your room with beach balls!
Recreate this dorm party theme:
Anything But Cups Party
I am absolutely obsessed with this theme party idea! Basically everyone comes with something to drink out of that isn't a cup. The more outrageous, the better! Some ideas I've seen are a fish bowl, a shoe, garbage can, a sriracha bottle, watering can, etc. Watch this video if you still don't understand how fun this party idea is!
After The Party
Now that the party is over and everyone has gone home (or crashed on the couch), here's what you need to do:
Clean up
Spills and other messes are pretty much inevitable with a party. Clean up as soon as possible after your dorm party so that stains don't settle in.
If your roommate wasn't around for the party, make sure all of their belongings are put back in their place and cleaned off.
Chill Out
Don't be that person who throws a party every single night in the dorm. Your neighbors will get seriously annoyed with you and you may even get in trouble with your RA.
Wait at least a few weeks before throwing another party.
Are Parties Allowed In Dorm Rooms?
If you're a freshman and you're wondering if dorms even allow parties, the answer is complicated. Every school has different policies for their dorm rooms so be sure to check the student manual before throwing a party.
In my experience at college, parties are allowed as long as they don't get too loud or disturb your neighbors too much. You're allowed to have people over to your dorm room and listen to music – just be respectful!
As far as if alcohol is allowed in dorms, again the answer is complicated. I've heard of dorm buildings that have a zero alcohol tolerance policy. My dorm building allowed alcohol if you were 21+. However, most students who live in dorms are freshmen and sophomores and are usually under 21.
However, that doesn't mean that alcohol doesn't find its way into the dorms. In fact, I saw people drinking alcohol pretty regularly in the dorm rooms in college. I obviously never would recommend that you break the law, but if you are planning on having alcohol just be sure that your RA doesn't see it.
Things To Know About College Dorm Parties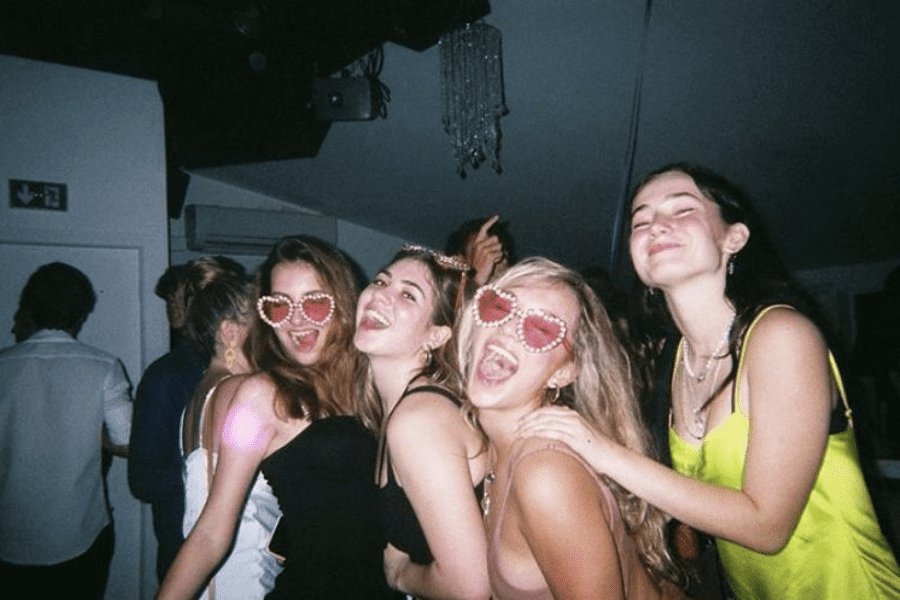 Don't Party Too Hard
My one piece of advice for college parties is to always know your limits and don't party too hard. This is for safety reasons and because parties are no fun when someone has had way too much to drink! Also, no one likes waking up the next morning and realizing that they lost control the night before.
Parties in college can be pretty wild and chaotic so you never want to get to the point where you feel like you're out of control. Also, your friends don't want to have to look after you all night. There's nothing more annoying than when you're trying to have fun and your friend is being an obnoxious drunk.
Hide Your Valuables
If you're hosting a party and you think there may be people there that you don't know, make sure you hide all of your valuables!
Dorm theft is actually much more common than you'd think. When you're partying, you're probably not keeping a super close eye on your stuff. Someone could sneak out with your valuables before you even realize it.
Let Your Neighbors Know
One of the most important steps when you're having a dorm party is to let your neighbors know ahead of time. If you tell them exactly what time you'll be having people over and when it will end, they'll be much less likely to call the RA on you.
If you're friends with your neighbors you can even invite them to the party! You'll get to know them even better and you'll know that they definitely aren't complaining about the noise to your RA.
Look After Your Friends
While college parties can be super fun, bad things do happen. Make sure you keep an eye on your friends and have friends there that can keep an eye on you.
If your friend is talking to guy and looks uncomfortable, step in! If she's heading to the bathroom make sure you hold her drink for her or come with her. Always make sure everyone you came with has a safe way home or a couch to crash on at the party.
Keep An Eye On Your Drink
This is an important tip for anywhere you go! Whether you have an alcoholic drink or just a soda, you need to keep an eye on it at all times.
Unfortunately, spiking is an extremely common occurrence on college campuses. It can also happen in the blink of an eye if you're not watching your drink. Make sure you make all of your drinks yourself or watch closely if someone else is making it for you. Bring your drinks with you to the bathroom or have a trusted friend hold them.
This post was all about surviving college dorm parties.
Hopefully you've learned some important tips for hosting or attending a college dorm party when you're a freshman.
Remember, college parties are a huge part of the college experience. Obviously, you're in school to educate yourself. But socialization is also such an important part of being a college student. You CAN have fun and be a good student too if you know how to balance the two.
You may also like: