Wondering how long a college soccer game lasts? The answer actually varies a bit! Here's everything you need to know about the length of a college soccer game.
This post may contain affiliate links, which means I'll receive a commission if you purchase through my link, at no extra cost to you. Learn more: Affiliate Disclaimer.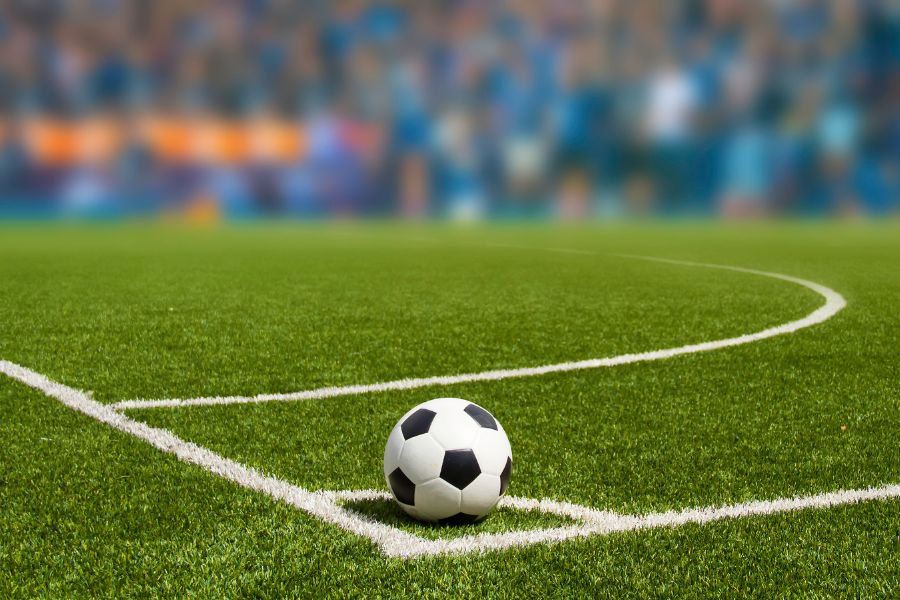 Did you know that soccer did not have an official time clock until 1866, when London and Sheffield's teams agreed on a 90-minute game time to settle a dispute?
However, the timing was not made official until 1897. Since then, soccer games have always been 90 minutes. But does this timing apply to soccer games at all levels?
So how long does a college soccer game last?
Like a professional soccer game, a regular-season college soccer game lasts 90 minutes. The 90 minutes are divided into two 45-minute halves with a 15-minute halftime break.
Sometimes, a college soccer game can last longer than 90 minutes because of overtime.
Unlike other sports where the clock counts down, in soccer, the clock counts up. Therefore, even though players get 90 minutes of game time, the clock can run for hours.
Thankfully, the National Collegiate Athletic Association (NCAA) has set some rules to ensure time management during the game.
NCAA Timing Rules for College Soccer Games
NCAA is the organization that regulates student games, and their rules, in this case, differ from FIFA soccer laws.
Here are the length rules that guide college soccer games:
A game will last 90 minutes, divided into two halves of 45 minutes.
A game will have a 15-minute halftime between the first and second half. The halftime duration can be shortened or extended in a postseason game by mutual agreement between coaches and officials.
Live broadcast games can have a two-minute timeout after 23 minutes in each half.
A postseason game is allowed 20 minutes of overtime if it ends in a tie after 90 minutes. There is a 5-minute interval before the overtime starts.
Overtime is divided into two halves of 10 minutes with a 2-minute interval between them.
A regular season can end in a tie after 90 minutes.
Does College Soccer Have Stoppage Time?
All soccer games use a running clock, so stoppage time is standard. Stoppage time is the extra time added in a match to compensate for time lost during the game.
Stoppage time can be added after every half (45 minutes) or during the extra time after a 90-minute game.
Have you ever wondered why sometimes the referee blows the whistle after 45 minutes of the first or second half?
It is because of stoppage time.
So, how is stoppage time calculated?
It depends on how long the game was delayed during play.
Some reasons a game can be delayed include:
Injuries
Players celebrating a goal
Substituting players
Getting a ball back from outer bounds
Players preparing for a free kick
A Player gets a red or yellow card etc.
When the above events happen during the game, the referee will track the time and add the equivalent after each half.
The length of stoppage time differs per game, and it is difficult to plan for it because you never know how much time will be lost during a game.
The longest stoppage time in a soccer game was 42 minutes during the Gaza Strip Premiere League in 2019. However, it is estimated to last between one and 10 minutes.
Therefore, using the example of 42 minutes, if the first half has ended, the referee will add 42 minutes of stoppage time after 45 meaning the first half will end after 87 minutes.
Although a typical college soccer game is supposed to last 90 minutes, stoppage time can make the game last longer.
Another factor that affects the length of a college soccer game is overtime.
How Long is Overtime in College Soccer?
Not all college soccer games have overtime. For example, when a regular season college soccer game ends in a tie, it will not continue to overtime.
However, NCAA postseason games and conference tournaments will go into overtime if the game ends in a tie.
The length of overtime in postseason games is 20 minutes, but it is divided into two 10-minute periods with a 2-minute break after the first half.
If a game still ends in a tie after overtime, there will be a penalty kick to break the tie and end the end.
What is the Sudden Victory Rule?
The sudden victory rule, also known as the golden goal rule in college soccer, states that the first team to score a goal during overtime wins the game.
This means that if a team scores a goal within the first 10 minutes of overtime, the game ends.
In this case, going into the second overtime period is unnecessary because there is already a winner. Remember, a postseason game goes into overtime because it ended in a tie.
The sudden victory rule can significantly reduce the length of overtime and the overall duration of a soccer game. For example, if a team scores within the first minute of overtime, the game ends in the 91st minute.
How Long Does it Take to Watch a College Soccer Game?
On average, it will take you about two hours to watch a typical college soccer game.
However, the length might be shorter for college games because they have a shorter overtime length and the sudden victory rule. Overtime in college soccer games lasts 10 minutes per session.
If the sudden victory rule is applied, it will take less time as the game ends immediately after a winner is determined.
Therefore, watching a college soccer game might take less than two hours.
Remember, other factors like stoppage time, half time, and the two-minute timeout periods after 23 minutes in each half allotted to broadcasted games might affect how long you sit through a game.
How Long is a Women's College Soccer Game?
The timing rules of soccer apply to both men's and women's college soccer games. This means that a women's college soccer game lasts 90 minutes, with 45 minutes for each half.
Women's college soccer also has a 15-minute halftime period after the first half, stoppage time, and two 10- minute overtime periods for tied postseason games.
This post was all about answering the question, "how long does a college soccer game last?".
You may also like: