MyBama Login: How To Access Your University of Alabama Portal
Having trouble with your MyBama login? Here's a complete guide to getting started with this online portal for the University of Alabama.
This post may contain affiliate links, which means I'll receive a commission if you purchase through my link, at no extra cost to you. Learn more: Affiliate Disclaimer.
MyBama is the online portal for University of Alabama students to access their student email account, course information, campus news, housing registration, and much more!
Whether you're a new or current University of Alabama student, you'll need to log in to your MyBama account at least a few times throughout the year.
In this guide, we'll show you everything you need to know about how to access your University of Alabama MyBama login.
What Is MyBama?
MyBama is described as the ultimate hub for information at the University of Alabama.
In this online portal, you'll have access to:
Your Crimson email account
Campus news
Course information
Class registration
Housing registration
Tickets for athletic events
Parking permits
And more!
You can access your MyBama account by visiting mybama.ua.edu and entering your myBama login ID and password.
Whether you're on on-campus student or commuter student, you'll need access to your myBama account for various activities related to your studies.
How Do You Set Up A MyBama Account?
Is it your first time logging in to your MyBama Account? Here are the steps you need to take to set up your account:
1. Visit mybama.ua.edu in your web browser.
2. Click "New myBama users – create password" in the menu on the right side of the screen.
3. You will be prompted to enter your last name and CWID (if known) or your Social Security number. Then click "next page".
4. Read and accept the terms of use.
5. Choose how you want to confirm your identity and follow the instructions. The system will send you a confirmation code that you will enter on the next page.
6. Once the process is complete, enter your new password and click "Finish".
7. Return to mybama.ua.edu and enter your username and the password you just created.
After you log in for the first time, be sure to forward your crimson.ua.edu email to an email address you check frequently and update your local address and phone number.
How To Log In To MyBama As A Student
For students, it's very easy to access to the MyBama login screen. Here's what you need to do:
1. Visit mybama.ua.edu in your web browser.
2. Enter your myBama ID and password. Your username is the first part of your email address. For example, if your email is [email protected], then asmith is your myBama username.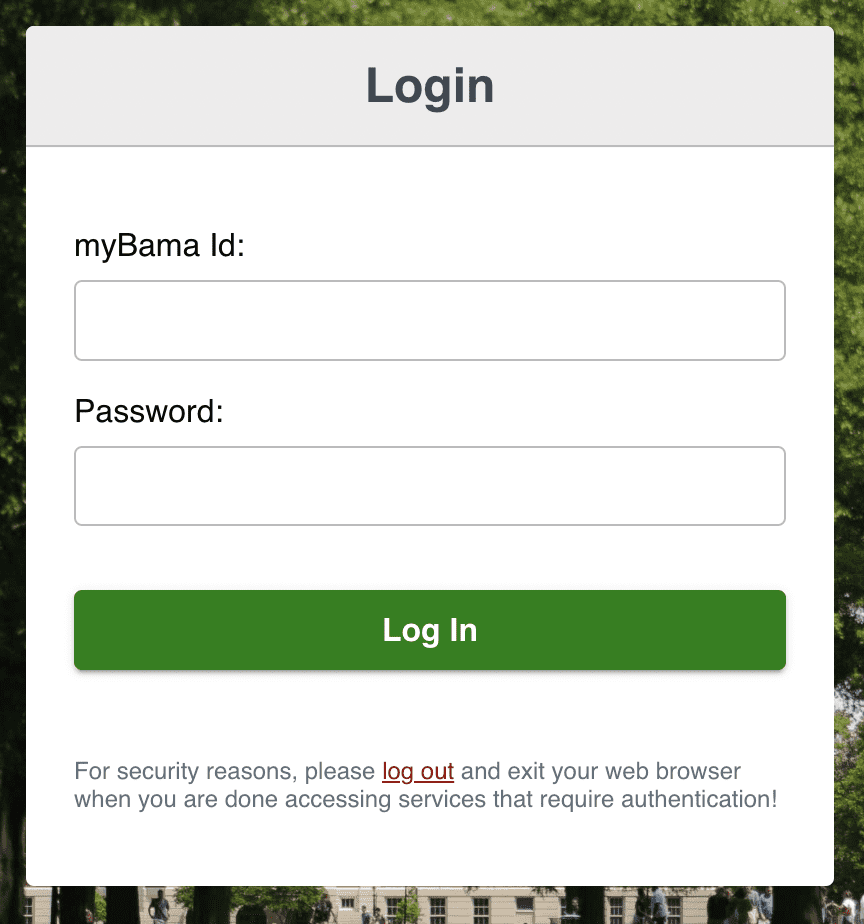 3. Click "Log In"
If you are having trouble accessing the myBama login portal, you can contact the IT Service Desk. They are available to help with tech issues over the phone, over email, or in person.
How To Login To MyBama As A Parent
Students may grant access to certain portions of their academic records to parents through the proxy access feature of myBama.
Through MyBama, students can create proxy user accounts and assign access to specific pages within myBama. This allows proxy users to potentially access a student's class schedule, grades, transcripts, degree applications and contact information.
Here is how students can set up a proxy account for their parents to log in to myBama:
Log in to MyBama.
Select the student page.
Click "Academic Records and Curriculum" then select "Proxy Access".
Read the Proxy Access Consent Agreement and click "Continue" if you agree to the terms.
Select "Add Proxy".
Once you have entered the required information, click on your proxy user's name.
Click on the "Authorization" tab.
Select the check boxes next to the information for which you wish to grant access and click "Save".
Students have the ability to grant or revoke access to specific pages at any time through this same portal.
Once the proxy account is set up, parents can login to their student's myBama account through the Proxy Access Login page here.
This post was all about navigating the MyBama login for the University of Alabama.
Here are some other college posts you may like: