This post is all about things to do with a blank notebook.
This post may contain affiliate links, which means I'll receive a commission if you purchase through my link, at no extra cost to you. Learn more: Affiliate Disclaimer.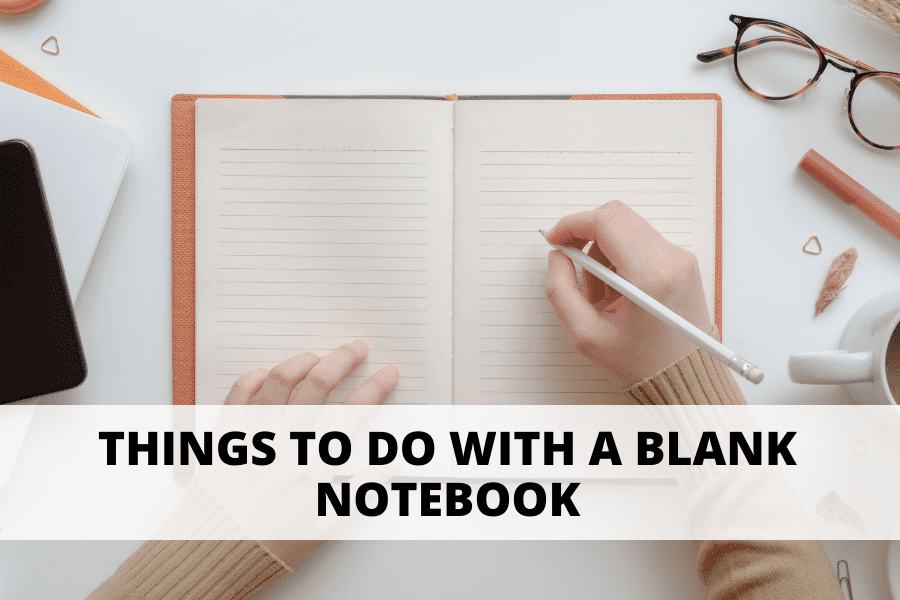 Are you a fellow journal addict?
I know how it is! You see a cute journal in the store, impulsively buy it, and have absolutely no idea what to do with it. I have about 10 empty notebooks lying around my house right now because they were just too cute not to buy!
An empty notebook is such a beautiful canvas. There are pretty much endless possibilities of things to do with a blank notebook, that it can feel a little bit overwhelming to start.
That's why I've put together this list of 40 creative things to do with a blank notebook. Hopefully this list gives you some inspiration to finally crack open that empty notebook and do something with it!
Things To Do With A Blank Notebook
1. Use It As A Diary
One of the simplest things to do with lined paper notebooks is to use them as a diary. Keep a daily log of your thoughts, feelings, and memories that you want to remember.
I love being able to look back on my diaries and see the type of person I was a few years ago and what I was going through at the time.
2. Make To Do Lists
If you want to be more productive, you can use a blank notebook as a spot for your to-do lists.
Every morning, write down all of the tasks that you need to accomplish that day. Then, you can cross or check them off when you've completed each task.
3. Take Notes
If you're in high school or college, you can use a blank notebook as a spot to take notes during class. Try to write down all of the important information that your professor or teacher highlights throughout class.
If you're not in school anymore, you can still take classes! Learning doesn't have to stop when you graduate. There are tons of online classes on platforms like Skillshare, Udemy, and Coursera.
You can learn pretty much ANYTHING, from languages, to woodworking, to video editing, etc. Use your blank notebook as a spot to take notes in your online classes.
4. Dream Journal
If you're always having vivid dreams, make sure you make a note of them somewhere. A blank note book is a great spot to keep track of your dreams.
Write down what the dream was about, how it made you feel, and anything else you want to remember about it.
5. Habit Tracker
One of my favorite ways to fill a notebook is to use it as a habit tracker. Write down the positive habits you want to implement in your life. Then make some kind of table or grid to track your progress.
I like making a grid with boxes for each day of the week/month. When you successfully implement your habits that day, you get to fill in the boxes.
6. Brain Dump
If you don't have a brain dump journal, you need to start one with your blank notebook! A brain dump journal is basically a catch-all where you can write about all of your thoughts, ideas, and plans.
The goal is just to write every single thing that pops into your head, and then you can sort the information and make more sense of it once it's on paper. This really helps when you're brainstorming for a project, coming up with a business plan, or trying to figure out why you feel the way you do.
If you're bored and not sure what to write about, you can use brain dump prompts to get some ideas. I like this list of prompts for a brain dump journal.
7. Bucket List
One of my favorite things to write about when I'm bored is what I want to accomplish in the future. The format that I like to write this in is a bucket list.
If you don't know what a bucket list is, it's basically a list of things you want to accomplish in your lifetime.
If that feels too broad for you, you could also make bucket lists for certain times in your life. I love the idea of creating a college bucket list, a summer bucket list, high school bucket list, etc.
8. Sketchbook
If you enjoy drawing, turn your blank notebooks into a sketchbook. This works especially well for notebooks that don't have lines or grids.
Use your sketchbook to draw whatever you want! You could sketch nature scenes, the people near you in coffee shops, random doodles, self-portraits, etc. The possibilities are endless!
9. Party Planning
If you have a big event coming up in your life, you can use your empty notebook as a party planning notebook. There are TONS of things that go into planning a party, so you won't run out of things to write in your notebook.
Keep track of things like your guest list, RSVP status, menu options, decor ideas, contact info for vendors, etc.
[RELATED: 23 Outdoor Graduation Party Ideas For A Super Memorable Party]
10. Food Diary
If you're trying to lose weight or create better eating habits, a food diary is a great way to fill a blank notebook.
Record all of your meals and snacks for the day, and write down how each meal made you feel. This will help you make better food choices because you're becoming more conscious of how your food affects you.
11. Budget Tracker
One of the notebooks that I always have going is my budgeting notebook. If you've never created a budget, this can feel a little bit intimidating. But I promise you it's not that scary!
A blank notebook is a great spot to write down all of your income sources and all of your expenses for the month. Make note of your savings goals and any debt you need to pay off. You can then create a budget around what you want to spend and what you want to save.
It's always a good idea to have an overview of your financial situation. I recommend watching a few YouTube videos or reading some articles about budgeting before you get started. There are many different methods so it's a good idea to find the one that makes sense for your situation.
12. Lettering Practice
A blank journal is a great place to practice your lettering. Whether you want to improve your regular handwriting, or you want to learn a new style of lettering.
13. Fitness Log
If you're trying to improve your physical fitness, you should start a fitness log with one of your empty notebooks.
Use your fitness log to plan your workouts, track your progress, and make notes about how you feel during your workouts.
14. Password Vault
If you're constantly forgetting your passwords for websites, it's probably time to compile them all into one place. Transform one of your blank notebooks into a password vault.
Make sure you keep this notebook hidden somewhere safe, and don't take it out to public places.
15. Travel Journal
A travel journal is a great way to use a blank notebook. Take it along on your adventures and write down whatever you want about your trip!
I like to use mine as a diary when I'm traveling so I remember all of the places I went and the feelings I felt. You could also tape ticket stubs, polaroid pictures, and other travel memorabilia in your travel journal.
16. Vision Board
Vision boards are so popular right now, especially around the new year. A vision board is basically a spot where you put pictures of all of the things you want to invite into your life.
If your goal is to travel more, you would print out travel quotes, photos of destinations you want to visit, pictures of planes, etc. If your goal is to make more money, you may add pictures of luxury items, bank account statements, or fancy dinners to your vision board.
You can use a blank notebook as a sort of vision board journal. Throughout the year, add pictures of things you want to manifest or attract into your life to the pages of your notebook.
17. Trip Planning
This is another really common way I use blank notebooks. There's a LOT of work that goes into planning a trip, especially to another country.
A trip planning journal is a great place to keep track of everything. I write packing lists, travel itineraries, to-do lists, and trip budgets in my trip planning notebook.
18. Gardening Log
Do you have green thumb? If you keep a garden, it's a good idea to have a place where you keep track of all of your important gardening info.
Write down the dates you planted each plant, the amount of watering they need, the locations of each plant, your fertilization schedule, etc.
19. Bullet Journal
Of course one of the most popular ways to fill a blank notebook is to use it as a bullet journal!
I'm absolutely obsessed with bullet journaling, and I swear it makes me so much more productive. You can use a notebook that's specifically designed for bullet journaling, like this one from Leuchtturm1917. Or you can just use any old notebook that you have lying around!
If you're not sure how to set up your bullet journal, this website is a really great resource for learning.
20. Prayer Journal
If you're into faith or spirituality, you can use a blank notebook as a prayer journal. Write down your prayers, praises, requests, etc.
[RELATED: 13 Best Devotionals For College Students]
21. Recipe Book
Want to keep track of all of your favorite recipes? Write them down in a blank notebook!
I'm always searching Pinterest for recipes, but I can never seem to find them again after making them the first time. I really need to start writing down the recipes that I love.
You can also make notes of any adjustments you made, things you want to try differently next time, or substitutions to the recipe.
22. Creative Writing
A blank notebook is an excellent space to do some creative writing. Use your notebook as a space to write short stories or poems.
This is a great thing with a notebook to do when you're bored. Once you get flowing, you'll definitely be able to cure a few hours of boredom.
23. Book or Movie Reviews
If you watch a lot of movies or read a lot of books, keep track of your thoughts on them in a notebook. Write down what you liked or disliked about each story, and if you'd recommend them to a friend.
You could also use a few pages of your notebook to keep track of books you want to read or movies you want to watch. I'm always getting book and movie recommendations from people, and I never think to write them down. I'm definitely going to start doing that!
24. Letters To Your Future Self
I absolutely love this idea for filling a blank notebook!
Start writing letters to your future self. Talk about what you're currently doing, how you're feeling, and what's going on in the world.
Think of how amazing it will be to have all of these letters for yourself in 5 or 10 years!
25. Grocery List
A slightly boring (but practical) way to fill a blank notebook is to use it as your grocery list.
I like to have a plan before I go to the grocery store so I don't waste time or money. I use a blank notebook to write meal ideas, and then the food items I need to make the meals. Then I take that with me to the grocery store as my shopping list!
[RELATED: 22 Microwave Mug Meals You Can Make In Your Dorm]
26. Business Planning
If you're an entrepreneur, use a blank notebook as a spot to plan out your business. When I was launching an Ebook I used my notebook all the time!
I wrote down all of the important launch dates, made an outline of my book, and wrote out my future business goals.
Even if you're not self-employed, you can use a blank notebook to keep track of your side hustles or your desired career path.
27. Gratitude Journal
One practice that a lot of people swear by is gratitude journaling. Take a few minutes every day and write out the things you're thankful for.
This helps you feel more appreciative of the things you have in your life, and also helps you have a more positive outlook!
28. Memory Book
Keep track of all of your favorite memories in your blank notebook. Use a combination of words and pictures to make sure that you remember every detail of the special moment.
It's a great idea to have a different memory book for different times in your life. If you're in high school, fill a blank notebook with all of your favorite memories during that time in your life. If you just had a baby, keep track of all of the most special baby moments during those first few months. Heading to college soon? Write down all of the fun stuff that happens in the summer before college!
29. Holiday Wish List
Need something to write about when you're bored around the holidays? Write out your Christmas (or birthday) wish list!
It's a good idea to make different price categories, so the person buying you the gift knows about how much they'll be spending.
30. Address Book
Keep track of your friends and family's addresses and phone numbers in an empty notebook.
I know this sounds super old-fashioned (hello, technology?), but if anything ever happens to your phone it's nice to have everything in writing.
31. Last Time I Did That Book
This is one of the most genius ideas that I've seen for filling a blank notebook. Keep a record of the last time you did important tasks in your life and home.
When was the last time you got an oil change? Cleaned out the dishwasher? Went to the dentist? Went through and sorted your child's toys?
It can be hard to remember the last time you did something, and when you need to do it again. Make a log of the dates you did important tasks and write down the date that it should be done again.
32. Family History Journal
How much do you really know about your ancestors and your family history? Do some research on your family history and keep your notes in a journal.
You can also ask your parents and grandparents to tell you stories about their past, and you can record them in a notebook. This is a great treasure to be able to pass along to future generations.
33. Poetry
Use your blank notebook as a space to write out your favorite poems. If you're feeling artsy, you could even do some watercolor or doodles around each poem. This is a great creative thing to do with a notebook when you're bored.
If you're a writer, you could also use your notebook as a poetry journal for your own poems.
34. Gift Ideas List
Keep track of gift ideas throughout the year for people on your list. I like to keep an eye out for things that people need or mention they want and then make a note of it.
Then, when the holidays roll around, you'll already have a great list of gift ideas that people will actually want! Need some inspiration? Here are some of my most popular gift guides:
35. Child Development Journal
Do you have a small child or new baby? Keep track of their development and special moments in their lives in your journal.
Write down important milestones like when they learned to crawl, their first word, funny things they did, their favorite foods, etc. Trust me, you'll be so glad you wrote all of this stuff down when you look back on it in a few years!
36. Blog Post Ideas
If you're a fellow blogger, you can probably relate to the struggle of having SO many blog post ideas and then forgetting them all.
Having a blog post idea journal is a great idea so you can see all of your blogging ideas in one place. Write down important things like topic ideas, titles, keywords, and headings you want to use. Then when you go to write a post, you'll have plenty of inspiration to work off of!
37. Wedding Planning
If you've ever planned a wedding yourself, you know it takes SO much work. There are endless to-do lists, people to contact, and budgets to keep track of.
I highly recommend having everything in one place so that you don't lose track of any major details for your wedding. There are tons of wedding planning journals out on the market (this one from Amazon is amazing), but you can also just use a blank notebook.
38. Pregnancy Journal
Pregnancy is such a special time in your life. Make sure you document all of the highs and lows of your pregnancy in a journal.
Make note of your belly growth, cravings, side effects, medications, etc. in a pregnancy journal.
39. Job Search / Interview Notebook
Searching for a job can be such a stressful and overwhelming time in your life. Keep track of all of your job applications and interviews in a spare notebook.
Write down things like when you submitted your application, your interview dates and times, interview questions you'd like to ask, and the names and contact info of people from the company.
40. Inspirational Quotes
Let your notebook be a source of inspiration every single time you open it! Fill your blank pages with your favorite inspirational quotes or phrases.
---
This post was all about the most creative things to do with a blank notebook.
You may also like: