Have you ever wondered what does upside down pineapple mean? In this article, we'll go over all of the secret meanings surrounding this tropical fruit.
This post may contain affiliate links, which means I'll receive a commission if you purchase through my link, at no extra cost to you. Learn more: Affiliate Disclaimer.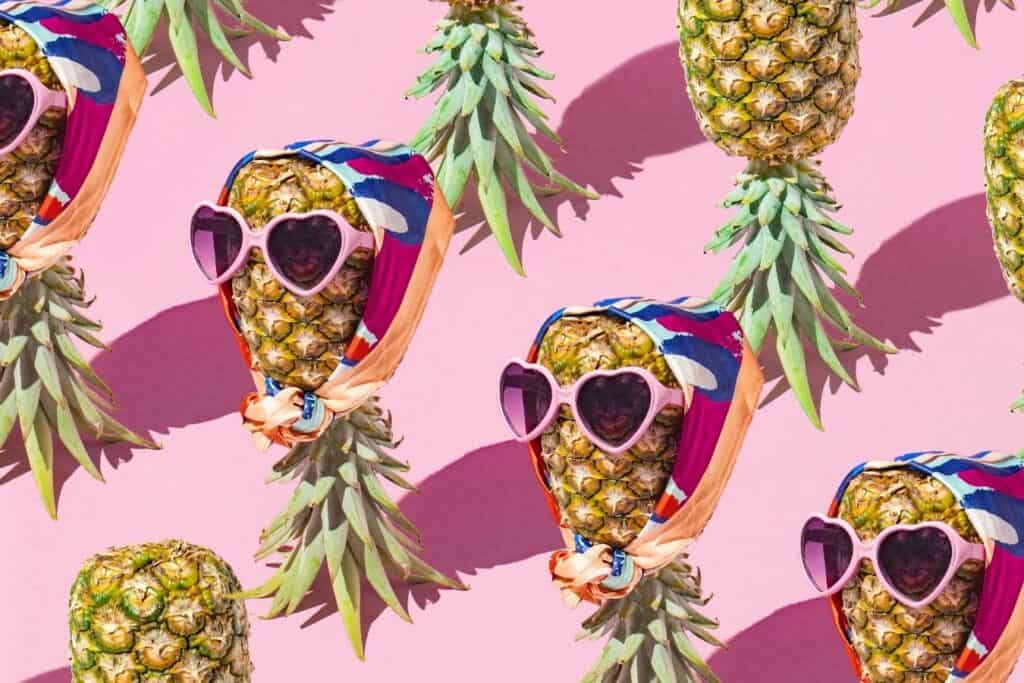 Something is going on with this tropical fruit on TikTok…
In case you've missed it, the hashtag #upsidedownpineapple has been going absolutely crazy on TikTok lately. As of August 2022, the hashtag has over 228 million video views.
But what exactly does Upside Down Pineapple mean?
A pineapple is often used as a symbol for swingers or wife-swappers. If you see an upside-down pineapple on the porch or mailbox of a house, it signifies that a swingers party is happening inside.
This symbol is especially popular on cruise ships, with cruise-goers often leaving pineapples outside of their doors to invite other couples in.
Read on to find out more about this promiscuous fruit trend.
What Does An Upside Down Pineapple Symbolize?
Pineapples are a secret symbol used by swingers and wife-swappers to identify one another in public settings. An upside down pineapple indicates that someone is actively looking for partner swap
A pineapple placed on a porch or mailbox can indicate that a swinger party is happening inside the house.
On a cruise ship, an upside-down pineapple on the cabin door signifies that the couple inside are seeking out other couples for 'adult fun'.
Swingers may also show off this tropical fruit on their clothing, however this is less common.
Because pineapples are commonly featured on Hawaiian-style clothing, someone may be rocking pineapples without even knowing this secret symbol.
So just because someone has pineapples on their shirt, that doesn't mean they're necessarily into swinging.
What Is The Origin Of The Upside Down Pineapple?
The exact origins of the upside down pineapple symbol are unknown. However, pineapples are thought to have become the unofficial sign of swinging in the 1990s.
In December 2021, this trend started making its rounds on social media. The hashtag #upsidedownpineapple started trending, with users exposing the secret meaning of this tropical fruit.
Is A Pineapple Always A Sign Of Swinging?
Although pineapples are trending right now in the swinger community on TikTok, they don't always represent partner-swapping.
Pineapples have been used in decor for years with no promiscuous meaning. In fact, pineapples are often thought to be a symbol of hospitality and friendship.
You may notice pineapple-themed decor on cruises or in houses decorated with a tropical theme. In most cases, it's just someone who enjoys tropical decorations!
However, if you see an upside down pineapple strategically placed on a door or front step, you may be outside of a swinger party.
What Does It Mean To See An Upside Down Pineapple On A Cruise?
Cruises are the most common place to see an upside down pineapple as a sign of swinging.
However, there are other reasons you may see pineapples that have nothing to do with partner swapping behavior.
Some cruises just have tropical themed decor that may include pineapples. Others serve drinks in carved-out pineapples. Neither of these things have to do with swinging.
You may also see other cruise-goers rocking clothes with pineapples on them. More likely than not, they are just a fan of the pineapple print and are not aware of the connotation.
However, upside down pineapples on cruises are another story. If you see an upside down pineapple decal on someone's cabin door, they are most likely swingers looking to meet other likeminded people.
Of course, it could also be a joke or trick. With all of the buzz about the upside down pineapple, it's very likely that someone could stick one on a friend's door as a prank without them knowing.
Is Swinging Common On Cruises?
With all of this talk about pineapples, cruises, and swinging, you may be thinking that that's just the norm on cruises.
But honestly, swinging is still pretty rare on regular cruises.
There are specific cruises dedicated to swingers and other "adventurous adult activities". Most swingers will attend those cruises because there is a higher likelihood of finding likeminded people.
Even if swinging does happen on your cruise, it is unlikely you will see it happening or hear about it.
Swingers don't generally introduce themselves as such, and you probably won't get an invite to a partner swap party unless you appear open to it.
What Does Wearing A Pineapple Shirt Mean?
Are you wondering if you can bring your favorite pineapple shirt on a cruise without getting strange glances?
It is unlikely that someone would assume that you're a swinger just based on your shirt. However if you dress in head-to-toe pineapple print, you'll probably attract some attention.
If you're the type that feels uncomfortable with even a chance that someone would think you're a swinger, I would leave the pineapple clothing at home.
How About Pineapple Drinks On Cruises?
Don't panic if your fruity cocktail is served to you in a hollowed-out pineapple.
Some cruises even serve drinks in cups that are shaped like upside down pineapples. This is most likely just a coincidence.
It's highly unlikely that the cruise ship is implying anything by their beverage receptacles. It's just a fun and tropical way to serve a drink!
Unless you booked a cruise that is explicitly advertised for swingers, you're not putting out any swinger vibes just by ordering a pineapple drink!
Upside Down Pineapple FAQs
Should I Avoid Wearing Clothes With Pineapples On Them?
A lot of tropical and Hawaiian-print shirts include pineapples on them. Pineapples are traditionally thought of as a symbol of hospitality. But they can also be used as a secret sign for swingers, especially on cruises.
If you're the type that feels uncomfortable with even a chance that someone would think you're a swinger, I wouldn't pack any pineapple-print clothing for a cruise.
Are There Any Other Symbols That Represent Swingers?
You're probably wondering if pineapples are the only signs that mean you could be a swinger. While they're the most popular right now, they're definitely not the only ones.
As early as the 1970s, pampas grass in the front of your home was a symbol of swinging. You would often find this pretty plant in the gardens of people who hosted swinging parties.
There are also several types of bracelets and anklets that represent swinging. One very common symbol is a swing inside of a circle. If you see this on a bracelet, the person wearing it is likely part of the swinging community.
Another secret symbol is wearing a black ring on your right hand. You would wear this ring if you are out and open to meet other swingers.
What Does A Pineapple At The Front Door Mean?
A pineapple at your front door is a symbol of welcome and hospitality. In Hawaii and the Southern United States, many businesses and hotels will display pineapples to show their hospitality to customers.
However, pineapples have also become synonymous with swingers. Displaying a pineapple on your front door may suggest to your neighbors that you are a swinger. This is especially the case if the pineapple is upside down.
What Does Shopping With An Upside Down Pineapple In Your Cart Mean?
One common pick-up activity for swingers is to shop at the grocery store with an upside down pineapple in their grocery cart.
The upside down pineapple signifies to people that you are open to extramarital 'adult' activities.
What Does A Pineapple Tattoo Mean?
As a tattoo, a pineapple represents warmth and hospitality. This symbol is popular in Hawaii and the American South.
However, an upside down tattoo is known to be a secret symbol for someone who is a swinger. Be very careful with the placement of your pineapple tattoo if you don't want it to be misconstrued.
What Does Upside Down Pineapple Mean On TikTok?
With the hashtag #upsidedownpineapple going viral on TikTok, you may be wondering what that even means.
An upside down pineapple is a secret signal from swingers to indicate that they are looking for other couples to swap with.
The upside down pineapple hashtag on TikTok is often paired with the hashtag #SwingTok, which has racked up over 1.9 billion views.
This sub-genre of TikTok has become especially popular after the public divorce of a well-known mormon TikToker. She has come out as a member of the swinging community and has claimed that a lot of other "MomTok" influencers are fellow swingers.
Final Thoughts
Hopefully this clears up exactly what an upside down pineapple means and how it is used on cruises.
Though the pineapple is often used as a symbol for swinging, sometimes it's just a totally innocent decoration. Always look for additional context when you're unsure.
For instance, a pineapple print shirt is likely just a fun tropical shirt that someone would wear on vacation.
However, if you see an upside down pineapple displayed on the cabin door of a cruise, you may be just outside of a swingers party.
This post is all about the meaning of an upside down pineapple.