60 Romantic Valentine's Day Gifts For Girlfriend in 2023
This post is all about the best Valentine's Day Gifts for girlfriend.
This post may contain affiliate links, which means I'll receive a commission if you purchase through my link, at no extra cost to you. Learn more: Affiliate Disclaimer.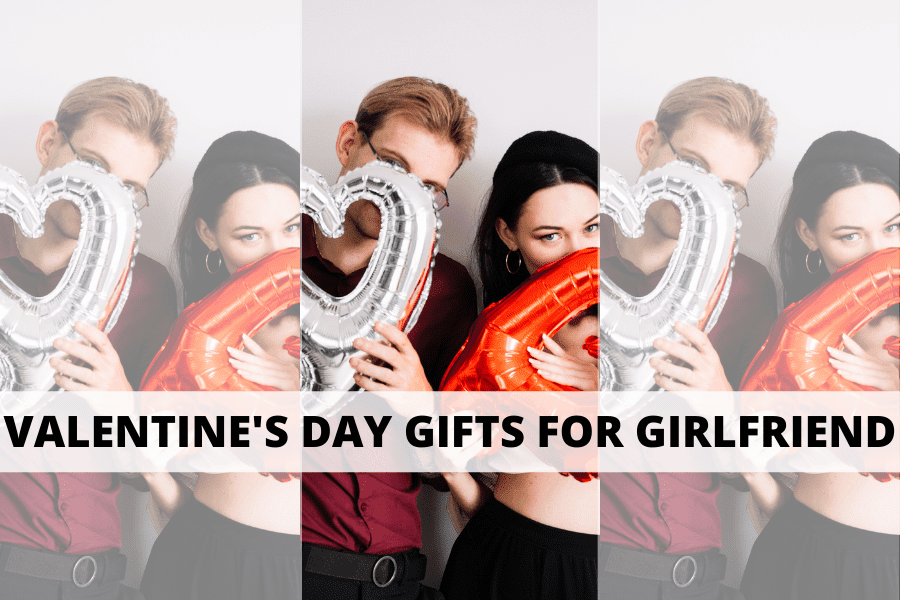 Looking for the best Valentine's Day gifts for your girlfriend? Valentine's Day is a hard holiday to shop for! I feel like all of the gifts I see are either super cheesy or outrageously expensive. You want your gift to be romantic but you definitely don't want to waste money on a tacky gift she'll never use.
That's why I put together this list of non-cheesy Valentine's gifts for girlfriend. These are gifts that she'll actually use and love!
The Best Valentine's Day Gifts For Girlfriend
Best overall Valentine gift for girlfriend: Double Pendant Necklace
Most popular Valentine's Day Gift: The Adventure Challenge: Couple's Edition
Best personalized Valentine's gift: Love Story Map
Best budget Valentine gift: Our Q&A Journal
Most sentimental Valentine's Day gift: The Night We Met Star Map
Funniest Vday gift: Shawty U Fine Bear
Best *spicy* Valentine's gift: Massage Oil Candle
Valentine's Gifts For Girlfriend: Under $25
This is definitely one of the most sentimental Valentine's Day gifts for girlfriend. This personalized star map shows the exact position of the night sky on whatever date you'd like. It would be so cute to do the night you met, your anniversary, or the date and location of your first kiss.
She'll have the most kissable lips after she uses this lip mask from LANEIGE. This lip mask is one of the most popular beauty products out there right now so she'll definitely appreciate this gift.
I absolutely love the concept of this 100 Dates Scratch Off Calendar. It includes 100 unique date ideas, so you'll never run out of things to do together!
She'll think of you every time she makes waffles in this adorable little waffle maker. It's such a cute and affordable Valentine's Day gift for girlfriend.
5. Silk Pillowcase
Your girlfriend will be so impressed if you get her this 100% Mulberry Silk pillowcase. Silk pillowcases help smooth your hair, prevent wrinkles, and also feels really cool on the skin.
Looking for a cheap but thoughtful Valentine's Day gift for girlfriend? These love coupons are the gift that keeps on giving. It comes with 15 different romantic vouchers that she'll love to cash in on.
She'll be able to request things like breakfast in bed, a full body massage, and even some *you know what* whenever she wants it.
7. Swiped Right Candle
This is such a hilarious gift if you two met on a dating app. Plus, it's actually a really high quality candle and you get to pick out whatever scent you want.
This is such a sweet gift for any girlfriend who likes to journal. It's romantic without being super cheesy or over the top. Plus, she'll think of you whenever she's journaling!
9. Messages In A Bottle
Your girlfriend will go absolutely crazy if you give her these messages in a bottle. You'll have to open each one and write something sweet on it. But I promise she'll appreciate the effort more than you know!
This is one of the sweetest Valentine's gifts for girlfriend because it's something you two can do together over the years. This journal comes with three years of questions that you can both answer.
My boyfriend got me this when we were in the early stages of dating and it made me really know he was serious. No one gets a three year journal for someone they don't see a future with, right?
11. Thinking Of You Mug
This mug is the perfect gift if you two have a really fun, joking relationship.
12. Fluffy Slippers
The perfect gift for the girl who's always complaining about being cold. These fuzzy slippers are EVERYTHING. I have really similar ones and I wear them pretty much every day around the house.
If your girlfriend is a plant lover, she'll go crazy over this sweet heart shaped succulent. It even comes in a pot that says love so it's perfect for Valentine's day.
14. Tea Gift Set
If she's a tea lover, she'll go crazy over this tea gift set. It comes with 20 assorted pyramid tea bag infusers and is wrapped in a pretty gift box. If you want to make the gift even more perfect, give her a nice mug to go along with it.
This couple's conversation starter game is perfect for newer couples or ones that have been dating for years! No matter how chatty you two are, it can still be hard to come up with conversation starters sometimes. Plus, it's just nice to have prompts to talk about things you wouldn't have though of otherwise.
Valentines Day Gifts For Girlfriend: $25 to $50
This is probably my favorite Valentine's gift for girlfriend on the list. I got this exact bath caddy as a gift and let me tell you it changed my life!
It has slots for your phone, tablet, book, etc. PLUS it has a wine glass holder and a spot for a coffee cup. I seriously use this at least once a week and it makes baths so much more relaxing.
Shower steamers are basically like bath bombs for your shower. You put one on the bottom of the bathtub and they release scented steam when the water hits them. It's the perfect way to relax for anyone who doesn't have time for a bath.
18. Back Massager
While we're on the topic of pampering, treat her to a massage any time she wants one! This back massager is perfect for anyone who works at a computer all day.
I actually got this for my boyfriend last year but I steal it all the time because it just feels so nice!
How hilarious is this teddy bear? It's definitely an upgrade from those cheesy teddy bears that people usually give on Valentine's Day. If your girlfriend has a sense of humor, she'll love getting this as a Valentine's day present.
20. Iridescent Wine Glasses
If your girlfriend is a wine drinker, she'll really appreciate getting a nice set of wine glasses. These iridescent wine glasses from Anthropologie are so unique and beautiful. I definitely would love to get these as a present!
21. Electric Wine Opener
This wine opener is actually one of the most popular gifts in my White Elephant gift guide post. If she's a wine drinker, she'll be obsessed with this convenient electric wine opener. It makes opening any bottle of wine super easy and quick.
22. Box Of Cupcakes
Who wouldn't love getting a box of cupcakes as a present??
This candle = pure luxury. Most girls will have heard of this brand of candles. They're super luxurious and super expensive. Luckily, you can get a mini size of the candle for a pretty affordable price.
This is such a sweet personalized gift idea for girlfriend. Get her a necklace with her initials on it as a sweet gesture for Valentine's day. This one from Anthropologie is so gorgeous.
25. Flower Delivery
If you can't be with her on Valentine's day, make sure to send her some flowers so she knows you're thinking of her! You can get these delivered to her work or house. Such a romantic gesture!
Do you two like to travel? If so, she'll absolutely love getting this adventure book as a present this Valentine's day. You two can fill it with all of your travel photos, ticket stubs, and other travel memorabilia.
If she loves plants and DIY projects, this is the perfect gift for her. With this kit, she'll have everything she needs to grow her own succulents.
I don't know any girls who wouldn't want to get a coffee and chocolate gift set for Valentine's day! This set comes with 4 bags of freshly roasted coffee and 4 different artisan chocolates for her to enjoy.
This is a gift that you'll both get to enjoy ;). This candle is made with a blend of massage oils rather than traditional wax. After you burn the candle, you can pour the melted oil out and use it to give her a massage.
Your girlfriend deserves some relaxation and pampering. If she has a bathtub at home, she'll love relaxing with one of these organic bath bombs. The set comes with 6 different scents and are made from ingredients that help nourish your skin.
Valentine's Gifts For Girlfriend: $50 to $100
31. Birthstone Necklace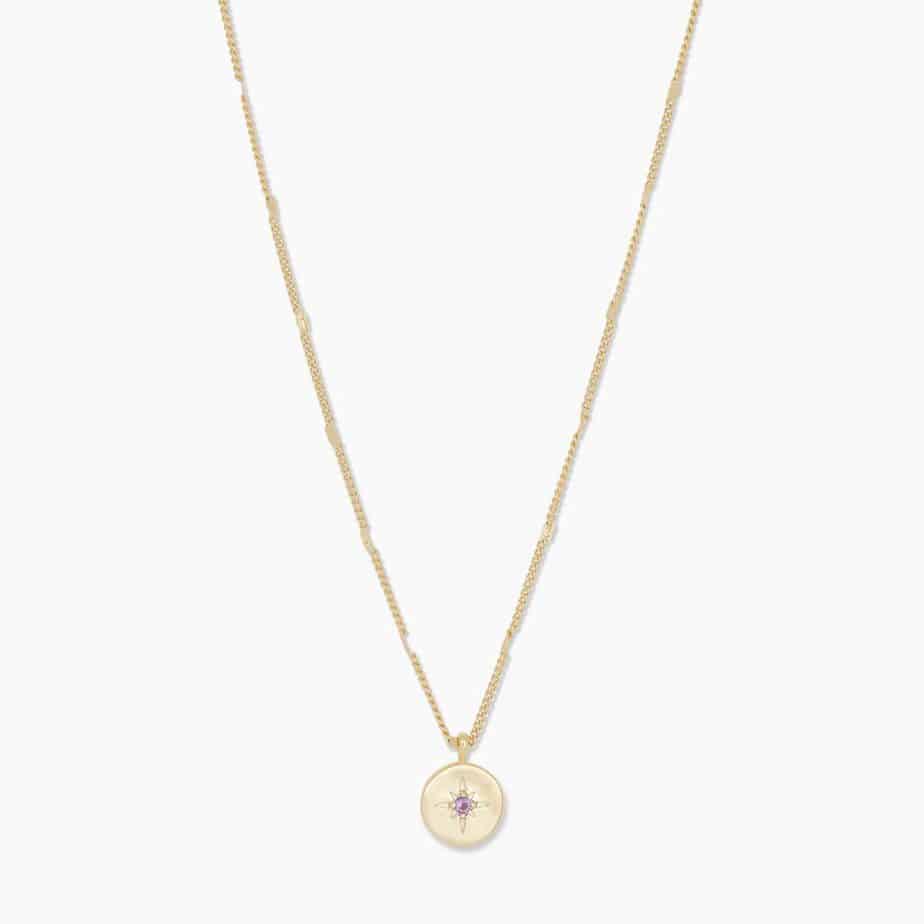 This birthstone necklace is an absolutely gorgeous Valentine gift for girlfriend. It's made from 18k gold plated brass with a unique birthstone in the middle. If you know her birth month, you can choose the stone that corresponds to it on the site.
32. Eternity Roses
Eternity roses are made from real Ecuadorian roses, but they are treated to last for more than a year. I love that they don't require any water and still smell like fresh cut roses. See how to care for eternity roses here.
This is such a romantic Valentine's Day gift idea for girlfriend.
Lingerie is a classic Valentine's day gift for girlfriend. This set from Savage x Fenty is absolutely gorgeous.
She'll go crazy over this super thoughtful gift. The Adventure Challenge is a book filled with different activities you guys can do together.
If you want a *spicier* version, get the Adventure Challenge In Bed edition.
35. Lululemon Leggings
I don't know of a single girl who wouldn't appreciate a new pair of Lululemon leggings. They're a classic for a reason! If she's into working out (or just lounging around), get her a pair of super high quality leggings from Lululemon.
These gorgeous earrings are the perfect non-cheesy jewelry item to get your girlfriend for Valentine's day. This style is super timeless but also very trendy right now.
This gift will definitely bring her a lot of *pleasure*.
I'm obsessed with these donuts that spell out "I Love You!". Such a sweet and thoughtful gift idea, especially for long distance couples.
This is the ultimate gift set for matcha lovers! It has pretty much everything you need to create a professional-level cup of matcha.
If she's been wanting to get into fragrances, this is the perfect way to start. This gift set comes with 5 different perfumes to try out so she'll be able to find one she loves.
OK, I know what you're thinking – why is a hot sauce so expensive? But this hot sauce is like the Cadillac of hot sauces lol. Each one is infused with truffle and they're varying levels of spicy.
If she's a fan of hot sauce and truffles, she'll definitely love this set.
This has to be one of the most romantic Valentine's Day gifts for girlfriend on the list. This custom map will showcase some of the most important moments in your relationship.
It comes unframed, so be sure to pick out a nice frame before you give it to her.
This is such a sweet customized Valentine's gift. You can put both of your initials on it so that she wears your relationship close to her heart every day.
If she's always on the go, this is such a perfect gift for her. Beis makes incredibly cute and high quality travel gear. This weekender bag has tons of room for her stuff, plus a removable compartment on the bottom for extra storage. I actually asked for this from my boyfriend this year because it's such a cool product!
45. Gift Cards
Is she super hard to shop for? Honestly, she might prefer just picking out her own gift! Some of the best gift cards for your girlfriend are:
Sephora
Starbucks
Lyft or Uber
Nordstrom
Target
Valentine's Gifts For Girlfriend: $100+
46. UGG Slippers
These are THE slippers that everyone is talking about right now. They're super comfy, plush, and have surprisingly good support for a slipper. She'll never want to take them off.
There's nothing more annoying than having to continuously microwave your coffee because you can't drink it fast enough. This mug warmer solves that annoying issue!
The cup keeps your coffee warm for hours, and the base recharges the cup whenever it needs some more power. You can even control the temperature of your coffee with your smartphone! Such a genius product.
48. SKIMS Robe
If you're looking for a luxurious gift for Valentine's day, this is IT! These robes from Skims are crazy popular right now and everyone is saying it's the softest material they've ever felt. I'm seriously considering buying one for myself because the hype is so real.
49. Lovebox
This is the perfect Valentine's gift for long distance couples! This box pairs with an app and allows you to send sweet messages, photos, videos, and drawings from anywhere.
When a message arrives to the Lovebox, the red heart starts to spin. If the recipient turns the heart, it will send a rain of virtual hearts to the smartphone of the person who sent the message. It's such a cute way to let someone know you're thinking of them from far away!
Are you dating a boss b*tch? Or is your girlfriend starting a new job soon? Get her the most beautiful work tote ever made. This work bag has insanely good reviews and looks like it would be such a perfect bag to bring to the office every day.
51. Barefoot Dreams Blanket
The hype is real for this product. This is definitely the SOFTEST blanket ever made. She'll feel like she's wrapped up in a cloud if you get her this blanket from Barefoot Dreams.
Does your girlfriend love to cook? If so, she'll love you forever if you get her this pan from Our Place. I have this exact pan and it is a total game changer. It's non-toxic, non-stick, and the perfect size for cooking just about anything. Plus, it looks super cute on my stove.
This is definitely one of the more pricey gifts on the list. But if you have room in the budget, she'll definitely fall in love with this gift. Everyone on social media is obsessed with the Dyson Airwrap hair styling tool these days.
A giant basket of chocolate flavored goodies? Pretty much the perfect gift!
This is such a good practical gift idea for Valentine's day. I have this alarm clock and I love how it wakes you up gently with a combination of light and noise. Plus, it's totally customizable so she'll be able to find the most peaceful morning (and night) routine for her schedule.
Did you know that Aphrodite was the goddess of love? This is the perfect gift to show your love for her this Valentine's day.
As a former Starbucks addict, I can tell you that the Nespresso coffee maker changed my life! I love being able to make lattes from home with pretty much zero effort. Plus, they taste just as good as the Starbucks stuff.
This is one of the most gorgeous gifts on the list. This dainty gold letter ring is the perfect custom gift for girlfriend. You could get her initial, yours, or another loved one's on it.
59. Spa Day
There's honestly nothing better than a professional massage and some beauty treatments. If you really want to treat your girlfriend this Valentine's day, get her a certificate to a spa. If you want to join in on the fun, you could also book a couple's massage!
60. A Staycation
One of the most thoughtful Valentine's day gifts for girlfriend is a staycation. Book a hotel room or Airbnb in your city, make dinner reservations at a nice restaurant, and just enjoy your time with each other!
This post was all about the best Valentine's day gifts for girlfriend.
You may also like: