23 Wall Collage Ideas For Your Bedroom
This post is all about the best wall collage ideas for your bedroom.
This post may contain affiliate links, which means I'll receive a commission if you purchase through my link, at no extra cost to you. Learn more: Affiliate Disclaimer.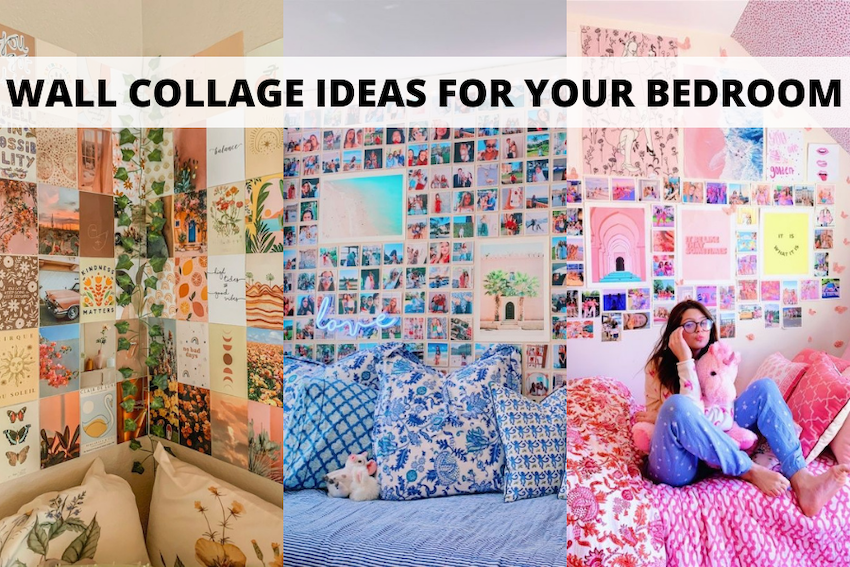 Looking for a way to cover up a boring blank wall in your bedroom?
Photo wall collages are super trendy right now and are cute (and affordable) way to decorate your bedroom. You can find collage kits on Etsy or Amazon, or you can just DIY it with your own pictures!
Here are 23 of my favorite photo wall collage ideas for a bedroom:
Photo Wall Collage Ideas For Your Bedroom
1. Photo Wall Collage With Neon Sign
One of the cutest wall collage ideas for your bedroom is to fill an entire wall with your favorite photos. I love that this colorful wall basically just looks like a giant Instagram feed.
If you want to add some visual interest, you can include a couple of larger prints and maybe even a neon sign in your wall collage. The travel themed prints in the photo wall collage above are so cute and fit with the overall collage theme really well.
Recreate this photo wall collage:
2. Girly Photo Wall Collage Idea For Bedroom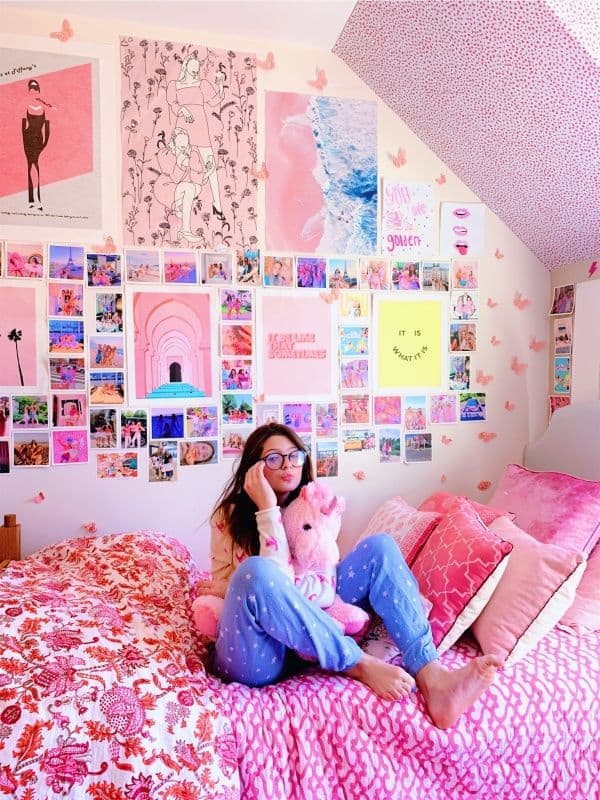 These feminine prints go perfectly with the all-pink theme of this bedroom. I love that this wall collage includes a mixture of photos, graphics, wall decals, and prints.
The key to making a photo wall collage look aesthetic is to mix things up and have different sizes, colors, and styles of prints.
3. Photo Wall With Letter Board
A simple way to make a beautiful photo collage for your bedroom is to frame some polaroid pictures around a letter board. You can write anything you want on the letter board, and pick pictures that go with what you've written.
I love this idea because you can keep changing your pictures out as you take new ones, or just keep expanding the collage. The possibilities are pretty endless with this photo wall collage idea!
Recreate this bedroom photo wall collage:
[RELATED: 31 College Apartment Bedroom Ideas You Need to See]
4. Wall Collage Posters
If you don't want to use photos for your wall collage, you can use prints! There are tons of gorgeous art prints available on Etsy and most of them are very inexpensive.
Some of them come already printed, and some you have to print yourself. The easiest way to get things printed is to send them to Walgreens or CVS. It's super cheap and only takes a couple of minutes.
I have two Etsy prints hanging in my room that were printed at Walgreens and they look amazing.
5. Polaroid And Mirror Wall College
One way to add visual interest to your photo wall collage is to frame polaroids around an interesting mirror. One mirror shape that I've seen all over Pinterest and TikTok is this beautiful moon mirror.
If you don't have a polaroid camera, you can actually get your phone pictures printed to look like polaroids. A great place to do this is Inkifi. Prices start at just $10 and the prints actually turn out looking like real polaroids.
Recreate this polaroid wall collage:
[RELATED: Dorm Room Wall Decor – 10 Ways to Decorate Your Dorm Room Walls]
6. Corner Bedroom Wall Collage
If you don't have a ton of wall space to spare, you can add a wall collage to a corner of your bedroom. I love this idea because corners are often really hard to decorate, and a wall collage makes a big impact for very cheap.
This collage kit from Etsy is the exact one pictured above. I love the warm tones and different types of prints included. This collage kit includes boho desert themed photos, graphics, patterns, and words.
The faux vine running down the middle adds some texture and interest to the whole collage corner. Fake vines are one of my favorite decor items for teen bedrooms.
Recreate this bedroom wall collage:
7. Photo Wall Around Closet Door
One way to brighten up a boring closet area is to add a photo wall collage! Hang your favorite photos all around your closet door, so you'll see your favorite memories every single morning when you go to get dressed.
Just get your favorite photos printed out at Walgreens or CVS. It's super cheap, you can get them back the same day, and almost everyone has a Walgreens or CVS near them.
The easiest way to hang regular photos on your walls is to use poster putty. Putty is great for photos and posters because it's temporary, it never dries out, and it's super easy to use. Another good option is to use double sided tape that is specifically designed for mounting.
8. Travel Map Collage
If you're into traveling, this is the perfect photo wall collage idea for your bedroom. Print out pictures from your favorite trips and hang them on your wall around a map decal.
Another thing I've seen is a map that actually includes frames for each US state or European country. You can get your photos printed in the shape of the state and add them to each section.
I absolutely love to travel, and I'm always looking for ways to put my travel photos to good use. I'm definitely going to be copying this world map travel collage.
Recreate this photo wall collage bedroom idea:
9. Photos With Celestial Garland
A great way to jazz up a basic photo wall is to add some garland. I absolutely love this metallic celestial garland, but you could do whatever fits your bedroom decor style!
Recreate this photo wall idea:
10. Pictures On String Lights
One of my favorite photo wall collage ideas is to hang your photos from string lights. It makes your collage look so magical, plus string lights are super affordable.
Amazon actually sells string lights that come with little photo clips, so that makes this one super easy to recreate! You could also just use string lights you already have and get mini clothespins to attach your photos. Or just hang string lights around your photo wall collage!
The possibilities are endless with this collage idea.
Recreate this string light wall collage:
11. Heart Photo Wall Collage
A cute way to make a photo collage wall is to hang your photos in the shape of a heart. You could do this in a corner of your bedroom or just straight on one of your walls.
This heart shaped wall collage would also look super cute with polaroid pictures! Maybe even a neon sign that says "love" somewhere in there.
12. Wall Collage Above Desk
If you have a desk area in your bedroom, one cute way to decorate it would be to put a wall collage above the desk. This photo wall collage could double as a vision board to help keep you motivated and on track with your goals.
13. Black And White Photo Collage Wall
One of the coolest photo wall collage ideas for your bedroom is to do an all black and white collage. This is perfect for modern or industrial style bedroom decor.
I love how they covered the entire wall behind the bed, so that it almost looks like wallpaper! You can easily just print out your own photos in black and white, or you could get a pre-made black and white collage kit like this one.
Recreate this black and white wall collage:
14. Metal Grid Wall Collage
One easy way to create a photo collage in your bedroom is to use a metal wall grid. I love this idea because you can easily rearrange your collage or replace images when you find new ones you love.
All you really need is a metal wall grid and some little photo clips to recreate this!
15. Wallpaper And Prints Wall Collage
How cute is this wallpaper photo wall collage? I love the polka dot wallpaper as a backdrop for your favorite memories and prints that inspire you.
Get some peel and stick wallpaper for your bedroom and just hang your favorite photos on top of it! Such an easy way to add a ton of color and energy into your bedroom decor.
Recreate this wallpaper photo collage:
The Best Collage Kits On Etsy
Etsy is one of my favorite places to find collage kits for your bedroom walls. They have a TON of different styles, colors, and vibes so you'll definitely find one that fits your bedroom decor.
Be aware that some collage kits may be self-print. That means you're buying access to the digital images but you will have to get them printed yourself. So just check for that before you buy any of these collage kits.
16. Pastel Travel Collage Kit
17. Good Vibes Collage Kit
18. Trendy Neutrals Collage Kit
19. All Pink Collage Kit
Cute Collage Kits On Amazon
There are a ton of really aesthetic collage kits on Amazon. Before you buy any collage kit, make sure you know what dimensions you want and how much space you need to cover. I've seen collage kits that come with 100 large prints and others that come with 30 tiny prints.
One of my favorite collage kit sellers on Amazon is Haus and Hues. They sell a ton of different collage kits in different styles and sizes.
20. Aesthetic Photo Collage Kit
21. Rose Gold Aesthetic Collage Kit
22. Black And White Photo Collage Kit
23. Peach And Teal Collage Kit
This post was all about the best photo wall collage ideas for your bedroom.
You may also like: