Need a boost to your GPA this semester? Here are 12 easy classes at ASU that you can take if you want an easy A.
This post may contain affiliate links, which means I'll receive a commission if you purchase through my link, at no extra cost to you. Learn more: Affiliate Disclaimer.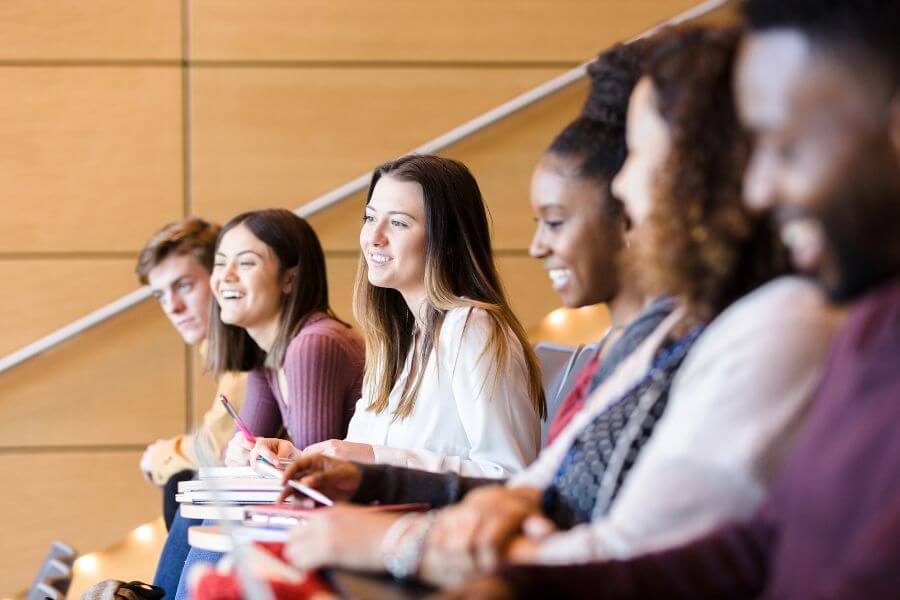 We've all been there – your GPA isn't where you want it to be and you're freaking out.
Luckily, you're probably only a few A's away from a better GPA. If you need a boost to your grade point average, we recommend taking an easy class that you think you can get a good grade in.
If you're a student at ASU, here are the easiest classes you can take to boost your GPA:
Easy Classes At ASU
1. JMC 102: Coding For Journalists
This course provides a basic understanding of how the internet works. You will get an introduction to JavaScript and gain knowledge surrounding the creation of web pages.
Although it sounds technical, this class is an easy A. You get extremely detailed instructions for each assignment, which makes it very difficult to mess anything up.
According to a Reddit user, 50% of your grade is based off of 6 quizzes, 30% is based on a series of 6 assignments, and 20% comes from your final project.
JMC 102 is described as an easy A class by several former students.
Here is an example syllabus from a previous year for this course.
2. MUS 354: History Of Popular Music
This music class is one of the easiest online courses offered by ASU. Throughout the semester, you'll learn about a specific topic in the history of popular music.
Some of the topics offered for this course are:
The Beatles
Classic Rock: 1950-1975
Rock Since 1975
Women Who Rock
Jazz Giants
And a few others.
We've even heard of students finishing the entire course's content within four hours. Talk about an easy A!
3. SWU 250: Stress Management
A college class that also doubles as self-care? Count us in!
This class teaches students how to manage their stress levels. You'll develop an understanding of how to create healthy balance in your life by studying the bio/psycho/social aspects of wellness.
We've even heard that the first 20 minutes of each class is spent doing yoga and meditating. One Reddit user described this class as the "easiest course there is".
You can check out a past syllabus for this course here.
4. PUP 200: Cities In Cinema
Want to earn college credit by watching movies? In this class, you'll learn about the factors influencing global cities seen through films around the world.
Each quiz for this course is divided into three sections – movie question, lecture video question, and reading material question. There are also ample opportunities for extra credit throughout the semester.
One former student described this class as "literally the easiest class ever. I wish I could keep taking it for the GPA boost."
5. PSY 394: Dog Behavior
Are you an animal lover? If so, you'll pick up some interesting tips in this class on dog behavior.
There is no textbook for this class, and you'll be graded mainly off of discussion posts and your two exams. Weekly practice quizzes are optional and don't count towards your final grade.
As one student described it, "ridiculously easy. Genuinely interesting material as well!"
You can check out a past syllabus for this course here.
6. ABS 360: Southwest Home Gardening
This course goes over contemporary topics in Southwest home horticulture. You'll learn about landscaping, flower and vegetable gardening, citriculture, interiorscaping, and other relevant topics.
The course is entirely self-paced and there are no scheduled meeting times with the instructor. However, you are required to submit your quizzes before the module deadline.
Your final grade will be based on 12 quizzes throughout the course of the semester.
You can check out a past syllabus for this course here.
7. SES 141: Energy In Everyday Life
Easy A's are not very common within the science field. SES 141 (previously SES 194) is the exception to that rule.
One Reddit user described this course as the "easiest class of my life, period. Plus, it counts as a science".
Prepare to have 2-3 assignments per week that can be taken an unlimited amount of times. You will also have open-book exams with no time limits.
You may have a lab project during the semester, but it can be completed in a very short amount of time. It doesn't get much easier than that to get science credits!
8. PRM 120: Leisure And Quality Of Life
Are you curious about the history of play, recreation, and leisure? Then this easy class at ASU is perfect for you!
One former student said, "just show up to class and talk about what you do for fun, and how it relates to what people in the past did. Free A."
You'll be graded on quizzes, discussion boards, and written assignments. There is an optional final exam that counts as extra credit.
Check out a past syllabus for PRM 120 here.
9. ROM 101: Elementary Romanian Language And Culture
Want to knock out 5 credits with a single class? Elementary Romanian is an easy language class that counts for 5 credits but only feels like 1 or 2.
According to one Reddit user, "there's barely any writing involved, and you can get an A+".
While you will need to work with partners, record conversations, and work on group projects, it's still easier than other language classes offered at ASU.
10. REL 321: Religion In America
Learn about the history of religion in America with an emphasis on the issues of historiography, pluralism, gender, race, ethnicity, politics, and social reform.
If you're at all interested in the history of religion, this could be a really easy A class for you.
One Reddit user said, "this was the easiest class I've taken online at ASU so far. It was about 30 minutes of work per week."
See an example syllabus for REL 321 here.
11. SOS 100: Introduction To Sustainability
Learn the basic concepts surrounding local and global sustainability.
Past students have described this class as an easy A for an online course. A lot of the quiz questions can easily be found in the online textbook.
12. ARS 100: Introduction To Art
How fun would it be to spend a semester learning about art? This course gives an introduction to the understanding and enjoyment of art.
You'll study painting, design, photography, sculpture, and decorative arts from around the world.
According to past students, it's a fairly basic class that mixes art history with art theory. You'll be graded on quizzes that can be retaken, as well as a weekly discussion.
One reddit user described it as the "easiest class I've ever taken."
This post was all about easy classes at ASU that you can take to boost your GPA.
You may also like: