21 Must-Have Amazon Dorm Essentials For College Students
Looking for the best dorm items you can buy on Amazon? Here is our ultimate list of Amazon dorm essentials that you need for college.
This post may contain affiliate links, which means I'll receive a commission if you purchase through my link, at no extra cost to you. Learn more: Affiliate Disclaimer.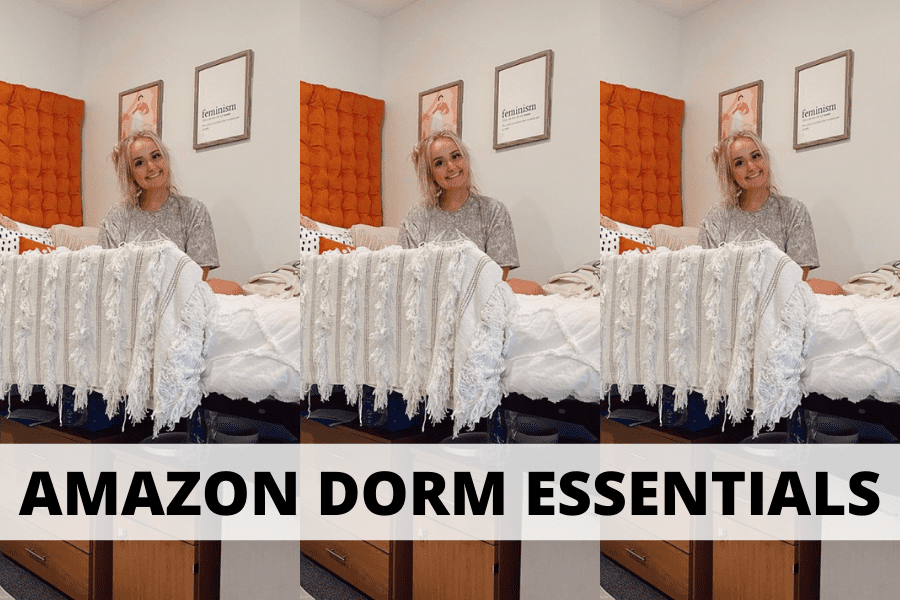 When I was moving into my dorm, I spent so much time searching the internet for random items I would need. I wasted so much time and money on things that I didn't really end up needing.
Luckily, Amazon has just about everything you'll need for your dorm room in one place. To make things easier for you, I've put together a list of my top dorm essentials you can find on Amazon.
The Best Amazon Dorm Essentials:
1. Storage Ottoman
A storage ottoman is one of the best Amazon dorm essentials because it serves so many purposes.
It can be extra seating for when friends visit, a footrest for your futon, and an extra storage spot (so important). I loved putting my extra blankets in there when they weren't in use.
[RELATED: 23 Under Bed Dorm Storage Ideas You Need In Your Dorm Room]
2. Bedside Shelf
A bedside shelf or table is absolutely crucial in your dorm room. You need a place to keep your phone, water, headphones, etc. while you sleep.
If you're planning on lofting your bed, I highly recommend getting a good bedside shelf that's made for dorm rooms. If you're just using bed risers, they make extra tall bedside tables for dorms.
3. Long Cord Power Strip
This is one of my top Amazon dorm essentials. There's nothing worse than getting your dorm all set up and realizing all of your outlets are blocked by your furniture.
That's why an extra long cord power strip is essential to have in a dorm room. I love this one from Amazon because it has USB ports as well as standard plugs.
4. Mesh Shower Caddy
If your dorm has communal bathrooms, a shower caddy is an absolute must have Amazon dorm item. You're going to be carrying your shower items to and from the bathroom every day so make sure you get something big enough for all of your products.
Make sure you get a mesh shower caddy rather than a plastic one! The mesh ones let the water drain out so you don't bring a puddle of water back into your dorm room.
[RELATED: 20 Things NOT To Bring To College (How To Avoid Overpacking)]
5. Command Hooks
Because you can't drill any holes into your walls, command hooks are an absolute essential dorm item. You'll use them for hanging string lights, decor, etc.
If you're planning on hanging pictures or posters, grab some command strips too. You won't regret stocking up on these!
6. Mini Fridge Caddy
How genius is this mini fridge caddy? It's perfect storage for your utensils or snacks without taking up any extra room. This is one of my favorite Amazon dorm essentials.
7. Shower Shoes
Trust me, you do not want to be walking a communal bathroom with bare feet. Save yourself from athlete's foot and get a cheap pair of shower shoes.
These shower shoes have holes in the bottom so the water drains out which is perfect for dorm bathrooms.
8. Over The Door Mirror / Jewelry Organizer
I am absolutely obsessed with this 2-in-1 jewelry organizer and full length mirror.
A full length mirror is definitely a must-have in a college dorm because you don't want to have to go down the hall the the bathroom every time you're getting ready. This mirror opens up and has TONS of storage space for jewelry, makeup, and other small accessories.
You can hang this over your door so it takes up practically no space!
9. Mini Keurig
When you're running late to class or pulling an all-nighter, you can't always get to the cafeteria to grab a cup of coffee. Having a compact coffee maker in your dorm room lets you make a cup of coffee anytime.
This mini Keurig is perfect for dorm rooms because it doesn't take up much space and it's super easy to use.
Don't forget to get some K Cups for your coffee maker!
Some of my favorite K Cup flavors:
10. Bed Risers With Outlets
If you're not planning on lofting your bed, make sure you get some bed risers so that you can maximize storage space under your bed.
Dorms are so tiny so you need all of the storage you can get! I love this set from Amazon because they have outlets built in so you don't have to worry about blocking the wall outlets with your bed.
11. Clip On Fan
Most dorms don't allow you to adjust the temperature in your dorm room, which means they can get super stuffy. This fan clips onto your bed or desk and will keep you cool and comfy all night.
[RELATED: How To Cool Down A Dorm Room With No Air Conditioning]
12. Mattress Topper
Trust me, a mattress topper is an absolute dorm room essential. Most dorm room mattresses are thin, hard, and uncomfortable.
I made the mistake of buying one of those thin foam mattress toppers when I lived in the dorms and it was horrible. Luckily, Amazon sells some amazingly plush mattress toppers like this one.
[RELATED: How to Make Your Dorm Bed More Comfortable | Turn Your Dorm Mattress Into a Hotel Bed]
13. Towel Wrap
A towel wrap is definitely a dorm essential for the ladies. This is one of those items that you will be using every single day if you have a communal bathroom in your dorm.
You're going to be walking down the hall to and from the dorm bathroom every time you shower. You don't want to have to worry about your towel slipping down.
14. Laundry Hamper
Hauling your laundry from your dorm room to the laundry room can be a huge pain. The most convenient laundry baskets for dorm rooms are ones that roll or turn into a bag for easy transport.
I love this dorm room laundry basket because it has handles for carrying, and there are two bags so you can separate lights and darks.
15. Wire Shelving
This is one of the most versatile Amazon dorm essentials. These wire shelves can be converted all different ways to fit to your space.
I loved having these in my dorm room closet for extra storage. I used these bins that fit perfectly inside and stuffed all of my accessories in them.
16. Bed Rest Pillow
Your bed is probably going to be the place where you spend the most time in your dorm room. That's why a bed rest pillow is one of my top Amazon college essentials.
It'll make studying and hanging out in your bed so much more comfortable and less straining on your neck and back.
17. First Aid Kit
The front desk of your dorm building probably has a few spare bandaids. But do you really want to be waiting for the elevator with a giant paper cut at 2am?
Trust me, keeping a small first aid kit in your dorm room will be so useful.
[RELATED: 25 Unexpected Things To Bring To College You'll Actually Use]
18. Cleaning Wipes
Cleaning products are a must-have dorm essential in this day and age. If I had to pick just one cleaning product that is a dorm room essential, I would pick disinfectant wipes.
Wipes are a quick, effortless way to keep your dorm room clean. Just wipe down any hard surfaces a couple times a week. Trust me, you'll want to have disinfectant wipes in your room at all times.
[RELATED: 21 Dorm Cleaning Supplies Every College Freshman Needs]
19. Hanger Expanders
Dorm closets are usually very tiny and cramped. Maximize your space with these hanger expanders from Amazon. You can hang 6 pieces of clothing on each hanger which will give you so much more room in your closet!
20. Compact Vacuum
Your dorm building may have a vacuum that you can rent out but usually it's a million years old and a giant pain to haul it up to your room.
Having a compact vacuum cleaner in your dorm room saves you a ton of time and sanity. This one is super affordable and works really well.
21. Clear Drawers
These clear plastic drawers are perfect to use for food storage in your dorm room. They're small enough to not take up too much room and the clear drawers make it easy to see what's in each one.
This post was all about the top dorm essentials you can find on Amazon.
Looking for more dorm posts?