This post is all about unexpected things to bring to college that you actually need.
This post may contain affiliate links, which means I'll receive a commission if you purchase through my link, at no extra cost to you. Learn more: Affiliate Disclaimer.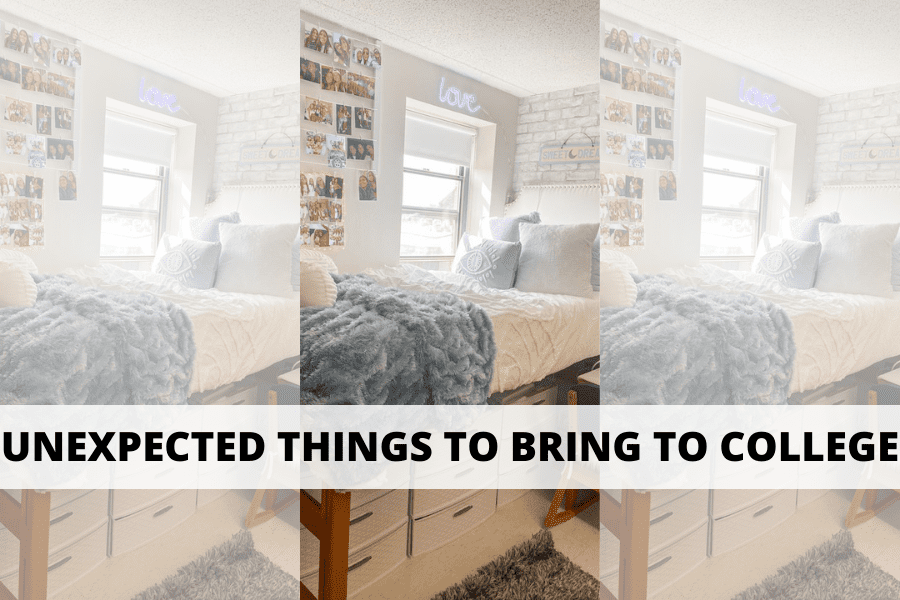 Shopping for college can be OVERWHELMING!!! If you're moving into a dorm for the first time, there are SO many things to remember to pack. Not to mention, the anxiety that surrounds starting classes and meeting new people.
You'll want to show up to your first day of college and feel like you're as prepared as possible! Over here on My College Savvy, we're all about helping you feel prepared and confident to take on college life.
That's why I've put together this list of 25 unexpected things to bring to college that you'll ACTUALLY need.
Unexpected Things To Bring To College
1. Clip On Fan
A fan is an absolute dorm room essential that a lot of students forget to pack. Dorms may or may not have air conditioning, depending on where your school is and when your dorm building was built.
I recommend having at least one fan in your dorm room to keep you cool. This clip on fan is such a genius product for dorm rooms. You can clip it onto your desk or bed frame to keep you cool while you study or sleep.
I've mentioned it in a few previous posts, and it's actually one of the most-ordered products that I recommend. If you're short on outlets or looking for something more portable, you can also get a battery powered clip-on fan.
[RELATED: How To Cool Down A Dorm Room With No Air Conditioning]
2. Rain Gear
I don't know why, but pretty much every college student forgets to pack rain gear! Even if you don't live in a particularly rainy climate, you'll definitely experience at least one rainy day throughout the year.
Make sure you're well-prepared with an umbrella and rain boots. For girls, I highly recommend these ankle rain boots from UGG. They're super stylish and made of really high-quality materials to keep the rain out. These waterproof boots from Rockport are a stylish option for guys.
You'll be doing a lot of walking outside in college. Make sure you have a sturdy umbrella that can handle the elements. A raincoat works too, but I prefer an umbrella because it will protect your laptop and textbooks from water damage as well.
3. Bedside Shelf
A bedside shelf is an absolute dorm room essential, but it's one of those items that's very commonly forgotten.
You need a spot next to your bed to store your phone, water bottle, and books. But oftentimes dorm beds are weird heights or you don't have room for a nightstand. That's why I always recommend this bedside shelf from BedShelfie.
It's specifically made for college dorm beds, so it should fit on your bed frame perfectly. This is another of the most popular items that I recommend on this site.
4. Stain Remover
Spills happen, especially in college! You're not always going to want to haul your things to the laundry room for a little coffee spill. So it's a good idea to have a few stain remover pens in your backpack and purse at all times.
This is one of those unexpected college items that comes in handy all the time!
5. Towel Wrap
If you're living in a dorm, you're probably going to have to deal with communal bathrooms. Let me tell you, it is NOT FUN going back and forth down the hallway in a towel. The fear of your towel falling down while you're carrying your bath items in the hallway is real.
A towel wrap solves that problem for you. It has an elastic band on the top to keep it from falling down.
You could also bring a bathrobe if you prefer that! A towel wrap is just nice because then you don't need to carry a robe AND a towel with you to the bathroom.
6. First Aid Kit
Another unexpected thing to bring to college is a first aid kid. You should definitely have at least a basic first aid kit in your dorm room.
Your dorm front desk will have bandaids and basic first aid items, but you probably don't want to take the elevator down to the lobby every time you have a paper cut. Save yourself some hassle and just keep some essentials on hand in your room.
7. Mini Tool Kit
You'd be surprised how often a tool kit comes in handy in college, especially when you're first moving in.
A lot of furniture and decor items will come unassembled. A tool kit will be so helpful when you're putting together all of your dorm furniture items. You'll also probably have to use it throughout the year when things break or come loose.
[RELATED: How To Hang A Hammock In A Dorm Room Without Causing Damage]
8. Personal Safety Alarm
This is one of those unexpected things to bring to college that I hope you never have to use! However, the sad reality is that there are times in college where you may be in sketchy situations.
If you're walking home alone from class or leaving a party, I always recommend having a personal safety alarm with you. All college students should have this, but especially the ladies!
When the top pin is removed, it activates a super loud siren and a flashing strobe light that helps deter a potential attack.
I recommend carrying around pepper spray as well!
9. Space Saving Hangers
These space saving hangers are GENIUS and I totally wish I had them for my tiny dorm closet. They basically allow you to fit 5x more clothes in your closet.
I recommend pairing these with velvet hangers for your dorm closet. Not only do velvet hangers look way cuter, but they also take up way less room than plastic hangers.
10. Bed Rest Pillow
Bed rest pillows are an absolute necessity for college dorms. Your seating options are super limited in a dorm room, and sometimes you just don't want to sit at your desk.
If you're studying or reading from your bed, a bed rest pillow makes it SO much more comfortable. I didn't have one of these in my dorm and I seriously regret it. I was constantly trying to prop my bed pillow up on the wall when I'd study in bed and it was super uncomfortable.
[RELATED: 23 Best Dorm Chairs for College Students]
11. Dorm Room Safe
This is one of the most unexpected things to bring to college, but it's definitely a necessity. Dorm theft is much more common than you may think. It's always a good idea to lock up your valuables in a safe or lock box.
The most commonly stolen items are smaller valuable items like laptops, jewelry, cash, and other small electronics.
I really like this locking storage box from the brand Vaultz. It's big enough to fit a laptop and other small valuable items, but small enough to fit discreetly under a bed or desk. Plus, it has a tether cable so you can secure it to a heavy item like your bed frame or desk leg.
A more discreet option is this book safe with combination lock. It's not big enough for a laptop, but you can fit smaller valuable items like phones, jewelry, and credit cards.
[RELATED: 5 Best Dorm Room Lock Boxes For College Students]
12. Shower Shoes
Shower shoes aren't exactly an "unexpected" thing to bring to college, but they are really commonly forgotten!
Communal bathrooms are gross. You'll want a good pair of shower shoes so you don't have to walk barefoot through the bathrooms in your dorm. Make sure the shoes you choose have good drainage holes so you're not carrying a ton of water back to your dorm with you.
13. Moisture Absorbers
Dorms can get MUSTY! Especially if the humidity gets too high. These moisture absorbing cups can be placed in your closet or on your desk to capture water from the air and keep your dorm smelling fresh.
[RELATED: 9 Easy Ways to Make Your Dorm Room Smell Good]
14. Shoe Deodorizers
You definitely do NOT want to be known as that roommate that stinks up the room with their sweaty gym shoes. These shoe deodorizers are seriously miracle workers at keeping your shoes fresh and eliminating existing odors.
This unexpected college item may just save your relationship with your roommate. You're welcome!
15. Costumes
One thing that I totally regretted not bringing to college was more costumes. If you participate in any kind of campus activities (sororities, clubs, or even just college parties), you'll need at least a few costumes throughout the year.
Save yourself some last minute Amazon orders and bring a few costumes with you to college! Need costume inspo? I have a ton of posts about the best college halloween costumes!
16. Storage Mirror
This is one item that I reallllyyy wish I had in college! A full length mirror is a total necessity, and most dorms won't come with one.
This over-the-door hanging storage mirror is an absolute life saver for dorm living. You can hang it from any door in your room and it opens up to be a jewelry storage armoire! There's TONS of storage space for jewelry, makeup brushes, sunglasses, and other small items.
[RELATED: 8 Things I Wish I Brought to College My Freshman Year]
17. Extra Long Charging Cords
You probably wrote down charging cords on your packing list. But did you think to pack a few extra long ones? Most dorms were built forever ago when there wasn't as much of a need for outlets. You may have one or two outlets in your whole room!
Make sure your charging cords are long enough that they can reach your desk or bedside table. I like to have a few different lengths of charging cords for my phone, laptop, and other electronics.
This pack of extra long iPhone charging cords comes with 3 different cord lengths, so you'll have a charging cord for every possible scenario!
18. Earplugs and Noise Cancelling Headphones
Dorm walls can be super thin! You don't want to be constantly woken up by the sound of your neighbors talking or blasting music. I recommend getting a good pair of earplugs, especially if you're a light sleeper. I really like this pair of earplugs because they cancel noise well and are reusable.
If you like to study in coffee shops or the library, you'll also probably want to bring a pair of noise cancelling headphones. They'll help you tune out the background noise and focus on studying.
19. Clear Bag For Game Days
This is one of the best unexpected things to bring to college, especially for girls. If your school has sports games, they'll probably only allow bags that are completely see-through. This is a standard rule at college stadiums.
Bring a cute clear bag like this one from Amazon for your phone, wallet, and other personal items.
20. Command Strips and Hooks
I can't stress enough how much you'll end up using command strips and hooks! You're typically not allowed to damage your dorm walls in any way, including drilling holes. So you'll be using command strips for EVERYTHING in your dorm room.
I used command strips and hooks for hanging pictures, string lights, tapestries, and all of the other decor in my dorm room. Do yourself a favor and stock up on these before the school year starts.
[RELATED: Dorm Room Wall Decor – 10 Ways to Decorate Your Dorm Room Walls]
21. Foldable Drying Rack
This is one of those unexpected things to bring to college that you may or may not need! But if you have a lot of clothes that require air drying, be sure to pack a foldable drying rack. This will save your clothes from getting destroyed by those super old dryers in dorm laundry rooms!
You can keep it folded in the back of your closet when you're not using it. Then just take it out on laundry day!
22. Wrinkle Release Spray
Another laundry item that is an absolute dorm essential is wrinkle release spray. Chances are, you're not going to want to bring an ironing board and iron to your college dorm.
This wrinkle release spray is seriously magical for getting wrinkles out of your clothes. You just spray it on the wrinkly part and then pull down on it to stretch it out a bit. I've used this on so many different clothing items and I'm seriously impressed every time.
23. Slippers
One unexpected dorm item that I forgot to bring to college was a good pair of slippers. Dorm carpets are nasty. You have no idea how long that carpet has been there or what's been spilled on it.
Slippers help keep your feet cozy and keep you from walking on nasty dorm floors. I have these fluffy criss cross slippers and I absolutely love them. They keep my feet warm without making them get too hot and sweaty. I've also heard really good things about UGG slippers!
24. Blackout Curtains
Blackout curtains are one of those dorm items that you wouldn't think to bring but it's a total life saver! Not only do they keep your dorm room dark when you're trying to sleep, but they actually help keep heat from transferring through the window! That means your room will be cooler in the summer and warmer in winter.
Make sure to get curtain rod holders that don't require any drilling. These curtain rod holders stick to your wall with adhesive, so they won't cause any damage.
25. Water Filter
Sometimes tap water just doesn't cut it. Rather than being wasteful and buying plastic water bottles all the time, just use a water filter pitcher!
You just fill it up with water and it filters out all of the chemicals, particles, and bad tastes that can show up in tap water.
---
This post is all about unexpected things to bring to college that you'll actually use.
You may also like: