19 Dorm Items To Share With Your Roommate in College
This post is all about dorm items to share with your roommate in college.
This post may contain affiliate links, which means I'll receive a commission if you purchase through my link, at no extra cost to you. Learn more: Affiliate Disclaimer.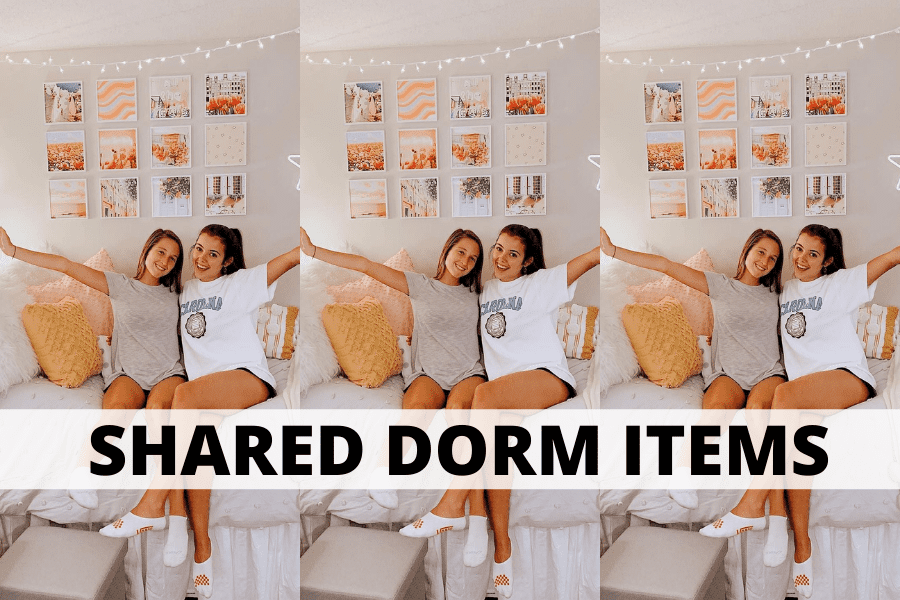 When you are moving into a college dorm room, there are SO many items you need to shop for. Luckily, there are tons of college dorm items that you can share with your roommate to reduce your costs a little bit.
To help you figure out what items you can share with your roommate, I've put together this list of 18 communal dorm items. Some things are super obvious (who needs two vacuum cleaners??) and some are ones you may not have thought of.
This post is all about what to share with your college roommate.
Dorm Items To Share With Your Roommate
1. Mini Fridge
Discuss with your roommate whether you want to share mini fridges or have your own.
If you plan on eating most meals in the dining hall, you can save money by sharing a mini fridge with your roomie. I ate a lot of meals in my dorm so I opted to have my own mini fridge my freshman year of college.
P.s. make sure you get a mini fridge stand and caddy to store you kitchen items. Trust me – it's a game changer!
2. TV

If you and your roommate are planning on having some movie nights in your dorm, share a tv!
I typically watched my own netflix shows on my laptop in bed but it was always fun to go over to my friends' dorms for movie nights.
There's really no reason to have two televisions in your dorm room so this is another item you'll want to coordinate with your roommate on. This Insignia TV is the perfect size for dorm rooms.
3. Microwave

Another perfect shared dorm item is a microwave. You'll use a microwave pretty much every day when you're living in a college dorm room. As a student, you'll be super busy all the time so you won't always have time to cook a full meal. Microwave meals will be your best friend in college.
You obviously won't need two microwaves in your dorm room so just coordinate with your roommate on who will bring one. Just make sure to be a good roomie and clean up any spills or splatters after you use it!
[RELATED: 22 Microwave Mug Meals You Can Make In Your Dorm]
4. Coffee Maker
A coffee maker is a MUST HAVE when you're living in a dorm room. College students drink crazy amounts of coffee to power through long study sessions and exam week.
Yes, there will be coffee shops on campus but it's silly to spend $5 a day on coffee when you can make it in your dorm room for much cheaper.
My two favorite coffee makers for students are the Keurig Mini and the Cuisinart Coffee on Demand.
The Keurig Mini is super popular in dorms because it's compact, convenient, and affordable. You can make single cups of coffee whenever you need to throughout the day.
The Cuisinart Coffee on Demand maker is another perfect coffee machine for college students. You can brew up to 12 cups at once and then dispense it throughout the day. It doesn't have the pot and hot plate so your coffee will never taste burnt. You can also program it to start brewing coffee right in the morning so it's ready as soon as you get up.
5. Vacuum

Another good communal dorm item is a compact vacuum cleaner.
Most dorms rent out vacuum cleaners from the front desk but they're usually huge, heavy, and super old. You won't want to have to go down to the lobby and haul a giant vacuum cleaner upstairs for every single little spill.
Having a compact vacuum cleaner in your dorm closet will be SO helpful. Discuss with your roommate who will bring one of these.
[RELATED: 21 Dorm Cleaning Supplies Every College Freshman Needs]
6. Water Filter Pitcher

Another item you can share with your roommate to save money is a water filter pitcher.
A water filter pitcher saves you SO much money rather than buying plastic water bottles all the time. Plus, it gets rid of that weird tap water taste.
You can definitely share this with your roommate and split the cost of filters when they need to be replaced. Just make sure you remember to fill it back up after you use it!
7. Printer

If your school doesn't offer a ton of printing options, you may want to have a shared printer in your dorm room. Just keep in mind that ink can be super expensive. Make sure that you split that cost as well if you guys are both using the printer.
My school offered super low-cost printing almost anywhere on campus so I didn't feel the need to have a printer in my dorm room.
8. Textbooks
Even if you don't have the same major, most freshmen take a lot of the same general education classes.
Swap schedules with your roommate to see if there's any overlap. If you have any of the same classes you can cut down on costs by sharing textbooks.
9. Portable Speaker

Portable speakers are a must-have item in college. You'll use them when you have people over, if you're having an outdoor study sesh, for beach/park days, etc.
If either of you already have a portable speaker, decide which one of you will bring it to your dorm room.
One fun idea that can help you get to know your roommate is to create a shared dorm room playlist on Spotify. You can each add your favorite songs and you can listen to the playlist when you're studying or hanging out together in the room.
[RELATED: 17 Commonly Forgotten College Items To Add To Your Packing List ASAP]
10. Gaming Consoles

If you and your roommate are both into gaming, make sure you coordinate which gaming consoles you want to share.
A really fun gaming console to have in a dorm room is the Nintendo Switch. My boyfriend and his roommates played their switch together all the time. They even had extra controllers for when they had friends over. It was definitely a good bonding experience for them.
11. Streaming Services
Streaming services are a super useful expense to share with your roommates. If you're going to have any streaming services on your communalTV (Netflix, Hulu, HBO, etc.) make sure you coordinate and split the costs.
You can also split the bill for other subscriptions like Amazon Prime if you're both going to be using it. Get a discounted student subscription for Amazon Prime here.
12. Kitchen Items
You can easily share kitchen items with your college roommates as well.
The best kitchen items to share with your roommate are things like blenders, can openers, cutting boards, etc. Basically anything that you typically won't be using every day.
I recommend having your own dishes and utensils to avoid any conflicts over dirty dishes.
[RELATED: 20 Dorm Kitchen Essentials You'll Actually Use]
13. Plunger & Toilet Brush

If your dorm building has communal bathrooms you won't have to worry about this one.
But if you live in a dorm that has suites with individual bathrooms, you'll definitely need to pick someone to bring a plunger and toilet brush set. Trust me, you do not want to be caught without these in your dorm bathroom.
[RELATED: 9 Dorm Bathroom Essentials Every Freshman Should Have]
14. Curtains
Curtains are another obvious item to share with your college roommate. Make sure you get a set of curtains that go well with both of your decor styles and color schemes.
My favorite way to hang curtains in a dorm room is with these damage-free curtain rods.
15. Trash Can

If your school doesn't provide trash cans in every dorm room, make sure one of you remembers to bring one. You'll both be using it so make sure you split the responsibility of emptying the trash as well.
It's also a good idea to split the cost of trash bags. These bags fit perfectly in the gold trash can linked above.
16. Rugs
An area rug will pretty much take up the whole center part of your dorm room. Make sure you coordinate with your roommate before purchasing a rug so that you know they like the style of it.
Try to buy a rug that fits both of your design styles and color schemes. When in doubt, go with something neutral!
17. Futon

You're definitely going to be sharing your futon if you and your roomie decide to have one in your dorm. It will likely get used by both roommates, their friends, overnight guests, etc.
Any furniture you bring to your dorm room will likely experience plenty of wear and tear throughout the year. Make sure you don't invest too much money into something that may not last very long.
This futon from amazon is super affordable and looks like it could withstand heavy usage.
[RELATED: 23 Best Dorm Chairs for College Students]
18. Cleaning Supplies
There's no point in having two sets of cleaning supplies in a shared space. Figure out what cleaning items you'll need and then figure out who will bring what.
Not sure what cleaning supplies you'll need for your college dorm? Here are the most important dorm cleaning supplies.
19. Mirror

A mirror is a great dorm item to share with your roommate because there's really no need to have more than one in your dorm room.
I am absolutely OBSESSED with this combination mirror / jewelry storage unit. It's a full length mirror that opens up to tons of storage space for jewelry, makeup, and other small accessories. Definitely coordinate with your roommate about who will bring something like this.
Tips for Sharing Dorm Items With Your Roommate
What should you share with your college roommate?
Think about items that you'll both have a need for on a regular basis. Then coordinate with your roommate to see if they want to share any of these items.
Obviously don't share anything that you aren't okay with potentially damaging. If you're sharing an item, it's more likely to have some wear and tear by the end of the year.
And please don't share personal hygiene items. Ew!
How can you share items with your roommate in college?
There are a few ways you can have shared college items. If one of you already owns an item, let the other person know so they don't buy a duplicate item.
If neither of you own it, you have two options:
Split the cost
Split the responsibility of purchasing the items
I personally prefer #2 because that way there's no question of who gets to keep each item at the end of the year. Everyone just keeps what they purchase. However, some things make sense to split costs for. Things like paper towels and garbage bags that you'll likely run out of by the end of the year.
How to plan who brings what?
Connect with your roommate as soon as you know who you're living with. Some people start school shopping EARLY so you'll want to start coordinating as soon as possible.
Next up, create a list of everything you'll need for your dorm room. I highly recommend downloading my printable dorm room packing list as a starting point.
Once you have your list, decide who will bring what. Try to split up the items equally by price so that one person doesn't wind up with all of the expensive items.
This post was all about what items to share with your roommate in college.
Looking for more college tips?