21 Boho Dorm Decor Ideas You'll Want To Copy For Your Room
This post is all about the cutest boho dorm decor ideas that you'll want to recreate in your dorm room.
This post may contain affiliate links, which means I'll receive a commission if you purchase through my link, at no extra cost to you. Learn more: Affiliate Disclaimer.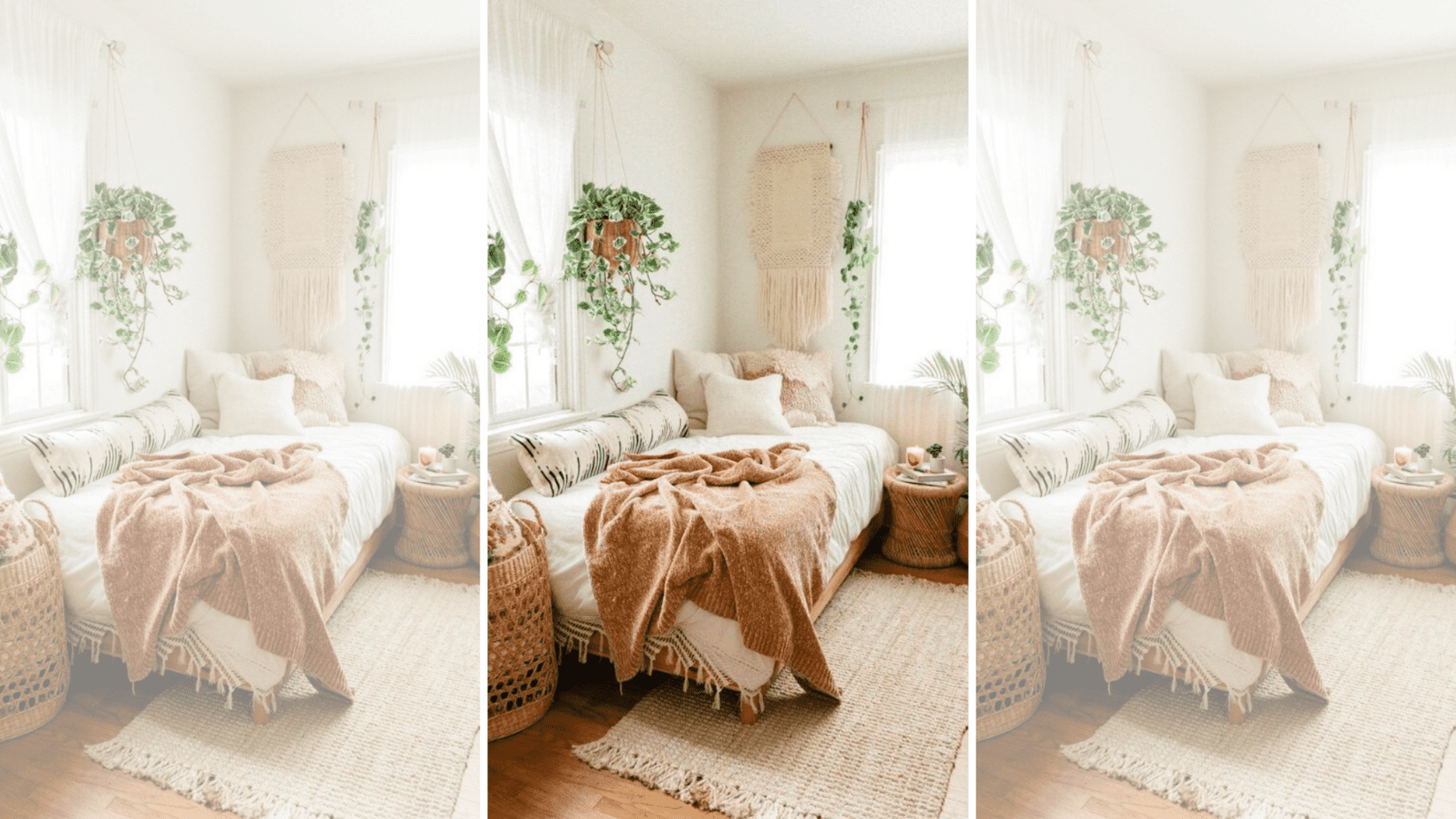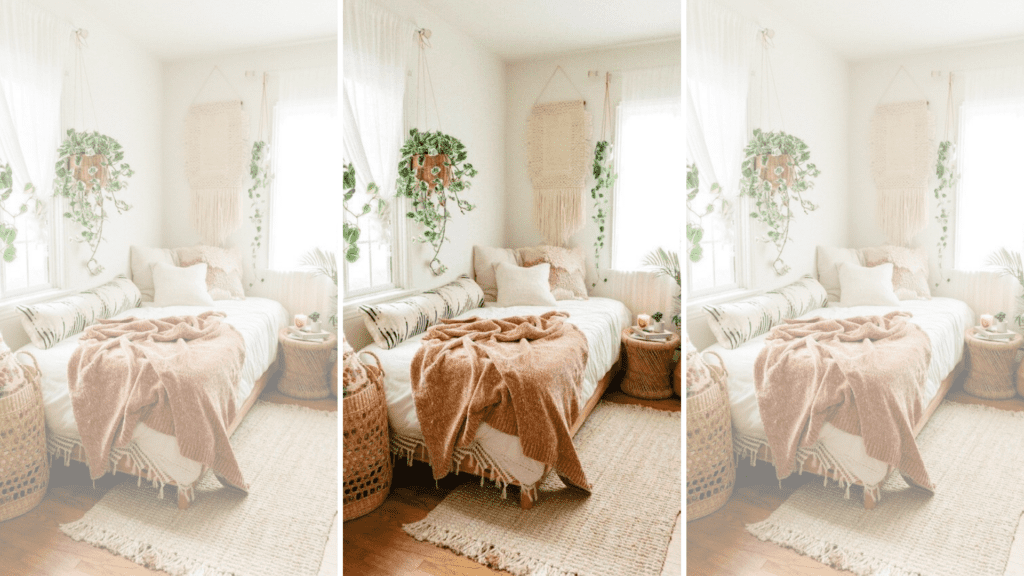 Are you looking for boho dorm decor? This post goes over how to find perfect boho dorm decor and furniture that will make yours the trendiest dorm room on campus.
One of the most popular decor styles for dorm rooms is the boho style. When looking on Pinterest, there are TONS of dorm rooms decked out in different types of boho decor.
The boho style typically includes a lot of natural textures, prints, and colors. Think hanging plants, macrame wall art, and wooden/rattan furniture.
Here are some cute boho dorm decor ideas that you can copy for your college dorm.
 P.s. we do not own the rights to these images. If you are the original copyright owner, please email [email protected] for credit/removal.
25 Trendy Boho Dorm Decor Ideas:
1. Minimal Boho
Sometimes you don't need a ton of decor to make a big statement. I love how minimal this boho dorm room is.
If you want to recreate this look, just hang a basket or any kind of rattan wall hanging. Keep your bedding colors minimal, but add a pop of color with some throw pillows or a cozy blanket.
Recreate this boho dorm room decor idea:
2. Mountain Tapestry
If you're an outdoorsy "granola girl" type, this is the perfect boho dorm decor idea for you. Bring the outdoors in with a beautiful mountain tapestry. Add some faux vines and twinkly lights to complete the look.
Recreate this boho dorm room:
3. Orange Sunshine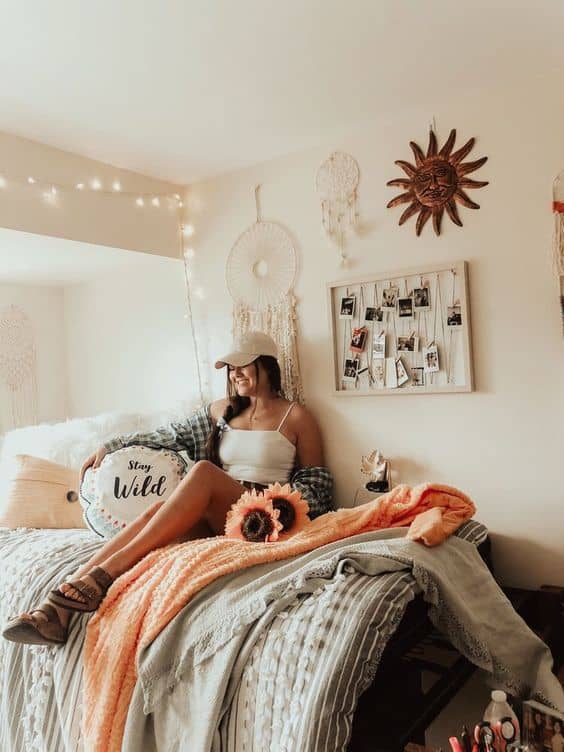 How adorable is this peachy orange boho dorm room? This girl completely nailed the boho aesthetic with her macrame wall hanging, metal sun wall art, and lots of cozy textures on the bed.
Throw in some twinkly fairy lights and you have a perfectly decorated boho dorm room!
Recreate this boho dorm decor:
4. Dreamy Neutral Boho Dorm
I'm absolutely obsessed with the mixture of neutral colors and plants in this boho bedroom.
The rattan furniture, hanging planters, and white linens make this room look so bright and beautiful. I love that they added in a pop of color with that dusty pink colored blanket.
Recreate this boho dorm decor:
5. Comfy Layers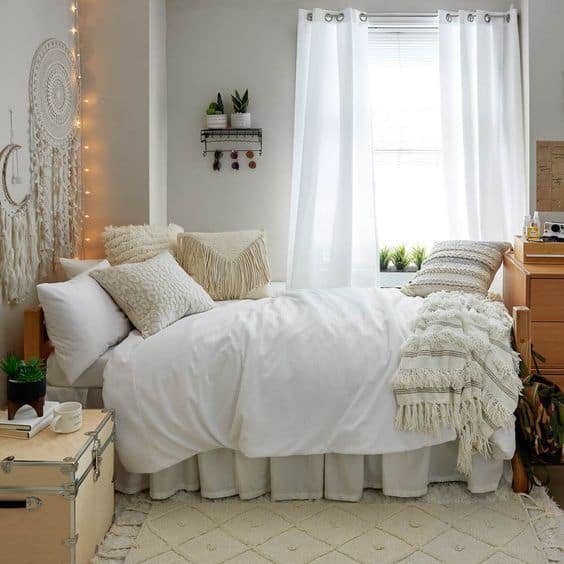 There's nothing cozier than having a ton of layers on your bed. Get this boho dorm decor look in your room by layering a ton of fringed pillows and blankets on your bed.
One tip to make boho look super chic is to keep all of your decor to one or two colors. Everything in this dorm room is white and beige, which makes it feel really clean and modern. Add in a few faux succulents and you'll have a total boho dream dorm!
Recreate this boho dorm room:
6. Under Bed Oasis
Utilizing the space under your bed is the best way to make your dorm room feel bigger. It's the perfect place to put a storage cart, extra seating, and other miscellaneous items.
I absolutely LOVE this hanging chair under a lofted bed. If your bed can support a hanging chair, you need to copy this boho dorm decor idea!
Recreate this boho dorm decor:
7. Canopy of Vines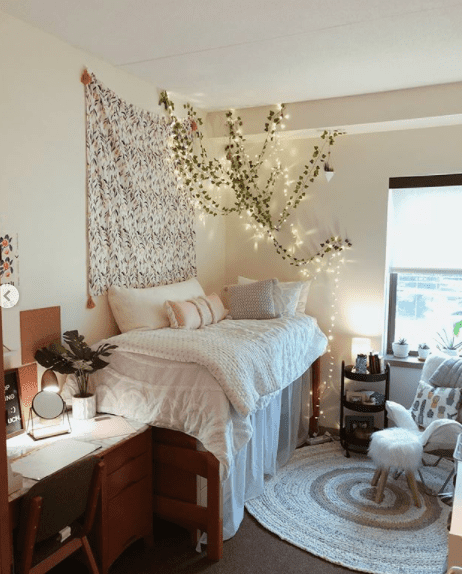 How dreamy is this boho dorm room? I absolutely love the idea of hanging vines and string lights from the ceiling above your bed. It creates the perfect boho, secret garden type of vibe.
Top it off with a jute rug and floral tapestry for a seriously Pinterest-worthy look.
Recreate this boho dorm decor idea:
8. Peachy Boho Dorm Decor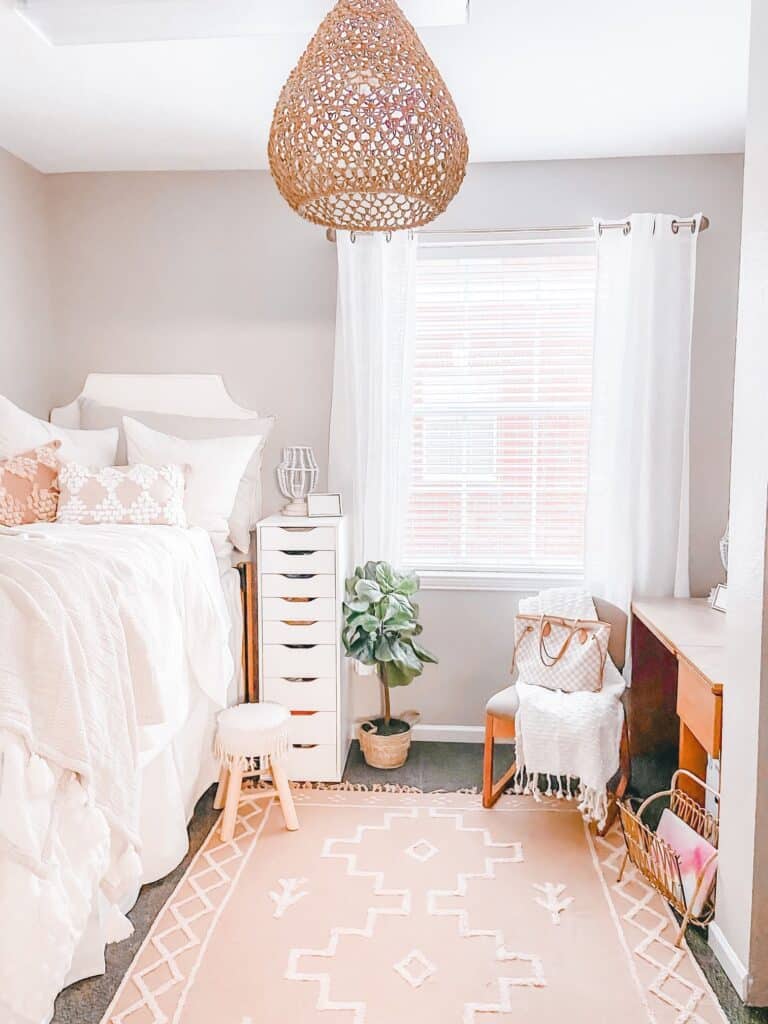 How bright and fun does this peachy boho dorm room look? I love the idea of adding a pop of color with a cute rug.
This student kept the other decor pretty simple which allows the boho rug to be the centerpiece of the dorm room. All you need are a few cute throw pillows and some fun boho accents like a fuzzy stool and a cute faux plant.
Recreate this dorm room decor idea:
9. Tassel Wall Hanging
One cute way to decorate your dorm walls is with a boho tassel wall hanging. I love that they tied the colors of the wall decor in with their bedding. It gives the room a much more cohesive look.
By the way, if you're looking for a good headboard for your dorm bed, check out this one from Dormify that's in the picture! It's made specifically for dorm beds, so you don't have to worry about it not fitting or staying up right.
Recreate this boho dorm room idea:
10. Boho Gallery Wall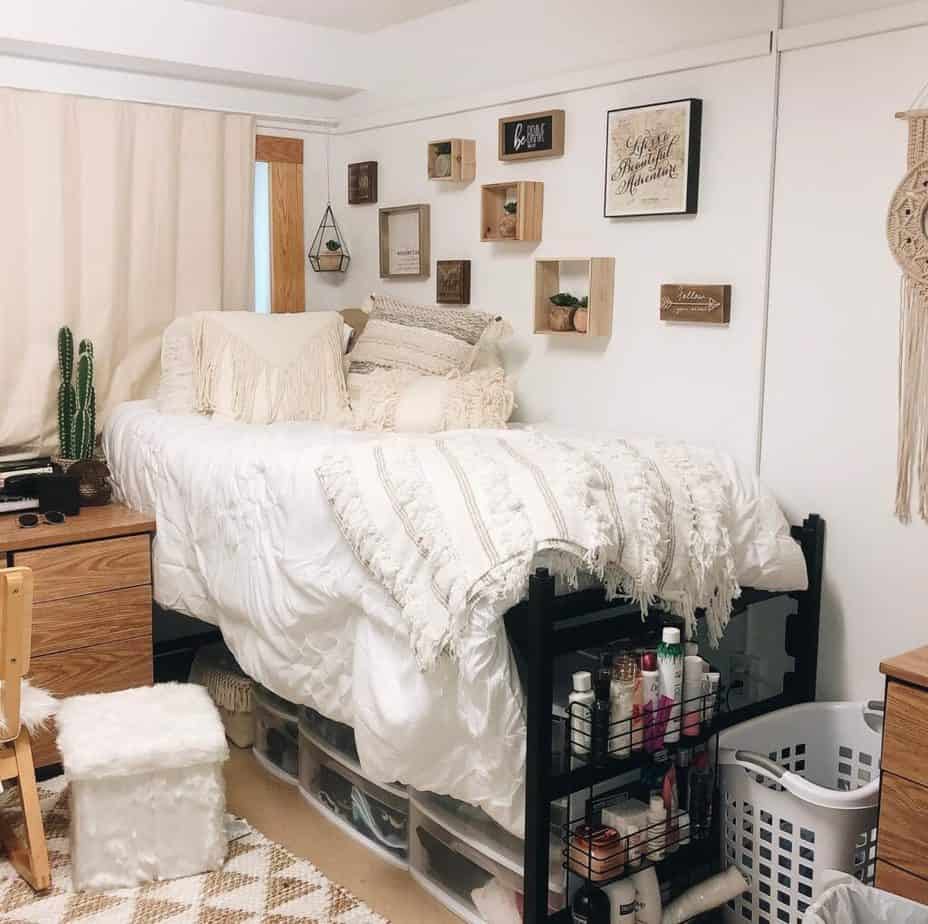 Nothing looks more sad than completely bare walls in your dorm. One way to make a big statement in your bohemian dorm room is to create a gallery wall behind your bed.
Find some cute prints, frames, and shelves to fill up the space on your wall. Throw in some cozy fringed blankets and your dorm will look totally cute and boho.
Recreate this dorm room decor:
11. Dorm Room Hat Wall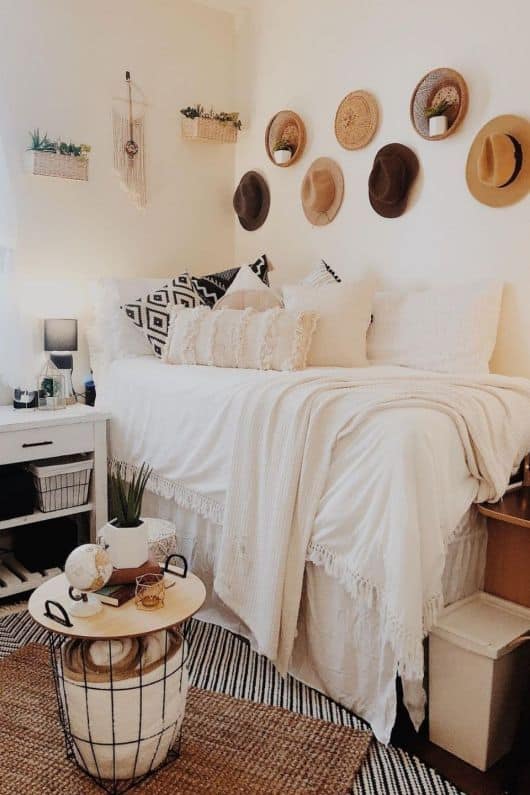 Not a fan of regular gallery walls? If you have a lot of hats already, hang them up with some command hooks and create a super cute hat wall!
I'm also so obsessed with the layered rugs, macrame wall hanging, and fun little plants in this boho style dorm room.
Recreate this dorm room hat wall:
12. Boho Dorm Desk Area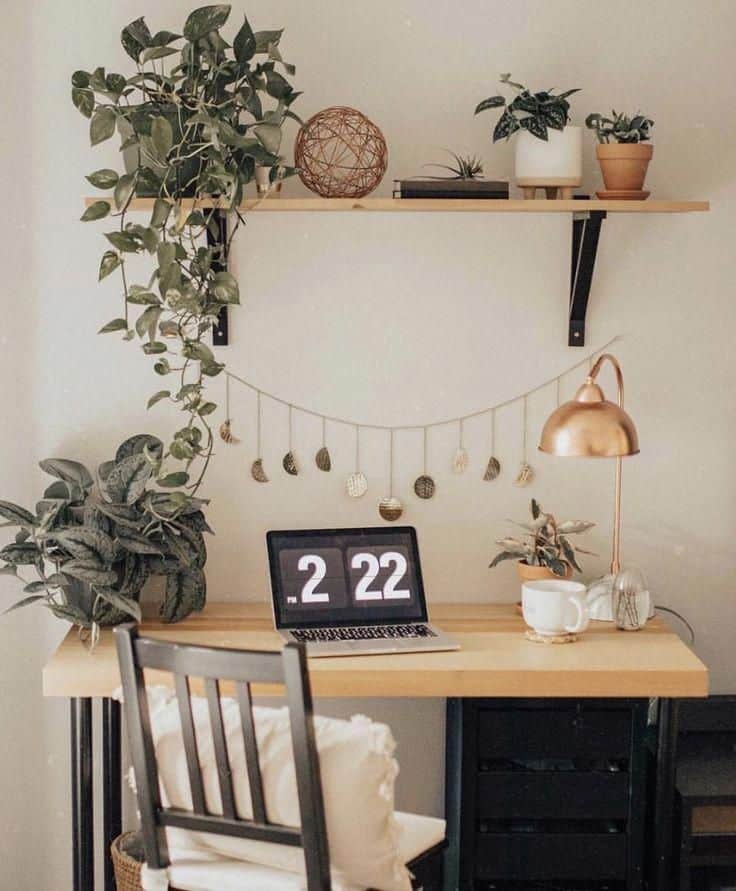 A well-decorated desk area is a must for a dorm room. Aside from your bed, your desk is the spot in your dorm where you spend the most time. So make sure you make it a beautiful space to hang out!
Fill it with a ton of plants, hang a cute boho garland, and add in a gorgeous gold lamp to recreate this stunning boho desk area.
Recreate this boho dorm desk area:
15. Black and White Boho Dorm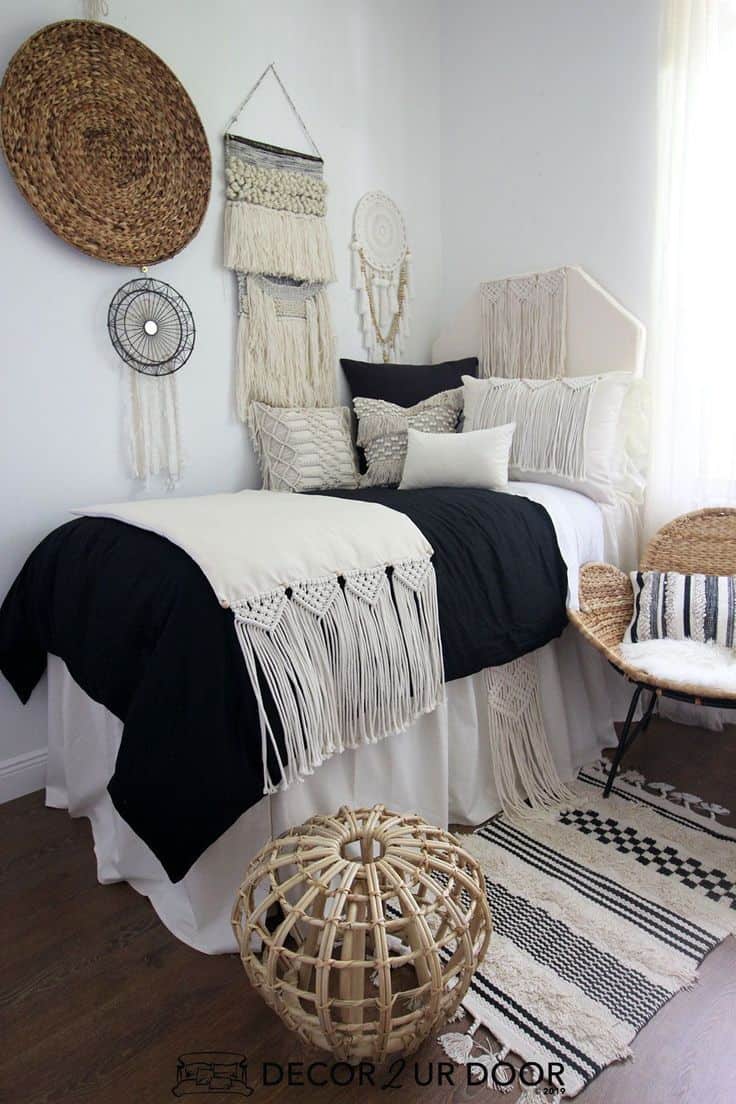 This black and white boho dorm room looks so fun and modern. I love the different textures in the bedding and wall hangings.
I love the beautiful wicker chair that they added next to the bed but it may not be the most practical option. If it were my room, I would probably add in a nice dorm room bedside table so you could put your phone and water next to your bed.
Recreate this black and white boho dorm:
16. Yellow Boho Dorm Decor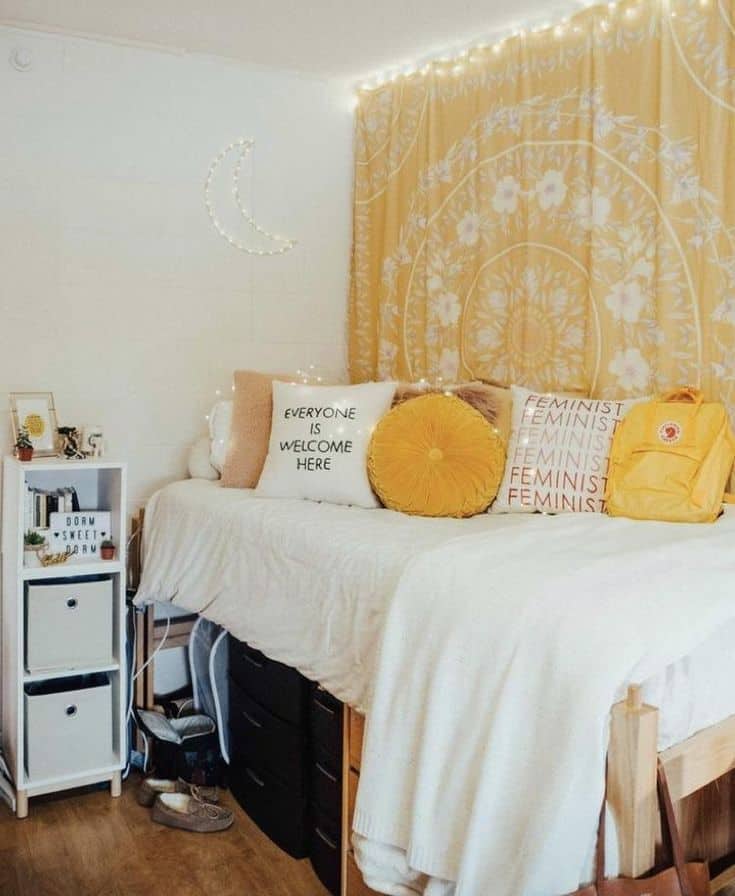 Looking for a super bright and colorful dorm room decor idea? Fill your room with everything yellow! It would be so hard to be sad in a dorm room that looks like this.
I love the cute boho yellow tapestry and all of the different fun throw pillows.
Recreate this yellow boho dorm room:
17. Coordinating Boho Dorm Decor
I absolutely love the look of this coordinated boho dorm room. These roommates definitely consulted with each other ahead of time on colors and theme, but it doesn't look too "matchy" which is good.
The removable wallpaper and matching wooden headboards really tie the room look together.
Recreate this coordinated boho dorm idea:
18. Vintage Vibes Boho Dorm Room
I love all of the vintage looking decor in this dorm room. The up-cycled crate, vintage album sleeves on the wall, and warm velvet pillows make this dorm look super cozy and welcoming.
The bright white comforter and faux succulents provide a really nice brightness and contrast well with the vintage elements.
Recreate this dorm room decor:
19. Rustic Boho Dorm Decor
Can't decide between rustic and boho dorm decor styles? Combine them! I love how cozy this dorm room looks with all of the natural elements and different textures.
If you want to recreate this dorm room, you'll just need neutral colored bedding, some macrame wall hangings, and a wooden headboard.
Recreate this rustic boho dorm room:
20. Moons & Fairy Lights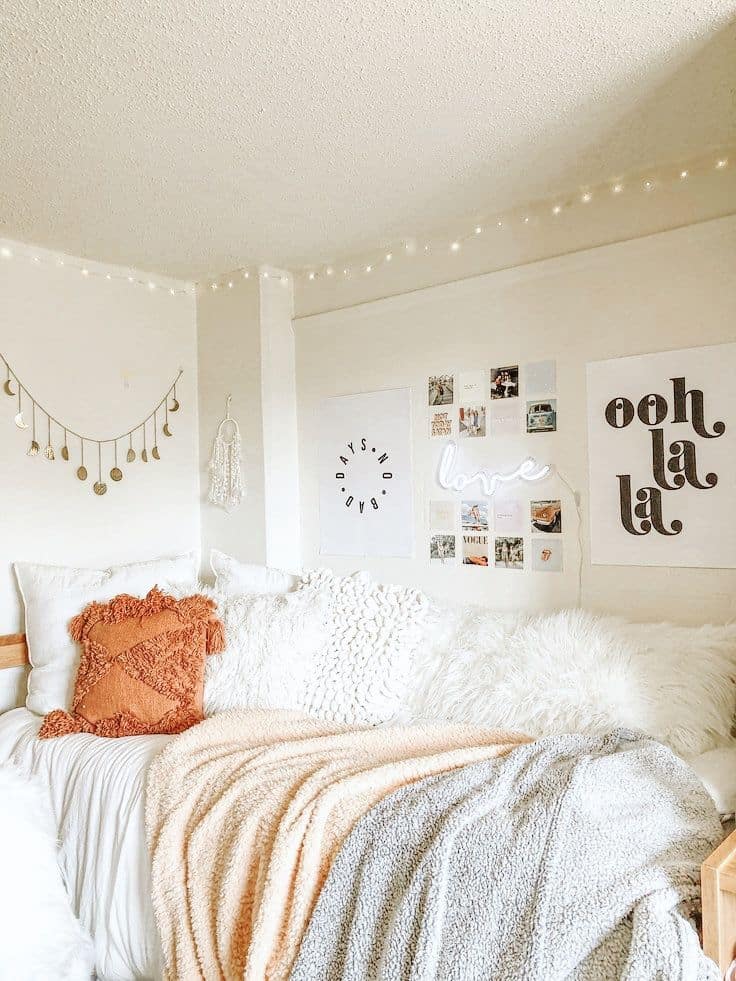 Doesn't this boho dorm bed just look so cozy and inviting? I love all of the soft layers, wall decorations, and twinkly lights.
Recreate this dorm room:
21. Funky Pattern Dorm Decor
One easy way to make your dorm room look more bohemian is to add some funky patterns to your decor. I love this combination of the patterned bedspread and rug.
If you're adding patterns to your dorm decor, make sure you don't go too overboard. Pick one or two large decor items and keep the rest neutral.
Recreate this boho dorm room:
The Cutest Boho Dorm Decor Products
Comforters & Duvets
One of the most important parts of decorating your boho dorm room is choosing the perfect bedding!
Your bed is the main focal point of your room so you'll want to pick a comforter or duvet that matches your theme! For a boho look, I recommend sticking with solid or muted colors, fun prints, or unique textures.
Boho Wall Decor
This is the fun part because there is SO much boho wall decor out there. Macrame wall hangings, celestial garland, and funky mirrors are just a few ways you can make your boho dorm walls look amazing.
My favorite places to buy boho wall decor are Urban Outfitters, Amazon, World Market, and Target.
[RELATED: Dorm Room Wall Decor – 10 Ways to Decorate Your Dorm Room Walls]
Furniture
You're not going to be bringing too much furniture to your dorm room so these are just a few fun ideas to make your room look really special.
Rattan stools or ottomans are a really great way to add a natural boho touch to your room. If you're looking for a unique futon for your boho dorm room, I love this camel suede futon from Amazon.
[RELATED: 23 Best Dorm Chairs for College Students]
Boho Pillows
Pillows and throw blankets are an amazing way to add a boho touch to your dorm room. Adding tons of fun textures and prints will make your dorm room feel so cozy and look so trendy!
Trendy Baskets
Storage is ESSENTIAL in a dorm room. Get a few boho looking baskets to hold things like shoes, blankets, and snacks!
Plants & Planters
Plants are one of my favorite ways to transform your dorm room or apartment. They make your place look instantly brighter and cleaner. If you don't trust your ability to keep plants alive, you can always get fake ones!
[RELATED: 9 Air Purifying Plants for Dorm Rooms]
Tapestries
Tapestries are a really easy and inexpensive way to make a big statement in your dorm room. You can cover almost a full wall and really bring your boho theme together with a cute tapestry. Amazon is a great place to get tapestries for a really affordable price.
[RELATED: 35 Cute Tapestries To Hang on Your Dorm Room Wall]
This post was all about how to decorate your boho dorm room.
Other Dorm Room Posts: