The Best Dorm Shopping Tips You Need To Know Before Moving Into College
This post is all about the dorm shopping tips. You'll find helpful tips and tricks for dorm shopping, the best stores to shop for dorm stuff, and a free printable college packing list.
This post may contain affiliate links, which means I'll receive a commission if you purchase through my link, at no extra cost to you. Learn more: Affiliate Disclaimer.
Dorm shopping can be SO overwhelming. It feels like you're completely starting over and buying pretty much everything new.
When I moved into my dorm I had no idea what I was doing and I went a little bit overboard. I ended up with a ton of stuff that wasn't all that useful.
So here are some dorm shopping tips that will help you figure out what you need and where to get it from.
This post is all about the top dorm shopping tips that you need to know.
Dorm Shopping Tips:
1. Coordinate With Your Roommate
You and your roommate(s) should chat about who's bringing what. You don't want to end up with 3 coffee makers taking up space in your room. Read this post to figure out what dorm items you should share with your roommate.
If you guys are planning on sticking to a color scheme, make sure you communicate that ahead of time as well. Some roommates coordinate their entire rooms while others just decorate their own areas however they want.
2. Check Your Dorm's Rules Ahead of Time
Before you start dorm shopping, check your dorm's rules ahead of time. Some dorms have really random rules about what you can and can't bring. For example, my college dorm did not allow us to have microwaves in our dorm rooms but we were allowed to have coffee makers.
Some important things to look for:
Can you loft your bed?
Are bed risers allowed?
Is there a mini fridge/microwave included?
Can you bring hot plates or toasters?
These questions will save you time and money when you're shopping for dorm stuff.
3. Shop Early
If you wait until the last minute, a lot of the big stores near campus like Target and Walmart will be totally picked over.
Start your dorm shopping as early as possible so you have plenty of time to pick out exactly what you want. Starting early will also give you the time to decide what you'll really use instead of just rushing and buying a bunch of stuff that you don't need.
4. Order For Pickup at Stores
A lot of the bigger retailers have the option to shop online and pick up in person. This is SO helpful for college because you can shop while you're still home and pick everything up at a store close to your campus.
You can also usually get things shipped directly to your dorm building. Just make sure you check on this ahead of times because some schools may not allow this!
[RELATED: 13 College Move In Day Tips Every Student Needs To Know]
5. Get Creative
To save money AND precious space in your dorm, try to shop for things that have multiple uses.
For example, these bed risers will give you storage under your bed, and they have outlets for charging your electronics.
One of my favorite two-in-one dorm items is the storage ottoman. It's perfect for dorms because it's extra seating and it can be used as storage for books, blankets, etc.
Best Stores For Dorm Shopping
1. Amazon
Amazon is definitely my favorite place for dorm shopping because they have SO many options.
I usually buy things like throw pillows, decor, and small furniture items from Amazon. They also have dorm bundles which make life so much easier.
2. Etsy
Etsy is one of the best places to get dorm decor. They have tons of unique art work so you'll definitely be able to find something that fits your dorm theme.
My favorite dorm decor trend right now is the collage wall. Etsy has tons of different collage kits to choose from! Plus, you're supporting small businesses which is amazing.
[RELATED: 23 Wall Collage Ideas For Your Bedroom]
3. Urban Outfitters
Urban Outfitters is the best place to look for trendy decor and bedding. Their stuff is always perfectly on-trend and stylish so it's perfect for dorm decor.
[RELATED: Boho Dorm Decor | Everything you Need to Create the Boho Dorm Room of Your Dreams]
4. Dormify
Dormify is the only store on this list that ONLY carries dorm stuff! That makes it the perfect place to get all of your dorm shopping done at once.
They have pretty much everything you need but the selection is a little more limited than some of the bigger retailers. So if you're looking for a specific design style you may need to look elsewhere.
5. Walmart
Walmart is a great place to buy basic essential college items. They have staple items like dorm organization products and furniture but they also have some really cute hidden gems!
Make sure to check their decor and textiles sections because you can find some actually adorable dorm decorations for really cheap.
6. Bed Bath & Beyond
Bed Bath & Beyond is one of my favorite places to buy dorm stuff. They have pretty much everything you could ever need.
I bought most of my dorm organization products and kitchen essentials here when I moved into my dorm.
7. Target
Target is like the holy grail when it comes to dorm and apartment essentials. In the summer months, most stores have huge sections dedicated to back to school and college items.
It's also a really great place to get cleaning supplies, toiletries, and kitchen essentials.
[RELATED: 21 Dorm Cleaning Supplies Every College Freshman Needs]
College Dorm Packing List
It's so helpful to have a packing list ahead of time so you know what you need to buy.
After two years of living in the dorms, I put together the ultimate dorm room packing list that has everything you need for your college dorm.
Get the free college packing list here.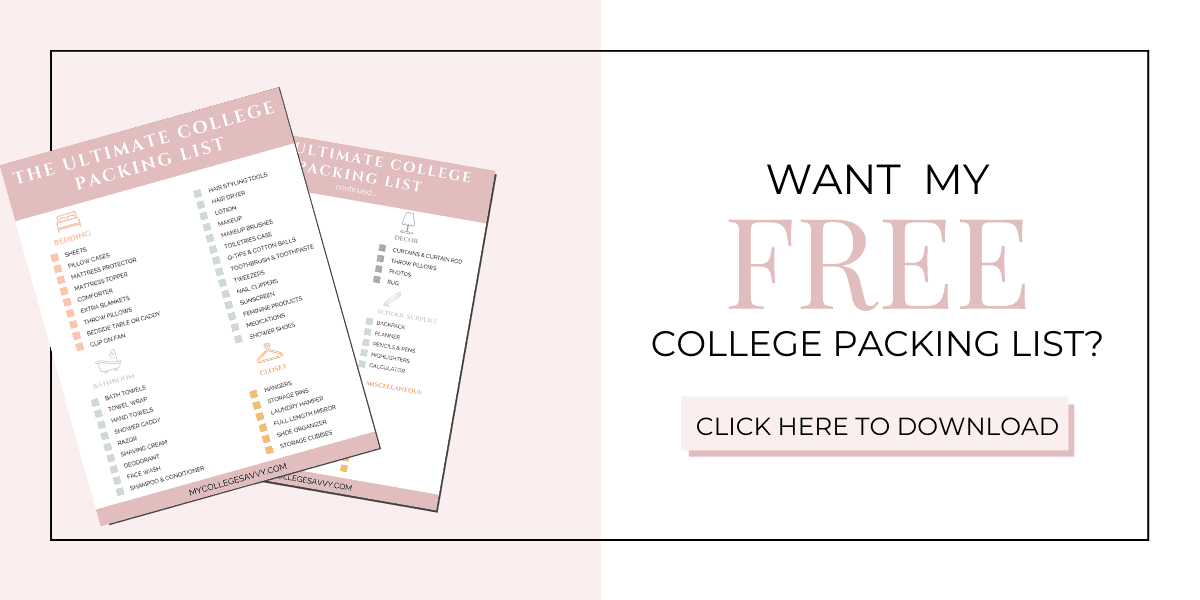 This post was all about the best places to go dorm shopping.
Looking for more dorm ideas?