15 Genius Single Dorm Room Ideas (Layout & Decor Ideas)
Living solo in your college dorm and not sure how to decorate? Here are the absolute best single dorm room ideas that you'll want to copy.
This post may contain affiliate links, which means I'll receive a commission if you purchase through my link, at no extra cost to you. Learn more: Affiliate Disclaimer.
Are you living in a single dorm room this year? While it may seem like you won the jackpot, living in a solo dorm can present its own set of challenges.
First of all, it can definitely get lonely. But also, it can be hard to know how to set it up!
Thankfully, we've put together this guide for you for the best single dorm room layout and decor ideas. When you're finished reading this post, hopefully you'll have more of a vision for how you want your single person dorm room to look.
Single Dorm Room Layout Ideas
When you're living in a dorm room alone, there are a lot of options for how to arrange your furniture. Here are some of the best ideas for single dorm room layouts:
1. Create A Seating Area
One of the main perks of having a single room is that you typically have more space. We highly recommend adding a couch or some chairs to fill up some space in your room!
Not only does it make your room feel more cozy, but it's also great for having friends over. Living in a single room can get lonely, so making a space for friends to hang out is essential.
Here are some great options for small couches and futons for dorm rooms:
If you don't have room for a full couch, you could also add some chairs to make a seating area. We have a full guide to the best dorm room chairs that you can find here.
2. Utilize A Clothing Rack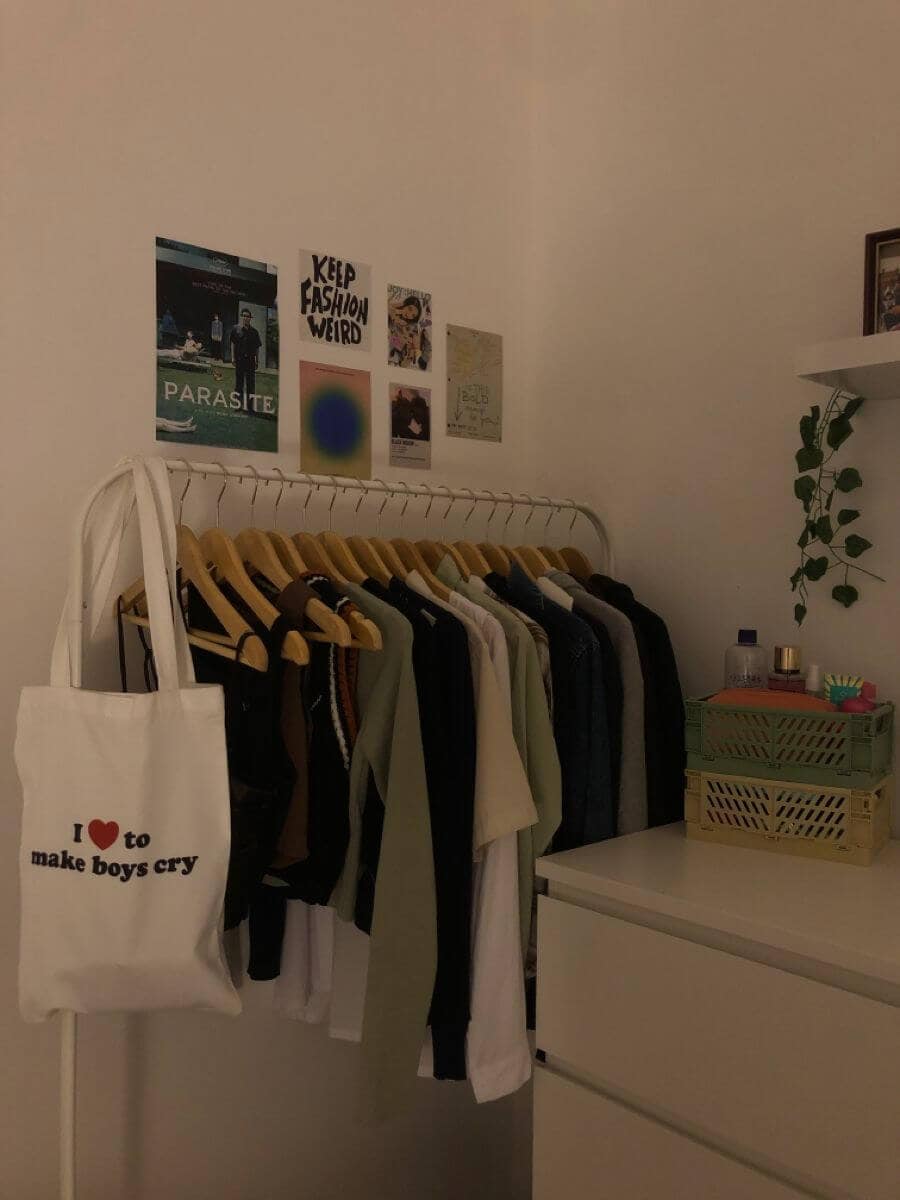 Most dorm rooms have really tiny closet space. If you're in a single room, you can easily fit a small clothing rack in there.
This will give you more storage space for your clothes, help you organize your outfits for the week, and just looks cute! We love clothing racks because they allow you to use your clothes as decoration.
These clothing racks would be perfect for single dorm rooms:
3. Separate Your Sleeping And Study Spaces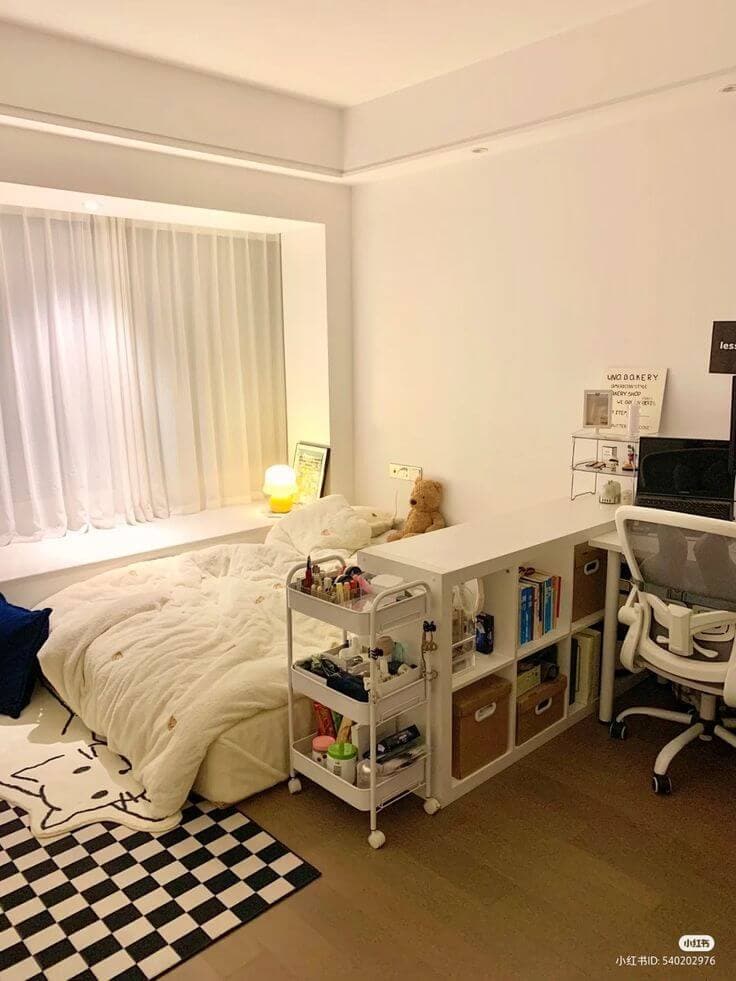 When you're living in a dorm room, it can be easy to lose motivation. After all, you're sleeping in the same room that you study in, eat in, and do everything else in.
One little productivity hack is to separate your bed from your work space. This allows you to create more of a mental divide from studying and lounging time.
Plus, you'll be way less likely to jump into bed before you're done studying.
You could separate your dorm from your desk with a bookshelf, curtain, room divider, etc. Pretty much anything that creates a physical divide between the two spaces.
4. Put Your Desk At The Foot Of Your Bed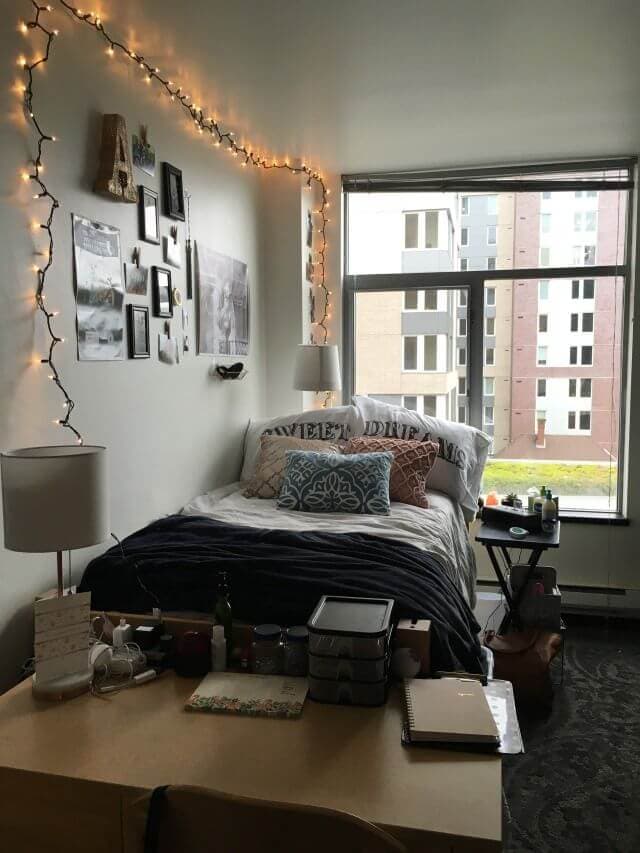 If you're short on space, putting your desk at the end of the bed can make your room feel a bit bigger.
This will free up the other half of your room for your TV, a seating area, kitchen items, etc.
5. Push Two Beds Together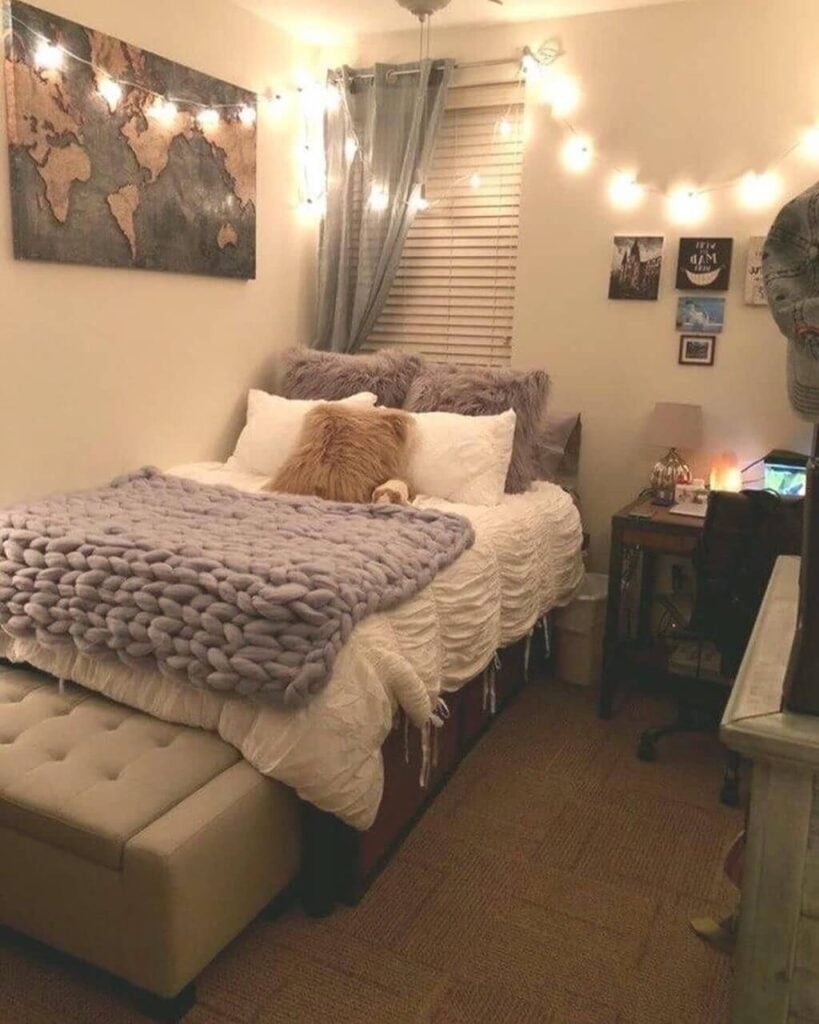 Sometimes double rooms are assigned to students who requested singles. This results in an extra bed being left in your room.
If your school allows it, we recommend pushing the beds together to create one giant bed.
You can buy a cheap king-size mattress topper from Amazon to cushion the crack in between the mattresses.
Two twin beds equal the width of a King bed, but are just a bit shorter. So be aware that you may have some excess sheets and foam topper at the foot of your bed.
Here's what you'll need for this:
6. Create A Kitchen Or Coffee Corner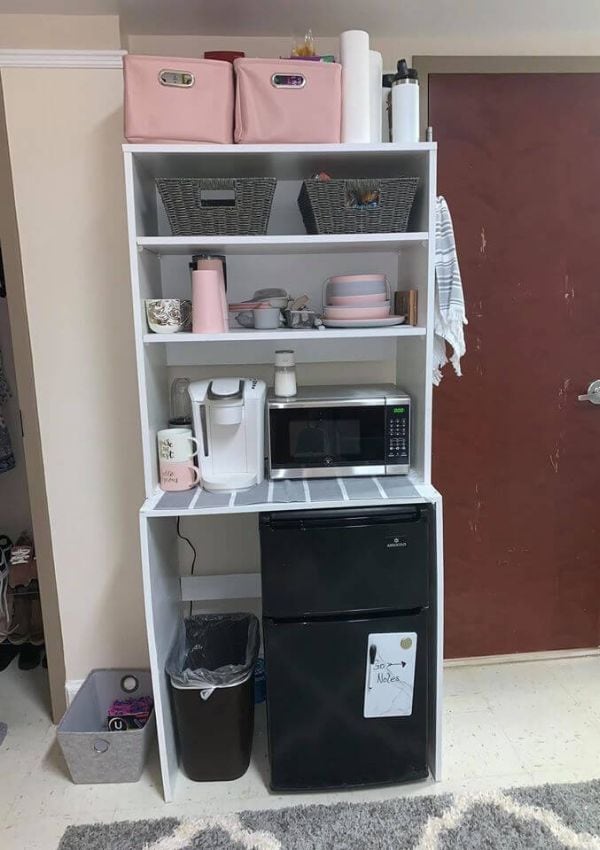 A kitchen area is a great way to use up a free wall or corner in your single dorm room.
A shelf that fits your mini fridge, microwave, coffee maker, and food items is the perfect way to fit everything into one area.
Here are some options for dorm kitchen shelves:
P.S. not sure what you need for your dorm kitchen? We have a full post that goes over dorm kitchen essentials.
7. Loft Your Bed For Extra Space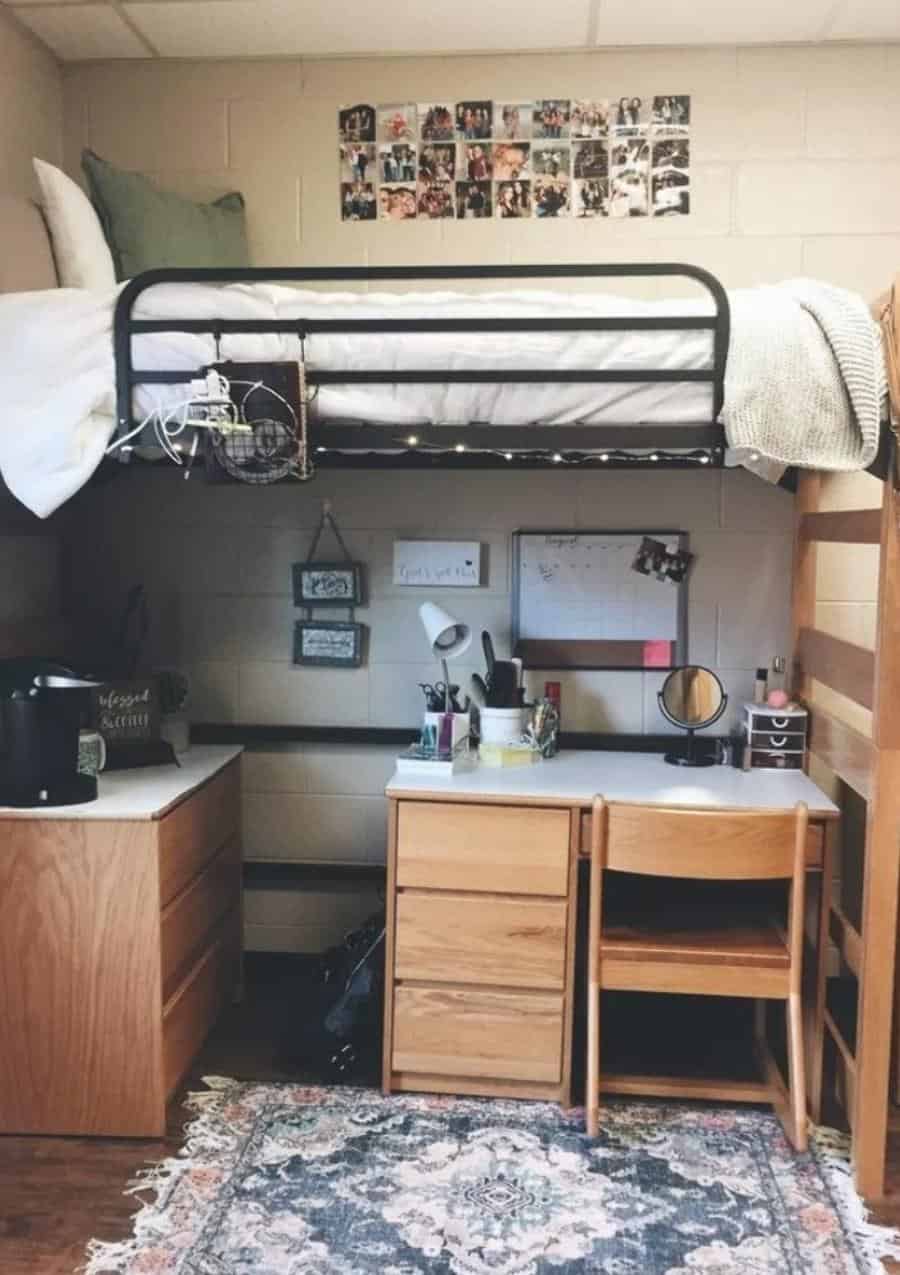 Even if you don't have a roommate, lofting your dorm bed is still a great idea. Why? Because of all of the space it frees up in your room!
Lofting your dorm gives you back SO much floor space that would otherwise be wasted. You could put a futon, your desk, or a kitchen area under your bed.
Single Dorm Room Decorating Ideas
The best part about having a dorm to yourself is that you can decorate however you want to!
If you're living in a single dorm this year, here are some of the best decorating ideas that you can copy:
8. Hang String Lights Across The Ceiling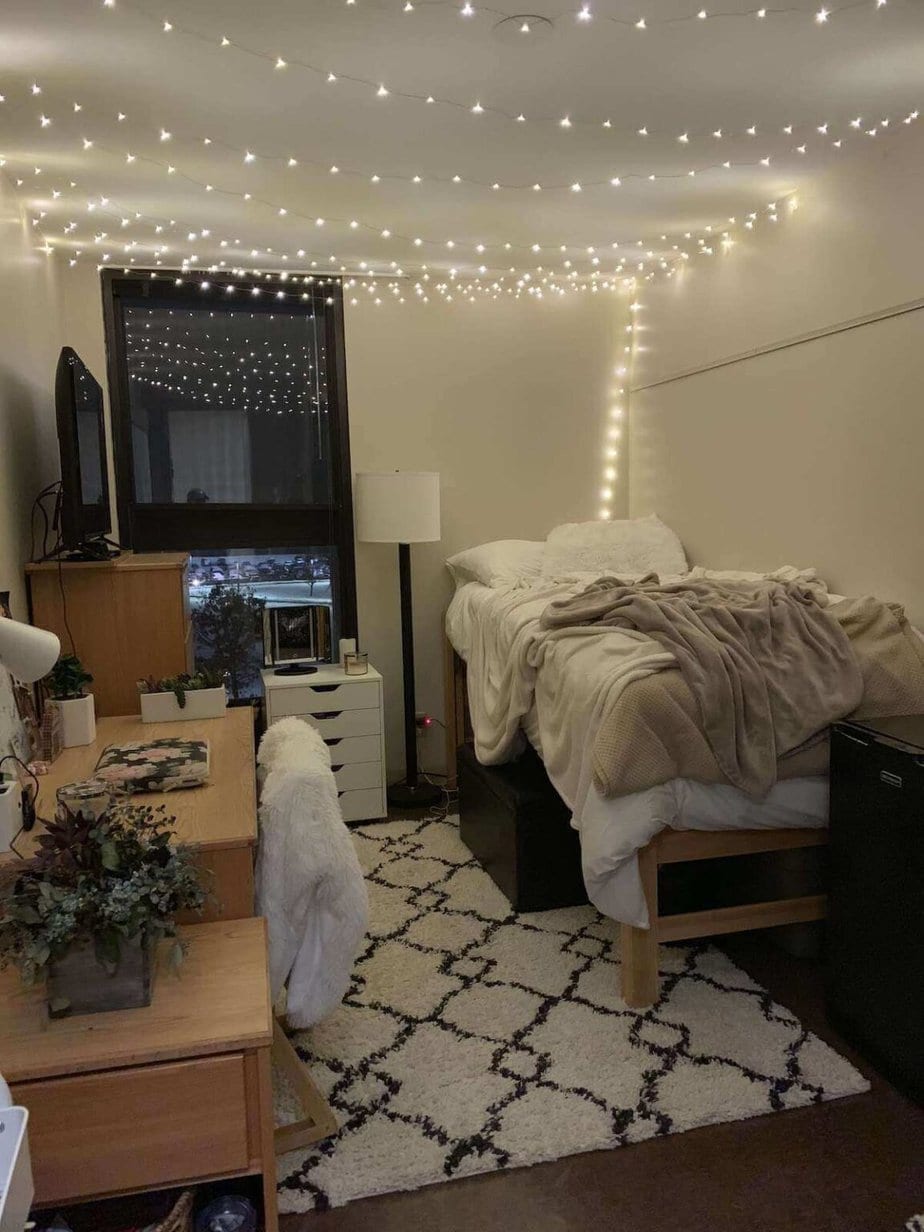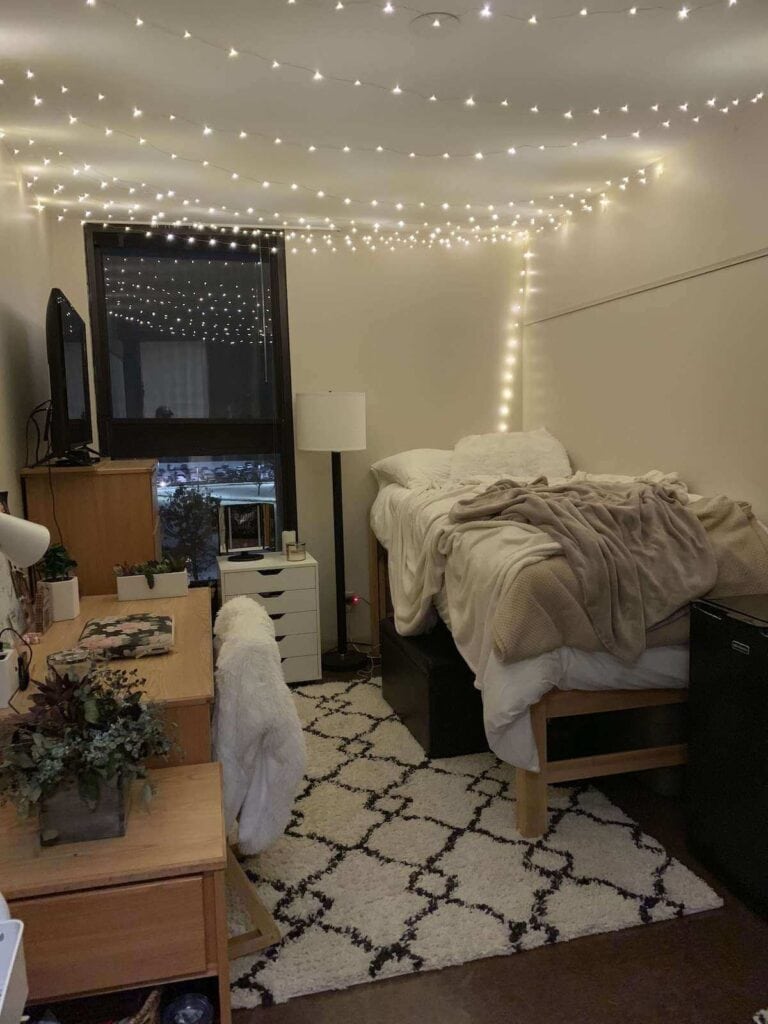 When you've got the whole room to yourself, you're usually free to do whatever you want with it!
This means that you can put your string lights all the way across the ceiling. When you do this, it creates a really magical effect and looks incredible at night.
The easiest way to do this is by using these small command clips. They let you hang really light objects like string lights, and they're not as bulky as regular command hooks.
Be aware that some dorms don't let you decorate both halves of your room! We've heard of students being charged for both sides of the room if they don't keep their decorations on one side. So make sure you check with your student housing office before decorating.
9. Decorate With Wall Decals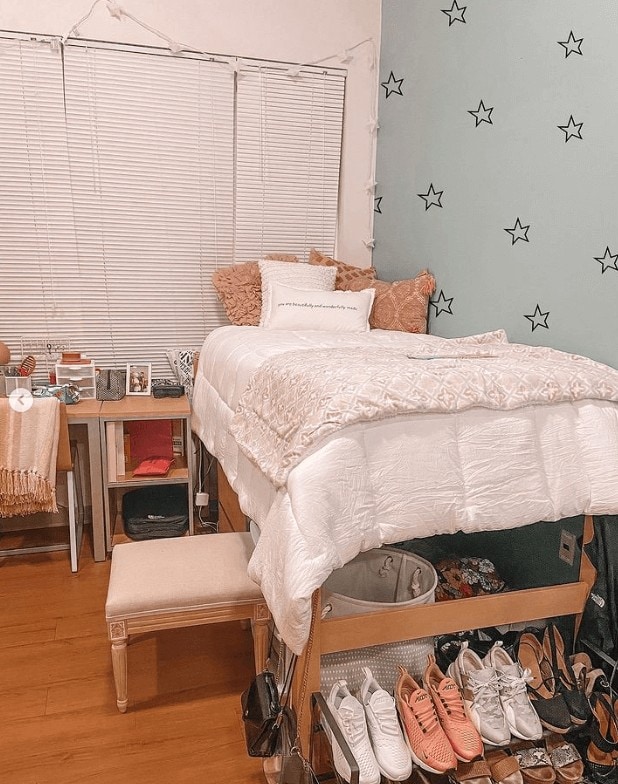 Another great way to decorate a dorm room is by adding some peel-and-stick wallpaper or wall decals.
This allows you to get a custom look for your room without causing any damage to the walls.
Amazon has tons of great option for removable wallpaper and decor, so you'll definitely be able to find something that matches your decor style.
Here are some cute options that we found:
10. Add Some Of Your Personality To Your Decor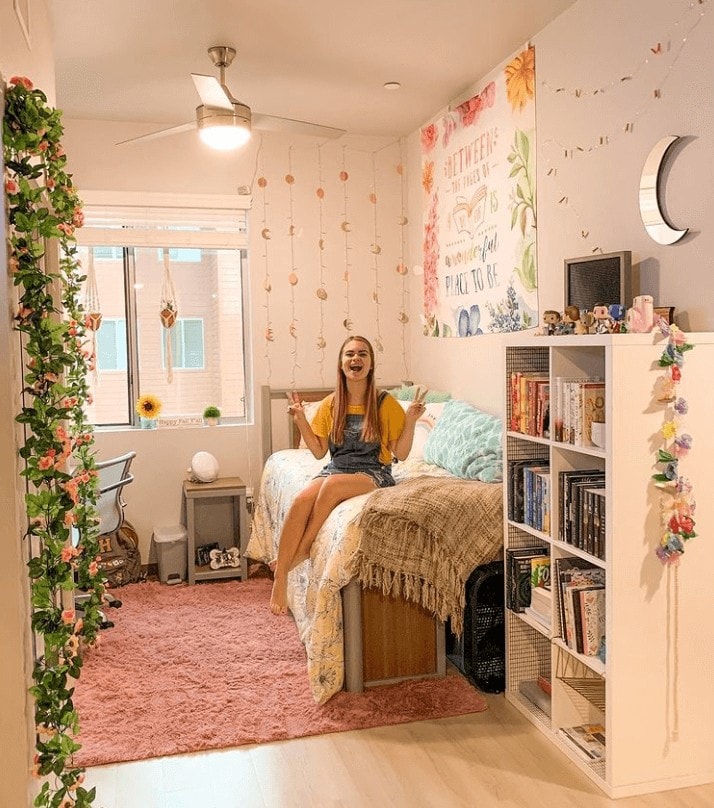 One of the perks of having a single dorm room is that you don't have to deal with another person's decor style.
Take advantage of that creative freedom by adding sprinkles of your personality around your dorm room.
This student was a lover of nature and reading. She added a bookcase, plants, faux greenery, and a large book-themed tapestry to her single dorm decor.
Whatever your personality and interests are, make sure they're represented in your decorations! You'll be living in this room for at least two semesters, so it should feel like home.
11. Cover Wall Space With a Collage Kit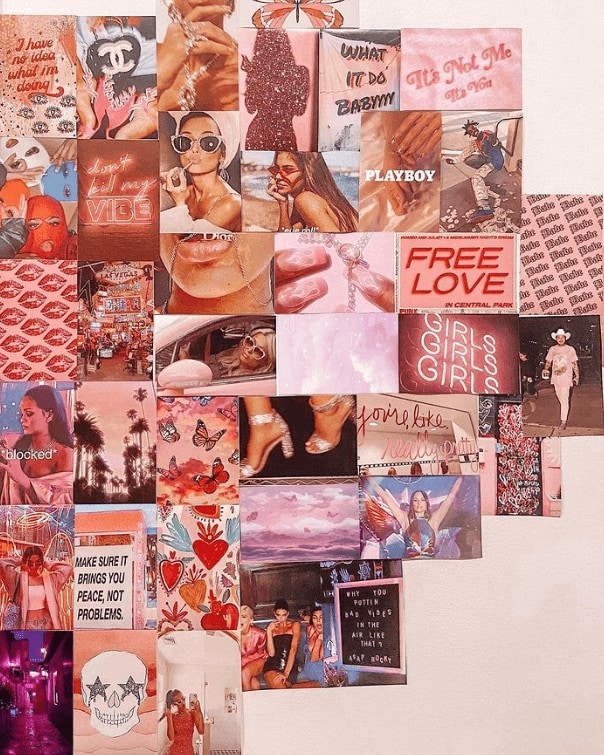 Living in a single dorm room means you have a LOT of empty wall space to fill up. You won't have your roommate's decor to cover up the other half of the room.
If you want to cover a lot of blank space in an affordable way, a collage kit is definitely the way to do it. These kits are SO cheap on Amazon, cover practically your whole wall, and come in tons of different styles.
Here are some perfect collage kits for single dorm rooms:
12. Add Lots Of Plants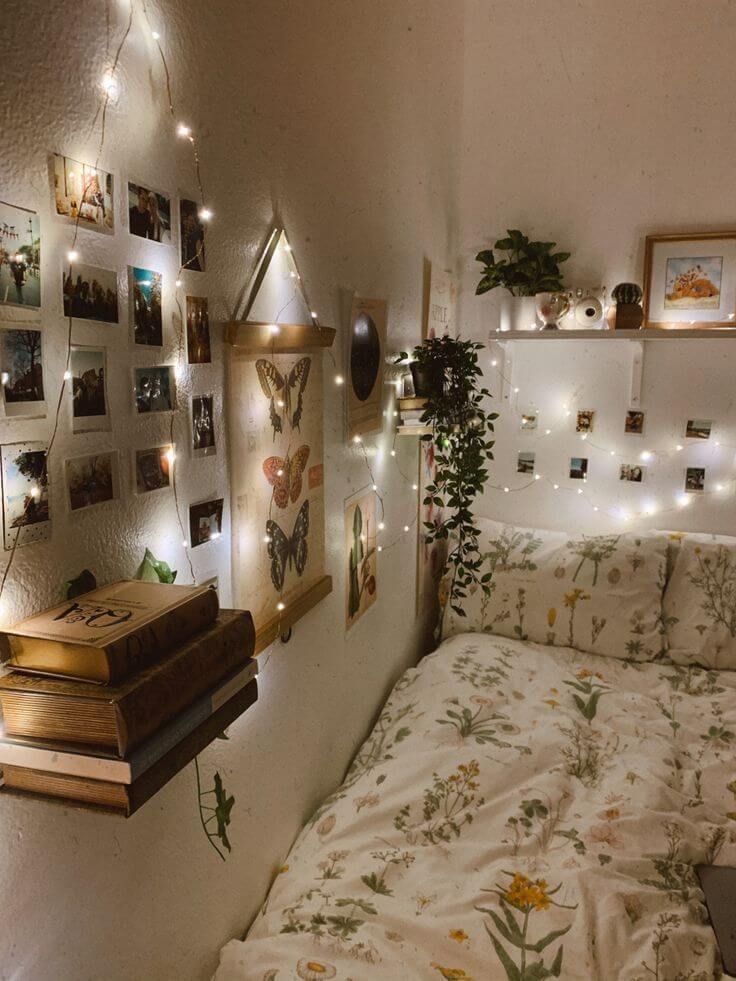 Even though living alone can be fun, it can also get pretty lonely.
That's why it's important that your decor helps keep you happy. So aside from just decorating with items that make you smile, you should also consider adding plants to your space.
Decorating with plants is proven to help boost your mood, with some studies even suggesting that they can increase happiness and life satisfaction.
Plus, they can help purify the air in your dorm room.
Here are some cute pots that you can use to put your plants in:
13. Decorate With Functional Furniture Pieces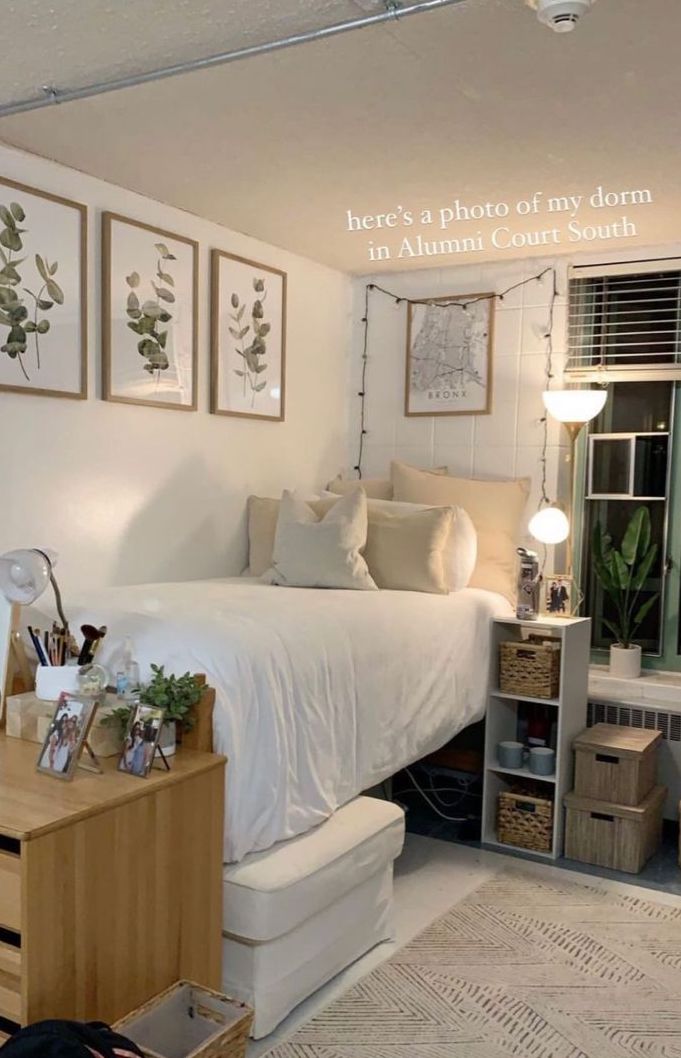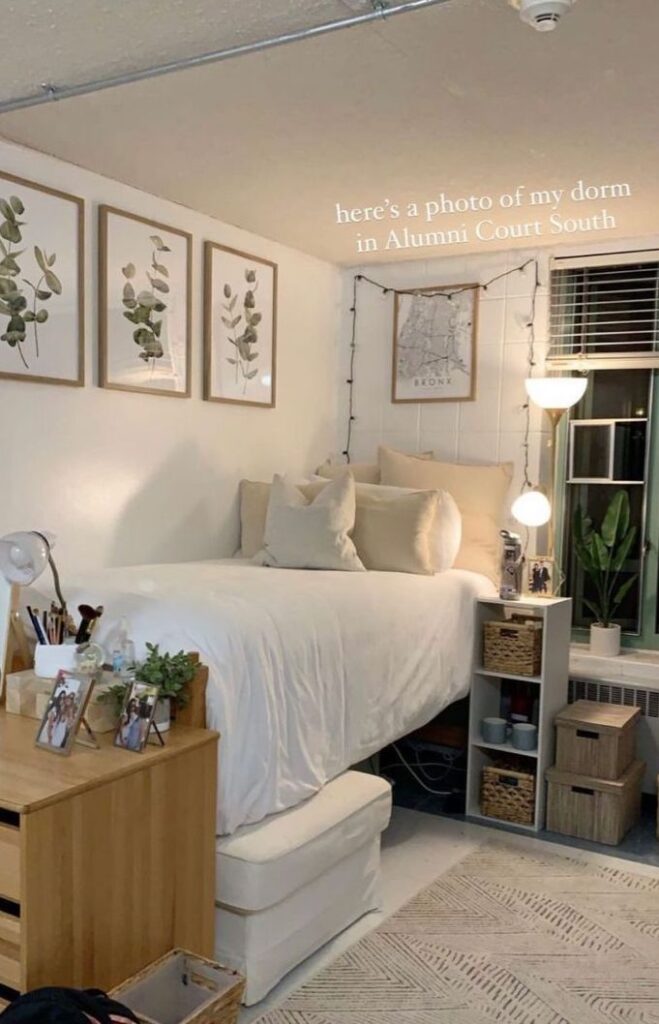 We're huge fans of functional dorm decor over here at the College Savvy blog.
And what exactly does that mean? Decorating with pieces that serve multiple purposes!
We all know that storage space is limited in dorm rooms, so you need to make sure that every piece of furniture and decor has some storage function as well.
Storage ottomans, nightstands with shelves, lamps with built-in pen holders, etc.
Here are some pieces that are both cute and functional for a single dorm room:
14. Get A Colorful Area Rug
Nothing transforms a room more than a cute area rug. And if you're in a single dorm room, you can buy a rug that takes up the whole space!
Just make sure you check your dorm room dimensions before you purchase your rug. You don't want to show up on the first day with a rug that's way too big!
Here are some cute options for dorm room rugs:
15. Add A Cute Headboard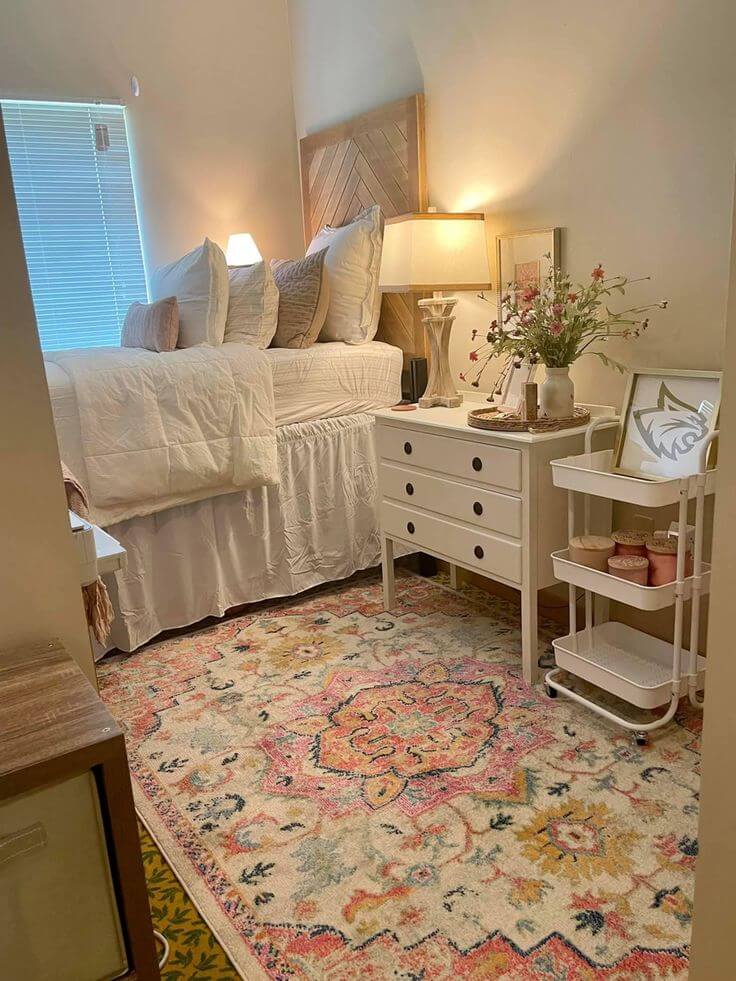 A headboard will make your dorm bed look a million times more put together!
It can be tricky to find headboards that fit on dorm beds, but we've put together a whole post with the best headboards for dorm rooms.
This post was all about the best single dorm room ideas to try.
You may also like: