Looking for the best dorm headboard ideas for your college dorm room? Here are 15 insanely cute headboards that will make your dorm bed look way better.
This post may contain affiliate links, which means I'll receive a commission if you purchase through my link, at no extra cost to you. Learn more: Affiliate Disclaimer.
Do You Need A Headboard For Your Dorm Bed?
If you're shopping for college, you may be wondering if you need a headboard for your dorm bed. Of course, a headboard isn't mandatory, but we highly recommend one!
Here are some reasons to get a headboard for your dorm room:
It makes your bed comfier. When you have a soft headboard to lean on, it'll make it comfier for studying or watching TV in bed.
Headboards help keep your pillows on your bed. Headboards can help prevent your pillows from falling off your bed. This is especially important for lofted beds!
It will elevate your dorm decor. Headboards can make your dorm bed look and feel a lot more put-together. If aesthetics are important to you, you definitely need a dorm headboard.
How To Put A Headboard On A Dorm Bed
Most headboards that are designed for dorm rooms come with wooden or metal legs. The easiest way to put a headboard with legs on your dorm bed is by using zip ties.
Start by adjusting the legs of your headboard to your desired height. The height you choose will depend on the measurements of your dorm bed frame.
Next you'll place your headboard behind your bed and attach it with zip ties. Wrap the zip tie around both the leg of your headboard and the leg of your bed frame. Pull the zip ties tight so that your headboard stays in place.
If you don't want to go through all of the trouble of hanging a headboard in your dorm room, you can also go for an easy headboard alternative!
Pillow headboards are SO easy for dorm rooms because they just sit right on your bed. This is nice because you can also move them around and use them as a backrest anywhere.
You could also do a wall-mounted cushion headboard. These headboards are specifically designed to be hung on command hooks in dorm rooms. They're lightweight, easy to install, and make your dorm room look way cuter.
Dorm Headboard Inspiration
Not sure what kind of headboard you want for your dorm room? Here are some real-life examples of what different headboards look like in dorm rooms.
1. Simple White Headboard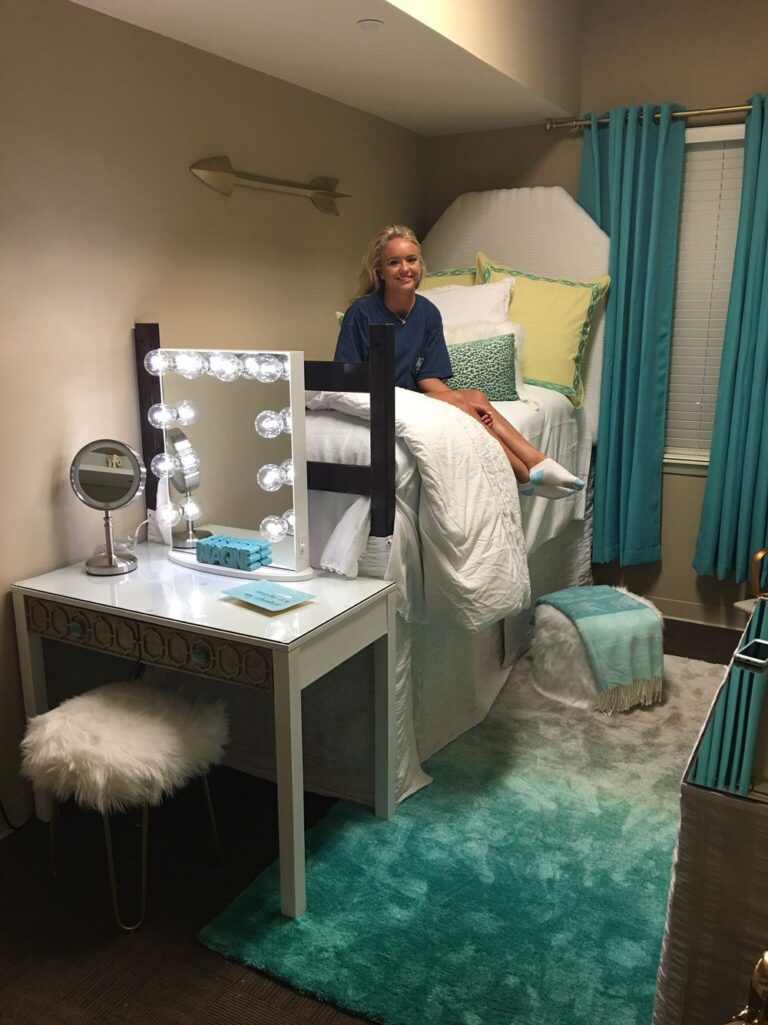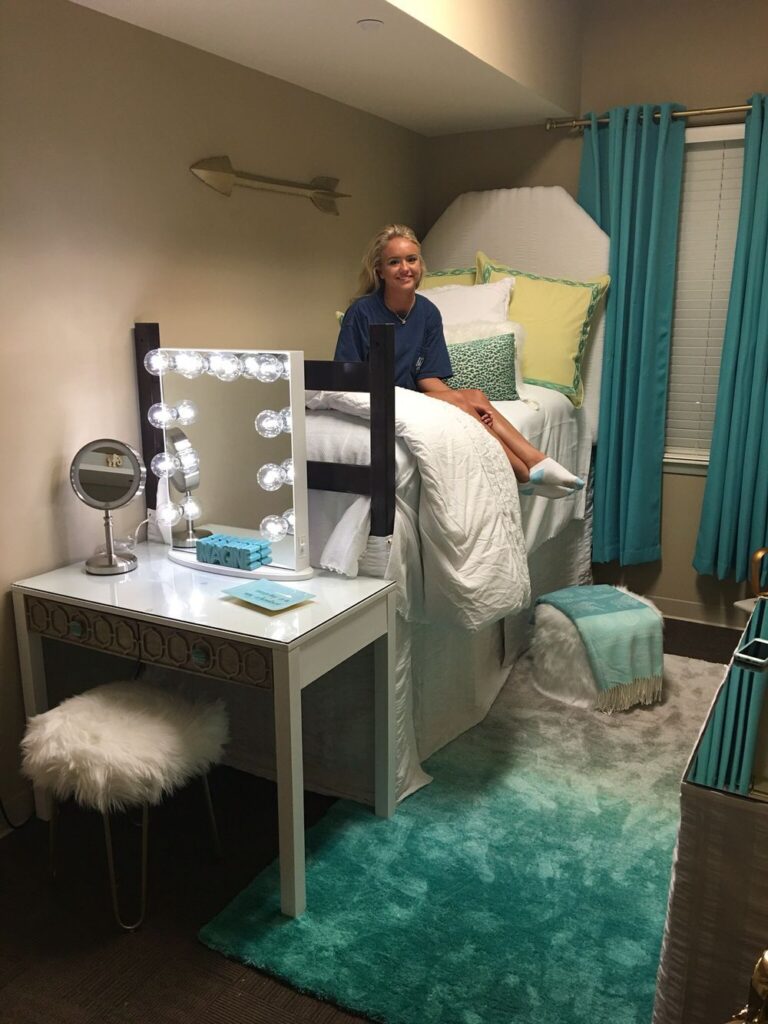 You can't go wrong with a simple white headboard for a dorm room! This headboard would go with pretty much any dorm decor style.
We found a really similar plain white headboard on Amazon.
2. Lofted Bed Headboard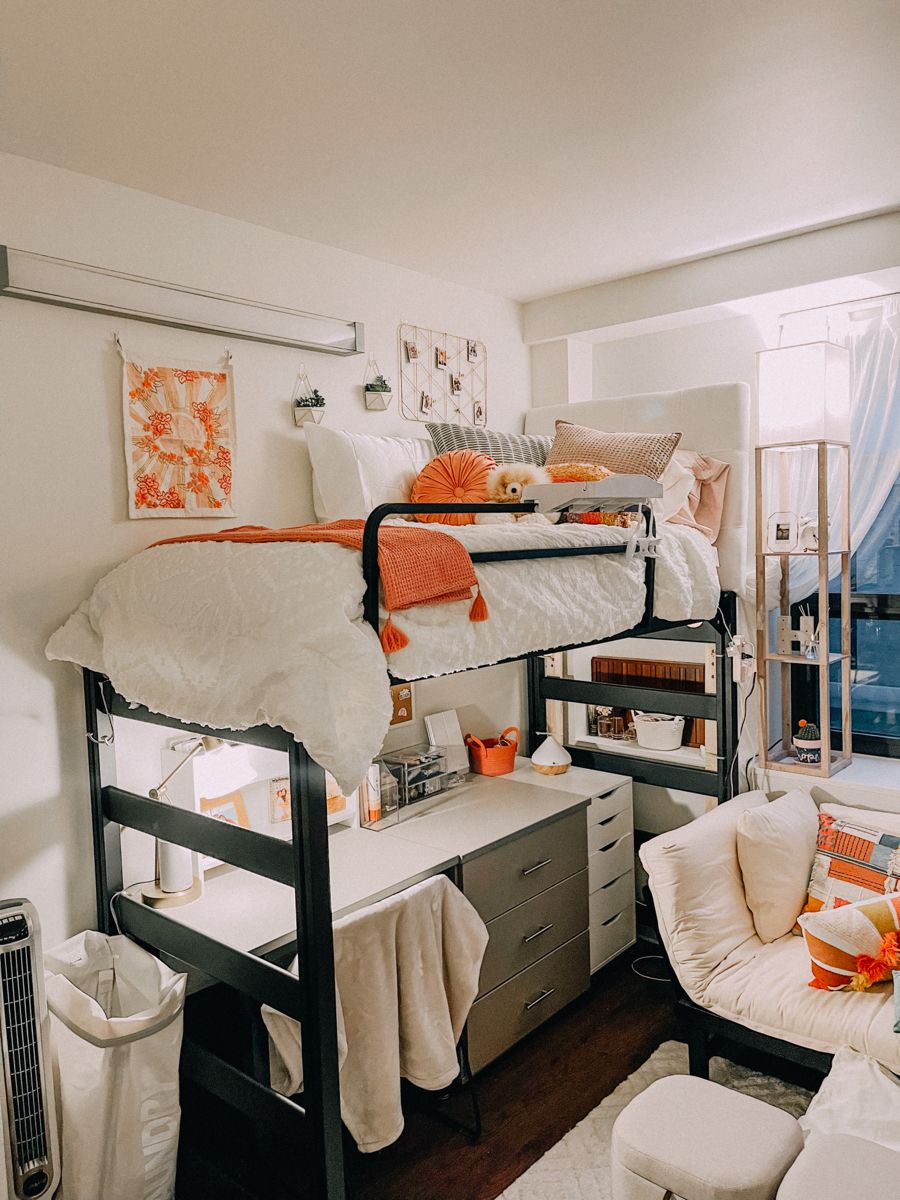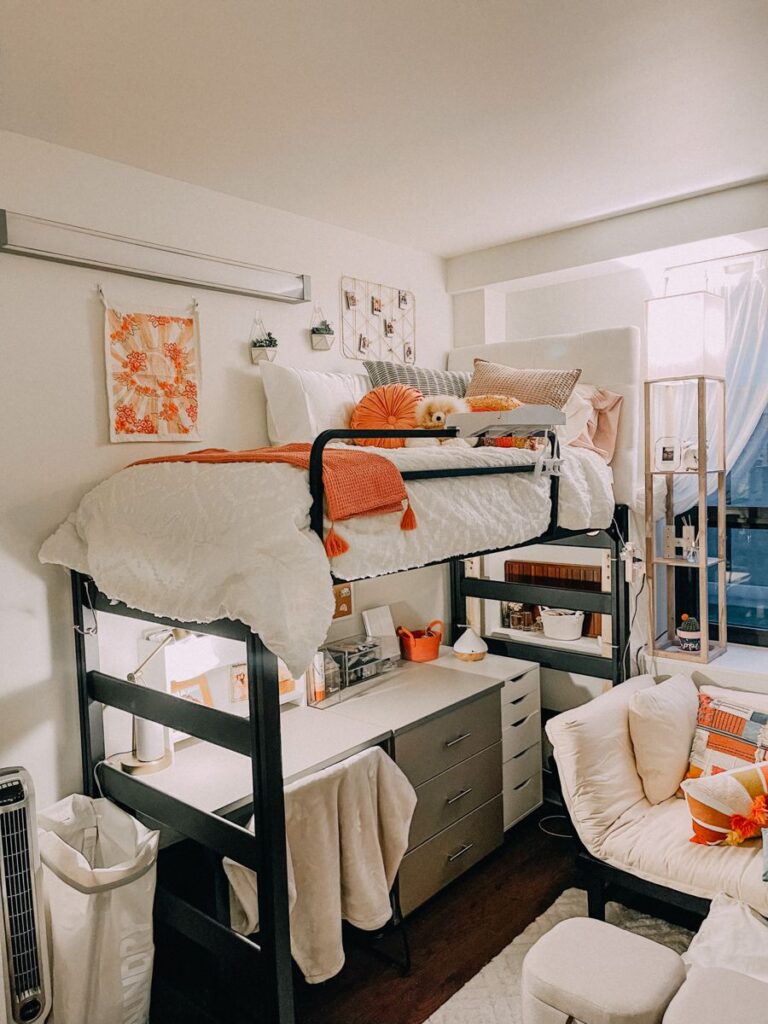 If you're lofting your dorm bed, you're probably wondering how to add a headboard to your bed frame. Here's a great example of a lofted dorm bed with a headboard attached!
If you look closely, you can see that this student used the zip tie method we recommended in the first part of this post. This method works great with any headboard that has legs attached!
3. Cushioned Headboard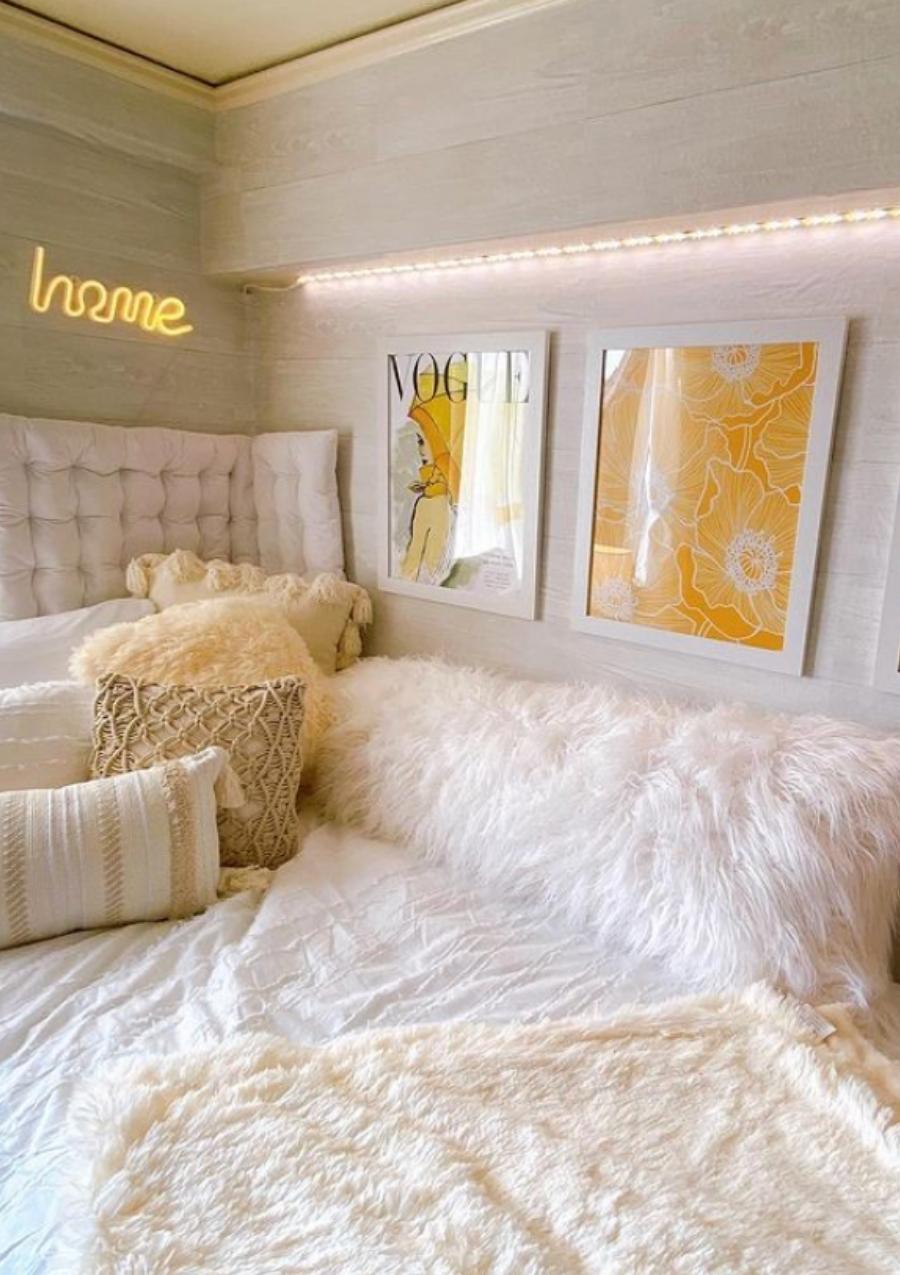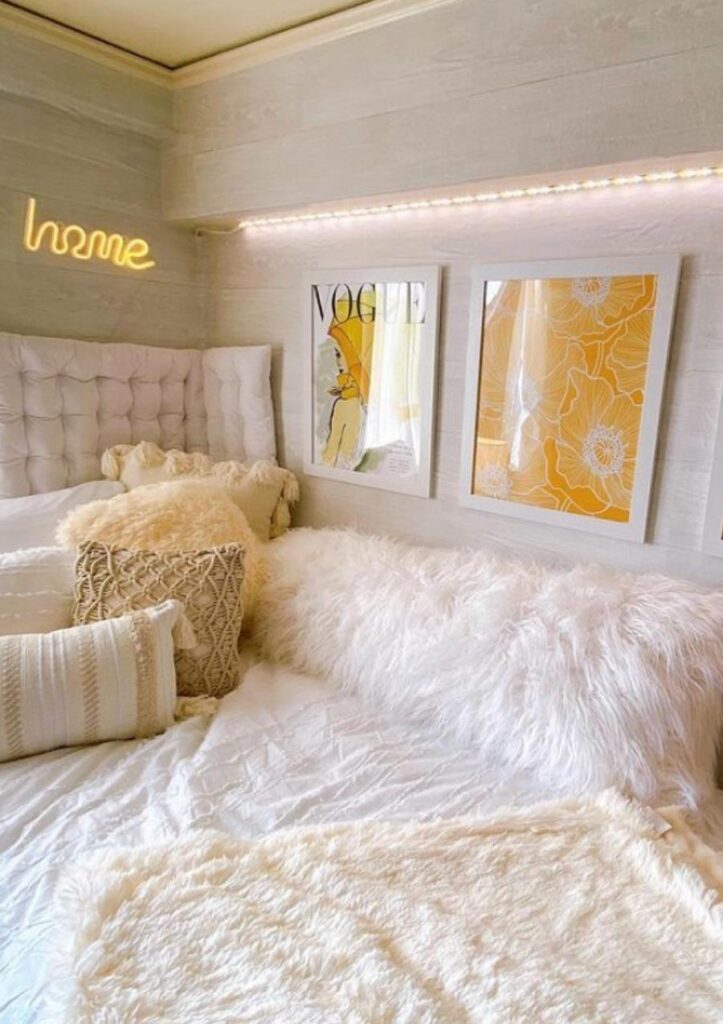 Do you want the coziest bed possible? Add a tufted cushion headboard to your bed like this one!
You can easily attach cushion headboards to your wall with command hooks. You'll typically need around 10 hooks to make sure your headboard is super secure on your wall.
4. Preppy Patterned Headboard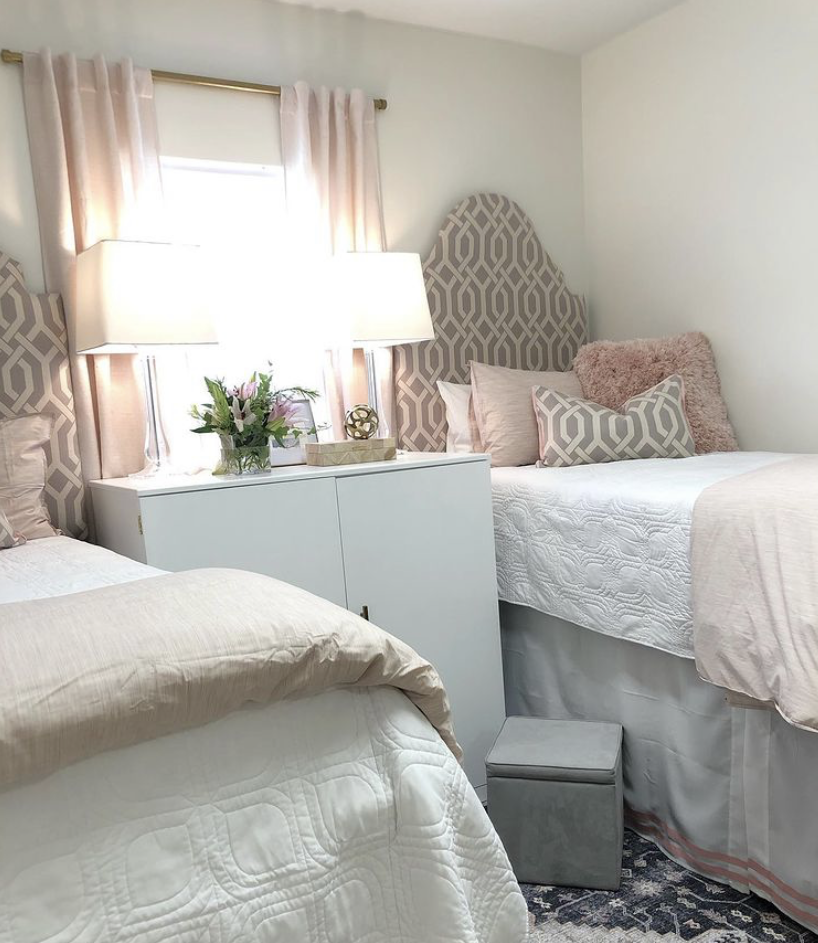 If you're into the preppy decor style, this would be such a cute headboard for your dorm room! Look for headboards with preppy prints and neutral colors for your room.
5. Simple Tufted Headboard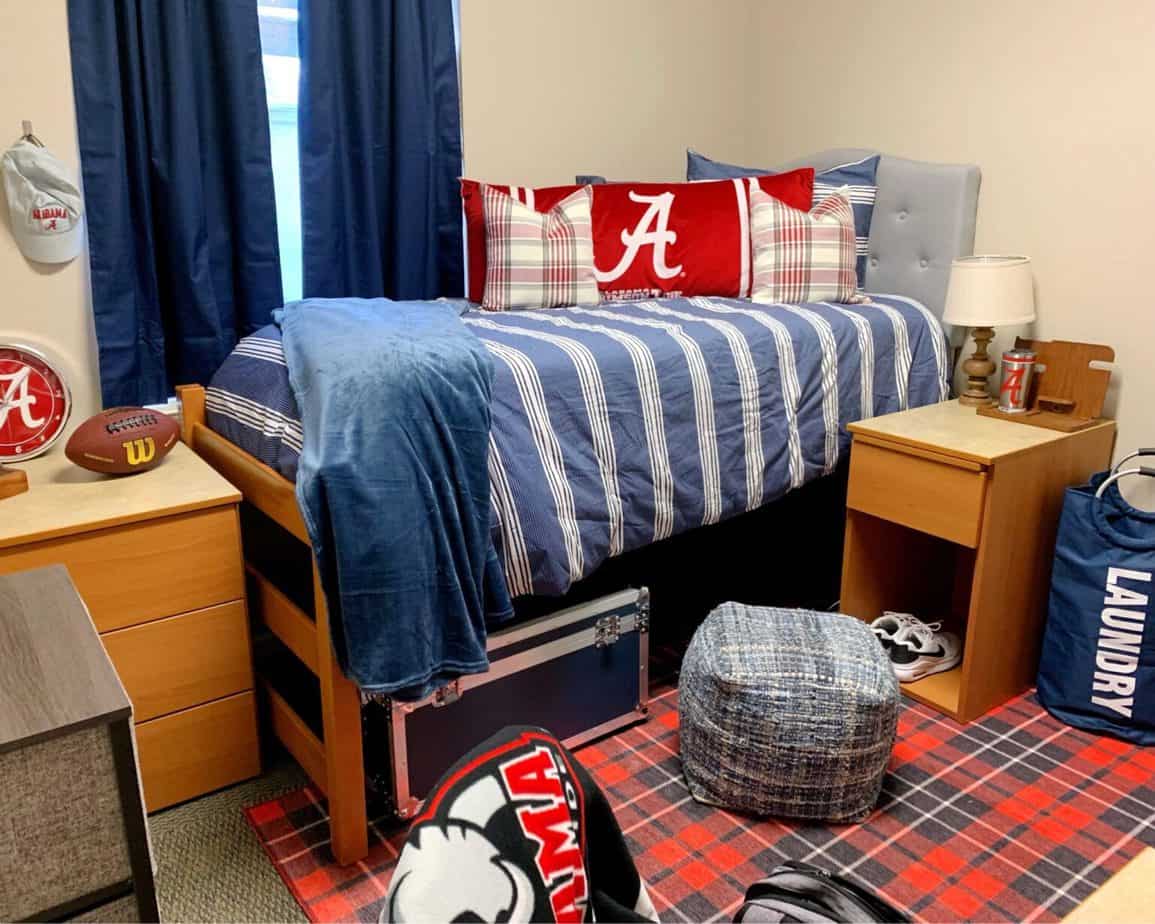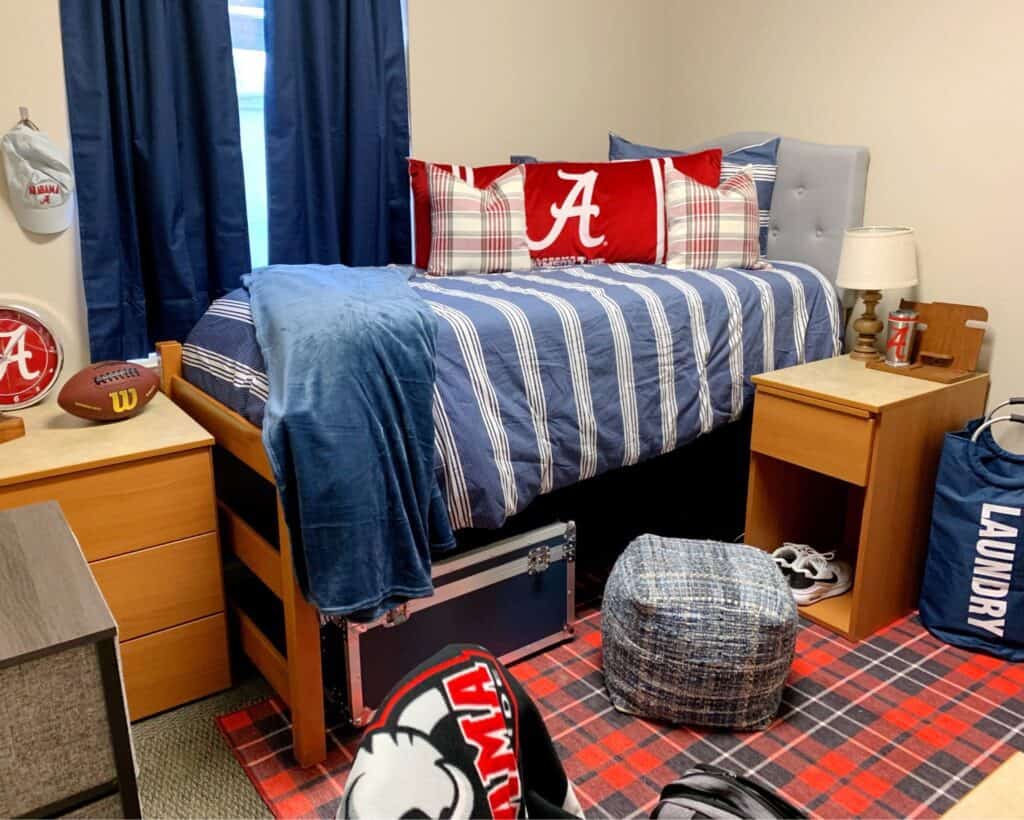 When in doubt, go for a simple tufted headboard like this one. Neutral colors like white, gray, and black work in pretty much any dorm room!
6. Rustic Wooden Headboard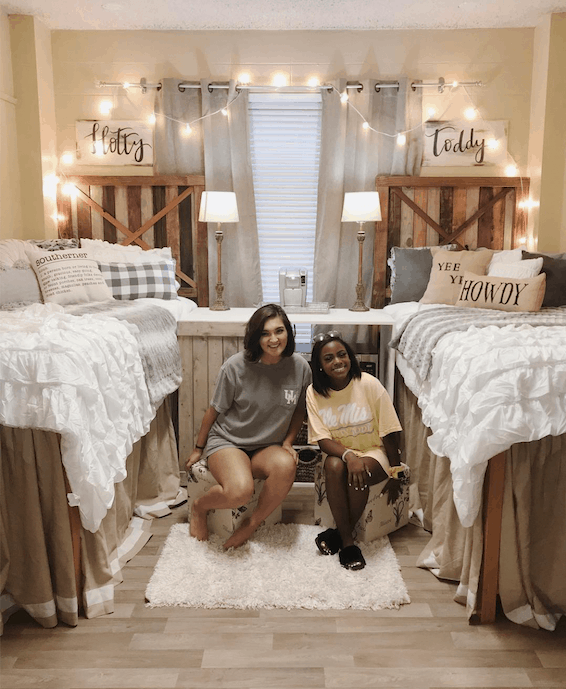 How gorgeous are these rustic, multi-tone headboards? I love all of the different shades of wood they used.
DIY Headboard Ideas
If you're super crafty, you can totally make your dorm headboard yourself! Here are a few different ideas for DIY headboards that you can make:
7. DIY Pool Noodle Headboard
Can you believe this gorgeous headboard is made out of pool noodles?
Pool noodle headboards are super trendy on TikTok lately, and we can totally see why! It's a super creative and inexpensive way to decorate your bed.
Get the full instructions for this DIY pool noodle dorm headboard here.
8. DIY Wooden Dorm Headboard
Can't get enough of the classic wooden headboard look? Luckily, you can DIY a wooden headboard without spending a ton of money.
Learn how to make a DIY wooden headboard here.
9. DIY Boho Cane Headboard
Are you obsessed with the boho aesthetic for your dorm room? This DIY cane headboard would look perfect in a boho dorm room.
Get the full instructions for how to create this gorgeous boho headboard here.
10. Simple DIY Upholstered Headboard
Are you a fan of clean and classic decor? This simple upholstered headboard would look perfect with any decor style.
Get the full instructions from Cynthia Harper Living.
The Best Dorm Headboards
If you're not a DIY person, no worries! There are SO many cute headboards available online that don't require any crafting abilities.
Here are some of the cutest headboards out there that are specifically made for dorm beds:
11. Channeled Velvet Headboard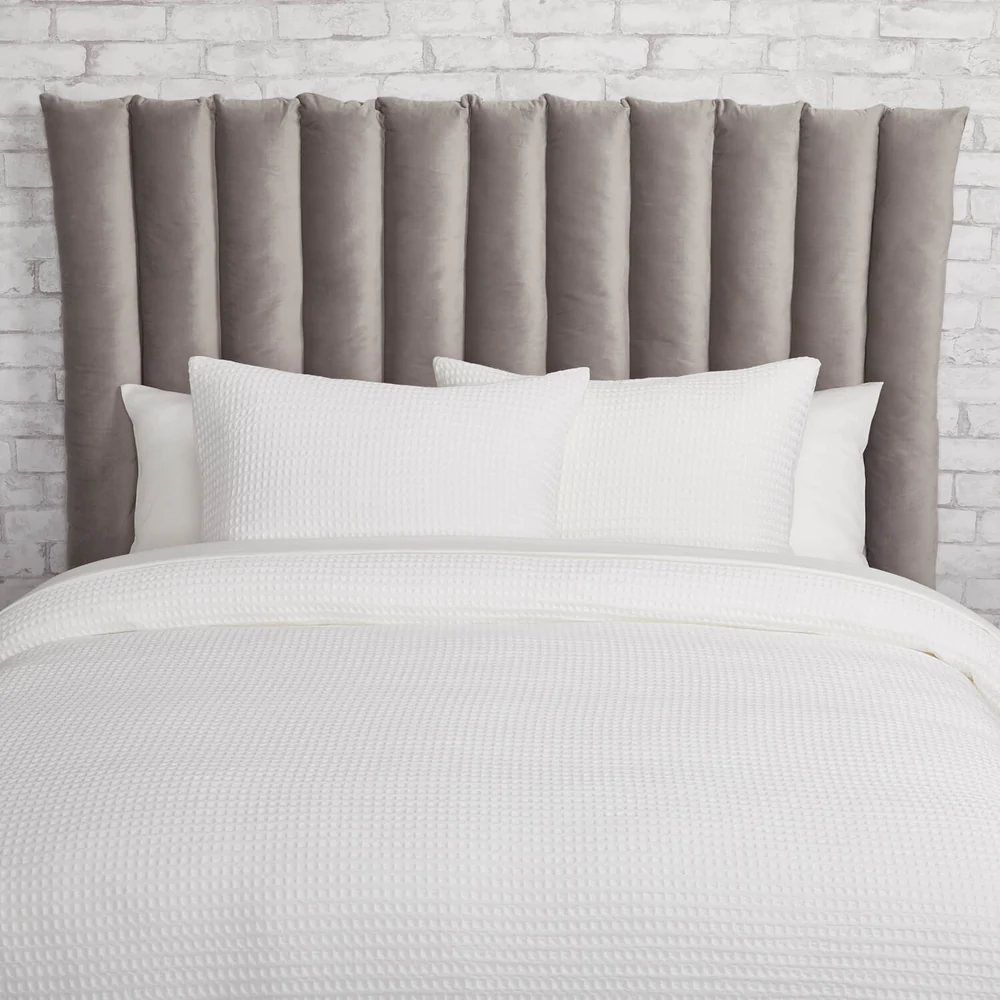 This gorgeous headboard will totally elevate the look of your dorm room. It's elegant and would go with a ton of different decor styles.
It's also super easy to install in your dorm room. All you need are some command hooks to hang it on the wall above your bed.
This makes it so perfect for lofted beds AND regular dorm beds. So easy!
12. Tufted Cushion Headboard
This tufted cushion headboard is definitely one of the coziest options for dorm rooms.
It actually is designed to hang on your wall with command hooks, so it's great for lofted dorm beds. Make sure you use plenty of hooks so it's nice and secure on your wall!
13. Pillow Headboard
It doesn't get much easier than this pillow headboard for a dorm room! It requires no installation or assembly and you can move it around if you need to.
14. Velvet Upholstered Dorm Headboard
Amazon has some seriously cute headboard options for dorm beds! This channeled velvet dorm headboard is one of my favorites.
It comes in several different colors, so you'll definitely be able to find one that fits your decor style. It's also pretty affordable compared to some of the other options I've seen!
15. Upholstered Round Headboard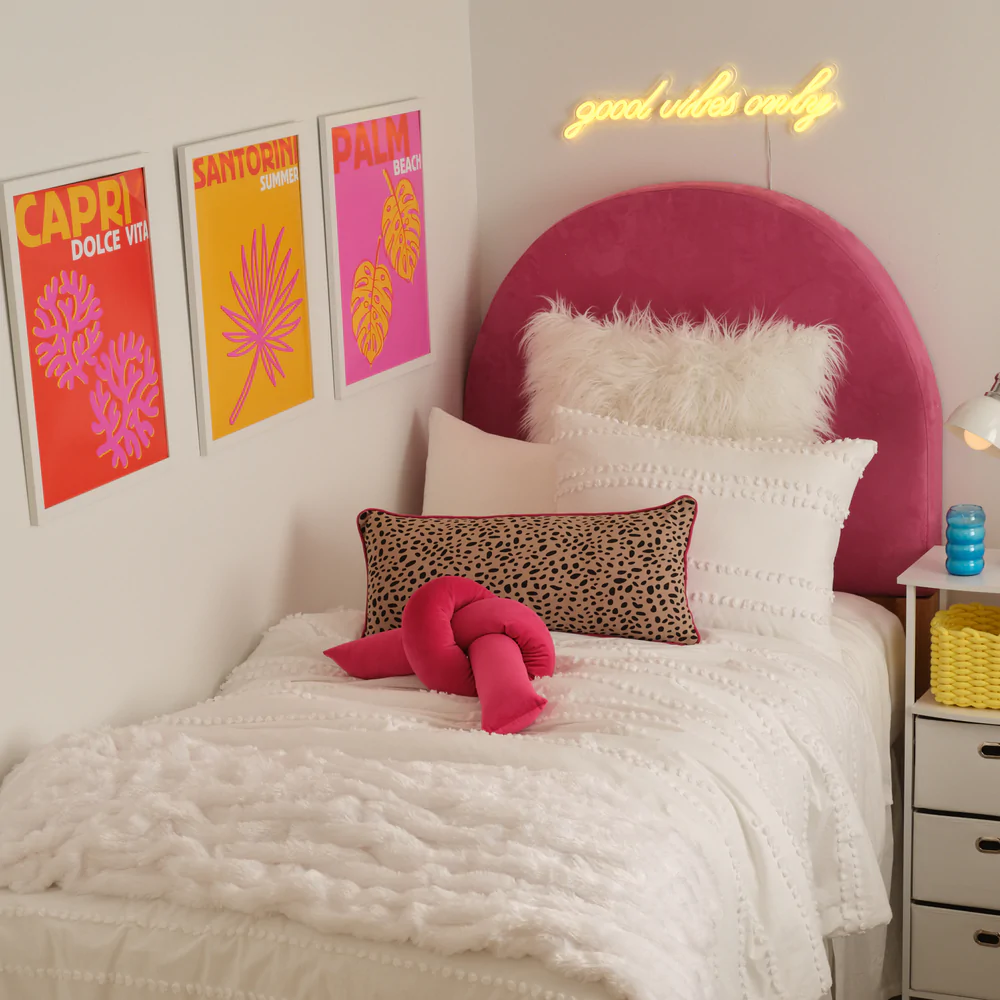 How gorgeous is this rounded headboard from Dormify? The arch shape is SO trendy right now and it goes so well with boho or indie dorm rooms.
The coolest feature of this headboard is that it can actually charge your devices. That's right, no need for extra long phone cords that just get stuck behind your bed. This headboard has a place to plug in your electronics.
This post was all about the best dorm headboard ideas.
You may also like: