30 Trendy Dorm Room Ideas For College Students In 2023
Looking for super trendy dorm room ideas for 2023? We've gathered the cutest dorm room decor ideas from around the internet to give you some inspiration for your own room!
This post may contain affiliate links, which means I'll receive a commission if you purchase through my link, at no extra cost to you. Learn more: Affiliate Disclaimer.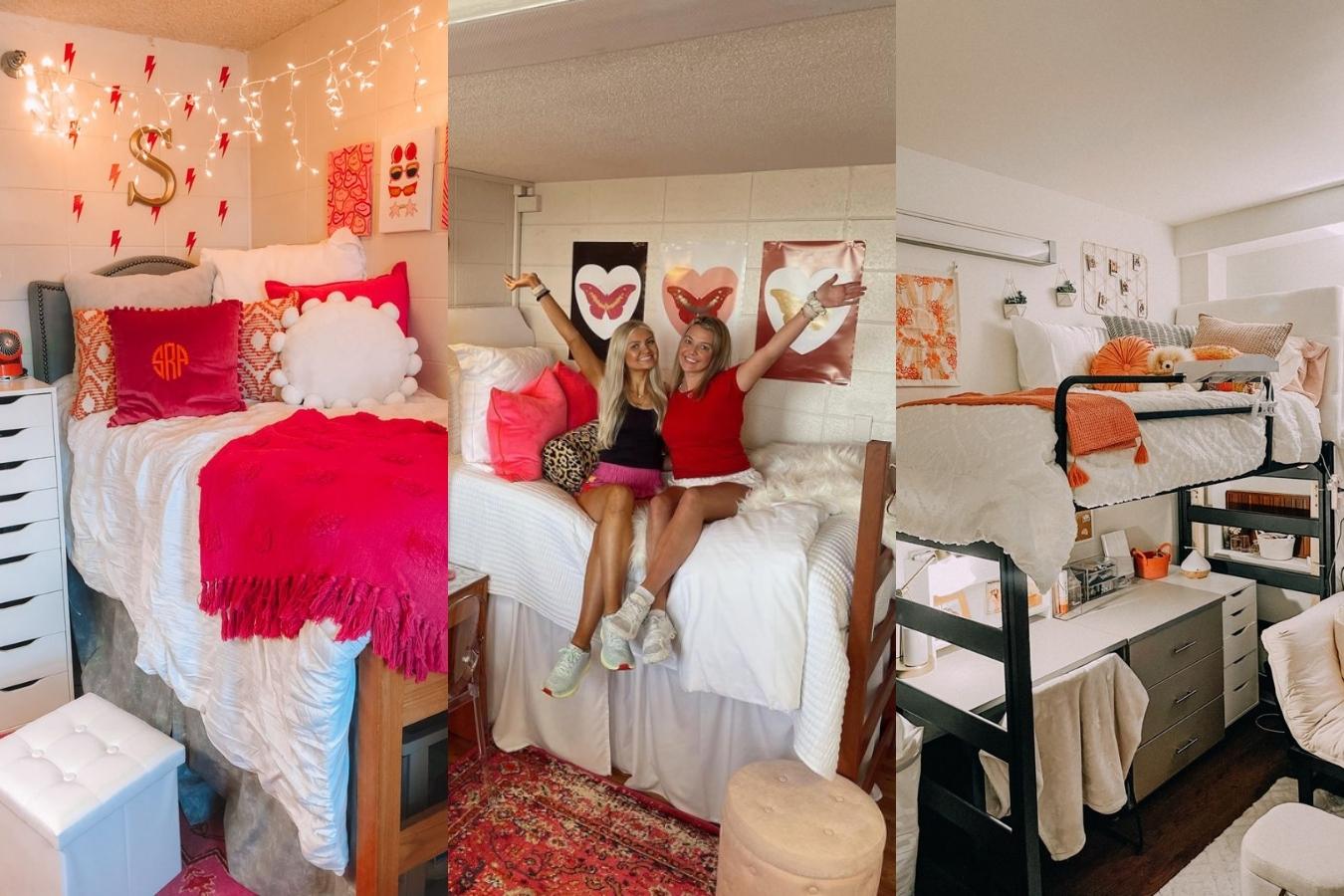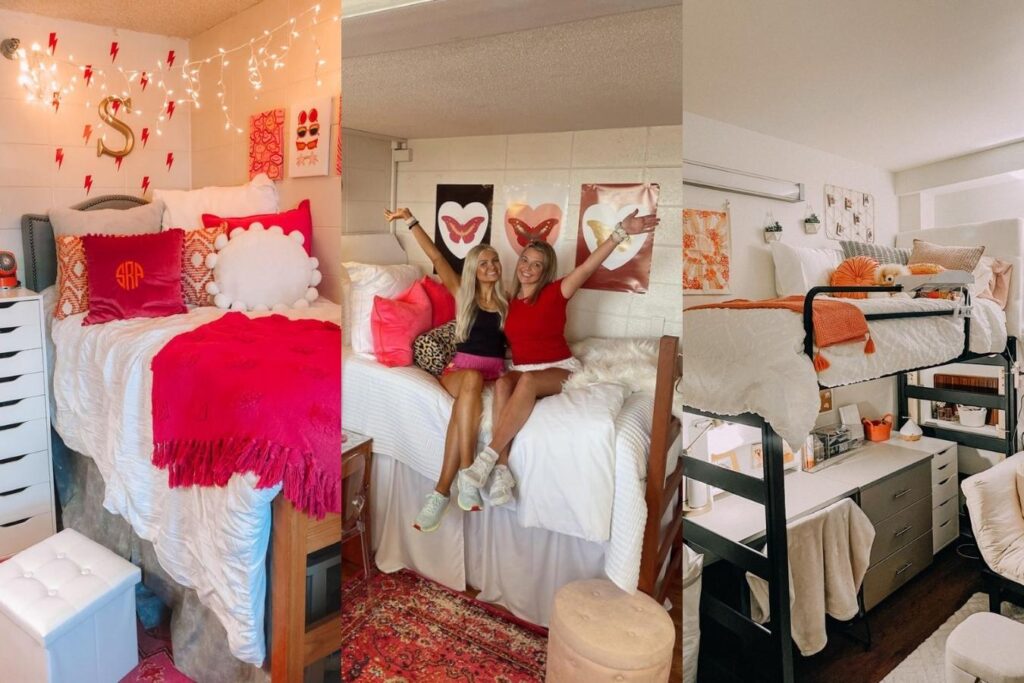 Do you want to have the cutest dorm room on campus? When I started college all I could think about was how to make my dorm room look trendy and aesthetic.
But for some reason, it was SO hard to find good examples of dorm decor online. Everything was either super impractical or way too expensive.
That's why I decided to put together this list of trendy dorm room ideas for you all! I want to give you all of the inspiration that you need to create a totally Pinterest-worthy dorm room.
No matter what your dream dorm decor style is, you'll definitely be able to get some good inspiration from this post.
How To Style A Dorm Room
Decorating a dorm room is one of the most exciting parts about starting college. You have the chance to start fresh in a new place and make it your own.
When it comes to creating a trendy dorm room, you need to first choose an aesthetic. You may decide you want your dorm room to be bohemian, indie, or preppy.
Next, you'll choose a color scheme. You want to focus on a few key colors when picking out your dorm room decor. This will make it easier to shop and create a cohesive look in your dorm.
After you choose a color scheme, it's time to plan your layout. Figure out whether or not you want to loft your bed, where you'll put your desk, how you want to store your belongings, etc.
Then, it's time to get decorating! Take some time and really make your dorm room feel like home. You're going to be living here for the next year, so make sure it's practical as well as cute!
Popular Dorm Room Aesthetics
If you want to create a super trendy dorm room, you first need to figure out your decor style. An aesthetic or decor style will help set the theme of your room and make it easier to do your dorm shopping.
Here are some of the trendiest dorm room aesthetics right now:
1. Bohemian
Bohemian is one of the most popular decor styles for a dorm room. The boho look is all about patterns, texture, and colors.
In a boho dorm room you'll find lots of natural elements macrame wall decor, plants, and woven baskets. Some boho dorm rooms feature lots of colors, while others keep things more neutral and muted.
If you want more inspiration for a boho dorm room, you'll love our guide to creating a bohemian dorm room aesthetic.
2. Minimalist
Minimalist decor is huge right now, and for a good reason! When you remove clutter in a room, it can help reduce stress, increase productivity, and create a sense of calm.
In a minimalist dorm room, you'll likely find neutral colors, efficient storage solutions, and very few decor pieces. It can feel sterile to some, but others find it incredibly calming to have less stuff laying around.
3. Danish Pastel
One super popular design style right now is the Danish Pastel aesthetic.
This aesthetic typically features pastel accents with white backdrops. For example, you'd likely see an all-white bed with a pastel colored throw pillow.
Danish pastel is modern, girly, and super fun. Get our full Danish Pastel dorm decor guide here.
4. Dark Academia
Another super trendy dorm room aesthetic is dark academia. This design style is all about dark colors and books.
For this aesthetic, you'll want to choose dark neutral colors like brown, gray, and olive green. Decor elements could include vintage mirrors, pages of old books, dried flowers, and other vintage-looking items.
5. Preppy
If you go to a southern school, you'll probably see a TON of preppy dorm decor around you. This decor style includes lots of classic patterns and monogrammed items.
It's a super common aesthetic so it's really easy to find cute dorm items to match it!
6. Indie
One of the most popular trendy dorm room ideas is to follow the indie aesthetic. This dorm decor style is all about bright colors and funky patterns.
You may also see this style being referred to as the Y2K dorm aesthetic.
Trendy Dorm Room Ideas
Want to create a super cute dorm room? Here are some of the trendiest dorm room ideas for you to use in your room.
1. Get Creative With Lighting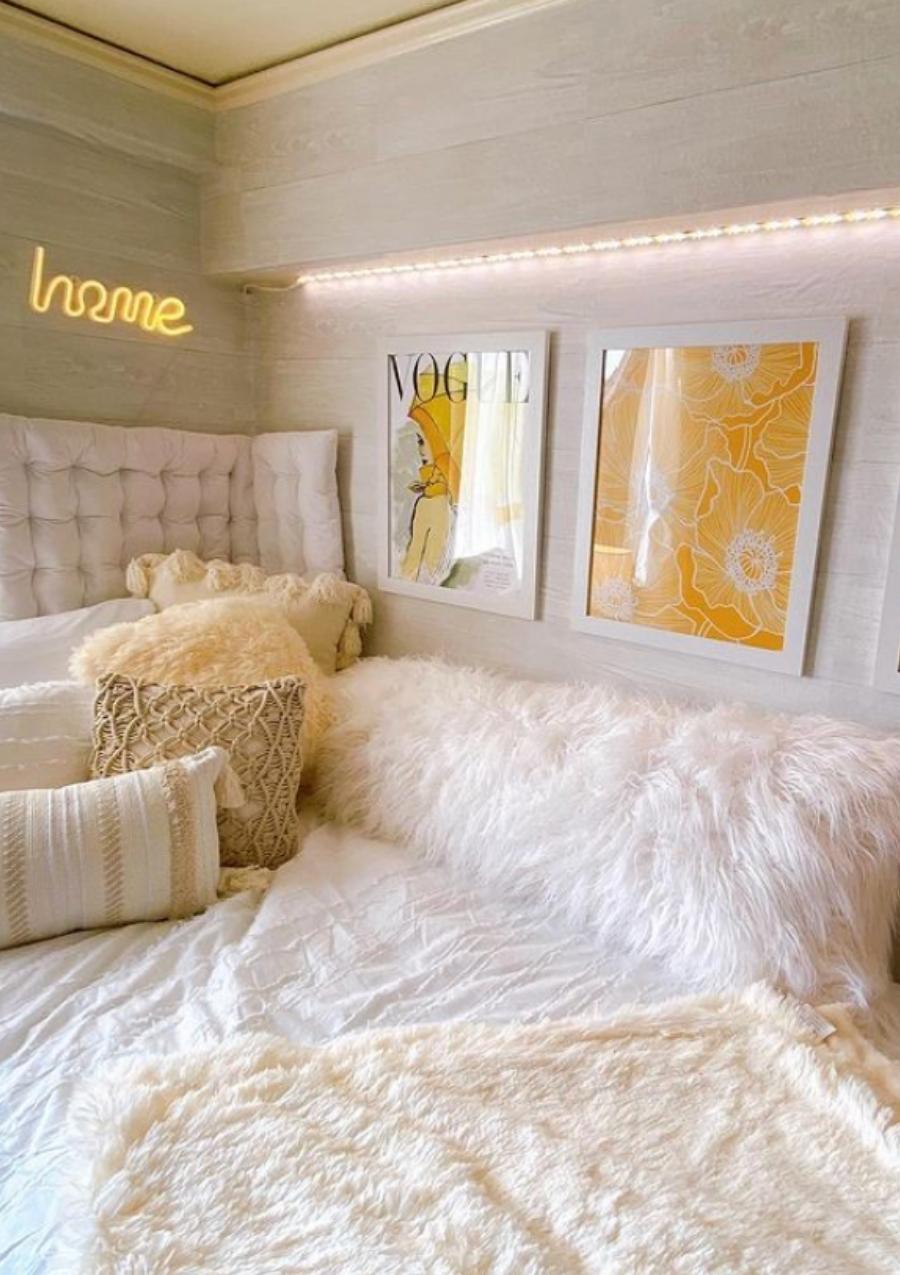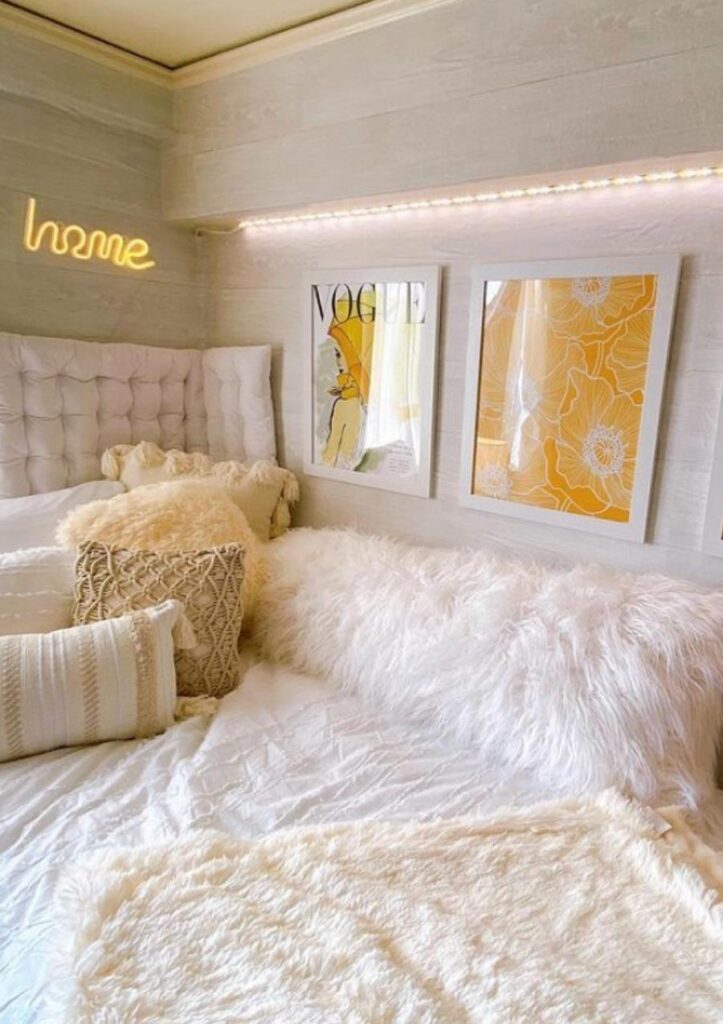 One of the biggest issues with dorm rooms is the lack of good lighting. Most dorms just come with one harsh overhead fluorescent light.
Lighting is so key to making your dorm room look aesthetic and trendy. Get creative and add some fun lighting options like rope lights and neon lights.
This will make your dorm room feel so much more trendy and cozy.
Recreate this dorm room idea:
2. Pick Retro Kitchen Appliances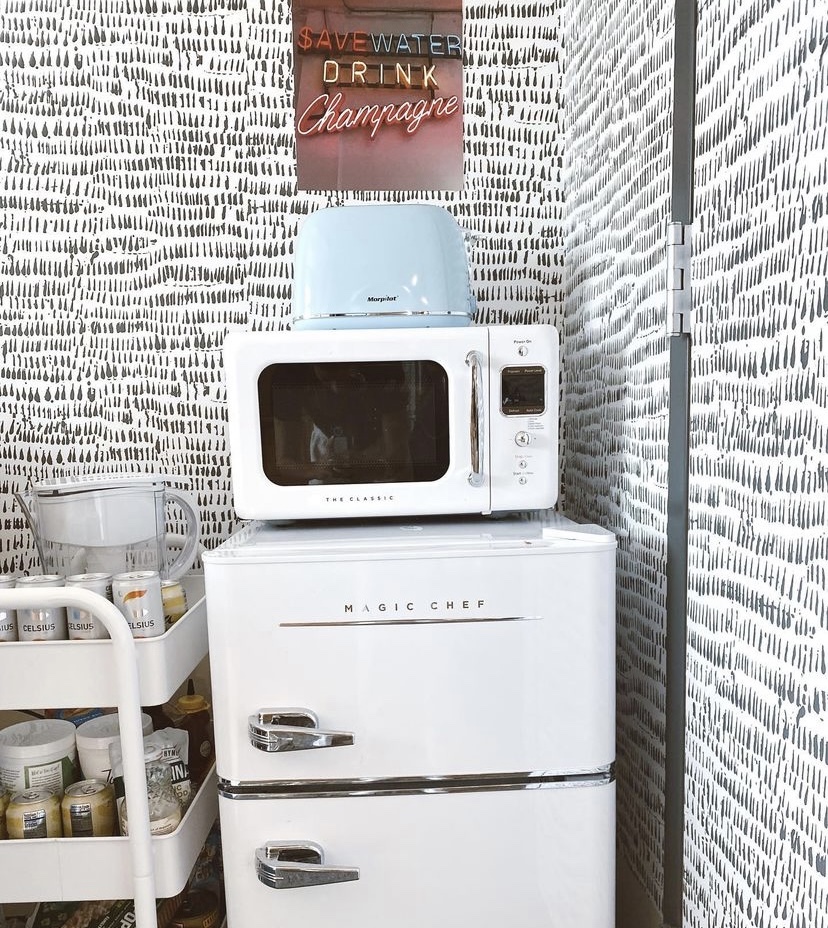 Appliances and furniture are such an overlooked part of dorm decor. The reality is, it's the little details that really count when trying to make your dorm room look more trendy.
These retro kitchen appliances totally change the vibe of this dorm room. They just look so much cooler than standard appliances.
By the way, we have a full post on the best dorm room kitchen essentials if you're not sure how to stock your dorm kitchen area!
Recreate this trendy dorm idea:
3. Use Peel And Stick Wallpaper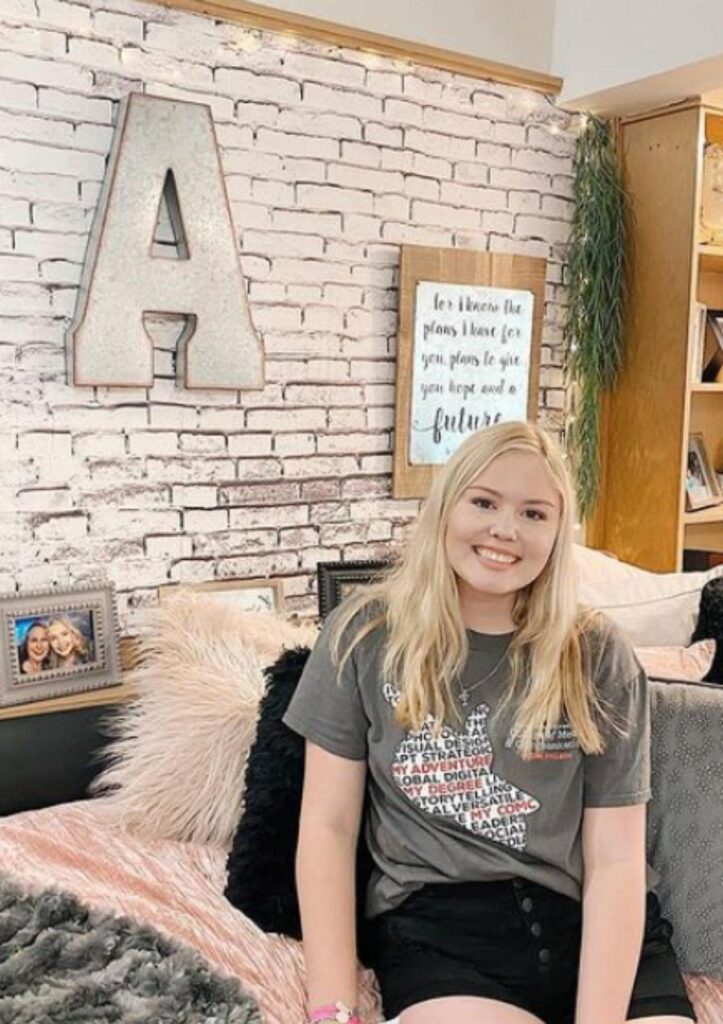 One easy way to completely transform your dorm room is by using peel and stick wallpaper. You can get SO many different colors and patterns of removable wallpaper, so there are endless options to choose from.
I love this trendy dorm room idea because blank walls can make a dorm room feel empty and sterile. Wallpaper will cover tons of blank space without costing too much.
This wallpaper won't damage your walls which is so important in a dorm room! You don't want to get charged at the end of the year because you caused damage to your dorm walls.
Recreate this super cool dorm room decor idea:
4. Hang Some Faux Greenery
These faux green vines are SO popular for dorm decor right now. I swear I see them in every single girl's dorm room these days!
I absolutely love the vibe that plants bring to a room. Studies have shown that even artificial plants have the ability to positively impact your mood and productivity.
You can hang these faux vines from your ceiling, around your windows, or pretty much anywhere on your walls!
[RELATED: 9 Air Purifying Plants for Dorm Rooms]
Recreate this trendy dorm room idea:
5. Layer Different Textures
One of my favorite dorm decor tips is to layer different textures and patterns. Textures allow you to create a super cozy feeling in your dorm room without adding a ton of color.
Pick up a few different pillows and blankets in different textures to layer on your bed. If you don't want things to look too busy, pick a neutral color for your base and then add one or two accent colors.
Recreate this super cute dorm room idea:
6. Coordinate With Your Roommate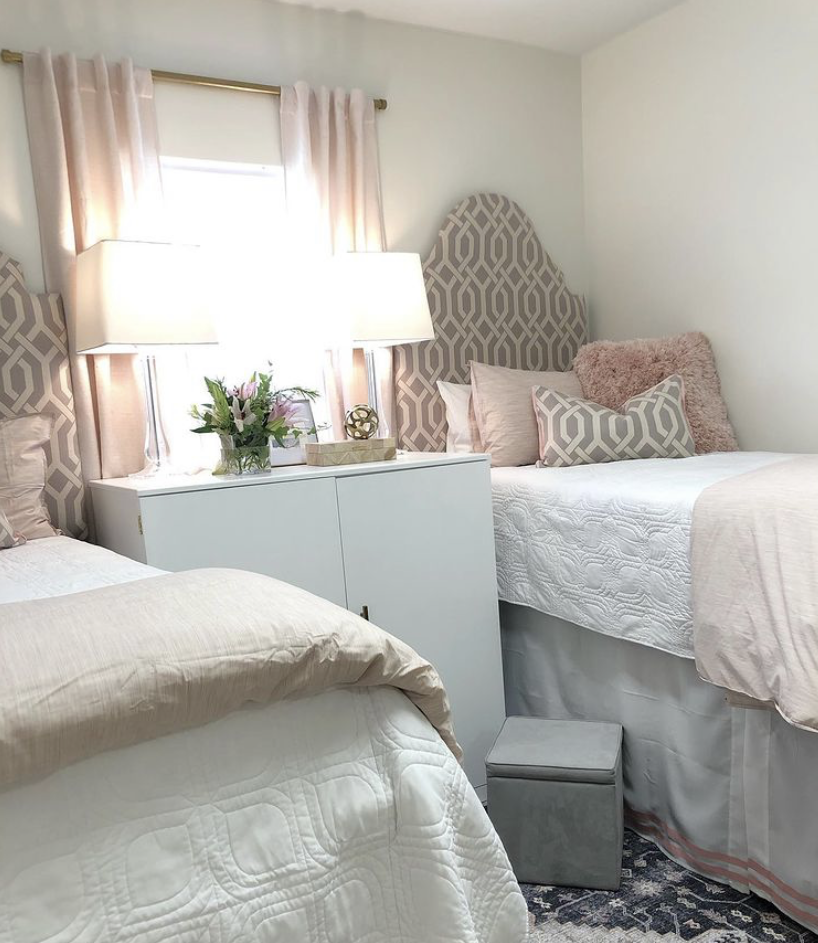 If you and your roomie have similar design styles, you should definitely consider coordinating on dorm decor! Your room will look so much more cohesive and clean if both sides follow the same theme.
It'll also save you a ton of time when you're doing your dorm shopping!
Recreate this cohesive dorm room idea:
7. Display Decor Items On A Desk Hutch
Dorm rooms are notorious for not having enough space for storage or decor. One easy way to increase your space is to build vertically.
Adding a hutch on top of your desk will add so much storage space to your dorm room. You can use these shelves for displaying pictures, storing school supplies, and showing off cool decor pieces.
Here's one of our top picks for dorm desk hutches:
8. Add A Cute Headboard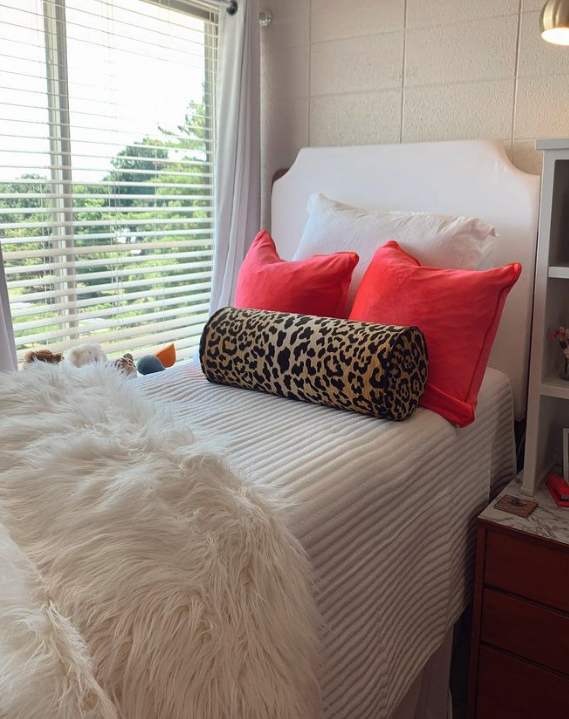 A headboard is a great way to instantly make your dorm feel more put-together. Most dorm beds don't come with headboards, so make sure to add one to your college packing list!
I recommend going with a neutral headboard and then adding some fun throw pillows if you want a pop of color. Throw pillows are super easy to change out, so you can switch up your dorm color scheme as often as you want to!
Recreate this trendy dorm idea:
9. Create A Marble Desktop With Contact Paper
One creative idea for making your dorm room look more trendy is to use marble contact paper on your desk.
Contact paper is amazing because it will completely transform your desk without causing any damage. This marble contact paper made a boring wooden desk look totally cool and modern!
Here's our top pick for marble contact paper for dorms:
10. Add A Colorful Rug
One of the most underrated ways to transform your dorm decor is by using a colorful rug.
Rugs make your dorm room look SO much more cozy and cohesive. Plus, they make it so much more comfortable to walk around your dorm room barefoot.
Pick a rug that matches at least one or two colors in your dorm room color scheme.
Recreate this super trendy dorm room:
12. Make A Wall Collage
I'm a huge fan of wall collages for dorm rooms. They're SO affordable, come in a ton of different colors and styles, and they cover up a lot of blank space on your walls.
Collages are especially good for dorm rooms because you can hang them without causing any damage.
Here's a super cute (and affordable) collage kit from Amazon:
13. Loft Your Dorm Bed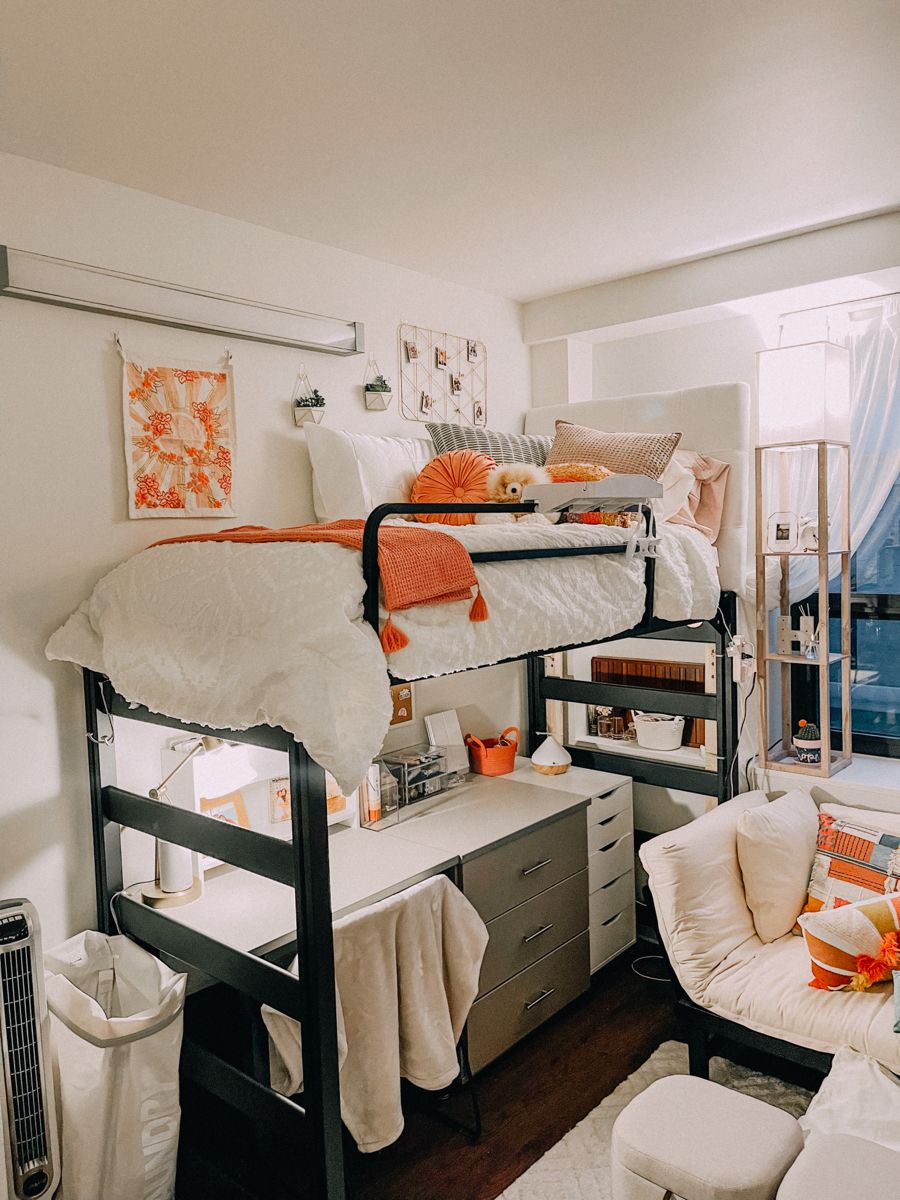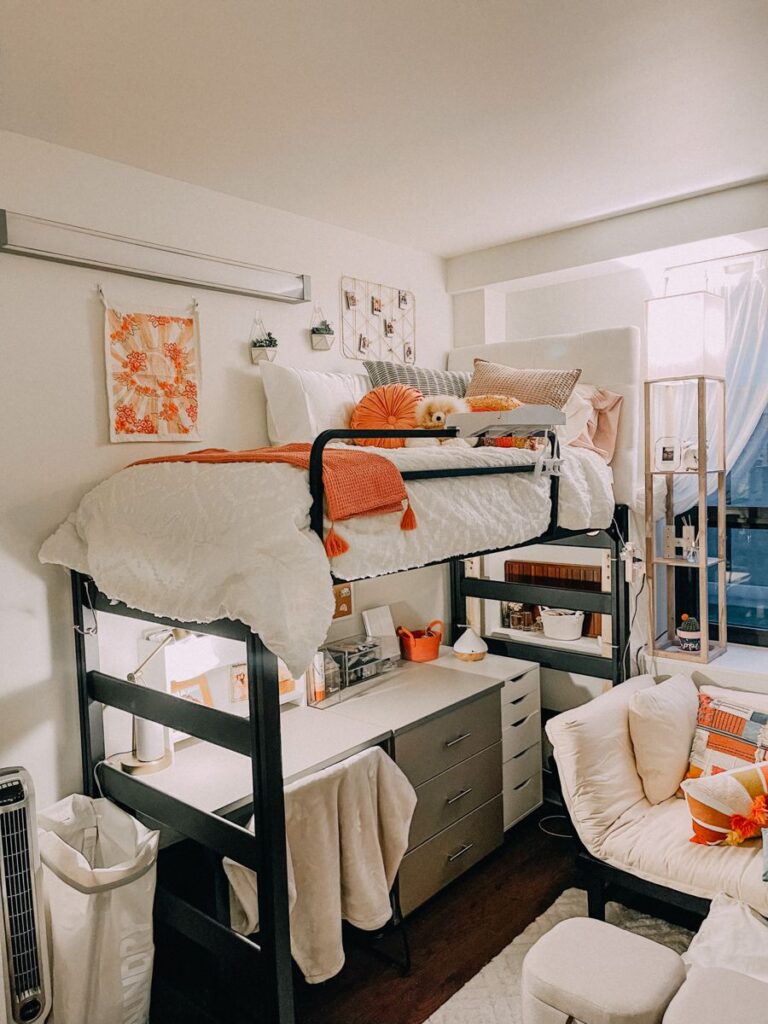 It's no secret that dorm rooms are tiny and cramped. One of the best ways to free up some space in your room is to loft your bed.
Lofting your bed allows you to put your desk, futon, or storage drawers underneath your bed. This frees up so much space in the middle of your room. It also makes the whole room look bigger!
Recreate this lofted dorm room idea:
14. Hang Some Neon Signs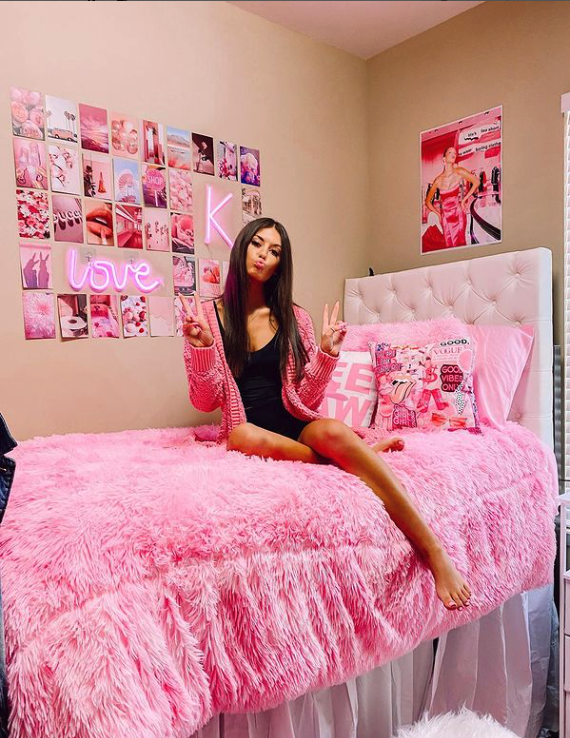 One of the most trendy dorm room ideas right now is to decorate with neon signs. Neon signs are perfect for dorm decor because they're pretty affordable and they come in a ton of different shapes and colors.
One cute way to incorporate a neon sign into your dorm decor is by adding it to the center of your wall collage.
Recreate this super trendy dorm room idea:
15. Make A Gallery Wall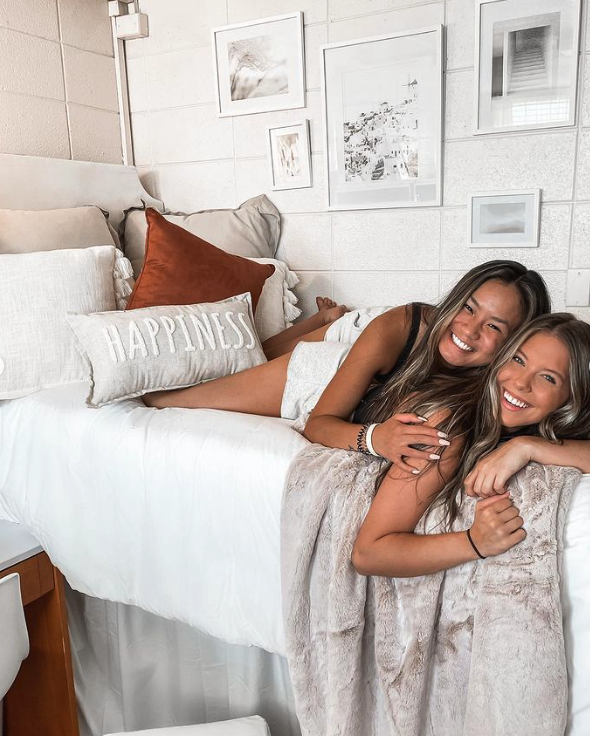 Creating a gallery wall is another super trendy way to decorate your dorm walls.
Get a few photo frames in different sizes and fill them with your favorite pictures. Then use command strips to easily attach them to your walls without causing damage.
Recreate this trendy dorm room wall decor idea:
16. Add Some Decals To The Wall
Another cute way to decorate a plain wall is by adding removable decals. These are basically like stickers that are designed to go on walls.
These star decals are SO cute for a dorm room, but there are so many options on Amazon if you want something else.
Recreate this dorm room idea:
17. Use A Cart To Store Your Dorm Kitchen Items
Even if you don't plan on cooking many meals in your dorm room, you'll definitely still want to have some kitchen items on hand. You can make a ton of different quick meals in the microwave for when you're in a hurry and can't hit up the dining hall.
One easy way to store all of your kitchen items is by getting a cute storage cart. I love these because you can easily roll them around your room if you need to free up space.
You could also use these carts for makeup and toiletries, school supplies, or as a place to store your snacks.
Recreate this trendy dorm room idea:
18. Create A Comfy Seating Area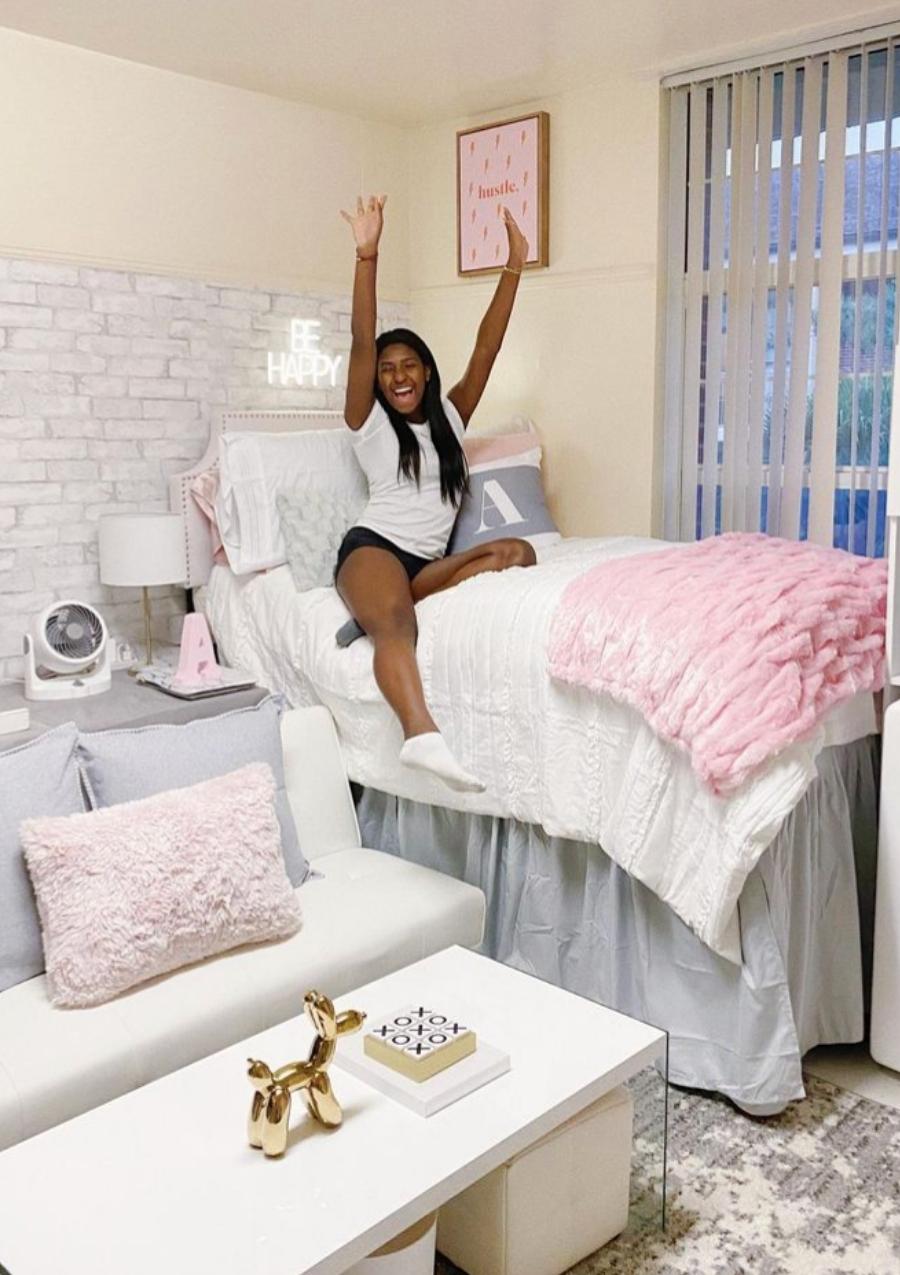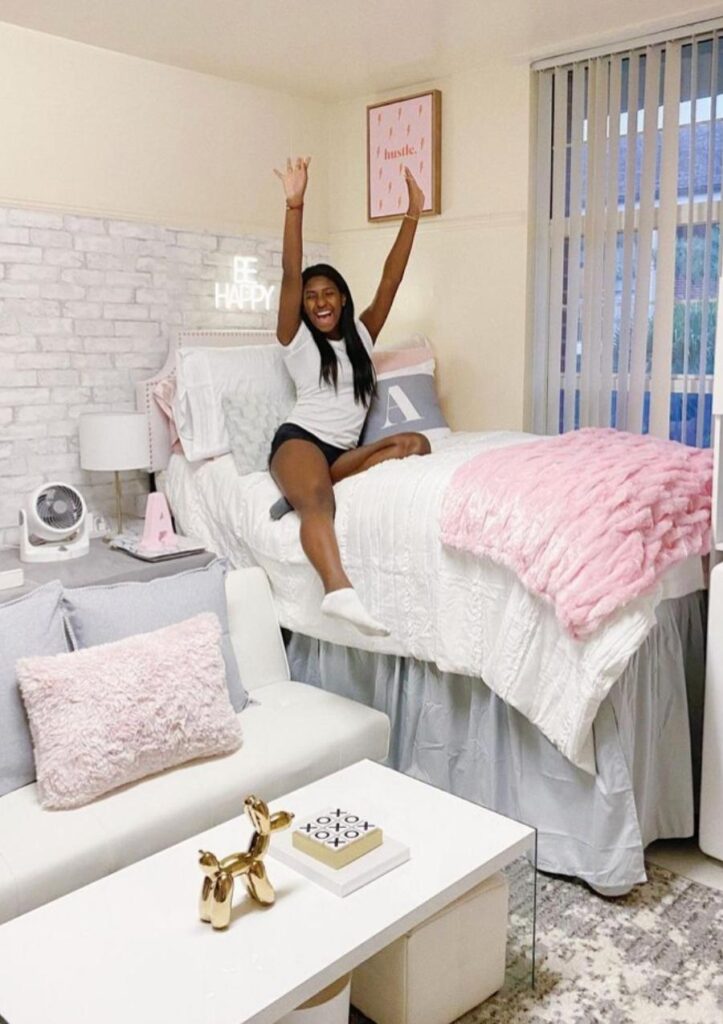 Aside from your desk chair, you definitely need some type of seating option in your dorm room. Trust me, you do not want to curl up in your hard desk chair to watch Netflix every night.
[RELATED: 23 Best Dorm Chairs for College Students]
One super cute way to create some extra seating is by putting a futon in your dorm room. Futons are perfect for college students because they're inexpensive and they fold down into a bed. This is perfect for when you have friends visiting you that need a place to stay.
If you want to make your dorm room feel super cozy, I highly recommend making a little seating area out of a futon and a small table. Bonus points if you have some storage space underneath the table.
Recreate this trendy dorm room idea:
19. Go For Neutrals With A Pop Of Color
One of my favorite trendy dorm room ideas is to stick to neutral colors when decorating, but then adding in a pop of color.
Neutral colors will help keep your dorm room looking more clean and cohesive. They're also super easy to shop for because you don't have to try to match different shades of colors.
Adding in a fun pop of color with some throw pillows will add a bit more life and personality to your room. Plus, you can easily change out your pillowcases if you want to switch the vibe of your room!
Recreate this cute dorm room idea:
20. Put Your Snapchat QR On Your Door
One of the smartest trendy dorm room ideas is to put your snapchat code on your door.
In the beginning of college, everyone is trying to meet people and make new friends. Having your snapchat code on your door will let people know that you're open to new friends!
If you don't want a bunch of random people getting your snapchat, you could also put this on the inside of your door and just have new friends add you.
Recreate this dorm room idea:
21. Add Monograms For A Preppy Touch
One cute preppy dorm decor idea is to add a monogram to your wall. I've seen this done in SO many dorm rooms, and it's such a cute idea.
Recreate this dorm room idea:
22. Add Lots Of Plants
Plants are one of my favorite ways to decorate dorm rooms. They immediately brighten up a space and make it feel so much more like home.
Plants are proven to help boost happiness levels, aid in cognitive function, and reduce symptoms of anxiety and depression. They're not a cure-all, but they definitely can help your boost your mood!
Another benefit of having plants in your dorm room is that they can actually purify the air. Plants absorb carbon dioxide and toxins in the environment and produce oxygen. This makes them perfect for cleaning up the air in dorm rooms and other small spaces.
I highly recommend adding some plants to your dorm room! Just make sure to put them near a window so they have enough light to grow.
P.S. check out this post to learn which plants are easiest to grow in a dorm room.
Recreate this trendy dorm room idea:
23. Create A Vanity Area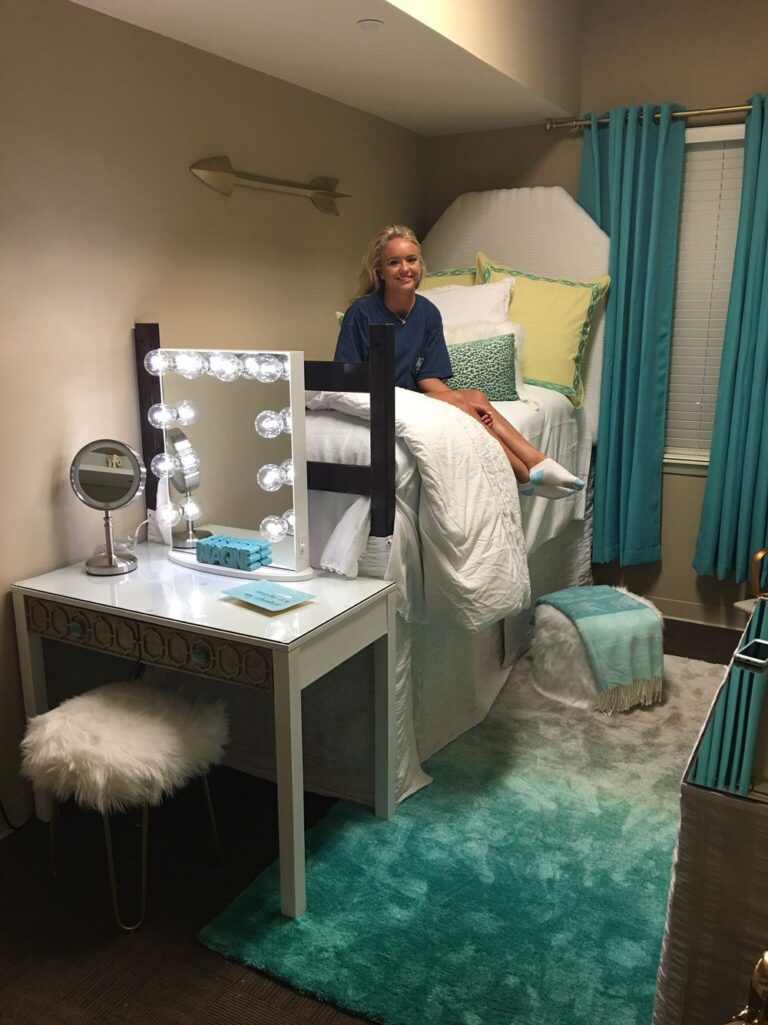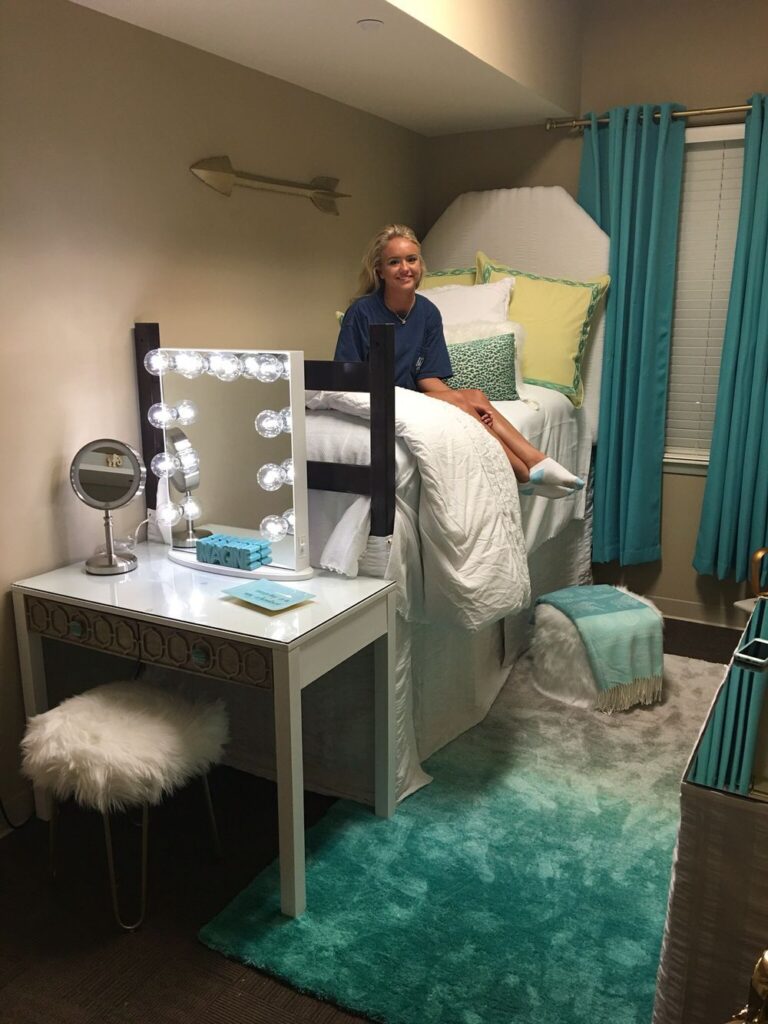 This vanity area is such a genius dorm room idea. If you don't want to go down the hall to the communal bathroom to put on your makeup, you definitely need to create a cute vanity area in your room.
Add a mirror with lights to your desk so that you always have a perfectly-lit spot to put on makeup.
If you want something more portable, Amazon has amazing folding vanity mirrors with built-in LED lights. This would be perfect for getting ready in your friends' rooms.
Recreate this cute dorm room vanity idea:
24. Set Up A Coffee Station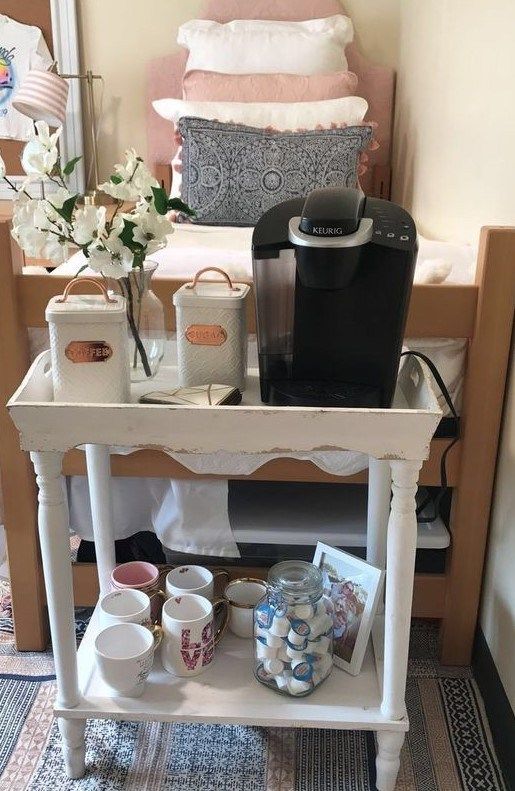 A coffee maker is an absolute MUST-HAVE item for dorm rooms.
When you're running late to class or pulling an all-nighter, you can't always get to the cafeteria to grab a cup of coffee. Having a compact coffee maker in your dorm room lets you make a cup of coffee anytime.
Set up a cute coffee station in your dorm room so that you can make your cup of coffee in style. A bar cart or storage shelf is the perfect spot to put your coffee maker, mugs, K-Cups, etc.
Recreate this cute dorm room coffee station:
This post was all about trendy dorm room ideas. Hopefully this post gave you some inspiration for how to style your dorm room this year!
You may also like: