Looking for ways to boost productivity and make life easier in college? Here are 15 college life hacks that will help you unlock success while you're in university.
This post may contain affiliate links, which means I'll receive a commission if you purchase through my link, at no extra cost to you. Learn more: Affiliate Disclaimer.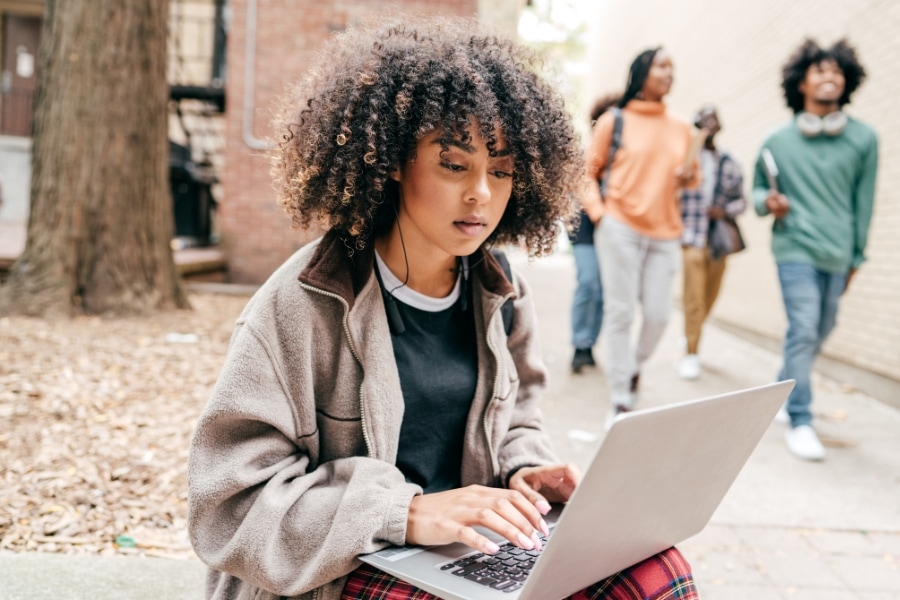 College is an exciting time of your life filled with opportunities, challenges, and a chance to shape your future.
But it can be a tough adjustment for a lot of people! To make your life so much easier in college, we've put together a list of 15 invaluable college life hacks to help you navigate university life.
From utilizing student discounts, to enhancing your study techniques, and even choosing the right professors, these college life hacks are sure to boost your college experience.
The Best College Life Hacks For Students
1. Take Advantage Of Student Discounts
A huge college hack is to take advantage of student discounts while you can. It's basically free money if they're things you would have bought anyways!
My favorite online student discounts are:
Amazon Prime Student Membership. You get a FREE 6 month trial of Amazon Prime just for being a student!
Spotify. Students get half off of a Spotify Premium membership that also includes Hulu! SUCH a good deal for getting your entertainment fix at college.
UniDays offers instant savings at 150+ stores for college students. And it's totally free to sign up!
Apple Music offers a discounted rate of just $5.99 per month, which includes Apple TV+!
2. TLDR Extension
The TLDR Chrome extension is one of my favorite college life hacks. It gives you a quick summary of what an article is about.
This will save you so much time and prevent you from reading full articles that aren't actually useful.
3. Loft Your Bed
Lofting your bed gives you SO much extra storage, which is so crucial in a dorm room. It also gives you a spot to put your desk or a futon without taking up any more space in the room.
If you don't have the option to loft your bed, buy some bed risers. This will give you some extra space to store things under your bed.
[RELATED: 23 Under Bed Dorm Storage Ideas You Need In Your Dorm Room]
4. Take Advantage of Your Professor's Office Hours
Almost every professor has office hours every week but very few students take advantage of them.
Office hours are a great way to get answers to your questions about the coursework but also just to make a connection.
A lot of jobs, internships, and study abroad programs require academic references so make sure you get to know at least a few of your professors throughout the years.
5. Free Textbooks
Never buy a textbook that you can find online for free! Here are a few websites that have free online textbooks:
Any books that can't be found for free, you can rent on Amazon. You'll probably never use most of your textbooks after the semester is over anyways!
Seriously, there is no excuse to pay $200 for a textbook unless you're going to use it every day for the rest of your life.
6. Memorization Hack
To memorize effectively, follow this simple technique: read the material ten times, speak it aloud ten times, and write it down twice.
This method engages your visual, auditory, and kinesthetic senses, enhancing your memory retention.
Incorporating these three steps – reading, speaking, and writing – not only reinforces your understanding of the material but also strengthens your ability to recall it when you need it most.
7. Keep Your Dorm Door Open
During the first few days of living in the dorms, keep your door open as much as possible. This will make it so much easier to make friends on your dorm floor.
Having your door open basically sends a signal to your neighbors that they're welcome to come in and hang out.
8. Use Two Notebooks
One underrated life hack is using two notebooks for each class.
Bring one to class and use it to take all of your "messy" notes. Write down absolutely everything you think you'll need to know.
Then, when you get back to your dorm, you can condense it into the most important info in the second notebook. This is what you'll study off of for exams.
You could also take notes on your computer during class and then write the condensed version in a notebook when you get home.
This may seem excessive but people swear by this note-taking method!
9. MyStudyLife App
MyStudyLife makes it easy to organize your class schedules, homework, and exams.
It's basically a free college planner that helps you never forget a class or assignment again. And you can use it on iPhone, Android, or your computer's web browser.
As soon as you get your syllabi, enter all of your due dates, projects, and exam days in the app. It will absolutely change your organization game!
10. Arc Notebook
The arc notebook allows you to move pages around easily so you can keep your notes together.
These are the perfect notebooks for college because you can just take out the pages and fill the notebook with refill pages when a new semester starts.
11. Make Your Class Schedule Your Lock Screen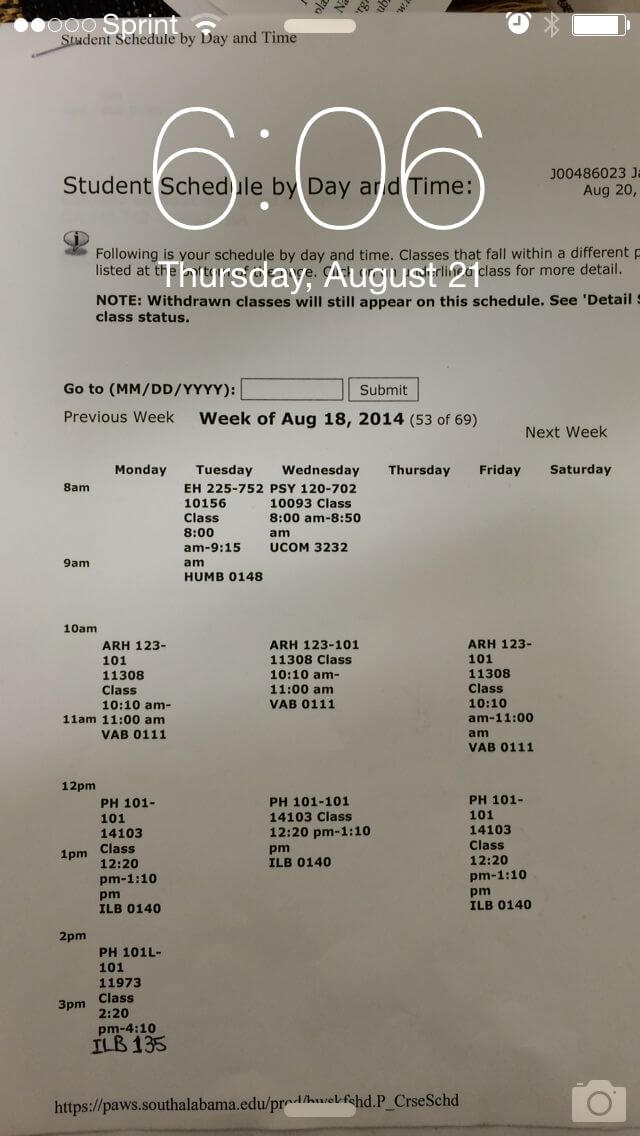 I absolutely SWEAR by this college life hack. There's nothing more frustrating than having 10 minutes between classes and having to dig through your emails for your class schedule.
Take a screenshot of your schedule and the class locations and make it your lock screen for the first few weeks of school.
12. Utilize Video Transcripts
Need to watch a long YouTube video for class? Pull up the transcript and search for key words to save yourself time.
You can access the transcript by opening the video, click the more options (…) button at the bottom of the video, and select Open Transcript from the drop-down menu.
13. Find Answers to Everything
Chegg, Quizlet, and Sciemce.com have answers to just about everything you'll ever learn in a college class. These websites make exam prep WAY easier.
14. Use RateMyProfessor.com
Oftentimes, there are multiple professors teaching the same classes. If you're not sure which professor's class to take, check out ratemyprofessor.com.
These reviews saved me from some horrible professors more times than I can count. I used it every single semester.
15. Don't Schedule Classes on Friday
If possible, avoid scheduling Friday classes. For one thing, you'll be totally burnt out by the end of the week.
Another reason is that college students like to partake in something called "Thirsty Thursday." This will make Friday classes extra difficult if you catch my drift.
This post was all about the best college life hacks to make your university experience SO much easier.
You may also like: