Looking for the perfect dorm gifts for college students? Here are 50 of the most thoughtful gifts that a student can use in their dorm room.
This post may contain affiliate links, which means I'll receive a commission if you purchase through my link, at no extra cost to you. Learn more: Affiliate Disclaimer.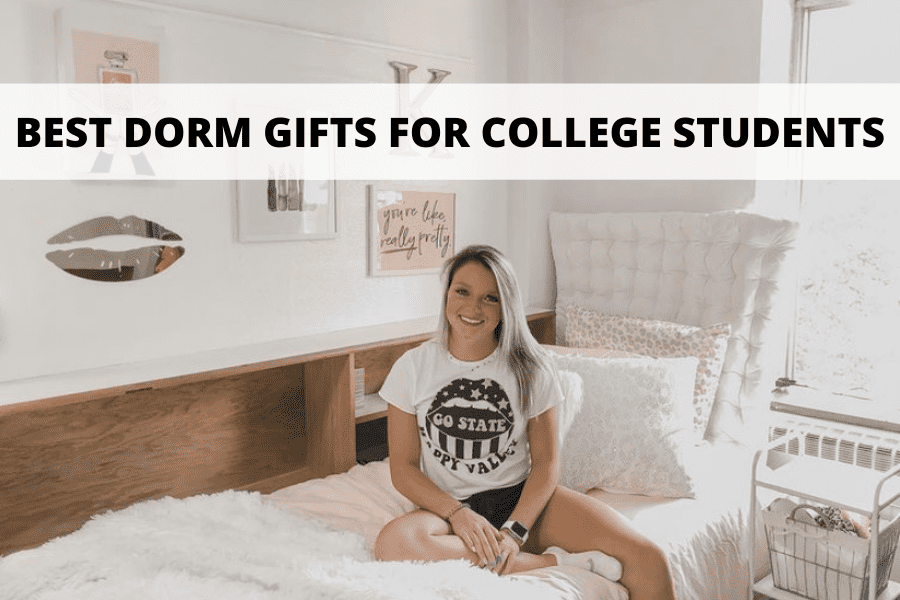 Looking for the perfect dorm gifts for the future college student in your life?
When you send your loved one away to college, you want to be sure that they have everything they need. More than that, you want to give them a gift that will make them think of you and actually be useful.
A lot of incoming college students aren't totally sure what they need for school and may not know what to ask for. That's why I've put together this list of the best dorm gift ideas for future college students.
Here are the best dorm gift ideas that every student will love.
Best Dorm Gifts For All College Students
1. Keurig Mini
One essential dorm item for those who are addicted to caffeine is a coffee maker. A college dorm doesn't have much space, so this Keurig Mini is absolutely perfect.
Having your own coffee maker in college will save so much money and will be great when you're in the late-night study grind.
If you're getting this as a gift for a college student, make sure you throw in some K-Cups so they can use it right away. This variety pack would be perfect for any college student.
2. Electric Hot Pot
Most college dorm rooms don't have kitchens to cook food in. College students typically rely on cafeteria food and small cooking appliances to get them through the semester.
One absolutely essential kitchen item for a dorm room is an electric hot pot. You can make so many things in here – oatmeal, ramen noodles, canned soup, eggs, vegetables, pasta, etc.
This would make such a good dorm gift for college students.
3. Saucer Chair
Another great dorm gift for college students is a fuzzy saucer chair. Dorm rooms have limited seating options, so an extra place to sit is always a good idea.
I love that this saucer chair folds up so you can stash it away under your bed. Plus, it's super plush and comfortable to sit on.
P.s. need more seating ideas for dorm rooms? Here's a post with my top recommendations for dorm chairs.
4. Personal Smoothie Blender
When I was in college I made a smoothie for breakfast almost every morning. It was the perfect healthy option that I could take on the go with me.
I really wish I would have had a personal smoothie blender like this one so that it would be easier to make single portions. Plus, you can just use the blender cup as a container to bring your smoothie to class in!
Such a thoughtful dorm gift for health-conscious students.
5. Backrest Pillow
This backrest pillow is perfect for those days when you just want to study from your bed.
It's super comfortable, plush, and prevents your back and neck from straining when you're studying or reading in bed.
6. Bedside Shelf
A bedside shelf is one of my top recommended dorm room essentials for college students. If you're lofting your bed, it's really difficult to find a bedside table that is tall enough.
This bedside shelf actually attaches to the frame of your bed, making it perfect for beds that are awkward heights.
This would be such a thoughtful dorm gift for any college student.
7. Rolling Laundry Hamper
Another super useful dorm gift is a rolling laundry hamper.
This hamper makes it super easy to roll your things down the hallway or onto the elevator to take to the laundry room.
8. College Journal
One of the best ways to remember your college experience is by taking pictures and writing about it. For that reason, this college journal is one of the best gifts for a college student.
There is a space for you to write one sentence everyday for all four years of college.
This is a great gift because the college student in your life will want to remember every single day of their experience. 
9. Travel Mug
Unlike the movies depicted, college does actually include going to morning classes.
If your college student is a caffeine addict like most, a great travel mug is one of the best dorm gifts to give college students.
This one from Yeti is a great choice. It is durable and high-quality, and comes in tons of colors so you can pick the one that is just right.
10. Storage Ottoman
One thing that most dorms are lacking is adequate storage options. One of the best gifts for a college student is one that solves this problem!
This storage ottoman is great because it acts as an extra chair for guests to sit, and doubles as a storage unit. The top lifts, providing extra storage.
11. Snack Care Basket
What better way to show someone you love them than by sending them a care basket?
This care bundle from Amazon comes with bags of popular favorite cookies, chips and treats.
12. Fan
One thing I learned from living in the dorms is that they can get so stuffy and hot, especially in the summer months.
A lot of dorm buildings are old and don't have air conditioning, so a nice fan is a super thoughtful dorm gift to give a college student.
[RELATED: How To Cool Down A Dorm Room With No Air Conditioning]
13. String Lights
Dorm decorations are excellent and cheap gifts for college students. Most dorm rooms are dimly lit and would look so much better with some extra, cute lights.
These fairy string lights come with a remote to turn them off and on and are long enough to wrap most dorm rooms all the way around!
14. Water Bottle
Most people have a trusted water bottle, but a great going away gift for your college student is an upgraded water bottle.
The Stanley IceFlow water bottle is super trendy right now and is probably my favorite water bottle ever! It's really cute but also keeps drinks cold all day.
15. Extra Seating
Having extra seating for your guests in your dorm room is a great thing to have.
These foldable chairs are great. They are comfortable and easy to put away when not in use!
16. Blue Light Glasses
With how much time college students spend on their laptops and computers, they should definitely be sure to take measures that will protect them from blue light!
Blue light glasses are a great cheap gift for college students that will protect their eyes from damage due to extended computer use.
17. Weekend Bag
Another great dorm gift for college students is a good weekend bag. Your college student will want to explore and travel outside of their campus.
This weekender bag from Amazon will be great for any trips. Plus, it'll make them more likely to travel home to visit you!
18. Shower Caddy
Bringing your items to the shower can be awkward and annoying. A great way to manage this if you live on a floor with a communal shower is to get a good shower caddy.
This one is a great option for a cheap dorm gift for your college student. I always recommend going with a mesh shower caddy because the plastic ones tend to hold in water and get gross.
19. Storage Cart
Another great idea for a gift for a college student is a storage cart.
Everyone knows that college dorm rooms are short on space. This storage cart is a great gift for anyone who has too much stuff and not enough space! 
20. Amazon Prime Student Membership
Amazon Prime offers a discounted student membership which is another great idea for a going away to college gift.
Prime offers countless shows and movies to be watched and offers extremely fast shipping for whatever they may need.
Sign up for an Amazon Prime Student Membership here.
Best Dorm Gifts For College Girls
21. Storage Mirror
This is one of my all-time favorite dorm gifts for college girls.
Every girl needs a full length mirror in their dorm room, and this one actually has storage space for jewelry and makeup!
I seriously wish I had this mirror in my dorm room when I was in college.
[RELATED: 15 Things I Wish I Brought to College My Freshman Year]
22. Clear Purse For Game Days
If you go to a school where there are lots of sports events, you'll definitely need a clear purse for game days.
College stadiums typically only allow completely clear bags and purses, so this is the perfect gift for college girls.
23. UGG Slippers
Slippers are definitely a necessity for dorm life. Dorm carpets are super thin (and gross) so your feet get really cold really fast.
These slippers from UGG are a bit of a splurge but they're so trendy right now and they will last forever.
Looking for a cheaper option? These Dearfoams slippers are really great quality for the price.
24. We're Not Really Strangers Game
One thing that I definitely recommend all college students have in their dorm is a few board games. It's always so fun to have all of your new friends over to your dorm for games and drinks.
One great game that helps you get to know people on a deeper level is We're Not Really Strangers.
The original version is definitely designed for couples, but this special Friendship Edition would be perfect for your friends you meet in the dorms.
25. Wall Decor
Every girl needs some cute wall decor for her dorm room! Get her a piece of artwork that fits her personality and decor style.
One of the most popular wall decor items for dorm rooms is this hammered metal moon phases garland. I've seen it ALL over Pinterest and TikTok lately and it would look so cute hanging on a dorm wall.
Need more wall decor options? We have a full post on dorm room wall decor ideas that you'll want to check out!
26. Jewelry Stand
Jewelry is one of the hardest things to find space for in your dorm room. You need to have a place to store it, but you don't want everything to get tangled or damaged.
A jewelry stand is a really thoughtful dorm gift for a college girl. It fits on top of her desk and dresser and keeps all of her jewelry organized and safe.
27. Personalized Towel Wrap
A great going away to college gift is a personalized towel wrap. When you have to make that awkward walk to the shared showers in your freshman dorm, you want to be sure you are covered, while still looking cute!
These personalized towel wraps are cute and essential to any college-aged girl.
Having a towel with your name on it is a great way to make sure there are no mix ups with towels in the bathroom!
28. Makeup Mirror
Another one of my favorite dorm gifts is a good makeup mirror.
This makeup mirror is an excellent choice. It has LED lights on it so you will have the best lighting possible to do your makeup.
29. Cute Backpack
A cute backpack is essential for college. Whether or not you are using it for your books and computer to go to class, or filling it with clothes to go to a friends to get ready for a night out, you want to look cute.
This one from Fjallraven is a classic and comes in so many cute colors.
[RELATED: 23 College Backpack Essentials: Must-Have Items For Students]
30. Toiletries Bag
Having a great bag for your makeup, shower essentials and other toiletries is absolutely essential. A great gift for college students is an excellent toiletries bag.
I love this one, I had one just like it in college. It comes with a hook, making it easy to hang up when you go into the bathroom.
It also comes in different colors to fit the preference of your college student.
31. Collage Kit
One of the most popular wall decorations for girls' dorms right now is the collage kit. I love these because they're super affordable but they make a big statement.
Looking for more cute wall collages? I have a full blog post on bedroom wall collage ideas.
32. Cute Throw Pillows
I'm a HUGE fan of throw pillows for dorm rooms. They make everything feel so much more cozy and welcoming.
Get some cute throw pillows as a dorm gift for the college girl in your life.
33. Personal Safety Alarm
Safety is a huge concern for college students, especially college girls, living on campus.
This personal safety alarm attaches to your keys and will let out a loud siren and flashing strobe light when activated.
It's perfect for some extra peace of mind when you're walking home from a night class or party.
Best Dorm Gifts For College Guys
34.
35. Charging Station
This charging station is the perfect dorm gift for a tech-y college guy.
It charges a ton of different items at once and it looks super sleek on top of your desk.
36. Shower Shoes
One thing that many guys forget to pack for college is a pair of shower shoes. Sharing a shower means sharing all of the germs and bacteria that lives on the shower floor.
Make sure he protects his feet with a good pair of shower slides.
37. Men's Bathrobe
Speaking of showering, this bathrobe is the perfect thing to wear when you're walking to and from the communal bathroom.
No one wants their towel falling down while they're walking back to their dorm after a shower!
38. Over The Door Basketball Hoop
This over-the-door basketball hoop is so perfect for dorm rooms.
It's a great way to occupy yourself for a few minutes between classes, and it even keeps score!
39. Atomic Habits Book
I think EVERY college student should read the book Atomic Habits by James Clear.
The book talks all about how to form healthy habits and break bad ones. This book seriously changed my life!
40. Dart Board
Darts are another fun game to play in your dorm room.
This one is perfect for dorms because you can hang it from a command hook and the darts are magnetic so they won't cause any damage.
Tech Gifts For College Students
41. Echo Dot
An Echo Dot is a great going away to college gift. It acts as a great speaker for music and is smart, featuring Alexa.
Your college student will use this for whenever they are getting ready in the morning, and whenever they have quick, easy to answer questions.
42. Headphones
A great pair of headphones is a great dorm gift to give college students.
Airpods are a classic. They are sleek, high-quality and easy to use when walking to class, hitting the gym or studying in the library.
The noise-cancelling feature also makes it super easy to drown out background noise when you're studying at the coffee shop or library.
If Airpods are a little out of your price range, Tozo offers a cheaper option that gives the same experience.
43. Laptop Case
Laptops have become essential to college students. Bringing your laptop to class is typical now and though they are meant to travel, you want to be sure you are protecting it with a laptop case.
This case is so cute and will not add any bulk to your computer. It comes in so many colors so it is an easy to customize gift.
44. Laptop
If you are looking to spend a bit more on a gift for your college student, consider getting them a laptop!
Having a personal computer is becoming more and more essential in education. A laptop is a great example of a going away to college gift.
45. Charging Cords
Extra charging cords are a great gift for college students.
People are always losing or breaking their chargers, so this is a great way to make sure they always have one.
46. Portable Charger
A portable charger is ESSENTIAL for a college student. Trust me! Outlets in dorm rooms are sparse and having a charger that you can bring with you everywhere is extremely convenient.
This charger is the exact one that I have and I'm obsessed with it.
It has cords attached for charging different types of phones, computers, and even cameras. There's even a plug on the back so you don't need a separate charging cord!
[RELATED: 10 Dorm Desk Essentials for Stress-Free Studying]
47. Portable Bluetooth Speaker
A portable bluetooth speaker is definitely a necessity when it comes to dorm living. You'll use it all the time for hanging out in your room, parties, going to the beach, etc.
I like this one because it's waterproof and super compact and portable.
48. Polaroid Camera
The best gifts for college students are ones that help them remember everything about their experience. Polaroid cameras are an excellent way to do this!
From personal experience, I can say that this camera is great. It is easy to use and will allow your college student to document the best memories. 
49. AirTags
We all know how easy it is to lose stuff like your phone, wallet or keys. These AirTags will eliminate that worry.
I wish these existed when I was in college. They would have saved me a lot of headaches and time searching for my stuff!
50. Round Charging Station
Dorm rooms are usually old and seriously lacking wall outlets. This round charging station makes it easy to charge all of your devices at once in your dorm.
This would also be super convenient for library study sessions with your friends! You could all plug in your laptops and devices to one charging station.
This post was all about the best dorm gifts for college students.
Looking for more dorm ideas?