This post is all about the best gifts for college guys.
This post may contain affiliate links, which means I'll receive a commission if you purchase through my link, at no extra cost to you. Learn more: Affiliate Disclaimer.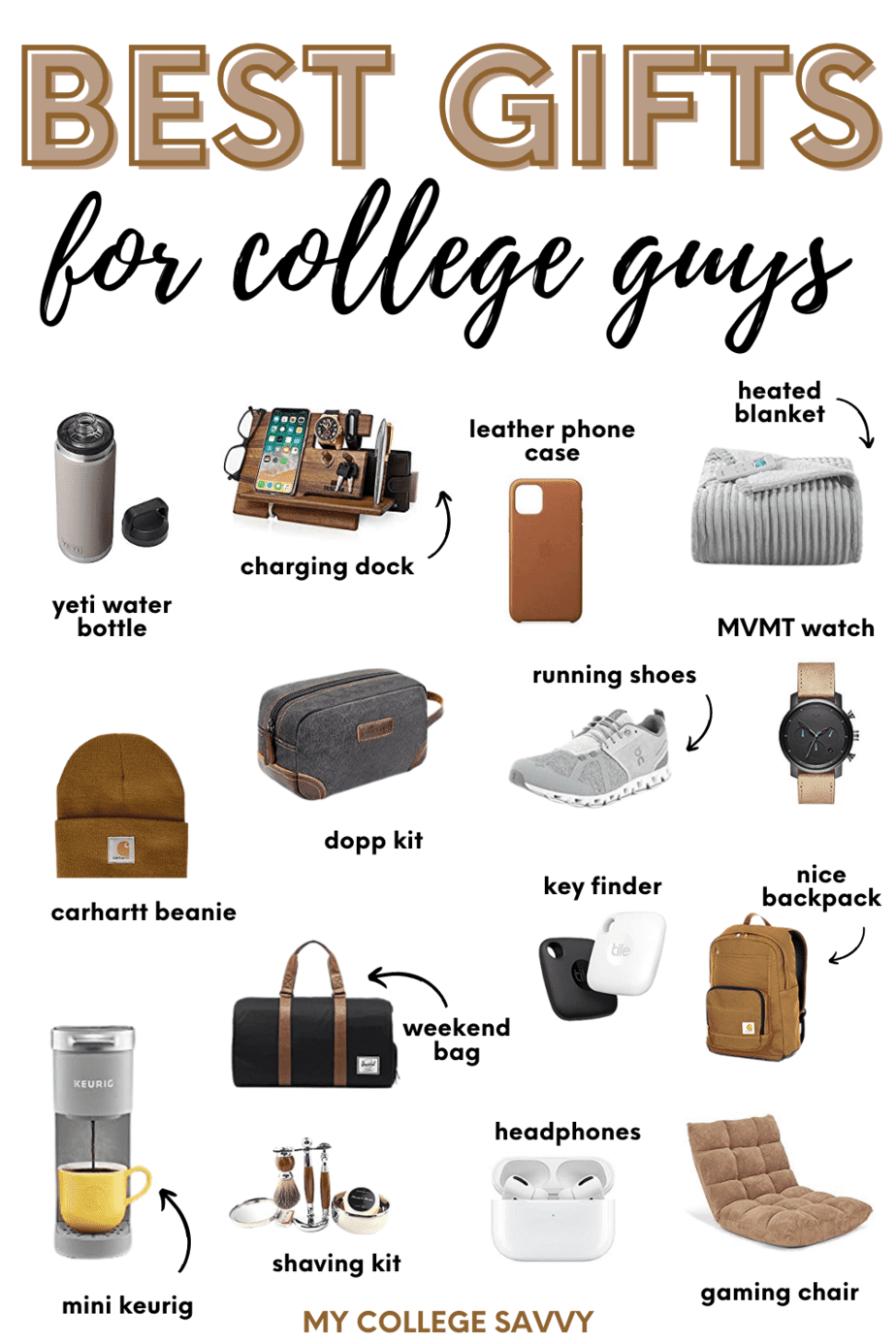 Looking for the best gift ideas for college guys in 2023? College guys can be notoriously hard to shop for. You want something practical that they'll actually use, but you also want to buy something that's cool.
The best gifts for college guys are definitely a blend of function and style. I consulted with my recently graduated boyfriend to put together this list of gift ideas.
Here are 50+ awesome gifts for college guys for every budget.
P.S. Shopping for your brother in college? Here are the best gifts for a college-aged brother.
Stocking Stuffers For College Guys (Under $25)
1. Leather Belt
College guys can always use another leather belt. They're the perfect accessory because they can be dressed up or down.
He'll definitely appreciate having a high quality leather belt when he's heading to his first internship or job interview.
2. Beer Can Flannel
How hilarious are these beer can flannels? They're super cute and they're practical because they help keep your drink cold.
If he's under 21 he can use these for soda or energy drinks too!
3. USB Clock Fan
This USB clock fan is such a unique novelty item. It plugs into your computer and it displays the time while keeping you cool.
This is perfect if he lives in a dorm building that doesn't have air conditioning. It'll keep him cool while he's studying for finals.
4. Microwave Egg Cooker
If he's living in a dorm or college apartment, chances are he does most of his cooking in his microwave. Help him create some healthy breakfasts with this microwave egg cooker.
5. Sneaker Balls
Guys' dorm rooms and college apartments can get seriously stinky, especially if it's a bunch of guys who leave their gym shoes out.
These sneaker balls are deodorizing and help remove odor-causing bacteria in shoes. They're the perfect stocking stuffer for college guys.
6. Wool Boot Socks
If he goes to school in a colder climate, he definitely needs a few pairs of wool boot socks. They'll keep his feet warm and dry even on the most snowy winter days.
7. Cleaning Gel
This cleaning gel is LIFE CHANGING! It gets into the small cracks of whatever you're cleaning and picks up dirt and dust. It's perfect for cars, keyboards, speakers, etc.
8. Carhartt Beanie
One of the most popular gifts for college guys is a high quality beanie. I love this one from Carhartt because it comes in a ton of different colors and it actually keeps your head warm. Carhartt is also one of the more popular brands among college guys right now.
9. Electric Lighter
This electric lighter is SUCH a practical gift for college guys. I feel like there's always random times where you just need a lighter, especially in college.
10. Card Size Bottle Opener
These card sized bottle openers are the perfect stocking stuffer for college guys. They fit in your wallet and they look really cool. My boyfriend has one of these and he loves showing it off at parties.
11. Dopp Kit
Every college guy needs a good dopp kit for his toiletries.
12. Books
If the college guy in your life is into reading, he'll love getting some good books as a gift.
I've linked some of the most popular books for college guys above.
Gifts For College Guys ($25-$50)
13. Bedside Shelf With Cupholder
One of my top recommended gifts for college students is this bedside shelf. It attaches directly to your bed frame so it's perfect for dorm rooms or college apartments that may not have enough space for a full nightstand. It's also great for dorms where the beds are lofted.
I love this version of the bedside shelf because it has a cupholder built in. It's just big enough to keep all of your belongings like your phone, water bottle, headphones, laptop, etc.
14. Make Your Own Hot Sauce Kit
I don't know what it is about college guys and hot sauce but they seem to be obsessed! He can recreate the show Hot Ones with his roommates with this homemade hot sauce kit.
15. LED Light Strips
These LED Light Strips are all over every guy's dorm room and college apartment these days. They add such a cool aesthetic to any college bedroom.
16. Smiley Patch Beanie
This smiley patch beanie is super trendy for college guys right now. It comes in a few different colors and it's the perfect mid-range gift for college boys.
17. Portable Charger
If there's one thing that college students need, it's a portable charger. They're constantly on their phones and it's never fun to get caught with low battery.
I love these portable chargers because they're super compact and portable.
18. Burrito Blanket
How hilarious is this burrito blanket? The college guy in your life will love being snuggled up in this thing while he studies or plays video games.
19. Craft Beer Making Kit
Any college boy would love getting this craft beer kit. He'll be able to create a full batch of craft beer from scratch.
20. Yeti Water Bottle
Yeti water bottles are some of the best quality bottles on the market. They keep your water super cold and they're pretty much indestructible.
Plus, they come in a ton of different colors that are perfect for college guys (and girls).
21. The Comfy
My boyfriend and all of his roommates had these oversized blanket hoodies in college. They wore them ALL the time while they were studying, playing video games, and watching TV in their college apartment.
22. Leather Phone Case
If the college boy in your life is a classy kind of guy, he'll love this leather phone case.
This genuine leather iPhone case has a microfiber lining that helps protect your phone. It also helps protect your phone from scratches and drops.
23. Flask
I feel like a flask is a pretty self explanatory gift for college guys lol. He'll definitely find a use for this gift.
24. Docking Station
How sophisticated does this walnut docking station look? It has room for all of his electronics and gadgets to charge and it'll look amazing on his desk.
25. YETI Coffee Mug
Like I've said before, YETI makes some of the best quality travel mugs and water bottles on the market. I've had this travel mug for years and it seriously looks brand new. It keeps my drinks hot / cold ALL day.
I love that it comes in a ton of different colors, so you can definitely find one that matches your college guy's style.
26. Tile Key Finders
These tile key finders are an absolutely genius gift for college students. You can attach them to your keys or other items and track them on your phone. So basically say goodbye to losing your keys ever again!
27. Over The Door Basketball Hoop
How fun would it be to have this over the door basketball hoop in your dorm or college apartment? This is one of my favorite gifts for college guys.
28. Board Games
Every college guy needs to have some fun board games to play with his roommates. Two of my boyfriend's favorites are Catan and the Ticket to Ride game. Both of them are super fun strategy games that are great for small groups.
Gifts For College Guys ($50-100)
29. Chair Massager
How awesome is this chair massager? So many college guys spend a ton of time in their desk chair. Between hours of studying and playing games, he'll appreciate having this massager.
30. Heated Blanket
Dorms and college apartments tend to have poor heat circulation. I know my boyfriend's apartment in college got SO cold during winter. He would have loved to have this heated blanket for those cold winter study sessions in his room.
31. Men's Grooming Kit
This grooming kit is the perfect gift for college boys who like to keep up their hygiene. This kit contains 12 skincare, haircare, and grooming products for men. Unlike some gift kits, all products are from really well-known and trusted brands.
32. Keurig Mini
If there's one thing I know about college guys, it's that they drink copious amounts of coffee. He'll appreciate having a super easy way to make coffee any time of day. It literally doesn't get any easier than a Keurig.
Make sure you add in a variety pack of K-Cups so he'll be ready to brew coffee right away.
33. Shaving Set
A super luxurious gift for college guys is this stainless steel shaving set. It looks amazing and it has a ton of 5 star reviews on Amazon.
34. Wireless Gaming Keyboard
I don't know much about gaming, but this gaming keyboard has the stamp of approval from my gaming-obsessed boyfriend.
35. Lululemon Shorts
I know a few guys who have these Lululemon shorts and they're absolutely obsessed with them. They're a little on the pricy side but he'll be able to use them for years.
36. Carhartt Backpack
Carhartt can basically do no wrong. This backpack is the perfect mix of stylish and rugged for college guys. Plus, it has a laptop sleeve so it's great for carrying your computer and textbooks around to classes.
37. Ember Temperature Control Smart Mug
This Ember temperature control mug would be perfect for those super long study sessions. It keeps your coffee and tea hot for as long as you need it to.
38. Projector
This projector is insanely popular with college students right now. It's perfect for having movie nights or gaming marathons with friends.
39. Bed Rest Pillow
Any college student living in a dorm needs to have one of these bed rest pillows. It's perfect for reading, studying, or just hanging out in bed.
40. Herschel Duffel Bag
This duffel bag is the perfect size for weekend trips home from college. Plus, it's super stylish for college guys.
41. Ultimate College Care Package
This college care package comes with over 6 pounds of snacks and drinks. It's the perfect kit to get a college guy through the semester.
42. Foldable Gaming Chair
How comfortable does this foldable gaming chair look? It can be adjusted to several different angles so you'll definitely be able to find a comfy position.
Gifts For College Guys ($100+)
43. Hatch Alarm Clock
If your college guy has a hard time getting up in the morning, he definitely needs this Hatch alarm clock. I have this exact clock and I am OBSESSED.
My favorite feature is the sunrise lamp that turns on gradually so that you wake up peacefully and well-rested every morning.
44. MVMT Watch
MVMT is definitely the most popular brand for college guys' watches these days. They come in a ton of different styles and colors so you'll definitely find one that he loves.
45. Airpods
Who doesn't love Airpods? They're perfect for college students who like to listen to music while they're working out, walking to class, or studying in the library.
I love the Airpod Pros because they have a super advanced noise cancellation feature. I wish I had these in college so I could drown out the background noise when I was studying in the library.
Don't forget to get him a stylish case to go with them.
46. Apple Watch
Another popular Apple product for college guys is the Apple Watch. This watch tracks EVERYTHING from steps to heart rate.
It's also super helpful for productivity purposes. You can take calls and reply to texts, sync your calendar, set reminders, and much more directly from your watch.
47. Running Shoes
There's nothing worse than running with old, worn out sneakers. If it's time for him to upgrade his running shoes, he'll love to get these ON CloudTec Running Shoes as a gift this year.
48. JBL Bluetooth Speaker
JBL makes some of the best speakers available on the market. Any college guy would love to have one of these for college parties, tailgates, and just listening to music with his friends.
I love that it's waterproof so you can use it outside without worrying about rain damaging it.
49. Nintendo Switch
I think this has to be one of the best gifts for college guys on the list. Not only will he like playing it by himself in his room, but it's also such a fun console for playing games with friends.
My boyfriend and his roommates played HOURS of Super Smash Bros together in college on his Nintendo Switch.
50. Electric Skateboard
If he's a skateboarder, he'll love getting this electric remote-controlled skateboard as a gift. It'll make getting to and from classes SO much quicker.
51. Oculus Quest VR Headset
If the college guy in your life doesn't have a VR headset yet, he'll go crazy over this gift! There are tons of fun games to play on the Oculus and the graphics are honestly amazing.
This post was all about the best gifts for college guys.
You may also like: