This post is all about the best Christmas gifts for boyfriend.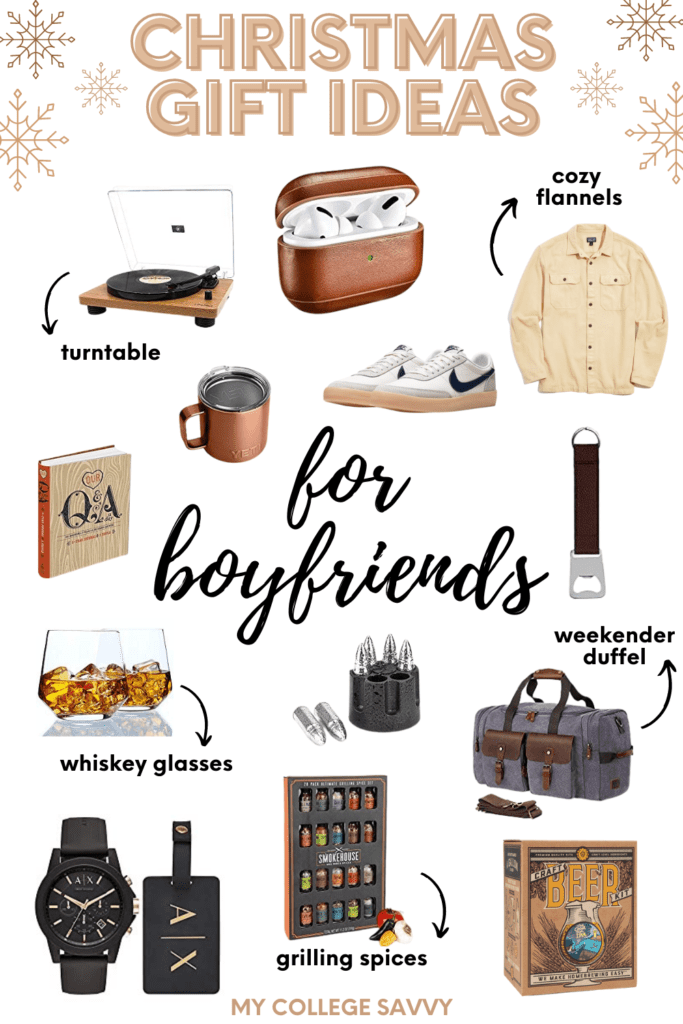 Is it just me or are boyfriends insanely hard to shop for? You want to show him how much you love him but he pretty much has everything he could possibly need. And when you ask him what he wants he usually has no clue!
Year after year I've turned to Pinterest and Google for inspiration on the best Christmas gift ideas for boyfriends. I always manage to find the perfect gift right on time that totally blows my boyfriend away.
This year I've decided to compile all of those ideas into a big list to help you find the perfect Christmas gifts for boyfriends too.
[RELATED: 31 Best Christmas Gifts for Boyfriend He'll Actually Want]
Here are 31 amazing Christmas gifts for boyfriends:
1. Electric Blanket
Someone else actually got this for my boyfriend and I'm surprised how much he uses this! When he's working from home or just gaming at night he's almost always wrapped up in his electric blanket.
2. Turntable
My boyfriend is really into his turntable and listening to records. If your guy is too, get him a beautiful new turntable.
This turntable is absolutely gorgeous and any guy would love to get this as a Christmas gift. It's a little on the pricier side at around $90 but that's usually close to what I budget for my boyfriend's Christmas gifts anyways.
3. Coffee Mug Warmer
This is the perfect gift for boyfriends who work from home or sit at a desk for work. It'll keep their coffee hot all morning!
[RELATED: 32 Gift Ideas for Best Friends They'll Go Crazy Over]
4. Daily Q&A Book
My boyfriend got this for me as a gift one year and it was the most thoughtful thing ever. You basically answer daily questions together and each year you can go back and look at your answers from the year before.
This is such a romantic Christmas gift for boyfriend.
5. Nintendo Switch
If your budget is a little higher, most guys would be so excited to get a Nintendo Switch for Christmas.
If he already has one, try getting him a game or two that you think he'll enjoy playing.
6. Shaving Kit
Everything your man needs for a fresh, clean shave.
7. Neck/Back Massager
With everyone working from home, I feel like everyone has a sore back and neck these days.
I actually got this exact massager for my boyfriend for Christmas this year (shhh don't tell him) and I already know I'll be stealing it all the time ;).
8. Flannels
Winter usually means guys are wearing flannels or hoodies just about every day. Get him some nice heavyweight flannels that he can wear all throughout the winter.
[RELATED: 21 Cheap Winter Date Ideas That Will Warm You Both Up]
9. Snoop Dogg Cookbook
If your man needs a little help in the kitchen, get him this cookbook. Not only is it hilarious that Snoop Dogg made a cookbook, but the recipes are actually really highly rated.
Bonus — now he has an excuse to cook for you!
10. Whiskey Glasses
If your boyfriend is a big whiskey drinker, he'll love getting a nice set of whiskey glasses. This is a super affordable gift so throw in a bottle of whiskey if you're feeling extra generous this year!
11. Sneakers
Sneakers are always a solid Christmas gift idea for boyfriends if you know his size. My boyfriend seriously wears his Vans sneakers every single day. Even when it's definitely not the appropriate shoe choice lol.
12. Workout Clothes
If your guy has been working out in the same shorts since high school (ahem like mine), get him some nice new workout clothes for Christmas.
13. Yeti Coffee Mug
If you've read a few of my gift guides you know I always recommend Yeti products. I'm just OBSESSED with my Yeti mug and I want everyone to know about it lol.
But seriously, these keep your drinks so hot all day and they're pretty much indestructible.
14. UGG Slippers
This is one of the more luxurious gifts for boyfriend on this list. But I love this gift idea because it's usually something that guys wouldn't splurge on for themselves but would actually love to receive as a gift.
These clock in at about $80 but the quality is super high and they should last him years.
[RELATED: 25 Cute Gifts for Boyfriend's Mom That Will Totally Win Her Over]
15. Sack Pack Gift Set
Okay kind of gross but kind of hilarious and also kind of useful? Lol this gift is all in one I guess.
I'm going to keep this PG and not describe what's included but you can click and see for yourself.
16. Whiskey Stone Bullets
Honestly these are pretty badass. If your boyfriend likes his whiskey on the rocks, get him these reusable whiskey stones.
17. Cologne
Cologne is a great gift because it benefits you and him. Get him a scent that you really enjoy too.
[RELATED: 12 Best Smelling Colognes For College Guys]
18. A Good Book
If your man likes to read, get him a good book or two to keep him busy this winter.
I've linked a few of my boyfriend's favorite books up above.
19. Leather Card Holder
A lot of guys really like these card holders because they fit all of their IDs and credit cards but don't have the bulk that regular wallets do. Plus, at only $16 this gift is super affordable.
20. Airpods
Airpods are definitely one of the top gifts for boyfriend. He'll definitely get good use out them.
If you're getting him airpods, make sure to get him a nice case to put them in so he doesn't lose them!
21. Manly Mask Set
Guys need to treat themselves too, right? This set of masks was formulated especially for guys.
22. Grilling Spice Set
A lot of guys are super into grilling. If your man is one of them, he'll go crazy over this huge grilling spices gift set. Such a unique Christmas gift for boyfriends.
23. Ticket Stub Diary
For the guy who loves going to concerts. This ticket stub diary is so cute because he can keep all of his favorite memories in one place. Or you guys can just collect stubs for concerts you've been to together! Super romantic.
24. Weekender Bag
This attractive duffel bag is a perfect gift for long distance couples. It gives him even more of a reason to come see you more often ;).
It also would be perfect as a more sophisticated gym bag!
25. Beer Brewing Kit
I know my boyfriend would LOVE to get this gift. What guy hasn't talked about brewing beer with their friends?
26. Nice Watch
This is one of the most popular gifts for boyfriend for a good reason. Any guy would be thrilled to get a sleek new watch like this one.
27. Leather Dopp Kit
A dopp kit is basically a manly version of a toiletries bag. My boyfriend takes his to the gym, brings it over when he sleeps over, and used it all the time in college. I know he'd love to get a nice new leather dopp kit for Christmas.
28. Bombas Socks
Socks may seem like a boring gift but guys literally go crazy over Bombas socks. They're durable and super cushy. Plus they donate a pair to the homeless for each pair you purchase.
29. Bottle Opener Keychain
This bottle opener is made with real football leather so you'll be hitting two of his favorite hobbies — beer and sports. Plus it looks really attractive on his keychain!
30. Nespresso Machine
I got my boyfriend a Nespresso machine for Christmas last year and he went CRAZY. He said it was his favorite gift I had ever gotten him.
If your boyfriend loves coffee and espresso, he'll be obsessed with his Nespresso too.
31. Whiskey Decanter
I don't know what it is about guys and whiskey, but they just go crazy over it. This is definitely a classy Christmas gift for boyfriends.
This post was all about the best gifts for boyfriend.
Looking for more gift guides?