This post is all about the best gifts for boyfriend's mom.
Picking out a gift for your boyfriend's mom can feel so intimidating — especially if you just started dating! You know what your boyfriend loves, but you might not know the best gift ideas for his mom.
When you're picking out a gift for your boyfriend's mom, you probably don't want to break the bank but you also want to get her something that she'll love and use.
That's why I've put together this list of 27 gifts for boyfriend's mom that will definitely win you some extra brownie points!
This post is all about the most thoughtful gifts for boyfriend's mom.
[RELATED: 23 Gifts for Boyfriend's Dad That Are Guaranteed to Impress]
This post may contain affiliate links, which means I'll receive a commission if you purchase through my link, at no extra cost to you. Learn more: Affiliate Disclaimer.
Best Gifts for Boyfriend's Mom:
1. Monogrammed Mug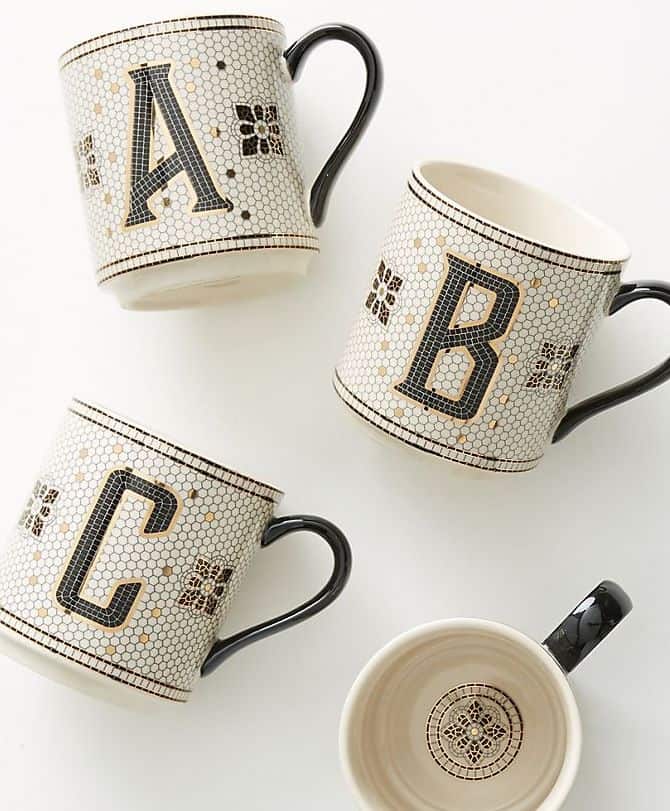 This is a great gift for boyfriend's mom that has everything. My boyfriend's mom loves her monogrammed mug and drinks her coffee from there every morning.
She actually has her own cup too that no one else in the house can use lol. No one will steal mom's coffee when her mug has her initial on it!
2. Pet Feeding Chart
If your boyfriend's parents have pets, they'll be OBSESSED with this pet feeding chart. My boyfriend's parents would always bicker about whether the dog had been fed or not that day.
I found this handy feeding chart on Amazon and they told me it was their favorite gift they got that year! I definitely earned some points with this gift.
3. Wine Chilling Cubes
Does your boyfriend's mom love drinking a chilled glass of Chardonnay? She'll be obsessed with these wine chilling cubes that cool her drink without watering it down.
I actually got these as a birthday gift for my boyfriend's mom this year and she's in love with them. She uses them every time she drinks white wine now!
4. Coffee Maker
If there's one thing that mom's know the value of, it's a good cup of coffee. Get his mom something better than that drip coffee maker from 1999 she still has.
She'll love having a perfect cup of french press or aeropress coffee in the morning.
5. Perfume Subscription
Perfume is always a super thoughtful gift to give someone, but it can be hard when you don't know what scents the other person likes to wear.
This perfume gift subscription solves that problem! Your boyfriend's mom will be able to choose from 500+ scents and receive a new travel-sized bottle every month.
You can give her a 3-month, 6-month, or even 12-month subscription, depending on how much you want to spend.
6. Indoor Herb Garden
Is your boyfriend's mom the cook of the family? If so, she'll absolutely love having fresh herbs to cook with every day.
This indoor herb garden is so low maintenance that even notorious plant-killers will be able to keep the plants alive!
7. 23andMe Ancestry DNA Kit
My mom has been obsessed with tracing our family's ancestry lately. She's been going down so many Google rabbit holes trying to piece together the history of our family.
I'm definitely getting her this ancestry kit this year so that she can have a more complete story of our lineage.
This would be SUCH a good gift to help your boyfriend's mom this year if she hasn't already done one of these. She'll love learning more about her family's history.
This is honestly such a thoughtful gift.
8. Custom Calendar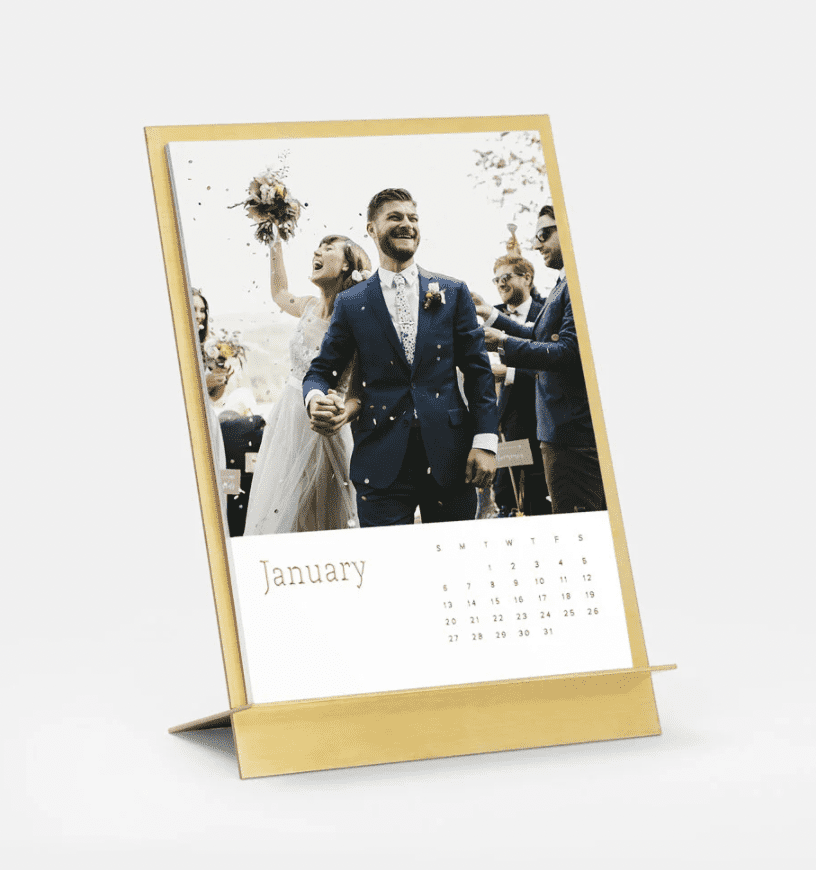 A custom calendar is one of the best personalized gifts for boyfriends parents.
This custom calendar from Artifact Uprising is fully customizable so you can add photos of some of the most precious moments in the year.
Your boyfriend's mom will love looking at this every single day.
9. UGG Slippers
This is one of the most luxurious gifts for your boyfriend's mom.
These slippers are honestly like walking on a cloud. Seriously they make you feel so cozy and comfortable. Your boyfriend's mom will be running home to put these on every day!
On a tight budget? Here's a cheaper option that look just as comfy.
[RELATED: 30 Gifts For College Girls That They Actually Want]
10. Silk Pillowcase
I'm a huge fan of my silk pillowcase. My face feels so much less dry when I wake up in the morning and my hair has been a lot shinier.
Silk pillowcases are also believed to prevent wrinkles so it's a perfect gift for the more "mature" women in your life ;).
If you're looking for something more affordable, satin pillowcases also feel silky smooth on your skin for a fraction of the price!
11. Shower Steamers
I was looking for this exact product years ago and I swear they didn't exist! My boyfriend's mom only has a standup shower in her bathroom so I wanted something like a bath bomb but for the shower.
Well now they exist and they're amazing! You put these shower steamers at the bottom of the shower and the steam releases the scents.
It's such a luxurious shower experience. Your boyfriend's mom will feel totally pampered if you get her some of these.
12. Cheese Board
Does your boyfriend's mom love hosting parties?
If she does, she'll absolutely adore this cheese board set. A cheese board makes any party spread look way classier!
13. Apple AirTags
There's nothing more annoying than losing your keys or wallet.
With AirTags, that'll never happen again. These Bluetooth tracking tags allow you to keep track of all of your important items.
My boyfriend's mom is a huge fan of these and she always keeps them attached to her keys and in her purse.
14. Burt's Bees Lip Balm Kit
My mom loves Burt's Bees lip balm and she always keeps a tube in her car, purse, and on her counter so this lip balm gift set is perfect for her!
These are perfect because they have a little tint to them. The best stocking stuffer for boyfriend's mom.
15. Hair Tie Bracelet
This hair tie bracelet is such a chic gift idea for anyone with longer hair. It turns the ugly hair tie around your wrist into an elegant piece of jewelry.
It also keeps you from getting those uncomfortable imprints from a tight hair band around your wrist all day.
[RELATED: 40 White Elephant Gift Ideas That Everyone Fight Over]
16. Kombucha Brewing Kit
This is the perfect Christmas gift for boyfriend's mom who's a health nut.
She'll have a ton of fun creating all different flavors of Kombucha with this brewing kit from Amazon.
17. Cocktail Recipe Book
This cocktail recipe book is the perfect gift for your boyfriend's mom if she likes to entertain or just treat herself to a fancy cocktail once in awhile!
This book has over 200 recipes for every occasion and is beautiful enough to leave out on the bar.
18. Fabric Shaver
This is honestly such a genius gift idea for boyfriend's mom. It shaves off all the lint from your clothes and leaves everything looking brand new! Any mom would totally appreciate this gift.
Take a look at some of the pictures in the reviews! This little device is practically magic.
19. Electric Wine Opener
If your boyfriend's mom is a wine-drinker she'll be totally impressed by this electric wine opener. It makes opening a bottle of wine insanely easy.
20. Jewelry Stand
If you're not sure what to get your boyfriend's mom for Christmas or her birthday, get her something practical! Moms love getting gifts that they'll use every day.
This elegant jewelry stand is a great gift for boyfriend's mom. It's practical but it's also beautiful enough to keep on top of her dresser.
21. Essential Oil Diffuser
Pretty much every mom these days is using essential oils in one way or another. If your boyfriend's mom doesn't already have a diffuser for her oils, this would be the perfect gift for her!
I love this one because it's cute enough to double as a decor piece when you're not using it.
22. Concrete candle
Everyone loves candles right? These stylish concrete candles go with just about every decor style. Your boyfriend's mom will love this thoughtful gift.
23. Notebook Set
You can never have too many notebooks.
Your boyfriend's mom can use these for to-do lists, grocery runs, and random reminders. These patterns are so cute too!
24. Cute Oven Mitts
If your boyfriend's mom is into baking, she'll absolutely love to get a cute pair of oven mitts.
It's the kind of thing you don't really splurge on for yourself but it's so fun to receive as a gift!
25. Air Fryer
Air fryers seem to be the hot new gift over the past few years. I have this one and I seriously use it every day so I totally get the hype!
If your boyfriend's mom doesn't already have one of these, she'll probably obsess over it just as much as I do! These usually go on sale around the holidays.
[RELATED: Can You Have An Air Fryer In A Dorm Room? (Everything To Know)]
26. Walking Shoes
If you know her size, a good pair of walking shoes is a great gift idea for boyfriend's mom.
I know my boyfriend's mom takes really long daily walks so a good pair of shoes is crucial for her!
Next time you're over at his parents' house just try to sneak a peak at a pair of her shoes to get the size.
27. Wine Subscription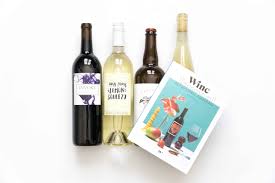 Who wouldn't love getting their favorite wines delivered to them?
Your boyfriend's mom will get to choose her favorite wines and have them sent straight to her house each month with this Winc wine subscription.
You can choose how many months to gift or just give a gift card of any amount!
28. Yeti Mug
One of my favorite gifts for anyone on my list is a Yeti mug! Yeti makes insanely high quality mugs that hold up to really tough conditions.
I've had my Yeti mug for 5+ years and it still looks brand new!
There are a ton of different colors and styles to choose from but I love this 20oz Travel Mug with a handle for moms. It's cute enough to take with her anywhere, but still rugged enough that it'll withstand drops.
29. Fuzzy Blanket
Everyone loves getting a new fuzzy blanket as a present! This faux fur blanket from Amazon is fairly affordable, super highly rated, and comes in a ton of different colors.
30. Hair Oil
This hair oil from the brand Gisou has a total cult following on social media. It's absolutely INCREDIBLE for repairing hair and making it super shiny. Plus it smells incredible.
It's the kind of thing your boyfriend's mom probably won't buy for herself but will LOVE to receive as a gift. Trust me, she'll go crazy over this one.
31. Always Pan
I never knew I could love a piece of kitchen equipment so much until I got the Always Pan from Out Place!! It's non-stick, looks BEAUTIFUL in my kitchen, and is made with a non-toxic coating.
If your boyfriend's mom likes to cook she'll LOVE getting this pan as a gift. It comes in a ton of different colors so you'll be able to find one that matches her kitchen perfectly.
32. Succulent Arrangement
Flowers and plants are a go-to gift for your boyfriend's parents. They're simple, inexpensive, and pretty much everyone loves them.
If you don't have time to go out and shop for a nice plant, you can actually get a succulent arrangement delivered right to your door from ProFlowers. So easy!
33. Digital Photo Frame
One really thoughtful gift idea for boyfriend's mom is this digital photo frame.
She can load in all of her favorite pictures and the frame will create a slideshow that plays throughout the day.
I swear, parents and grandparents are OBSESSED with showing off their family photos on these digital frames to all of their friends.
34. Five Minute Journal
Another super thoughtful gift idea for your boyfriend's mother is this five minute journal. It can be hard to find time throughout the day to write down your thoughts and feelings.
With just 5 minutes per day, she can have all of the benefits that come with daily journaling.
The journal gives you a new prompt each day so she doesn't even have to think of what she's going to write about. So sweet and thoughtful.
35. Gold Hoops
What woman doesn't like receiving jewelry as a gift?
I've found that you can pretty much never go wrong with a simple pair of gold hoops. They go with every outfit and look good on everyone!
These gold hoops from Amazon are SO highly rated, affordable, and won't tarnish. The perfect little gift for your boyfriend's mom!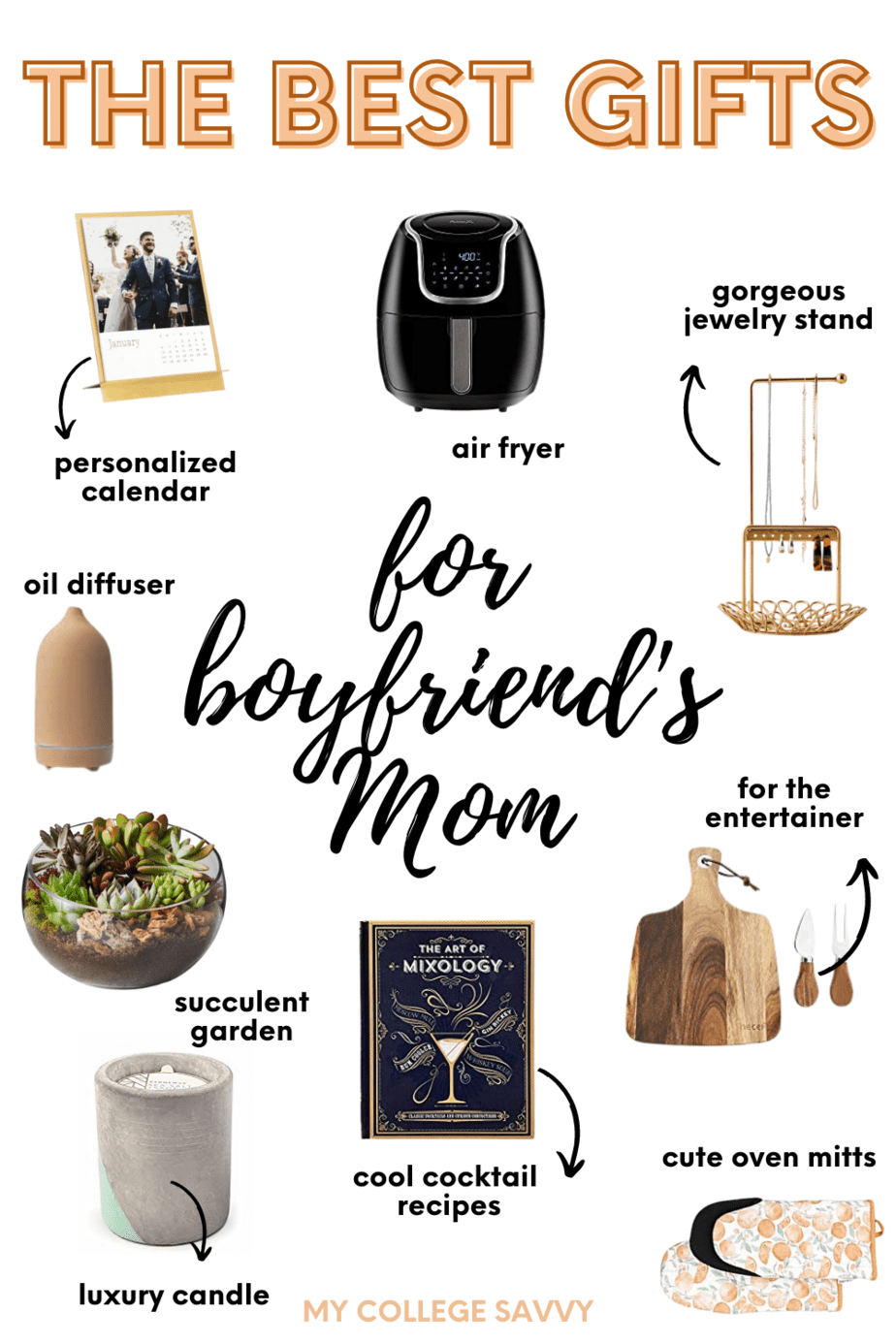 This post was all about the best gifts for boyfriend's mom.
Looking for more holiday gift guides?