Looking for the best Christmas dorm door decorations? Here are 15 picture-perfect ways to decorate your dorm door for the holiday season.
This post may contain affiliate links, which means I'll receive a commission if you purchase through my link, at no extra cost to you. Learn more: Affiliate Disclaimer.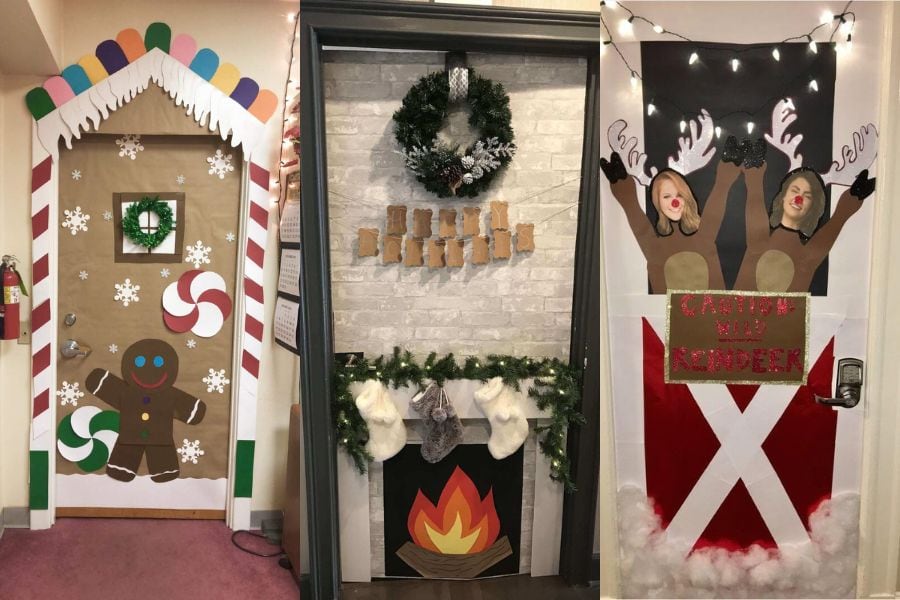 Are you planning on decorating your dorm door for Christmas this year?
This fun tradition is a great way to spread a little bit of holiday cheer to the rest of your dorm hall.
If you're stumped on how to decorate for the holidays, here are 15 super creative Christmas dorm door decorations that you can copy.
How To Decorate A Dorm Door
Before we get into decoration ideas, first we need to cover how to actually decorate a dorm door.
Dorms are SUPER strict about what you can and can't use for decorations. They don't want you using anything that could damage the paint or wood on the door.
In general, you can use command hooks, masking tape, scotch tape, or any other adhesive that doesn't cause damage. Glue, duct tape, and any other strong adhesives are not allowed.
If you want to do a really elaborate dorm door design, I recommend putting all of your decorations onto a large roll of craft paper and then sticking the entire thing on the door.
This makes it way easier to remove the decorations at the end of the holiday season.
Just remove the craft paper and you're good to go! No need to scrape a ton of little pieces of tape off your door.
Christmas Dorm Door Decorations
1. Wrapping Paper And Garland
Looking for a super simple Christmas dorm decor idea? This is one of the cutest designs and it only takes a few minutes to recreate.
Just hang your favorite wrapping paper on the door, add a big bow in the middle, and drape some metallic garland around the door frame. So simple but cute!
Recreate this holiday dorm door idea:
2. Gingerbread House Door Decor For Dorms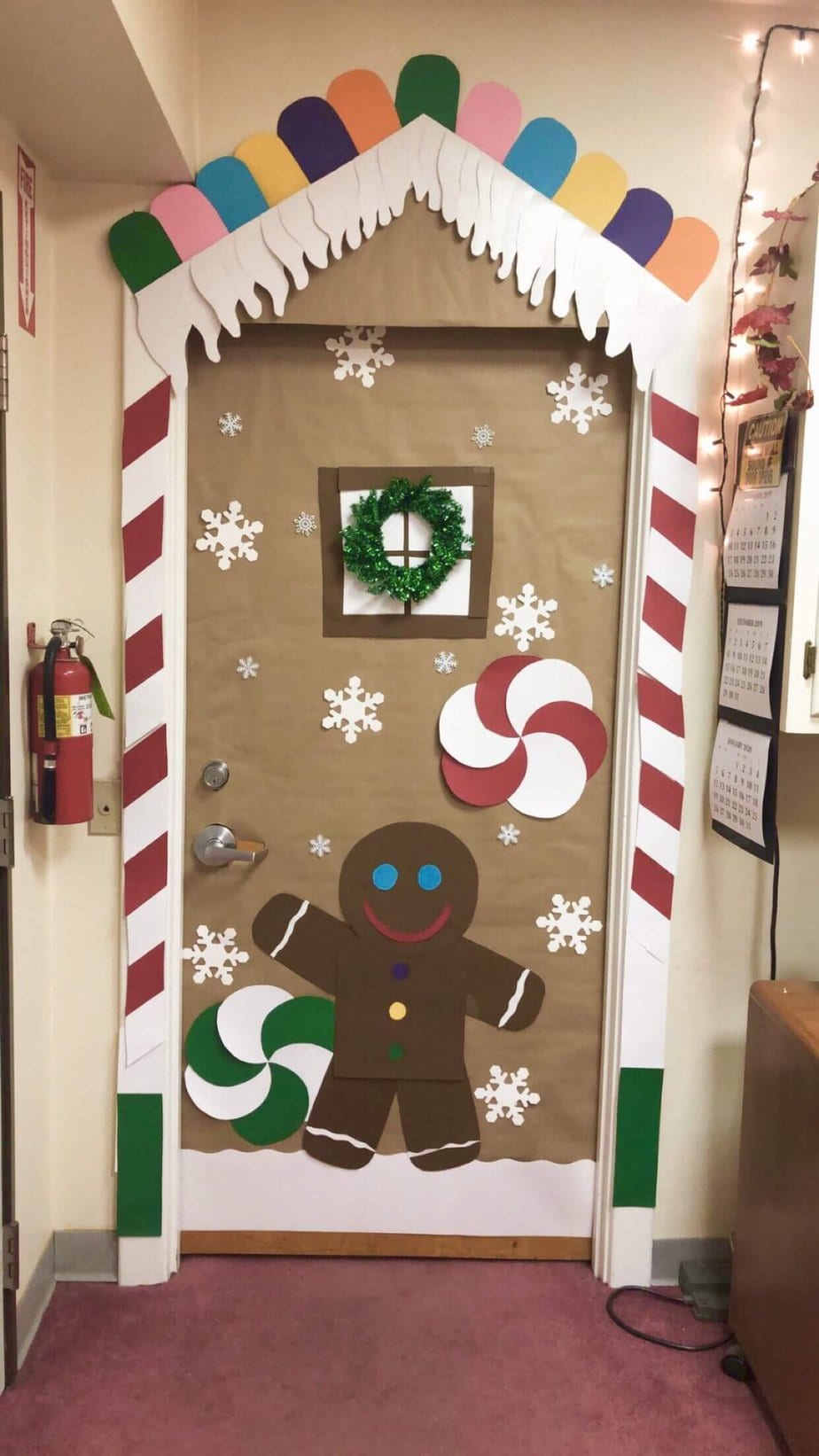 One of our favorite Christmas dorm door decorations is to make it look like a gingerbread house.
You can achieve this look by using multicolored construction paper, or you can just buy a pre-made dorm decor kit from Amazon.
Recreate this gingerbread house door decor:
3. Classy Fireplace Dorm Door Decor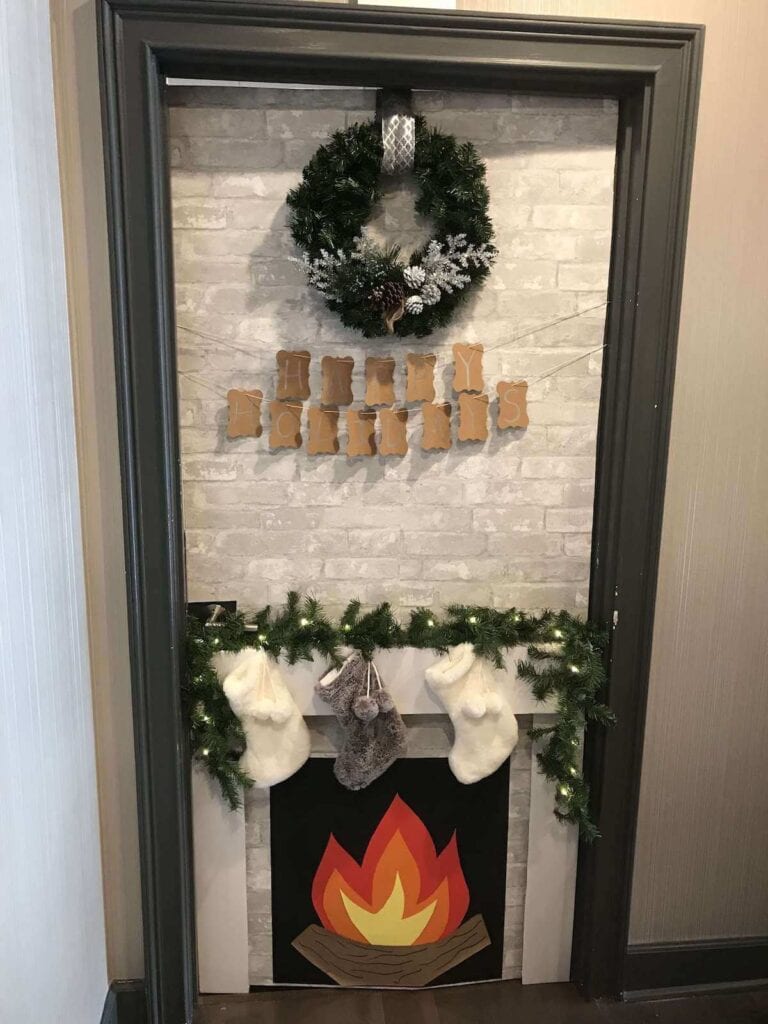 Keep things cozy and classy with this fireplace dorm door decor for Christmas.
We absolutely love the neutral colors and how cozy it all looks together. This would definitely take a lot of work to recreate, but we think it's totally worth it!
Start with a large roll of brick patterned wallpaper. Use cardboard or foam board to create the fireplace mantle.
Decorate around the fireplace with garland, stockings, string lights etc. Then create a flame design out of red, orange, and yellow construction paper.
Top the whole thing off by hanging a wreath from the door with an over-the-door hook.
Recreate this Christmas dorm door idea:
4. Olaf Christmas Door Decals For Dorm
Don't want to spend a ton of time crafting something for your door? Amazon has a ton of different options for Christmas door decals.
This Olaf door decor is so adorable and makes any door a bit more festive.
It comes with all of the pieces needed to create the beloved snowman, plus a few snowflake decals to put around him.
This would be so cute on a white or light-colored door. For a darker door, you could put up some white craft paper behind the decals so that you can see them better.
5. Snowflakes And Ribbons
Want to get a little crafty with it? Cover your dorm door with tons of homemade paper snowflakes.
If you've never made a snowflake before, you basically just fold a sheet of paper a few times and cut some patterns into it. Here's a good tutorial for newbies.
Add some ribbon on top and hang a few stockings for you and your roommate.
We love this Christmas dorm door idea because it's super cute but also simple enough to complete in an afternoon.
Recreate this cute dorm door decor idea for Christmas:
6. Garland And Stockings Door Decor
Want a simple way for you and your roomie to decorate your dorm door?
Hang some metallic garland on your door, attach some mini ornaments, and add your stockings! This project should only take a few minutes but it looks so cute.
Recreate this Christmas door decor idea:
7. Grinch Christmas Door Cover
Who doesn't love the Grinch? This Grinch-themed door cover would look so cute on a dorm door during the holiday season.
These door covers are the perfect decor for busy college students because you can hang them in under 5 minutes! So simple but so cute for a dorm door.
8. Wild Reindeer Door Decor
One super cute way to decorate your dorm door for Christmas is to put your and your roommate's faces in the decor somewhere.
In this design, they incorporated their faces onto the reindeer bodies. How cute is that? They made it look like they were riding in Santa's sleigh.
You'll need craft paper in a few different colors to recreate this Christmas dorm door. Shiny red paper will make the sleigh, brown for the reindeer, and black or dark blue for the night sky background.
You can also use white craft paper to create the outlines for the door and the sleigh.
We love the added texture with the fluffy cotton on the bottom and the string lights hanging along the top of the door.
Recreate this Christmas dorm door decor:
9. Sneaky Grinch Decoration
How adorable is this sneaky grinch door decor for a dorm room?
This design would be SO easy to recreate with some multicolored craft paper. Just cut out a grinch leg, arm, and some mistletoe and you're good to go.
Recreate this fun dorm door decoration idea:
10. Slightly Naughty Christmas Door Decor
Do you and your roommate have dirty minds? If so, this is one of the most hilarious Christmas dorm door decorations that's also a little bit naughty.
Use wrapping paper and a bow to decorate your door, and then use sharpie or letter stickers to create your naughty Christmas saying.
Recreate this naughty Christmas dorm door decor:
11. Funny Santa Claus Door Cover
How hilarious is this Santa Claus door decoration for a dorm room?
This would be so funny to hang on the door to your dorm room or your bathroom door if you have a private one.
While everyone else is doing the cliche cute dorm door decor, you'll stand out with this super funny door cover.
12. Chalkboard Paper Christmas Dorm Door
One super genius Christmas dorm door idea is to cover the whole thing with chalkboard paper.
Then you can write whatever Christmas greeting you like on it. You can also decorate with garland, paper ornaments, string lights, or anything else you want!
Recreate this creative dorm door decor for Christmas:
13. Christmas Tree Dorm Door
Dorm rooms are SMALL, which means you probably don't have room for a Christmas tree inside.
But you do have room to make a Christmas tree on your dorm door! You can use garland to create a Christmas tree design and then decorate it with some mini ornaments and tinsel.
Then use squares of wrapping paper to make it look like there are presents under the tree. So fun and easy to DIY!
Recreate this dorm door idea for the holidays:
14. Gift Wrap Christmas Door Cover For Dorm Room
One of the cutest ideas for Christmas dorm door decorations is to make your door look like a giant present.
You can achieve this yourself with wrapping paper and ribbons, or you can save yourself the hassle and just buy a pre-made door cover!
15. Paper Chain Christmas Tree Decoration
Looking for a super simple craft for your dorm door?
Make some paper chains out of green construction paper. Then hang them in the shape of a Christmas tree.
Top off the whole thing with a red bow and add some paper Christmas presents at the base if you'd like. So easy!
To make things even easier, you can buy pre-cut paper strips from Amazon. All you need to do is loop them together and tape them shut.
Recreate this DIY Christmas dorm door decor:
This post was all about creative Christmas dorm door decorations.
You may also like: