Worried about being stuck with boring dorm furniture? Don't worry, there are plenty of ways to spruce up even the most ugly furniture. Here are 11 easy ways to make dorm furniture look better.
This post may contain affiliate links, which means I'll receive a commission if you purchase through my link, at no extra cost to you. Learn more: Affiliate Disclaimer.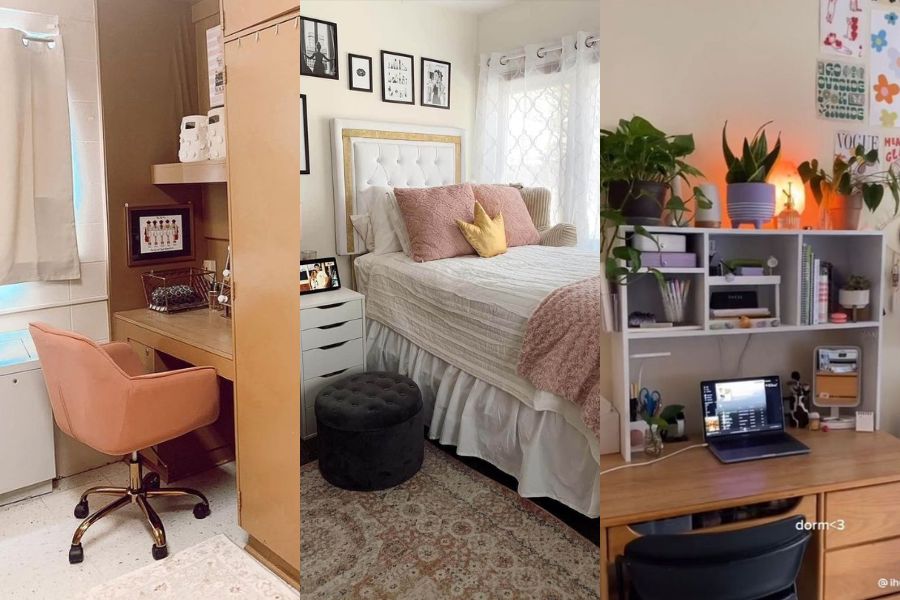 When you move into a dorm room, you're often stuck with the furniture that comes with it.
Whether it's a plain wooden desk or a metal-framed bed, dorm furniture can be pretty bland.
But don't worry, there are plenty of ways to make your dorm furniture look better without breaking the bank.
Here are 11 easy ways to make dorm furniture look better. From covering your shelves with contact paper to adding a decorative throw on your bed, these 10 easy ideas will make your ugly dorm furniture look so much better.
1. Add A Headboard To Your Dorm Bed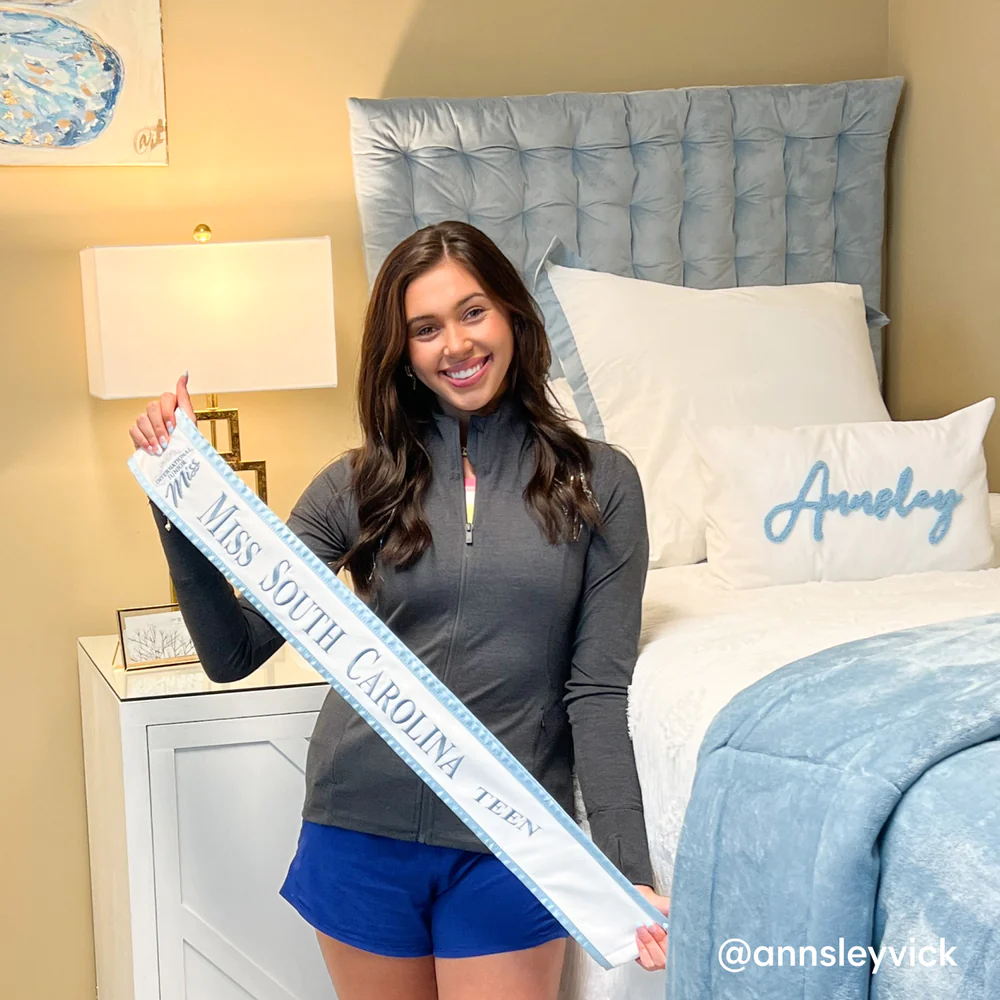 Dorm beds are pretty much as boring as they get. They're usually either a plain wood or black metal frame.
You can easily spruce up your dorm bed by adding a headboard. And there are a ton of really cute options out there for dorm headboards!
Here are some of our favorites:
2. Use Decorative Throw Blankets
Adding decorative throw blankets to your dorm furniture is an easy and affordable way to make it look better.
Not only do they add a pop of color and texture, but they also provide warmth and comfort.
Here are some tips on how to use decorative throw blankets to enhance your dorm furniture:
Choose the right color and pattern: Look for throw blankets that complement the color scheme and style of your dorm room. If your dorm furniture is neutral, consider adding a bold or patterned throw blanket to make it stand out.
Drape them over your furniture: Drape the throw blanket over the back of your couch or the arm of your chair to add a cozy touch. You can also fold your throw blanket and place it at the foot of your bed for an extra layer of warmth.
Mix and match: Don't be afraid to mix and match different throw blankets to create a layered look. Try combining different textures and patterns for a unique and personalized touch.
Use them as a statement piece: If you have a plain or boring dorm furniture, use a decorative throw blanket as a statement piece.
3. Get An Area Rug
Putting a cute rug underneath a boring piece of furniture will make your room look more cohesive and put-together. Plus, it just makes your room more cozy!
Here are some tips to help you choose the right rug and use it effectively:
Choose the right size: Make sure the rug is large enough to cover the majority of the floor space in your room. A rug that is too small will look out of place and may end up drawing attention to ugly furniture.
Consider the material: Look for a rug that is durable and easy to clean. Dorm rooms can get messy and often see a lot of foot traffic. Choose a low pile rug and look for something that is machine washable.
Use the rug to define different areas of your room: A rug is a great way to visually break up your space. Place the rug under your bed or in the seating area to create a designated space for sleeping or relaxing.
Layer rugs for added interest: If you have a small rug that you love but it's not large enough to cover the entire floor, layer it on top of a larger rug for added interest and texture.
4. Use Cute Storage Containers
A lot of dorm rooms come with some type of shelving. And while it's pretty practical, it can be seriously ugly.
You can easily spruce up boring shelves by getting some cute storage containers. They add style to your room while helping you organize your belongings.
Here are some of our favorite storage bins for dorm shelves:
5. Upgrade Furniture Hardware
Upgrading the hardware of your dorm furniture is an easy and affordable way to give it a fresh new look.
If the furniture in your dorm room has removable hardware like handles and knobs, consider replacing it with trendier options.
Just make sure to save the hardware that comes with it so you can put it back on before you move out.
6. Add Throw Pillows
Throw pillows are a great way to add color, pattern, and texture to your dorm furniture.
They can also make your furniture look more comfortable and inviting.
Layer some throw pillows on your dorm bed, futon, chair, etc. You can even get some floor pillows for extra seating in your dorm room!
Don't be afraid to mix and match different patterns, colors, and textures of throw pillows. This will add more interest to your dorm decor.
Want to change up your decor style without spending a lot of money?
Just change your throw pillow covers throughout the year! You can easily change the covers to match the season or your mood.
7. Use Decorative Contact Paper
One simple and affordable way to make your dorm furniture look better is by using decorative contact paper.
Contact paper comes in a variety of patterns and colors, and it can be easily applied to furniture surfaces to give them a fresh new look.
Here are some tips for using contact paper on your dorm furniture:
Start with clean, dry surfaces: Before applying contact paper, make sure the surfaces are clean and free of dust and debris. Use a damp cloth to wipe down the surfaces and let them dry completely before applying the contact paper.
Measure twice, cut once: Measure the dimensions of the furniture surface you want to cover before cutting the contact paper. It's better to have a little extra paper than to come up short.
Hide seams: For a polished look, try to hide the seams of the contact paper. On table legs, for example, put the seam on the part of the leg that faces inward. For flat surfaces, try to tuck the paper under an edge whenever possible.
Use it sparingly: While contact paper can be a great way to add some personality to your furniture, it's important not to go overboard. Use it sparingly, and try to choose patterns and colors that complement the rest of your decor.
Some creative ways to use contact paper in your dorm room include lining the backs of bookshelves, covering a plain desk or tabletop, adding contact paper to a boring headboard, or covering the top of your nightstand.
8. Add A Bed Skirt
Elevate the look of your dorm bed by adding a bed skirt. It conceals under-bed storage and adds a touch of elegance to your dorm room.
Choose a skirt that matches your bedding and decor. It will help create a cohesive and polished appearance.
Just make sure that you get a long enough bed skirt if you plan on lofting your bed at all. You can buy specially made dorm bed skirts on Amazon!
Here are some cute options for dorm bed skirts:
9. Get A Cute Desk Chair
One of the simplest ways to elevate the look of your college dorm desk is by adding a cute chair.
Look for a chair that complements the color scheme and aesthetic of your room.
A trendy chair not only enhances the style of your workspace but is also very practical. Make sure to choose something with enough support so your back doesn't hurt after a long study sesh.
Not sure which chair to go for? Check out our full post on the cutest chairs for dorm rooms.
10. Hang A Mirror
Have a large wardrobe that you want to cover up? One great idea is adding a hanging mirror.
A mirror is cute, functional, and makes your whole room feel bigger.
You can go with a regular mirror, OR you can add even more function by hanging a storage mirror like this one from Amazon. It swings open and has tons of space inside for jewelry or other small items.
Here are some great options for hanging mirrors on Amazon:
11. Get A Desk Hutch
Upgrade your dorm desk by adding a hutch or some shelves.
A dorm desk hutch will instantly make your dorm desk look more elevated. It's also a great place to store your small accessories like school supplies, jewelry, snacks, etc.
In addition to being practical, a desk hutch can also add style to your dorm room. Use it as a place to display your plants and trinkets.
This post was all about how to make dorm furniture look better. Hopefully this post gave you plenty of ideas for how to elevate your boring dorm furniture and add a touch of style to your space.
You may also like: