Looking for gifts for college girls that they actually want? In this post, we'll share 30 of the most trendy gifts that college girls are asking for this year.
This post may contain affiliate links, which means I'll receive a commission if you purchase through my link, at no extra cost to you.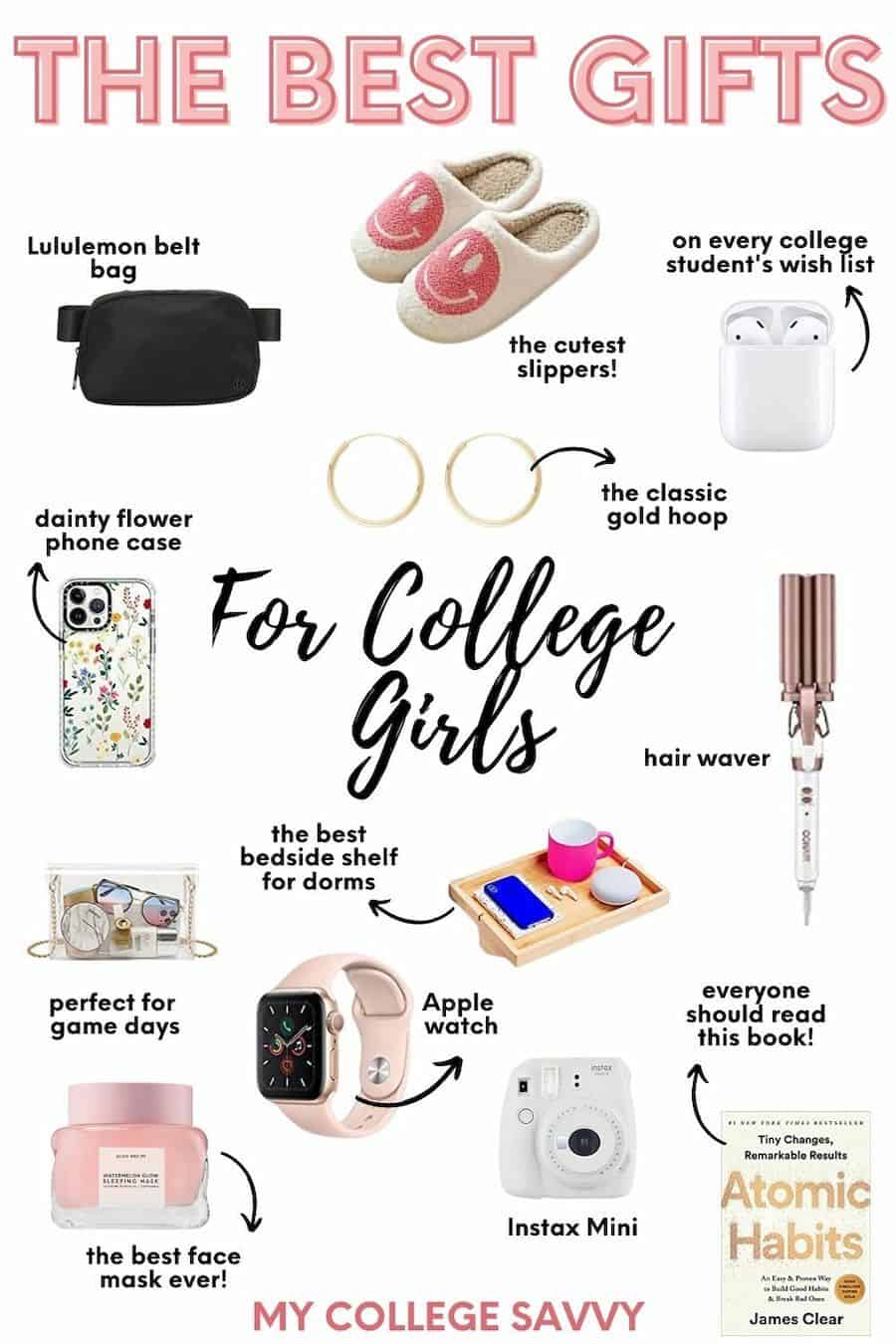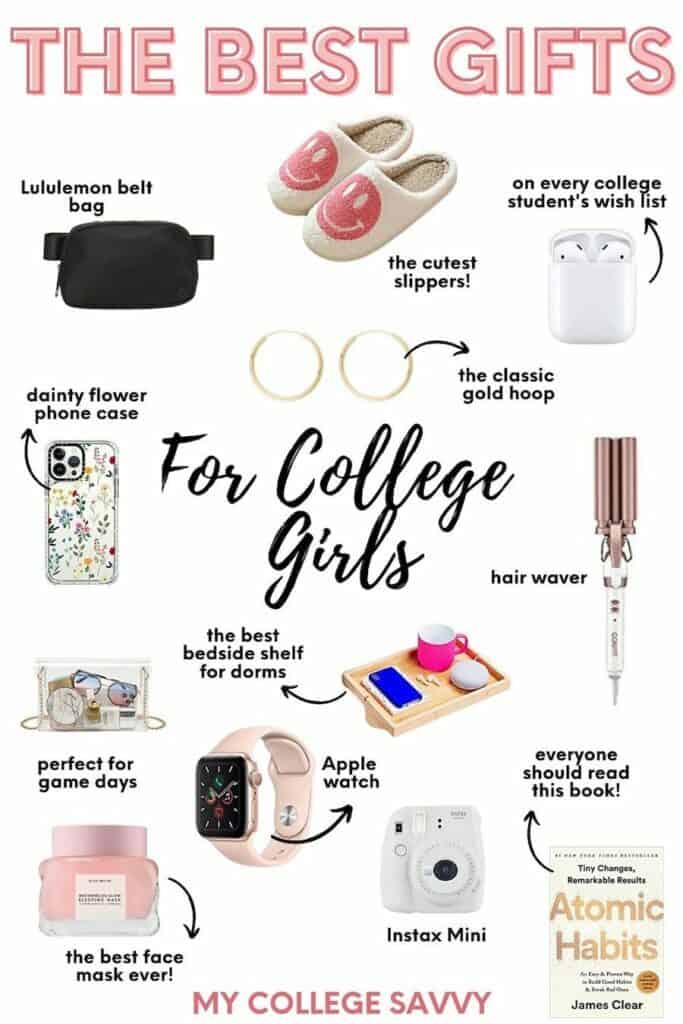 If you're looking for something special for the college girl in your life, look no further. As a recent college grad, I either already own these items or they're on my wish list!
I've included inexpensive stocking stuffers, high-end splurge items, and everything in between. You'll be sure to find something on this list that fits in your budget.
Also, almost everything on this list is available on Amazon with free Prime shipping so you'll be sure to get it in time for the holidays!
Gifts For College Girls
1. Instax Mini
The Instax Mini camera is such a fun gift idea for college girls. It's a polaroid camera so it instantly prints out whatever you take a picture of.
This would be great to have for the summer before college so you could have tons of pictures to hang up in your dorm Freshman year!
2. iPad With Apple Pencil
An iPad with an Apple Pencil is the best gift for college girls who like to stay organized. Taking notes, staying on top of assignments, and planning your day is SO easy with an iPad.
If you have a type A college girl in your life, get her an iPad! She will freak out.
3. Bedside Shelf
Another great gift for a college girl who lives in the dorms is this bedside table.
Dorm beds are usually taller than regular beds, so it can be hard to find a nightstand that works with them. This bedside shelf actually attaches right to your bed frame, making it perfect for dorm beds.
4. Yeti Mug
If the college girl in your life doesn't already have a Yeti Mug, do her a favor and get her one! This is my all-time favorite coffee mug for college students.
Yeti mugs are so popular because they're virtually indestructible, they keep your drinks super hot or cold, and they come in tons of cute colors! I've had one for years and it still looks brand new.
5. Airpods
Airpods are another amazing (but pricey) gift that college girls would really appreciate. I use my Airpods ALL the time and I know all of my friends do too.
They're perfect for walking to classes, studying in the library, or working out at the campus gym.
6. Portable Charger
I don't know about you, but I use my phone for everything these days. And honestly, it's such a pain to carry around a charging cord and try to find an outlet when my phone is running low on battery.
This portable charger is a total game changer! It comes with all of the cords you need built into the sides, it plugs right into the wall when you need to charge it, and it's even powerful enough to charge a laptop! I got this a little while ago and I'm obsessed with it.
7. Belt Bag
The girls that get it, get it! Lululemon belt bags are seriously my favorite gift to give right now because they're so practical. They're big enough to hold your phone, wallet, keys, and a tube of lip gloss.
I use mine for going on walks, at the airport, and for running errands. I used to be a big purse girl but I'm such a belt girl bag girl now!
8. Clear Purse
A clear purse is definitely one of the best gifts for college girls. Most college stadiums only allow you to bring in completely clear bags.
She'll use this every single game day for bringing her phone, wallet, dorm key, lip gloss, etc. into the stadium.
9. Happy Face Slippers
How adorable are these smiley face slippers? These would be perfect for lounging around your dorm, running to the dining hall, or walking down the hall to the bathroom in your dorm building.
10. Amazon Prime Student Subscription
I used Amazon Prime ALL the time as a college student. It was so convenient to get dorm items, food, bathroom products, etc. delivered right to my dorm or college apartment.
I would have loved to get an Amazon Prime Student membership as a gift when I was in college. You can read more about Amazon Prime Student membership perks here.
Wondering how giving a subscription as a gift works? Here are the instructions for how to give an Amazon Prime membership as a gift.
11. Party Games
Making new friends is a huge part of the college experience. I always loved having all of my new friends over to my dorm room to hang out and play party games.
12. Birdie Personal Safety Alarm
This personal safety alarm was designed by women for women, and it would be really smart to have one of these in college.
When activated, this device lets off a loud alarm and starts flashing a bright light to ward off attackers. I definitely recommend that all college girls carry one of these around when walking home from a night class, leaving a party, etc.
13. Apple Watch
The Apple Watch is a great gift for college girls because they're so useful.
You can get alerts from your phone, listen to music, track your steps, monitor your heart rate, etc. all from your watch! I love the rose gold color for college girls.
14. Gold Hoops
Gold hoops are very trendy right now and there's tons of affordable ones out there.
If you want a special gift that will last a long time, go with a quality gold hoop from Mejuri. If you're just looking for a cheap stocking stuffer, you can find a ton of cute pairs on Amazon!
15. Hydroflask
If the college girl in your life doesn't already have a Hydroflask water bottle, you should definitely do her a favor and get her one.
Hydroflasks are super popular because they're very durable and they keep your water cold all day. They also come in a ton of cute colors.
16. Pressed Flower Keychain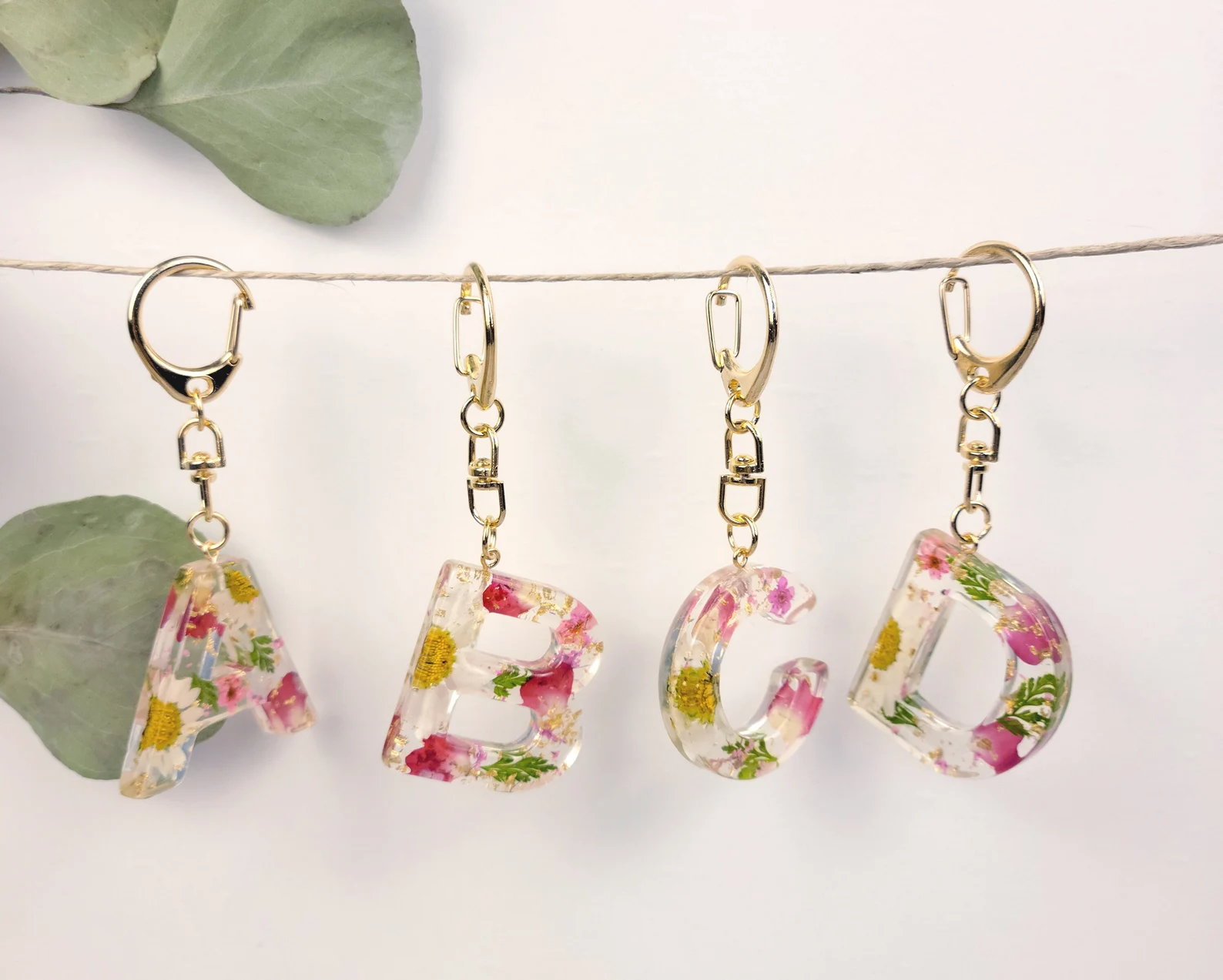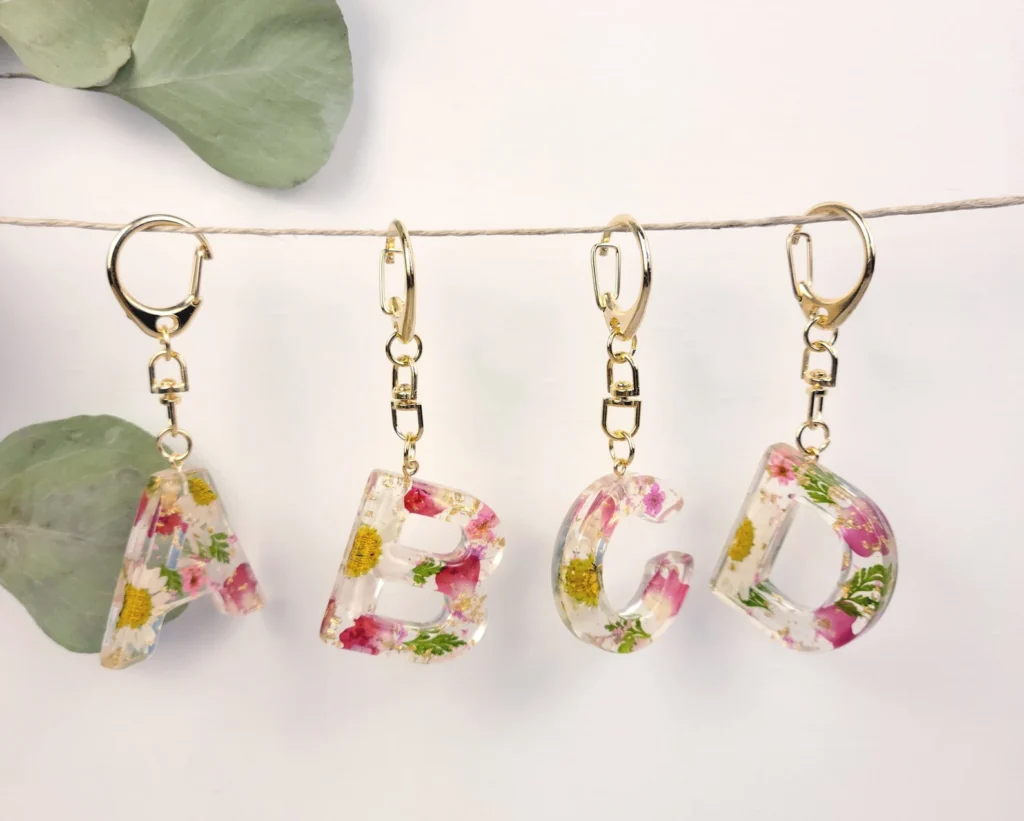 How stunning are these pressed flower keychains from Etsy? This would be such a nice stocking stuffer or add-on gift for a college girl.
17. Atomic Habits Book
I firmly believe that everyone should read this book! The author goes into tons of details about how to form good habits, break bad ones, and change your life.
I had the worst study and eating habits when I was in college, so this book would have really helped me out.
18. Workout Gear
Every girl appreciates getting some new workout gear! Even if she's not a big fitness enthusiast, she probably lives in her leggings and a hoodie when she's on campus.
One of my favorite places to get workout gear is Alo Yoga. Their pieces are always on trend and they're super high quality.
19. Hydrating Face Mask
This watermelon glow sleeping mask is the perfect gift for beauty lovers. It's a cult-favorite skincare product for adding moisture and glow to the skin. Any college girl would love to get this mask as a gift!
20. Microwave Pasta Cooker
Let's be honest, most college students don't have time to cook a whole meal from scratch. Even heating up water on the stove for pasta can feel like too much some days.
That's why this microwave noodle bowl is such a genius product. It cooks noodles to perfection with only a microwave, making things super fast and convenient. So perfect for college girls!
21. Laptop for College
This is definitely one of the pricier gifts for college girls on the list, but a laptop is definitely necessary for college. I used my laptop all the time to take notes in class, study at the library, and for doing homework in my dorm room.
I'm a big fan of Apple products because they're high-quality and they last a long time. I got my Macbook Air in 2015 and I was able to use it for over 6 years!
If you're looking for a cheaper option, I've heard really good things about the HP Pavilion laptops.
22. Mini Projector
This mini projector is perfect for dorm room movie nights. Not everyone wants to have a big bulky TV in their dorm room, so this is a great alternative.
23. Glossier Perfume
I recently found out about this perfume, and I am obsessed! This fragrance is unique because it adapts to you and smells a little bit different on everyone.
One of my friends was wearing it and I couldn't believe it was from Glossier when she told me!
24. Gel Nail Kit
This gel nail kit has everything you need to get a perfect gel manicure from home. It will save you so much money on salon visits, and it's perfect for busy college girls.
25. Clip On Fan
This clip-on fan is one of the most purchased items on My College Savvy. Dorm rooms can be so stuffy and hot, and a lot of them don't have air conditioning.
This little fan clips onto your bed or desk and provides a little extra airflow on those hot days.
26. Hair Waver
This hair waver is a recent purchase of mine that I am absolutely obsessed with. It creates the most beautiful waves in your hair, and it's so much easier to use than a regular curling iron.
Another thing I've noticed is that my waves last way longer than when I use a traditional curling iron. I definitely recommend this as a gift for all college girls!
27. Mini Keurig
Is your coffee-loving teenager heading off to college soon? She'll definitely want to have a Mini Keurig in her dorm room.
This coffee machine is by far the most convenient option for dorm rooms. It's compact, looks nice, and it's super easy to make a single cup of coffee in the morning to take to class.
Throw in some flavored K Cups and she'll be all set to brew up coffee in her dorm every morning.
28. Phone Wallet
A phone wallet is a great stocking stuffer idea for college girls. It sticks to the back of your phone and holds your credit card, driver's license, student ID, etc.
This is a great gift for college girls because you can go out without having to carry around a bulky wallet or purse. I like this one in particular because it also has a finger loop, which makes it easier to carry your phone.
29. Tinted Lip Oil
Lip oil is all the rage in beauty right now and I have to admit, I'm obsessed too! Lip oil is so much better than regular lip gloss because it hydrates the lips rather than drying them out.
This would make a perfect stocking stuffer or add-on gift for college girls.
30. Phone Case
Who doesn't love getting a new phone case as a gift? It's always nice to give your phone a little refresh.
This floral phone case from Casetify is seriously so cute and it's got tons of protections for your phone. If you're looking for something a bit cheaper, this one from Amazon is a good dupe.
This post was all about the best gifts for college girls that they'll actually use.
Looking for more posts for college girls?