This post is all about 20 things NOT to bring to college when you move in freshman year.
This post may contain affiliate links, which means I'll receive a commission if you purchase through my link, at no extra cost to you. Learn more: Affiliate Disclaimer.
Moving into college for the first time is such a big and exciting time in your life. You're probably doing all kinds of dorm shopping and reading up on what you need to bring for college.
There are so many lists of dorm essentials online, and it's easy to get overwhelmed. It can be easy to think that you need to buy a ton of stuff and bring everything you own to college.
Not only will that make your dorm room cluttered, but it will also cause you to waste a ton of money on things you don't need!
After living in a college dorm and figuring out exactly what I did and didn't need, I'm here to tell you that there's a lot of stuff I wish I hadn't brought!
That's why I put together this list of things NOT to bring to college freshman year. I'll also give you my top tips for how to avoid overpacking for college.
What Not To Bring To College
1. Out-Of-Season Clothing
Unless you're planning on staying on campus for the ENTIRE year, you don't need to bring clothes for every single season right away.
Dorm closets are small and you definitely won't have room for your entire wardrobe.
I recommend only bringing clothes for early fall weather when you first move in. When you go home for Thanksgiving break you can grab your heavy winter coats and boots if you live in a colder climate.
Then, at spring break you can switch out all of your winter clothes for spring/summer attire. That way you're not cluttering your dorm closet up with clothes you won't even be wearing.
2. Too Many T-shirts
One mistake a lot of freshmen make is packing a ton of T-shirts for college. Colleges hand out SO many free T-shirts throughout the year, especially during the first few weeks of your freshman year.
Another mistake is bringing a bunch of T-shirts from your high school sports and spirit wear.
While you may be proud of your high school accomplishments, college is a time to reinvent yourself and start over. To be brutally honest, no one in college will care that you played varsity golf in high school.
3. Large Luggage
One of the most important things not to bring to college is a bunch of large luggage pieces.
I know that packing your dorm items in luggage seems like a convenient way to transport things, but then what are you going to do with it after you move in?
You don't want your entire closet taken up by giant suitcases.
If you plan on transporting your stuff in hard suitcases, make sure you can send them back with your parents once you're all moved in.
The only issue with that is that they have to remember to bring those back when they come help you move out.
The best solution would be packing your things up in collapsible luggage that can be folded up and stored under your bed.
That way, you can use them to pack up your things for breaks. Plus, you can have them around for the end of the year when you move out.
Another option would be to pack things up in a large trunk or storage ottoman. That way it could be used as a seating option in your dorm room.
4. Iron and Ironing Board
One thing you definitely do NOT need to pack for college is an iron and ironing board. Honestly, most of the time you'll be wearing casual clothes that don't need any ironing.
On the rare occasion that you need to be dressed up, you should have a mini steamer or some wrinkle release spray handy.
My vote would be to skip all of the appliances and just keep a bottle of wrinkle release spray in with your cleaning supplies. This stuff is straight up magic!
You spray it on your clothes, tug down on them a bit, and the wrinkles magically disappear.
[RELATED: 21 Dorm Cleaning Supplies Every College Freshman Needs]
5. Too Many Pairs Of Shoes
I know this one can be really hard to scale back on, especially for the ladies and the sneaker-heads. But trust me, you do NOT need 35 pairs of shoes in college.
Shoes are such a bulky item that are really hard to find a place for in a dorm.
There are some great shoe storage options (linked below) for dorm rooms, but no matter what you're going to be taking up precious space in your room.
I recommend only packing the pairs of shoes that you wear all the time. For me, that would only be about 6 or 7 pairs of shoes.
If I were packing for college again, I would bring two pairs of casual sneakers that go with everything, rain boots, gym shoes, and one or two pairs of nicer shoes for dressing up.
Maybe a couple pairs of sandals if I weren't going to be going home before the weather warmed up.
If you're not sure where to store your shoes in your dorm, I recommend either storing them in crates in your closet or getting some kind of under bed shoe storage like this one.
If your dorm closet has doors (mine did not), you could also get an over-the-door shoe storage solution like this one from Amazon.
6. Valuable Items
Unfortunately, dorm theft is more common than you may think. That's why it's a good idea to leave your valuable items at home when you're in college.
Don't pack any heirloom gold jewelry or ultra expensive designer bags. You'll just become a magnet for dorm theft.
For the valuable items that you do need in college (laptop, phone, etc.), I recommend locking them up in a safe or lock box while you're out of your room.
I have a full post about the best lock boxes for college dorm rooms, but the most popular safe that I recommend is this Vaultz Locking Storage Chest.
It's large enough to fit a laptop and it includes a security cable so you can fasten it to your bed or desk.
[RELATED: 5 Best Dorm Room Lock Boxes For College Students]
7. Pots and Pans
Let's be real here, no matter how much you cook at home you're NOT going to be cooking up a bunch of meals in your dorm's communal kitchen.
I love to cook and I used the communal kitchen once in two years lol.
You definitely don't need to bring a bunch of pots and pans to your dorm room. They'll just take up space and never get used.
8. Real Dishes
One thing you definitely do NOT need in college is a set of real dishes. They're heavy, easy to break, and totally unnecessary for dorm life.
To be honest, you'll be eating most of your meals out of your dorm room freshman year. You really only need a few plastic plates, bowls, and utensils.
These will come in handy for takeout food or if you need to whip up a bowl of cereal in the morning before class.
[RELATED: 20 Dorm Kitchen Essentials You'll Actually Use]
9. Appliances
Most college students bring way too many appliances when they move in to college. You really only need a mini fridge, microwave, and a coffee maker.
Before you buy anything, make sure you check with your residence hall to see what they provide. Some dorms already come equipped with mini fridges and microwaves.
10. Full Sized Vacuum
One thing you definitely do not need in college is a full sized vacuum.
To be honest, most people could get by without a vacuum at all. Your dorm front desk probably provides a vacuum that you can check out when you need to clean.
But if you really want your stuff clean, or you don't want to haul a giant 40 year old vacuum up to your dorm every time you spill something, you should have a compact vacuum cleaner in your dorm room!
This vacuum cleaner is only $20 and it's the perfect size to tuck into your closet when you're not using it. I had this exact vacuum in my college dorm and I'm so glad I brought it!
The vacuum at the front desk was ancient and so heavy, so most people on my floor just ended up borrowing mine!
11. Extra Bedding
The common advice that I've heard is to pack two sets of bedding for college. The rationale behind that is that you can put on your second set of bedding while you wash your first set.
To be honest, I think that's totally unnecessary.
Everyone I knew in college would wash and dry their bedding on the same day. It's pretty gross to leave it in the washing machine overnight anyways.
The only thing I would pack more than one of is pillowcases, especially if you're prone to acne.
Changing up your pillowcase every couple of nights can prevent acne and keep your skin free from bacteria and oils. Pack a set of four pillowcases so you can change them a couple times a week.
12. Printer
One thing that you absolutely do not need for your dorm room is a printer. Printers are bulky and take up a ton of room on your desk.
Plus, all colleges have printing services that you can use! At my school, there were communal printers in the library, student union, and each dorm building.
Bringing my own printer would have been totally unnecessary!
Expect to pay anywhere from a few cents to a few dollars each time you print, depending on how many pages you need to print out. That's still way cheaper than the cost of a printer and ink throughout the year.
13. Bed Risers
I've never really understood the point of bed risers. They only add a couple of inches to your bed height, and 99% of dorms provide you with bed lofting kits anyways.
Save yourself some money and cross the bed risers off of your college packing list.
If you're not lofting your bed and you still want to add a few inches of storage space, make sure to get bed risers with built in outlets.
We love multi-purpose dorm items over here on My College Savvy!
14. Candles
Unfortunately, most colleges have candles on the prohibited item lists. It's just too much of a fire hazard to have students burning candles in their dorm rooms.
If you're a scented candle addict, there are other ways you can get your fix! Get an essential oil diffuser and some scented oils, a wax warmer, or some good room spray.
If you're looking for the best alternatives, I have a full post on 9 Easy Ways to Make Your Dorm Room Smell Good without candles.
15. Decorative Pillows
A few decorative pillows are okay, but you definitely do not need to fill your entire bed with cute throw pillows.
Think about it – you're just going to have to throw them on the floor when you go to sleep every night anyways.
I recommend bringing a maximum of two throw pillows for your bed and two for your futon if you have one.
That's enough to make your room look cute without adding too much clutter.
[RELATED: How to Make Your Dorm Bed More Comfortable | Turn Your Dorm Mattress Into a Hotel Bed]
16. More Than Two Sets Of Towels
One mistake I see a lot of freshmen make is bringing too many towels to college.
Towels take up a lot of storage space and are usually pretty bulky to store in your closet.
You'll probably do your laundry once a week or every other week. Unless you change your towel every single day (which is really unnecessary), you can probably get by with two sets of towels.
17. All Of Your Books
Sorry to all of the book lovers out there – you shouldn't bring your entire library of books with you to college!
Books take up a ton of room, and it's unlikely you'll have a dedicated bookshelf in your room.
If you're an avid book reader, I recommend investing in a Kindle for college. You can store thousands of books on there at once and it takes up almost no room.
18. Desk Chair
Most residence halls don't allow you to remove the provided desk chair from your room.
That means you'll be stuck with two chairs if you bring your own desk chair.
If you have back problems and absolutely NEED to have your own desk chair, just make sure that you have space in your dorm room for the standard-issue desk chair that comes with the room.
[RELATED: 23 Best Dorm Chairs for College Students]
19. Desktop Computer
If you have a laptop, there's no real reason to bring your desktop computer.
A laptop is way more handy for bringing around to your college classes or to group study sessions in the library.
Of course, if you don't have a laptop, you can definitely bring your desktop computer for studying in your dorm room.
I didn't have a laptop my freshman year so I brought an iPad around with me to class and studied on my desktop computer in my dorm room.
[RELATED: Should You Bring Your Desktop To College? (Everything To Consider)]
20. Anything Your Roommate Already Has
If you're living with a roommate, make sure to check with them before move in day and decide who will bring what.
You definitely don't need two TVs or multiple microwaves in your dorm room.
Sharing certain dorm items with your roommate can save you a ton of money and help you not overpack for college.
[RELATED: 19 Dorm Items To Share With Your Roommate in College]
What Should You Actually Bring To College?
Now that we've gone over what you should not bring to college, you may be wondering what you absolutely NEED to bring to your college dorm.
We've covered the absolute must-have dorm essentials in some other posts:
But if you're looking for a quick overview, here are some things that you may think you don't need to bring to college that you actually should.
1. Bedside Shelf
This bedside shelf is one of the most-bought items that I recommend on My College Savvy.
Dorm beds are usually a weird height, so it makes it really hard to buy a nightstand that works with them.
You'll need a place to put your phone, water, and other personal items while you sleep. This shelf attaches to your dorm bed frame so you can have a bedside table no matter what height you set your bed to.
It also helps you save space in your dorm room because you don't need to take up floor space with a nightstand.
It's definitely one of my top recommendations for dorm essentials!
2. Mattress Topper
Another item that I think is an absolute necessity is a mattress topper.
Dorm mattresses are honestly the worst. They're thin and hard and honestly sometimes pretty gross (you don't know who lived there before).
I had a cheap foam mattress topper in college and it was okay. But I really wish I had gotten one of these plush mattress toppers for my dorm bed.
I would have gotten much better sleep in college!
3. Clip On Fan
Another top-purchased item that I recommend on My College Savvy is this clip on fan.
Dorm rooms can get really stuffy when it's warm out, so it's always nice to get some airflow.
This clip on fan attaches easily to pretty much any surface, which is so nice for dorm rooms. Just attach it to your desk or bed frame and you'll keep cool while you're studying or sleeping.
[RELATED: How To Cool Down A Dorm Room With No Air Conditioning]
4. Bed Rest Pillow
Another item I highly recommend for dorm life is a bed rest pillow.
Your dorm bed is one of the places where you'll spend the most time in college, so it's so important that it's comfortable.
A bed rest pillow allows you to read, study, or watch TV from bed without straining your neck and back.
5. Brita Filter
Another item that you should pack for college is a water filter like this one from Brita.
You can just fill it up with tap water every day and it filters out all of the bad stuff and makes it taste great.
This will save you so much money versus having to buy plastic water bottles all the time. Plus it's way better for the environment.
How To Avoid Overpacking For College
If you've never lived in a dorm before, you probably don't really just how tiny of a space it is. The last thing you'll want is a cluttered, overcrowded living space in college.
That's why it's SO important to have a plan for what to pack for college (and what not to pack) so that you can avoid packing a bunch of unnecessary items.
Here are some genius ways to avoid overpacking for college:
Make A List
You absolutely NEED to have a packing list for college, even if you don't think you do.
A list will help you figure out exactly what you should pack, and help you narrow down what you don't need to bring.
Don't rush this list. I spent weeks browsing blog posts, reading other students' packing lists, and asking for advice from older friends who already lived in the dorms.
This leads me to my next bit of advice for avoiding overpacking for college.
Ask Around
Check with your older friends or family members who have already lived in the dorms.
They'll have really good insights on what's necessary for college and what they didn't end up using.
If they went to the same college that you're going to that's even better. They'll know exactly what's allowed in the dorms, what's already provided, and the things you could live without.
Check The Prohibited Items List
All residence halls have a list of prohibited items that students are not allowed to have in their dorms.
For most schools, these are usually obvious things like candles, hot plates, space heaters, etc.
But sometimes dorms ban things that you may not think of. I've heard of dorms not allowing string lights, microwaves, and even extension cords.
Make sure to check this list before you start buying things for college. You don't want to buy a bunch of things that you're not even allowed to have in your dorm.
See What Your College Provides
Before you do your college shopping, make sure to check out what items your dorm will provide for you.
A lot of colleges will provide desks, chairs, bed lofting kits, and sometimes even mini fridges and microwaves.
For my dorm room, my college provided a desk with a storage hutch, a desk chair, and a shared microwave for our floor.
It was good to know that ahead of time so that I didn't accidentally purchase any of those items.
If you're going to be living with a roommate, you should talk ahead of time about what items you can share in your room.
There's no point in having two futons, multiple TVs, or more than one Brita filter.
If you're not sure what items make sense to share, I have a full post about 19 Dorm Items To Share With Your Roommate in College.
Sharing dorm items with your roommate can help you save money and avoid overpacking for college.
What To Pack Your Stuff In For College
Now that you know exactly what you should and shouldn't pack for college, you need to decide what you're going to be packing your stuff in!
We already discussed how it's a bad idea to pack your dorm items up in large suitcases and luggage.
Not only will it be hard to find what you're looking for on move in day, but bulky suitcases take up SO much room in dorm rooms.
So what should you pack your dorm stuff in? I recommend a mixture of different moving boxes and bags.
Large Tote Bags
Giant tote bags like these zippable totes are perfect for transporting things like clothes, shoes, and linens.
They hold SO much stuff, but they fold down to basically nothing so you can store them easily in your dorm room.
Clear Storage Bins
I liked using clear storage bins when moving in to college because it was easy to see exactly what was in each box.
Move in day was easy because I knew exactly where each thing was before even taking it out of the box.
The only issue with storage bins is where to put them after you move in.
You could either stack them and store them under your bed, or send them back with your parents if they're helping you move in.
Cardboard Boxes
Cardboard boxes are a great option because they can be broken down and recycled after you move in.
The only issue here is that you'll have to go buy more boxes when it comes time to move out.
Collapsible Luggage
I recommend packing up at least one or two pieces of collapsible luggage. This could be foldable rolling luggage like this one, or just a regular fabric duffel bag.
This is a great option because they fold down really small and can be stored in your closet or under your bed.
Plus, you can use them to pack for vacation or going home for breaks.
Printable College Packing List
If you're not sure where to start with packing for college, this FREE printable college packing list will help you out!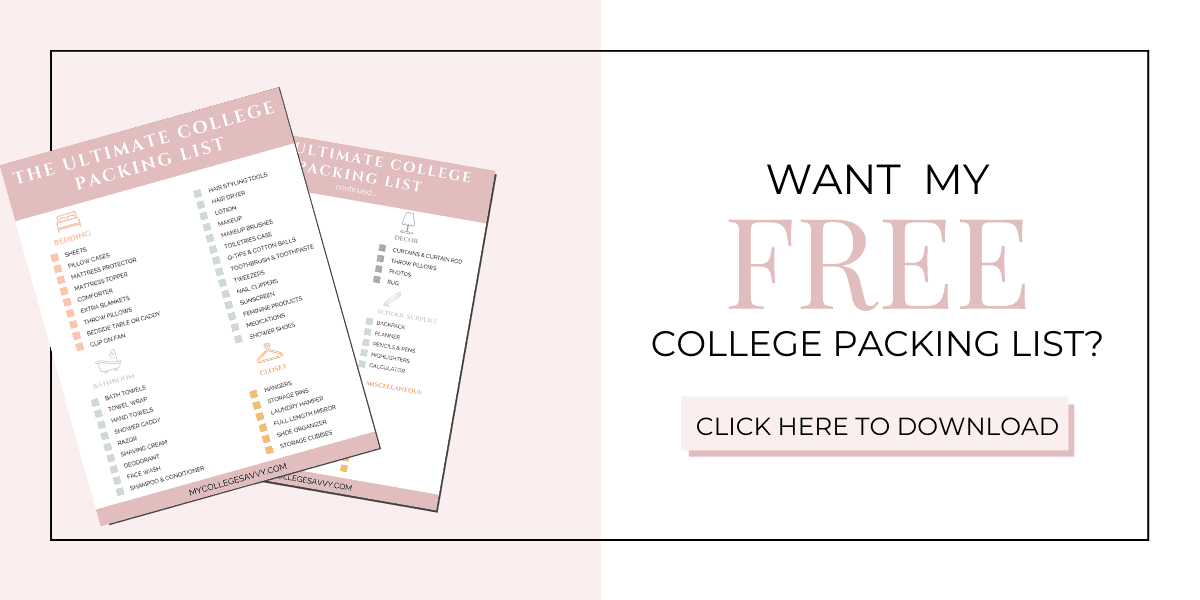 Final Thoughts
Hopefully this post about what NOT to bring to college was helpful for you.
Overpacking for college can be really tempting, but just wind up with a cluttered dorm and way more stuff than you know what to do with.
This post was all about 20 things not to bring to college freshman year.
You may also like: