23 College Backpack Essentials: Must-Have Items For Students
Packing your backpack for the first day of school? Here are 23 of the most important college backpack essentials that every college student needs.
This post may contain affiliate links, which means I'll receive a commission if you purchase through my link, at no extra cost to you. Learn more: Affiliate Disclaimer.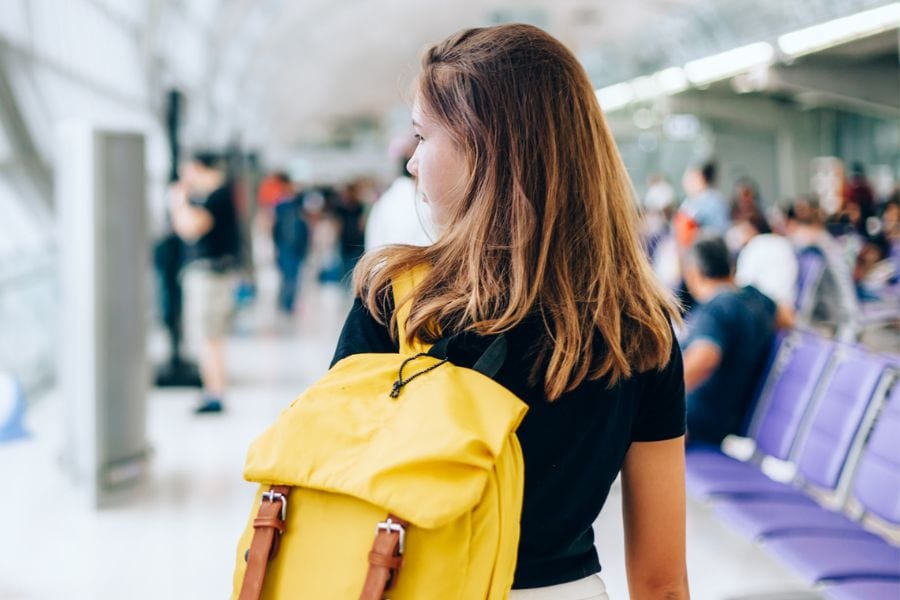 Heading off to college is an exciting time filled with opportunities for personal growth and academic success.
One of the best ways you can prepare for this new chapter in your life is by making sure your college backpack is equipped with all of the essentials you'll need to stay organized and focused throughout the school year.
A well-stocked backpack can be the key to staying on top of assignments and preventing minor mishaps from derailing your day.
With a little careful planning, you can make sure everything you need to thrive at college is right at your fingertips.
In this article, we'll share 23 of the most essential items that you should carry in your backpack in college.
Choosing The Right Backpack
When it comes to college life, your backpack is your best friend. It holds all of your essentials and accompanies you throughout your academic journey.
Before we get into what you'll put in your backpack, we wanted to share some guidance on how to choose a backpack that will last for your whole college career.
Here's what you need to consider:
Size And Style
First, consider the size and style of the backpack. Opt for a bag that allows you to comfortably carry your notebook, textbooks, laptop, tablet, and other study materials without being too cramped.
For example, a 20-30 liter capacity backpack is typically ideal for carrying most college essentials.
As for style, choose one that reflects your personality and preferences. Backpacks come in a variety of colors, patterns, and designs.
Don't be afraid to express yourself through your choice of backpack! We have a list of 14 Cute Backpacks For College Students that you can look through to get some ideas.
Comfort and Support
Comfort is key when it comes to carrying a backpack for extended periods.
Look for bags with padded shoulder straps and back panels, which can help relieve pressure on your shoulders and distribute the backpack's weight more evenly.
Adjustable straps can also help you find the perfect fit for your body.
Durability and Water Resistance
College life can be tough, and your backpack should be able to withstand rough use.
Invest in a sturdy, high-quality bag made of durable materials such as nylon, polyester, or canvas.
Check stitching and zippers: well-made backpacks should have solid, reinforced stitching and quality, smooth-operating zippers.
Water resistance is another factor worth considering: a water-resistant backpack can help protect your electronics and valuable study materials from sudden rainstorms.
Some bags come with built-in rain covers, while others may have a water-resistant coating applied to the fabric.
College Backpack Essentials
Technology and Electronics
These days, it's essential to have the right electronics and technology in our college backpacks.
Your gadgets not only help you stay connected, but also support your learning and productivity.
1. Laptop and Charger
For most college students, a laptop is an indispensable tool for taking notes, researching, and completing assignments.
We recommend investing in a lightweight and reliable laptop with enough processing power and storage to suit your needs.
Don't forget to pack your charger as well, because it's crucial to keep your laptop powered up throughout the day.
2. Headphones
Headphones are a must-have item in your college backpack.
They allow you to listen to music, podcasts, or lectures during your commute, or to block out distractions while studying.
Noise-canceling headphones can be a valuable investment if you need an extra layer of focus when working in noisy environments.
We suggest carrying a compact and comfortable pair of headphones that can be easily stored when not in use.
3. Portable Charger
A portable charger is another invaluable tech accessory for any college backpack.
With the amount of electronic devices we rely on daily, it's important to have a backup power source for when outlets are not readily available.
I ALWAYS recommend the Q Brand Ultra Slim power bank because it has a built-in wall plug, Micro and USB-C cables, and comes with a protective carrying case.
I've had this exact charger for over 2 years and it's been perfect for working, traveling, and general day-to-day use.
School Supplies
As college students, having the right school supplies can make all the difference in your academic success.
In this section, we'll go over some school essentials that should be in every college backpack.
4. Textbooks
Textbooks are one of the most important school items you'll be carrying around in your backpack.
These books are typically mandatory to have for your classes, so you definitely don't want to be caught without them.
With that being said, make sure you're only carrying around the textbooks that correspond to the classes you're attending that day. You don't want to carry around extra books for no reason.
5. Notebooks and Folders
Staying organized and taking notes is crucial for your academic performance. And a lot of people find that they remember information better when it's written down manually.
Keep a few notebooks with you throughout the day so that you can take notes in your classes. Notebooks with 3-5 subjects are a great choice, as they can cover you for an entire semester.
Additionally, make sure you have a few folders with you to store and separate papers, assignments, and notes for different classes.
6. Writing Tools
Having a variety of writing tools in your backpack ensures you're always prepared for taking notes, marking your textbooks, and completing assignments.
Some essentials include:
Ballpoint pens in multiple colors
Mechanical pencils
Highlighters
Permanent marker
Post-It notes
White-out
Make sure to have a cute pouch or pencil case in your bag to store everything. It can be a huge pain if you have to dig out a pencil from the bottom of your backpack.
7. Planner
A paper planner, digital planner or bullet journal is another crucial school supply for keeping track of academic, extracurricular, and personal commitments.
Planners help you stay organized, manage your time effectively, and ensure you don't miss deadlines or important events.
8. Calculator
Whether you're solving simple equations or advanced calculus problems, having a calculator is essential for many college courses.
Be sure to carry one in your backpack, especially if you're taking math or science classes. Don't forget to check if your specific class requires a specific type of calculator!
9. Flashcards
Flashcards are a useful tool for studying and memorizing information.
Keep a set of flashcards in your backpack for easy access, so you can review them during short breaks or while waiting for your next class.
Hygiene and Health Essentials
Aside from your school essentials, you'll probably want to carry around a few health and hygiene products.
Unless you have huge gaps of time between your classes, you may be stuck on campus all day. You don't want to be caught without hand sanitizer or deodorant during a long day of class.
These items will ensure that you're always presentable and prepared for any unexpected situations that may arise on campus.
10. Hand Sanitizer
One of the key items that should always be in your backpack is hand sanitizer. Having a travel-sized bottle is perfect for quick use in between classes and during meals.
11. Deodorant
Deodorant is a must-have for every college student's backpack.
Carrying a stick of deodorant in your backpack ensures you're always smelling fresh on campus. So, don't forget to include it in your essentials list.
12. Hand Lotion
Hand lotion is a great addition to your hygiene essentials, especially for those prone to dry skin
A travel-sized hand lotion can easily fit in the front pocket of your backpack and be used throughout the day to keep your hands soft and moisturized.
13. Lip Balm
Chapped lips can be a common issue, especially during colder months.
To keep your lips hydrated and healthy, keeping a lip balm in your backpack is a smart choice.
14. Feminine Products
For female college students, it's essential to have feminine hygiene products on hand.
Carrying a small supply of these items in a discreet pouch in your backpack can make it easier to face any sudden situations with confidence and ease.
15. Cosmetic Bag
Looking presentable on campus is essential, and having a few cosmetic and hair accessories can help.
Carry a small cosmetic bag with items like a comb, hair ties, pressed powder, and compact mirror to keep yourself looking polished and put-together throughout the day.
16. Mini First Aid Kit
Accidents happen, and having a mini first aid kit in your backpack can be a lifesaver.
Include items such as band-aids, antiseptic wipes, and pain relievers help you be prepared for any minor injuries during your busy college days.
We recommend throwing a few of your most frequently used medications in there as well. You don't want to be caught on campus with a headache and no painkillers.
Other College Backpack Essentials
As you finalize your packing list, we wanted to share some additional college backpack essentials to ensure that you are well-prepared for your days on campus.
17. Water Bottle
Another essential item we recommend is a reusable water bottle.
Staying hydrated plays a critical role in keeping your energy levels high and supporting optimal brain function.
A reusable water bottle is worth investing in so you can avoid buying single-use plastic bottles.
18. Snacks, Gum, Mints, Etc.
It's important to keep snacks, gum or mints in your backpack to keep your energy levels up and your breath fresh.
Look for healthy snack options, such as granola bars, fruit or nuts, and carry them with you in small containers or Ziploc bags.
19. Personal Items (Wallet, Keys, ID)
Never forget your personal items like your wallet, keys, and student ID.
These are critical for gaining access to campus buildings, making purchases on campus, and just day-to-day college life.
Designate a secure compartment in your backpack to keep your personal items safe and easily accessible.
20. Clothing Layers
Being prepared for changing weather conditions is important. We suggest carrying a lightweight jacket, sweater or long-sleeve tee in your backpack, so you're ready for sudden temperature changes.
In winter, it's a good idea to carry cold-weather essentials like a hat, gloves, scarf, etc.
21. Small Umbrella
A small, compact umbrella is a must-have in your backpack.
You never know when it might rain, so being prepared will help you stay dry and focused on your studies, rather than worrying about the weather.
Plus, it'll help protect your electronics in your backpack as you walk around campus.
22. Stain Stick
For those unexpected spills, a stain stick is a quick and effective way to treat stains on the go, ensuring that you always look your best.
They are small, portable, and can be easily stored in your backpack.
23. Personal Safety Alarm
Finally, a personal safety alarm is a useful addition to your college backpack essentials, especially for late-night walks on campus.
There are various options available, such as keychain alarms or small portable devices. It's always best to be safe and prepared in case of emergency situations.
This post was all about the college backpack essentials that every student needs.
You may also like: