Need a boost to your GPA this semester? Here are 12 easy classes at TAMU that you can take if you want an easy A.
This post may contain affiliate links, which means I'll receive a commission if you purchase through my link, at no extra cost to you. Learn more: Affiliate Disclaimer.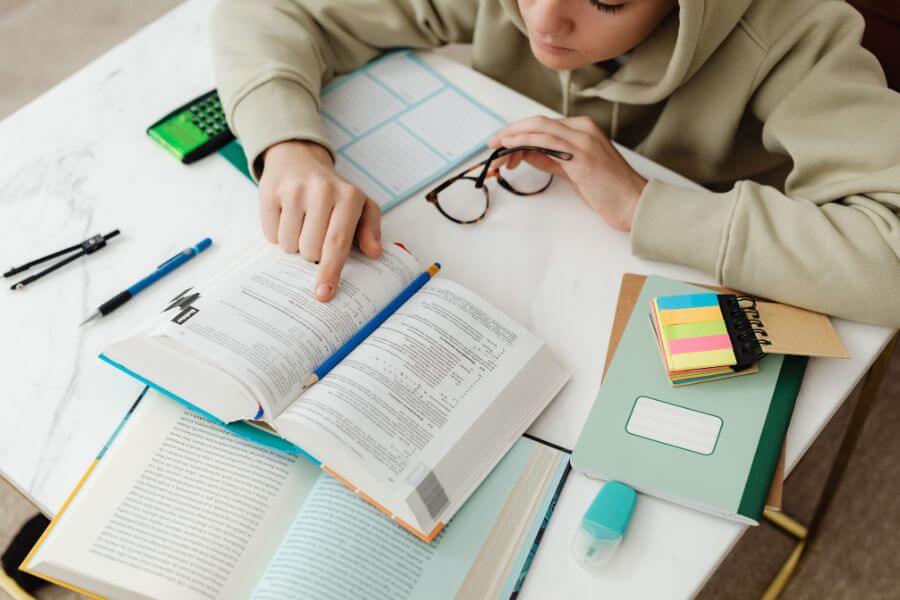 We've all been there – your GPA isn't where you want it to be and you're freaking out.
Luckily, you're probably only a few A's away from a better GPA. If you need a boost to your grade point average, we recommend taking an easy class that you think you can get a good grade in.
If you're a student at TAMU, here are the easiest classes you can take to boost your GPA.
Easy Classes At TAMU
1. HLTH 236 – Introduction to Health Disparities and Diversity
The first easy A course on our list is a class that will allow you to explore how racial and ethnic issues interact with our healthcare system. If you have any interest in learning about either the healthcare system or public health issues, this class will be great for you.
This TAMU student says that this class is "super easy" and does not have a large workload.
Throughout the semester you will have two exams and scattered quizzes to determine your grade.
Here is an old syllabus from 2013 to get an idea of how the course may look like.
2. DCED 202 – Dance Appreciation
What is better than a class where you learn cool new dance moves?
This easy A course will give you an overview of how dance has been used as artistic expression in different cultures.
Course content will include two exams, online homework assignments, and attending two live dance performances.
Here is a syllabus from the spring term of 2014.
3. MUSC 201 – Music in the Human Experience
According to this TAMU Redditor, MUSC 201 is an easy class that has open note tests taken outside of class!
In MISC 201 you will sharpen your music history skills. You will explore how music has played a role in various cultures around the world.
Based on this syllabus from 2018, you will be required to attend 3 performances and complete 2 projects throughout the semester.
4. SCSC 105 – World Food and Fiber Crops
TAMU students' experiences with this course tell us that this may be one of the easiest classes you can take. Exam questions are posted in-lecture throughout the semester!
SCSC 105 will take you through our world's relationship with food, focusing on how the environment affects plants and food sources.
Throughout the semester you will have 3 exams and multiple team projects in your lab section.
5. LAND 240 – History of Landscape Architecture
This easy A class at TAMU will explore how humans have used land throughout history.
If you are at all interested in environmental science or history, this class is perfect for you.
Your grade will be determined from 4 exams and multiple quizzes throughout the semester.
6. ARTS 149 – Art History Survey I
If taken online, TAMU students say that ARTS 149 is a very easy A, especially if you have any interest in learning about art history.
You will explore various artistic movements from prehistoric times to the 14th century.
This easy A course also applies to Creative Arts credit if you still need it.
7. ASTR 101 – Basic Astronomy
Another easy A class according to TAMU students is Basic Astronomy, a general overview of all things space!
If you have any interest in learning about the universe and how it all works, we recommend taking this class.
This TAMU student explains that you will be able to use telescopes as part of your coursework. How cool is that?
Here is a syllabus for ASTR 101 from fall of 2020 to give you an idea of the course structure and work load.
8. HORT 416 – Understanding Wine: From Vines to Wines and Beyond
For any TAMU student that is over 21, this easy A course is perfect for any wine aficionados out there.
Even if you don't love wine, you will also explore aspects of beer and spirits. Also, you will gain knowledge on the wine industry and how wine is actually made!
TAMU students say that this class is very easy, and you can even get some wine tasting experience along the way.
9. ENDS 101 – Design Process
The next class on our easy A courses list is ENDS 101, an environmental design course that will teach you about the design process of new products, and how new products can potentially affect the environment.
According to TAMU students, this class is super easy if you have any knack for creating new ideas. For any entrepreneurs out there, this class is for you.
Your coursework will consist of portfolios, team assignments, and other various solo assignments along the way.
10. LAND 101 – Introduction to Landscape Architectural Practice
The 10th easy A class on our list is LAND 101, a course directed towards anyone who has interest in the architecture field, or even just the environment in general.
With only 15-30 minutes of classwork outside of class per week, this course has a light workload and is perfect for those that need an easy A in their schedule.
Your experience in this class will involve learning about the landscape architecture process, specifically how the practice has evolved over time and what it all entails in the current day and age.
11. HORT 203 – Floral Design
For those of you that are still looking to get creative arts credit, Floral Design is the perfect class for you.
Your time will be spent creating flower arrangements, and you'll even be able to take flowers home every week!
View an older syllabus from 2014 to get an idea of how the course may be structured.
12. SPMT 304 – Sport Psychology Management and Practice
The last course on our list is directed towards TAMU students that are looking to get Social Science or Cultural Discourse credit.
If taken with Bo Yu, TAMU students say that this course is a breeze and has a very light workload.
You will learn about how psychology factors into sports and exercise, as well as how societal and diversity issues affect athlete's experiences.
This post was all about easy classes to take at TAMU to boost your GPA. Hopefully this gave you a better understanding of the easiest classes at Texas A&M University.