Looking for a warm spot to spend your spring break? Here are the absolute best spring break destinations in Florida for college students.
This post may contain affiliate links, which means I'll receive a commission if you purchase through my link, at no extra cost to you. Learn more: Affiliate Disclaimer.
Spring break is one of the holidays, if not the holiday, that college students look most forward to.
It is no secret that the state of Florida is a beloved destination for spring breakers, as it offers the perfect environment for spring break fun and partying.
Here are the best spring break destinations in Florida for college students:
The Most Popular College Spring Break Destinations In Florida
Florida is a state with many paradise-like destinations. So, college students have plenty to choose from, but they should consider heading to Miami, Key West, or Clear Water.
1. Miami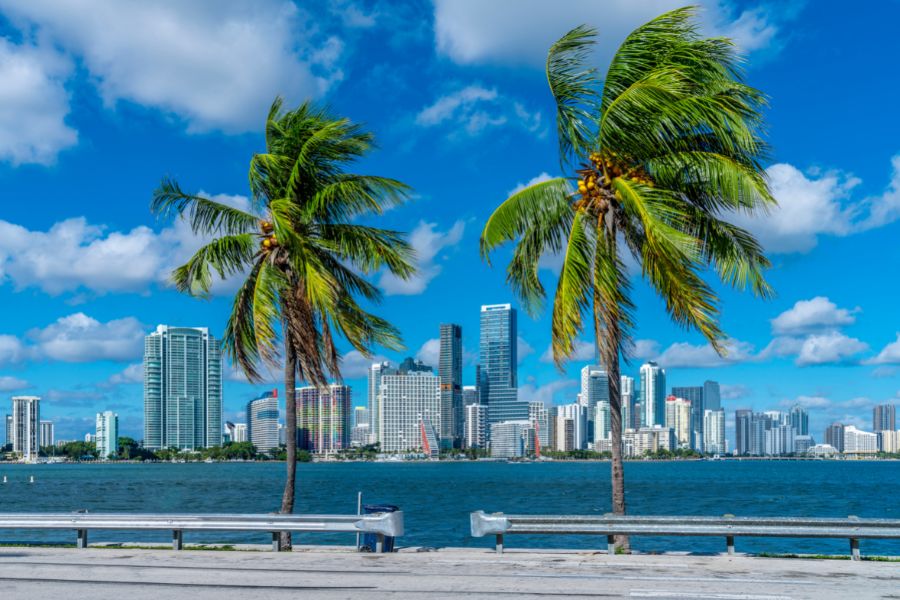 You cannot talk about Florida without mentioning Miami, especially regarding spring break. Miami City, often called the "Magic City," has amazing day and nightlife that attracts every college student.
The beauty of Miami is that it caters to every type of Spring breaker.
Those who come for the sunshine and day drinking can choose from many beaches and bars, while those interested in architecture, history, and culture can visit art exhibits and museums.
Things To Do In Miami For Spring Break
Here is a list of a few daily activities that every spring breaker should consider during their time in Miami.
Spend the Day At Miami Beach. Spring breakers generally try to book their accommodation somewhere on Miami Beach, as this is where college students' best beaches, bars, and resorts are. Even if you stay on the mainland, plan to spend the day at Miami Beach to experience a full day of partying at the beach.
Take A Trip To The Everglades National Park. This National Park is a world heritage site and is part of the largest subtropical wilderness in the US.
Explore the Wynwood Art District. This beautiful district north of downtown Miami is filled with murals, street art, galleries, contemporary art exhibits, restaurants, and bars.
Visit Museums. Miami may not be renowned for its museums. Still, the city does have several great museums, including the Perez Art Museum, Phillip & Patricia Frost Museum of Science, and the Institute of Contemporary Art.
Best Bars For Spring Breakers in Miami
Miami has no shortage of places to get a drink. Let us look at which bars are the best for college students enjoying spring break.
Gramps. This bar is located on the mainland in the Wynwood district and is a great spot for day-drinking college students. Gramps is known for offering it all: live music, karaoke, happy hours, great DJ sets, etc.
Ted's Highway. This bar is for students who enjoy an old-school vibe. The drinks are well-priced with a cheerful atmosphere, perfect for college students looking to have fun without spending all their money.
Swizzle Rum Bar & Drinkery. This is where you want to go if you want to have a good cocktail. You are served your cocktail in a dimly lit setting, perfect for a date or small group of people.
The Corner. The Corner is the spot for the late-night partiers. The bar is open until 8 am on weekends, and the beers are cheaper than most.
Bodega Taqueria y Tequila. This is for taco lovers who enjoy cheap yet delicious food, cheap drinks, and a ridiculous happy hour. Located on South Beach, Spring breakers enjoy starting their night here.
Where To Stay During Spring Break In Miami
Here are a few hotels for spring breakers to stay in Miami:
The Catalina Hotel & Beach Club
The Colony Hotel
The Loews Miami Beach Hotel
The Townhouse Hotel
The Essex House
Weather In Miami During Spring Break
One of the reasons Florida is popular during spring break is that it is the best season to go there.
Starting in March and ending in May, temperatures average between 77°F and 85°F, which is warm but not too hot. The humidity is also lower in spring compared to summer, with less chance of rain.
2. Key West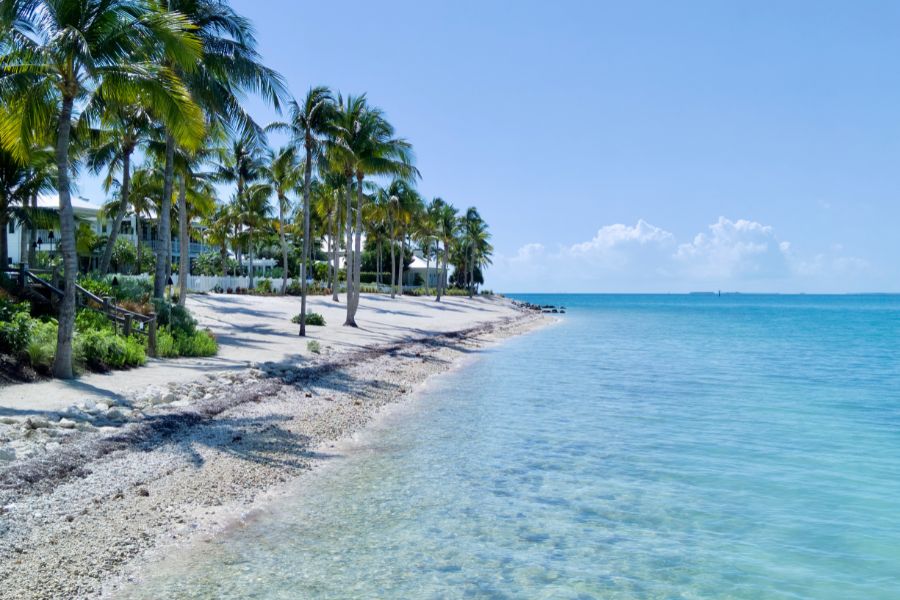 Key West has everything a spring breaker can dream of.
The small city is the final stop along Florida's keys and seems cut off from the world when looking at it on a map.
Key West is perfectly tailored for spring breakers who love spending time on the beach and water.
Things To Do In Key West For Spring Break
Here is a list of activities that college students can plan for in Key West.
Various water sports/activities. Depending on their budget, spring breakers can do the following water-related activities; snorkeling, parasailing, sailing, cruising, jet skiing, boat riding, and dolphin eco-tours.
Explore wildlife in the mangroves. Kayaking through the mangrove networks is a must for those who enjoy spending time in and exploring nature.
Visit the Hemingway home and museum. In the 1930s, the famous author resided in Key West. His beautiful home is open to visitors.
Sunset cruise. A popular activity in Key west is going on a beautiful and relaxing sunset cruise. Depending on the cruise, you can be treated to live music and champagne.
Best Bars And Drinking Spots In Key West
Key West would not be deserving of being a great spring break destination for college students if it did not have good drinking spots.
Sloppy Joes. Sloppy Joes is the most famous and oldest bar in Key West. This bar offers great events and live music in and out of season. It is the perfect place for college students to have a dance party.
Dante's Key West. Dante's Key West is a great bar for those who like to feel like they are in sipping a drink in paradise. Dante's has a pool, live music, specials, and events.
Sunset Sail with Live Music. Go on a sunset sail/cruise with a drink in your hand and live music you can dance to.
Where To Stay In Key West During Spring Break
Here are a few hotels for spring breakers to stay in Key West:
Orchid Key Inn
Margaritaville Beach House Key West
Seashell International Hostel And Motel
Havana Cabana at Key West
Not Your Average Hotel
Weather In Key West During Spring Break
Spring is the best time of the year to visit Key West.
The average temperature during spring in this tropical climate is a comfortable 77°F, but the humidity is high, with an average of 75%.
3. Daytona Beach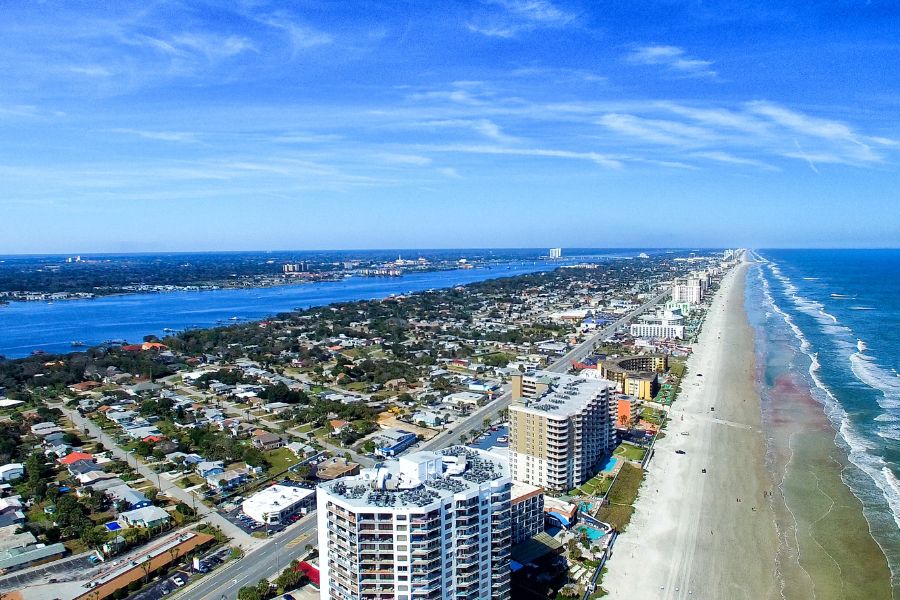 Daytona Beach is one of the best spring break locations for college students.
With a twenty-three-mile-long beach, day parties, and energetic nightlife, this place is perfect for college students looking to get loose.
Things To Do In Daytona Beach For Spring Break
Here is a list of activities that college students get up to on spring break.
Water activities. Daytona has it all regarding water sports. You can go kayaking, fishing, surfing, scuba diving, boating, parasailing, dolphin tours, etc.
Beaching. Daytona Beach has a twenty-three mile long and five hundred feet wide beach that spring breakers enjoy.
Spring break night clubs. Dance the night away with fellow spring-breakers at one of Daytona Beach's clubs.
Best Party Spots In Daytona Beach
Daytona is famous for hosting wild spring break parties.
Razzle's Night Club. One of the most popular night clubs amongst spring breakers, equipped with a spacious dancefloor, large sound setup, and overall wild atmosphere.
509 Lounge. This versatile venue brings everything to the table. The crazy vibe and drink specials attract the young crowd.
Where To Stay In Daytona Beach During Spring Break
Here are some Hotels for spring breakers to stay in at Daytona Beach:
El Caribe Resort
Hard Rock Hotel
Best Western Plus Oceanfront
Holiday Inn Resort
Hawaiian Inn Beach Resort
Weather In Daytona During Spring Break
Daytona in spring is warm, with an average temperature of 70°F in April.
The skies are also clearest all year during spring, making this time perfect for beach outings.
More College Spring Break Destinations In Florida
4. Panama City Beach
Panama City Beach (or PCB), has been named the "Spring Break Capital Of The World" for more than 25 years.
And while it doesn't have the same wild MTV-televised parties as it once did, you'll still find the classic Spring Break fun here – live music, wet t-shirt contests, beach clubs, etc.
Here are some of the most popular things to do in Panama City Beach for Spring Break:
Catch a show at the Beach Bash Music Fest
Attend a foam party or glow paint party at Hammerhead Fred's
Go on a dolphin tour
Spend a day at Pier Park shopping outlet
Visit the beaches
5. Key Largo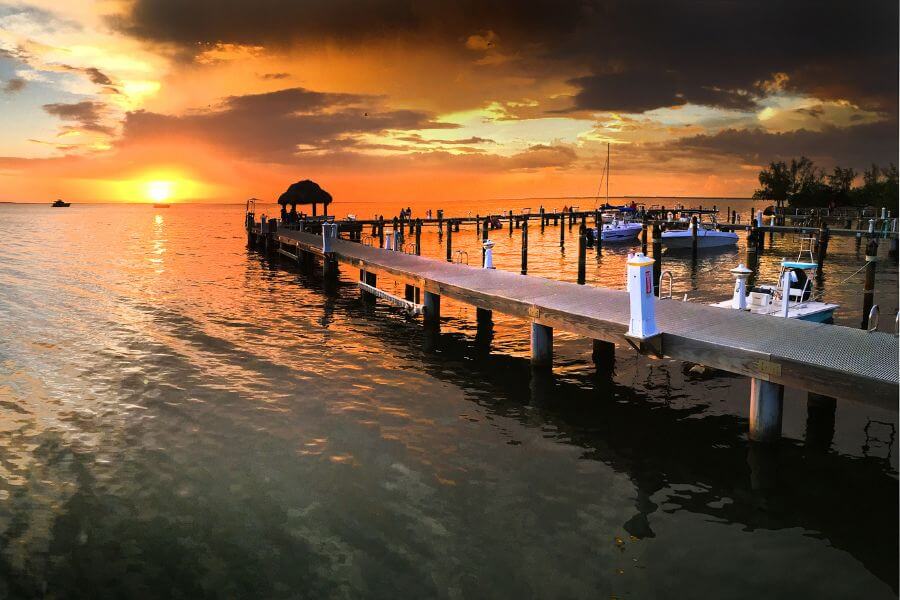 Looking for a college spring break destination that's a bit more low-key? Head to Key Largo for beautiful beaches, world-class diving, and laid-back vibes.
Here are some of the best things to do in Key Largo:
Explore John Pennekamp Coral Reef State Park
Grab a sunset cocktail at Sundowners
Take a fishing trip
Go dolphin watching
6. Fort Lauderdale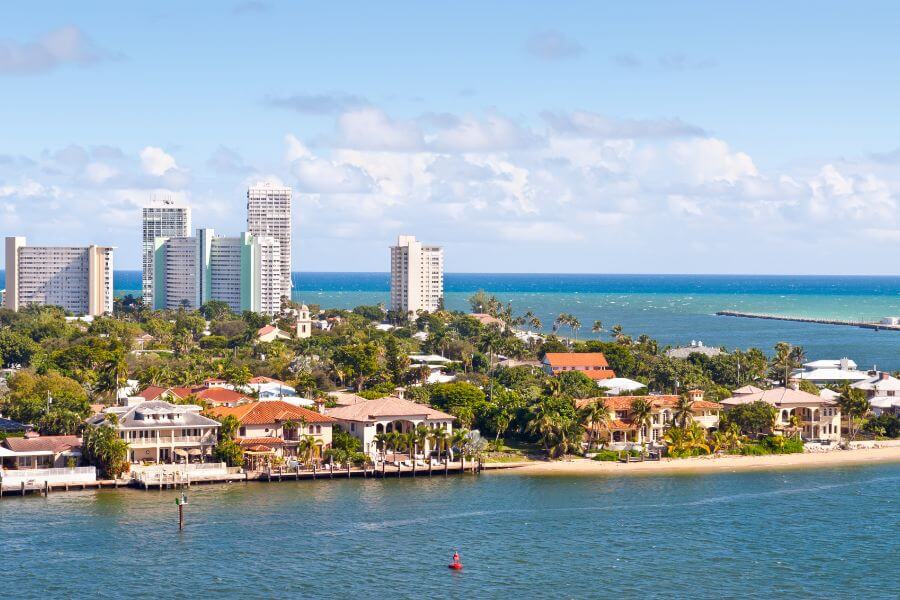 Fort Lauderdale is definitely one of the most popular spring break destinations in Florida for college students.
There are plenty of open-air bars, party cruises, wild nightlife, and water sports activities.
Here are some fun things to do in Fort Lauderdale for spring break:
Relax on over 23 miles of Fort Lauderdale beaches
Grab a drink at Elbo Room, Fort Lauderdale's most famous beach bar
Work up a sweat with some beach volleyball
Take a booze cruise
7. Siesta Key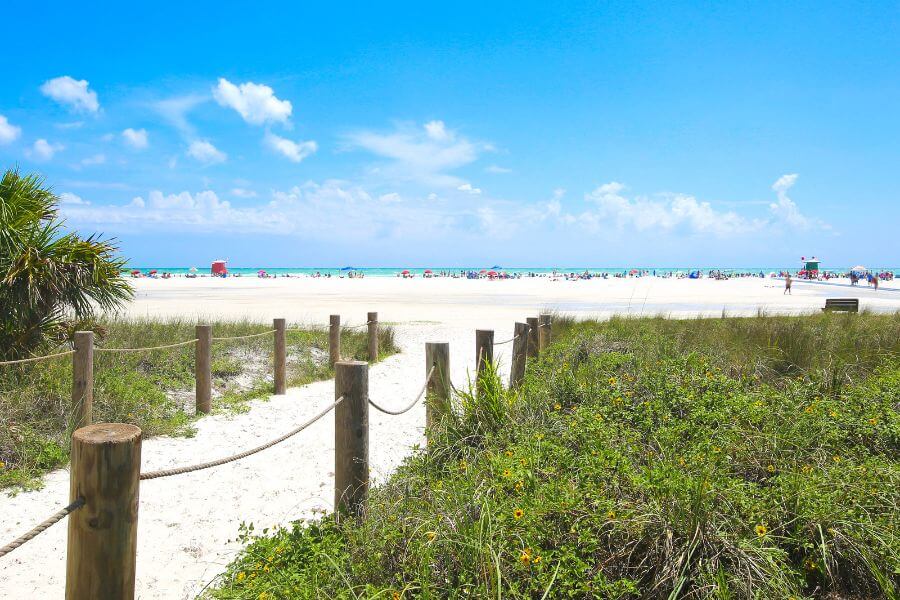 Siesta Key is one of the prettiest spring break spots in Florida. Be prepared for beautiful beaches, spectacular sunsets, and sparkling waters.
This is a popular spot for spring breakers, but it tends not to attract the wild crowds that gather in some of the other Florida spring break spots. You'll find a more laid-back party scene in Siesta Key.
Here are some fun things to do in Siesta Key for spring break:
Relax on Siesta Key Beach
Go shopping in Siesta Key Village
Rent bikes to explore the island
Grab a fruity drink at Daiquiri Deck
Go kayaking in the mangroves
Go parasailing for a birds-eye view of the island
8. Pensacola Beach
Pensacola Beach is located just an hour from the famous Panama City Beach spring break mecca. Despite its location, it's actually a much more laid-back spot to visit.
The crowds here are much quieter, with plenty of families and older spring breakers. You'll still find some college kids here, but not as many as Panama City Beach.
Here are the best things to do in Pensacola Beach:
Grab food or drinks at the Pensacola Beach Boardwalk
Visit the Botanical Gardens
Enjoy dinner with a view at one of the many waterfront restaurants
Relax at one of the beaches
9. Destin
Destin is another spring break hotspot located just an hour from Panama City Beach.
It has white sand beaches, a busy boardwalk, and plenty of bars and restaurants to try.
While it is a very popular spring break spot, it attracts more families than crazy college crowds. Don't worry though – you'll definitely be able to find some parties if you know where to look!
Here are some of the top spring break activities in Destin:
Experience Destin's world-class deep sea fishing
Dance the night away at AJ's Club Bimibi
Visit Crab Island – an underwater sand bar and gathering place for boaters
Go parasailing
10. Orlando
Theme park lovers will love visiting Orlando for Spring Break.
This city is home to some of the most popular theme parks in the world like Universal Studios, Disney's Magic Kingdom, Epcot, and Legoland.
Aside from the parks, Orlando spring breakers can enjoy water sports, aquariums, zoos, magic shows, and so much more.
If you're looking for nightlife, Orlando definitely has you covered. Señor Frogs has plenty of themed parties during spring break, Mango's Tropical Cafe has dancing and live performers, and you can go bar hopping in Wall Street Plaza.
Here are some of the top spring break activities in Orlando:
Visit the theme parks (Universal Studios, Epcot, Disney's Magic Kingdom, & more!)
Attend a foam party at Señor Frogs
Take a day trip to Cocoa Beach
Relax at Lake Eola
11. St. Pete Beach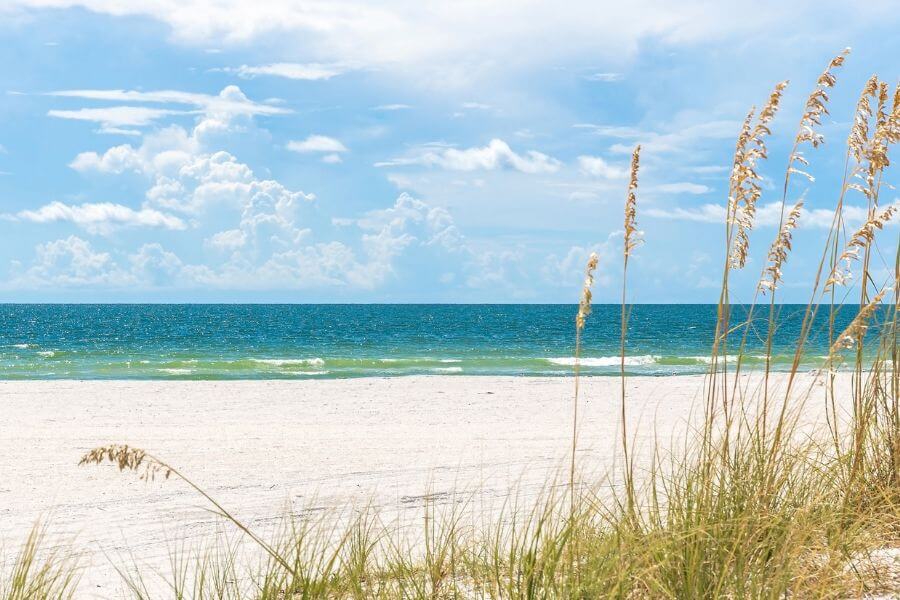 St. Pete Beach is a great spring break destination for college students who want parties but not crazy crowds and debauchery.
You'll find beach bars, beautiful beaches, and a bustling boardwalk.
You can find parties and events if you seek them out, but overall the vibe is a lot more relaxed than other hot spots.
Sunbathe at St. Pete Beach
Party at the PCI Beach Bar
Visit the Shell Key preserve
Grab a beer at Sea Dog Brewing Company
12. Central Florida
Nature lovers will want to head to Central Florida. This area is home to crystal-clear springs, wildlife, and nature trails.
While you won't find the typical spring break party scene, you'll be surrounded by beautiful scenery.
Some notable outdoor spots to visit in Central Florida are:
Blue Spring State Park
Three Sisters Springs
Lake Louisa State Park
Wekiwa State Park
Rainbow Springs State Park
Crystal River
Frequently Asked Questions About Florida Spring Break Destinations
Here are some frequently asked questions about spring break in Florida.
What Is Spring Break Season In Florida?
The spring break period in Florida starts in the middle of March and runs until the end of April.
College students from all over the country travel to tropical destinations to enjoy the spring holidays.
Where Do Most College Students Go For Spring Break?
Florida is arguably the most popular place for college students during spring break.
Within Florida, Daytona Beach and Miami Beach are two of the most visited cities during spring break.
Best Party Spots In Florida For Spring Break
There is no shortage of party spots in Florida. Daytona Beach is known for having crazy nightlife during spring break.
Likewise, West Palm Beach, Miami Beach, Nikki Beach, and Clearwater beach are great places for partying.
This post was all about the best spring break destinations in Florida.
You may also like: