If you're wondering what to pack for winter break in college, don't worry. In this article, we'll go over a full winter break packing list that includes all the essentials.
Of course, we'll also go over how to pack for winter break in college so that you don't forget anything and your dorm is fully prepped before you leave for home.
This post may contain affiliate links, which means I'll receive a commission if you purchase through my link, at no extra cost to you. Learn more: Affiliate Disclaimer.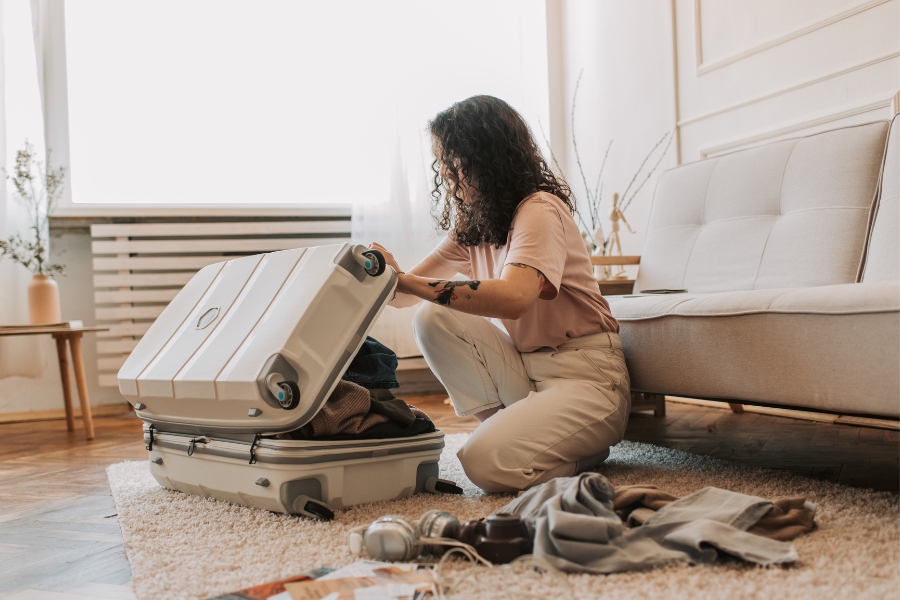 Packing for any kind of trip can be stressful. Did you remember to pack all your socks? Where's that really warm winter jacket your aunt got you for Christmas last year? Will you need a bathing suit just in case a hot tub appears?
When it comes to what to pack for college winter break, there's an extra layer of packing anxiety because you'll be gone for weeks at a time.
If you forgot an essential item, it's not like you can stop by your dorm to pick it up real quick. No, that item will have to be replaced (which gets expensive) or just missed for the duration of your break.
Don't worry though, by the end of this article you'll know exactly how to pack for winter break in college.
What Clothes To Pack For Winter Break
Clothes To Pack For Warm Weather
If your winter break will be spent in Florida rather than the snow, your winter break packing list is going to look a lot different than the average college student.
When packing for a warm weather winter break, make sure to pack the appropriate tops:
T-shirts (~5 basic styles)
Short-sleeved blouses (1-2)
Tank tops (~5 basic styles)
Semi-fancy blouse (1)
Lightweight long-sleeve shirts (1)
Plaid shirt for layering (1-2)
Romper (1-2)
Sundress (1-3)
Special occasion dress (1-2)
Bodysuit (1-2)
Bathing suit (1-2)
Bathing suit cover (1)
Pajama tops (2-4)
Sports bras (1-2)
Regular bras (1-3)
As you can tell, some of these aren't strictly "tops" per se. But you should pack those rompers, sundresses, and dresses for special occasions nonetheless.
You never know when you'll need an outfit for a fancy dinner or a specific event that calls for more than casual attire.
Also, you'll want to be packing as light as possible so the recommended amount is just a suggestion.
For example, having 5 different t-shirts on rotation would be nice so you can restyle it to each outfit.
But if you're more of a sundress person, feel free to bring more sundresses and only a couple of t-shirts. It's completely up to your discretion. But remember, the less you have to pack, the better.
Now, for the bottoms you'll need over a warm winter break:
Denim shorts (1-3)
Bermuda shorts (1-2)
Capri (1-2)
Cycling shorts (1-2)
Skirts (1-3)
Activewear shorts (1-3)
Yoga pants (1-2)
Lightweight sweats or joggers (1)
Pajama shorts (2-4)
Underwear (~5)
Socks (~5)
Flip Flops (1-2)
Sandals (1-2)
Sneakers (1-2)
Heels (1 pair)
Again, the amount you bring of each item is up to your discretion. You probably have access to a washer and dryer at your parents' house, so bringing less is completely fine since you can wash and wear them again.
But let's say you're really active and work out multiple times a week. It's probably worth it to bring 3 pairs of activewear shorts so you don't have to go through the hassle of rewashing the same pair over and over again.
Clothes To Pack For Cold Weather
Packing for cold weather is a whole other story. You'll still have to pack undergarments and pajamas, but your day-to-day outfits will look a lot different.
For the tops, you'll want to pack:
Long-sleeved shirts (~5 basic styles)
Sweaters (1-2)
Sweatshirts (1-2)
Denim jacket (1)
Warm jacket (1)
Plaid long-sleeved shirt (1-2)
Dri Fit long-sleeved shirt (1-3)
Special occasion dress (1-2)
Activewear sweater (1)
Activewear long-sleeved top (1-3)
Pajama tops (2-4)
Sports bras (1-2)
Regular bras (1-3)
This list definitely revolves around layering.
For example, those Dri-Fit long sleeves work great for layering under your basic long-sleeved shirts and sweaters. They insulate your body heat and are slim enough to not make your entire outfit look clunky.
For your bottoms, you'll want to make sure to pack:
Jeans (1-2)
Activewear leggings (1-3)
Yoga pants (1-2)
Warm sweatpants (1)
Joggers (1-2)
Pajama pants (2-4)
Underwear (~5)
Long johns (1-3)
Regular socks (~3)
Long socks (~3)
Boots (1 pair)
Sneakers (1-2)
Keeping your bottom half warm is just as important as keeping your top half warm.
Luckily, it's easy to layer things like long johns and leggings under your jeans. Unless you only wear skinny jeans, that is.
Otherwise, you shouldn't have too many issues with keeping your legs warm.
Long, thick socks are a must during winter break. You'll need them around the house and going out, especially if you'll be spending your winter break in the snow.
There's nothing worse than cold feet when you're trudging through snow.
Accessories To Pack For College Winter Break
If you're worried about what to pack for college winter break, you'll want to pay especially close attention to this section.
Accessories are everything. While a cute tank top and shorts are essential for a warm winter break, you'd still be annoyed with yourself if you forgot sunglasses.
To avoid easy oversights like that, we'll break down how to pack for winter break in college depending on whether you're traveling to a warm spot or a cold one.
For a warm destination, don't forget to pack:
Sunglasses
Baseball cap
Wide-brimmed sun hat
Hair ties
Headbands
Bobby pins
Hair clips
Hair claw
A purse or belt bag
For a cold destination, don't forget:
Scarves
Beanie
Gloves/ mittens
Warm cloth headbands
Ear muffs
Other Essentials To Bring Home For Winter Break
You can't forget a few "core necessities" when you're traveling home for your college winter break.
These are all the items you use in your everyday life that you might forget to pack just because they're always there.
These items include:
Brush/ comb
Toothbrush
Toothpaste
Floss
Hair dryer
Hair straightener
Curling iron
Deodorant
Perfume
Face cleanser
Face moisturizer
Sun screen
Phone charger
Laptop
Computer charger
Wallet
Passport
Keys
Shampoo
Conditioner
Body Wash
Medicine
Can you imagine getting ready for the day only to find your deodorant is missing? That's why these essentials are on your winter break packing list.
Odds are, you're studying for and taking your finals while trying to pack everything for winter break.
It's easy to forget the toothbrush you use every morning until you're home for winter break and need to brush your teeth.
What Not To Pack For Winter Break
If you remember anything about how to pack for winter break in college, remember this—pack with purpose.
You have very limited space for everything you're going to bring home over college winter break. With limited space, every single item needs to have a use.
Make sure that every piece of clothing you pack can be part of an outfit you'll realistically wear.
Have a top you love but don't have any shorts to go with it? That top doesn't make the cut.
You need to make sure every article of clothing can be mixed and matched or layered while you're on break. Otherwise, it's taking up valuable space.
Also, don't pack for what you "might" need. If you know for a fact that your aunt will be hosting a fancy holiday party, then pack a dress and heels. If not, don't.
Same for accessories. If you never curl your hair, then odds are you won't need to bring your curling iron home for winter break.
How To Prep Your Dorm Room For Winter Break
While this packing list is critical for winter break preparation, it's just as important to prep your dorm room for the weeks you'll be gone.
So here's a checklist to make sure your dorm is all squared away:
Deep clean your bathroom
Wash your sheets
Wash any blankets you use often
Wash bathroom towels
Completely empty your mini fridge
Clean your microwave
Vacuum
Wipe down every available surface
Take out all trash
Organize your desk
Pick up your room
Basically, you'll want to make sure you clean 4 specific areas of your dorm: your bedroom, your bathroom, your cooking or eating space, and your shared living space (e.g. living room).
Make sure your bedroom is tidy so that you won't return from winter break to a messy, chaotic room. 
Next, all food should be cleared from your fridge or kitchen space or it'll rot while you're gone.
The same goes for shared living spaces. You'll want to vacuum the couch and wipe down the table in your living area before you abandon it for the next few weeks.
Winter Break Packing Tips
Now that we've gone through your entire winter break packing list, we'll wrap things up with how to pack efficiently.
There are a couple of tried-and-true methods for packing clothes like shirts, pajamas, jeans, and shorts.
You can roll them individually as tight as possible and layer them within your suitcase. This is the cheapest trip.
If you're willing to spend some more on packing materials, you can purchase vacuum storage bags.
You'll fold your roll your clothes up and then store them in the appropriately sized bag.
Then, you'll attach a vacuum to the designated area and suction all of the air out of the bag. This will deflate most of your clothes until they're a fraction of their original size!
Finally, make sure to organize your items so that you know exactly where they are when you get home for winter break.
Pack your items by section, such as clothing, accessories, toiletries, and undergarments.
This could look like packing all your toiletries and shoes in a duffel bag while everything else goes in your suitcase.
After you've packed everything you need, you're all ready for a fun, stress-free winter break!
This post was all about how to pack for winter break in college.
You may also like: