23 Traffic Light Party Ideas (Outfits & Decorations)
Looking for a super fun college party theme? Here's everything to know about the traffic light party theme – what to wear, how to decorate, and a stoplight party even is.
This post may contain affiliate links, which means I'll receive a commission if you purchase through my link, at no extra cost to you. Learn more: Affiliate Disclaimer.
It's no secret that we're a big fan of themed parties for college over here at College Savvy.
One of the coolest college party themes is the traffic light party. This party encourages mingling by having party-goers wear different clothing based on their relationship status.
This is perfect for single people who are looking for a new love interest AND people who are in a relationship who don't want to be hit on all night.
By wearing your relationship status as a clothing statement, you're letting the people around you know how they should approach you. This takes a lot of pressure off of people and makes it easier to make friends.
This post goes over what a traffic light party is, what to wear to one, and how to decorate if you're the one throwing the party.
What Is A Traffic Light Party?
A traffic light party is a super fun college party theme that involves wearing different colors to signify your relationship status.
Green = single and looking to meet someone.
Yellow = in a "complicated" relationship situation. This could mean that you're just talking to someone new or you're in a friends with benefits kind of scenario. You may be open to meeting someone or hooking up but you're not actively seeking it out.
Red = in a committed relationship and not looking to hook up.
This party theme is a great way to meet new people, find some new dating prospects, and just have fun!
You'll have a great time at a stoplight party no matter what your relationship status is.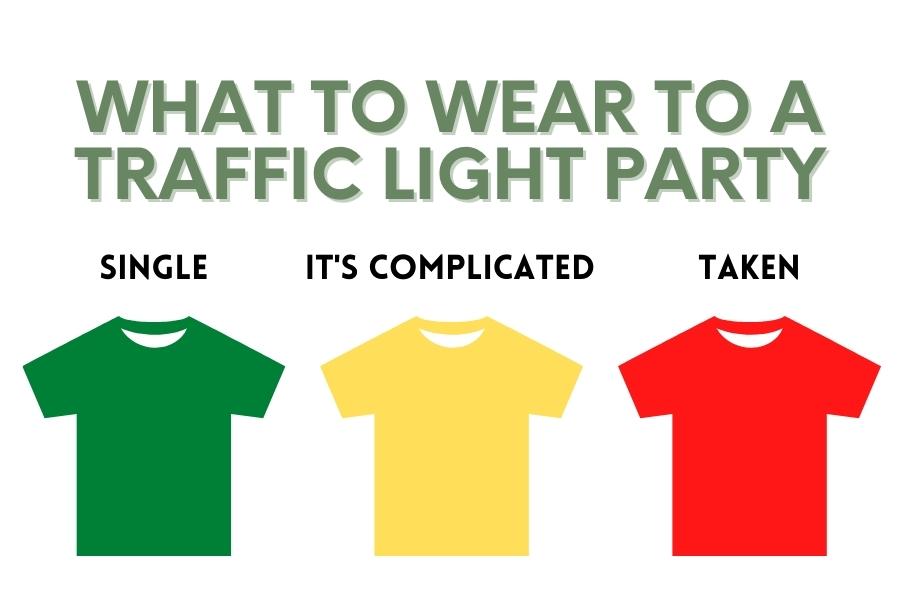 What To Wear To A Stoplight Party
Dressing for a stoplight party is fairly straightforward. Just wear green if you're single, red if you're in a relationship, and yellow if it's complicated.
Here are some cute outfit ideas for each color of the traffic light:
Green Outfits For A Traffic Light Party
Are you single and ready to mingle? Here are some of the cutest green outfit ideas for single people at a stoplight party:
Yellow Outfits For A Stoplight Party
Not really sure where your relationship stands? Or maybe you're single but not quite ready to mingle.
No matter the reason, you can wear yellow to signify that you may be interested in meeting someone new. Here are the cutest yellow outfit ideas for a traffic light party-goer:
Red Outfits For A Traffic Light Party
Are you in a monogamous relationship? You can signify this to the rest of the party by wearing red.
Here are some of the cutest outfit pieces for anyone who is taken at a stoplight party:
Traffic Light Party Decorations
A stoplight party can be as elaborate or casual as you want it to be. We're big fans of going all out for parties, so we wanted to include some of the best party decorations for this theme idea!
Here are some super cute traffic light party decorations that you'll want to use for your party:
Stoplight Colored Cups
If you don't want to have your guests dress up, you can still do this theme by having everyone drink from stoplight colored cups.
The same rules apply – red is taken, green is single, and yellow is complicated.
Traffic Light Themed Decor
Here are some cute stoplight-themed decor pieces that you can use for your party:
Traffic Light Party Inspiration From TikTok
This party theme is huge on TikTok right now. Here are the best videos about how to throw a stoplight party:
This post was all about the best traffic light party ideas for college parties.
Looking for more college party themes?