80s In Aspen Party Theme Ideas For College
Looking for a super fun and colorful college party theme? Here's everything you should know about the 80s in Aspen party theme for college.
This post may contain affiliate links, which means I'll receive a commission if you purchase through my link, at no extra cost to you. Learn more: Affiliate Disclaimer.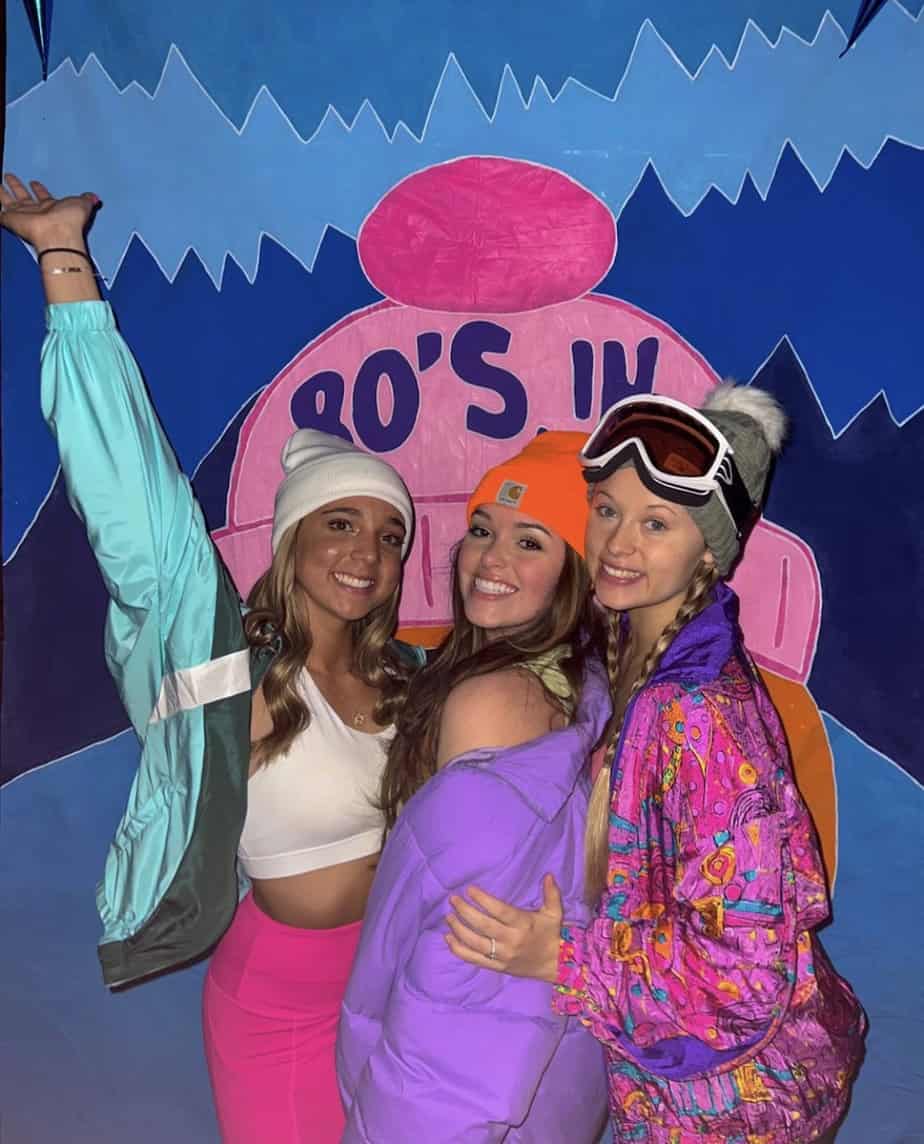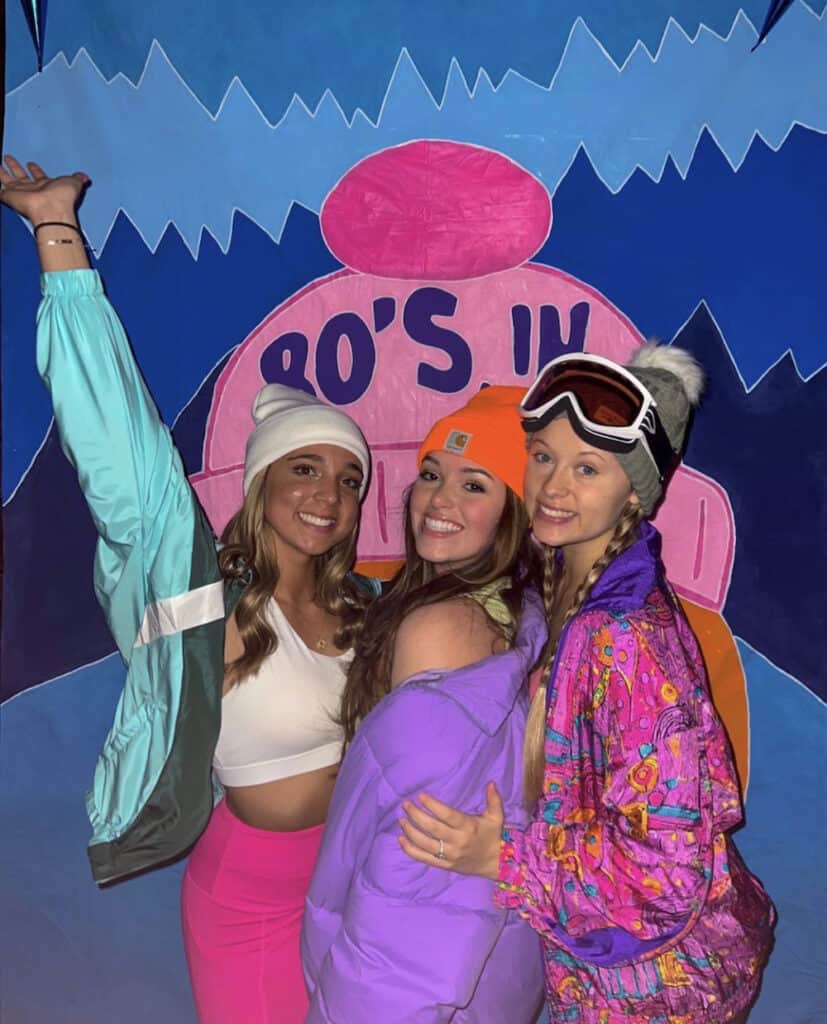 Have you heard of the 80s in Aspen party theme? It's one of the most popular themes for college parties right now.
This theme idea basically involves dressing up like a ski bunny from the 80s. Think neon jackets, ski goggles, scarves, and leg warmers.
Whether you're hosting an 80s in Aspen party or just attending as a guest, we're going to go over everything you need to know about this party theme. We'll give you inspiration for what to wear, things to do at an 80s in Aspen party, and how to decorate.
What Is An 80s In Aspen Party
80s In Aspen is a party theme that is really popular in college. It's also commonly used as a party theme for Greek life mixers.
This party theme involves dressing up in vintage-inspired ski clothing. This could be bright colored jackets, neon hats, leg warmers, and ski goggles.
This fun party theme goes by other names too – you may hear it being called an apres ski party, ski lodge social, or snowball bash.
No matter what you call it, this party theme is so much fun to dress up for!
80s In Aspen Outfit Inspiration For Girls
Girls are in luck with this party theme – there are TONS of outfit ideas you can copy for an 80s in Aspen party.
Most girls will wear something along the lines of a sports bra, leggings, and an oversized ski jacket. But feel free to make the costume your own!
Here are some of our favorite outfit ideas for girls for this college party theme:
1. Vintage Neon Outfits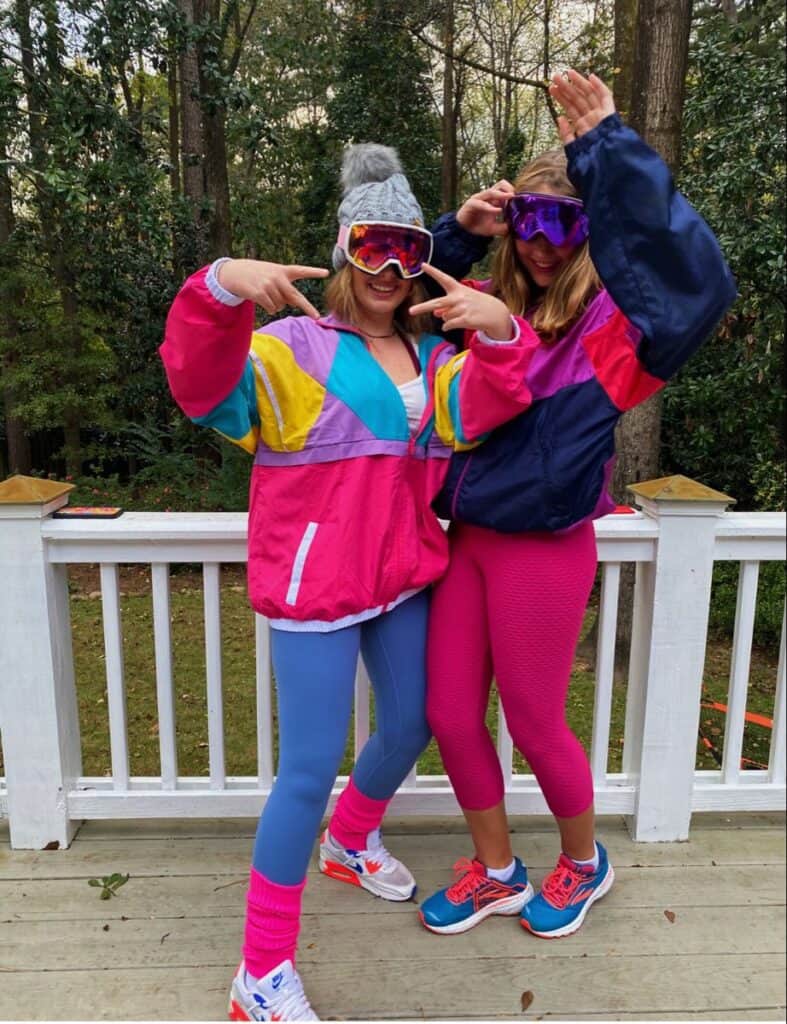 You just can't go wrong with a vintage neon ski jacket, some bright leggings, and a pair of ski goggles. Throw on some bright colored leg warmers if you really want to go all out with this look!
Recreate this 80s Aspen Ski outfit:
2. Colorful Puffer Jackets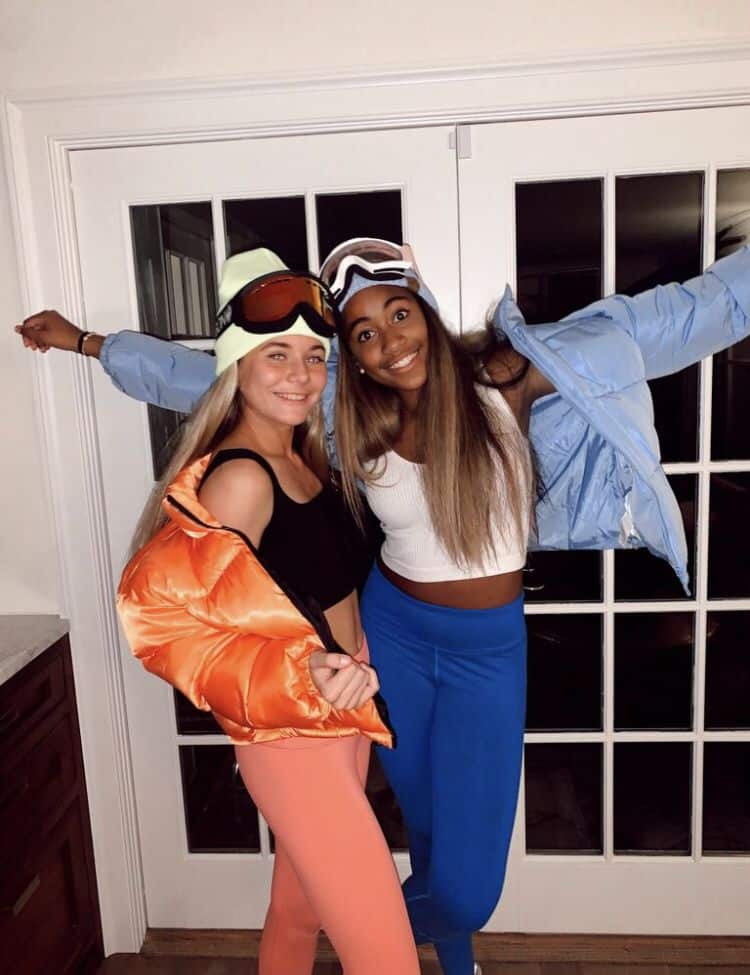 Looking for a cuter take on the retro ski party outfit? Wear a bright colored puffer jacket over a regular workout outfit.
Throw on some ski goggles and a beanie and you're ready to hit the slopes (or the keg lol).
Recreate this cute 80s in Aspen outfit idea:
3. Sports Bras And Moon Boots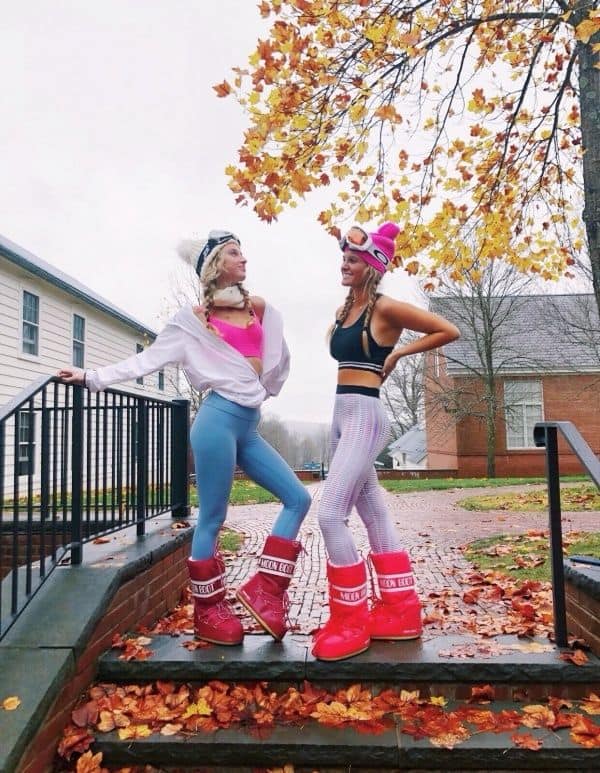 Looking for a super authentic throwback look? Grab yourself a pair of moon boots! These puffy winter boots were very popular in the 1970s and 80s, so they'd be perfect for an 80s in Aspen outfit.
According to this article, these boots are actually making their fashion comeback anyways, so get in ahead of the trend and grab a pair before they sell out.
Recreate this fun ski bunny costume:
4. Retro Workout Outfit
How fun and retro does this ski lodge outfit look? Throw on a pair of bright leggings, a white one-piece, and a fun retro jacket to copy this look.
Recreate this cute ski themed party outfit:
5. Colorful Beanies And Ski Jackets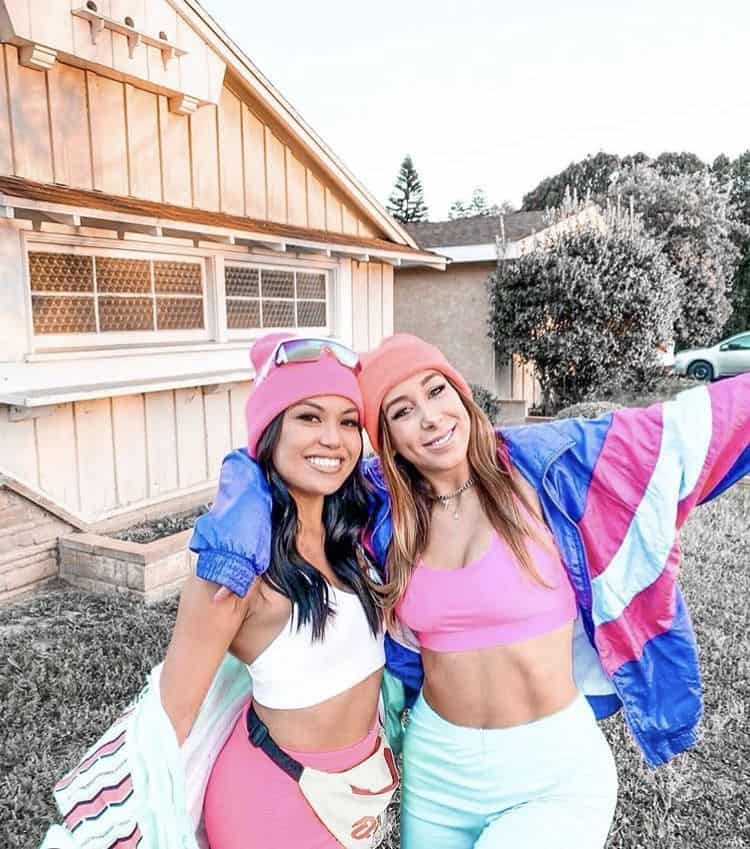 We love a party outfit that's both cute AND comfortable. You'll be super comfy the whole night in this sports bra, jacket, and beanie combo.
Recreate this ski bunny costume:
6. Fur Boots And A Fanny Packs
This outfit idea is like rave-babe-meets-ski-bunny. Recreate it by pairing a neon workout set with some furry boots and a fanny pack. So cute!
Copy this 80s in Aspen party look:
80s In Aspen Outfit Inspiration For Guys
Guys can have a lot of fun with this party theme too. They'll want to show up in ski goggles, vintage ski apparel, and maybe even a mullet wig (or a real one??).
Just have fun with it and get creative! This is a theme that doesn't require you to take yourself too seriously.
Here are some of our favorite ski party outfit ideas for college guys:
7. Vintage Ski Suit And Mullet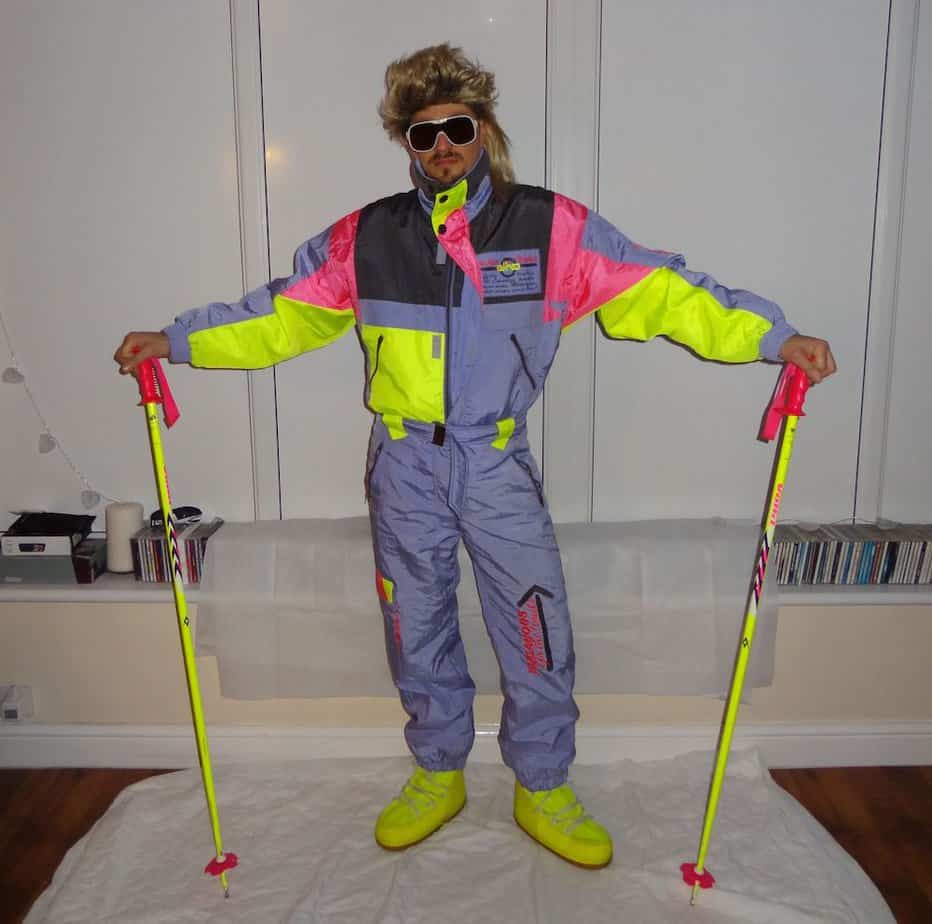 We love a man that goes all out for a party theme! Throw on a full ski suit, some goggles, and a mullet wig to channel your inner 80s ski pro.
Copy this hilarious vintage ski costume for guys:
8. Retro Jacket And Earmuffs
Honestly, this look could work as a regular outfit (minus the earmuffs maybe). Just pair a vintage-looking jacket with some colorful shorts.
Copy this cool ski outfit idea for guys:
9. Vest And Ski Goggles
You don't have to go too crazy with your outfit to match the theme. Just throw on a vest and a pair of ski goggles and you're good to go!
Copy this 80s in Aspen outfit idea for guys:
80s In Aspen Party Ideas
9. Drink Out Of A Shot Ski
One fun way to keep things on theme is to drink out of a shotski. In case you've never heard of it, a shotski is a modified ski that is designed to hold shot glasses.
It allows several people to take shots of their drink of choice at the same time. It's super fun and a memorable way to drink with your friends!
10. Serve Food On Ski Themed Tableware
If you're going to be serving food at your party, make sure you do it in style. You'll want to get some ski-themed tableware for your food and drinks. This set from Amazon is super cute and affordable.
80s In Aspen Party Decorations
11. Snowy Mountain Tapestry
How cute would this tapestry be as a photo backdrop at your 80s In Aspen college party? Everyone will remember your party because of the cute pictures they'll take there!
12. Snowflake Garland
Another cute way to decorate for a ski-themed college party is with some snowflake garland. It'll look super magical in person and in photos!
13. Ski Lift Tapestry
Here's another super cute tapestry / photo backdrop for your party. It'll basically feel like you're on the slopes!
This post was all about the best 80s in Aspen party theme ideas for college.
Here are some other college party themes you may like: