45 Outrageous Anything But Clothes Party Ideas (2023)
If you're in college, there's a good chance someone you know will throw an anything but clothes party. But what is an ABC party and what should you wear?
This post may contain affiliate links, which means I'll receive a commission if you purchase through my link, at no extra cost to you. Learn more: Affiliate Disclaimer.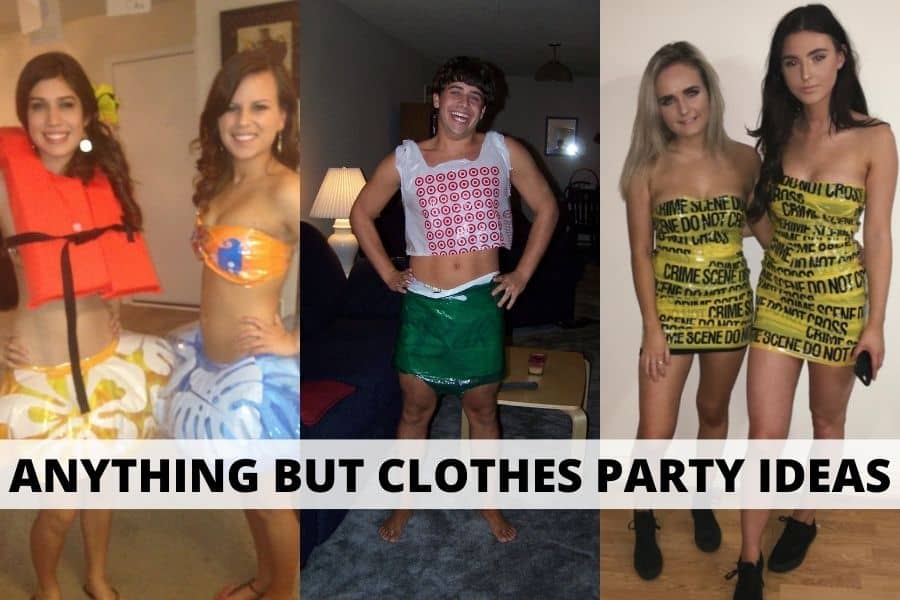 Anything But Clothes (ABC) is one of the most popular party themes for college right now.
In this post, we're going to go over everything you need to know about attending an Anything But Clothes party.
We'll also give you some outrageously funny ideas for what to wear to an ABC party.
What Is An Anything But Clothes Party? (ABC Party Meaning)
If you're in college, there's a good chance you already know what an Anything But Clothes party is. But if you've never heard of it, the concept is pretty simple!
Anything But Clothes (or ABC Party for short) is a trendy college party theme that requires partygoers to show up wearing anything but traditional clothing.
Most people will get creative and show up wrapped in items like caution tape, bubble wrap, tinfoil, etc. Others may choose to show up in nothing but their underwear.
It's up to you how creative you want to get with it!
What Are The Rules For Anything But Clothes Parties?
The rules for ABC parties are pretty simple. Just show up to the party wearing anything but traditional clothing!
Wear as much or as little as you want to wear. Just don't show up completely nude or you may get kicked out of the party.
The Best Anything But Clothes Party Ideas For Girls
There are SO many creative anything but clothes party costume ideas for girls out there on the internet.
Here are some of our all-time favorite ideas for what girls should wear to ABC parties.
1. Cardboard Box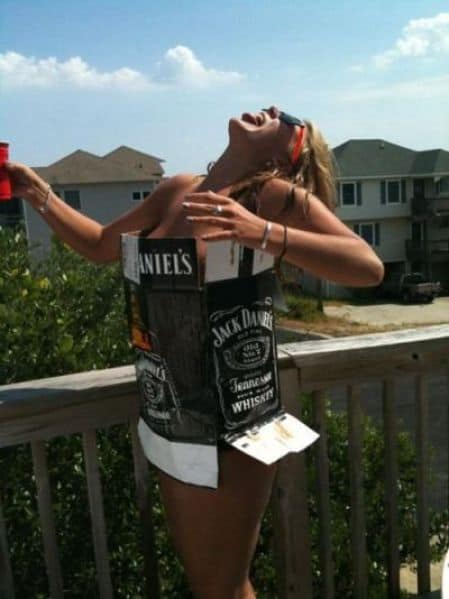 A cardboard box is a classic outfit idea for an ABC party. It's so simple, easy to find, and won't cost you anything.
Make sure you have some way to secure the cardboard box to your body so you don't have any wardrobe malfunctions. One easy way to do this is to poke holes and tie string to the box to make shoulder straps.
2. Tinfoil Anything But Clothes Outfit
I love the idea of using tinfoil to craft an ABC party outfit. It's pretty affordable and you can make your outfit as modest or revealing as you want to.
I recommend wearing some spandex shorts and a bandeau underneath your tinfoil outfit. You don't want the foil to be scratching against your skin all night.
3. Caution Tape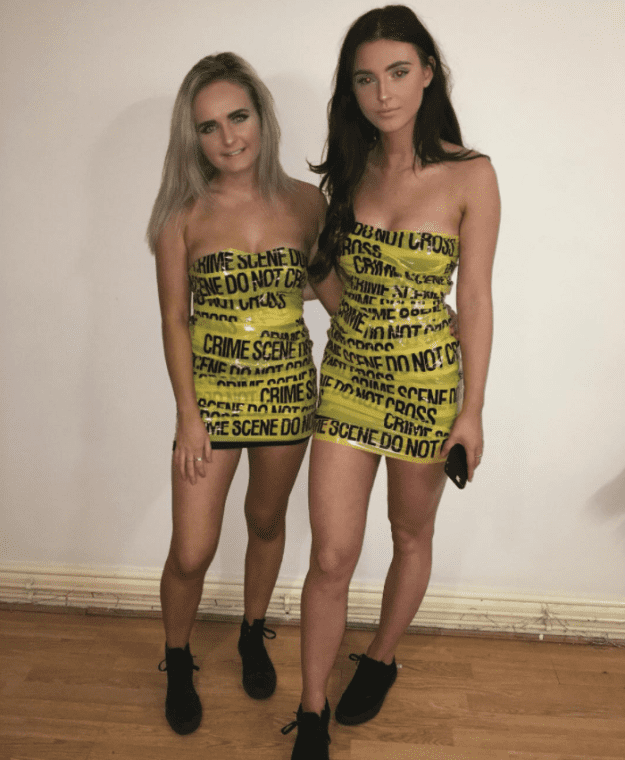 Caution tape is one of the most popular things to wear at an anything but clothes party. You can make pretty much any type of outfit out of caution tape so it's great for girls and guys.
These caution tape strapless dresses look so cute in pictures and they're pretty easy to DIY.
Recreate this caution tape party outfit:
4. Shopping Bags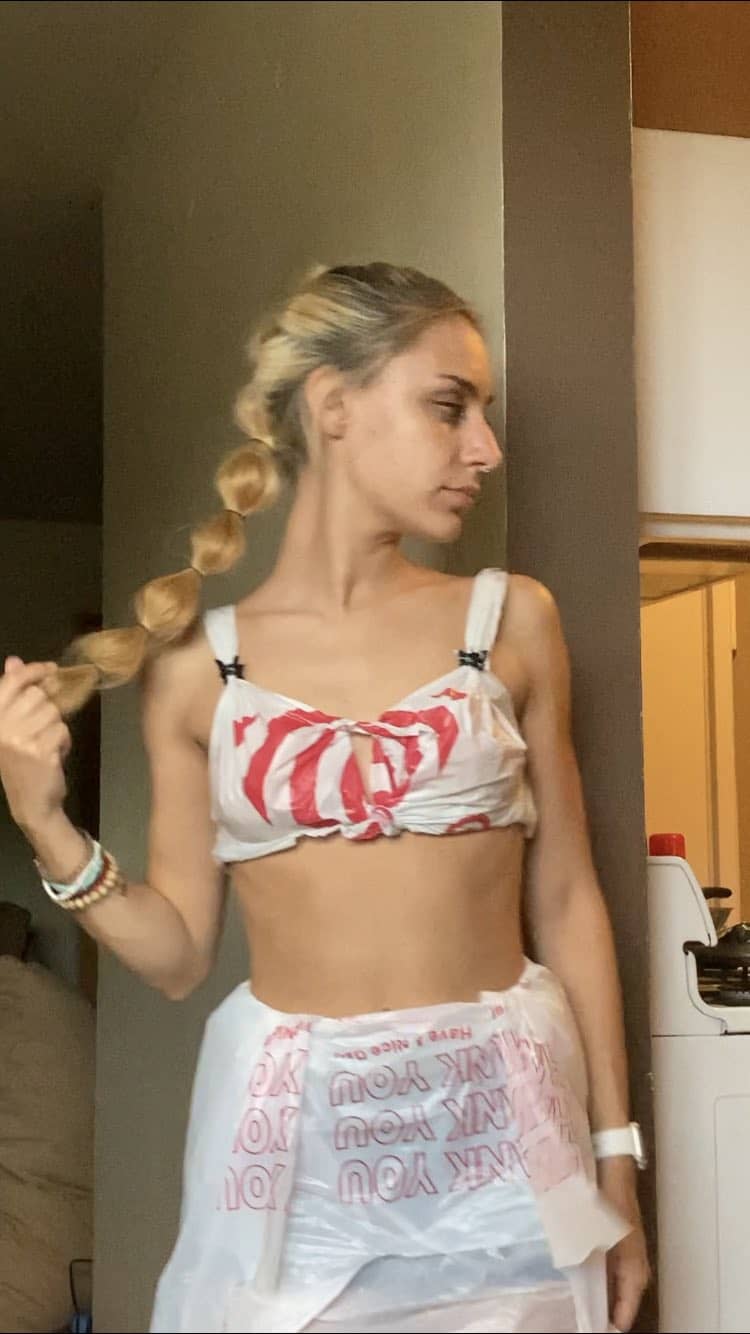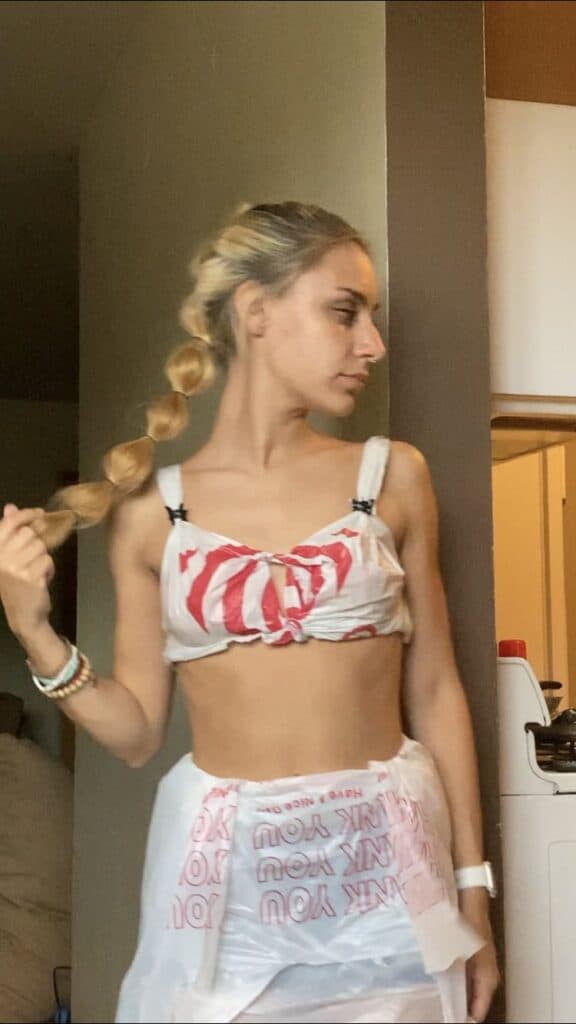 How cute is this party outfit made from shopping bags?
If you've got plastic shopping bags laying around, you can easily recreate this ABC party costume idea.
5. Pillow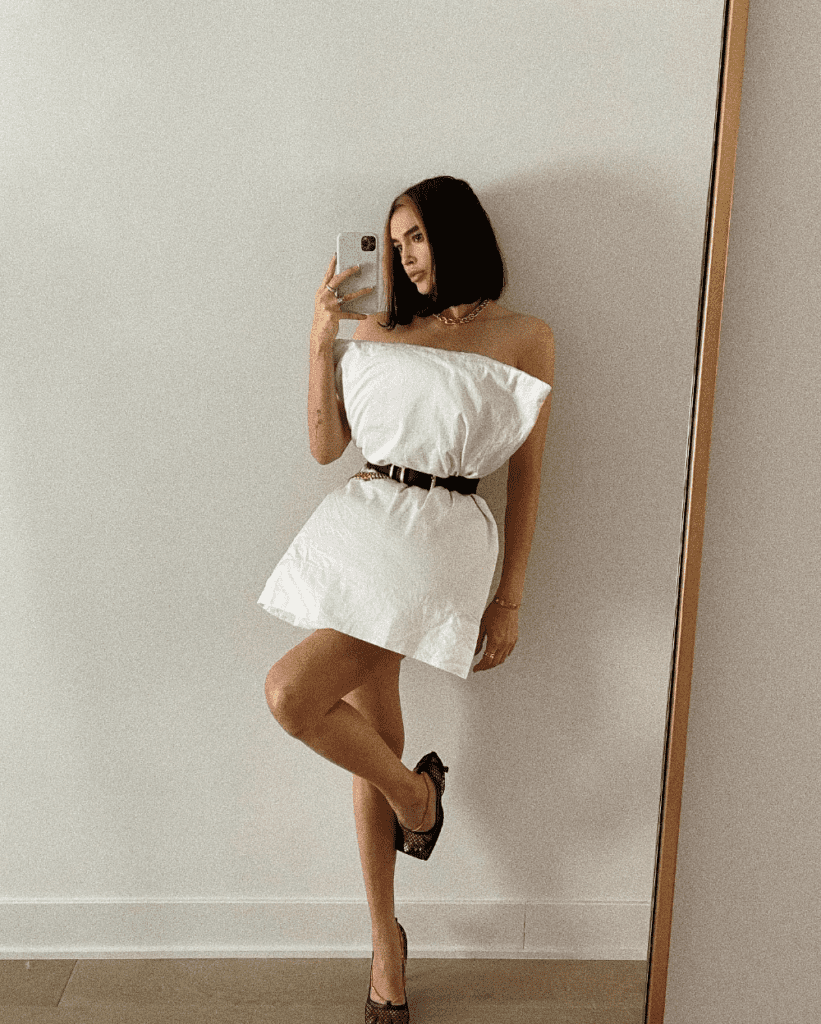 How chic does this pillow dress look? All you need are a couple of pillows and a belt to recreate this adorable party outfit idea.
To avoid any wardrobe malfunctions, I recommend wearing a nude strapless dress underneath your pillows.
Here's a good option from Amazon:
6. Bubble Wrap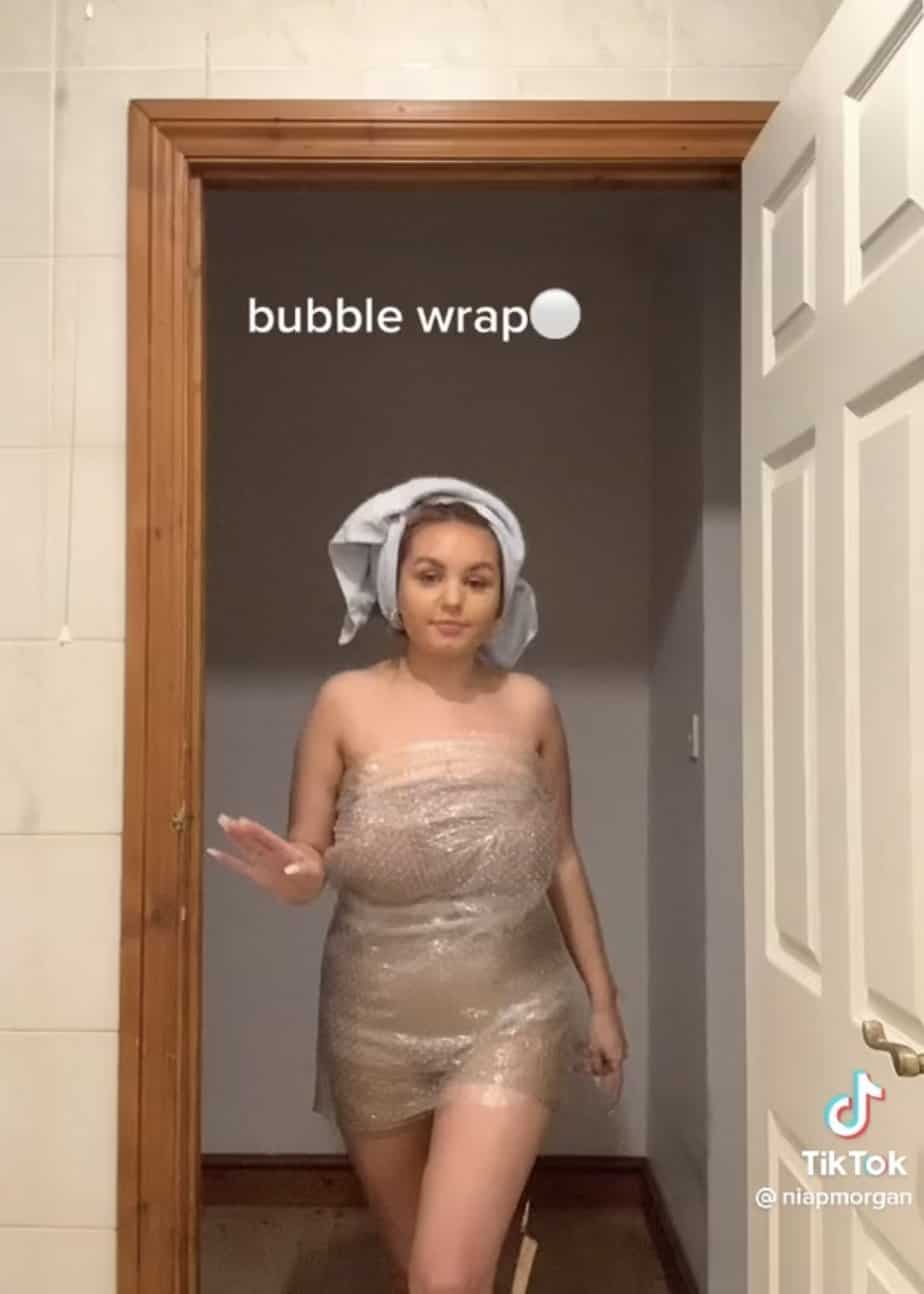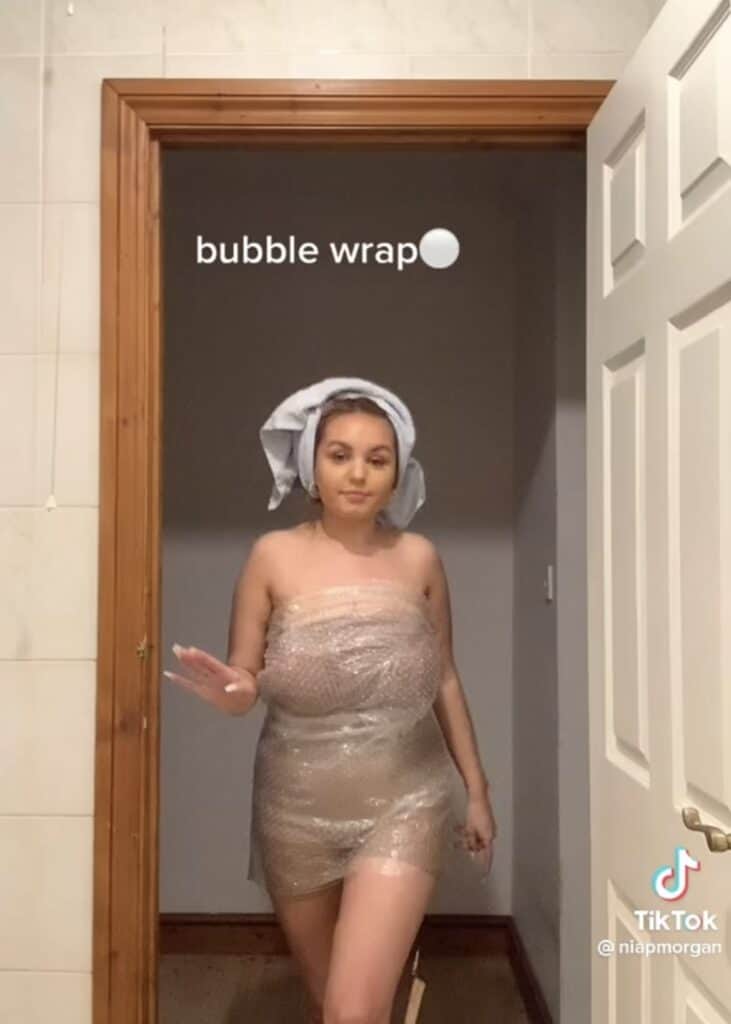 How creative is this bubble wrap dress? If you do a lot of online shopping, chances are you have some bubble wrap laying around somewhere.
Again, I recommend wearing a nude strapless dress underneath this. Bubble wrap is pretty see-through so you'd need a lot of it to cover everything up!
7. Hot Sauce Packets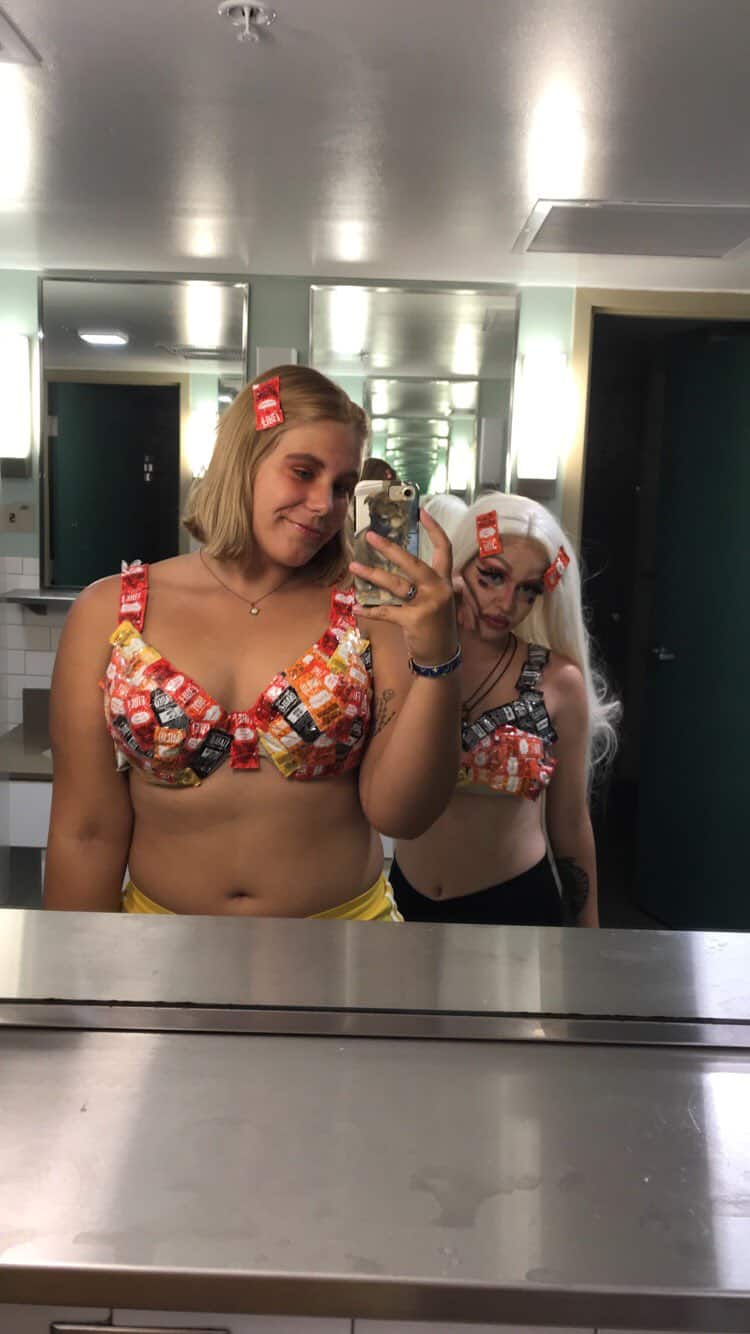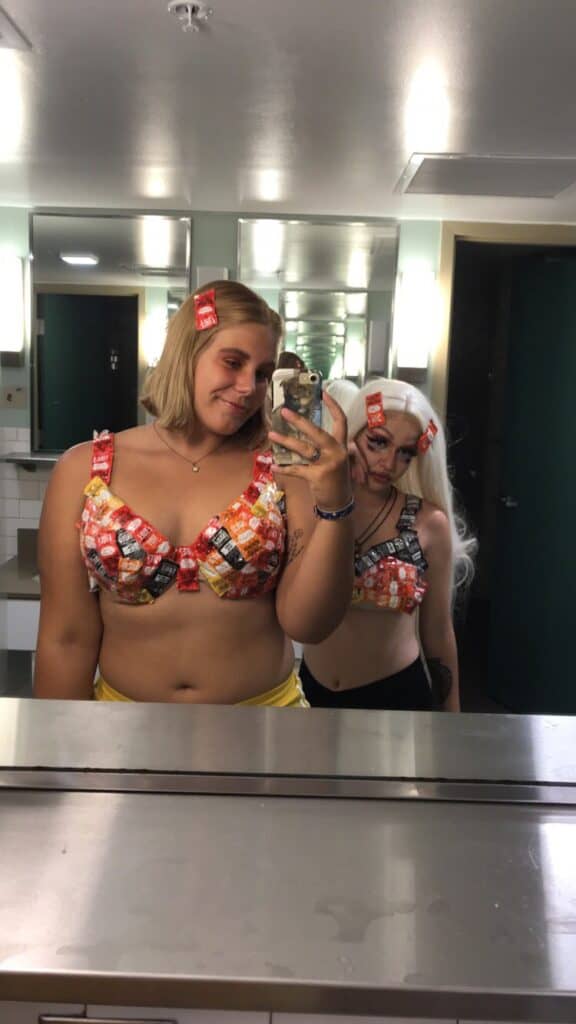 Looking for the spiciest costume idea? Make an outfit out of hot sauce packets from Taco Bell!
Super glue some hot sauce packets to an old bra or bandeau for a super cute party outfit. You could even make a skirt out of Taco Bell bags if you're feeling extra creative!
Also how cute are those hot sauce hair clips? Just glue some packets to these barrettes from Amazon.
8. Latex Gloves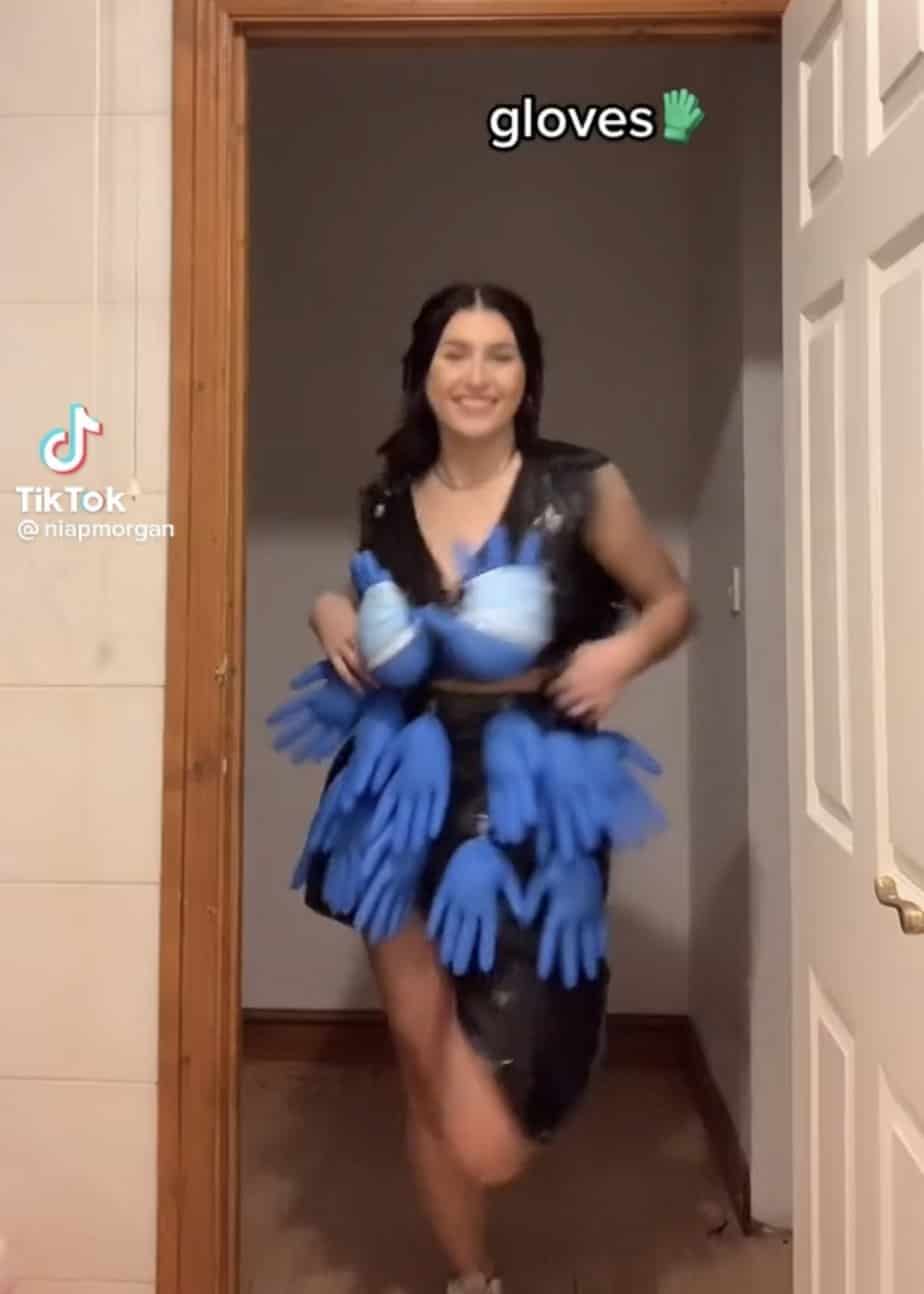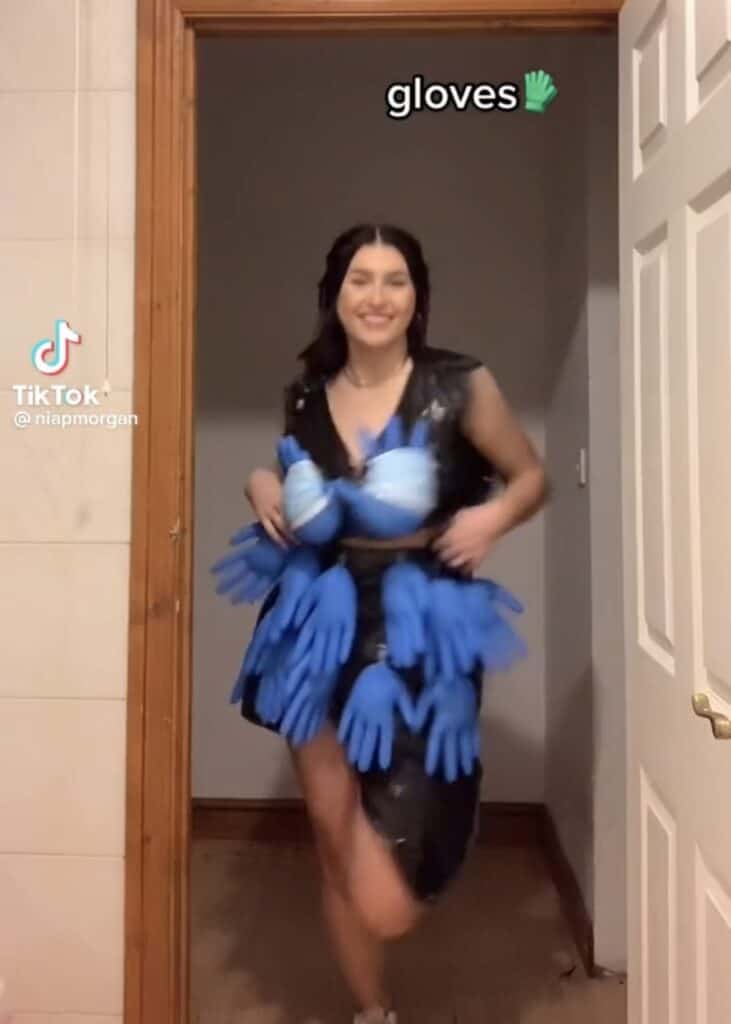 I'm absolutely obsessed with this outfit made from latex gloves for an ABC party. It's unique and creative but also super easy to recreate.
All you need to do is blow up some latex or rubber gloves and tie them off at the ends. Then you can secure the ends to a dress or other outfit underneath.
9. Playing Cards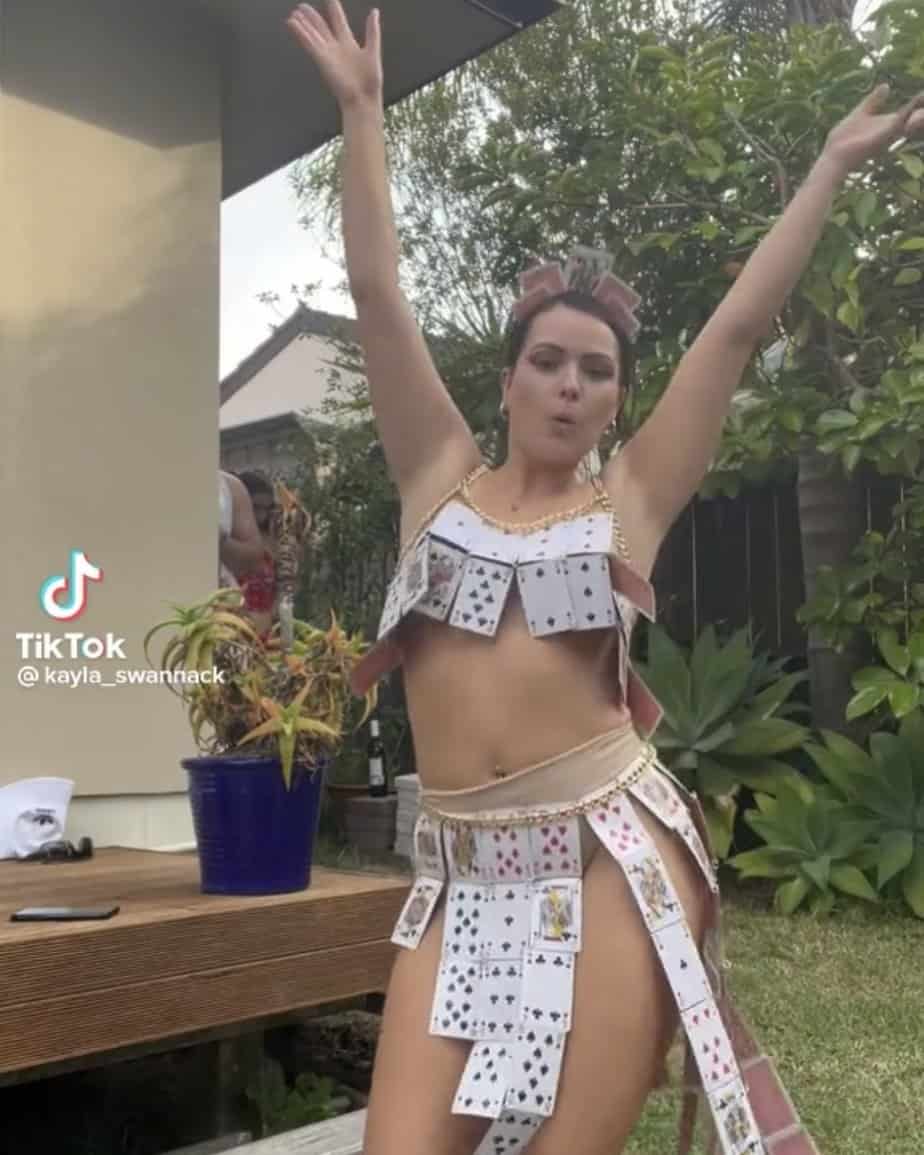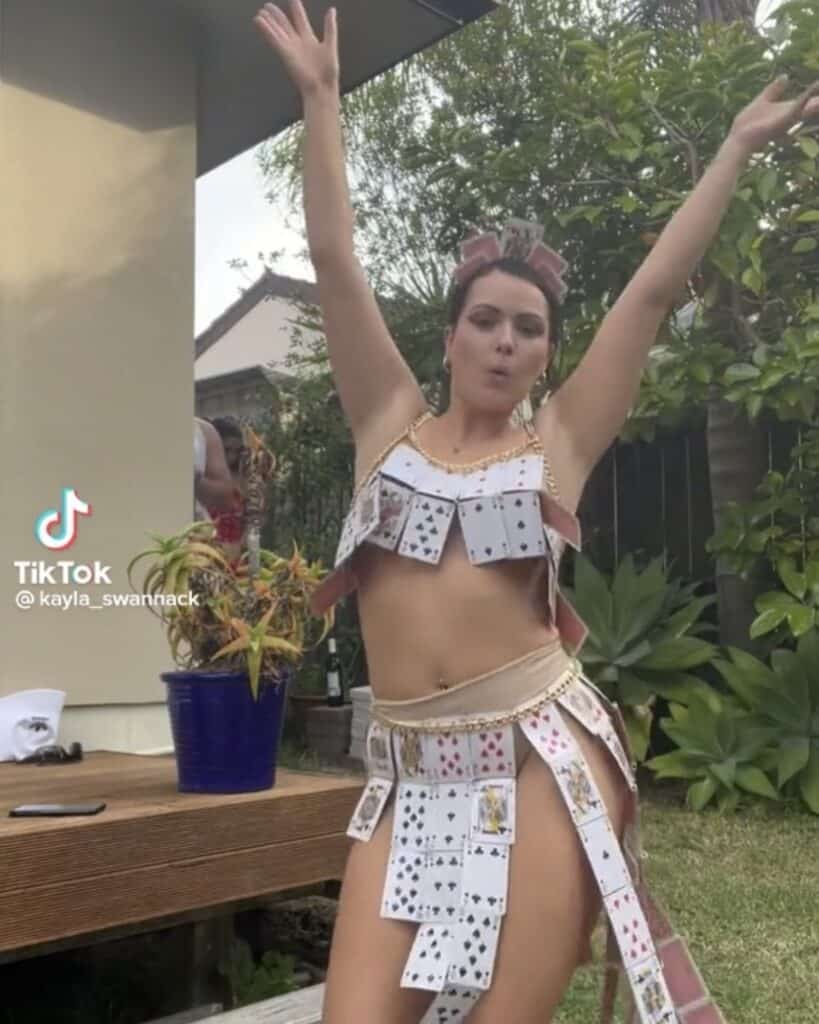 This playing card outfit is another one that I'm obsessed with! It's so artsy and creative.
Use tape or staples to make rows of playing cards. You can hang these from a chain belt and body chain to make this super creative playing card outfit.
I definitely recommend wearing some shorts under this outfit because a slight breeze could definitely expose you lol.
Recreate this ABC party outfit:
10. Ikea Bags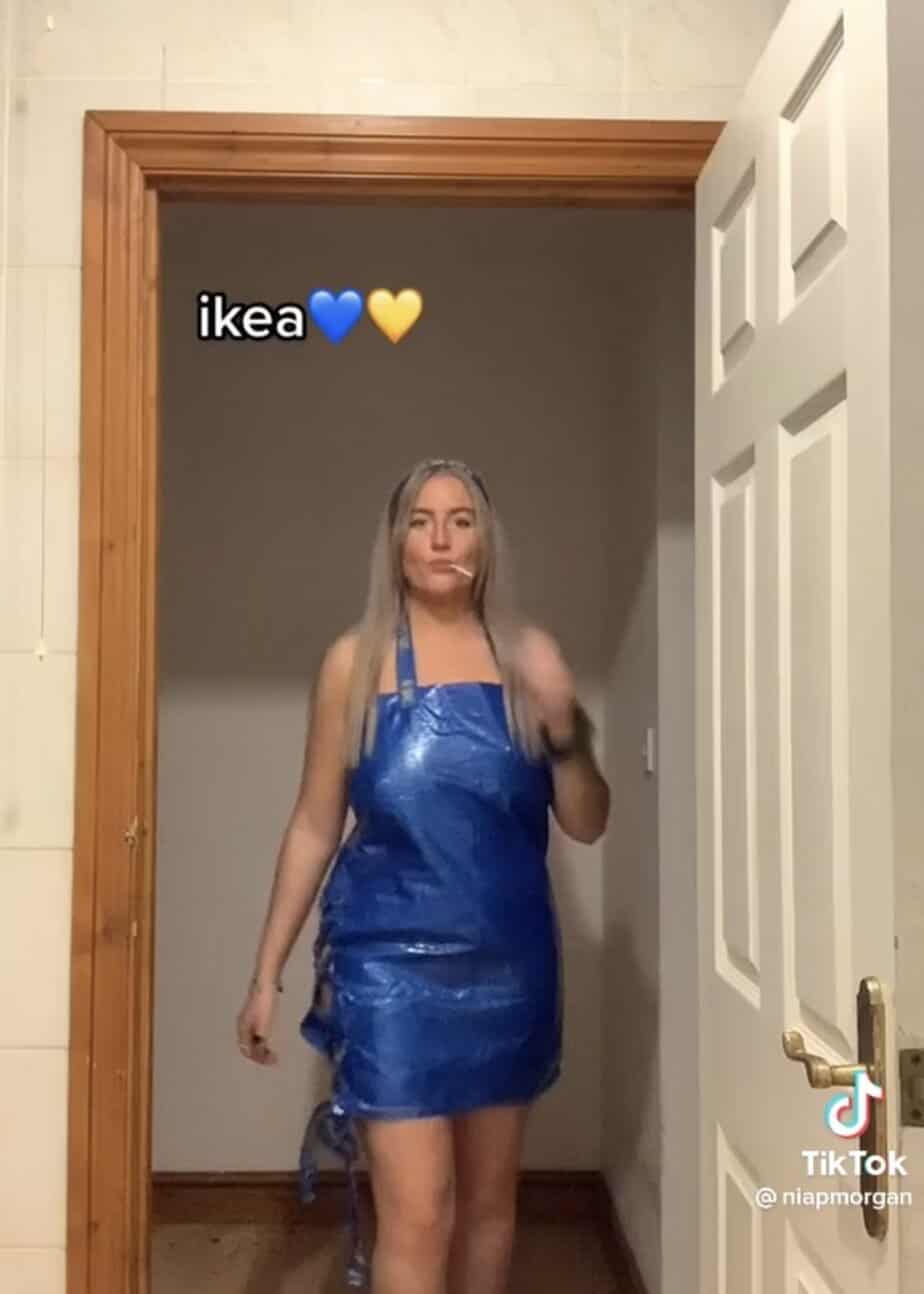 Ikea bags are another super popular item to use for ABC party costumes. They're super cheap and pretty much everyone has one laying around!
There are also a ton of different styles you can create with an ikea bag. I like the idea of using the handles as straps for a dress!
11. Towel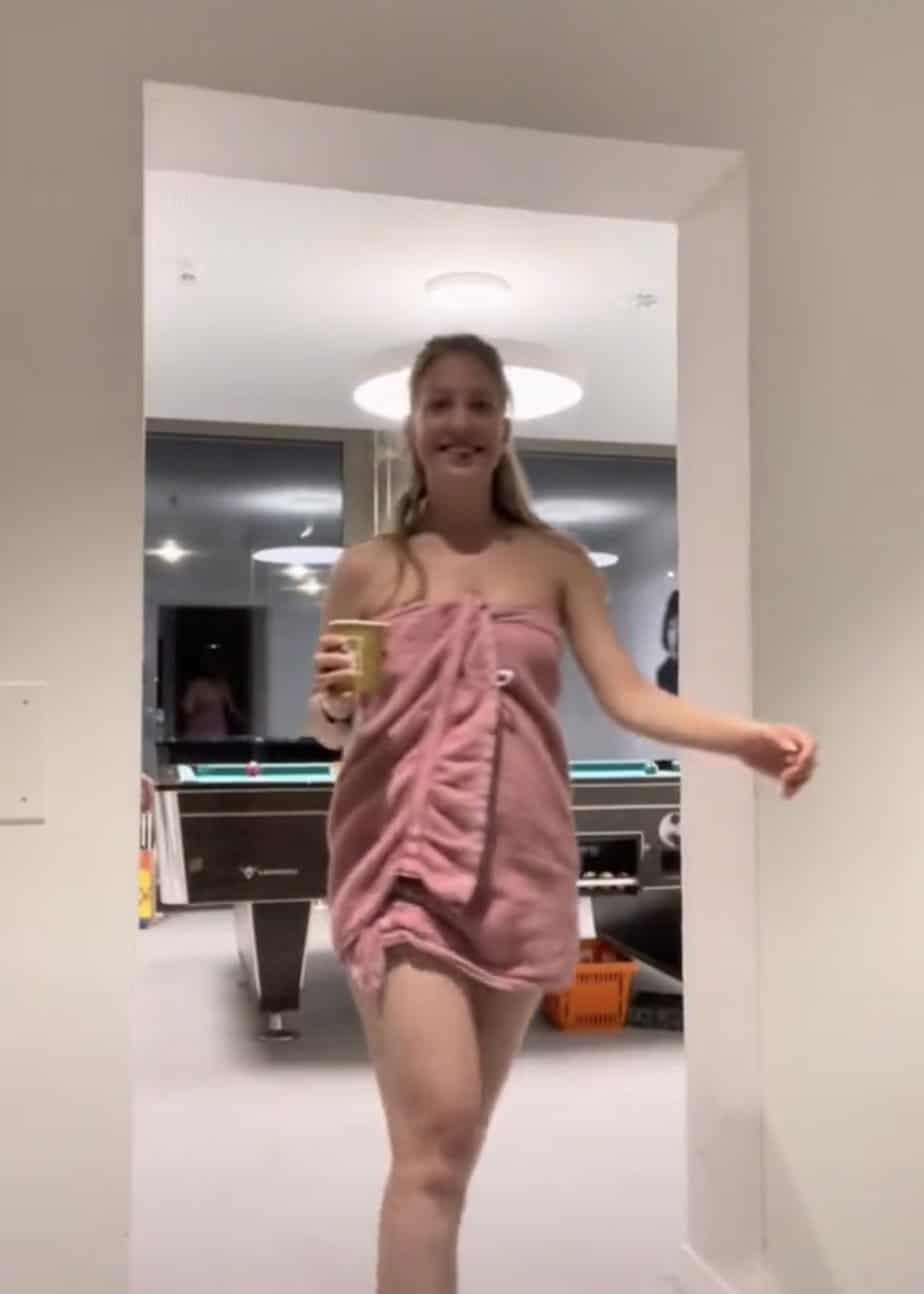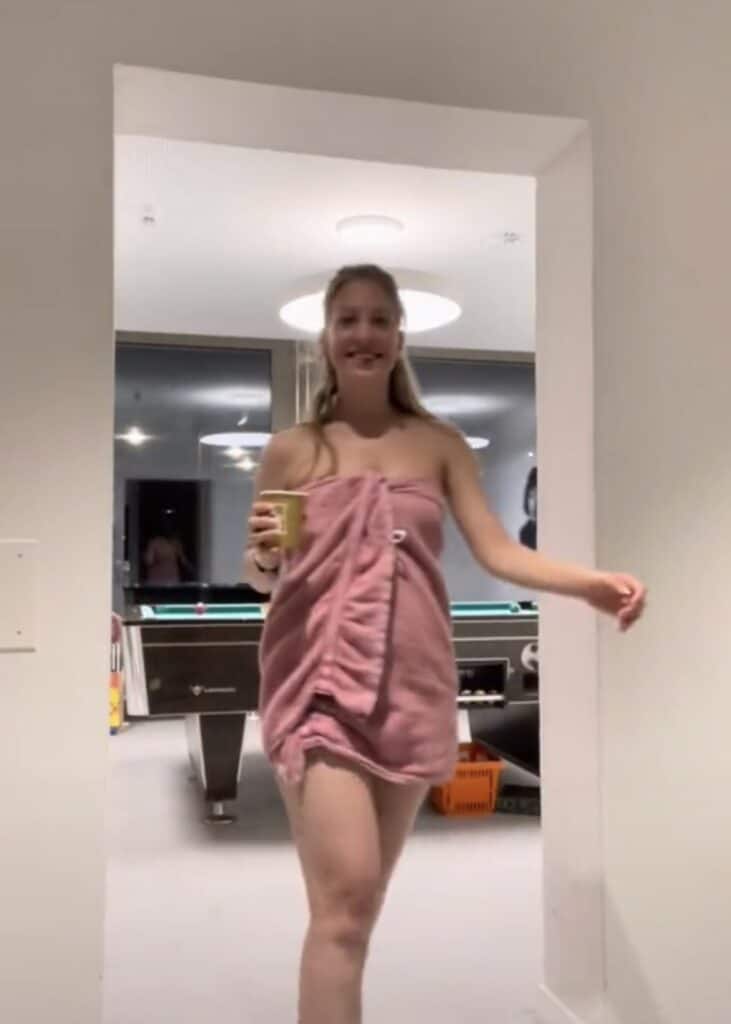 Looking for a super easy outfit idea for an anything but clothes party? Just wrap yourself up in a towel!
Make sure to use safety pins to secure your towel so you don't end up flashing everyone. Even with pins, it's still probably a good idea to wear a bandeau and shorts underneath just in case.
If you don't want to risk a wardrobe malfunction, you could buy one of these super practical towel wraps. They have an elastic top and velcro straps, making them a lot more secure than a regular towel!
I recommend towel wraps as a college dorm essential anyways because they're perfect for walking to and from communal bathrooms without your towel falling down!
12. Money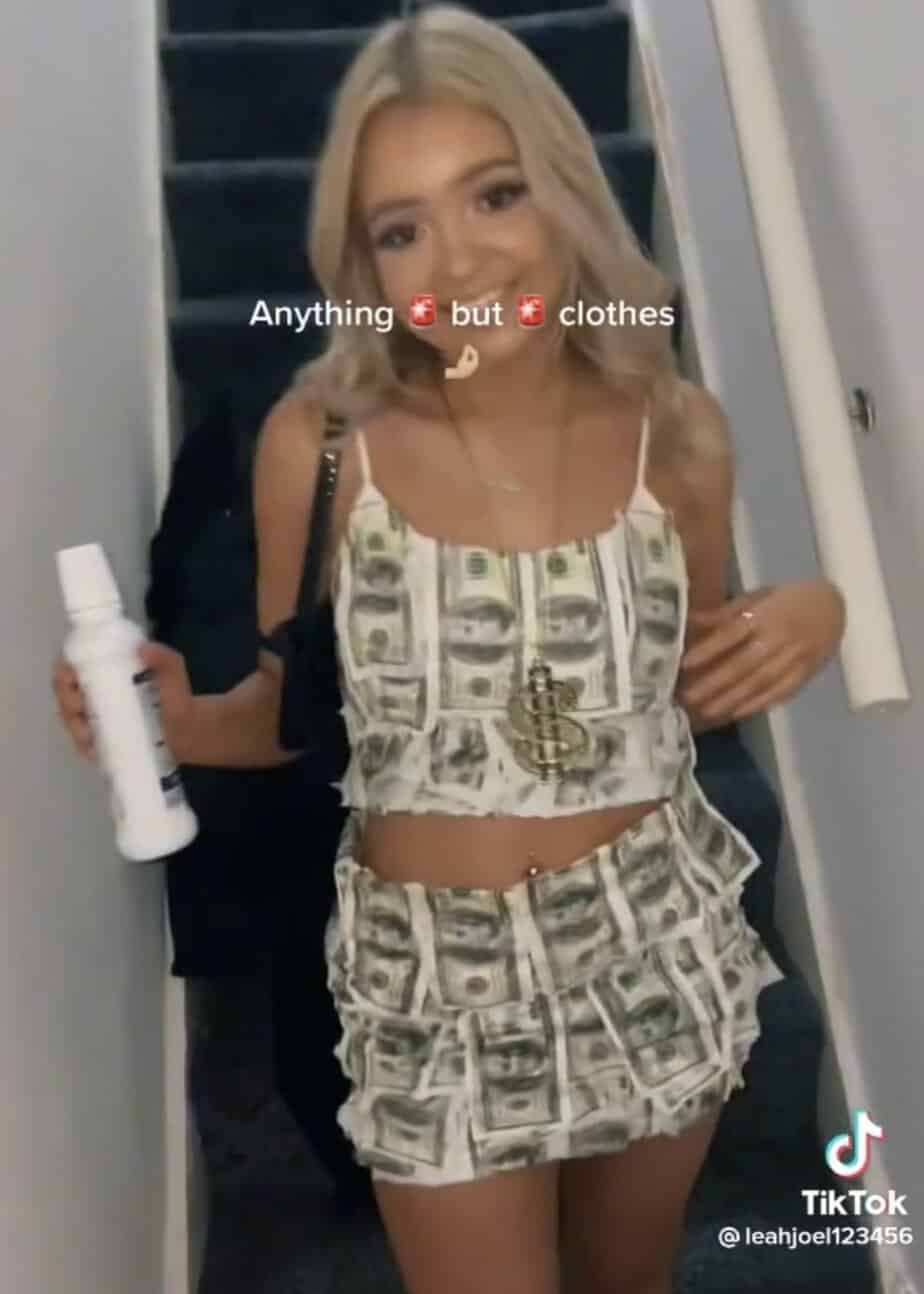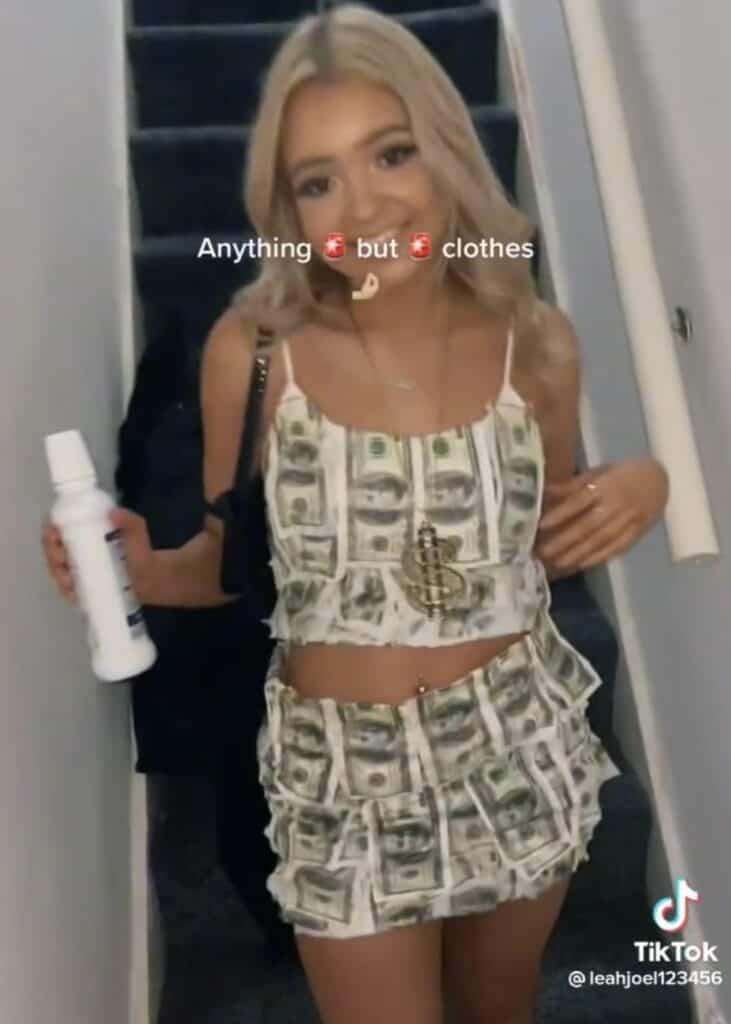 Want to make a big statement? Make an outfit out of hundred dollar bills!
Obviously you won't want to waste real money for this, so get a pack of fake hundred dollar bills on Amazon to use instead!
Recreate this Anything But Clothes party idea:
13. Bandanas
Bandanas are another super versatile item that you can use to create a cute abc party outfit.
Use safety pins to create a skirt and top out of multicolored bandanas for a super cute party look.
Here's what you'll need:
14. Pool Floats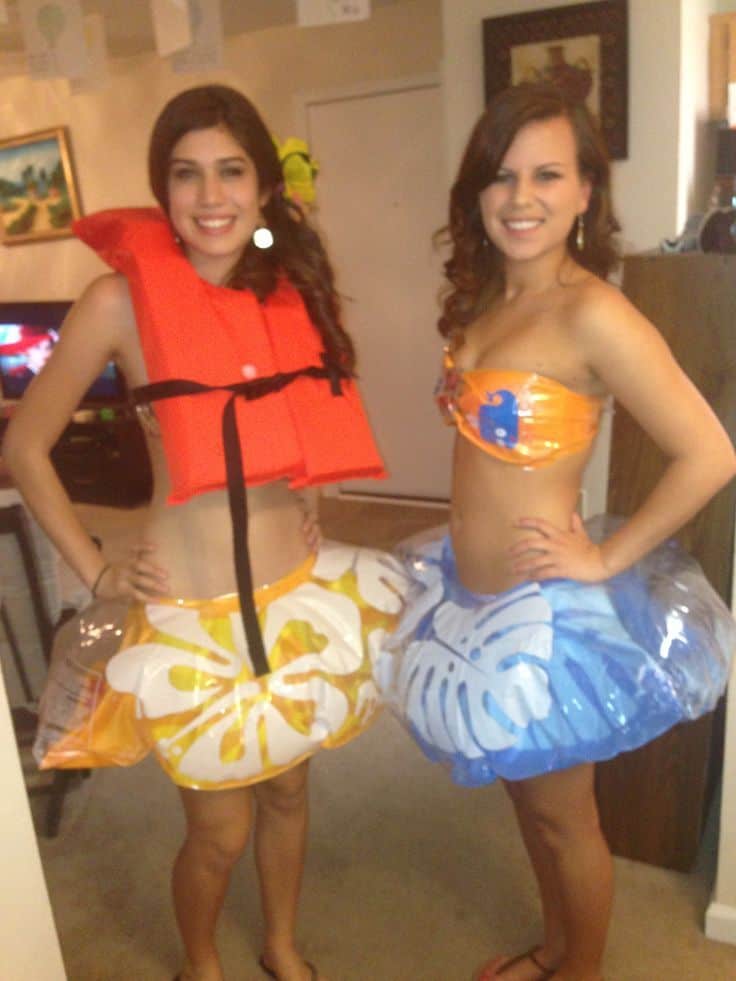 Another super creative anything but clothes party idea is to use pool floats and life jackets as clothing!
These donut shaped pool floats can be turned into skirts when they're partially deflated. For a top you could either just use a plain life jacket or make a DIY top out of some water wings.
Here's everything you'll need for this ABC party costume:
15. Fake Vines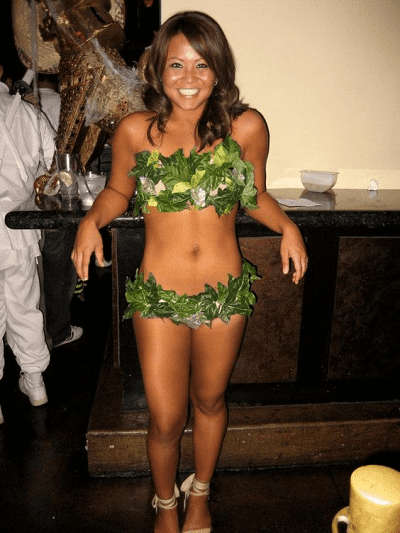 Vines are another versatile item that can be used to create a fun party outfit. Wrap fake vines around yourself to create a full dress or a super skimpy costume like the one above!
I love this idea because you can make it as modest or as revealing as you want it to be.
You can buy sets of faux vines on Amazon and they're pretty affordable. Bonus – you can use them for bedroom decor when the party is over!
Here are some great options on Amazon:
The Best Anything But Clothes Party Ideas For Guys
Don't worry men – this college theme party idea works for guys and girls!
Here are some of the funniest anything but clothes party ideas for guys.
16. Trash Bag Anything But Clothes Outfit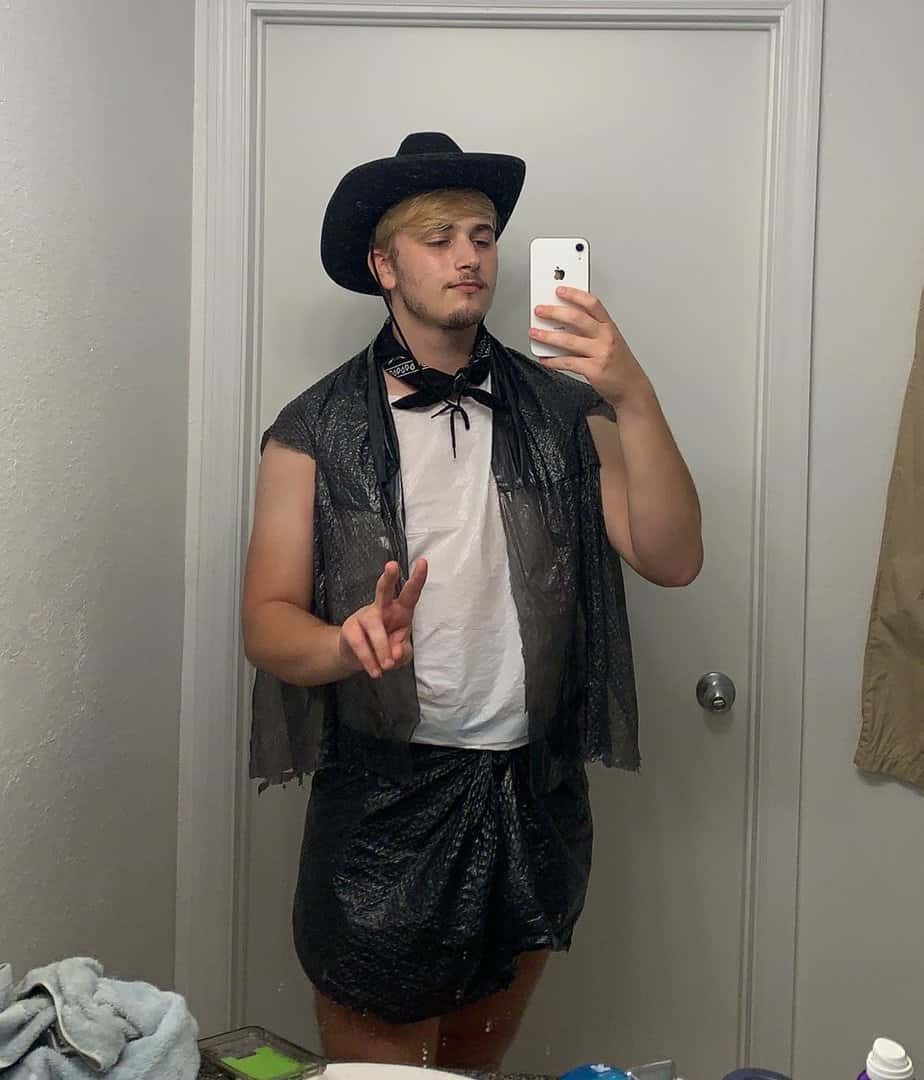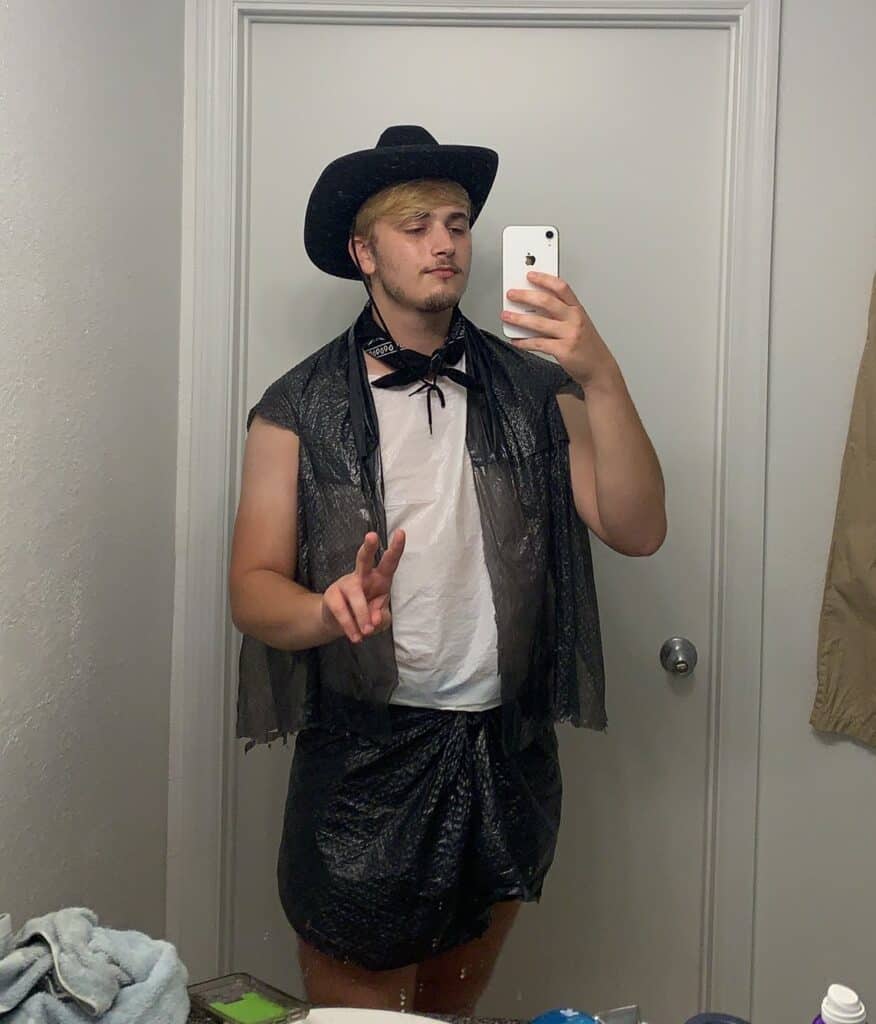 The trash bag outfit is a super common look for guys and girls. It's easy and there's so many different things you can do with it.
I absolutely love the idea of creating a vest and shorts out of trash bags for this fun college party. It's super creative and fun but it only takes a few minutes to recreate.
17. Hand Towels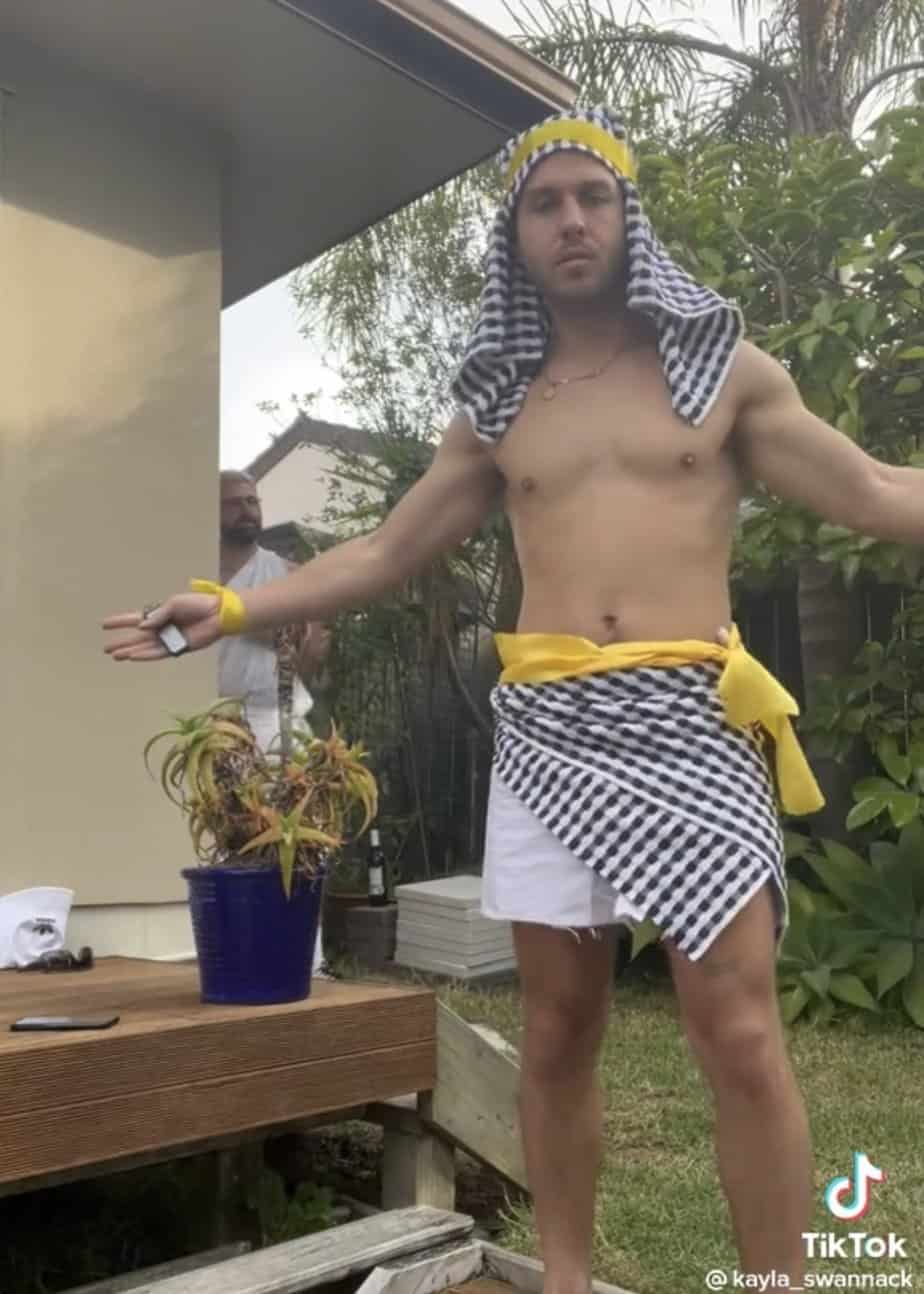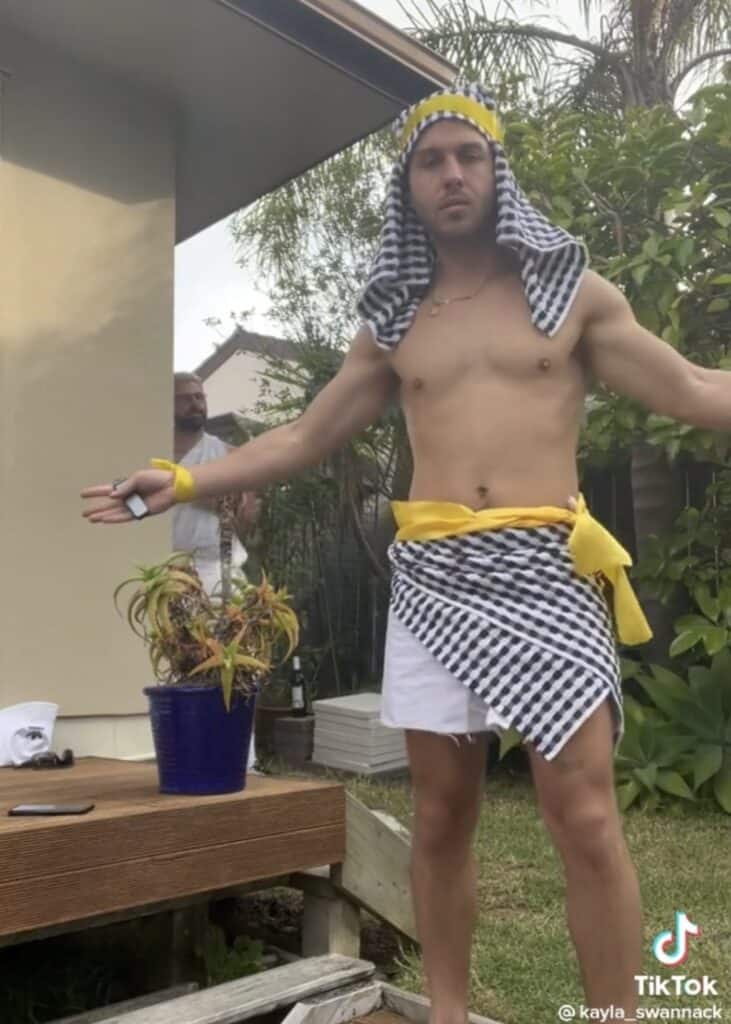 Towels are another object that can be used a ton of different ways for ABC parties.
Wrap them around your waist, drape them over your head, or tie a bunch of them together for a toga look.
18. Tinfoil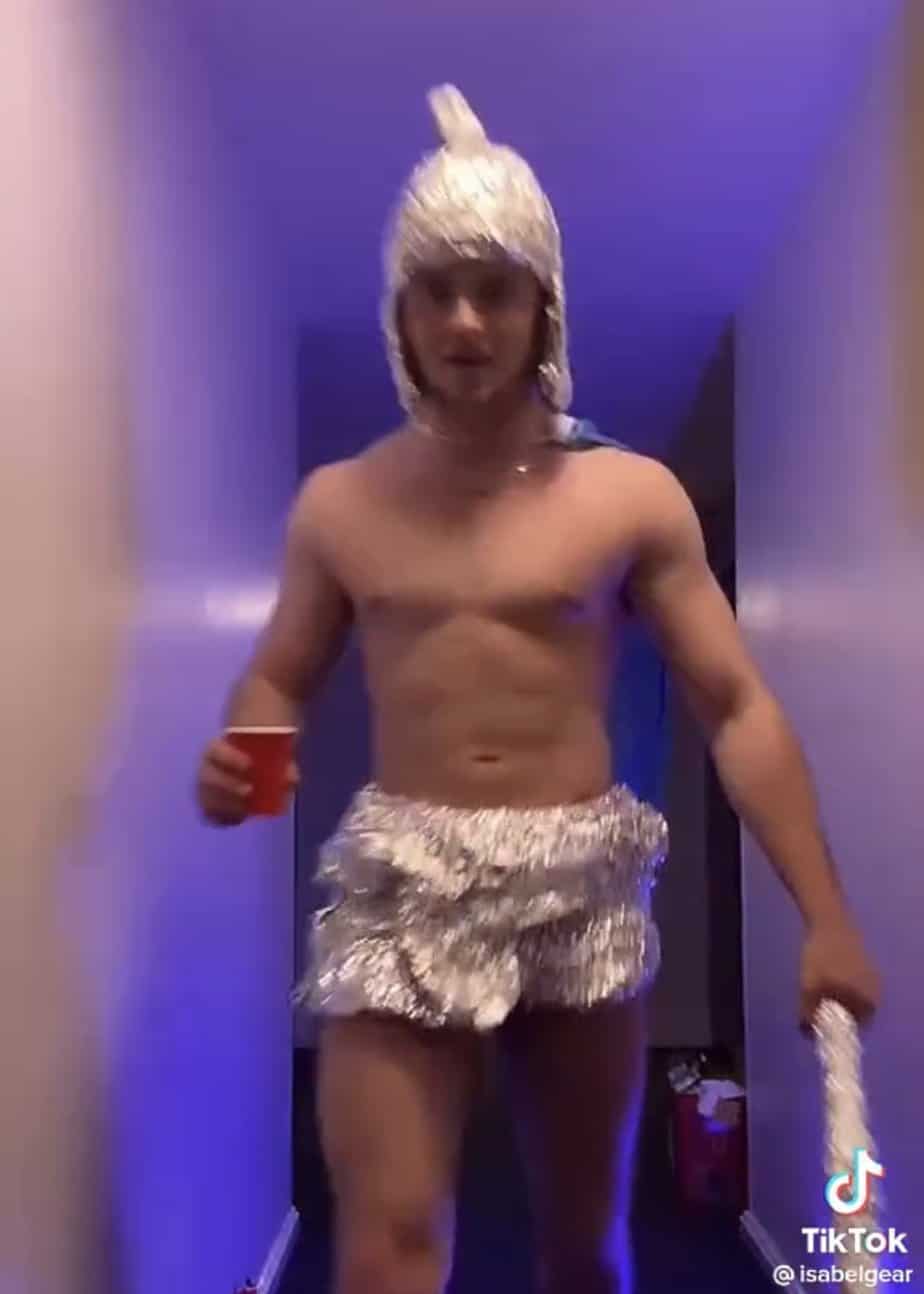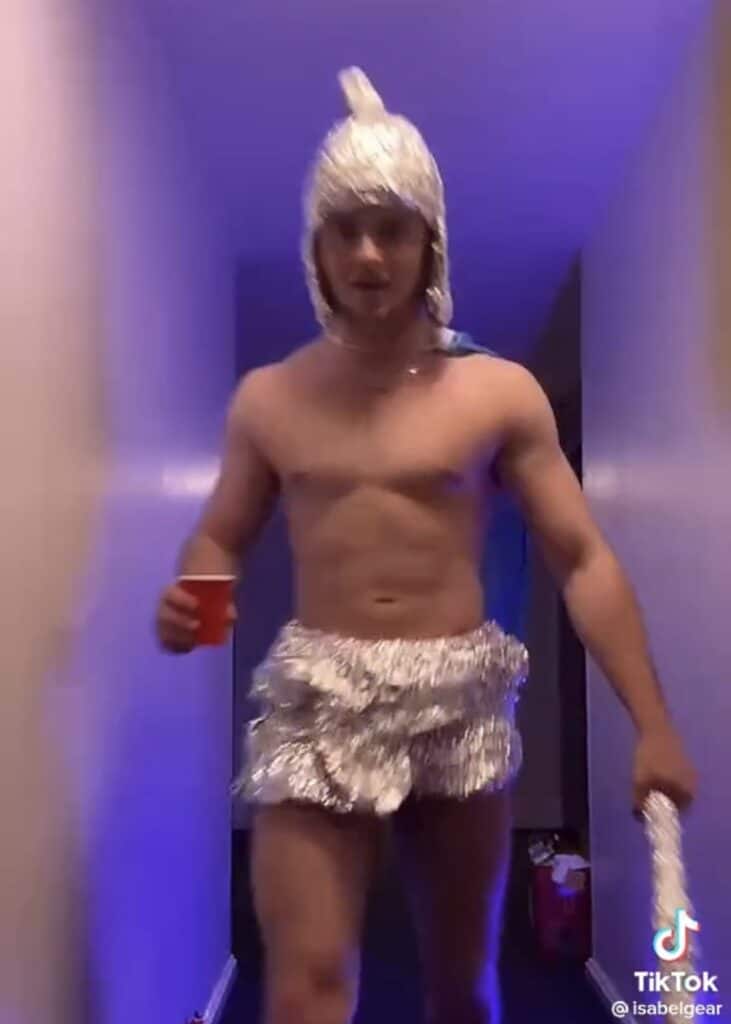 Like we said before, there are SO many different ways to make an outfit out of tinfoil. This ABC outfit for guys should give you the motivation to get creative with it.
You'll need a lot of tinfoil to pull off this outfit idea, so make sure you get a big roll.
Here's a great value option from Amazon:
19. Towel Wrap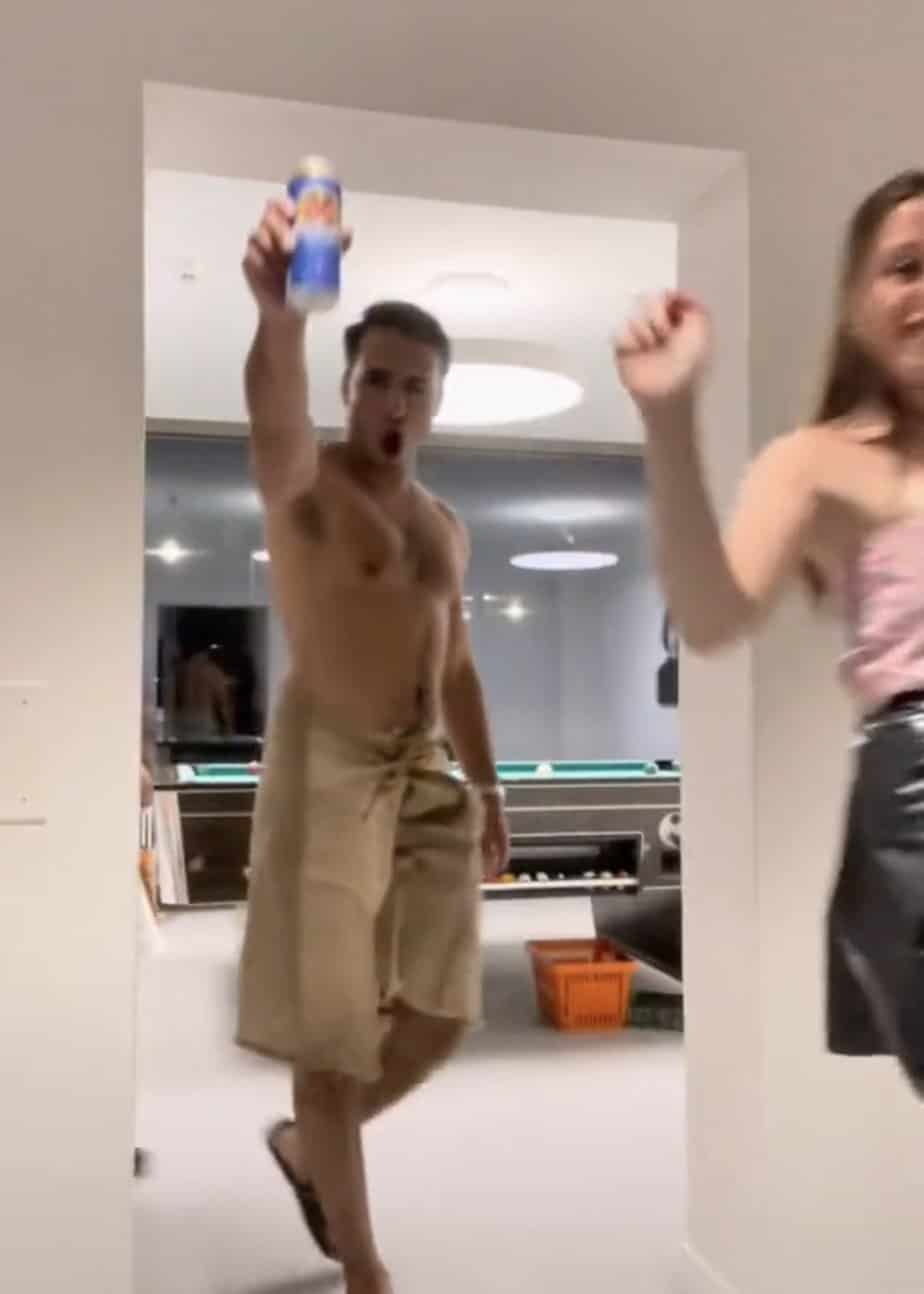 It doesn't get much easier than this ABC party outfit idea. Just wrap a towel around your waist and you're good to go!
20. Victoria's Secret Bag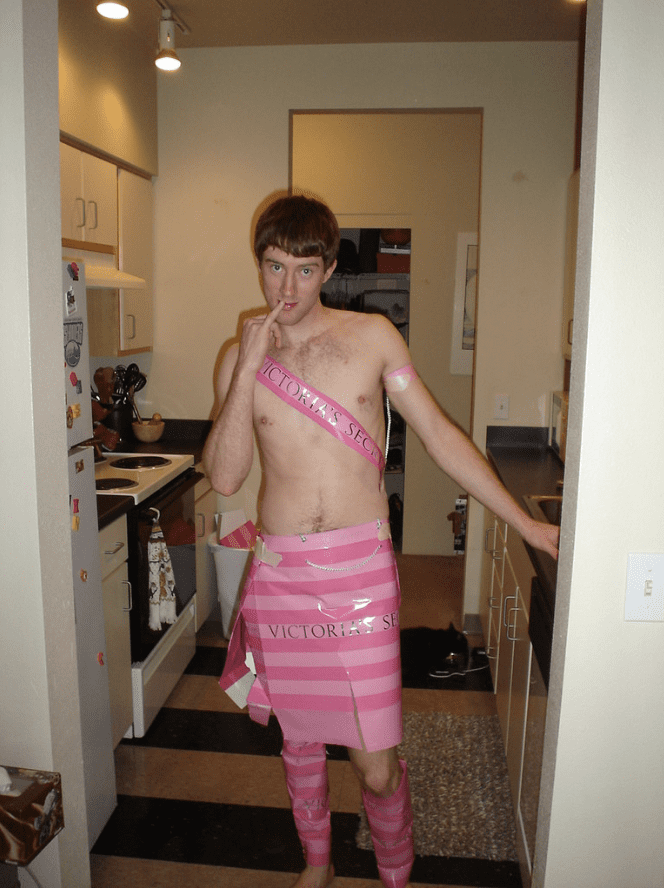 This outfit made from Victoria's Secret bags is absolutely hilarious. I love how this guy went the extra mile and made leg warmers out of the bags.
If you're a guy, just ask your girl friends if they have any extra Victoria's Secret bags lying around for you to use.
21. Beer Can Outfit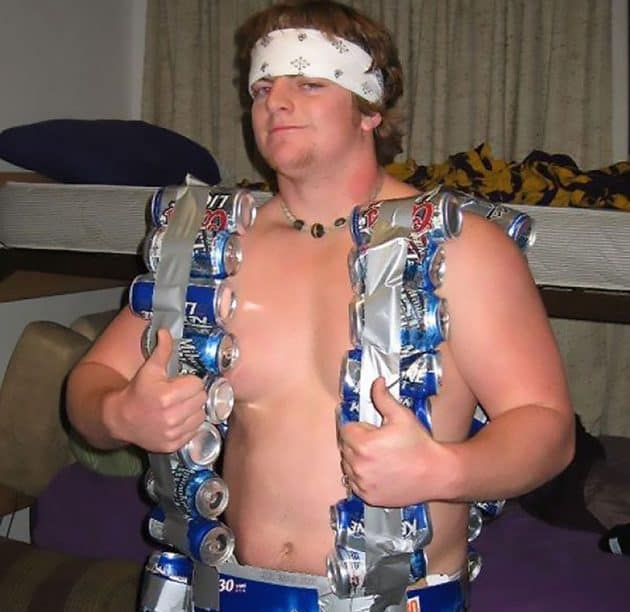 How creative is this beer can outfit? Tape some empty cans together to make suspenders, and then make your bottoms out of a beer box.
22. Backpack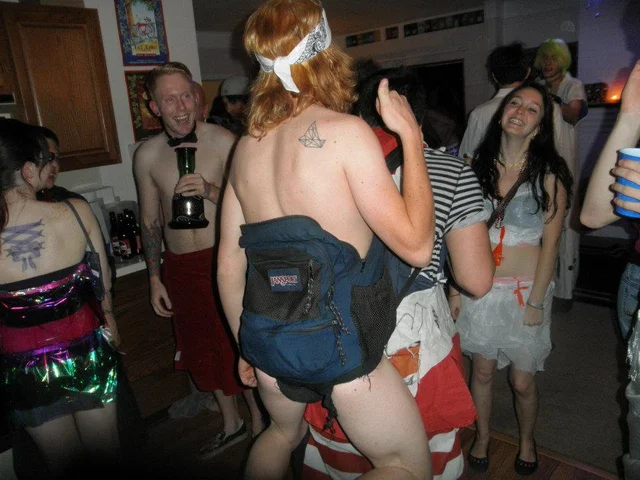 I was dying laughing when I saw this ABC party outfit. Cut some holes in a backpack for a super hilarious anything but clothes idea.
23. Beer Boxes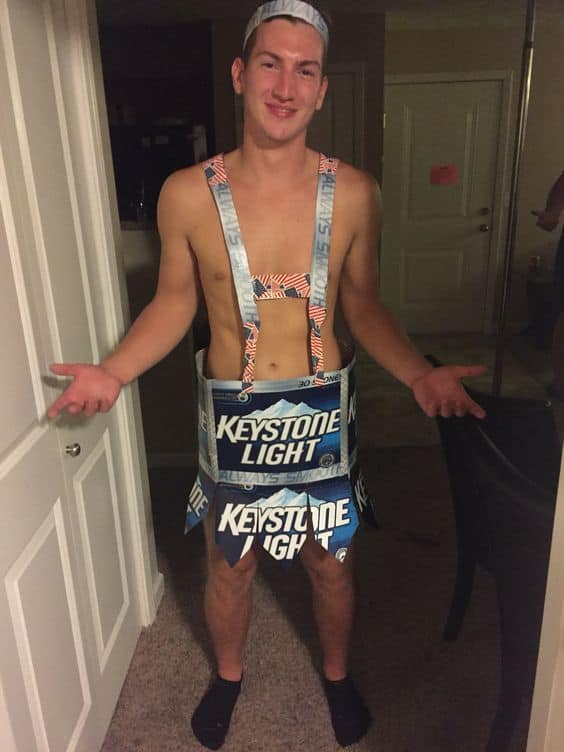 I love the creativity here! There's SO much you can do with beer boxes, and this outfit with suspenders is a really unique example of that.
Just make sure you wear something underneath – this is definitely a risky costume option!
24. Plastic Bags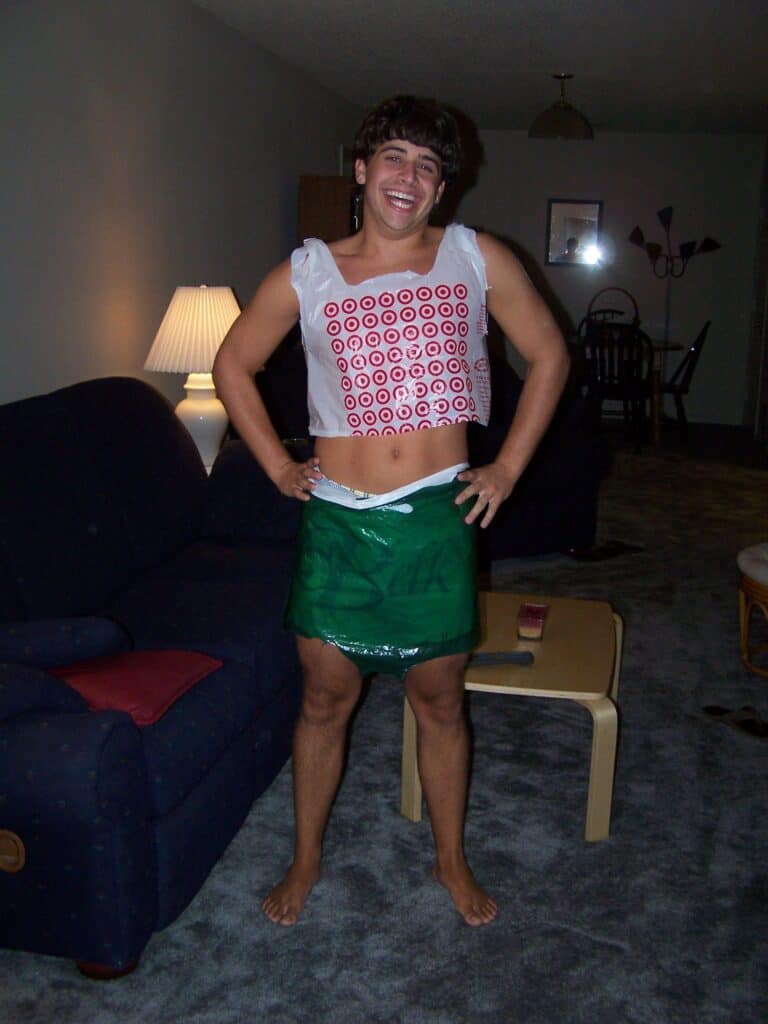 Cut the bottom off of a plastic shopping bag and you have yourself a super easy tank top! Reduce, reuse, recycle, am I right?
25. Pizza Box
If you really want to go all out, you need to recreate this hilarious pizza box idea for an ABC party.
Cut a hole in the center of a pizza box and make sure it covers your *parts* lol. You'll definitely have the funniest outfit at the party!
Even More Anything But Clothes Party Ideas
Need even more ideas for what to wear to an ABC party? Here are 20 more creative anything but clothes costume ideas that you can copy.
26. Duct Tape
27. Body Paint
28. Shower Curtain
29. Flag
30. Wall Tapestry
31. Burlap Sack
32. Candy Wrappers
33. Monopoly Money
34. Magazines
35. Newspaper
36. Envelopes
37. Gauze
38. Wrapping Paper
39. Egg Cartons
40. Post It Notes
41. Menstrual Pads
42. Feather Boas
43. Yoga Mat
44. Toilet Paper
45. Chip Bags
Tips And Tricks For Anything But Clothes Parties
Avoid Wardrobe Malfunctions!
Getting creative with your outfit is a lot of fun, but flashing the whole party definitely isn't. Make sure your outfit is super secure with double sided tape, safety pins, and anything else you need for it to stay on.
I recommend wearing a nude colored dress or shorts underneath your outfit, just to be extra sure!
Have Some Prizes
If you're the one throwing the party, you definitely should have some prizes for the funniest outfits.
This will incentivize people to show up in their craziest outfits and have way more fun with the party theme!
It May Go By Other Names
Depending on where you are in the world, you may have different names for anything but clothes parties.
Here are some common names for this party theme:
ABC Party – this is the most common nickname for this party theme! It also has been used for Anything But A Cup parties in recent years, so definitely double check with the party host if it's unclear.
Anything Goes But Clothes Party
No Clothes Allowed Party
Not Clothes Party
Everything Except Clothes Party
No matter what you call it, the rules stay the same. No clothes allowed!
Give People Ideas
Some of your guests probably haven't heard of this college party theme before. They may be struggling to come up with ideas for what to wear.
Give them some ideas of easy "not clothes" items that they can wear when you send out invitations.
This post was all about the best anything but clothes party ideas.
You may also like: