35 Memorable 21st Birthday Themes For Your Party This Year
Want to throw a party that no one will forget? Here are 35 super memorable 21st birthday themes for your party this year.
This post may contain affiliate links, which means I'll receive a commission if you purchase through my link, at no extra cost to you. Learn more: Affiliate Disclaimer.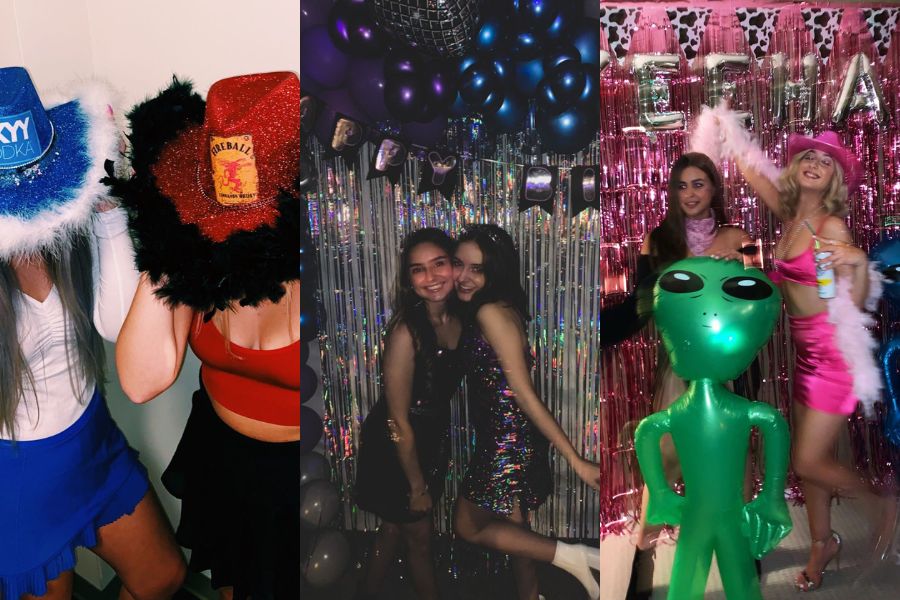 There's not much in this world that gets me more excited than planning parties, ESPECIALLY when it's a theme party.
If you want to go all out for your 21st birthday, I highly recommend having a party theme.
Whether you make everyone dress up in costume or you just throw up a few decorations, 21st birthday themes make the whole party a lot more fun!
When I was researching 21st birthday themes, a lot of the ones I found were super tacky or boring.
So I decided to put together a list of 35 super creative 21st birthday themes that will make for such a memorable night.
I can pretty much guarantee you'll find a 21st birthday party theme you love on this list!
21st Birthday Themes
1. Disco 21st Birthday Theme
One of my favorite 21st bday theme ideas is to have a disco party!
Hang a bunch of silver metallic decorations, have everyone dress in retro outfits, and blast 70s dance music all night!
This would be such a fun party idea if you have friends that love to dance.
Recreate this 21st birthday theme:
2. Red Flag Party Theme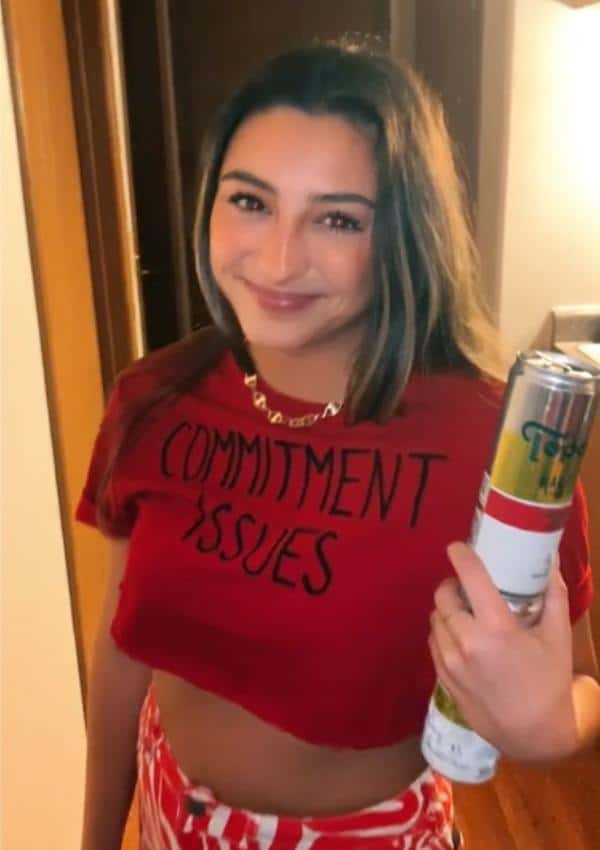 One of the most hilarious 21st birthday themes is a Red Flag party.
For this party theme, everyone comes dressed as their worst trait. Basically, it's the aspect of your personality that makes you less desirable.
Everyone at the party comes dressed in a red t-shirt with their "red flag" written on it. For example, someone could write "daddy issues", "always right", or "doesn't text back" on their shirt.
If you're not sure where to start with this theme, we have a whole list of funny red flag shirt ideas for a party.
3. ABC (Anything But Cups) Party
Okay, I am absolutely obsessed with this party theme. Basically, everyone brings an item to drink out of that isn't a cup.
The more outrageous, the better! I've seen people use a shoe, soap dispenser, garbage can, fishbowl, watering can, and a ton of other crazy things.
I have a full post outlining some of the best Anything But Cups Party ideas if you need some more inspiration!
4. ABC (Anything But Clothes) Party
Another fun party theme that requires some creativity! For this one, everyone has to show up wearing anything but clothes.
People will show up wearing trash bags, boxes, caution tape, etc. Again, the more outrageous the better with this 21st birthday party theme!
5. Tropical 21st Birthday Party
Would you rather be on a beach? Throw a tropical themed 21st birthday party!
There are so many cute decor options for tropical parties on Amazon, so you'll be able to deck your whole party venue out for really cheap.
Recreate this birthday party theme:
6. Dress As Your Favorite Liquor Party
This is another classic theme idea for a 21st birthday. Celebrate that you're now the legal drinking age by having everyone come dressed as their favorite liquor.
A super easy way to do this is just to print out the label of your favorite liquor and stick it to a cowboy hat that matches it.
[RELATED: 21st Birthday Party Ideas For an Unforgettable Night]
Recreate this 21st birthday party idea:
7. Space Cowboy Party
The space cowboy theme seems to be THE theme of the past year or two.
Everyone is doing space cowboy halloween costumes, bachelorette parties, sorority theme nights, etc. So why not use it as a theme for your 21st birthday party?
All you really need is a metallic outfit and a cowboy hat to pull the look off.
And you can decorate with metallic streamers, cowboy themed banners, and blow up aliens. Such an Instagram-worthy party idea.
[RELATED: How To Create A Picture-Perfect Space Cowgirl Costume]
Recreate this 21st birthday theme:
8. Early 2000's Party
How iconic is this 21st birthday theme? Everyone dresses in early 2000s fashion.
Bring on alllll the velvet tracksuits, bandanas, baby tees, low-rise jeans, and giant chains.
[RELATED: The Cutest 21st Birthday Photoshoot Ideas]
9. Elegant Garden Party
Want to celebrate 21 in a really classy way? Throw an elegant 21st birthday garden party!
All you really need is a nice outdoor space and some tables and chairs to pull this off.
Bonus points if you can hang some string lights around and add vases of flowers to the tables.
10. Brunch Party
If you're going out at midnight on the night of your 21st, make sure you have a good recovery brunch planned with your friends for the next day!
Hang some "21" balloons, serve up Bloody Marys and Mimosas, and make sure no one plays the music too loud lol.
Recreate this birthday theme idea:
11. Traffic Light Party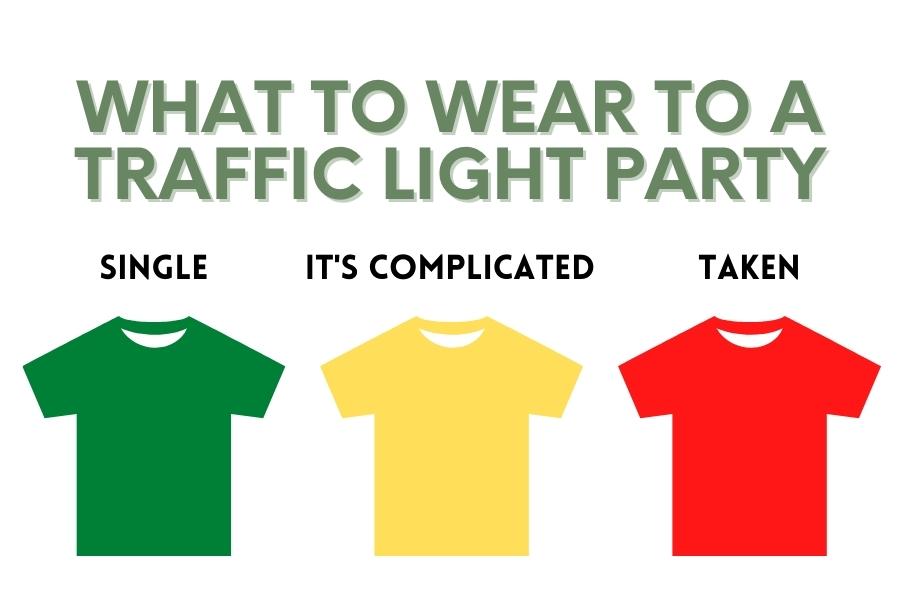 Having a big 21st birthday party? The traffic light party theme is the perfect theme for big groups of people.
For this theme, you basically come dressed as your relationship status.
Green is single, yellow is "it's complicated", and red is taken. It's a great way to encourage your guests to mingle a little bit more.
Who knows? There might end up being some serious love connections that come out of this party.
Read more about the traffic light party theme here.
12. Poker Night
Most people focus on the alcohol when they turn 21, but there are some other things that become legal once you hit that age as well.
Celebrate the milestone with a poker night with friends.
Make some classy cocktails, get a deck of cards, and have everyone throw in a few dollars to raise the stakes a bit.
13. Glam Champagne And Blush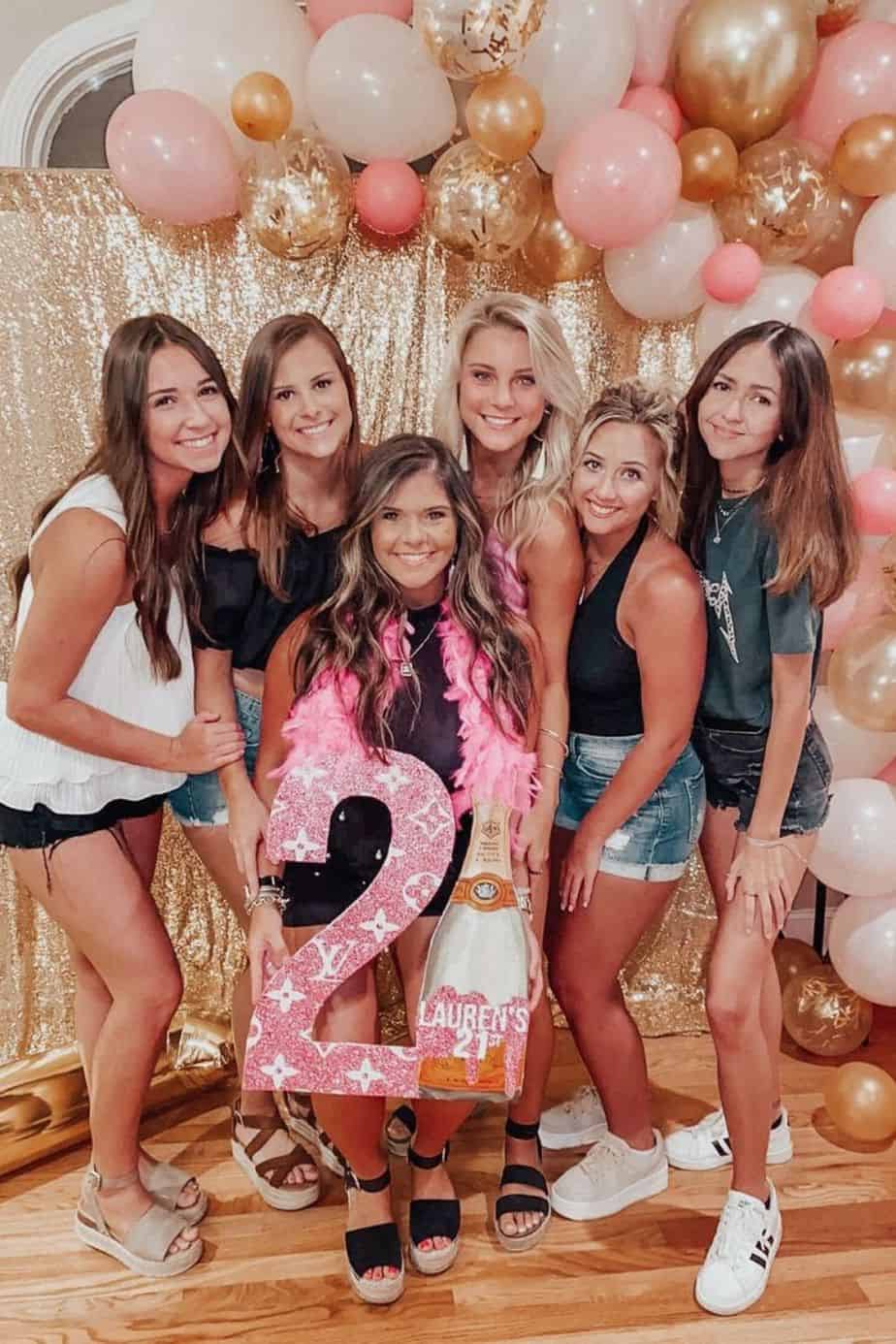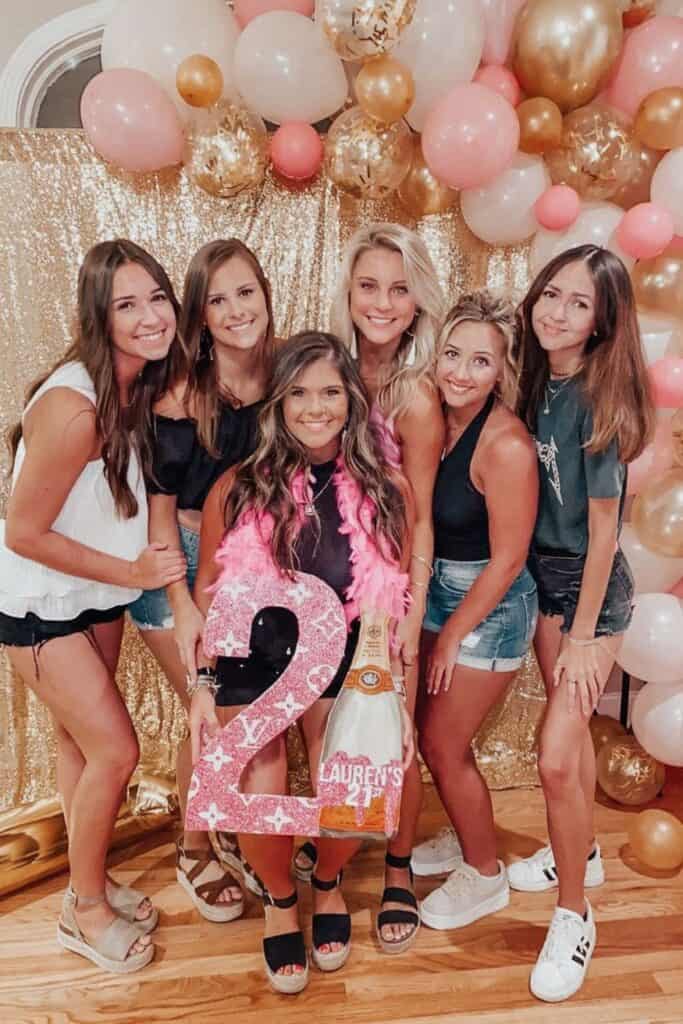 If you want a super glam and girly 21st birthday theme, go all out with gold and blush colored decorations!
I love how they set up this rose gold photo backdrop. This would be a great 21st birthday party theme for a brunch or daytime party.
Recreate this 21st birthday theme:
14. Mean Girls Party Theme
There are actually SO many cute Mean Girls themed decorations on Amazon. Some of my favorites are:
Make sure everyone dresses in their favorite Y2K outfits! Also the tank top with the holes cut out? So fetch.
Recreate this 21st birthday party theme:
15. Underwater Party
How creative is this underwater "hammered" themed 21st birthday?
If you love all things aquatic, this is the perfect birthday idea for you.
Recreate this party theme:
16. Mamma Mia Party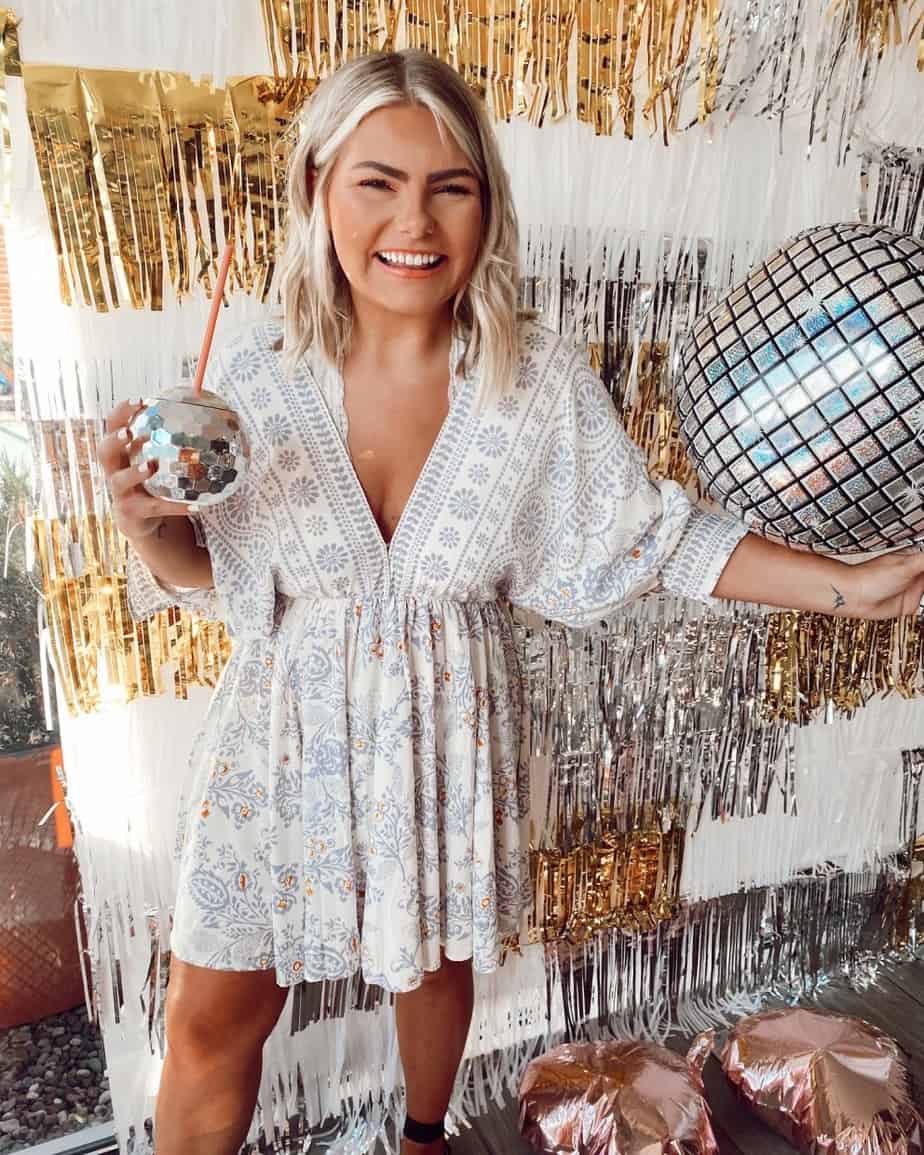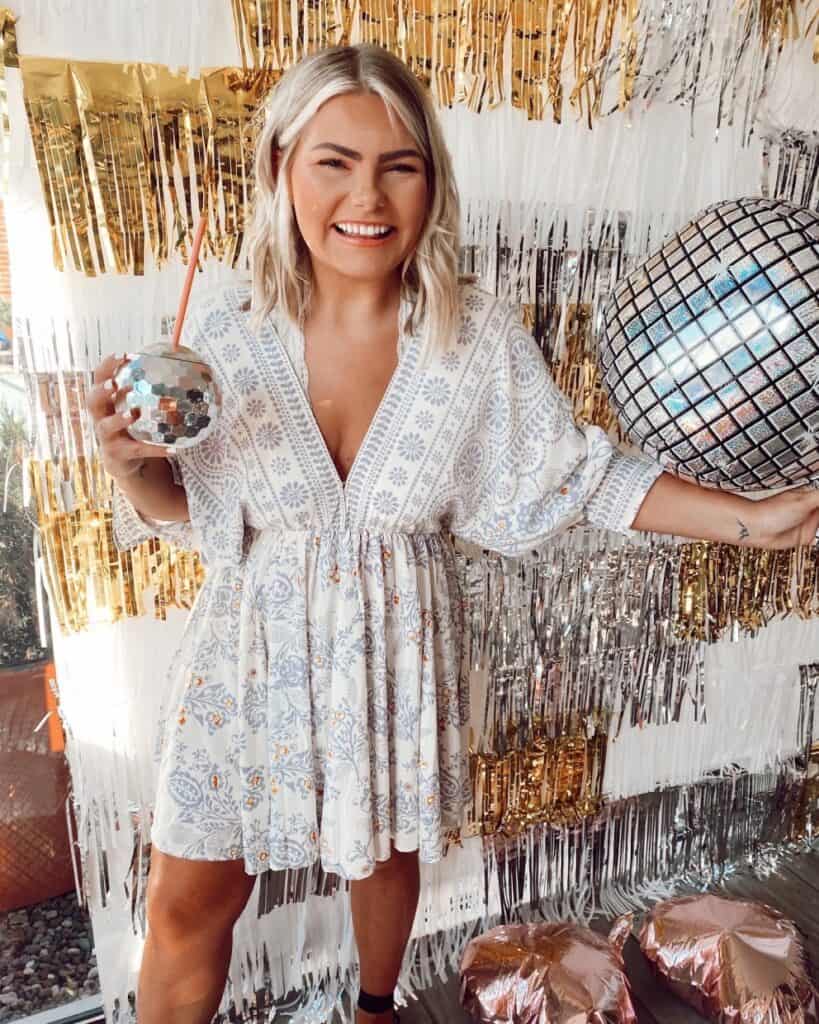 Bring out your inner dancing queen with this creative 21st birthday theme.
You can serve up greek food, drink out of disco balls, and dance the night away!
Recreate this party theme:
17. Roaring 20s Party
I want one of my friends to throw a roaring 20s themed birthday party soooo badly!
I think it would be so much fun to dress up like flapper girls, drink fancy cocktails, and go all out with the art deco party decorations.
This would be such a fun 21st birthday theme idea.
Recreate this 21st birthday party theme idea:
18. Pajama Party
This is another super fun 21st birthday idea for anyone who wants to keep things a little bit more low-key. Have everyone dress up in pajamas and stay in with drinks and takeout.
If you want to make this theme a little bit more *spicy*, you could have everyone wear nightgowns or lingerie.
19. Prom Theme Party
Okay, hear me out on this one. I saw this on TikTok and I actually think it sounds SO fun!
Have everyone dress up like they're going to prom and blast all of the hits from when you were in high school.
20. Drinking Yard Games Party
If you're turning 21 in summer (or you live somewhere warm year-round), you have to throw a 21st birthday party with a bunch of drinking yard games!!
Get some giant beer pong (or this super classy Prosecco pong), giant drunk jenga, flip cup, etc. This site has a ton of really fun ideas for backyard drinking games.
21. 70s Theme
Okay how adorable is this theme idea? There are so many different outfit ideas from the 70s, so everyone will end up looking totally different.
You could go with the flower child look, go-go dancer outfit, disco themed, etc.
Recreate this party theme:
22. Harry Potter Theme Party
I don't care how old you are, a Harry Potter themed birthday party is always fun! Plus, with the new reunion special, everyone is rewatching the series right now.
Have everyone dress up as their favorite character, serve up some butter beer, and hang some magical fairy lights.
Recreate this party theme idea:
23. Jungle Party
My best friend recently had a jungle themed bachelorette party and it was SO much fun!
They decked the place out in balloon arches, tropical leaf decor, vines, etc. Everyone showed up in animal print and got super into the theme.
She also had animal floaties for everyone since we were celebrating at a lake house!
This would be SUCH a fun 21st birthday theme because pretty much everyone has animal print clothing somewhere in their closet.
Recreate this theme idea:
24. Vegas Party
If you can't make a trip to Vegas for your 21st, bring Vegas to you!
There are a ton of really fun Las Vegas themed party decorations online, so you can go all out for this party theme.
Recreate this party theme:
25. Boho Party Theme
If you're looking for good 21st birthday party decor ideas, you can't go wrong with the boho theme.
This would be such a cute idea if you were doing a backyard or picnic party for your birthday celebration.
[RELATED: 13 Super Trendy Boho Christmas Decor Ideas]
26. 90s Party
Another super fun decade themed 21st birthday party! Go all out 90s for this party theme.
There are SO many good 90s themed party decoration ideas on Pinterest so definitely check those out for inspo.
27. Neon Theme Party
One of my favorite 21st birthday themes is a neon party!
Have everyone dress in white, hang glow in the dark balloons, and set up a black light for ultimate neon vibes.
Recreate this 21st birthday party theme:
28. Camping Party
The granola girls will get it. Invite all of your friends to go camping for your 21st birthday!
Get a group camping spot and have everyone bring food and drinks to share. Just make sure that alcohol is permitted at your campsite if you want to bring any!
29. Little White Lies Party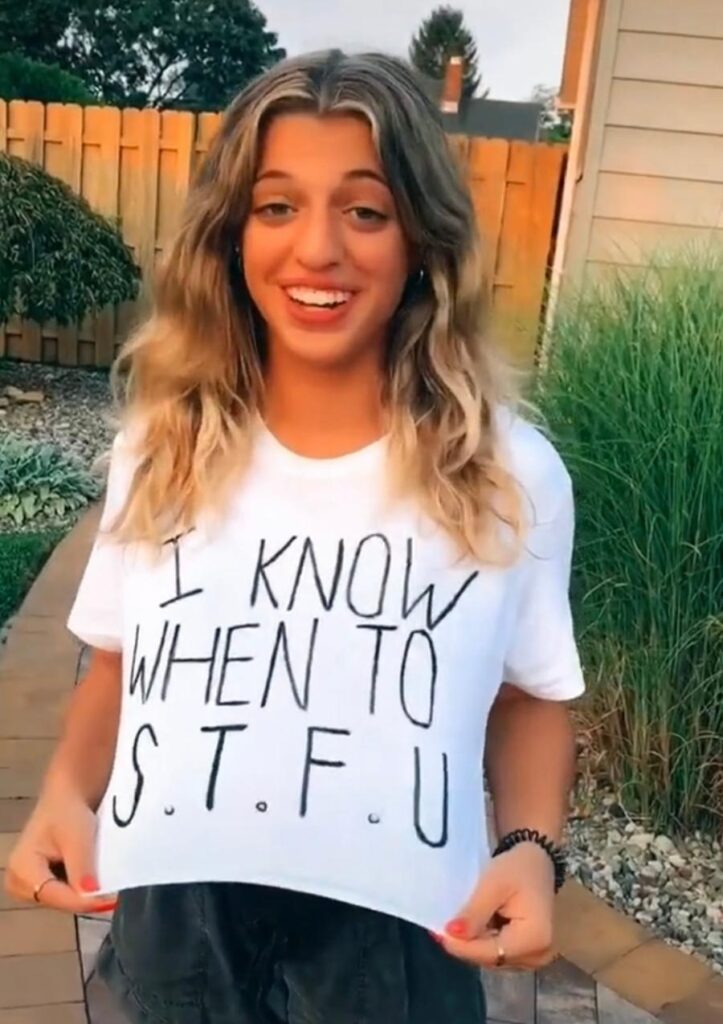 I saw this 21st birthday party theme idea on Tik Tok and I thought it was genius! Everyone wears a white top and writes a white lie about themselves on it.
Some of the funniest ones I've seen are "I don't like the attention", "I'm really 6 feet tall", "I'm over him", "I am a good driver", etc.
Need some good white lies shirt ideas? We have a whole post with 50 hilarious white lies ideas.
30. Midsummer / Fairytale Theme Party
I saw this party theme idea on Pinterest and I thought it was the cutest!
If you're into the cottage-core aesthetic, this is definitely the 21st birthday party theme for you.
31. "Why Is This In My Closet" Party
I saw this 21st birthday theme idea on reddit and I thought it was absolutely genius!
Everyone just wears the most outrageous thing that they have in their closets.
This party theme will definitely reveal a lot about your friends lol.
32. Class Or Trash Party
This is one of my favorite 21st birthday party themes that I've seen.
Basically, everyone has the choice to dress classy or trashy. You can show up dressed to the nines or look as cheap and trashy as humanly possible.
33. 80s Prom Party
I know we already have a prom themed party on the list, but I thought this idea deserved it's own spot as well. Throw a super tacky 80s prom themed party for your 21st!!
This is so hilarious and I guarantee no one else in your friend group has thought of this idea.
Recreate this party theme idea:
34. 80s In Aspen 21st Birthday Theme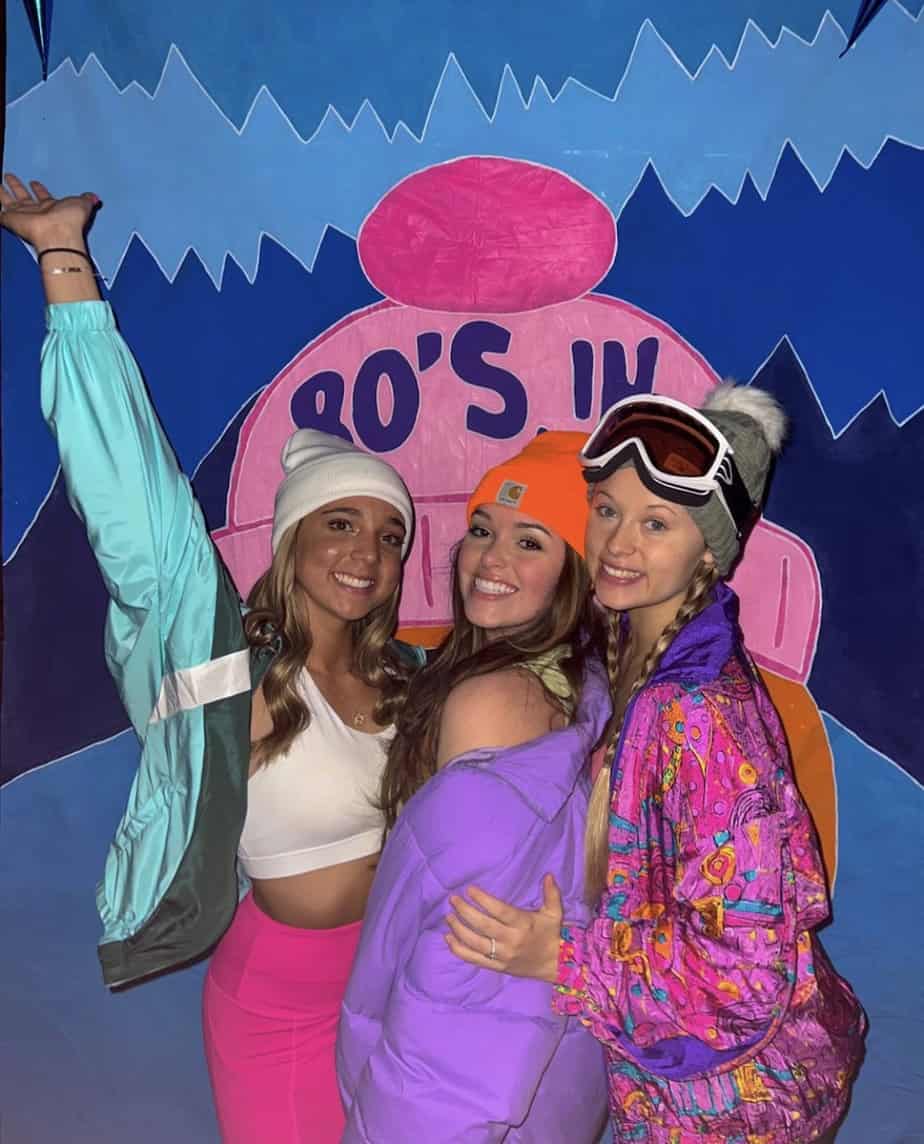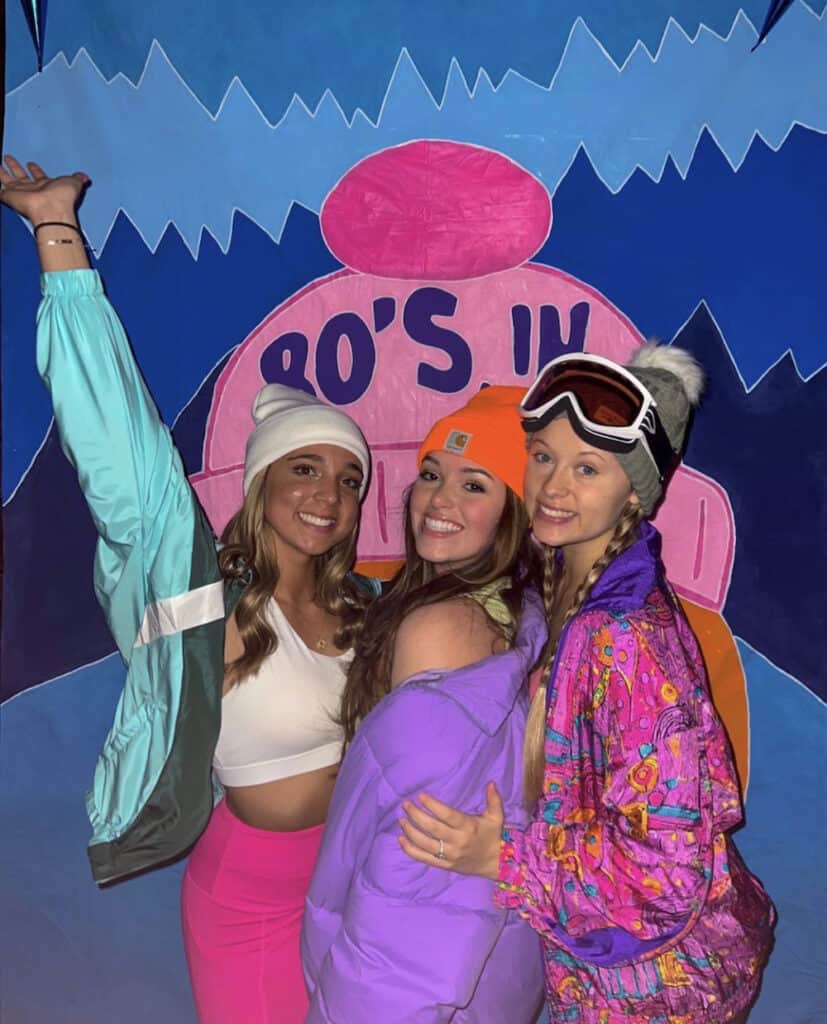 This theme idea basically involves dressing up like a ski bunny from the 80s. Think neon jackets, ski goggles, scarves, and leg warmers.
It's one of the most popular college party themes and it would be a fun idea for a 21st birthday – especially if your birthday is in winter!
If you need a little more inspiration, we have a full post on how to throw an 80s in Aspen party.
35. Dress As Your Type Party Theme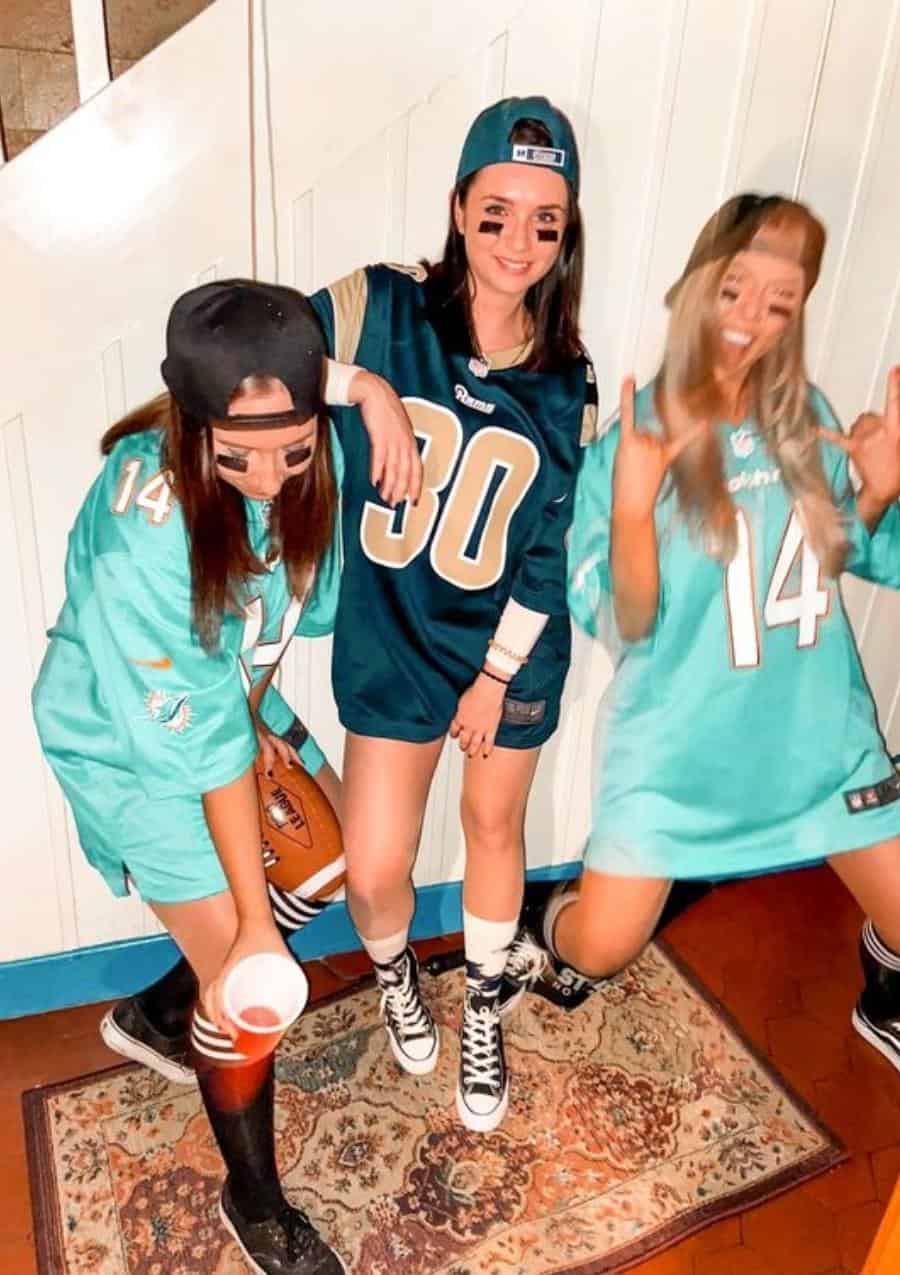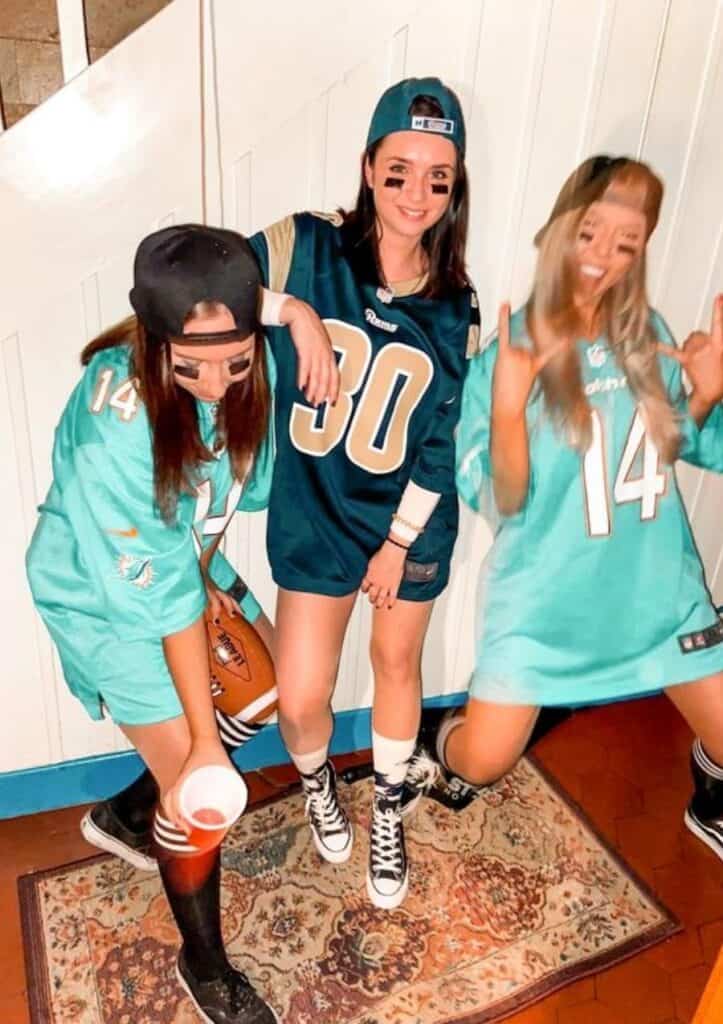 If you've spent some time on TikTok lately, you've probably seen the Dress As Your Type party trend going around.
The viral party theme involves dressing up as your ideal significant other. "Your Type" refers to the type of person that you usually go for when you're dating.
If you're into guys who go to the gym, you would show up to the party in athletic clothes. If your ideal type is girly girls, you might wear a pink dress with some heels.
Just have some fun with it and try not to take yourself too seriously! If you need some inspiration, check out our post on 18 super funny dress as your type ideas.
This post was all about the best 21st birthday themes.
You may also like: