23 Friendsgiving Game Ideas To Play With Your Besties
This post is all about the best Friendsgiving game ideas.
This page may contain affiliate links, which means I'll receive a commission if you purchase through my link, at no extra cost to you.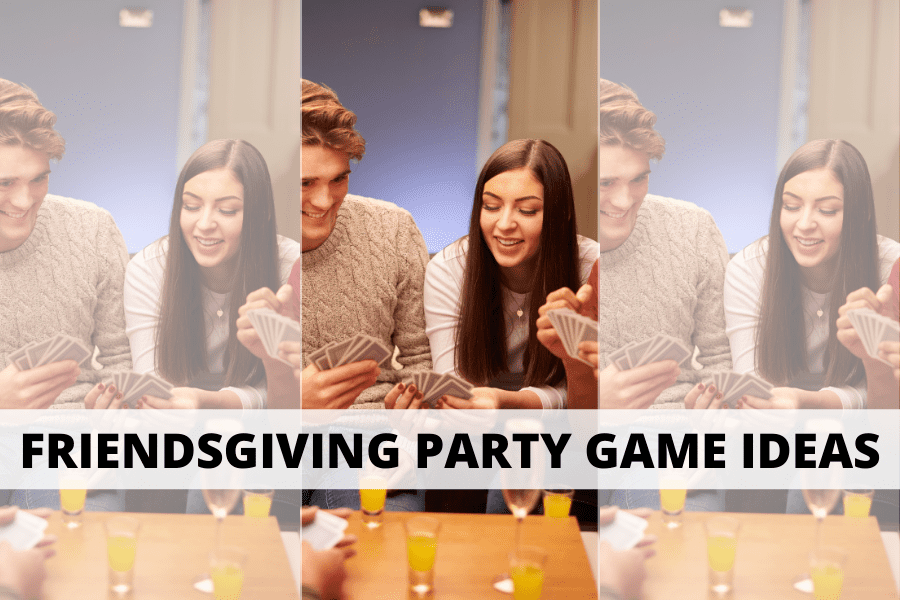 Once you've picked out your Friendsgiving party decor and finalized the menu, it's time to decide what games you'll play!
It's not often that you can gather all of your best friends in one room for a whole night. Make the most of it by playing some fun Friendsgiving party games.
In this list, I've included 23 Friendsgiving game ideas that will definitely liven up your party. There are outdoor yard games, card games, board games, and plenty of drinking games.
This post is all about Friendsgiving party games.
Outdoor Friendsgiving Games
1. Flag Football

Football and Thanksgiving go together like mashed potatoes and gravy. If your friends are super sporty, plan on playing a game of Flag Football.
2. Giant Jenga

Giant Jenga is a classic yard game that everyone should know how to play. It's basically a bigger, more exciting version of the classic game.
Make sure you play this one on the grass or a softer surface because those giant wood blocks are LOUD when they fall.
3. Bag Toss

This game goes by many different names – bag toss, cornhole, bean bag toss, sacks, etc. But no matter what you call it, it's a super fun party game.
4. Turkey Bowling

Turkey Bowling is the perfect game to play at Friendsgiving. Set up a set of bowling pins in the yard and try to knock them down by rolling a frozen turkey towards them.
5. Ladder Toss

One of my favorite yard games for a Friendsgiving party is ladder toss. You can play with 2-4 players but the rounds go super fast.
It's also super portable so it's perfect for taking to different college parties.
6. Spikeball

If you have a really active friend group, they'll absolutely LOVE playing spikeball. It's basically like a cross between volleyball and foursquare.
It definitely gets you moving though so make sure your party is up for some activity.
Indoor Friendsgiving Game Ideas
7. Heads Up
Heads Up is a SUPER easy game to play at your Friendsgiving party. All you need is a phone and the Heads Up app.
One player holds the phone to their head like a headband and try to guess the word on the screen as other players shout out clues. This is one of my favorite games to play with a group.
8. The Voting Game

Don't worry – no politics are involved in the Voting Game.
This game is basically the party game equivalent of those high school superlatives. Each round, you'll vote anonymously for the player that is best described by the question on the card. This game is a great way to find out what your friends truly think of you!
Want to spice it up a little bit? They also make a NSFW version.
9. Never Have I Ever
Never Have I Ever is the ultimate party game. You'll learn a ton about your friends and have a lot of laughs. Be aware that this version has some NSFW cards.
If you want to switch it up, they have a ton of different variations of this game. They offer the family version, girls version, and even a Trump version which I'm very curious about lol.
10. Catchphrase

Catchphrase is a CLASSIC party game that will definitely be a big hit at your Friendsgiving bash.
If you've never played before, you basically have to describe the word or phrase on the screen to your team as they guess it. You have a time limit so it definitely gets super competitive!
The game includes 5000 words and phrases so you can play all night long if you want to.
11. What Do You Meme

This is one of my all-time favorite party games. It's basically like Apples to Apples but with memes.
One player draws a card with a popular meme on it. The rest of the players have to use the cards in their hand to caption the meme. Most funny/clever caption wins!
12. Cards Against Humanity

If you and your friends have dirty minds, you have to play Cards Against Humanity. The game has over 100,000 reviews on Amazon and 5 stars so you know it's good!
[RELATED: 40 White Elephant Gifts That Everyone Will Fight Over]
13. Incohearent

This game will definitely get everyone laughing at your Friendsgiving party.
Each card has a gibberish version of a popular phrase. You have to try to be the first person to guess what the card means.
14. Sick & Twisted Charades

Another game for dirty minds. Sick & Twisted Charades is exactly what it sounds like – the NSFW version of charades!
You'll have your friends acting out the most hilarious and inappropriate gestures. If your friends are into these kinds of things, they'll definitely be laughing at this game.
Friendsgiving Drinking Games
15. Drunk Jenga

Drunk Jenga is definitely one of the best Friendsgiving drinking games. It's easy to play, simple to set up, and so much fun.
You basically play exactly like regular Jenga but if you draw a block with instructions, you have to follow them. The commands are all different but they include things like taking a shot, telling an embarrassing story, passing a drink, etc.
16. Beer Pong

Is there any better party game than beer pong? Every college student should already know how to play this game.
In case you've never played, you basically just toss ping pong balls into cups across a table. Everyone plays with slightly different rules, but here are the "official" rules from pong university.
17. "Take a Shot When"
If you want a game that you can play throughout the night, "Take a Shot When" is perfect. Everyone will be drinking based on what happens at the party. Here are some ideas for what triggers a shot.
Take a shot when someone:
Takes a selfie
Brings up politics
Says they're too full for pie (extra shot if they grab a slice anyways)
Makes a bad Thanksgiving pun
Brings up their crush
Talks about Christmas
Make sure to customize your rules for your guests. Have someone who ALWAYS brings up their vegan diet? Everyone drinks! Crossfit? Drink! You get the idea. Type up the rules and print them out so no one forgets to drink.
18. Friendsgiving Drunk Dice
If everyone at the party wants to get drunk quickly, drunk dice is the way to go. Every single time the dice is rolled, someone drinks.
Just make sure to drink responsibly and ensure that everyone has a safe way home!
19. These Cards Will Get You Drunk

This card game is basically the super advanced version of drunk dice. Every single card has a fun instruction that results in someone drinking.
Some cards involve passing drinks. Others will have you voting for who has to drink. There are 100 cards and they're all different! Such a fun game for any group that wants to drink a lot.
20. Do or Drink

A really fun Friendsgiving drinking game is Do or Drink. This game has 350 cards full of exciting dares. You can either complete the challenge on the card or choose to take a drink.
[RELATED: The Best 21st Birthday Tasks For an Epic Night]
21. Truth or Drink

Truth or Drink is really similar to the last game, but instead of completing challenges you have to answer questions. Players can either answer the question or forfeit the turn and drink.
22. You Laugh You Drink

This game is super simple – keep a straight face or drink! Each card has prompts that are designed to get laughs. If anyone cracks a smile, they have to take a drink.
23. Shot Glass Roulette

This Friendsgiving party game is super easy to play. Fill each of the shot glasses with a different adult beverage – liquor, beer, seltzer, etc. You can even fill some with water if you want to keep the game going longer.
Each player spins the roulette spinner. Whichever shot it lands on is the one they have to drink.
This post was all about the best friendsgiving game ideas.
Looking for more Friendsgiving & Holiday ideas?