17 Friendsgiving Decor Ideas To Make Your Party Look Amazing
Throwing a Friendsgiving bash this year? Here are 17 of the absolute cutest Friendsgiving decor ideas that will make your party look incredible.
This post may contain affiliate links, which means I'll receive a commission if you purchase through my link, at no extra cost to you. Learn more: Affiliate Disclaimer.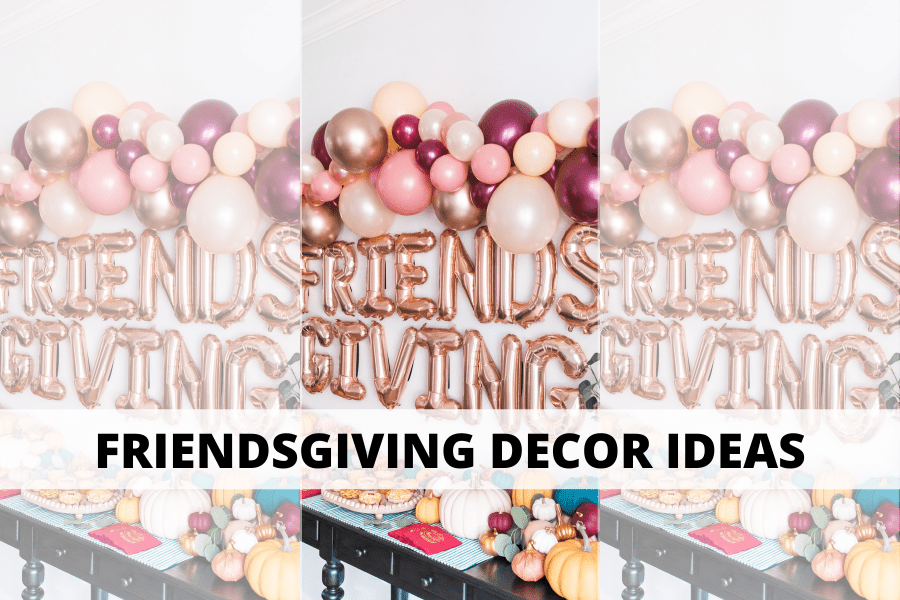 Fall is coming and it's time to start planning your Friendsgiving party!
The holiday season can get so crazy and it can be hard to make time to see your friends. I love the idea of throwing a Friendsgiving party so you can get together with everyone at the beginning of the holiday season.
If you're anything like me, you always want to go ALL out when you throw a party.
That's why I put together this list of Friendsgiving decor ideas, including Friendsgiving wall decor, Friendsgiving table decor ideas, and more!
Friendsgiving Decor Inspiration
Need a little inspiration for how to decorate your Friendsgiving party? Here are some really cute Friendsgiving spreads that will get your creative juices flowing.
Fall Boho Vibes
This farmhouse/boho style Friendsgiving spread is the CUTEST!
You can get this same look with some plaid pumpkins, jute table settings, and gold flatware. So fun and cute!
Recreate this friendsgiving table decor:
Girly Friendsgiving Banner
Looking for a more colorful vibe? Place a bunch of colorful pumpkins around your table.
Top the look off with a big "Friendsgiving" balloon banner and a colorful balloon arch. Totally Pinterest-worthy!
Recreate this friendsgiving decor idea:
Friendsgiving Bar Cart
No party is complete without a fun bar setup. Decorate your bar cart with pumpkins, pretty drink accessories, and a fun banner.
Recreate this friendsgiving bar cart:
Neutral Friendsgiving Decor
Trying to keep it classy? Go with neutral colors like tan and white. Add in some greenery like dried eucalyptus for a more natural touch.
Recreate this friendsgiving table decoration:
The Best Friendsgiving Decorations
Now that your creative juices are flowing, here are some of the cutest Friendsgiving decorations that you can get for your party.
1. Friendsgiving Balloon Arch
This Friendsgiving balloon arch is one of my favorite Friendsgiving wall decor ideas.
The kit includes a ton of balloons in fall colors, maple leaf garlands, balloon tape, glue dots, and a balloon tying tool. Pretty much everything you need to create the perfect balloon arch for your Friendsgiving party!
This balloon arch would be an amazing backdrop for pictures.
2. Friendsgiving Balloon Banner
This Friendsgiving balloon banner is so affordable and it would be such a cute backdrop at your Friendsgiving party.
3. Fall Themed Tassel Garland
One of my favorite cheap Friendsgiving decor ideas is this fall-themed tassel garland. It would look incredible on the walls, hung on a table, or strung across your fireplace.
It also comes in a bunch of different colors if the fall theme isn't your thing.
4. Friendsgiving Paper Straws
How cute are these paper straws?
If you're all about the little details, you need to serve your Friendsgiving drinks with these adorable fall themed paper straws.
5. Funny Friendsgiving Banners
These hilarious banners are the perfect Friendsgiving decorations. Your guests will definitely get a laugh from these.
6. Friendsgiving Invitations
Your friends will love receiving these beautiful Friendsgiving invitations. They're printed on heavy-duty card stock paper and include envelopes as well.
Pair them with these gorgeous matching Friendsgiving gift bags if you're planning on handing out party favors.
7. Friendsgiving Cake Topper
This cake topper would look perfect on your Friendsgiving cake (or pie!). Plus it can be reused for next year's celebration.
8. Funny Friendsgiving Napkins
Serve up the Friendsgiving food with these hilarious napkins.
Thanksgiving (and Friendsgiving) is the time of the year when everyone is stuffing their faces with food so everyone will relate to these sayings.
9. Gold Plates
These gold plates would look super gorgeous on your Friendsgiving table. They're super classy but they're still plastic for easy cleanup.
10. Friendsgiving Koozies
If you're looking for the perfect party favors, these Friendsgiving can coolers are so perfect.
They each have funny sayings on them so everyone will end up with a unique gift.
11. Mini Pumpkins
How cute would these mini pumpkins look on your table at your Friendsgiving party?
One of my favorite Friendsgiving table decor ideas is to scatter some cute mini pumpkins around the table and add some candles.
12. Rustic Placeholders
Make sure everyone knows where to sit at the Friendsgiving table with these adorable rustic placeholders. They include kraft paper place cards as well.
13. Fall Placemats
These cute Friendsgiving placemats will look amazing on the dinner table.
They'll also help keep the table clean and make it easy to clean everything up after the party.
14. Autumn Wreath
These fall wreaths are such a beautiful Friendsgiving decor idea. Your house will look festive inside and out.
15. Fall Pillows
Your couches will look super festive if you add some cute fall throw pillows.
I have the orange corduroy ones in a different color and they're super durable and cozy!
16. Friendsgiving Photo Booth Props
Commemorate your Friendsgiving party with a DIY photo booth setup. Your guests will have a ton of fun posing with these Friendsgiving photo booth props.
17. Fall Garland
This maple leaf fall garland is actually super gorgeous!
There are a ton of ways you could use this as decor at your Friendsgiving party. Use it as a table runner, hang it above your fireplace, or drape it over your windows.
This post was all about the best Friendsgiving decor ideas.
I hope this post gave you some inspiration for how to decorate for your Friendsgiving party.
No matter how you choose to decorate, your friends will have an amazing time celebrating and being thankful for each other.
Looking for more Friendsgiving party ideas?