25 Friendsgiving Food Ideas (Delicious & Easy Dishes)
Looking for the best Friendsgiving food ideas to serve up at your party this year? Here are 25 of the best recipes that your guests will go crazy over.
This post may contain affiliate links, which means I'll receive a commission if you purchase through my link, at no extra cost to you. Learn more: Affiliate Disclaimer.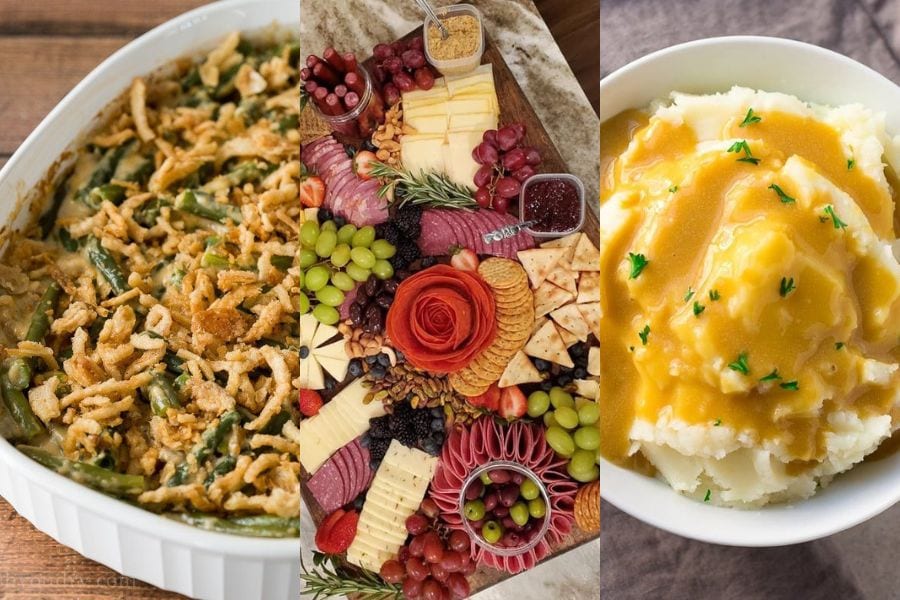 If you're looking for some Friendsgiving food ideas to make as the host or bring to someone else's party, you've come to the right place!
While throwing a Friendsgiving get-together can seem overwhelming, the key is planning, preparation, and asking for help if you need it.
Hosting a potluck or having your friends help with the cooking can take some of the stress away while still allowing you to throw a fun party – just don't forget to plan out the menu ahead of time.
From mouth-watering appetizers and decadent desserts to fluffy mashed potatoes and roasted turkey, we've included plenty of easy, delicious, and no-fuss recipes to make for your next Friendsgiving celebration!
Keep reading to discover 25 Friendsgiving food ideas that your guests will love.
Friendsgiving Appetizer Ideas
1. Bacon-Wrapped Brussels Sprouts
Anyone who says they don't like brussels sprouts has definitely never tried this recipe from the Food Network!
When you mix brussels sprouts, bacon, maple syrup, and a creamy homemade dip, you'll get an appetizer that is bursting with flavor. This is the perfect appetizer recipe for the fall season.
2. Deviled Eggs
Deviled eggs are a classic party staple, and it's no wonder why! Made with eggs, mustard, mayo, and plenty of spices, deviled eggs are easy to make and delicious!
If you've never made them before, you can follow this super simple recipe!
3. Bruschetta
Tomato bruschetta only requires a few basic ingredients that you probably already have in the pantry. Not to mention, it only takes a few minutes to prep!
To make bruschetta you'll need are some tomatoes, olive oil, basil, garlic, and salt! You can also add balsamic vinegar and parmesan if you want it to be a bit fancier.
This recipe from How To Cook Recipes is a great one to follow for perfect bruschetta.
4. Charcuterie Board
Charcuterie boards are always a classic appetizer at any big gathering.
Plus, there's no cooking required – all you have to do is chop up the meats, cheeses, and veggies and open up a box of crackers!
5. Buffalo Chicken Dip
While Thanksgiving might not make you think of buffalo chicken, this buffalo chicken dip recipe is a real crowd-pleaser at any get-together!
Pair it with veggies, crackers, or tortilla chips, and it will disappear in no time.
Friendsgiving Main Course Ideas
6. Roasted Turkey
It's not a true Thanksgiving gathering without the turkey.
As the centerpiece of any Thanksgiving get-together, you must season it well and cook it for just the right amount of time.
This turkey recipe is incredibly easy, and your guests won't be disappointed.
7. Green Bean Casserole 
This creamy, cheesy side dish completes any Thanksgiving meal!
Your guests will love this green bean casserole recipe, made with cream of mushroom soup, green beans, French-fried onions, and cheddar cheese.
Get the recipe on the I Wash You Dry blog.
8. Mashed Potatoes
Is there any better compliment to a Thanksgiving turkey than fluffy, buttery mashed potatoes?
With plenty of butter, cream, and seasonings, these mashed potatoes are the perfect addition to your Friendsgiving.
9. Baked Ham With Brown Sugar Glaze
While Thanksgiving typically revolves around the turkey, a few folks always like to go against the grain.
If you feel like making a change this year, this brown sugar ham is a must-try!
10. Stuffing Casserole 
Made with bread cubes, sausage, chicken broth, and diced vegetables, this Thanksgiving stuffing tastes best when made ahead of time.
Not to mention, it pairs perfectly with roasted turkey!
11. Sweet Potato Casserole
Brown sugar, butter, pecans, and sweet potatoes combine for a comforting and sweet Friendsgiving side dish.
The crunchy pecan topping is what really puts this sweet potato casserole over the top!
12. Cranberry Sauce
Cranberry sauce is a classic Thanksgiving staple – your spread won't be complete without it.
This cranberry sauce only takes 20 minutes, and it's easy to make ahead too!
13. Baked Mac and Cheese
Most of your Friendsgiving guests will be a big fan of anything carb and cheese-based, and this baked mac and cheese is no exception.
With a creamy cheese sauce and crunchy topping, you'll want to make this one again and again.
14. Homemade Rolls
Homemade dinner rolls might take some extra time, but they're always worth the effort.
These dinner rolls are fluffy, soft, and taste delicious with butter, honey, or jam.
15. Easy Potato Casserole
A Thanksgiving spread is all about comfort food, so this cheesy hashbrown casserole will definitely fit in.
Not only is this casserole incredibly delicious, but it's also effortless – made with frozen hashbrowns, canned soup, cheese, and butter.
Healthy Vegetarian Friendsgiving Options
16. Mashed Cauliflower
Mashed cauliflower is a lower carb alternative to mashed potatoes – and it's easier to prep with no peeling necessary!
This mashed cauliflower is so smooth and buttery, no one will know that it's made from cauliflower.
17. Honey Glazed Carrots
These easy sheet pan honey glazed carrots are the perfect healthy side dish for your Friendsgiving gathering.
Plus, their delicious honey glaze, made with thyme, rosemary, salt, and pepper, is sweet, savory, and incredibly flavorful.
18. Roasted Broccoli
Roasted broccoli is an easy and healthy side dish that only requires a few ingredients, like broccoli, lemon juice, and olive oil.
19. Thanksgiving Salad
With plenty of fall flavors, like apples, pomegranate, brie, and pecans, this Thanksgiving salad is full of flavor and color.
20. Vegan Gravy
If you have vegan friends, they will love this vegan gravy recipe. Plus, it only takes five minutes to make!
Friendsgiving Dessert Ideas
21. Pumpkin Pie
Serving pumpkin pie at your Friendsgiving isn't an option; it's a necessity.
This pumpkin pie recipe only requires four ingredients and is sure to be a real crowd-pleaser. 
22. Pumpkin Chocolate Chip Cookies
Pumpkin and chocolate may seem like an unusual combination, but don't knock it until you try it!
These pumpkin chocolate chip cookies can satisfy your chocolate chip cookie craving while adding a fun fall twist.
23. Chocolate Pie
You're bound to have a few chocolate lovers at your Friendsgiving, and this chocolate pie recipe is just for them.
Chocolate chips, butter, cream, and an oreo crust combine into a chocolate-lover's dream.
24. Dutch Apple Pie
Apple pie is a fantastic alternative to pumpkin pie, and this Dutch Apple Pie recipe will not disappoint.
The sweet and buttery streusel crumb topping is what really makes this pie unforgettable!
25. Pecan Pie Bars
Pecan pie is a fall staple, so there's no better time to enjoy it than during Thanksgiving.
These pecan pie bars are easy and great to make in advance.
This post was all about the best Friendsgiving food ideas to make for your party.
You may also like: