45 Super Fun 22nd Birthday Ideas To Have The Best Day Ever
This post is all about the best 22nd birthday ideas – things to do on your 22nd birthday, birthday games, 22nd birthday party themes, decor ideas, and more.
This post may contain affiliate links, which means I'll receive a commission if you purchase through my link, at no extra cost to you. Learn more: Affiliate Disclaimer.
If you're looking for the best 22nd birthday ideas, you've come to the right place.
Turning 22 is so much fun because you're legal drinking age, but your tastes have matured a little bit. You can finally celebrate in a more "grown up" way than when you turned 21, but still have just as much fun.
In this post, I go over all of the best 22nd birthday ideas to make the day totally unforgettable. I've included things to do, games to play, party themes, decor ideas, and the best 22nd birthday gifts.
This post is all about the best 22nd birthday ideas.
Things To Do For Your 22nd Birthday
1. Arcade Bar
A super fun idea for your 22nd birthday is to go to an arcade bar with a group of friends. Arcade bars are super popular right now – and for a good reason! You can drink with friends and pass the time by playing all of the arcade games.
Typically you'll pay for drinks and get unlimited games included. Some bars you have to purchase tokens but they're usually really cheap. This is one of my favorite 22nd birthday ideas if you're on a budget.
2. Pedal Tavern
If you want to combine drinking with a bit of physical activity, you have to do a pedal tavern for your 22nd birthday.
It's basically a bar on wheels that you pedal around town. We did one recently for a bachelorette party and I swear I've never laughed so hard in my life! This will definitely make for a 22nd birthday party to remember (although the memory may be a little fuzzy).
3. Wine and Painting Night
If you're looking for a classy way to celebrate your 22nd birthday, get some friends together for a paint and sip night. You'll drink wine, paint, and have tons of fun looking at each other's masterpieces.
There's a good chance you'll be able to find a place near you that offers wine and paint nights. If not, you can definitely host it yourself with some canvases, paint, and plenty of wine.
DIY this 22nd birthday idea:
4. Take A Staycation
One of my favorite 22nd birthday ideas is to take a staycation with your besties. Rent a hotel room in your city, go out to your favorite restaurants and bars, and enjoy being a tourist in your own city.
If you want to get out of town a bit, find a nearby city or attraction and grab a hotel or Airbnb there. I love this idea because it feels like a luxurious getaway, but it's actually pretty affordable because you'll be splitting the cost among your friends.
5. Mimosa Brunch
Get your best girls together for a 22nd birthday mimosa brunch. If you have a cute brunch place in your area, it's pretty much all done for you!
If you want to DIY it yourself, here's everything you'll need for the perfect mimosa birthday brunch:
Champagne
Orange juice
Fresh fruit
Brunch food (avo toast, scrambled eggs, waffles, etc.)
6. Spa Day
Everyone needs a little R&R once in awhile. A perfect low key 22nd birthday idea is to have a spa day with a few of your closest friends. Get all the treatments your heart desires – massages, mani pedi, facials, etc.
You can also have all of your girls over for a DIY spa day. Here are some things you need for the perfect spa birthday party:
7. Wine Tasting
If you love wine, there's nothing better to do on your birthday than a wine tasting. You'll learn a lot about different types of wine, plus you get to drink with your besties.
Make sure you order a big charcuterie board to share while you drink!
8. Take A Brewery Tour
If beer is more your thing, take a brewery tour for your birthday. It's actually really interesting to see the process of how beer is made. Plus, you usually get a few pints of beer included in the tour price.
9. Take An Aerial Yoga Class
How fun would it be to get a group of friends together for an aerial yoga class birthday party? I've done aerial yoga a few times and it is SO much fun and actually a really good workout.
The studio I go to actually does a ton of private events for bachelorette and birthday parties, which I think is such a fun idea!
Make sure you reward yourselves with some good food and drinks after the class!
10. Have A Beach Day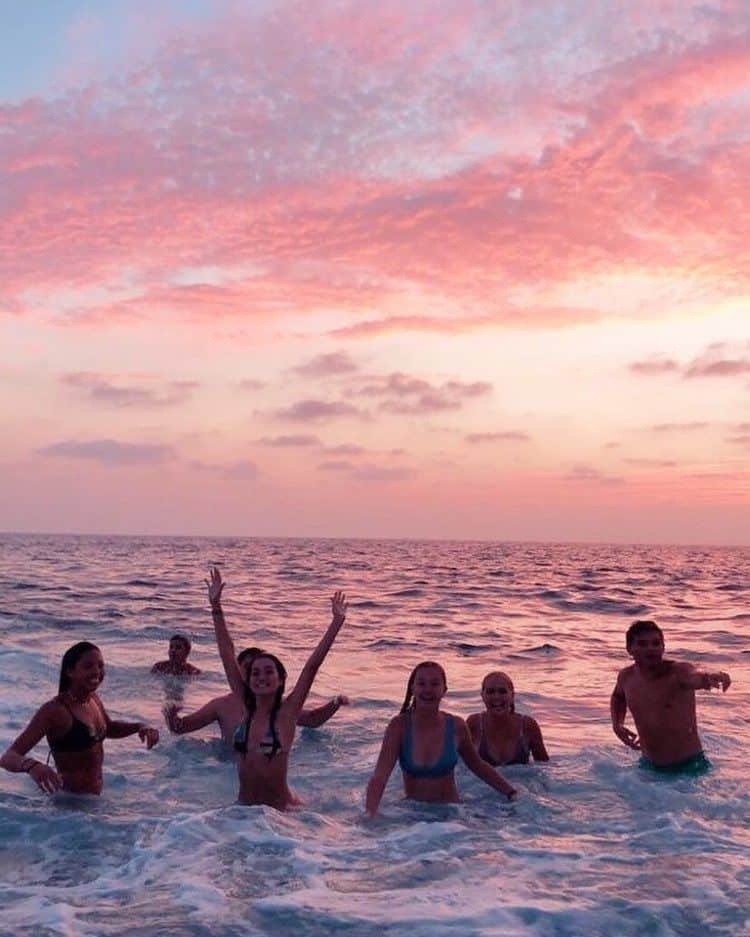 This is such a fun idea if your birthday is in summer or if you live somewhere where it's warm all year.
Have everyone bring a towel, snack, and a drink to share with the group. Make sure someone brings plenty of beach games like volleyball, spike ball, etc.
12. Have A Picnic
Another super cute idea for a 22nd birthday party is to have a picnic. Luxury picnics are all the rage these days on Instagram and Pinterest. Get a low table, a bunch of cozy pillows, and all of your favorite foods to set up the picnic of your dreams.
If you don't want to do everything yourself, see if there is a luxury picnic company in your area. They're in pretty much every major city in the US now.
13. Hire A Party Bus
If you want to go all out, hire a party bus. Gather a bunch of friends, map out your route, and enjoy the night.
You'll typically be able to stop at several bars or restaurants throughout the night. Plus, you won't have to worry about how you're going to safely get from place to place.
I've never been on a party bus but I would be SO excited if a friend invited me to their birthday party and there was a party bus there.
14. Go Glamping
Glamping is perfect for anyone who loves the outdoors but doesn't necessarily want to rough it. Look for parks near you that have camping spots available. For the comfiest glamping experience you'll want tents, air mattresses, string lights, and some cute decor for the campsite.
If you don't want to do it yourself, check for "glampsites" on Glamping Hub.
15. Host A House Party
If you're looking for a crazy way to spend your 22nd birthday, throw a good old fashioned house party! Pretty much everyone went to house parties in college. Reminisce on the glory days and throw yourself a giant house party for your birthday.
You can go as big as you want with this. Get a keg, set up a beer pong table, make a big batch of jungle juice, etc. I think it would be so fun to relive the college glory days with a house party. Just make sure that you put away anything you don't want to be damaged.
22nd Birthday Games
16. Drunk Jenga

Drunk Jenga is one of my all-time favorite party games. Every piece has a different task on it that you have to complete. If you knock over the tower on your turn you have to finish your drink.
17. For The Girls Adult Party Game
If you're having a party of all girls, you have to play For The Girls. There are 500 cards, each with super hilarious (and inappropriate) questions or actions to perform.
18. Never Have I Ever
Never Have I Ever is a classic party game that would be so fun to play at a 22nd birthday party. You'll definitely get to know your friends on a whole other level if you play this game with them.
19. Scavenger Hunt
I think it would be so fun to have all of your friends go on a crazy scavenger hunt for your 22nd birthday. Have them take selfies doing each of the tasks on the list and whoever finishes everything first wins.
I wrote a post about the best 21st birthday checklist ideas here, and you could definitely use some of those tasks as inspiration for a 22nd birthday scavenger hunt.
20. Beer Pong
Beer pong is a classic party game that pretty much everyone already knows how to play. The best part about beer pong is that it's so easy to set up.
All you need are some solo cups, ping pong balls, and a table.
21. Flip Cup
Flip cup is another classic party game that most people have played in college. Players have to drink the beer in their cup and then flip it so that it lands face down on the table. The first team to successfully flip all of their cups wins.
All you need for this game are some plastic solo cups, a hard surface, and the adult beverage of your choice.
22nd Birthday Party Themes
22. ABC (Anything But Cups) Party
I saw this party theme on Reddit awhile ago and I think it's HILARIOUS! Basically, everyone has to show up with something to drink out of that isn't a cup.
So people will show up with ridiculous things to drink out of like a shoe, dog bowl, traffic cone, etc. If you have a really fun group of friends, they'll definitely go all out for this theme party.
23. Disco Party
What could be more fun than a disco 22nd birthday party?? Have everyone dress up in funky disco outfits and deck the place out with metallic streamers, disco balls, and colorful lights.
24. Roaring 20's
One of my favorite birthday party themes is the Roaring 20s or Great Gatsby theme. The girls wear flapper dresses and the guys dress up in suits.
Go all out with your decorations – make sure there's plenty of black and gold metallic streamers, balloons, and photo backdrops. Everyone will definitely have a roaring good time.
25. Come As You Were Party
For this 22nd birthday party theme, everyone dresses like they did in high school or middle school. If you're turning 22 this year, chances are fashion has changed a bit since you were in early high school or middle school.
Everyone will have so much fun reminiscing on high school days at this party.
26. Meme Theme Party
This theme party is pretty self-explanatory – everyone dresses as their favorite meme.
Some good meme ideas are Kermit the Frog sipping tea, The Rock's high school yearbook photo, grumpy cat, bad luck Brian, etc.
27. Harry Potter Theme
Who doesn't love Harry Potter? Have all of your friends dress up as wizards and deck your house out like Hogwarts. Anyone who doesn't show up in costume is a muggle.
Don't forget to serve butter beer! This boozy butter beer recipe from Gastronom looks sooo good.
28. Murder Mystery Party
How fun would it be to have all of your friends come over for a murder mystery party?
I've never thrown a murder mystery party so I'm not 100% sure how it works, but this blog post explains it really well.
29. Jungle Party
My best friend had a jungle themed bachelorette party and it was SO fun. Everyone wore animal print, the place was decked out in jungle decor, and we all had animal floaties to relax on.
The Best 22nd Birthday Party Decorations
30. Photo Backdrop

If you're throwing a 22nd birthday party, you definitely have to have a fun backdrop for all of your guests to take pictures.
I love this photo backdrop set because it includes EVERYTHING you need. The streamer backdrop, balloons, a birthday sash, etc.
31. '22' Balloons
If you're feeling 22, show it off with some birthday balloons.
32. 22nd Birthday Koozies
How cute are these 22nd birthday can and bottle koozies? Your guests can all take them home with them after the party so they'll never forget your special day.
33. Feeling 22 Banner

Shoutout to Taylor Swift for this iconic line.
34. Birthday Straws

These 22nd birthday straws are the absolute cutest. Your guests will love sipping out of these during your party.
35. Champagne Balloons
I love these champagne balloons for 22nd birthday party decor.
36. Happy F***ing Birthday Banner

How funny is this birthday banner? If you're throwing a 22nd birthday party for a friend with a good sense of humor, definitely hang this sign.
22nd Birthday Gifts
37. Trendy Sunglasses
I'm absolutely obsessed with these retro sunglasses that are a trend right now. They look good on pretty much any face and they're SO affordable. You can get this pack of two on Amazon for only $14 right now. Such a good affordable 22nd birthday gift!
38. Birthday Wine Glass

How cute is this birthday wine glass? The birthday girl will definitely want to drink from this all night.
39. Gold Hoops
A classic 22nd birthday gift is a cute pair of gold hoops.
This pair of gold hoops from Amazon is super highly rated and only $14. Not a fan of gold? They also come in silver and rose gold.
If you're looking for more of a splurge gift, I highly recommend a pair of solid gold hoops from Mejuri. They'll last forever without tarnishing and they're actually pretty affordable for solid gold jewelry. I have these exact hoops and they're the perfect size for every day wear.
40. Monogrammed Mug
Who doesn't like getting a cute new mug for a birthday gift? These monogrammed mugs from anthropologie are my all-time favorite mugs. They're SO cute and she'll always know which mug is hers.
41. Jade Roller
Jade rollers have been all over social media for a long time now. Skincare junkies swear by them.
This rose quartz roller and gua sha set are the perfect gift for a 22nd birthday. It's a gift that you know she'll use but it's also super affordable.
42. Cute Slippers
I see these smiley face slippers EVERYWHERE these days. I swear every Instagram and Tik Tok influencer has them. These are such a cute gift idea for a 22nd birthday.
43. Satin PJ Set
Who wouldn't want to get a cute set of satin pajamas for their birthday? I love sleeping in satin because it feels so nice on the skin and it helps prevent wrinkles.
44. Gratitude Journal
Another perfect gift idea for 22 year olds is a gratitude journal. Each page has space for you to write down your daily gratitude, positive memories, and personal affirmations.
I think your early 20s is such an important time for personal growth and a gratitude journal definitely helps with that.
45. Bubble Candle

Aren't these bubble candles so unique and gorgeous? They would honestly look good with just about any type of decor so they're such a good gift.
This post was all about the best 22nd birthday ideas.
You may also like: