Looking to throw the best 21st birthday party ever? Here are 55 unforgettable 21st birthday ideas you'll want to copy.
This post may contain affiliate links, which means I'll receive a commission if you purchase through my link, at no extra cost to you. Learn more: Affiliate Disclaimer.
You've probably been thinking about how you want to spend your 21st birthday party for YEARS. It's one of the biggest milestone birthdays and you want your night to be unforgettable.
There are so many fun ideas out there for how to celebrate a 21st birthday that it can get a little overwhelming.
That's why I decided to compile everything in one place. These are the best 21st birthday ideas so that you'll have a party everyone will be talking about for years.
If you're turning 21 this year, here are the best 21st birthday ideas.
Things To Do For Your 21st Birthday
Looking for the best activities for a 21st birthday?
Here are some ideas for things to do to celebrate turning 21. From bar hopping to a birthday staycation, we have ideas for everyone!
[RELATED: 30 Epic 21st Birthday Ideas For Guys]
1. Go Out To The Bars
If you're just turning 21, you've probably been waiting for SO long to be able to go out to the bars (legally lol). That's why hitting up the bars is one of the most popular things to do for your 21st birthday.
Some people choose to go out at midnight on the night before their birthday, while others go bar hopping on the actual day of. Real party animals will go out both nights!
Get a group of friends together and go check out some of the most popular bars in your area.
Just make sure you have a designated driver or go somewhere that's walking distance from where you'll be crashing after!
2. Make a Birthday Checklist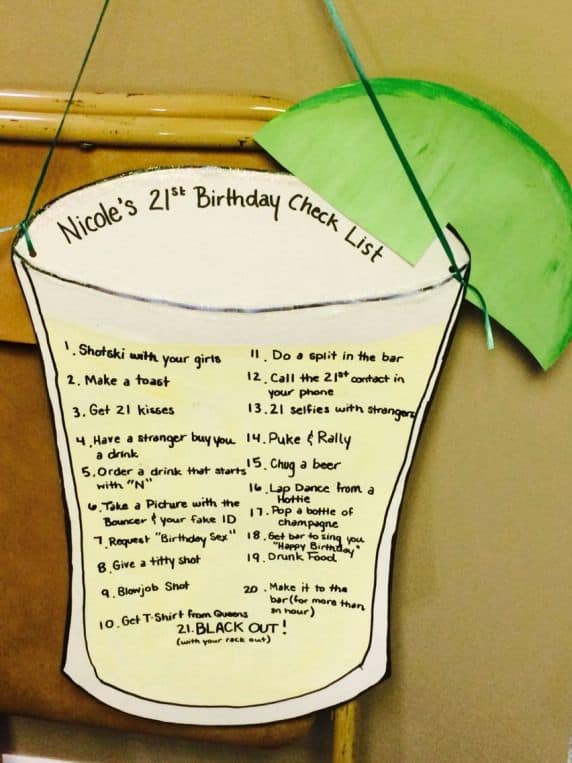 One of my favorite 21st birthday ideas is to make a checklist or bucket list for the night.
The birthday girl (or guy) has to get through all of the items on the list before the night is up. You only get one 21st birthday so the crazier the better!
Make a cute sign with all of the tasks on it, and assign someone to carry it around for the night. It'll definitely be a 21st birthday to remember (or not lol ;))
If you're not sure what to put on your 21st birthday checklist, we've put together this list of 21st birthday tasks for an epic night out.
3. Wine And Painting Night
If you're looking for a more sophisticated way to spend your 21st birthday, you'll love having a wine and painting night.
Most cities have wine and painting studios that you can book parties at. Just make sure to reserve it ahead of time so you get a spot.
If you want to do it yourself, here's what you'll need:
4. Go Clubbing
Want to dance the night away? Head to a city near you and hit up the clubs!
After hitting up a few bars, I went clubbing on my 21st birthday. It was so much fun dancing with all of my friends! Such a memorable birthday.
Just make sure that all of your friends are 21+ who will be going out with you. Clubs can be very strict with IDs and you don't want anyone to get turned away.
5. Go On A Trip
How fun would it be to do a girl's trip for your 21st birthday? Traveling with your friends can be SO fun, and a milestone birthday is a great excuse to get everyone on a trip together.
If you're looking for a huge party and some crazy 21 year old fun, head to Vegas! Want an affordable beach vacay? Check out spots like Tulum or Playa del Carmen in Mexico.
Find cheap flights on Skyscanner or Google Flights. For accommodation, I like to use Booking.com or Hotels.com to find good deals on hotels.
6. Do A Champagne Brunch
Want to start your celebrations early? Get your girls together for brunch and mimosas.
One of my favorite things to do with friends is get dressed up and head somewhere nice for brunch.
It's usually cheaper than going out for a fancy dinner, plus it's a great excuse to day drink lol.
7. Go To A Brewery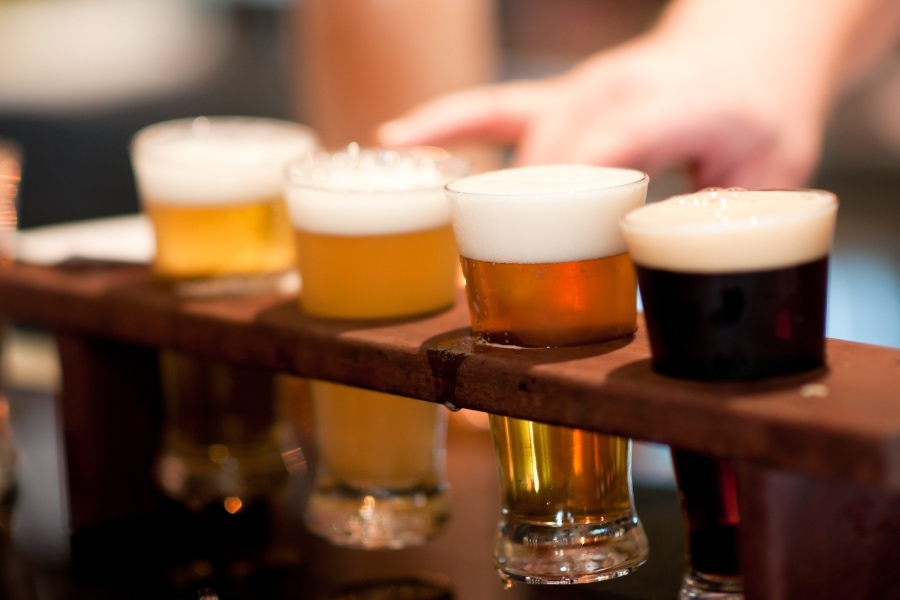 If you're into craft beer, spend your 21st birthday at a brewery! Craft breweries are popping up everywhere these days, especially in cities in the US.
Pick one to hang out at for the night or go on a brewery hopping tour. Most breweries either serve food or allow you to bring your own in, so make a whole night out of it and order some dinner too.
8. Take A Staycation
Do you want to feel like you're on vacation without spending a ton of money? Take a staycation!
Head to a nearby city or tourist area and split the cost of a hotel room with a few friends. Order room service, check out the hotel bar, or head out for a night on the town.
If you have a big group of friends, try seeing if you can rent out a big house on Airbnb. It'll usually be a cheaper option than getting a bunch of hotel rooms.
9. Have A Theme Party
Theme parties are in again and I'm SO excited.
There are so many fun theme options out there, and I've listed my favorite themes for a 21st birthday party in this post.
Your birthday party will be so much more memorable if you pick a fun theme.
10. Do A Photoshoot
What better way to celebrate this huge milestone than having a photoshoot!
I absolutely love the idea of taking fun pictures for your 21st birthday because you'll have something to look back on when you're older.
You could hire a professional photographer or just ask a friend to take some pictures on your phone camera.
Get some balloons, streamers, champagne, or other fun props and just have fun with it!
11. Take A Mixology Class
Learn how to make fancy cocktails for yourself and your friends at a mixology class.
You'll learn tips and tricks from a professional bartender and you'll probably get to sample some different cocktails during the class!
This would be a great 21st birthday activity to do with some friends or your significant other.
12. Do A Pedal Tavern
If you've never seen a pedal tavern before, it's basically like a giant multi-person bicycle with a bar in the middle. You typically get a group together and you pedal around your town while you drink.
Some pedal taverns will stop off at bars while others will just serve you drinks while you ride. Either way, it's a super fun time!
21st Birthday Party Ideas
Need some ideas for how to make your 21st birthday party more entertaining?
Whether you're having a house party or renting out an event space, here are some of the best ideas for a 21st birthday party.
13. Play Beer Pong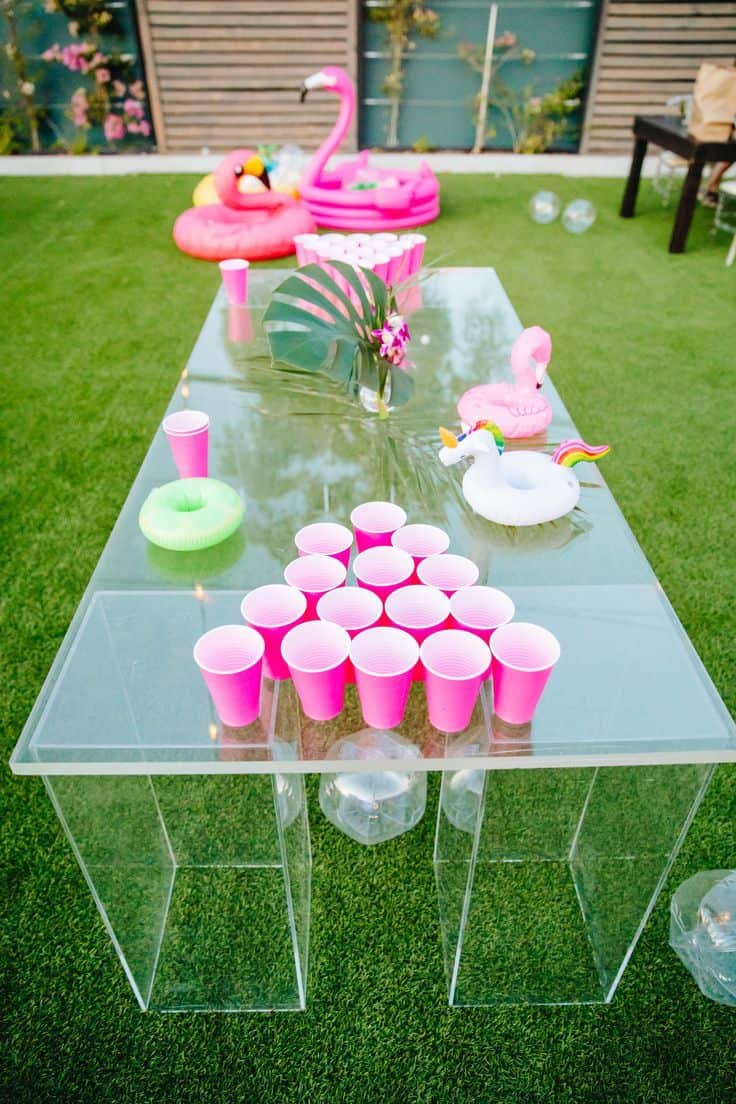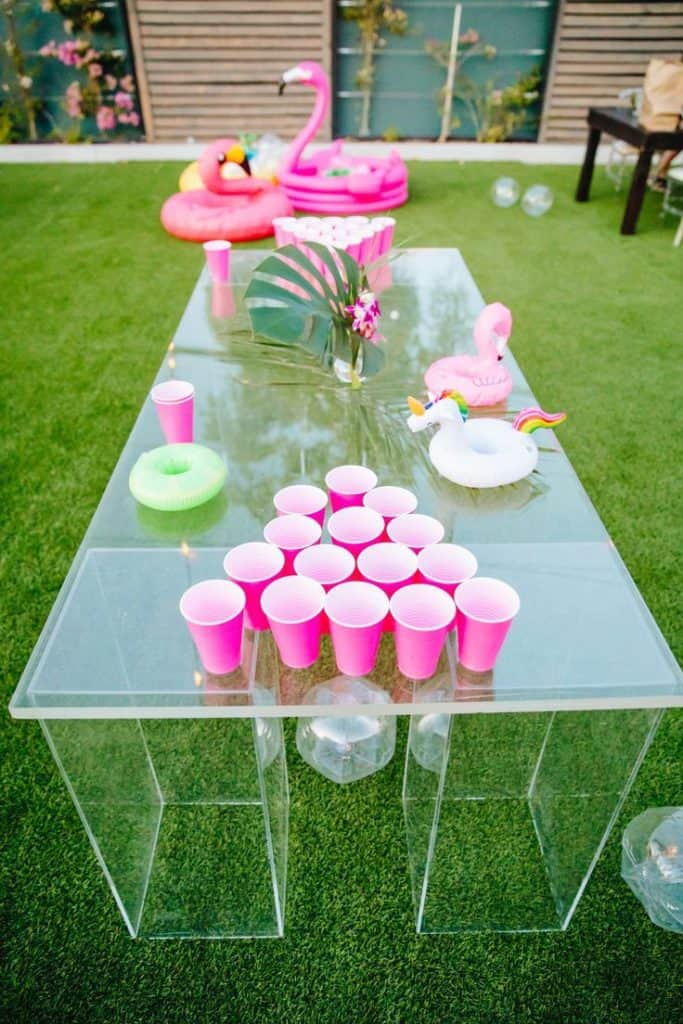 Beer pong is a house party staple. Make it a little classier and more fun with colorful cups and a cute table setup. This backyard pool party beer pong setup is adorable!
14. Set Up a Photo Booth
Your 21st birthday party is going to be one of the most fun nights of your life so make sure you document it well!
On a wall, hang streamers, balloons, or other decor. Then set up a table with tons of props and signs to hold up. Everyone will have a ton of fun posing in your makeshift photo booth.
15. Make a Booze Cake
Forget the boring sheet cake, every 21 year old will love getting this booze cake instead. Fill it with whatever liquor the birthday girl likes best and top it with a birthday sash.
Here's what you'll need:
16. Hand Out Disposable Cameras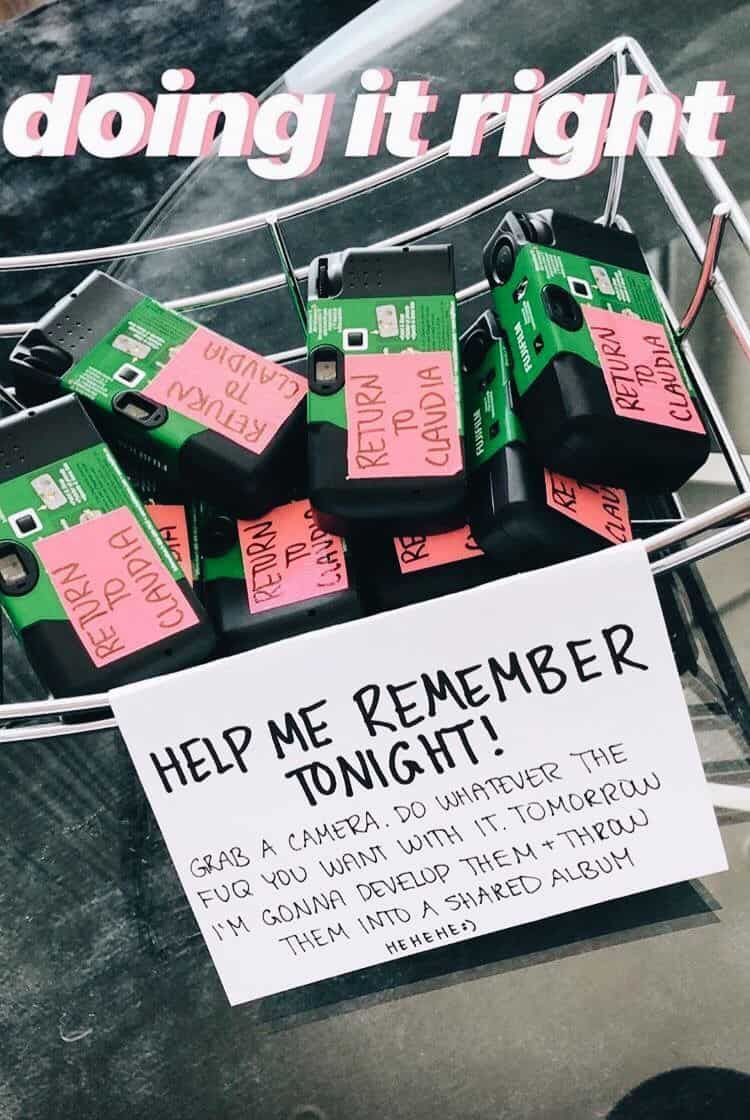 Even if you have the most unforgettable party, you'll probably forget a few parts of it ;). Keep track of all of the epic moments of the night by giving everyone a disposable camera.
I love this 21st birthday party idea because you'll have these memories forever. Don't forget to send out the digital files to all of your party guests.
17. Charge an "Entry Fee"
Get the 21st birthday party started ASAP by giving everyone a shot at the door!
Everyone likes different types of liquor so provide a few different options.
18. Make Birthday Cake Shots
How delicious do these birthday cake shots look? Pass them out when everyone is about to sing happy birthday for a sweet boozy treat.
Here's what you'll need:
White chocolate liqueur
Whipped vodka
Frangelico
Frosting
Get the full recipe at Inspiredbycharm.com.
19. Make a Trashed Barbie Birthday Cake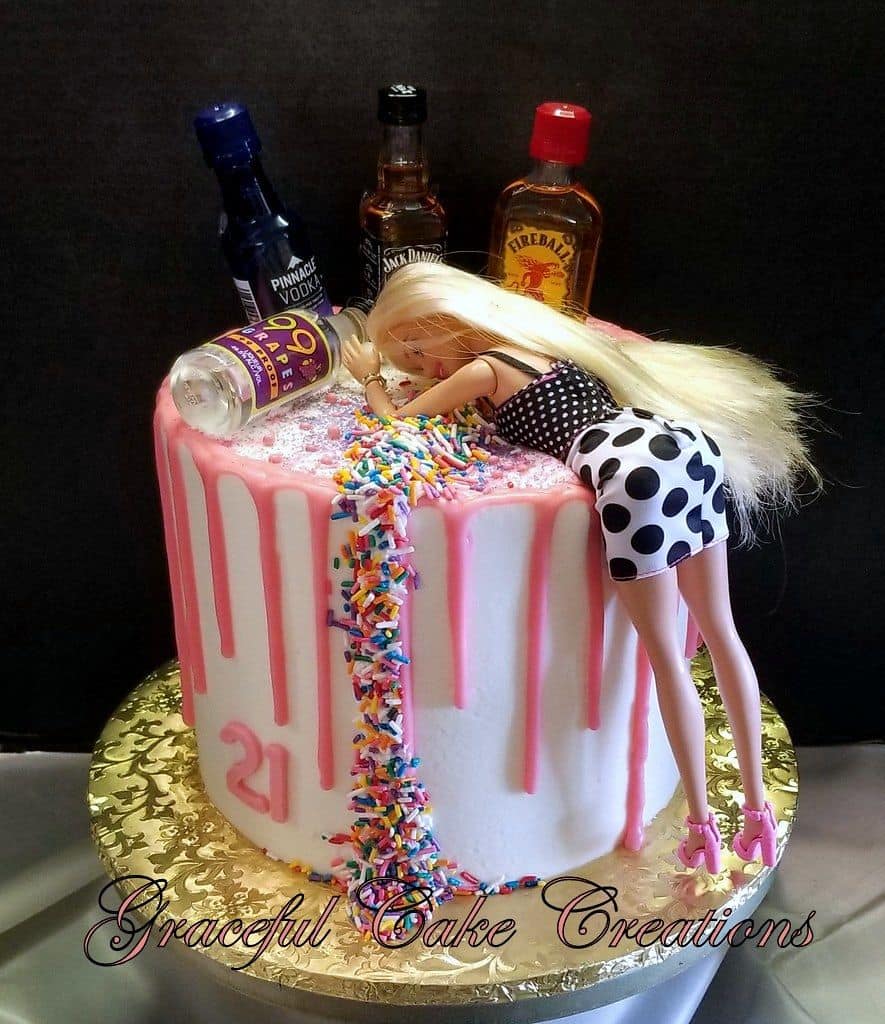 Nothing says 21st birthday party like a trashed barbie birthday cake. This would be such a hilarious cake to show up with at your bestie's 21st.
Just bake a regular birthday cake and top it with mini liquor bottles and a barbie.
You can buy barbies for about $8 on Amazon.
[RELATED: 30 Gifts For College Girls That They Actually Want]
20. Be Prepared With a Hangover Kit
If you don't need a hangover kit after your 21st birthday party you probably didn't do it right! Be prepared by putting these together ahead of time.
Here's what you'll need:
21. Alcohol Bouquet
This is a classic 21st birthday party present that everyone would love to get on their big day.
Here's what you'll need to make this:
If you really want to go all out, include some hangover essentials like painkillers and breath mints.
22. Make Glitter Liquor Bottles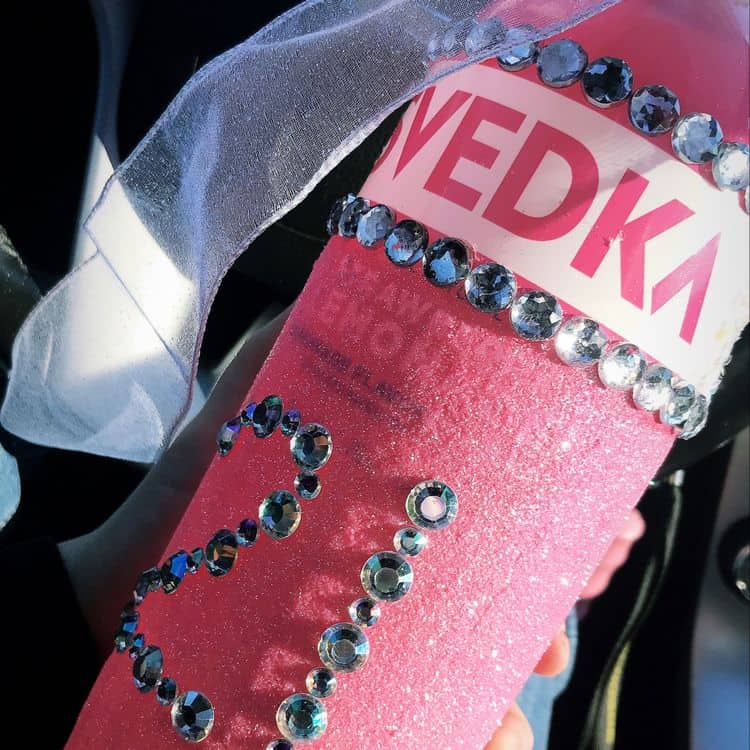 This 21st birthday gift is a 3-in-1 because it serves as a cute gift, party decoration, and something for the birthday girl to drink. It's also SUPER easy to make.
Here's what you'll need:
23. Beer Pong Cupcakes
How good do these beer pong cupcakes look for a 21st birthday party? You could fill the shot glasses with shots of alcohol or jello shots for an extra boozy treat.
24.Wear A Birthday Sash
It may seem cheesy, but you definitely need to wear a birthday sash on your 21st birthday!
I never thought I was the sash and tiara kind of girl, but my friends got one for me and it honestly ended up being so fun.
Everyone at the bar was congratulating me and buying me drinks all night, and the bartenders were all super nice. I even got pulled up on the stage at a club lol.
The Best 21st Birthday Party Decorations
Every party needs some cute decor! And luckily, there are SO many options to choose from.
Here are the best banners, balloons, and photo backdrops to make your birthday party as special as possible!
25. 21st Birthday Banner
No 21st birthday party is complete without some fun decorations. Banners are one of the cheapest 21st birthday party decorations and they're also super fun to take pictures in front of.
Both of the banners above are under $12 and you can keep reusing them for all your friends' 21st birthday parties.
26. Champagne Balloon Wall
This is one of my favorite ideas for 21st birthday party decorations.
Nothing says 21st birthday like popping some bubbly. Make a cute balloon wall with a champagne balloon and a ton of colored balloons pouring out.
27. Put Up a Photo Backdrop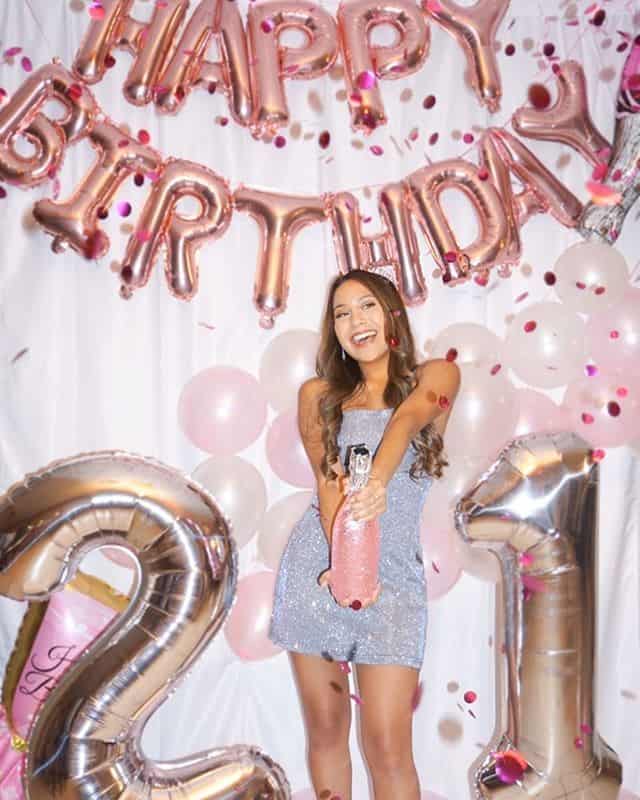 No 21st birthday party is complete without a million pictures. Make a cute photo backdrop wall with balloons and a banner. Everyone will have so much fun taking pictures in front of it!
The easiest way to set this up is to get a balloon kit. It comes with everything you need and it's way cheaper than buying everything separately!
[RELATED: The Cutest 21st Birthday Photoshoot Ideas]
28. String Light Curtains
How gorgeous is this string light curtain backdrop for a 21st birthday party? This would be so cute as a photo backdrop or behind a cake table.
All you really need are some curtain string lights and something to hang them on. In the photo above they used a photography backdrop stand which would work really well!
29. Sequin Wall
How gorgeous is this sequin wall for 21st birthday decor? This would be SUCH a fun backdrop for a birthday photoshoot, especially if you had the balloon arch around it as well.
30. Giant Number Balloons
Every milestone birthday needs some giant number balloons! They look SO cute in your birthday photos and they're perfect decor for a 21st birthday party.
31. 21st Birthday Neon Sign
If you want to go all out, you could even get a neon sign with your age on it. Again, this would be a super cute photo backdrop at a birthday party.
32. Champagne Bottle Balloons
How gorgeous are these champagne bottle balloons for a 21st birthday party?
Get a bunch of them and place them all around the room.
33. Disco Balls
Retro is super in right now, which means disco themed parties are making a comeback! I absolutely love the idea of using disco balls as decorations for a 21st birthday party.
If you don't want to deal with a bunch of disco balls laying around after the party, you could also just get balloons that look like disco balls.
34. Giant Balloons
Sometimes bigger really is better – especially when it comes to balloons.
I absolutely love the look of these giant balloons for party decor. Plus, you don't need a ton of them to make a really bit statement.
35. Balloon Arch
One of my favorite party decor ideas is to do a balloon arch. I love these because they're cheap, fairly easy to set up, and you can get them in pretty much any color.
Amazon has a TON of different options for balloon arch kits. They include the balloons, adhesive, balloon arch strips, and sometimes little decorations like greenery.
I also highly recommend getting a balloon pump because you're going to get lightheaded fast if you blow up all of those balloons yourself.
21st Birthday Themes
The only thing that can make a 21st birthday even more fun is to add a theme! Theme parties are our favorite because they are so much more memorable.
If you want to throw a theme party for a 21st birthday, here are some of the best them ideas to choose:
36. Disco Party
One of my favorite 21st birthday ideas is to do a disco themed party!
Tell everyone to dress in retro outfits, hang a bunch of disco balls, and dance the night away to some 70s music.
37. ABC (Anything But Clothes) Party
This is such a unique party theme idea that I'm obsessed with. Basically everyone has to show up wearing anything but clothes.
I've seen people wearing cardboard boxes, outfits made of gauze, trash bags, etc. Anything goes as long as it's not real clothing!
We have a full post about how to throw an ABC party here.
38. Luau 21st Birthday Party
Are you feeling the tropical vibes? Throw a luau themed party! Serve up piña coladas in coconut cups, pass out leis to all of your guests, and deck your party venue out in tropical themed decor.
There are SO many luau themed party decorations on Amazon, so decorating for this party should be super easy. I love this tropical themed balloon arch kit.
39. Space Cowboy Party
The space cowboy theme is seriously everywhere right now. I've seen it used for bachelorette parties, sorority events, halloween costumes, and of course birthday parties.
Get some cowboy hats, blow up aliens, and a fun metallic background for taking pictures and you're pretty much good to go.
40. Jungle Party
I think the jungle theme is totally underrated for a 21st birthday party. My friend recently had a jungle themed bachelorette party and it was SO much fun.
Everyone showed up in animal print, we had animal themed floaties, and there were fake vines and leaves all over the place.
41. White Lies Party
I saw this 21st birthday party theme idea on Tik Tok and I thought it was absolutely hilarious! Everyone wears a white top and writes a white lie about themselves on it.
Some hilarious ones I've seen are "I don't like tequila", "I'm really 6 feet tall", "I'm over him", "I am a good driver", etc. The more obvious of a lie, the better.
Check out our full post on the best white lies party ideas.
21st Birthday Gift Ideas
Were you invited to a 21st birthday? Don't show up empty-handed!
Here are the most thoughtful gifts to give to a 21 year old.
42. Espresso Machine
I would have LOVED to get an espresso machine as a 21st birthday present. I used to go to Starbucks all the time at 21 and getting a nice espresso maker would have saved me so much time and money.
Once I got a Nespresso machine I seriously used it every single morning. It makes coffee shop quality lattes in just a few minutes at home.
Make sure to throw in a few sleeves of Nespresso pods so they can start using it right away!
43. Film Camera
Film cameras are so popular right now with teenagers and young adults. They're such a fun way to capture memories with a super vintage look.
I have this exact film camera and I'm obsessed with it! It's so affordable, small enough to take around with me, and it takes really nice vintage pictures.
Make sure you add in some camera film with the gift so the recipient can start taking pictures right away.
44. Electric Wine Opener
Every wine drinker needs one of these super cool electric wine openers.
It makes it SO easy and quick to open up a bottle of wine, plus they just look super cool.
45. Bar Utensils Set
How pretty would these gold bar utensils look on a bar cart? This set comes with everything you need to make fancy cocktails at home. It even comes with a mini cocktail recipe book!
46. Whiskey Decanter
For whiskey enthusiasts, you can't go wrong with this vintage-looking whiskey decanter. It's super affordable and it even comes with matching glasses.
47. Skims Robe
I would freak out if someone got me this Skims robe for a birthday present! This cult-favorite is supposedly the softest robe ever made.
I'm definitely adding it to my wish list for my next birthday.
48. Lululemon Belt Bag
Another TikTok famous gift idea is this belt bag from Lululemon. It's so convenient for hiking, traveling, and just day to day life.
It's big enough for your phone and wallet but small enough that it doesn't get in the way when you're wearing it.
This bag is so popular so it's often out of stock. If you can't find the original one, this belt bag is a really good dupe for the Lululemon one.
49. Wine Tumbler
If you're looking for a super affordable 21st birthday gift, definitely consider getting them a wine tumbler.
I linked one from Yeti above, which is a super high-quality drinkware brand, but there are tons of more affordable options on Amazon.
50. Mixology Recipe Book
Most 21 year olds probably haven't mixed many drinks before. I know when I turned 21 pretty much all I knew how to make was a screwdriver lol.
With this cocktail recipe book, the 21 year old in your life will be able to whip up some insanely cool cocktails. Plus it's a super affordable gift idea!
21st Birthday Games
One smart way to keep your party guests entertained at your 21st is to have some games for them to play!
Here are some fun ideas for 21st birthday drinking games:
51. Beer Pong
A classic game for a 21st birthday party is beer pong. If you've ever been to a college party, you've probably played beer pong before.
If you're not familiar with all of the rules, here is a complete guide to the classic party game.
Here's what you'll need for this 21st birthday game:
Plastic cups (red solo cups are the most popular option)
A medium-sized table
Looking for a classier version of beer pong? This Prosecco pong game from Amazon is SO cute.
It's the same concept as the original game but it comes with plastic champagne glasses and pink balls to make it more chic and girly.
52. Drunk Jenga (Tipsy Tower)
Most people have played Jenga, but have you played drunk Jenga? It basically turns the classic game into a drinking game!
Each block has a different game or rule on it, so when you pull the block off of the tower you have to follow that rule or play the game.
For example, one of the blocks says "give one take one". That means you take a drink and choose someone else to take a drink with you.
53. Flip Cup
Flip cup is another classic college drinking game that would be so fun to play at a 21st birthday.
All you really need are plenty of plastic cups, some beverages, and a few friends to play. Read the full rules here.
54. Never Have I Ever
Never Have I Ever is a super fun party game that lets you get to know your friends a little bit better. You basically just go around the circle saying things that you haven't done.
If someone in the circle has done it, they have to put a finger down. If you want to turn it into a drinking game, you can require everyone to take a sip if they've done that thing.
You can play it without the official game, but I like having the cards so I don't have to think of my own answers.
55. Shot Glass Roulette
I've actually never played shot glass roulette but it looks like SO much fun.
Fill up the included shot glasses with different beverages and spin the wheel. Whichever one it lands on is the shot you have to take.
The fun part of the game is that you don't know what you're going to be drinking.
Some of the glasses may be filled with alcoholic drinks, some with water, and others may be a mixed drink. The crazier the better!
This post was all about fun 21st birthday party ideas.
You may also like: