30 Epic 21st Birthday Ideas For Guys
Planning a 21st birthday party for a guy in your life? In this post, we'll share 30 epic 21st birthday ideas for guys.
This post may contain affiliate links, which means I'll receive a commission if you purchase through my link, at no extra cost to you. Learn more: Affiliate Disclaimer.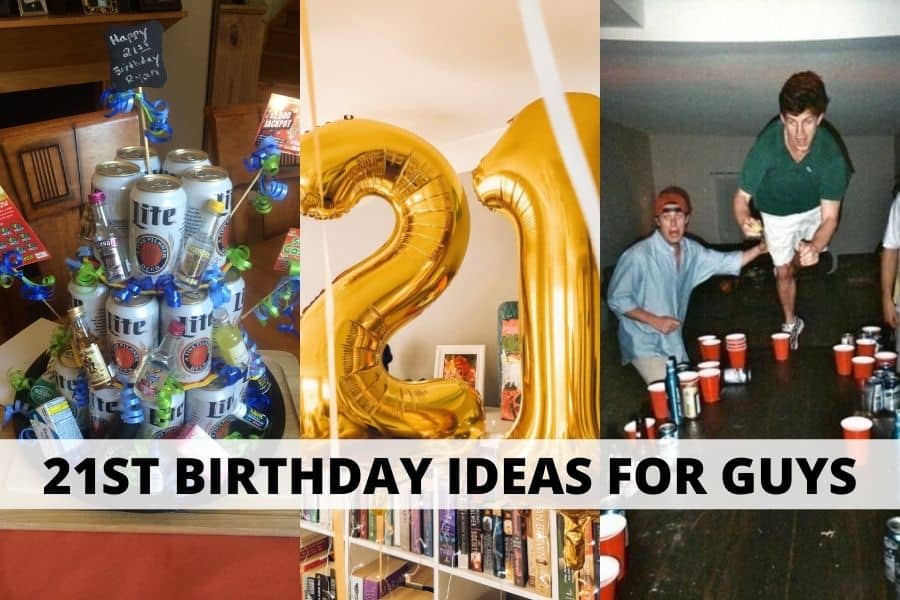 Turning 21 is a big deal and you've probably been looking forward to this milestone for a long time!
There's a TON of information out there about 21st birthday ideas for girls, but guys' party ideas seem to be a bit harder to find. That's why we put together this guide for insanely fun 21st birthday ideas for guys.
Whether you want to have a wild night out or a chilled night in, we have ideas for everyone on this list. Here are 30 of the best 21st birthday ideas for guys that are guaranteed to make it a birthday to remember.
Things To Do For Your 21st Birthday
1. Go Out To The Bars
One of the most popular ways to spend your 21st birthday is to go out to the bars with friends. If you live in the US, you've probably been waiting SO long for the day when you can finally drink at the bars legally. So what better way to celebrate turning 21?
Some people choose to go out at midnight on the night before their birthday, while others will go bar hopping on the actual day of. Or you could go both nights if you're feeling really wild!
Gather up a group of friends and go check out some of the popular bars in your area. Just make sure you take Ubers between bars or have a designated driver!
2. Brewery Tour
If you're looking for a more low-key 21st birthday celebration that still involves drinking, head to a craft brewery and take a tour.
Craft breweries are popping up everywhere these days, especially in bigger cities in the US. Pick one to hang out at for the night, or go to a few for a brewery hopping tour!
Most breweries either serve their own food or allow you to bring food in, so make a whole night out of it and order some dinner too.
A lot of people will decide to do breweries in the afternoon and then hit up the bars or clubs later in the night. It's totally up to you though – it's your day!
3. Go Clubbing
Want to crank things up a notch for your 21st birthday celebration? Head to the clubs and go dancing!
Clubs usually have much later closing times than the bars, so you'll be able to dance and party pretty much all night.
Just make sure that all of your friends are over 21 if you want to bring them to the club. Clubs can be very strict with IDs and you don't want anyone to get turned away.
4. Go On A Guys Trip
How fun would it be to do a guys' trip for your 21st birthday? A huge milestone birthday like 21 is a great excuse to get your group of friends together and head out on a fun trip.
Not sure where to go? Here are some ideas for guys trip locations:
Las Vegas for huge parties, casinos, and plenty of nightlife.
Miami for beach bars, clubs, and pool parties.
Mexico for a more affordable beach vacation.
New York or Chicago for big city energy.
Nashville for country bars and good weather.
Find cheap flights on Skyscanner or Google Flights. For accommodation, I always use Booking.com or Hotels.com to find the best deals on hotels.
5. Have A Theme Party
Throwing a house party for your 21st birthday? You definitely need to have a party theme!
Theme parties are becoming really popular again thanks to social media platforms like TikTok and I'm not mad about it! Themes make a party so much more special and memorable.
I've listed a few of the best 21st birthday themes for guys in another section below, but some of my favorites are ABC (Anything But Cups) parties, The Office theme, and Mafia theme.
6. Go To A Sports Game
One of the best 21st birthday ideas for guys is to get some friends together and go to a sports game. Sports tickets can be expensive, so your 21st birthday is a great excuse to treat yourself and get good tickets.
The sport you go see will obviously depend on the season you're in, your location, etc., but no matter what sport it is it'll be a great time! This would be a great daytime activity if you're planning on hitting the bars or clubs later in the night.
7. Do A Pedal Tavern
Have you ever seen a pedal tavern before? It's basically like a giant multi-person bicycle with a bar attached.
You'll need a big enough group for this, but if you have enough people it's such a fun way to spend the afternoon! Some pedal taverns will stop off at different bars, while others will just serve you drinks while you ride.
This is obviously only an option if the weather holds up, so guys with winter birthdays will probably want to find a different option.
8. Do A Whiskey Tasting
If you're a big whiskey drinker, you definitely need to celebrate your 21st birthday with a whiskey tasting. Head to a local distillery and taste different whiskeys and learn about the distilling process.
9. Take A Mixology Class
If you're just turning 21, chances are you haven't made too many fancy drinks in your life. Take a mixology class and learn how to make fancy cocktails for yourself and your friends.
You'll learn tips and tricks from a professional bartender, and you'll have the chance to try out some different cocktails during the class!
This would be a fun 21st birthday experience with friends or as a romantic date with your significant other.
10. Go Skydiving
Want to do something extreme for your 21st birthday? Go skydiving!
Skydiving is one of those once-in-a-lifetime activities that a lot of people will do on a milestone birthday. It's a little bit pricey, but definitely worth it for the memories!
11. Test Drive A Fast Car
Have you always wanted to drive an exotic sports car? You can make your dream a reality with the Xtreme Xperience.
This experience allows you to drive on racetracks or hit the open road in your dream sports car. They have tons of locations all over the US, so check out if there are any near you!
12. Make Reservations For A Fancy Steak Dinner
It's your birthday, time to treat yourself! One great way to pamper yourself on your birthday is to go out for a nice steak dinner.
Make reservations at a steak house near you and find a few friends or family members to go with! It'll definitely be a memorable way to spend your 21st birthday.
13. Go To An Arcade Bar
One of my absolute favorite things to do on a night out is go to arcade bars. I love these because there are tons of games to play while you drink so you never get bored.
Some arcade bars have free games to play while you drink, and others require you to buy tokens. Either way, I've never been to an arcade bar where the prices are too outrageous. This would be such a fun 21st birthday party idea for a group of guys.
21st Birthday Decoration Ideas For Guys
14. 21st Birthday Decor Kit
This kit comes with pretty much everything you need to decorate for a guy's 21st birthday party. It has banners, balloons, hanging decorations, tableware, photo props, and even a sash for the birthday boy.
15. Finally 21 Can Sleeves
One of my favorite 21st birthday ideas for guys is to hand out these birthday themed can sleeves. They will help keep everyone's cans cool at the party and they're a really good favor to send home with all of your guests.
16. Number Candles
17. RIP Fake ID Banner
How funny would this banner be hanging at a guy's 21st birthday party? Banners are one of the cheapest 21st birthday party decorations and they make really good photo backdrops.
18. Cake Topper
Are you celebrating the 21st birthday of a gamer guy? This gaming themed cake topper would be perfect to go on top of his birthday cake.
19. Finally 21 Banner
Here's another option for a good 21st birthday banner. Anything drinking-themed is perfect for a 21st birthday party!
20. Hanging Swirl Streamers
How fun would it be to walk into a party with these streamers hanging from the ceiling. I love these because they're super inexpensive but they make a big impact on your party decor.
21st Birthday Party Themes For Guys
21. Anything But Cups (ABC) Party
One of my favorite party themes lately has been ABC (Anything But Cups) parties, If you're not familiar with this theme, it's basically where all of your guests show up with different items to drink out of. The only rule is that they can't use cups!
People will show up to the party drinking out of hot sauce bottles, watering cans, shoes, etc. It's so much fun and makes for some pretty hilarious pictures.
If you need more ideas of what to do for this party theme, check out my post about the funniest anything but cups party ideas.
22. The Office Theme Party
When I threw my boyfriend's surprise 21st birthday party, I knew I had to make it The Office themed. I drew inspiration from the scene where Dwight throws Kelly a super awful birthday party with really lame decorations.
Luckily, there are kits on Amazon that have everything you need for a super funny Office themed birthday party.
23. Gaming Theme
If he's a big gamer you should definitely throw him a gaming themed 21st birthday party. Rent out space at an arcade bar, hang some funny banners, and decorate your cake with this perfectly on-theme cake topper.
24. Mafia Theme
A mafia theme would be a super fun 21st birthday theme for guys. Have everyone wear suits, smoke cigars, and carry around fake Tommy guns. Make all of your decorations black, white, and red.
25. Classy And Trashy Party
One of my all-time favorite ideas for a party theme is classy and trashy. All of your guests have the choice to show up in super fancy clothes or super trashy outfits.
People will either be dressed to the nines or look super cheap and trashy. The contrast of the two outfit styles will be so funny!
21st Birthday Gift Ideas For Guys
26. Booze Cake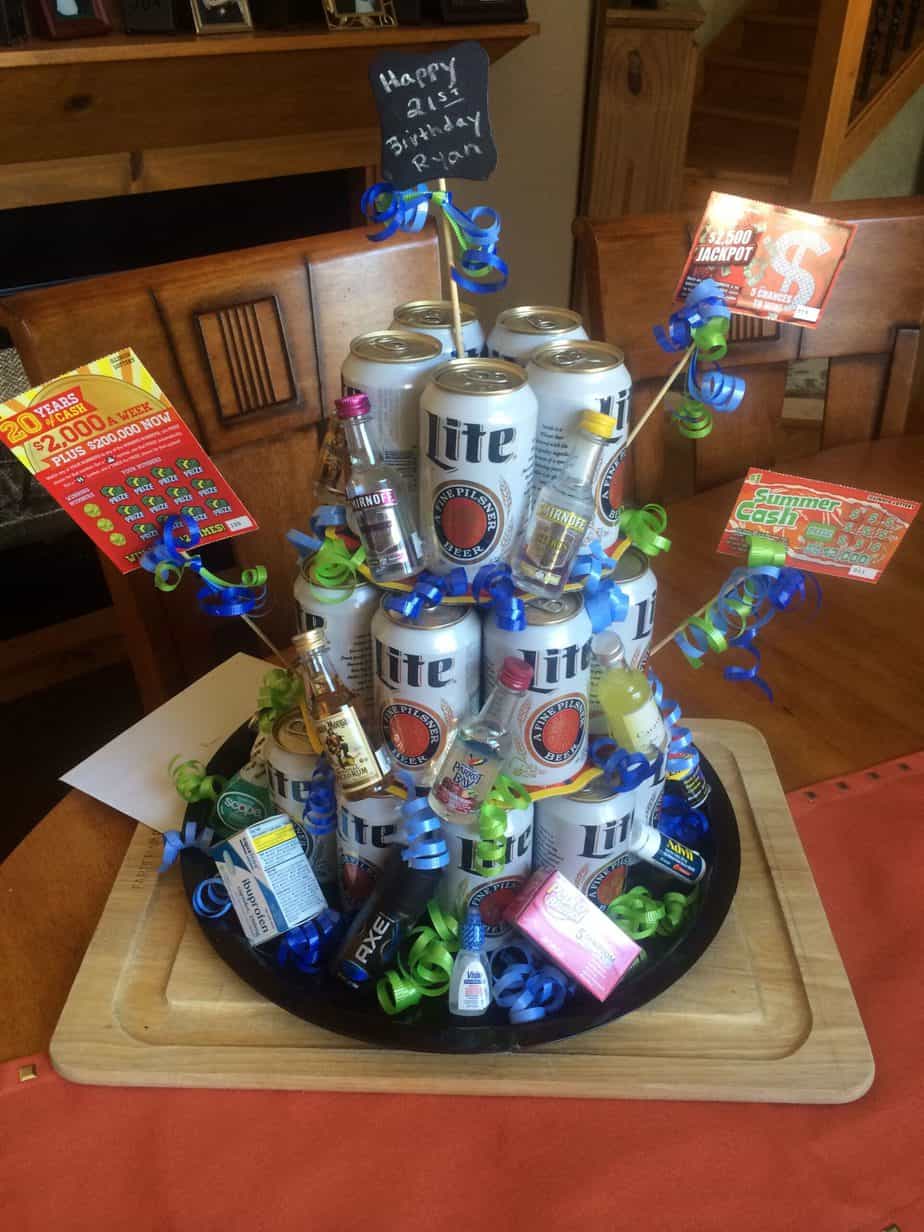 A booze cake is a classic 21st birthday present for guys. It's basically just a tiered cake made out of various alcoholic beverages.
People will make booze cakes with mini liquor bottles, beer cans, seltzers, etc. You can even do a combination of different types of alcohols!
27. Shot Clock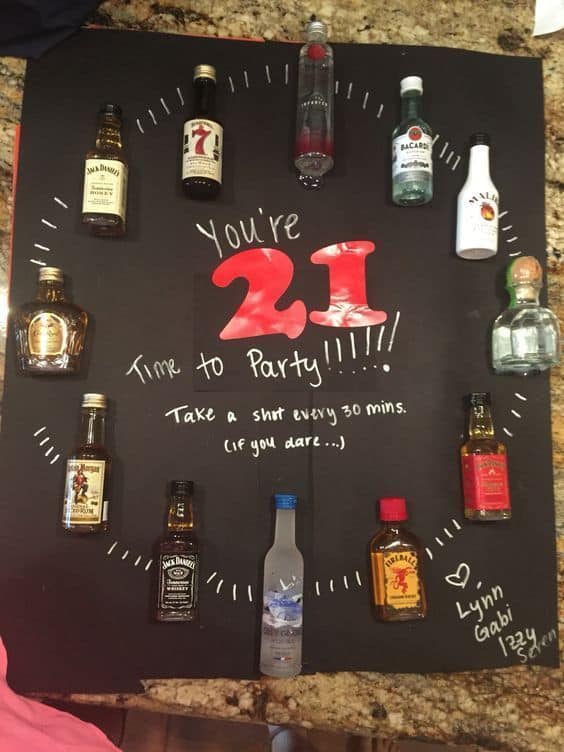 This 21st birthday gift requires a little bit more effort, but it's definitely worth it! Glue mini liquor bottles in a circle on a poster board, then draw little lines in between the bottles to signify the minutes on a clock.
Finish off the gift by writing a little message in the middle. This could be a nice birthday note or just instructions for what to do with the bottles!
28. Personalized Beer Glass
One really thoughtful 21st birthday gift for guys is a personalized beer glass. This etched glass looks super classy and expensive, but it's actually a super affordable gift!
29. Wall Bottle Opener
Yes, every single gift on this list is drinking-themed. It is a 21st birthday, after all!
This bottle opener is a really cool gift for a guy who lives in his own apartment or house. You can mount it on the wall or just stick it to your fridge and it makes it super convenient to open bottles of beer.
30. Whiskey Decanter
This whiskey decanter is the perfect 21st birthday gift for any guys who are whiskey fans. It looks classy, it's useful, and it even comes with two whiskey glasses.
This post was all about the best 21st birthday ideas for guys.
You may also like: