The Best 21st Birthday Tasks For an Epic Night
This post is all about the best 21st birthday tasks ideas.
This post may contain affiliate links, which means I'll receive a commission if you purchase through my link, at no extra cost to you. Learn more: Affiliate Disclaimer.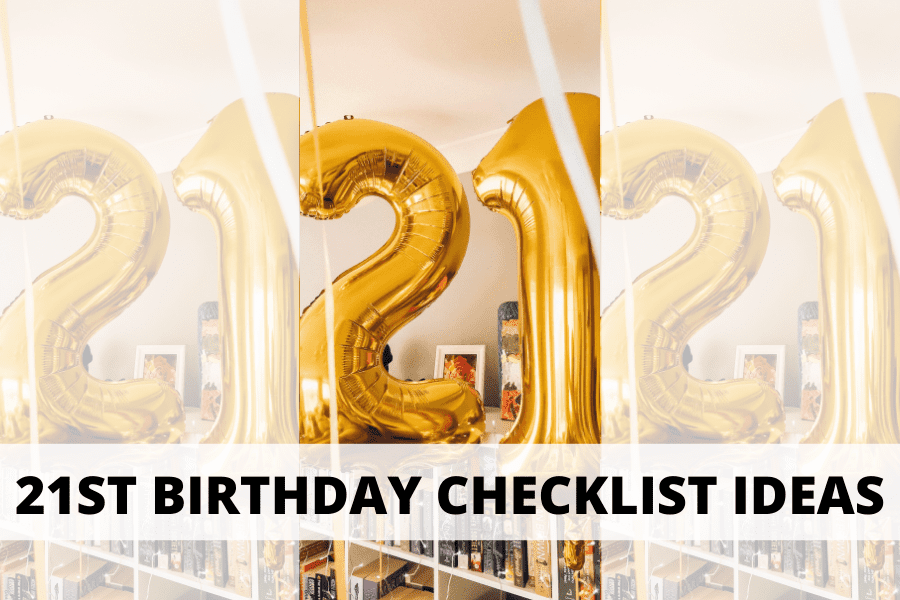 Are you or one of your best friends finally turning 21?
You've sent out a group text to all the girls, bought a cute 21st birthday sash, and picked out your outfit for the night. Now all you need to do is create the 21st birthday checklist.
The 21st birthday task list is a super fun tradition where you have a bunch of tasks for the birthday girl to do before the night is up. Sometimes coming up with ideas for the checklist can be so overwhelming though.
Don't worry, I have you covered! Here's a list of 41 fun birthday checklist ideas for a 21st birthday to remember (or not lol).
In this post, I've put together a list of fun 21st birthday checklist sign ideas.
21st Birthday Checklist Tasks
Here are some fun task ideas to put on your 21st birthday challenge list. Make sure you choose the birthday tasks that your bestie would like to do the most!
Here are 41 birthday bucket list ideas for a 21st birthday party.
1. Take a picture with the bouncer showing your ID
2. Shotgun a drink in under 21 seconds
3. Take 21 selfies with 21 strangers
4. Dance on a table
5. Kiss a stranger
6. Get a cute stranger to buy you a drink (make sure you order at the bar with him/her and get the drink directly from the bartender)
7. Visit 5 different bars
8. Order a drink that starts with each letter of your name
9. Take a shot with no hands
10. Ask the DJ for a birthday shoutout
11. Get a lap dance from a stranger
12. Start a conga line
13. Take a selfie with a cop
14. Call up the 21st contact in your phone
15. Make a toast
16. Do a birthday cake shot
17. Sing karaoke
18. Get a piggyback ride into the bar
19. Collect $21 in singles from strangers
20. Get the bar to sing you 'Happy Birthday'
21. Have someone sign a body part
22. Pop a bottle of bubbly
23. Have a picture taken every time you go to the bathroom
24. Get 21 kisses on the cheek
25. Order a drink in a fun accent
26. Yell "I'm 21 b*tches"
27. Call your mom and dad after midnight
28. Give out your number to a random guy/girl
29. Have 21 people sign a birthday card
30. Have someone take a body shot off of you
31. Post 21 birthday snapchats to your story
32. Try a new drink
33. Request the song "It's Your Birthday" by 50 cent
34. Take a picture with the bartender
35. Take a bathroom selfie
36. Chug for 21 seconds
37. Make it past midnight
38. Take a snapchat of a stranger singing Happy Birthday to you
39. Get 21 spankings
40. Make it home safe
41. And finally, don't throw up!
[RELATED: 21st Birthday Party Ideas For an Unforgettable Night]
21st Birthday Sign Ideas
Looking for cute 21st birthday sign shapes? There are tons of 21st birthday poster ideas on Pinterest that will help you celebrate your bestie's big day.
Here are some ideas for a 21st birthday checklist sign.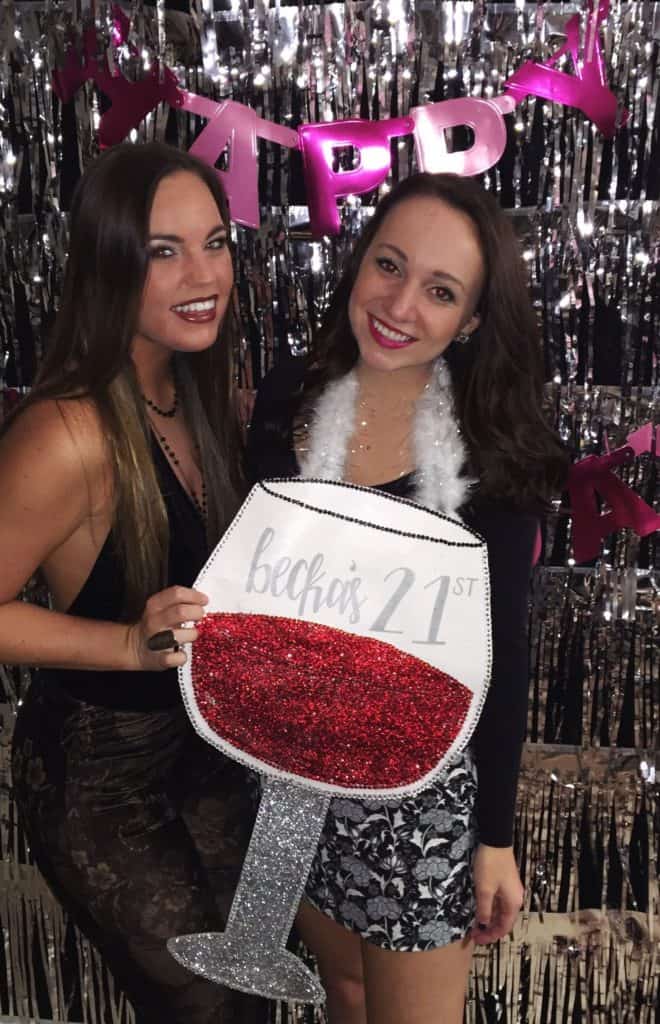 21st Birthday Drink Ideas
Not sure what drinks to order for your best friend on her 21st birthday? One fun idea is to order a drink for every letter of her name.
Here's a list of 21st birthday drinks for every letter of the alphabet.
Alabama Slammer – amaretto, orange juice, sloe gin, and Southern Comfort
BJ Shot – Kahlua and Irish cream
Cosmopolitan – vodka, triple sec, cranberry juice, lime juice
Daiquiri – rum, citrus juice, sugar
Espresso Martini – vodka, coffee liqueur, espresso
Fireball shots
Grasshopper – green crème de menthe, crème de cacao, and light cream
Hairy Navel – vodka, peach schnapps, orange juice
Irish Frog – Midori and Irish Cream
Jägerbomb – Jäger and Red Bull
Kamikaze – vodka, orange liqueur, and lime juice
Long Island Iced Tea – vodka, rum, gin, tequila, triple sec, sweet & sour mix, coke
Melon Ball Shots – melon liqueur, vodka, and pineapple juice
Negroni – sweet vermouth, Campari, gin
Old Fashioned Sweet – whiskey, bitters, orange peel, maraschino cherry, sprite
Polar Bear Shots – peppermint schnapps and crème de cacao
Q F Shooter – Midori and Baileys
Rum Sidecar – golden rum, orange liqueur, lemon juice
S** on the Beach – vodka, cranberry juice, peach schnapps, orange juice
Tequila Sunrise – tequila, orange juice, grenadine
UV Blue Shot
Vodka Cranberry
White Russian – vodka, Kahlua, cream
X-Ray – UV Vanilla vodka and coke
Yellow Submarine – vodka, white rum, banana liqueur
Zombie – light rum, dark rum, overproof rum, apricot brandy, orange juice, pineapple juice, lime juice, grenadine
21st Bday Party Essentials
Here are the best 21st birthday party essentials to ensure you have the best night of your life.
I hope these ideas for birthday dares gave you some inspiration for your 21st birthday celebration. Have any other fun 21st birthday checklist ideas? Leave them in the comments!
This post was all about the best 21st birthday checklist ideas.
You might also like: