40 Insanely Fun High School Graduation Party Ideas
Throwing a graduation party soon? Here are the best high school graduation party ideas that we're obsessing over this year.
This post may contain affiliate links, which means I'll receive a commission if you purchase through my link, at no extra cost to you. Learn more: Affiliate Disclaimer.
Graduating high school is such an awesome accomplishment and it's worthy of a big celebration.
But sometimes it can be hard to think of creative high school grad party ideas. It can be overwhelming to think of everything that needs to go into a graduation party.
We've rounded up the most creative and fun high school grad party ideas that you can copy for your party.
This post is all about the best high school graduation party ideas. You'll find the best party decor, food ideas for graduation parties, and even games to play. All while staying on a budget!
How Do You Host A High School Graduation Party?
If you've offered to host a high school graduation party this year, you're probably wondering where to even start.
There's no right or wrong way to host a grad party, but here is an example party planning list you can follow to get started:
Pick a venue. The first step should be securing a location for a party. This could be a backyard, park pavilion, community center, etc.
Set a date. Most high school graduation parties will occur within a week or two of the official graduation ceremony. Make sure you check with the graduate before you set the date. You don't want to throw their party on the same day as all of their best friends' parties!
Make a guest list and send invitations. Most people still do send formal invitations for graduation parties, but you can also just make a Facebook event page if you want to keep things more casual!
Decide what food to serve. Even if you're not hosting a full meal, you'll need to have some kind of food out for your guests to snack on.
Figure out your decorations. This post has tons of great ideas for graduation party decor, so you're in the right place!
Start setting up the day before. Graduation parties are usually a daytime affair, so getting things set up the day before is a good idea. Start blowing up balloons, arranging vases of flowers, and getting tables and chairs set up.
Greet your guests and enjoy the party! Now it's time to stop stressing and start enjoying yourself. Just be sure you keep an eye on the food throughout the day so you can replenish as needed.
The Best High School Graduation Party Decor Ideas:
1. Hang Graduation Year Balloons
2. Create a Graduate Showcase Table
3. Send Beautiful Invites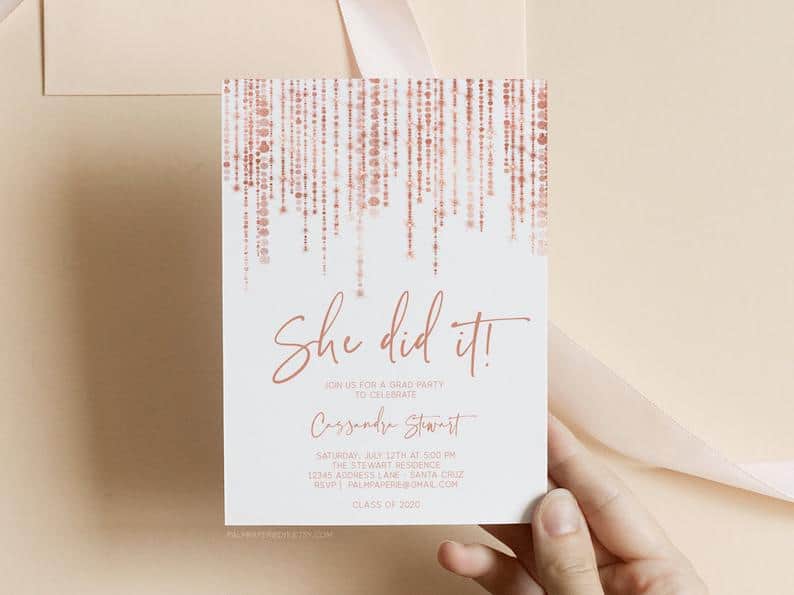 5. Decorate the Yard
Welcome your guests to your party the right way with some welcome signs in the yard. Everyone will be in the party mood the second they pull up to the house!
[RELATED: 23 Outdoor Graduation Party Ideas For A Super Memorable Party]
[RELATED: 9 Creative Graduation Party Guest Book Alternatives]
[RELATED: 11 Best Graduation Party Photo Display Idea For Your Party]
7. Do A Friends Themed Party
Copy this party idea:
The Friends graduation party theme has been insanely popular over the past few years. This banner would be such a fun photo backdrop for a Friends themed high school grad party.
Need some other ideas for a Friends themed graduation party?
Put out a seating area with vintage couches and chairs for guests to relax in
Hang Friends themed balloons around the party
Make a Central Perk style menu board
Served Friends themed food like Rachel's Trifle, Ross's Sandwich, the Joey special (two pizzas), etc.
[RELATED: 23 Creative Graduation Party Themes Your Guests Will Love]
8. Have a Photo Booth
No high school graduation party is complete without a photo booth. Luckily, they're super easy to DIY.
Just hang a cute backdrop and have guests take pictures with their phones or leave a camera out.
Need more photo booth ideas? We have a full post about cute graduation party photo booth ideas.
9. Don't Forget to Add Props
Props make your graduation party photo booth so much more fun and interactive!
Make sure you have a wide variety of fun props so the graduates and the parents can all have fun with it!
10. Ask Guests for Advice for the Graduate
Graduation parties are all about sending students off to the next chapter in their lives. Make sure you send them off right with advice from the people who love them the most.
This is a fun activity for your party guests but it'll also be something sentimental that your graduate can take with them to college or wherever they head off to.
Make your life easier and order some pre-made advice cards from Amazon.
Copy this graduation party idea:
11. Table Centerpieces
If you're having people sit and eat at tables during the party, make sure you add some cute centerpieces to each table. I love the idea of taking a vase with flowers and adding some cute graduation themed decorations to them.
Add a few pictures of the graduate to each table too to give your guests something fun to look at while they eat!
[RELATED: 15 Graduation Party Centerpieces You'll Want To Display On Every Table]
Recreate this high school graduation party idea:
12. Make a DIY Card Box
The most common grad party gift is just a card with cash or a check. Make sure your guests have a spot to put their cards by making this super easy DIY card box.
Just get a small wooden box and a little cards banner and tie it on there! So easy. This would look so cute at a rustic themed graduation party.
Copy this party idea:
13. Or Buy a Grad Themed One
If you're not feeling up to the DIY, get a cute grad themed card box on Amazon.
14. Make A Balloon Arch
One of my favorite decor ideas for any type of party is a balloon arch. It's a super easy and affordable way to make a big statement.
A great idea for a graduation party balloon arch is to use balloons that are the colors of the school you're heading off to.
Never made a balloon arch before? Here's a super easy tutorial to follow!
Recreate this graduation party idea:
15. Grad Cap Balloons
This graduation-themed balloon sculpture is the cutest decoration for your high school graduation party.
DIY this in just a few minutes by getting regular party balloons and affordable paper graduation caps from Amazon.
Copy this party idea:
[RELATED: 5 Easy Ways To Decorate Your Graduation Cap Without Ruining It]
16. Decorate With Their College Colors
One of the best graduation party decoration ideas is to decorate with your future college colors. Balloons, tablecloths, banners, etc.
If you're having a combined grad party, make a little station with each graduate's future college colors.
Copy this high school grad party idea:
17. Display College Sweatshirts
Another fun graduation party decoration idea is to display your college sweatshirts on garment stands. This is such a unique idea that I haven't seen done before!
Copy this party idea:
18. Do A Fun Jenga Guest Book
The jenga guest book is super popular for weddings but I love the idea of doing it at a high school grad party too!
The graduate can bring the game with them to college and see all of their loved ones' names every time they play.
Copy this high school grad party idea:
19. Yearbook Photo Display
I absolutely love this high school graduation party idea. Display all of your previous yearbook pictures for your guests to look at during the party.
It's so fun to see how much you've changed over the past 12ish years!
Copy this graduation party idea:
20. Hang String Lights
If you're having an outdoor high school graduation party, make sure you hang some string lights around the yard! They'll make the whole party look totally magical and help light up the yard if people party too far into the night.
Recreate this graduation party decor idea:
21. Have A Cards And Gifts Station
Most of your guests will be bringing a card or a gift to your graduation party. It's always a good idea to have a sign out on a table for guests to put them on. That way they don't have to carry them around for the whole party.
Your cards and gifts sign can be just as cute as the rest of your graduation party decor! Make sure to pick something out that fits with your aesthetic or DIY it with a chalkboard sign.
Copy this graduation party idea:
[RELATED: 45 Super Thoughtful Graduation Gift Ideas For Your Best Friend]
22. Play Graduation Games
Keep your graduation party guests entertained the whole day with these fun grad party games.
The best part? You don't have to do any work! This set of 4 graduation party games is already made and printed for you so you can focus on more important things.
23. Do A Travel Theme
One of my favorite themes for high school graduation parties is travel and adventure. Heading off to college or the corporate world is definitely a new adventure worth celebrating.
There are a ton of cute travel themed graduation decorations on Amazon. Here are a few of my favorites:
24. Play Yard Games
If you're having an outdoor graduation party, make sure you have plenty of yard games for your guests to play!
25. Hang Photos On A Tree
This is such an adorable way to display photos of the graduate! You can get their senior photos printed out and hang them around any tree in your yard.
Recreate this graduation party idea:
26. Line Your Driveway With Photos
This is such a great way to display photos at your graduation party. Your guests will have so much fun looking at all the pictures as they enter your party. I love the idea of displaying a photo from each year of the graduate's life.
High School Graduation Party Food Ideas
27. Make An Elegant Dessert Table
How classy does this dessert table look? I love all of the natural elements and eucalyptus stems set out on the table. Put out a bunch of different types of desserts for your guests to choose from.
[RELATED: 19 Graduation Party Dessert Ideas To Impress Your Guests]
Copy this grad party dessert idea:
28. Serve Drinks in a Fun Way
Make it easy for your guests to fill up their cup with a cute drink station. Make sure you add labels, especially if some of the drinks will contain alcohol.
Copy this party idea:
29. Graduation Cap Straws
How cute are these grad party straws? This is the perfect little touch to add to your graduation party decor. No matter what type of drinks you serve at the party, make sure you serve them with these adorable graduation party straws!
30. Do A Nacho Bar
One of the easiest high school graduation party food ideas is to do a nacho bar. Nacho ingredients are super affordable, plus pretty much everyone likes Mexican food!
Also how cute is this sign? It says "nacho average graduate".
31. Have A Candy Bar
Candy bars are a great sweet treat option for graduation parties because everyone likes candy! Make sure you have a good mix of fruity and chocolate candies.
Copy this party idea:
32. Make Graduation Themed Candy Buckets
Just when you thought the candy bar idea couldn't get any more perfect…
I love this grad party idea to add school themed signs to each candy dish. You can DIY these signs really easy or buy them on Etsy.
Copy this party idea:
33. Custom Water Bottles
This is a small detail but one that your grad party guests will definitely remember! Hand out water bottles with these customized graduation stickers on them.
34. Have A Donut Wall
How fun would it be to have a donut wall at your high school graduation party? These are such a cute way to display donuts.
Copy this graduation party idea:
35. Make Themed Treats
There are so many cute high school grad party food ideas on Pinterest. I think these grad cap treats are absolutely adorable and they look delicious!
All you need are some lollipop sticks and a few different types of candies to make these.
36. Serve Drinks In Mason Jars
Looking for a unique way to serve drinks at your graduation party? Pre-mix them and serve them in mason jars! This makes it really easy for your guests to grab their drinks.
Copy this graduation party idea:
37. Diploma Cookies
A super easy graduation themed desert is just to tie some ribbons around pirouette cookies. They look like little diplomas!
Copy this graduation party food idea:
38. S'mores Bar
S'mores are the easiest deserts to serve at a high school graduation party because they don't require any assembly ahead of time.
If you have a fire pit or a tabletop burner, a s'mores bar will be a super fun addition to your grad party.
Copy this grad party idea:
39. Grad Hat Cupcake Toppers
If you're serving cupcakes at your graduation party, you'll want to add some adorable grad hat cupcake toppers!
40. Have A Pizza Bar
Looking for food to serve at your graduation party that will be a crowd pleaser? Serve pizza! I've never met anyone who doesn't like pizza. Set out a bunch of different kinds of pizza – pepperoni, veggie, cheese, hawaiian, etc.
This post was all about fun high school grad party ideas.
You may also like: