Graduating from nursing school soon? This post is all about the best nurse graduation cap ideas.
This post may contain affiliate links, which means I'll receive a commission if you purchase through my link, at no extra cost to you. Learn more: Affiliate Disclaimer.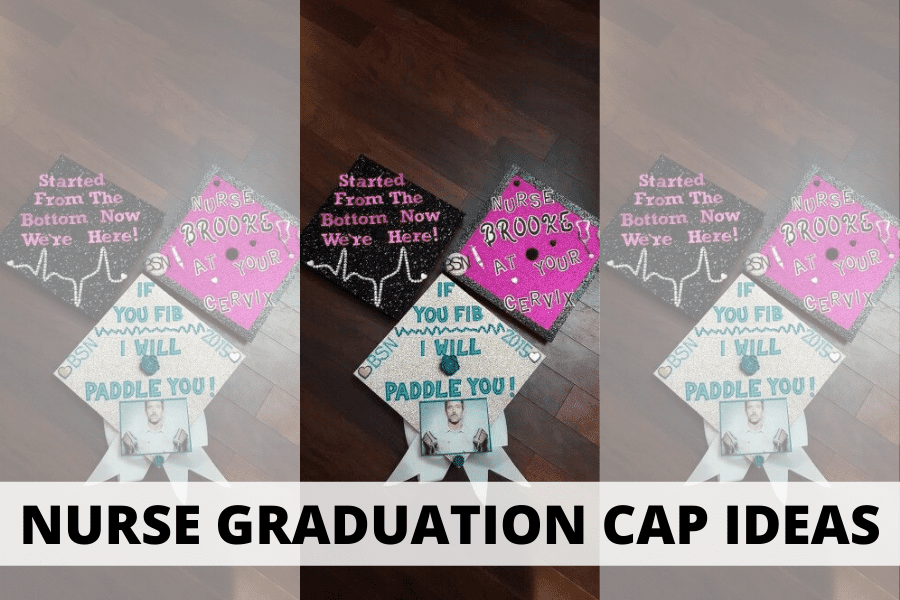 Whether you're heading into your first year of nursing school or you've just graduated…congrats!! That is such a huge accomplishment.
With all of the exams and studying, you probably haven't even had time to think about how you're going to decorate your grad cap.
That's why I put together this list of 34 nurse graduation cap ideas that you absolutely NEED to see!
By the way, if you're graduating soon and throwing a party, here are the absolute best nursing school graduation party ideas that you'll want to copy.
Cute Graduation Cap Ideas For Nurses
1. Nursing Stickers Grad Cap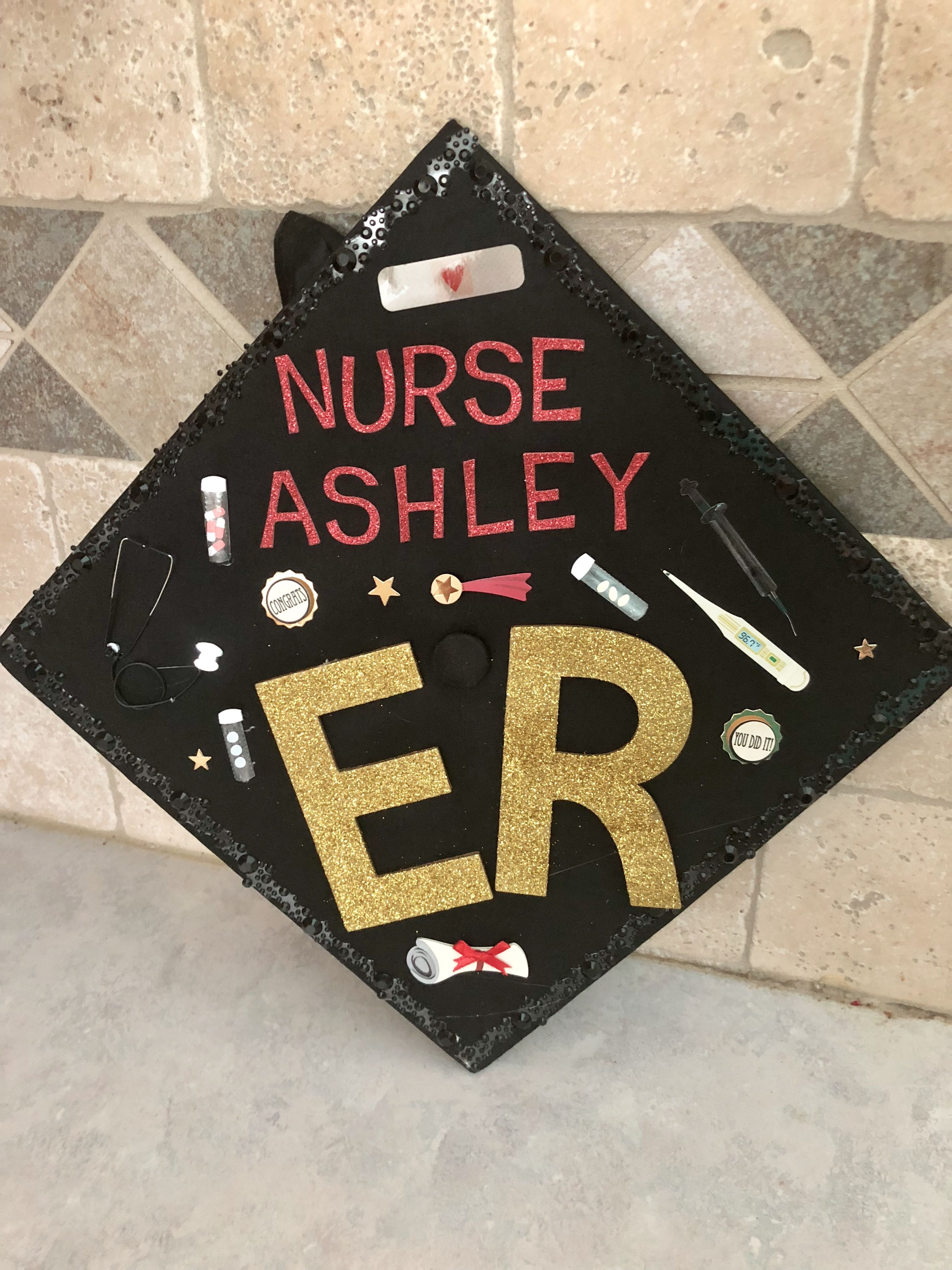 One cute way to decorate your graduation cap after nursing school is to add a bunch of nursing themed stickers to it.
This pack of nursing themed stickers from Amazon would look super cute on a graduation cap.
2. Little Miracles NICU Nurse Graduation Cap
How cute is this NICU nurse graduation cap? I love the combination of the glittery background, black bow. and pink and white flowers. So fun and girly.
3. Angels With Stethoscopes Grad Cap
This nursing graduation cap idea is so creative! I love that they created the stethoscope out of black and white gemstones. You could easily recreate this look with these stick-on gemstones from Amazon.
4. I'll Be Your Nurse Today Cap
You're going to be saying this sentence pretty much for the rest of your life haha, so you may as well start now! I also love the giant 3D flowers this girl added.
5. Glam Nurse Graduation Cap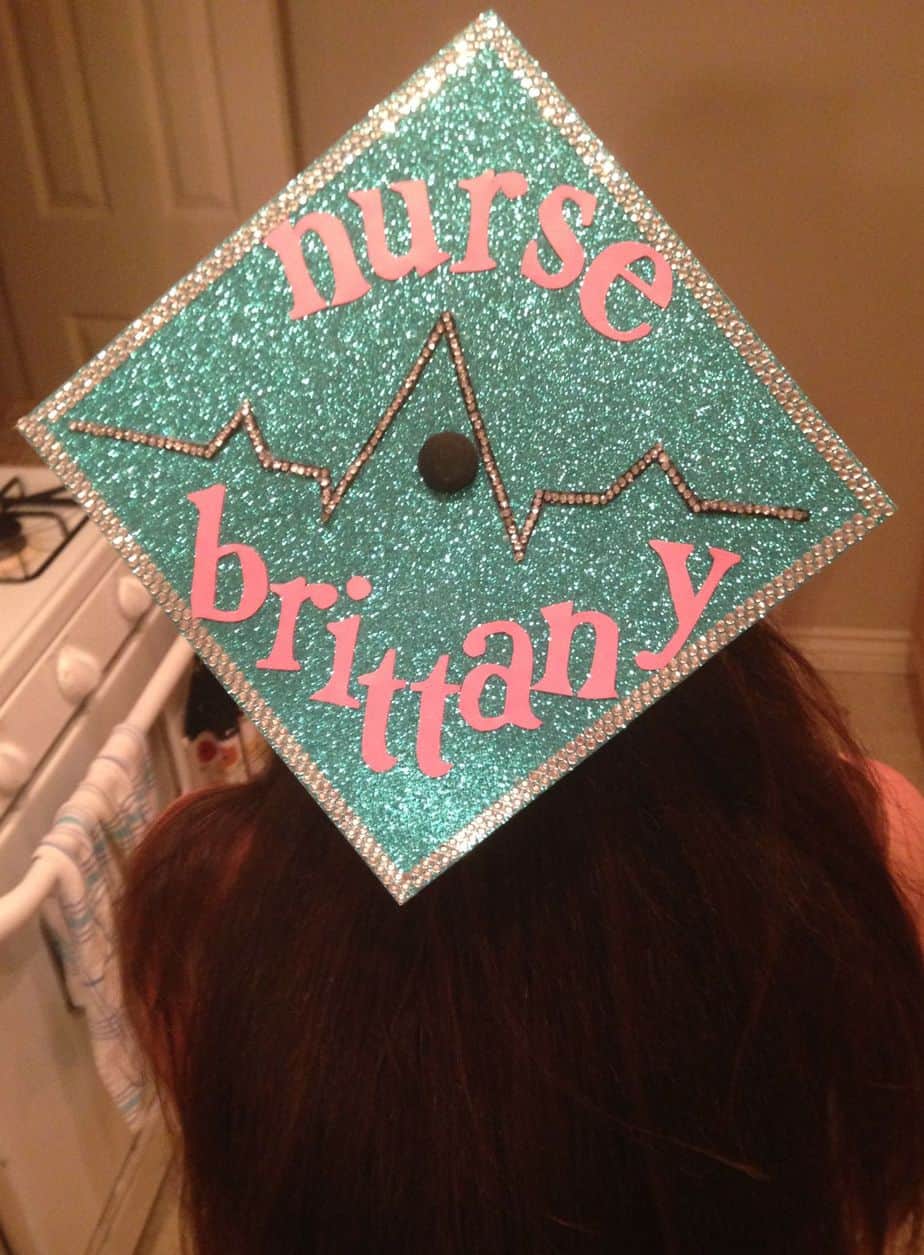 I love how simple but glam this nursing graduation cap is. Just add some letters onto a sparkly background for a really cute grad cap decoration. Add some stick-on rhinestones (like these) to look like a ECG line.
6. The Best Things Come In Small Packages Cap
How cute is this graduation cap design idea for a future NICU nurse?? This would be super easy to recreate with some glitter paper, letter stickers, and adhesive sheets of rhinestones.
7. PEDS Nurse Grad Cap Design
What an adorable graduation cap idea for a pediatric nurse grad. The letters say "who says we have to grow up?", which is perfect for PEDS nurses because they'll be working with kids.
8. Friends Themed Nursing Graduation Cap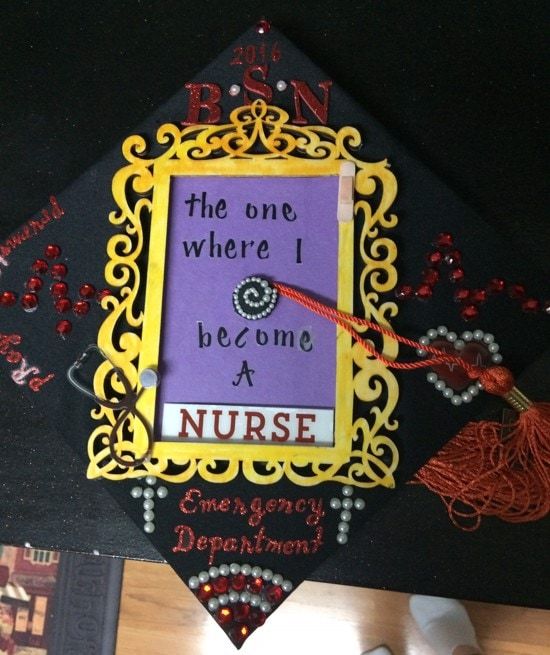 If you're a Friend's fan, you'll immediately recognize the yellow frame from the peephole in Monica's apartment. This would be an iconic design for your nursing school graduation cap.
9. Floral Nursing School Graduation Cap
I love the floral design of this nursing graduation cap! It's simple, pretty, and timeless! this looks like it was either printed out or handmade with black paper and some metallic gel markers.
10. Beautiful Day To Save Lives Grad Cap Idea
This is definitely one of the most beautiful nurse graduation cap ideas I've seen. I love the ECG line and the gorgeous 3D flowers.
Funny Nursing Graduation Cap Ideas
11. ABCD Nurse Graduation Cap
If you're a nursing school graduate, you definitely know the ABCs of care. I love this hilarious play on that well-known protocol.
This graduation cap topper is available from the Etsy seller K's Krafty Corner here.
You can also recreate this graduation cap look yourself with 3D craft flowers, pink and black letter stickers, and stick-on pearls.
12. NCLEX Is Coming Cap
Game of Thrones fans will definitely understand this reference. There is nothing that nursing grads dread more than taking their NCLEX exams. Everyone will laugh when they see this funny nurse graduation cap idea!
13. Educated Dealer Graduation Cap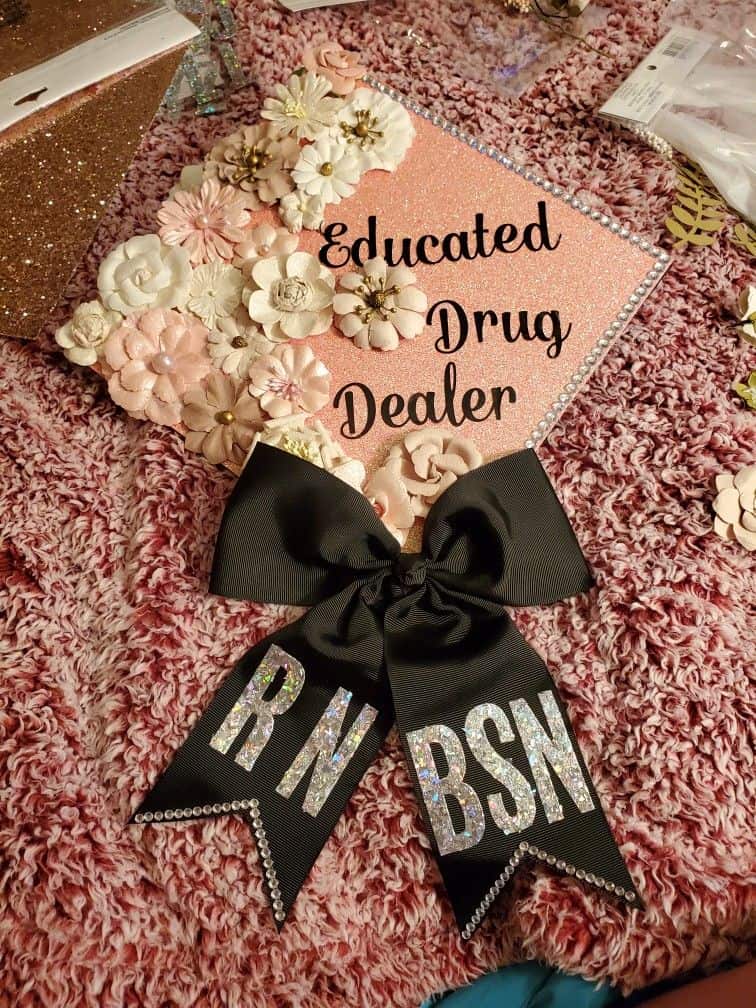 Okay, you have to admit this is pretty dang funny. Now that you're a nursing grad, you can say that you're basically an educated dealer.
14. Fixin' Cuts Nurse Grad Cap Idea
This graduation cap really shows off the "glamorous" side of nursing haha. Recreate this funny nurse grad cap with stick-on gemstones, faux flowers, and some glitter letter stickers.
15. Hand Washing Nursing Grad Cap
Such a funny graduation cap idea for nurses! Obviously we know nurses do a LOT more than just wash their hands properly (thank you nurses!), but you have to admit this is hilarious.
16. Busted Mine To Save Yours Cap Idea
This is one of the most popular funny nurse graduation caps. I've seen variations of this "busted mine to save yours" cap ALL over Pinterest. It's super funny and so true!
Recreate this one with silver glitter paper, black letter stickers, and red stick on gemstones.
17. Hot Nurse Sh*t Graduation Cap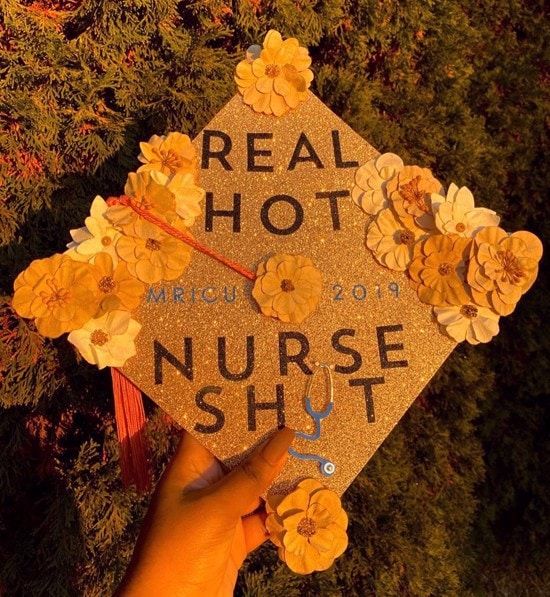 I'm obsessed with this funny nurse graduation cap idea! You're one hot nurse and everyone should know it!
18. Almost Lost Me Grad Cap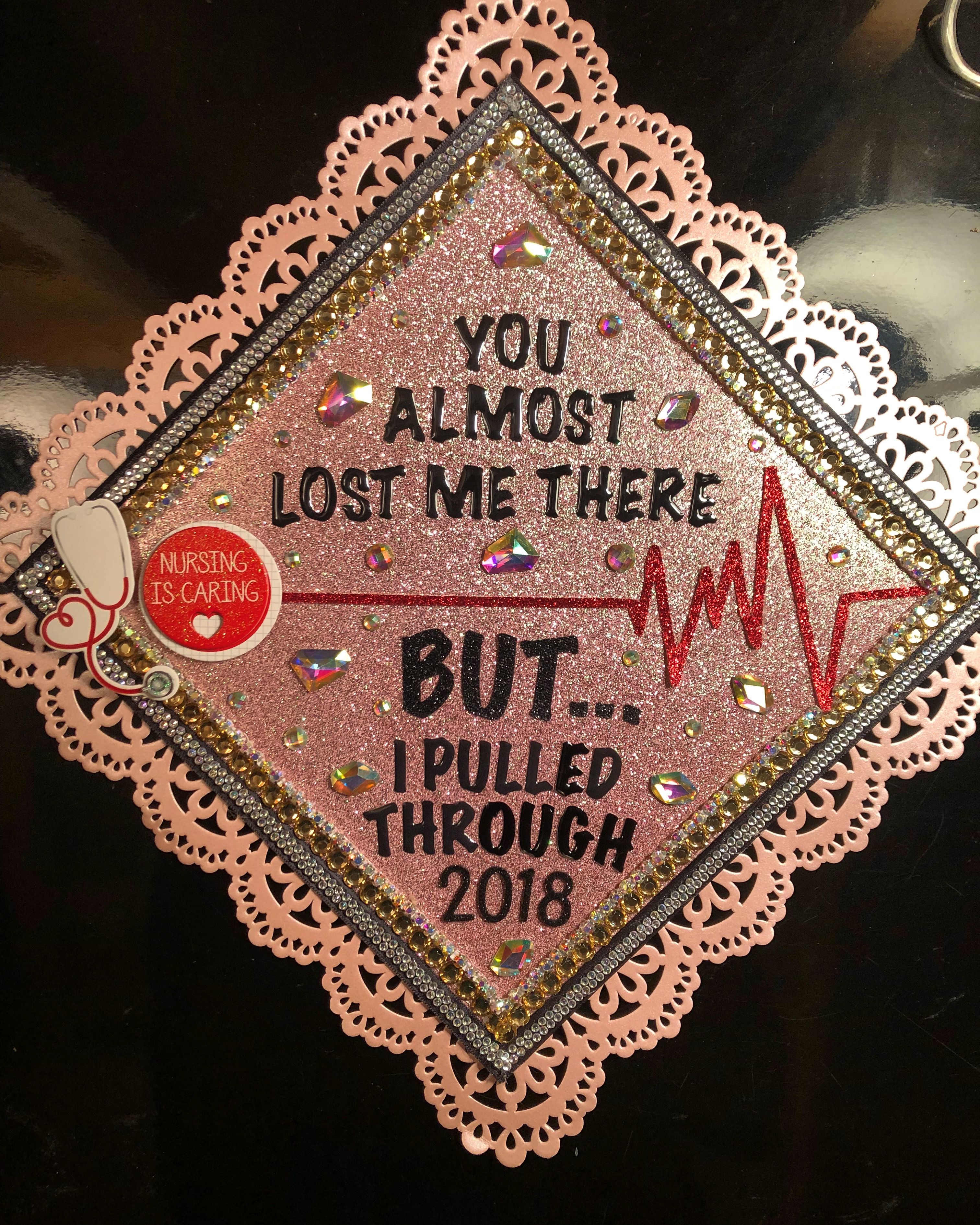 Nursing school is HARD work but you pulled through! Celebrate your achievement with this cute and funny nursing school graduation cap idea.
19. NCLEX Then Chill Grad Cap Idea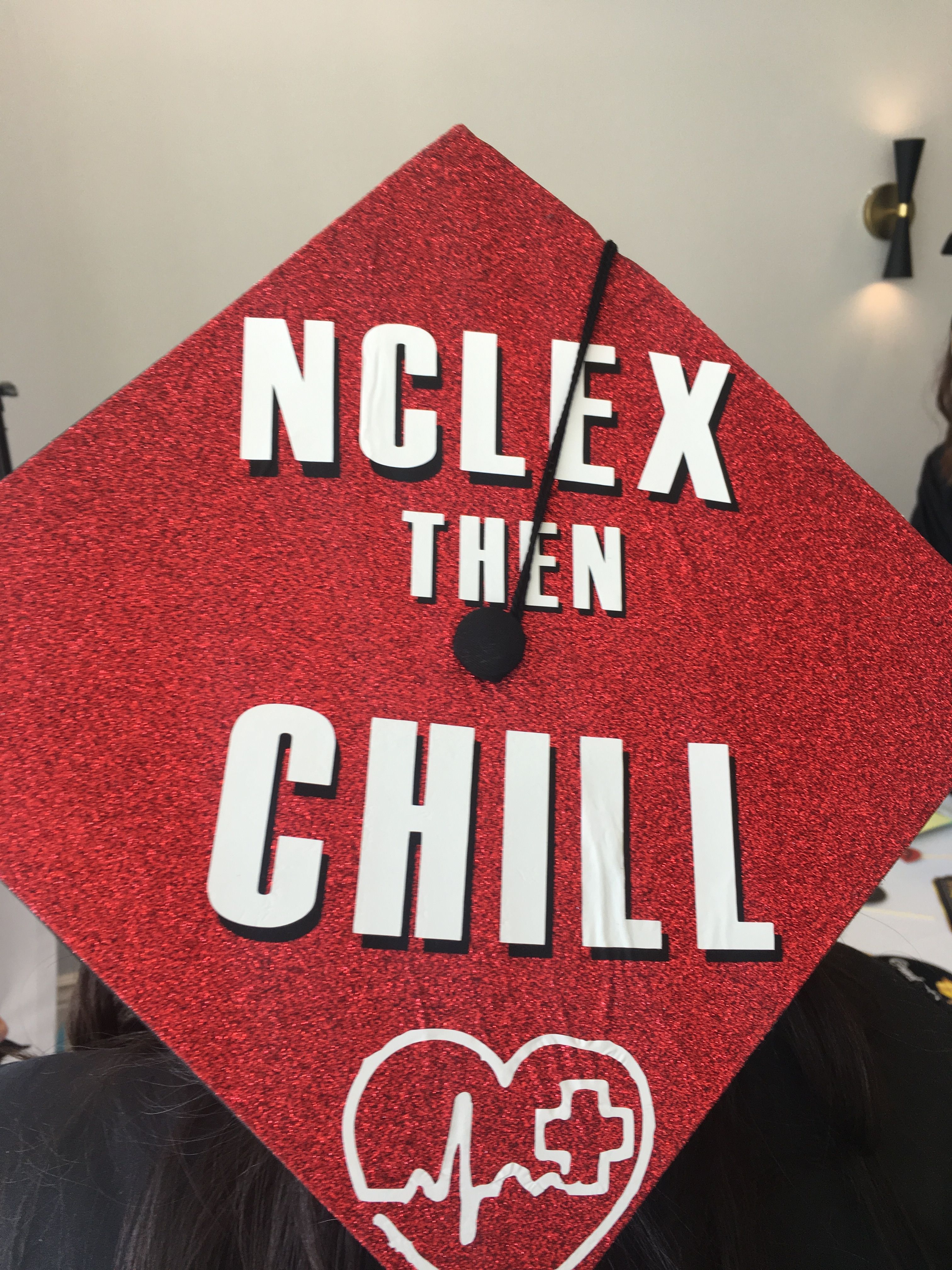 I think this is one of the funniest graduation cap ideas on this list! It's a play on the Netflix and chill phrase that everyone used to say. You'll definitely get some laughs from your fellow graduate.
Basically, you just need some red glitter paper, white and black letter stickers, and the nursing symbol. You'll layer the black and white stickers on top of each other to look like the Netflix logo.
20. Time For Shots Cap
Get your shots and take some shots because you're officially done with nursing school! This graduation cap for nurses is hilarious and super easy to recreate.
21. One Degree Hotter Graduation Cap
I'm obsessed with this "One Degree Hotter" graduation cap design. It's hilarious but also super cute!
22. Trauma Queen Graduation Cap
This one is for the future trauma nurses! I love the bold red letters and the statement bow. Add some stick-on gemstones and a cute nurses hat sticker and you're good to go!
23. EaRNed A Nap Cap
This play on words is so cute and absolutely hilarious. Nursing school graduates definitely earned themselves a nap! Recreate this funny grad cap idea with gold and black letter stickers, 3D flower stickers, and whatever color background you like.
24. A-FIB Nurse Graduation Cap Idea
I love a good pun! This A-FIB graduation cap is hilarious and also super beautifully designed. I love all of the intricate details with the flowers and various nursing symbols.
Inspirational Nursing Graduation Caps
25. Carried You Nursing Grad Cap Idea
This inspirational nursing grad cap is beautifully decorated and super easy to recreate. You can spell out any inspirational quote you want with these rhinestone sticker letters.
26. Big Journey RN Grad Cap Idea
This graduation cap quote for nurses is genius because it represents two different things. It commemorates the big journey that you went through to get through nursing school, but it also hints at the tiny little humans you'll be helping in the NICU now that you're graduated.
27. Impossible Until It's Done Nurse Grad Cap
This inspirational graduation cap could be used for graduates from any major, but it especially rings true for nursing majors. Nursing school is TOUGH, and it definitely can feel impossible at times. But you've made it through!
28. Be The Change Cap Idea
There's no denying that nurses are changing the world. So this quote is perfect for a nursing school graduate's cap.
29. Comeback Nurse Grad Cap
You may have gone through a lot of setbacks in your time in school. But that didn't stop you from graduating! Celebrate the good and the bad with this inspirational graduation cap idea.
30. One Step Closer Graduation Hat Design
Graduating nursing school brings you one step closer to your dream! I absolutely love this intricately designed graduation cap idea.
31. Giving Hope Grad Cap
Trauma nurses are definitely heroes! They help people get through the worst days of their lives. This graduation cap sums that up pretty well.
32. She Laughs Without Fear Nurse Grad Cap
I've seen this bible verse on a lot of different graduation caps, but it's especially good for nursing graduates.
33. Adventurous NICU Nurse Grad Cap
Nursing school was probably quite the adventure, but you're not done yet! Now it's time to head into the real adventure that is being a nurse. This graduation cap is beautiful and super easy to recreate with a white fabric marker, gold letters, fake flowers, and some stick on pearls.
34. Inspirational ER Nurse Grad Cap
The smaller words on this graduation cap say "the best way to find yourself is to lose yourself in the service of others." Nurses are the ultimate example of serving others!
Recreate this inspirational grad cap with some cursive letter stickers and some multicolored stick-on gemstones. For the border, they used this rhinestone diamond ribbon.
Nursing Graduation Cap Toppers
If you don't want to DIY your nurse graduation cap, there are plenty of pre-made nursing graduation cap toppers you can buy on Amazon and Etsy. Here are a few of my favorites:
This post was all about the best nurse graduation cap ideas.
You may also like: