Touring campuses soon and not sure what to wear to a college visit? We have you covered! Here's exactly what you should wear when you're touring colleges.
This post may contain affiliate links, which means I'll receive a commission if you purchase through my link, at no extra cost to you. Learn more: Affiliate Disclaimer.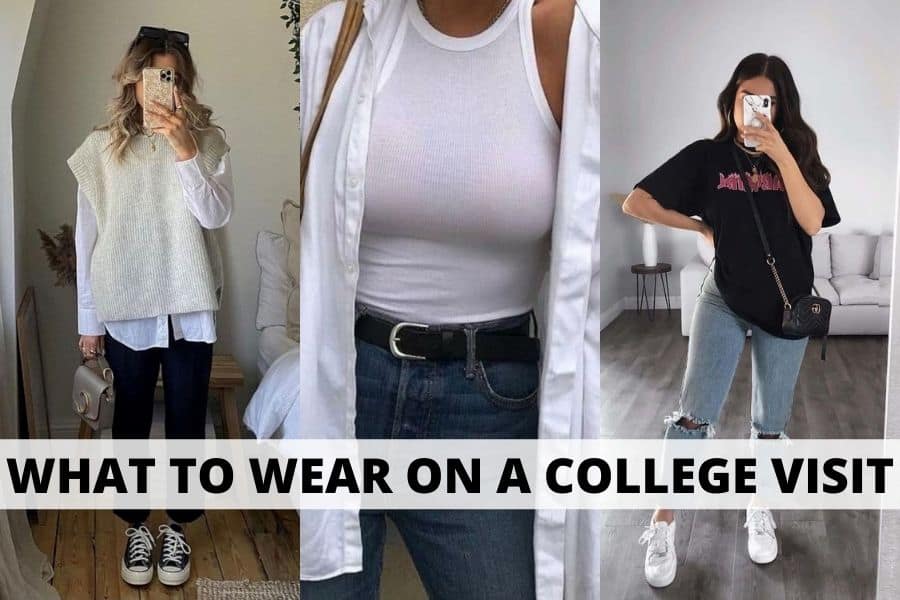 You have made it to a very exciting time in your life: picking the college that will become your new home for 4 to 5 years! If you've been getting ready for college visits, you've likely asked about what to wear to a college visit.
I'm here to tell you that though it may be stressful to decide on a college visit day outfit, it is a lot easier than you might expect.
Continue reading to learn what to wear to a college visit and find answers to other commonly asked questions about college visit day.
P.s. we also have a whole post about what to wear to college classes once the school year starts!
What to Wear to a College Visit
Should You Dress Casual or Dressy?
The first concern many prospective students have is whether they should dress up for their college visit or dress casually. The short answer to this question is "it depends".
Whether you dress comfortably or dress up depends on what your college visit day looks like.
A standard college visit day involves a tour of the campus, attending some informational sessions, meeting other students, and learning more about the college.
If this sounds like the college visit day the school you're visiting advertised, then it is completely fine to dress in casual attire.
You want to make sure that you are comfortable throughout the day as you move around campus. 
However, some college visit days include interviewing with admissions, speaking with department heads, or meeting a faculty member in your department.
For these types of college visits, dressing casually may not give off the best impression.
If you know that your college visit is going to include any of these components, opt for a little bit dressier attire. Business casual is typically the best option for these visits.
What about the Weather?
Something you should also be prepared for is the weather on the day of your college visit.
The last thing you want is to be sweating too much from the summer heat or freezing as you are walking between buildings.
For warm weather, opt for lighter breathable clothing.
If you expect colder temperatures, dress in layers to allow yourself flexibility throughout the day.
Is rain in the forecast? Grab an umbrella and a rain jacket before you leave home to keep yourself dry throughout the day.
Check the weather before you go and dress accordingly. 
Do You Have to Dress Up for College Visits?
You generally do not have to dress up for college visits.
Most colleges will tell you if they would like you to dress up, and they will also give you an itinerary so that you can make that judgment for yourself. 
That being said, you probably shouldn't wear pajamas when visiting a college you might attend in the future.
You still want to make a good impression on the people you meet there including other students, faculty, and staff members. 
You should also remember that the college visit is meant to be about you, the student.
Colleges want to show you what they have to offer because they want you at their school.
Ensuring that all of the clothes you wear and comfortable and broken in is important as you want to make sure nothing is distracting you from the information shared throughout the day.
Outfit Ideas for a College Visit
If You Are Touring…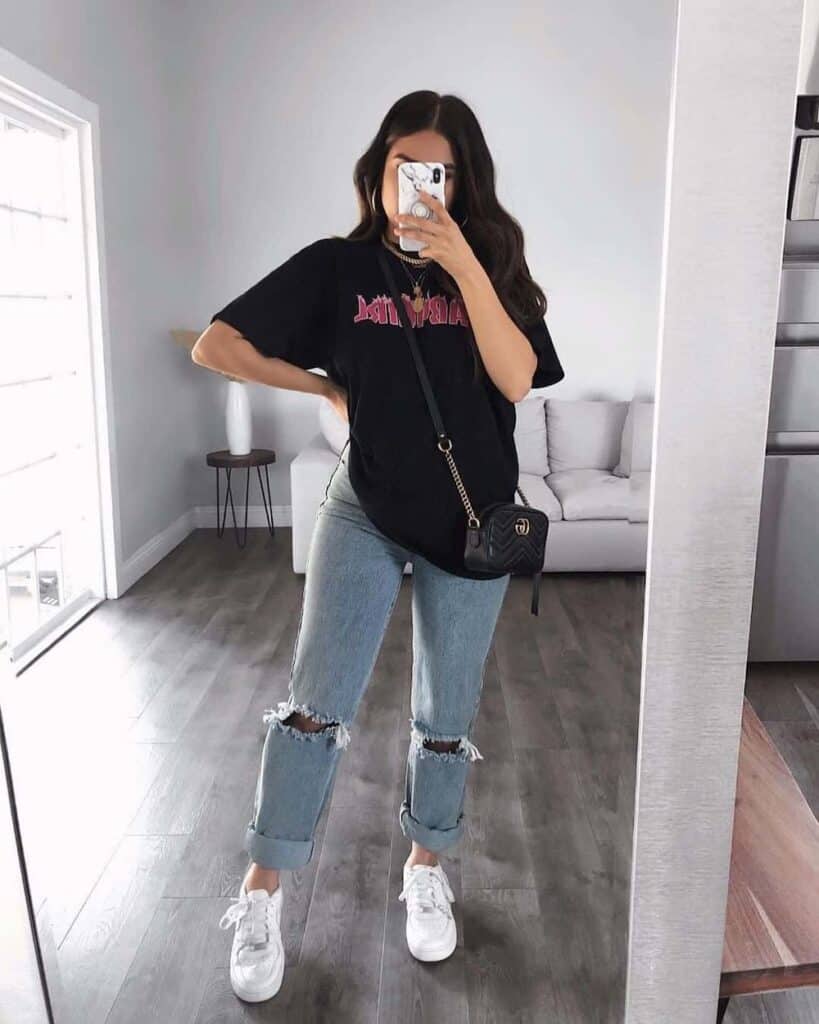 If you are just touring the campus and attending informational sessions, feel free to dress as you would on any normal school day, but make sure you are still presenting your best self.
For example, jeans and t-shirts are okay, but you should avoid shirts with offensive slogans or images.
You could also wear a casual dress as long as you are comfortable walking around in it all day.
You should also wear comfortable shoes as you'll be on your feet for most of the day. 
If You Are Meeting a Professor…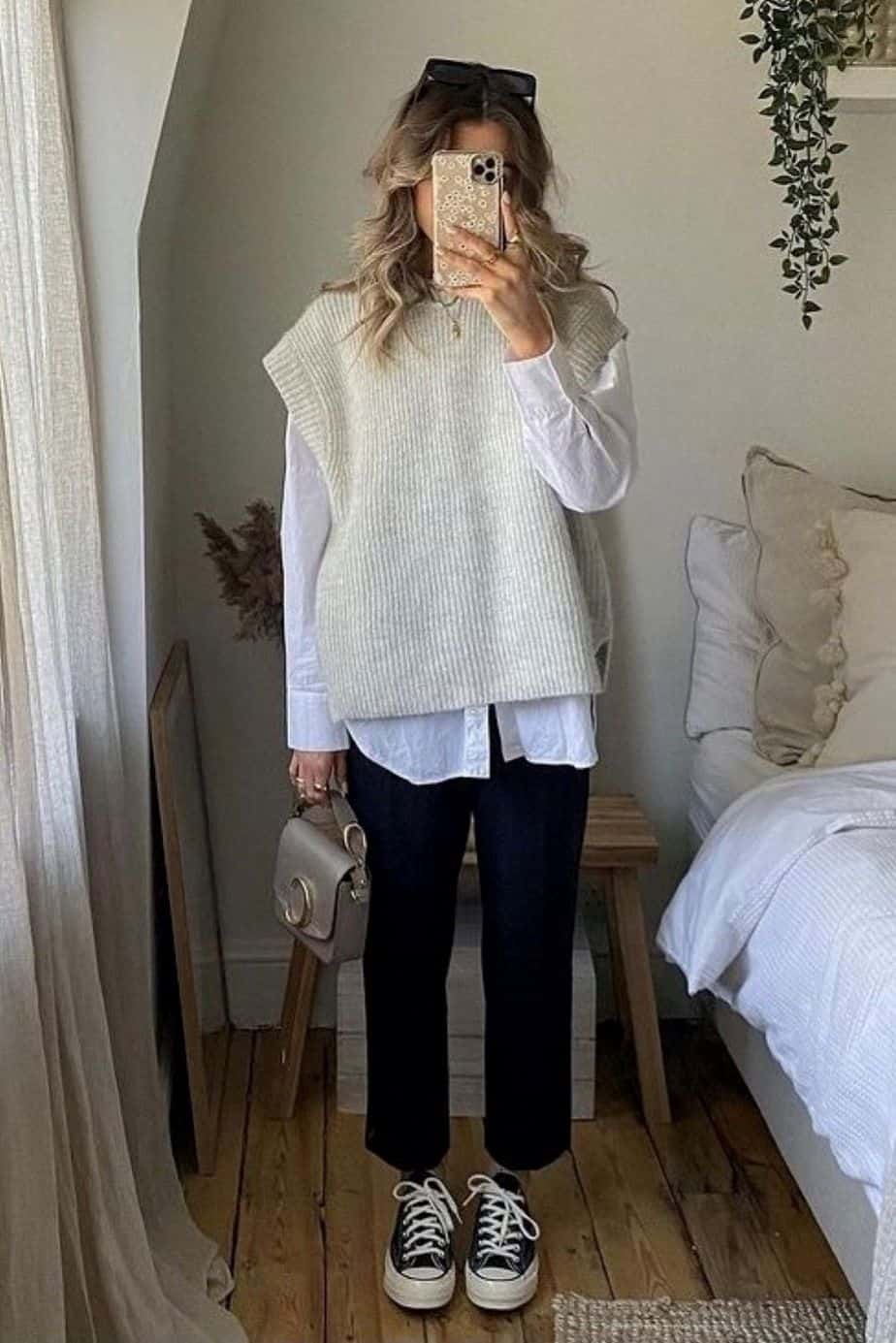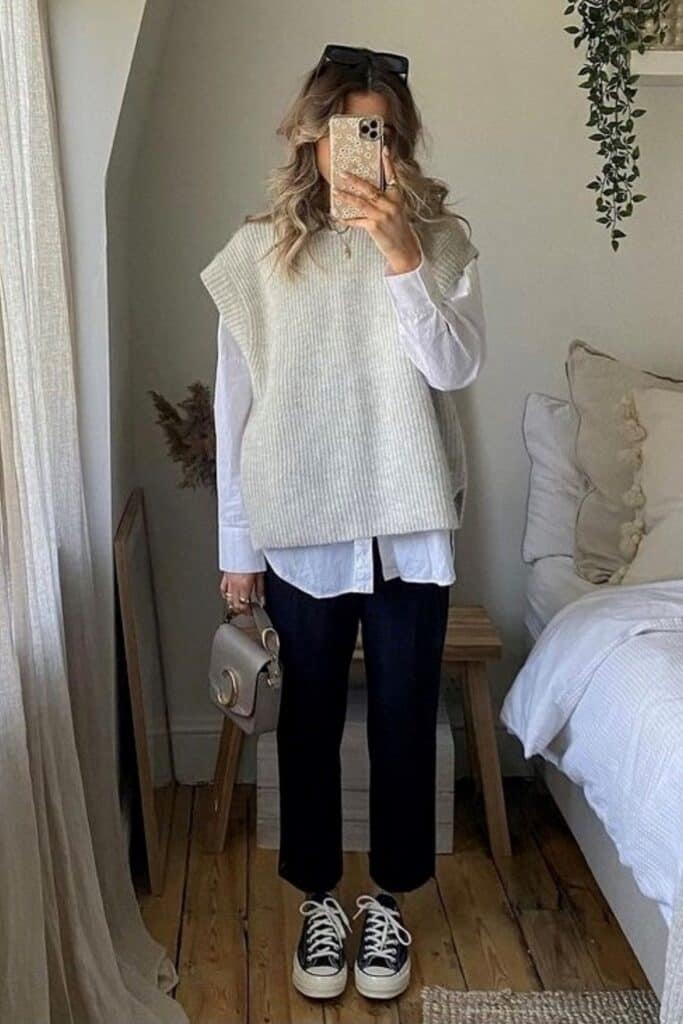 Meeting with a professor in your major requires dressing a little bit nicer than if you are just touring the college.
You want to make a positive impression on the person you will likely need to work with in the future. 
For this type of college visit, plan to wear a button-up shirt, a nice blouse and khakis, or a simple sweater.
If You Are Interviewing…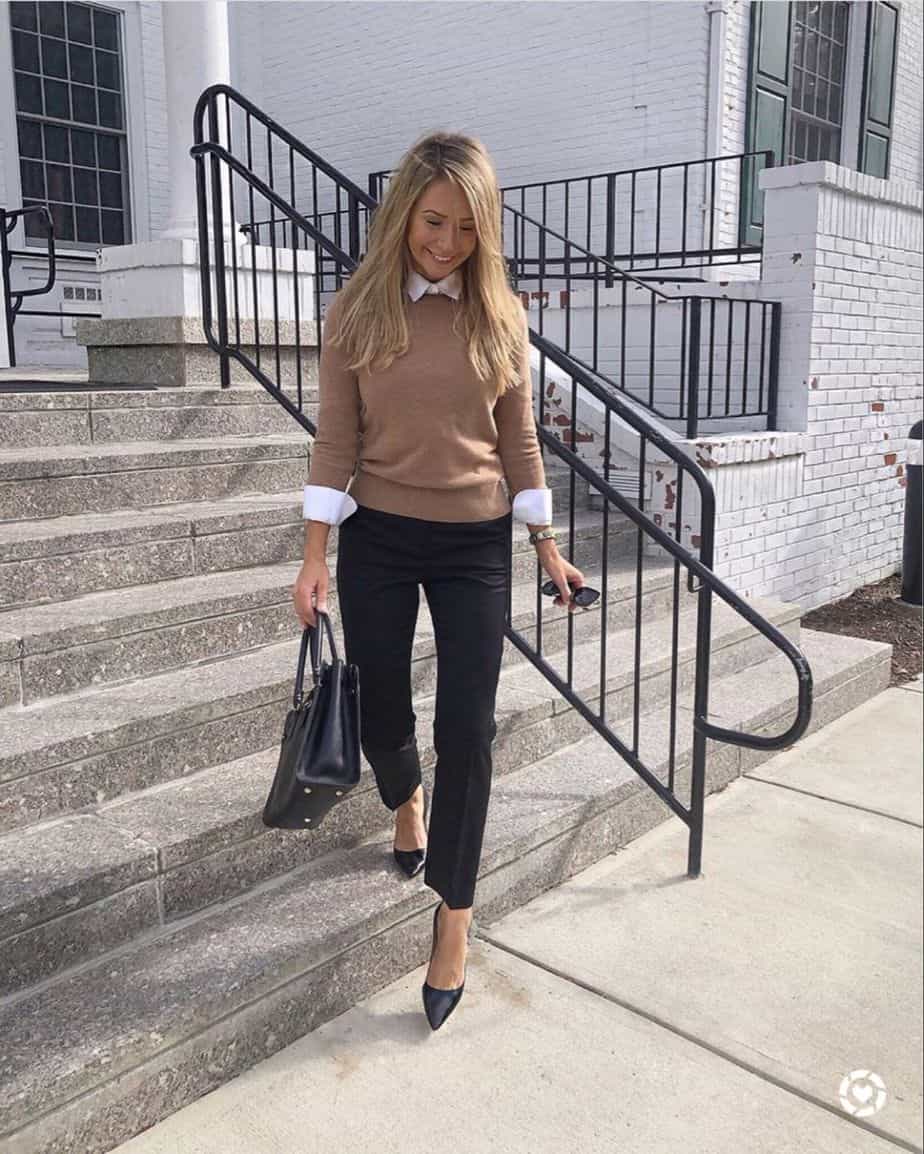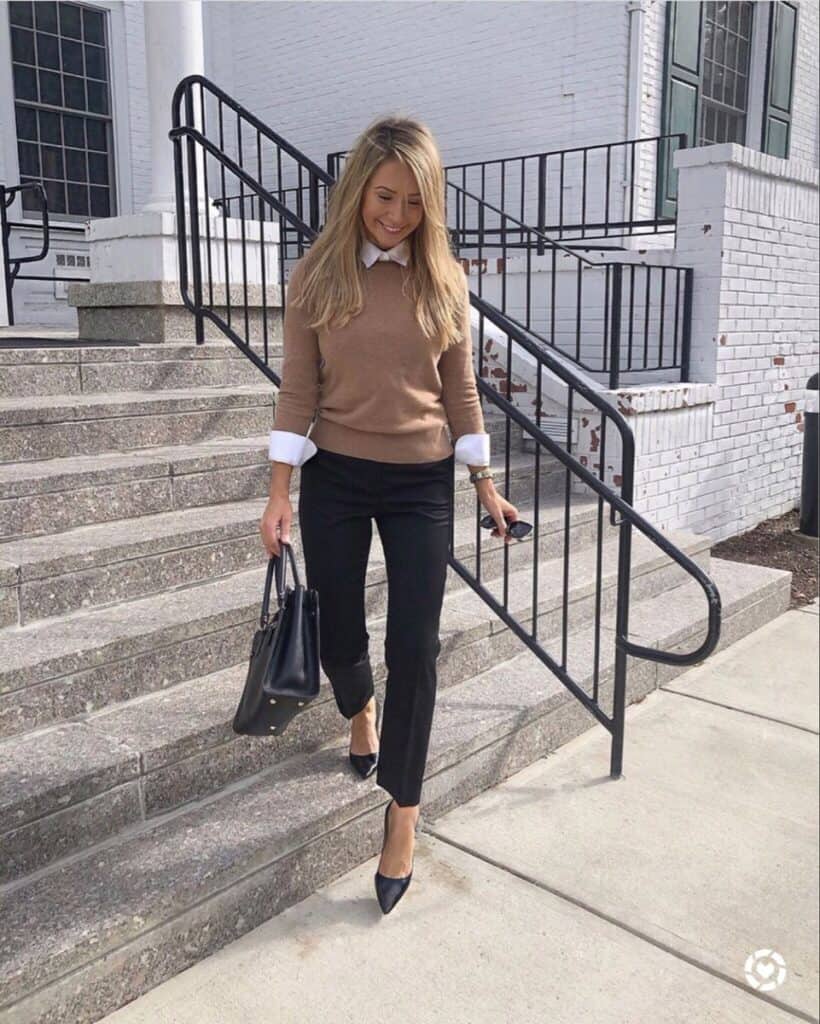 If you are interviewing during your college visit, you will definitely want to dress more professionally.
Think of this interview like any other interview. You want to appear confident and look sharp. 
What you choose to wear to the interview will vary but can include dresses that cover your shoulders, modest skirts, khakis or corduroy pants, button-up shirts, and blouses.
Consider bringing a change of clothes for after the interview so you are more comfortable the rest of the day.
If You Are Auditioning…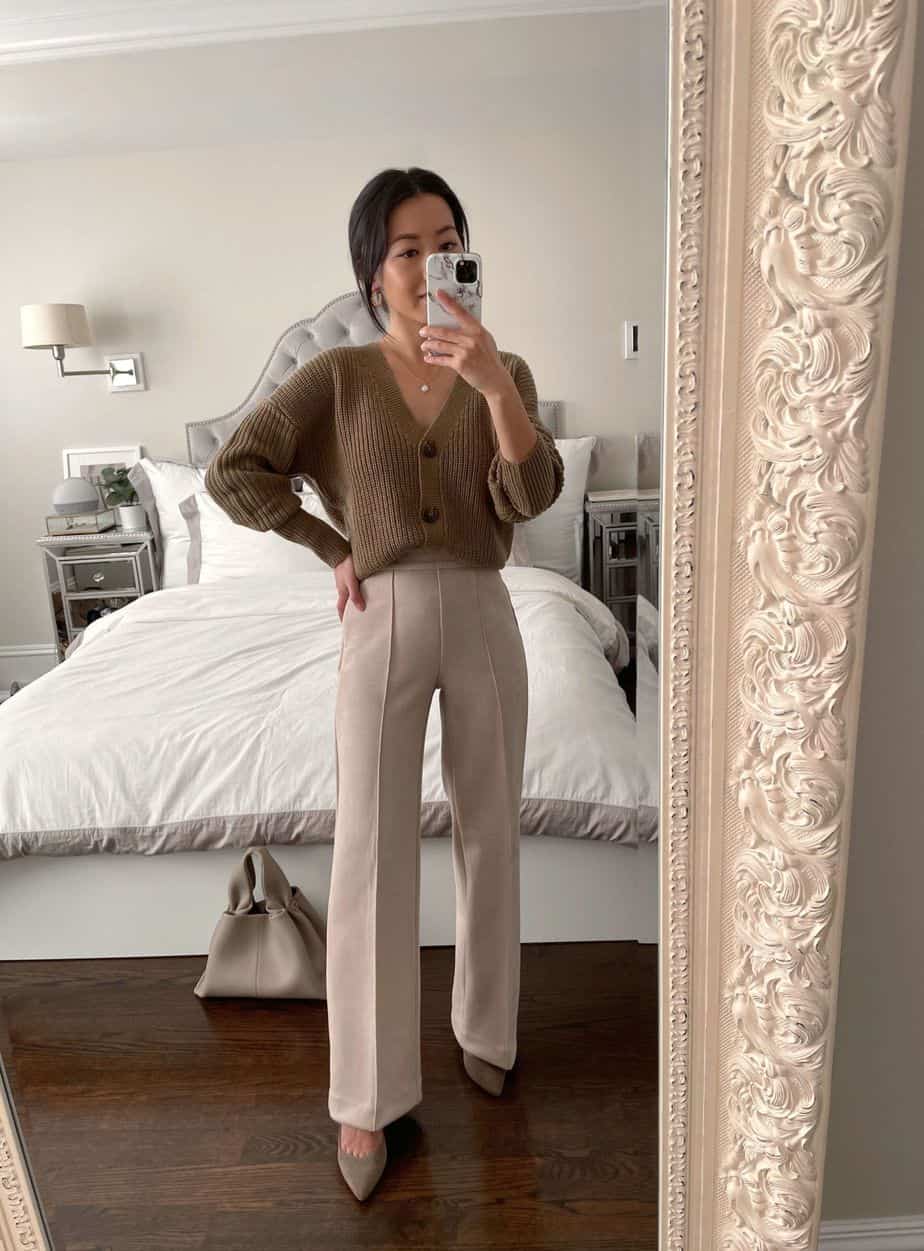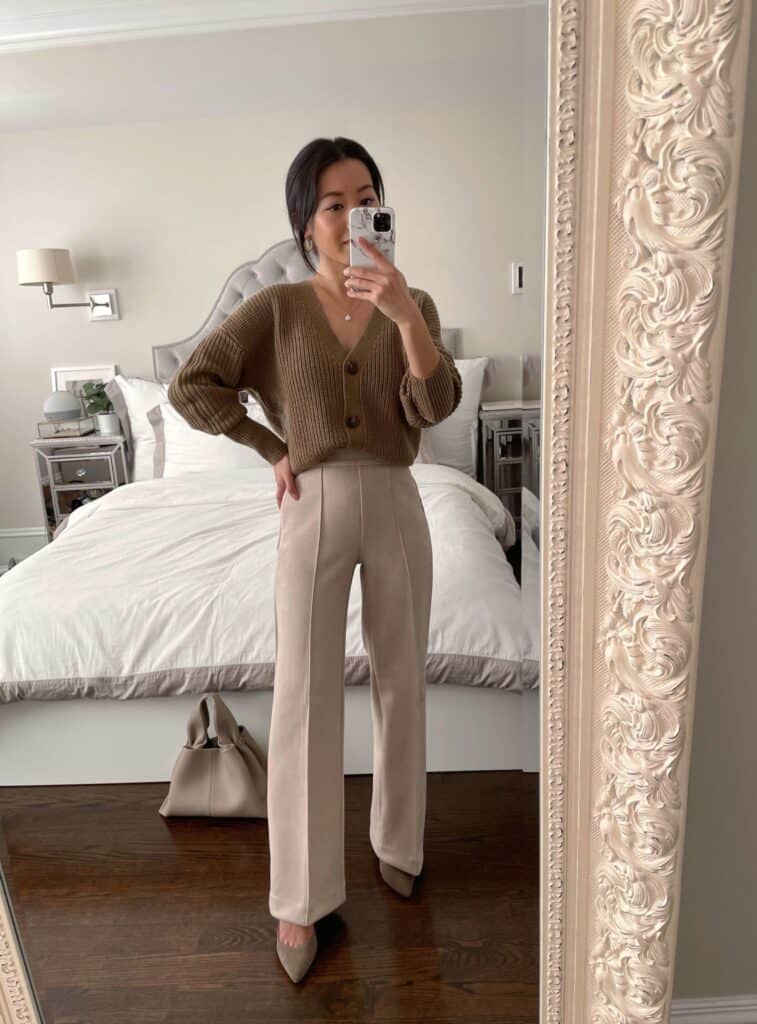 Some campus tours also include auditions for music ensembles, the acting program, or the art program. If you know that you will be auditioning during your college visit, dress in business casual to appear professional.
Remember to also dress comfortably for the weather and wear shoes that are okay to wear all day.
Outfits for auditioning include some of the same outfits you might wear for interviewing on campus (see above).
However, you should pay even more attention to how comfortable your clothing is as you need to be able to play your instrument or perform to the best of your abilities.  
FAQ About What to Wear to a College Visit
Here are some commonly asked questions and answers about what to wear to a college visit.
Can You Wear Shorts on a College Tour?
Yes, shorts are fine to wear for a college tour as long as you keep a few things in mind. Just like t-shirts, make sure your shorts are free from any offensive slogans or images.
You shouldn't wear shorts that are too short or shorts with rips and tears as this can give off the wrong impression.
In addition, you should make sure that shorts are appropriate for the weather during your college visit.
Can You Wear Sweatpants on a College Tour?
While college students may wear sweatpants to class, wearing sweatpants to your college tour may be a bit too casual.
As mentioned above, you can dress comfortably but you still want to make a good first impression to your fellow peers and the staff and faculty at the college.
Try to opt for comfortable pants that still look somewhat professional. 
Can You Wear Leggings on a College Visit?
Leggings are okay to wear on a college visit provided you are not interviewing or auditioning.
You should make sure that your leggings are not see-through and try to opt for leggings that are one solid color instead of patterned.
Pair your leggings with a long top or blouse. Leggings can be a very comfortable and functional option for your college visit day.
What Should You Bring on a College Visit?
Aside from wondering what to wear to a college visit, you may also be wondering what to bring on a college visit.
Here are a few things you may want to bring with you when you head to campus:
An extra change of clothes – If you have an interview or audition, bring some more comfortable clothes to change into for the rest of the day.
Something to take notes on – When you tour multiple different colleges, you should take notes on what you like and what you don't like about each campus.
A small bag or backpack – You'll be handed plenty of campus merchandise and informational packets throughout the day, so come prepared with a place to store them.
Stain removal stick – It is always possible that you will spill something on yourself while in the cafeteria; bring a spot eraser to prepare for any stains on your clothing.
Comfortable Shoes – While this is something you will be wearing, I included it here because it is of the highest importance.
Band-Aids – Even if you wear comfortable shoes, rubbing can still occur; bring some Band-Aids to prepare for any blisters that may form.
Camera or smartphone camera – College visits are full of photo opportunities. Bring a camera or use your phone to capture this important milestone in your life.
List of questions – You likely have a big list of questions about the college in your head, but it can be easy to forget your questions in the moment. Write your questions down to avoid missing your opportunity to ask questions.
Depending on your unique situation, you may need only some or all of these items to be prepared for your college visit day.
This post was all about what to wear to a college visit.
You may also like: