Dressing up for a college football game? Don't be left out in the cold! Here are 15 cute and cozy college game day outfits for cold weather.
This post may contain affiliate links, which means I'll receive a commission if you purchase through my link, at no extra cost to you. Learn more: Affiliate Disclaimer.
College game day can be tricky to dress up for. The weather is usually unpredictable during football season, making it hard to pick out an appropriate outfit.
But don't worry – we have the cutest outfit ideas that will help you stay warm while also serving a look!
Here are 15 of the best college game day outfits for cold weather!
Game Day Outfits For Cold Weather
1. School Sweatpants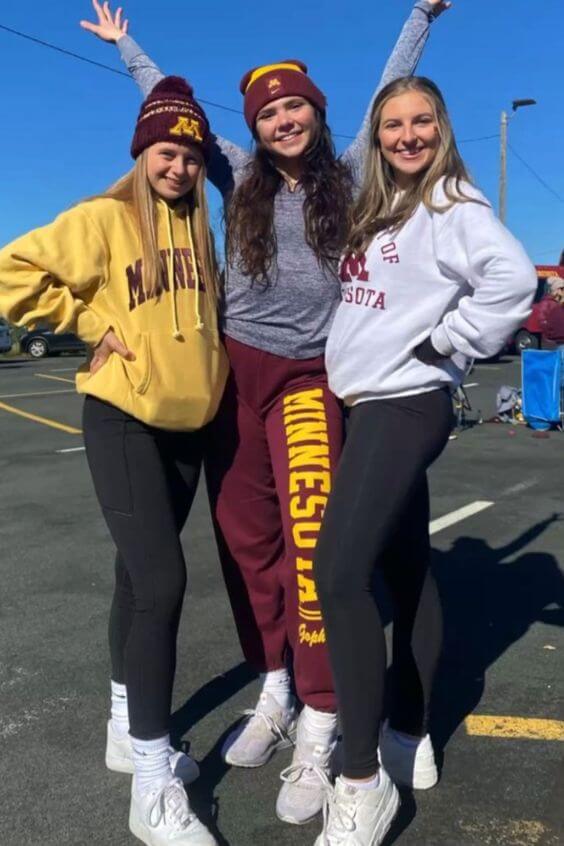 We're all about comfort without sacrificing style.
Grab a pair of sweatpants in your school's colors to look cute while staying warm at a football game.
Pair them with sneakers, a long-sleeve shirt, and a beanie, and you'll be ready to cheer on the team while staying cozy.
2. Fun Overalls And A Long Sleeve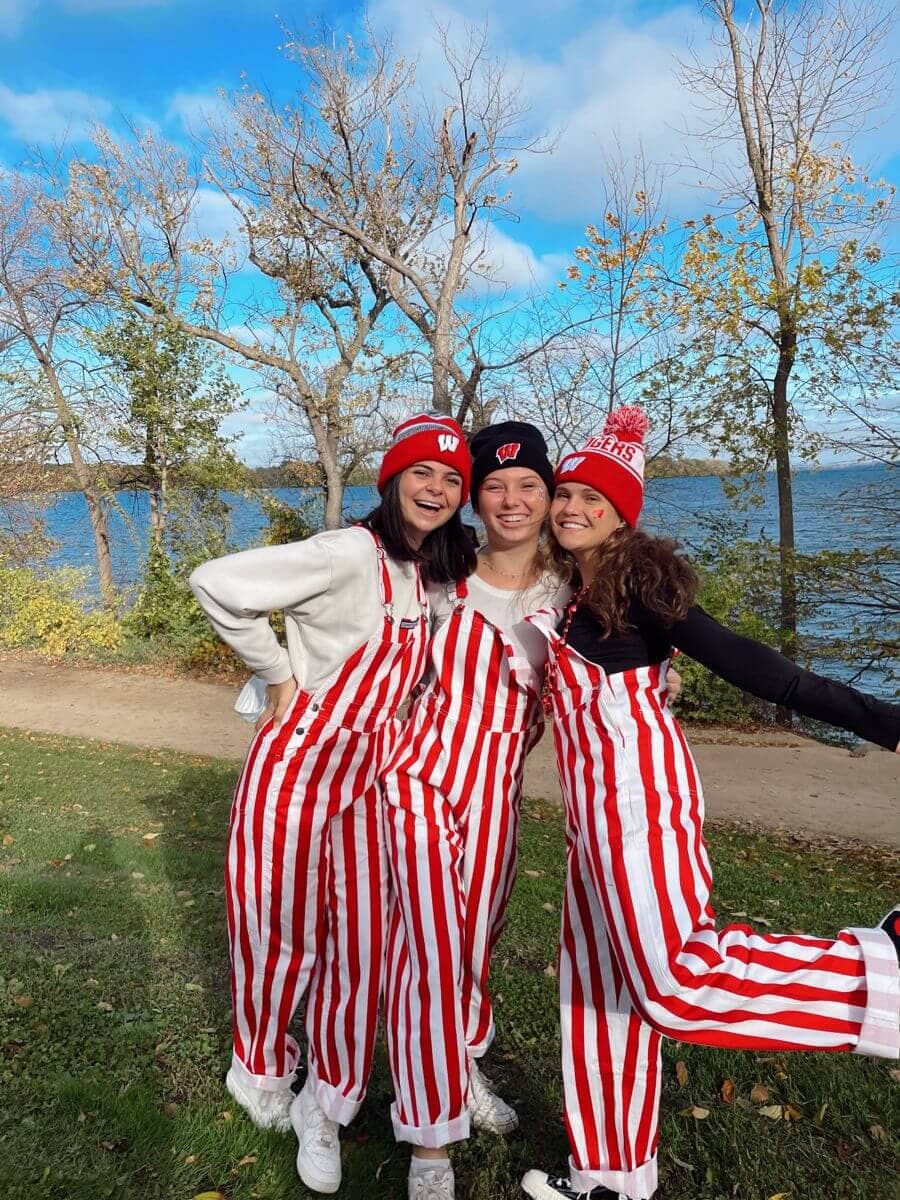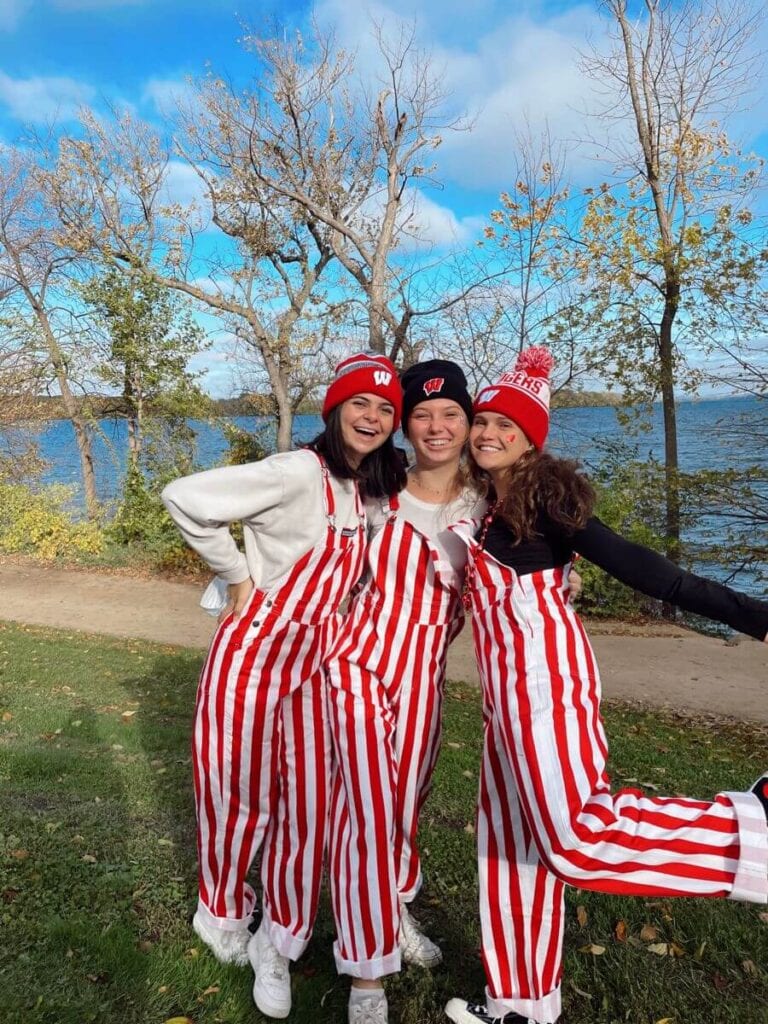 Even when it's cold outside, your game day outfit should still show off your personality. That's where these fun overalls in your school's colors come in!
This is a perfect college game day outfit to show some school spirit while keeping warm.
Upgrade to a heavier sweatshirt under your overalls for extra chilly game days.
3. Oversized Crewneck With Jeans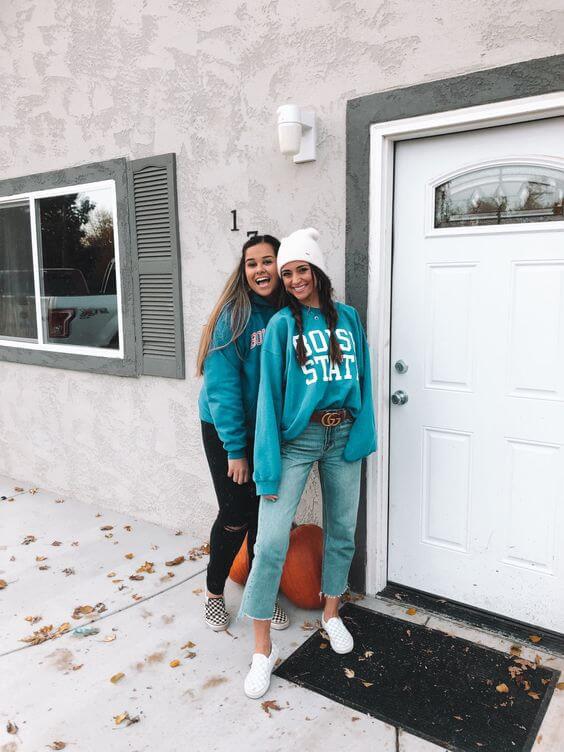 We love all things oversized, but we're even more obsessed when you add school colors.
Pair an oversized sweatshirt with jeans, a belt, and a beanie for an effortless cold weather game day outfit.
4. Puffer Jacket With Checkered Pants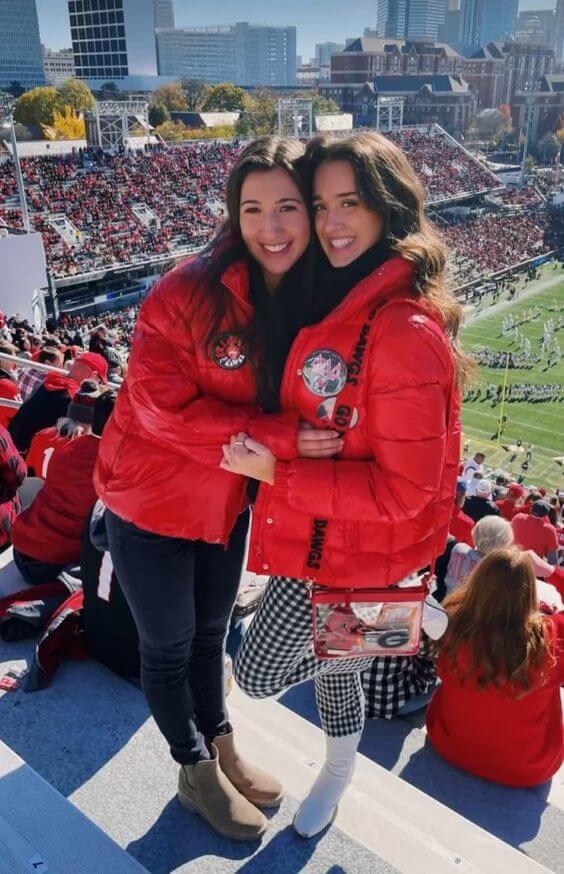 This game day outfit is perfect for the fashion girlies who want to stay warm.
Combine a toasty puffer jacket, checkered pants, and a pair of sturdy boots for a warm and fashionable outfit.
With these pieces, you'll look effortlessly cool while also staying super warm all day!
5. Puffer Vest And A Hoodie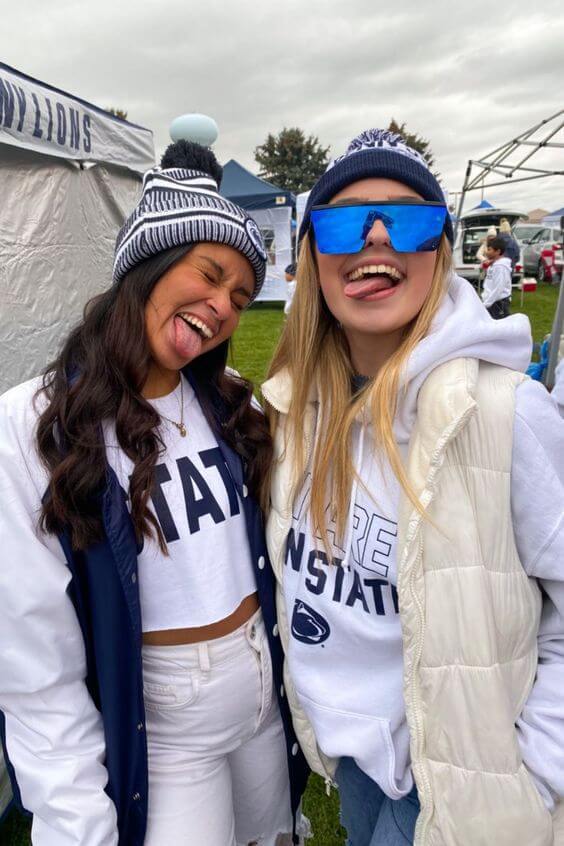 Layering is essential when it comes to keeping warm at chilly games. A cozy hoodie under a versatile puffer vest is the perfect way to warm up without sacrificing style.
Our favorite game day outfit for cold weather just got cozier.
6. Colorful Leather Jacket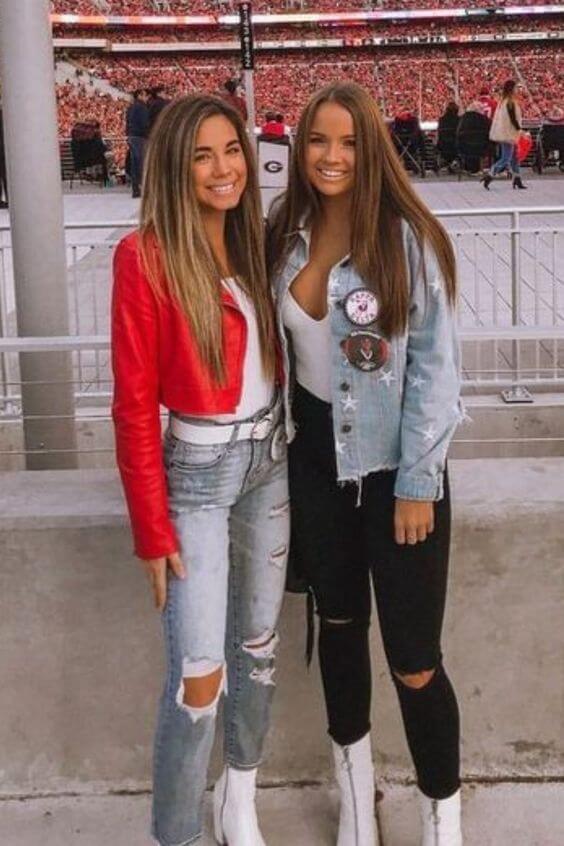 This is definitely one of the most creative game day outfits for cold weather.
Wear neutrals like blue jeans and a white top, but pair them with a leather jacket in your school's colors.
Such a cute and stylish way to stay warm at a college football game!
7. Sherpa Jacket With A Beanie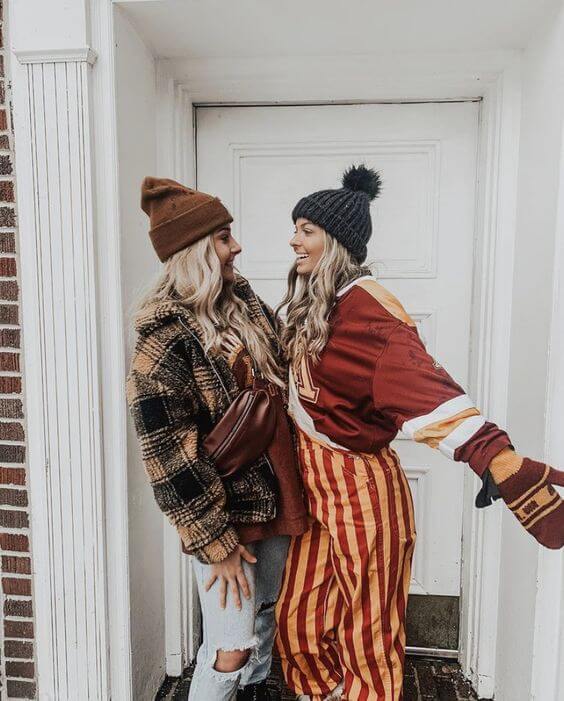 Cute and cozy is what we're going for with this cold weather game day outfit.
A sherpa zip-up jacket layered over a sweater will keep you warm and looking cute all day. Don't forget a beanie to complete the snuggly vibe!
8. Puffer Parka And A Scarf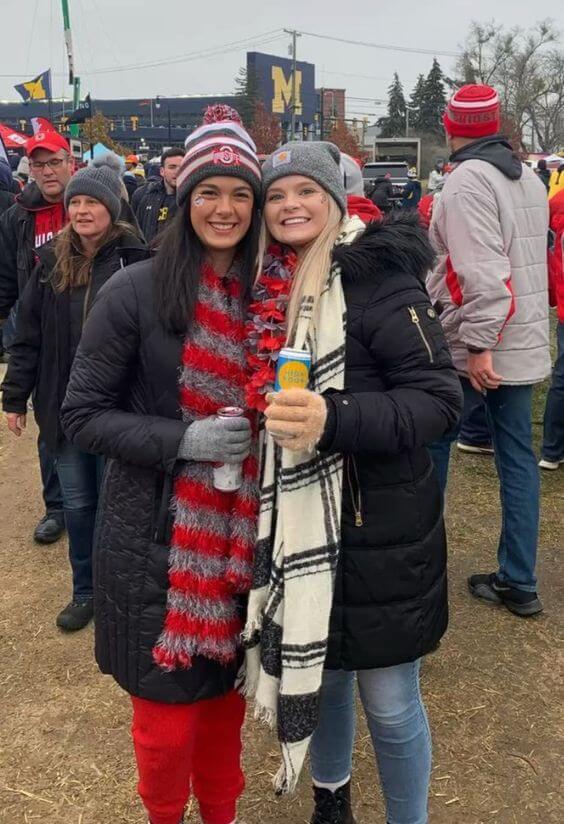 Sometimes the temperatures just drop too much to wear anything but your warmest coat.
For those days, you'll want to accessorize with your school's colors. Pair a colorful scarf and beanie with your long puffer parka.
You'll be the envy of everyone in the stands with this stylish football game outfit.
9. Denim Jacket And Plenty Of Layers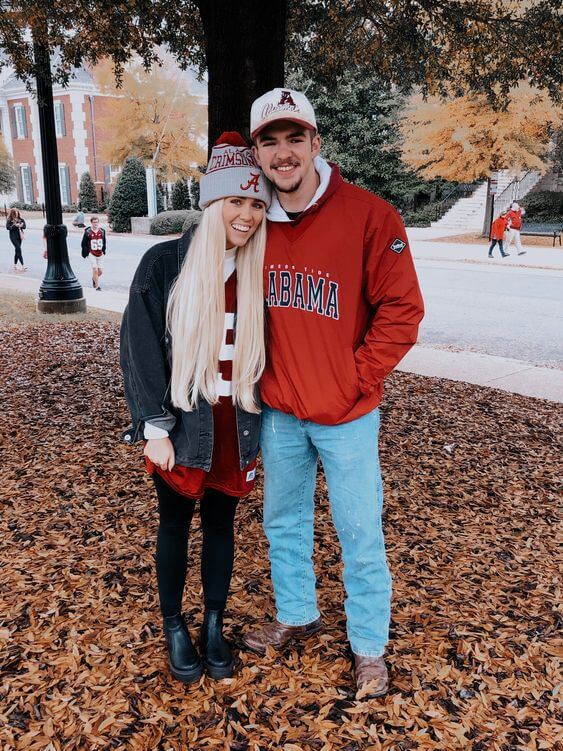 Want to look super cute while staying toasty warm? The key is to layer your clothes!
Try a denim jacket paired with an oversized jersey and turtleneck.
Not only are you keeping up with the game in style, but you are also keeping yourself cozy on those chillier days.
10. Long Sleeve Top And Leather Pants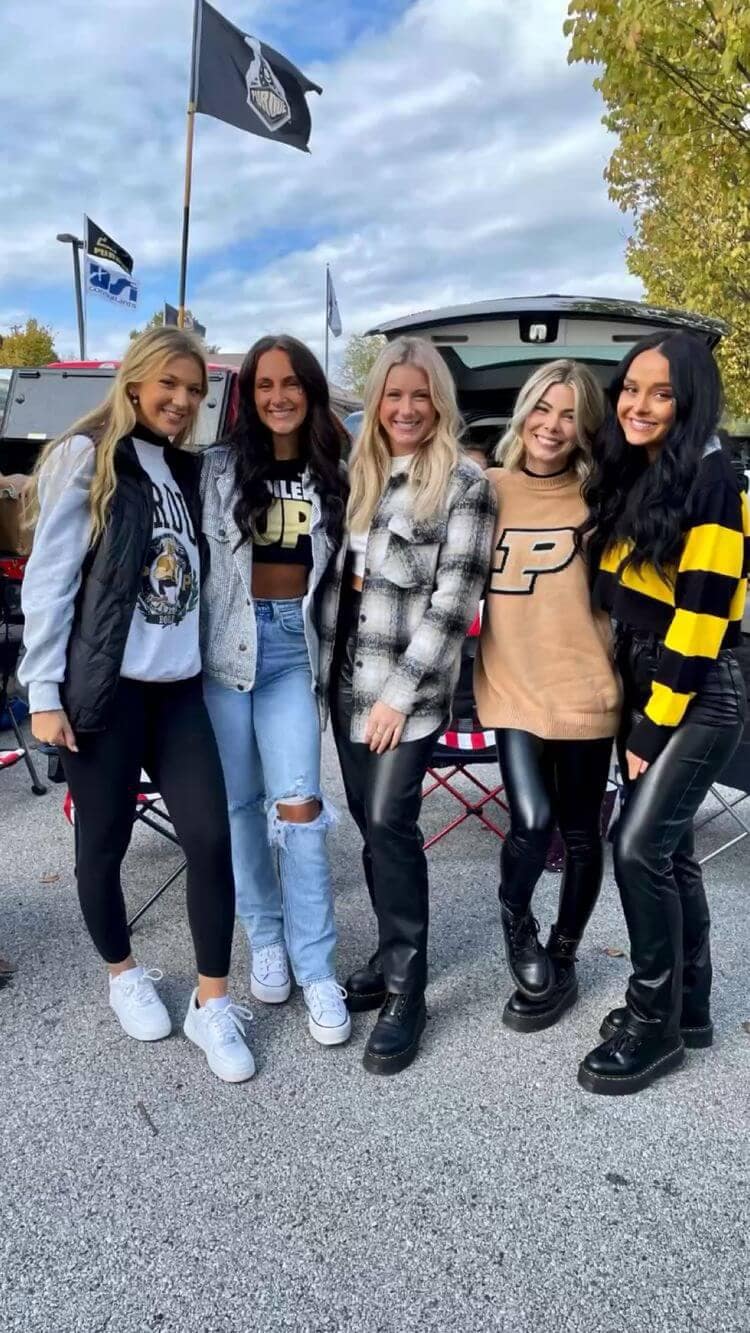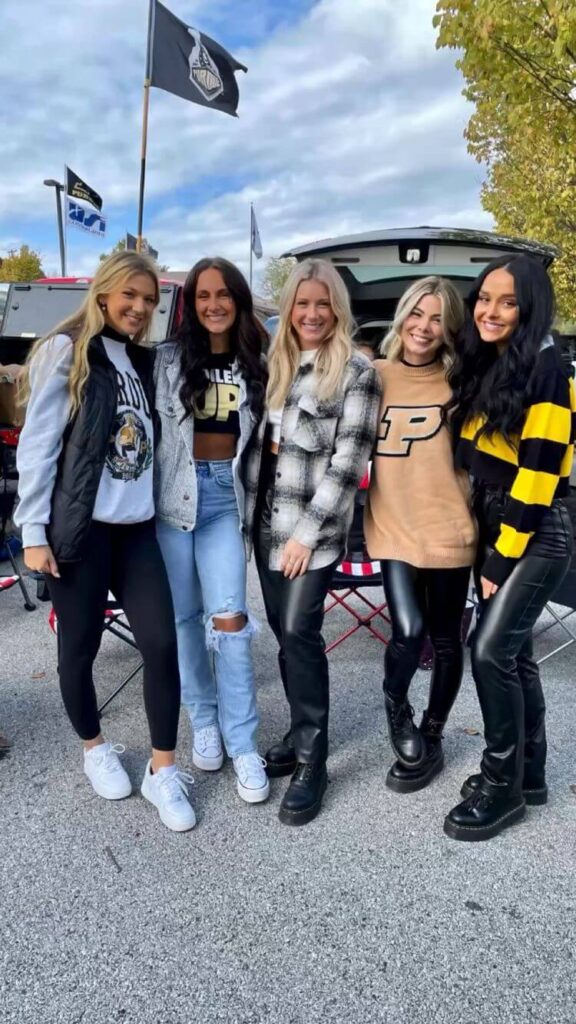 Leather pants are a great way to stay warm while also looking super chic and put-together.
Make a statement by pairing your leather pants with a long-sleeve top in your school's colors. You'll be showing your school spirit while still looking very cool.
11. Oversized Jersey And A Bucket Hat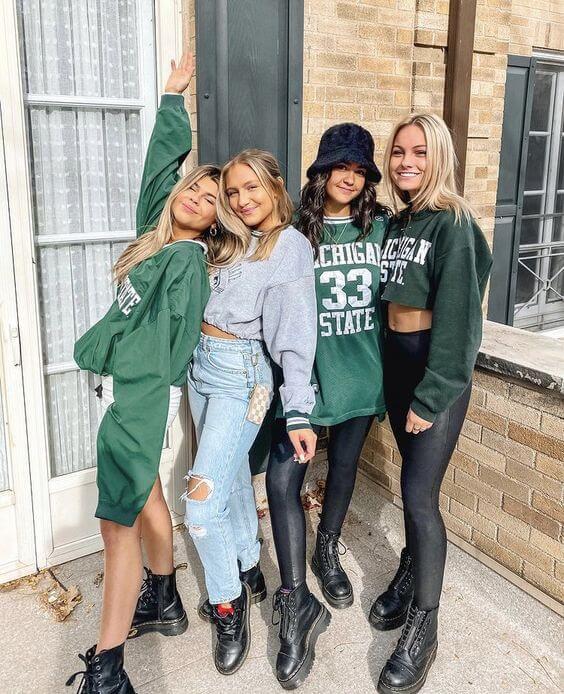 Could you get any cooler than sporting a bucket hat with an oversized jersey and leather leggings?
The leather leggings add glam, while the bucket hat offers style and practicality.
Stylish and fun, with a side of college spirit. It's a winner in our book.
12. Puffer Vest And A Knit Sweater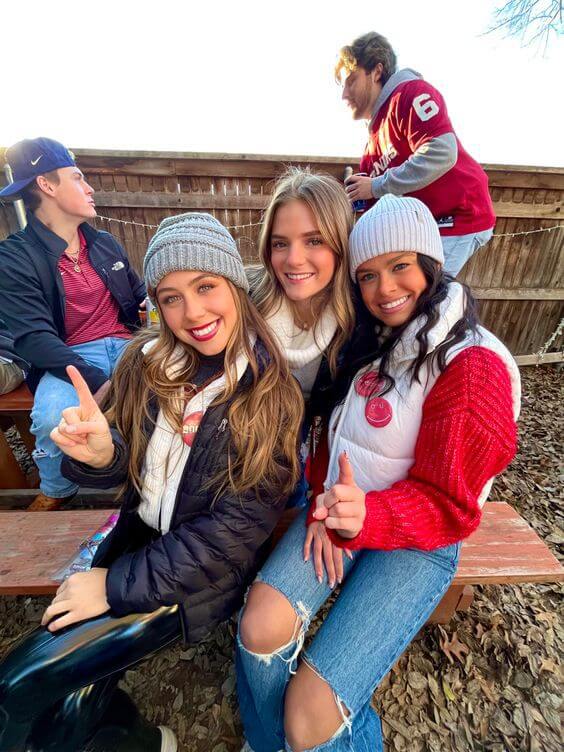 Puffer vests are always a yes in our book. Paired with a cozy knitted sweater in school colors, this combo makes for a practical, warm game day look.
13. Jersey Dress With Warm Layers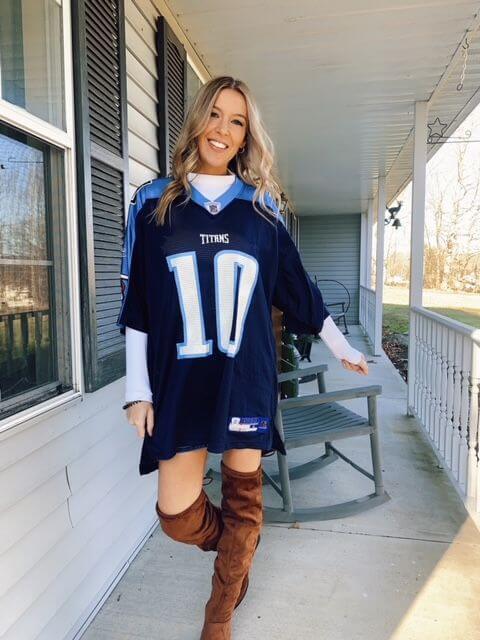 Are you ready for an outfit that screams college fashionista? Try this: A jersey dress layered over a snug mock turtleneck finished off with thigh-high boots.
If it's extra cold, you'll probably want to break out the sheer tights for this outfit as well.
14. Pullover With Straight Jeans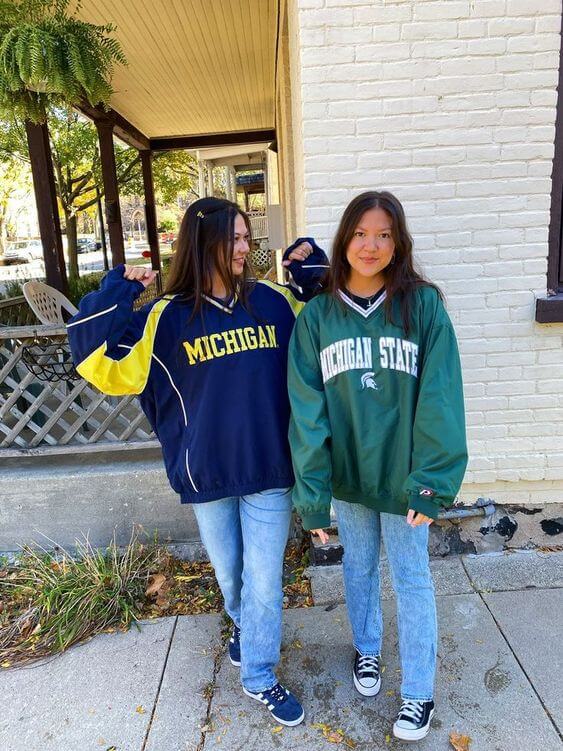 Sometimes, you just can't beat the classics. Take a timeless school team pullover and a pair of straight-cut jeans.
This outfit gives you tons of warmth without sacrificing style. And we are here for it.
15. Oversized Jersey With A Hoodie And Leggings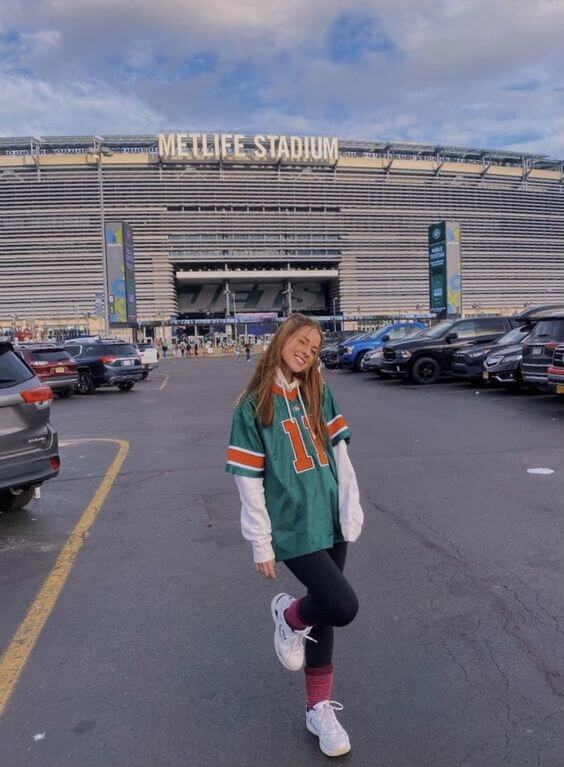 Last, but by no means least.
We suggest an oversized jersey thrown over a comfy hoodie and paired with some thick leggings.
This outfit is the MVP of quick and cozy, being perfectly suitable for cool days while cheering for your team.
This post was all about cute and cozy game day outfits for cold weather.
You may also like: