35 Cute Graduation Nail Ideas (PERFECT For 2023)
Looking for the best graduation nail ideas for 2023? You've come to the right place! In this post, we're going to be going over 35 insanely cute ideas for graduation nail art.
This post may contain affiliate links, which means I'll receive a commission if you purchase through my link, at no extra cost to you. Learn more: Affiliate Disclaimer.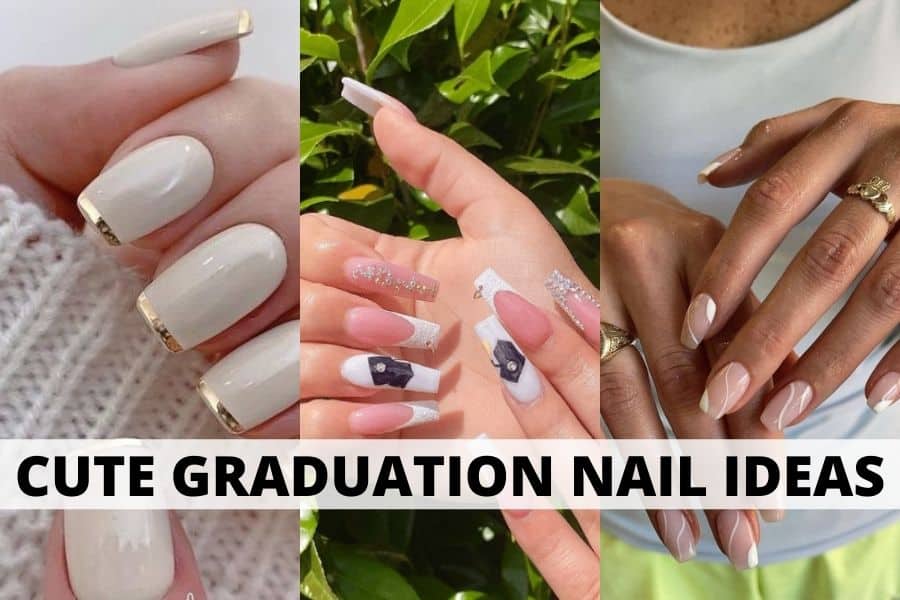 Your graduation is coming up – congrats girl!! You've probably been spending SO much time planning your graduation party, picking out your grad outfit, and thinking of what to put on your graduation cap.
Now it's time to figure out what you'll do with your nails for your big day! Whether you're looking for a super simple design or an extravagant graduation-themed look, I've got you covered.
Here are 35 of the best graduation nail ideas that you'll definitely want to copy for your big day.
School Spirit Graduation Nails
Looking for a fun way to show off your school pride on graduation day? Paint your nails in your school colors!
You could either paint them the colors of the school you're graduating from or the one you're headed off to. There are SO many different possibilities for using your school colors in your nail art.
Here are some of my favorite ways to incorporate some school spirit into your graduation nail designs:
1. Purple And Gold
I love these purple and gold nails for graduation. You could definitely recreate these in your school's colors for your big day.
2. Sparkly School Spirit Nails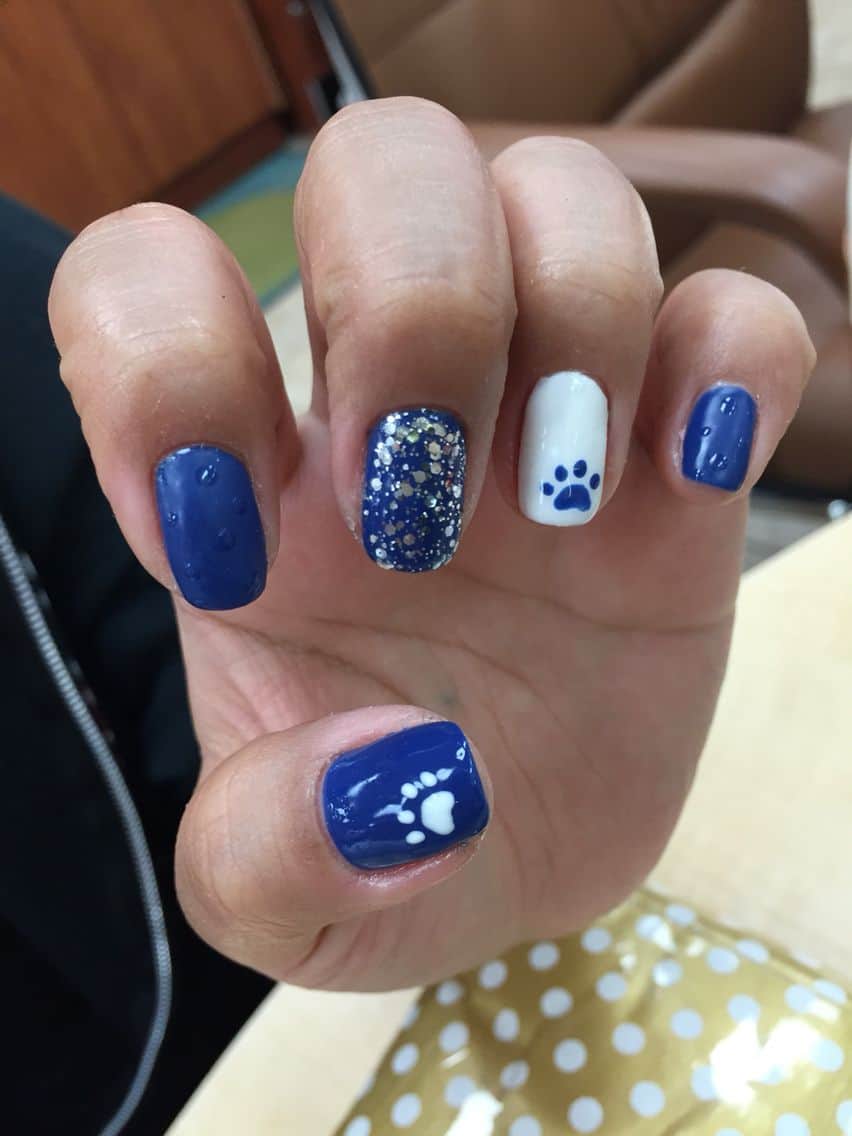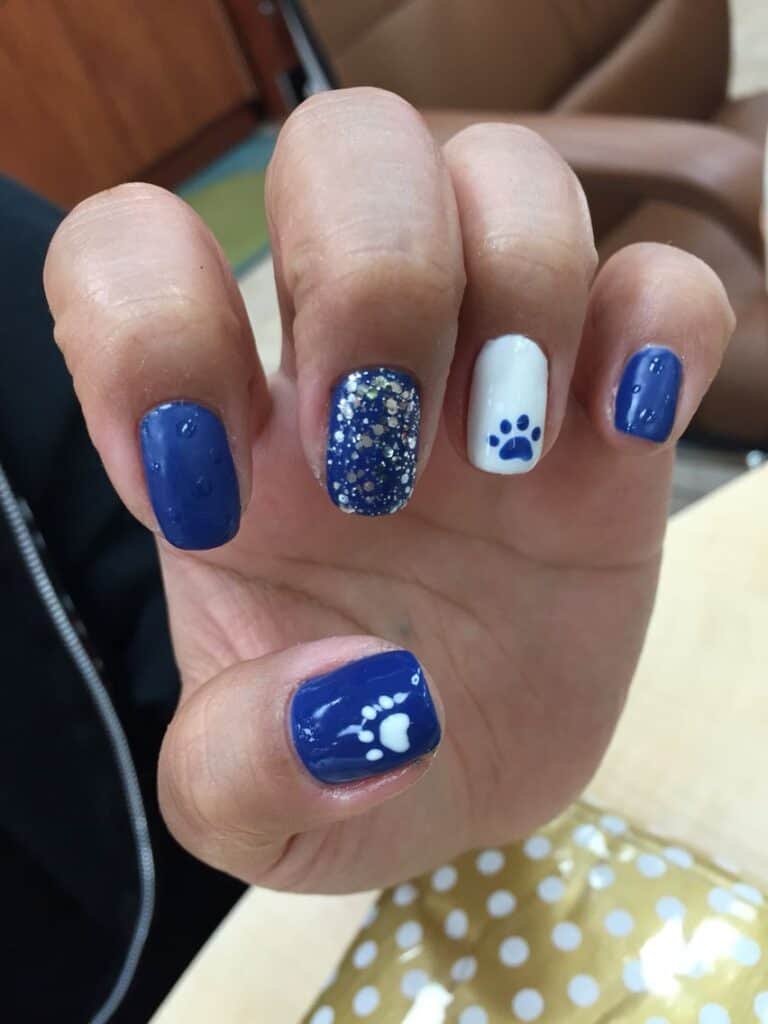 Another cute way to incorporate some school spirit into your nail designs is to add your school's mascot or logo! I love the use of school colors and logos in this graduation nails idea.
3. School Colors Graduation Nails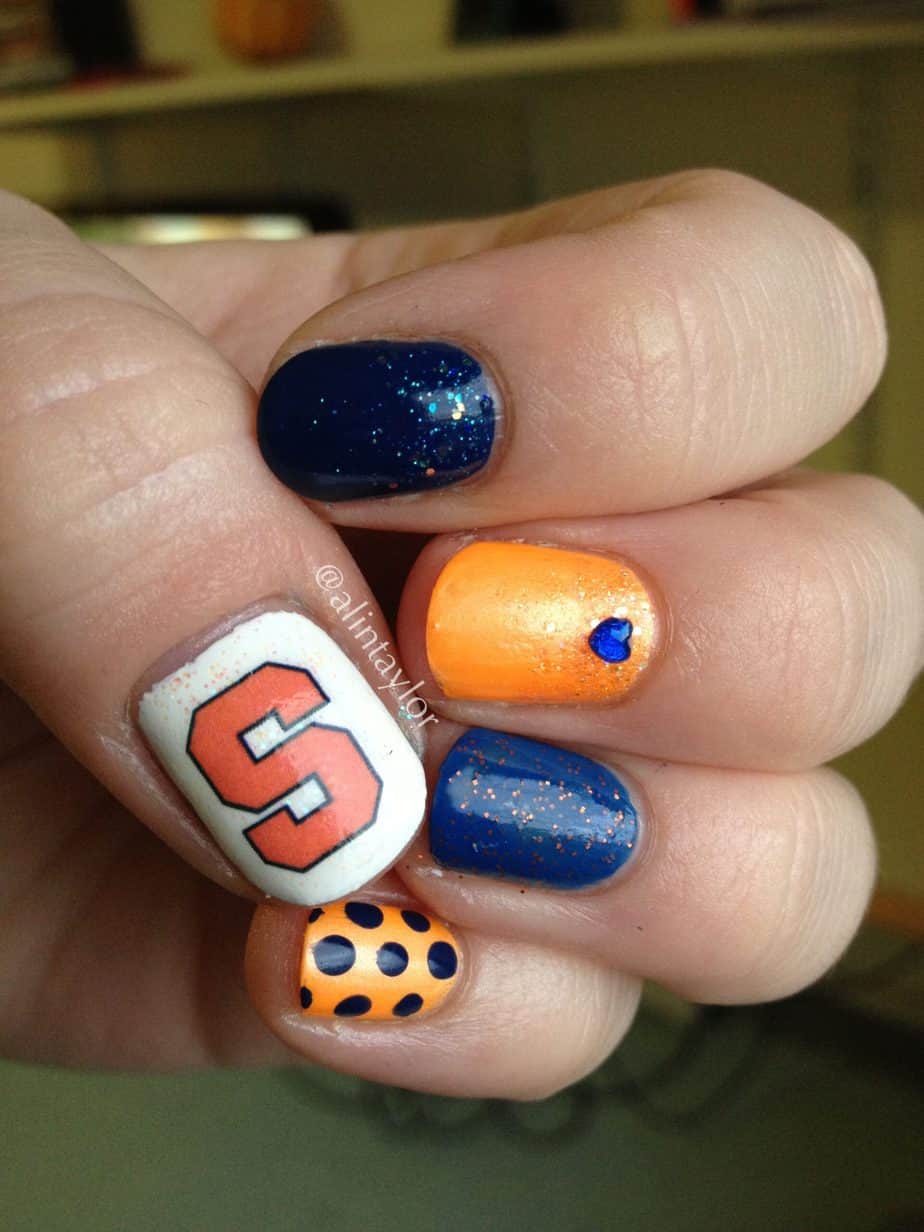 How cute do these school color nails look? I love that they used a variety of patterns and designs to really celebrate their graduation.
4. Black, White, And Red Graduation Nails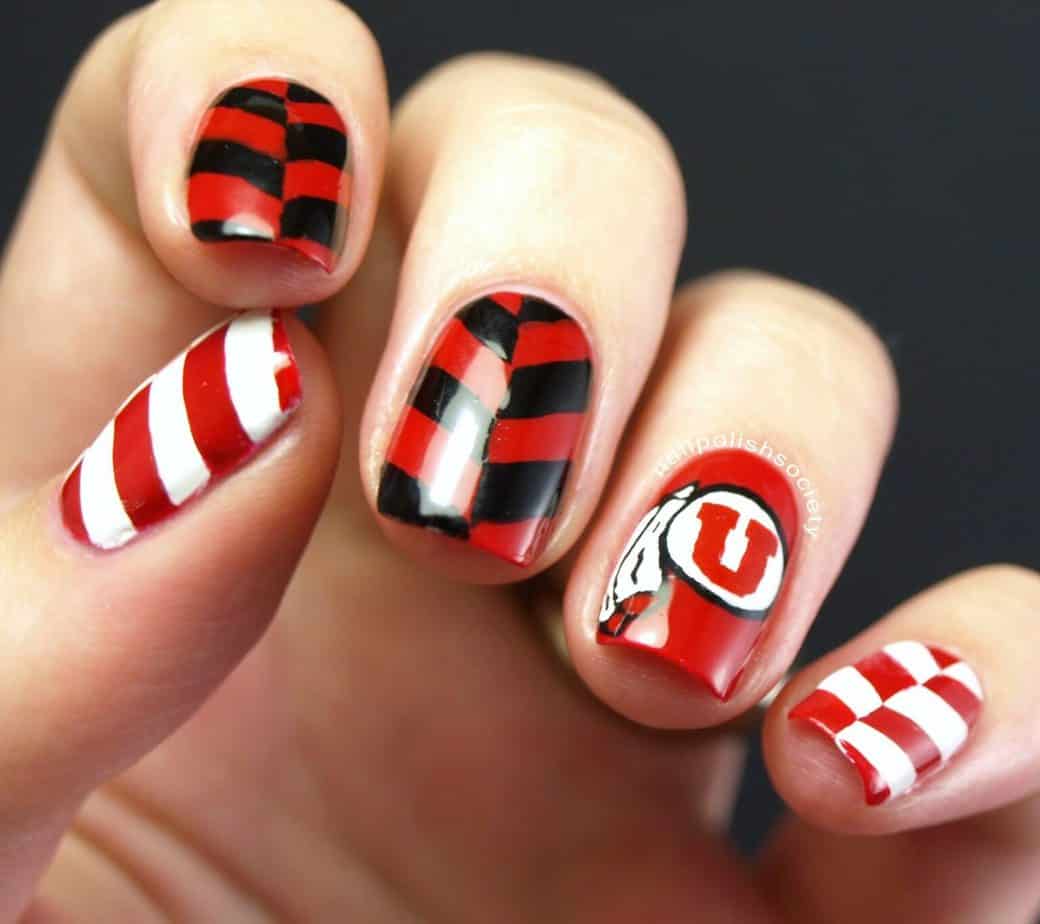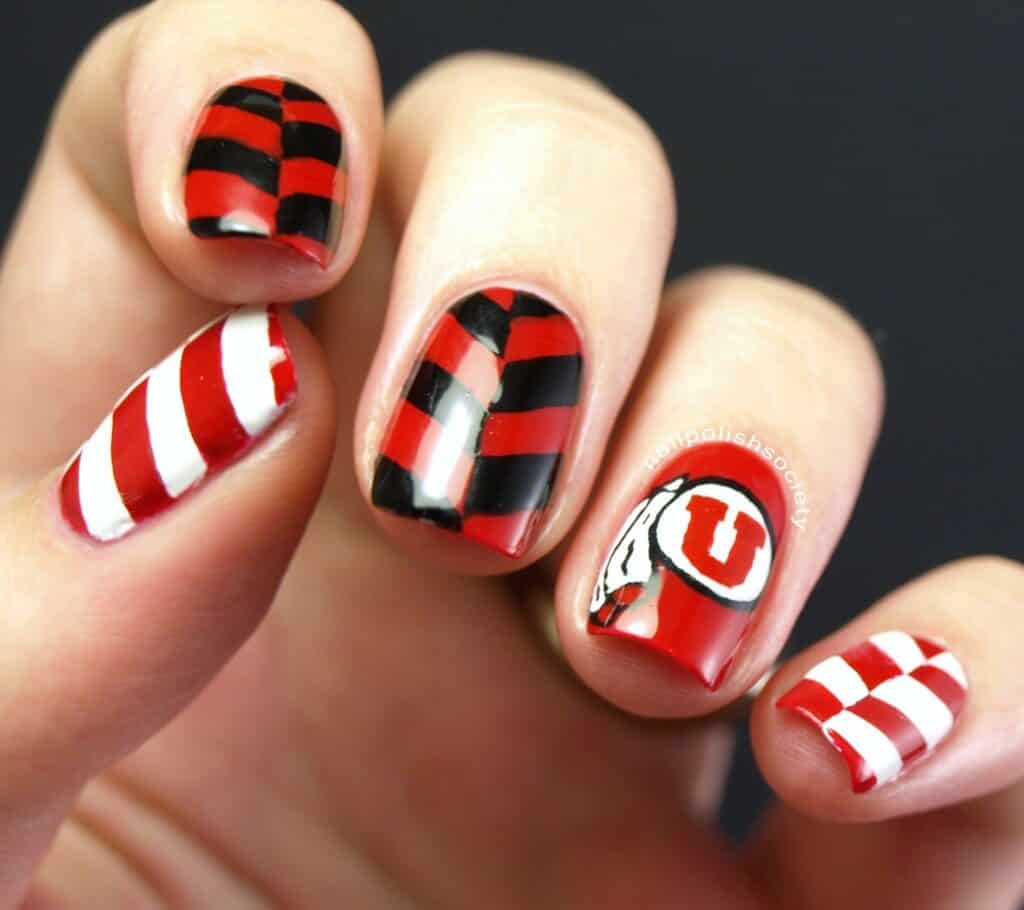 These school color graduation nails make a huge impact! I love the color blocking and the accent nail with the school mascot.
5. Ombre School Colors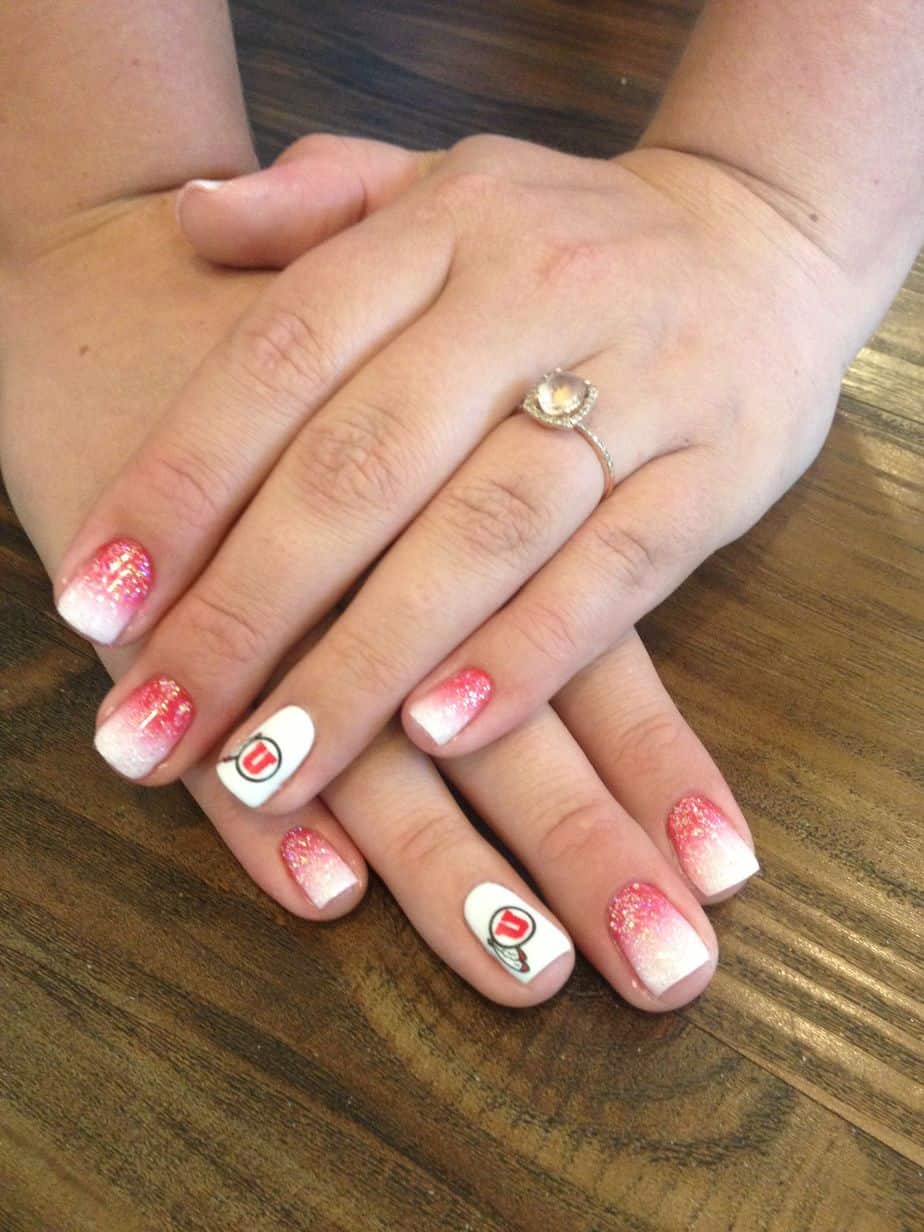 Another cute way to incorporate your school colors into your nail design is in an ombre pattern. And you can never go wrong with adding some sparkles!
6. Red And Gold Graduation Nails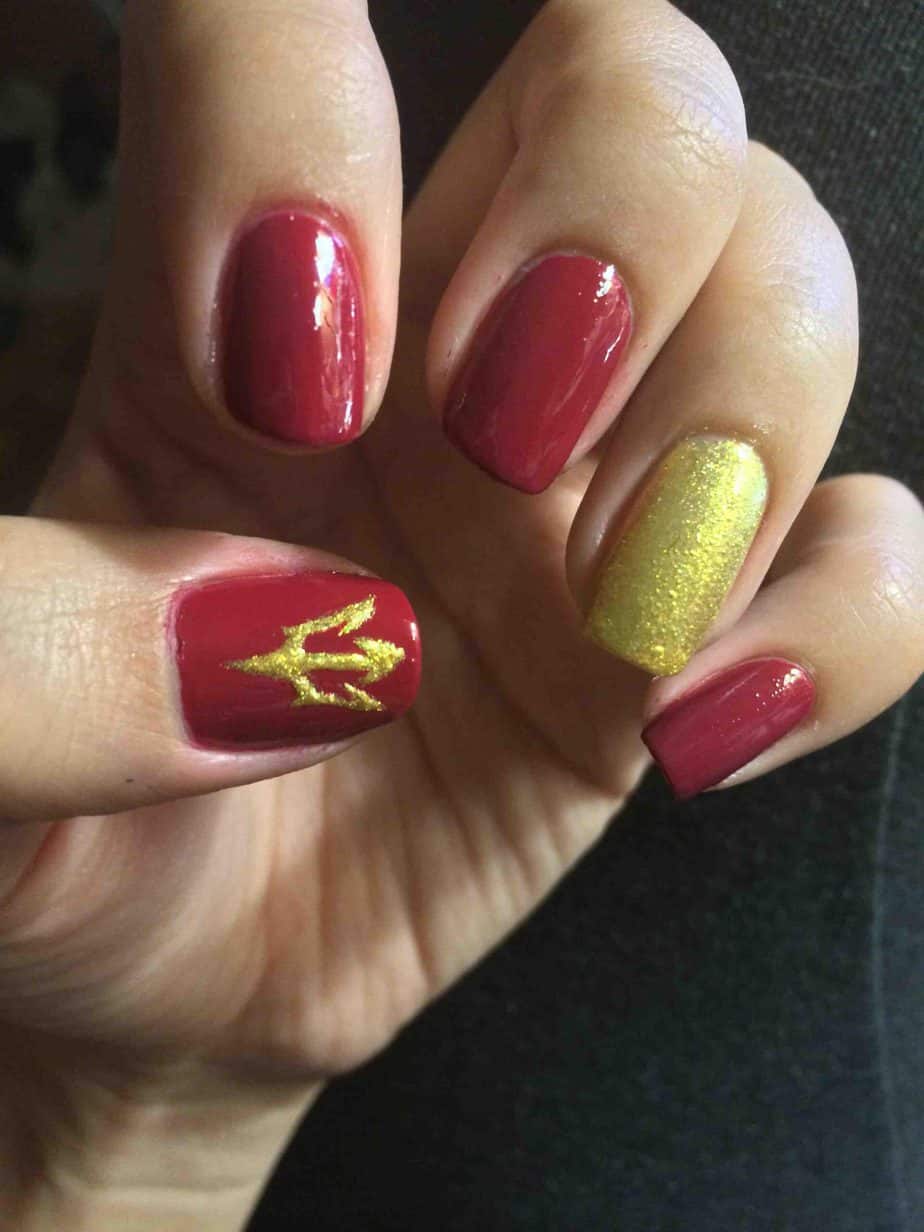 Incorporate your school colors by using one color as a base and the other color as an accent nail. Add a cute logo icon to one of the nails for even more interest.
7. Colored Tips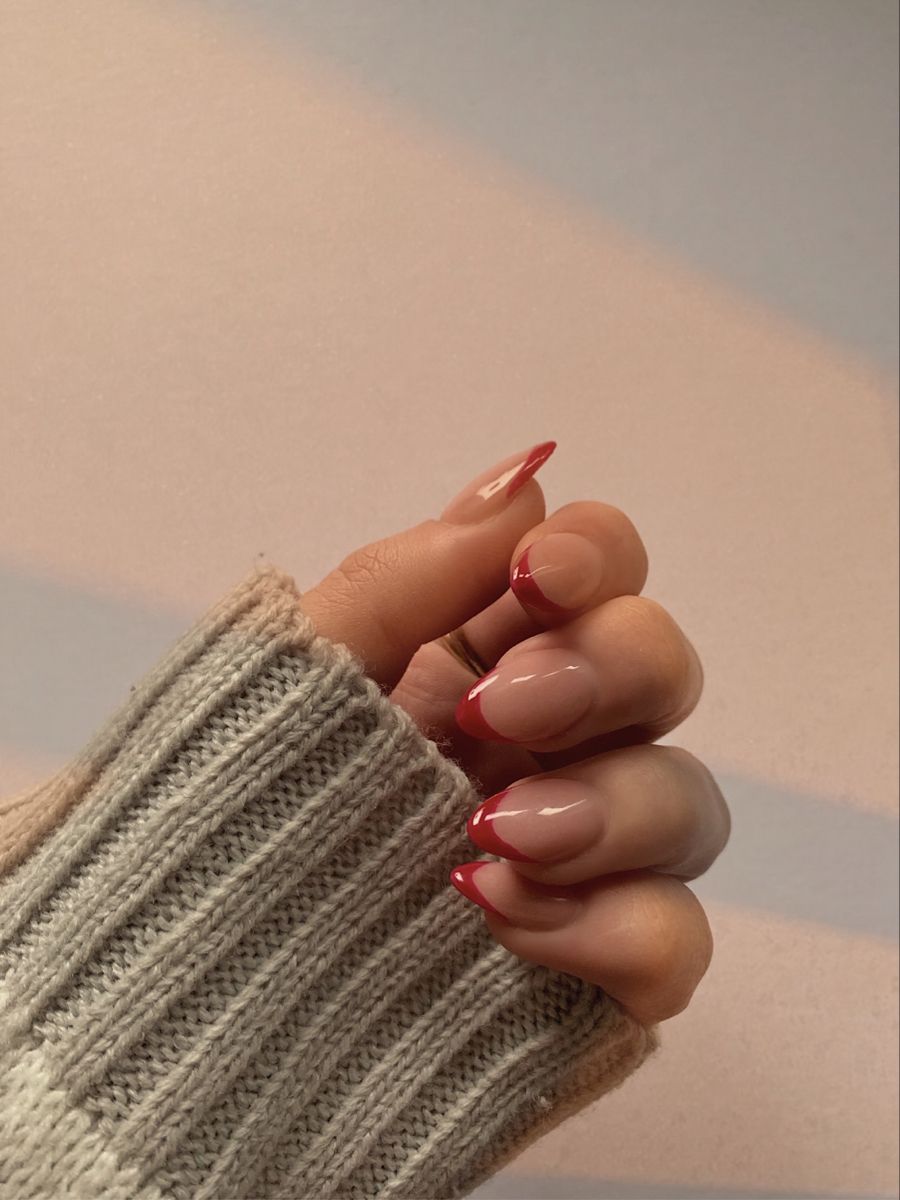 Looking for a super classy graduation nail idea? Use your school colors on the tips of your nails!
8. Red And Black School Spirit Nails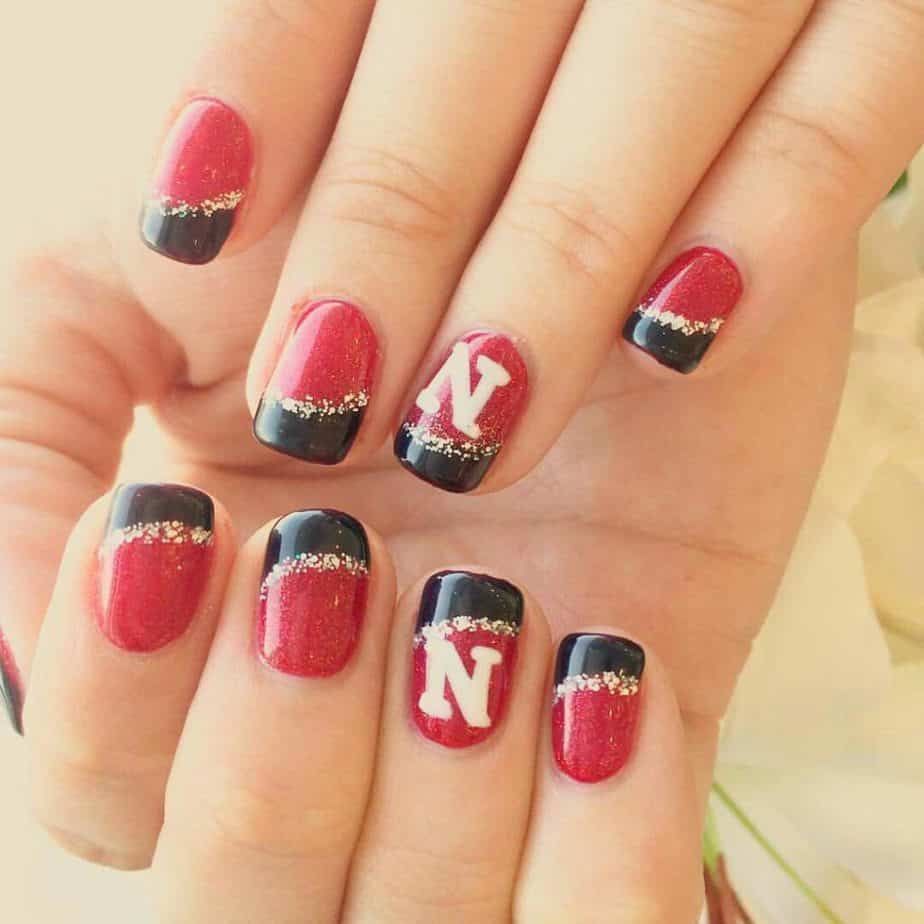 I'm obsessed with this nail design for graduation nails. Paint your nails in your school colors, add some gold foil or sparkles, and add your school logo as an accent nail.
9. Graduation Accent Nails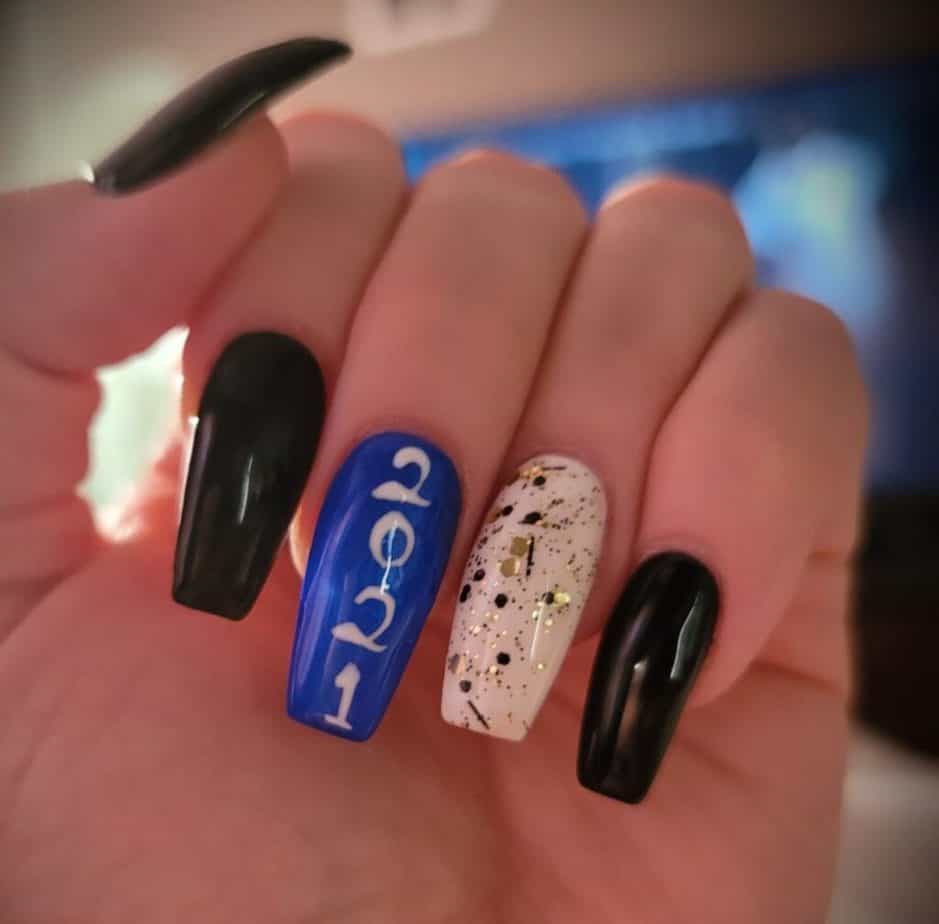 Want to make your graduation nails even more fun? Add an accent nail or two!
I love the idea of adding your graduation year onto your accent nail. You could also add some sparkles to one of your nails for extra fun.
10. Colorful Swirl Graduation Nails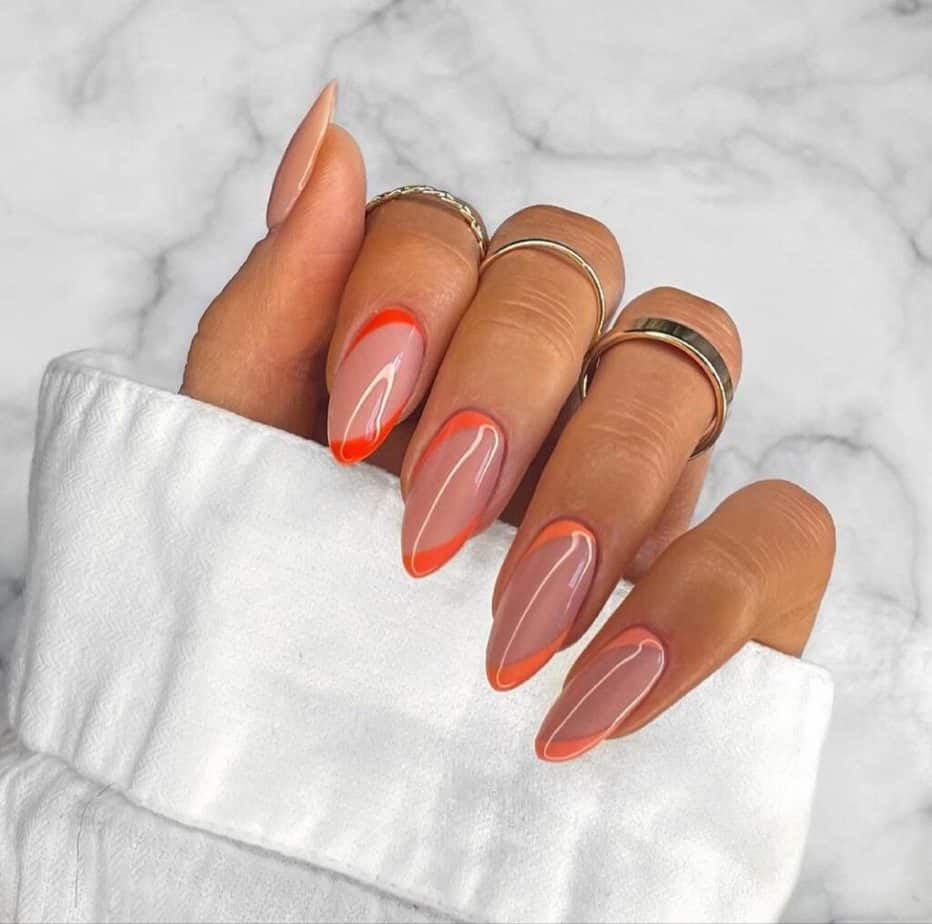 Another subtle but gorgeous way to work your school colors into your graduation nail design.
Instead of painting the whole nail in your school colors, just add some accent color as a swirl or outline to your nails.
Graduation Cap Themed Nails
Another great graduation nail art idea is to incorporate your graduation cap into the design. You could either do this by adding an accent nail, or put a little graduation cap nail art onto every nail.
Here are some of the cutest graduation nail ideas that incorporate a graduation cap into the design:
11. Pink And Silver Graduation Cap Nails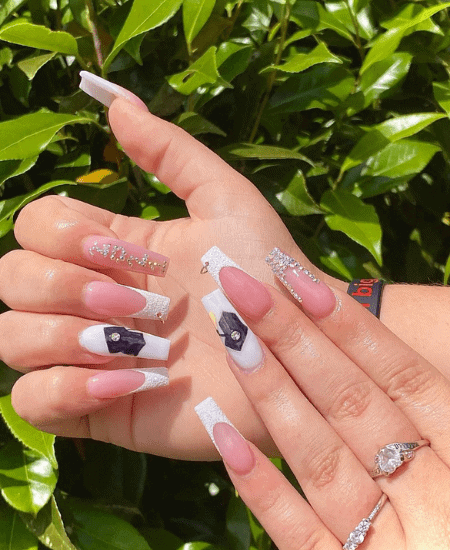 Want a super fun and girly set of nails for your graduation day? Go with pink and white nails and add little graduation caps onto the accent nails. Throw in a few sparkly details for extra fun!
12. Graduation Cap Tips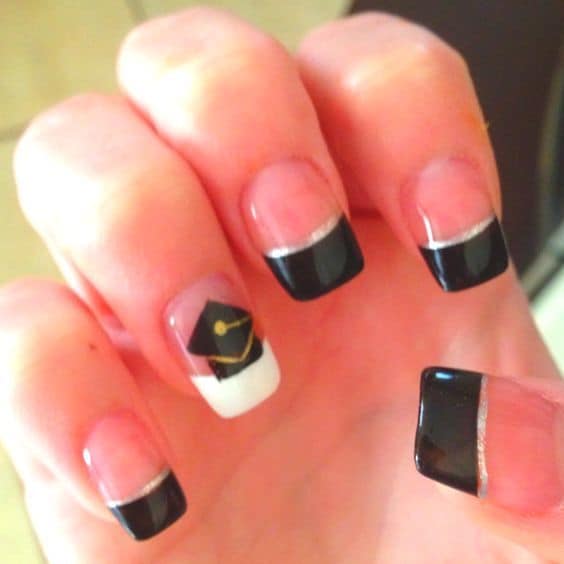 Want to keep things simple and classy? Go for a shorter nail with black and silver tips. Add in a graduation cap onto one of your nails for an extra little accent.
13. Sparkly Accent Nails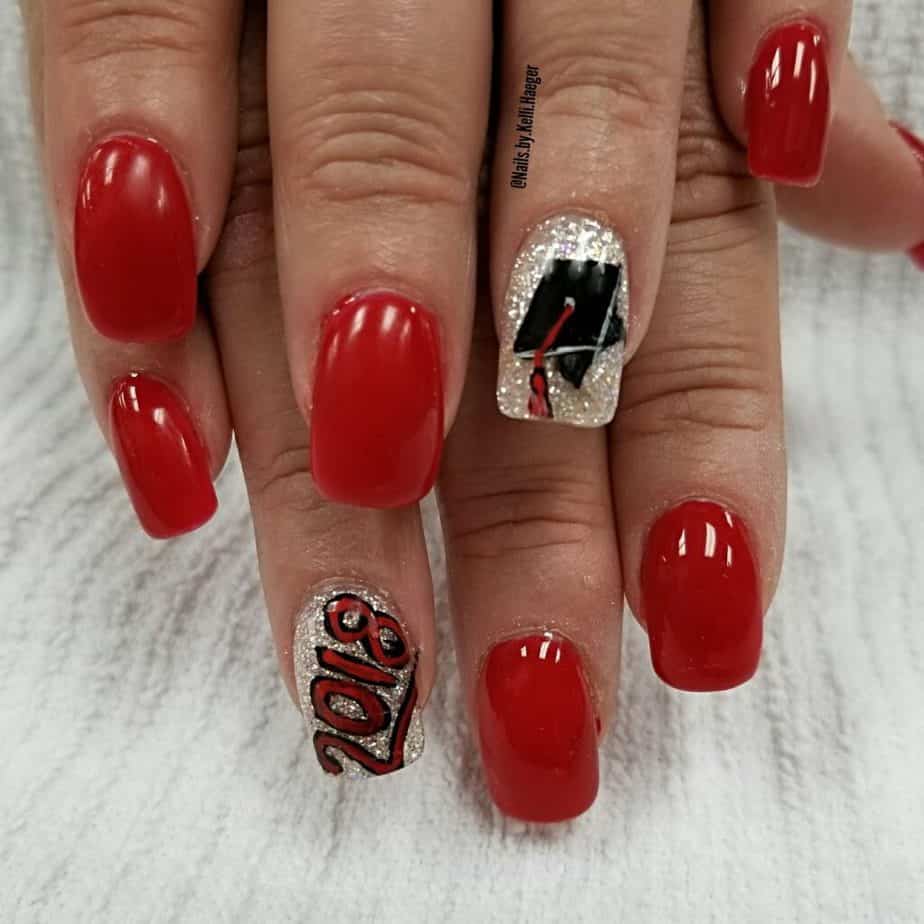 As you can see, I'm a big fan of the accent nail for graduation day. To get this look, paint your nails red and add in gold sparkles to your ring finger.
Then paint a graduation cap over one of them and your graduation year on the other. So cute and classy!
14. White And Gold Graduation Nail Design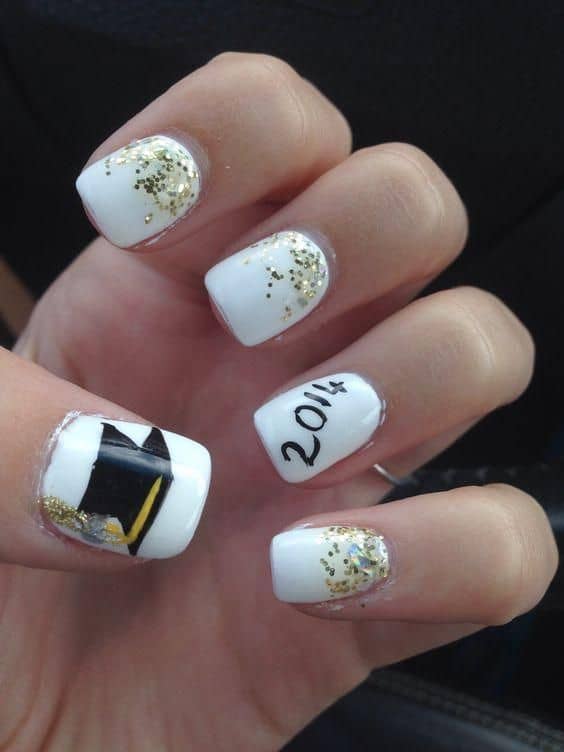 Graduation day is all about celebrating – so make sure you add some sparkles to your nails! I absolutely love this sparkly ombre look. Finish it off with a graduation cap on your thumb so that everyone knows it's your big day.
15. Minimalist Graduation Cap Nails
Want to keep things simple and minimal? Go fo an all-white nail with your graduation year and a little graduation cap as an accent.
16. Cap And Diploma Graduation Nail Design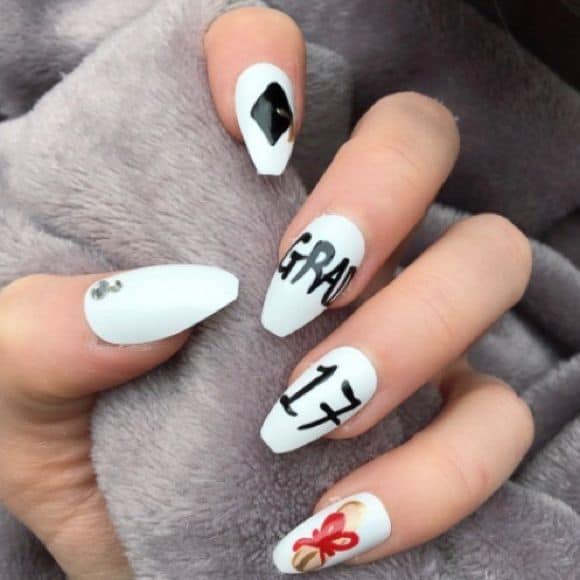 These nails are so fun for graduation because there's something different on each nail.
17. Intricate Graduation Nails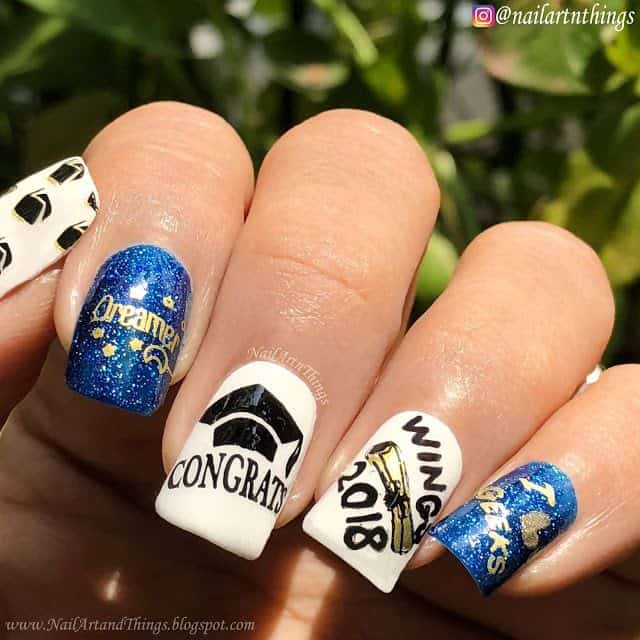 You'll definitely need professional help for these nails but how fun are they? I love that each one is a little bit different but they all go together really well.
Simple Graduation Nail Designs
I get it – not everyone wants to rock their school colors or deck their nails out in graduation caps. Here are some of my favorite simple and subtle graduation nail ideas that would be perfect for other occasions as well!
18. Pink and Gold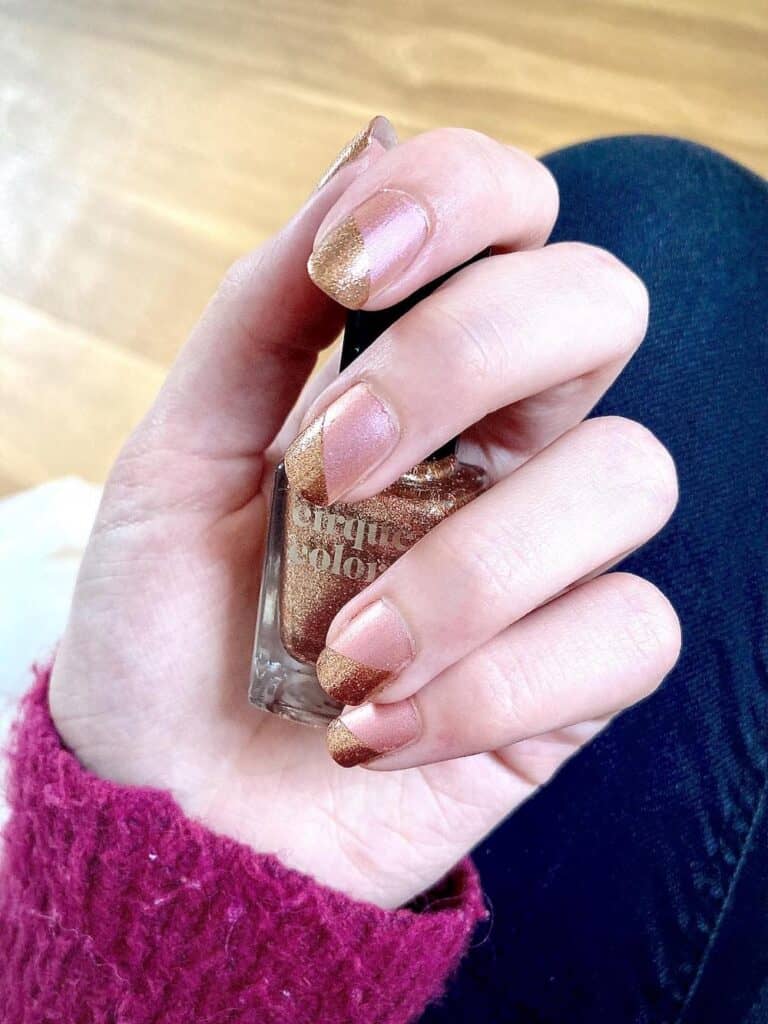 These pink and gold nails are perfect for any celebratory occasion but also classy enough to wear on a normal day!
19. Sparkly Grad Nails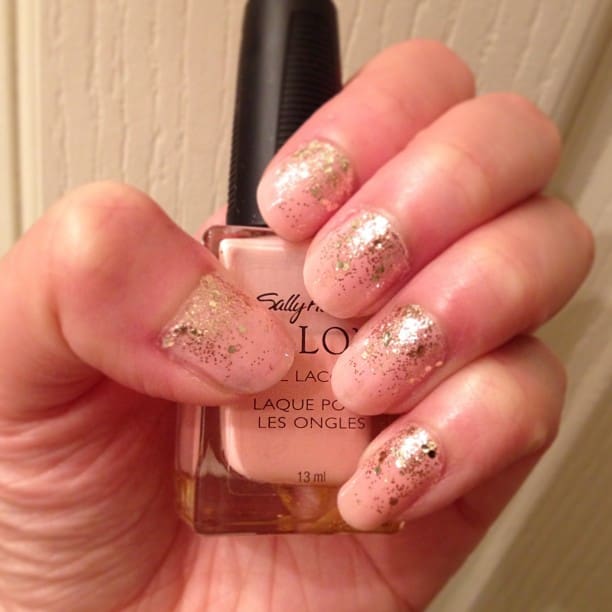 Want something simple that you don't have to take off when graduation day is over? Rock these pink and gold sparkly nails.
20. White Ombre Nails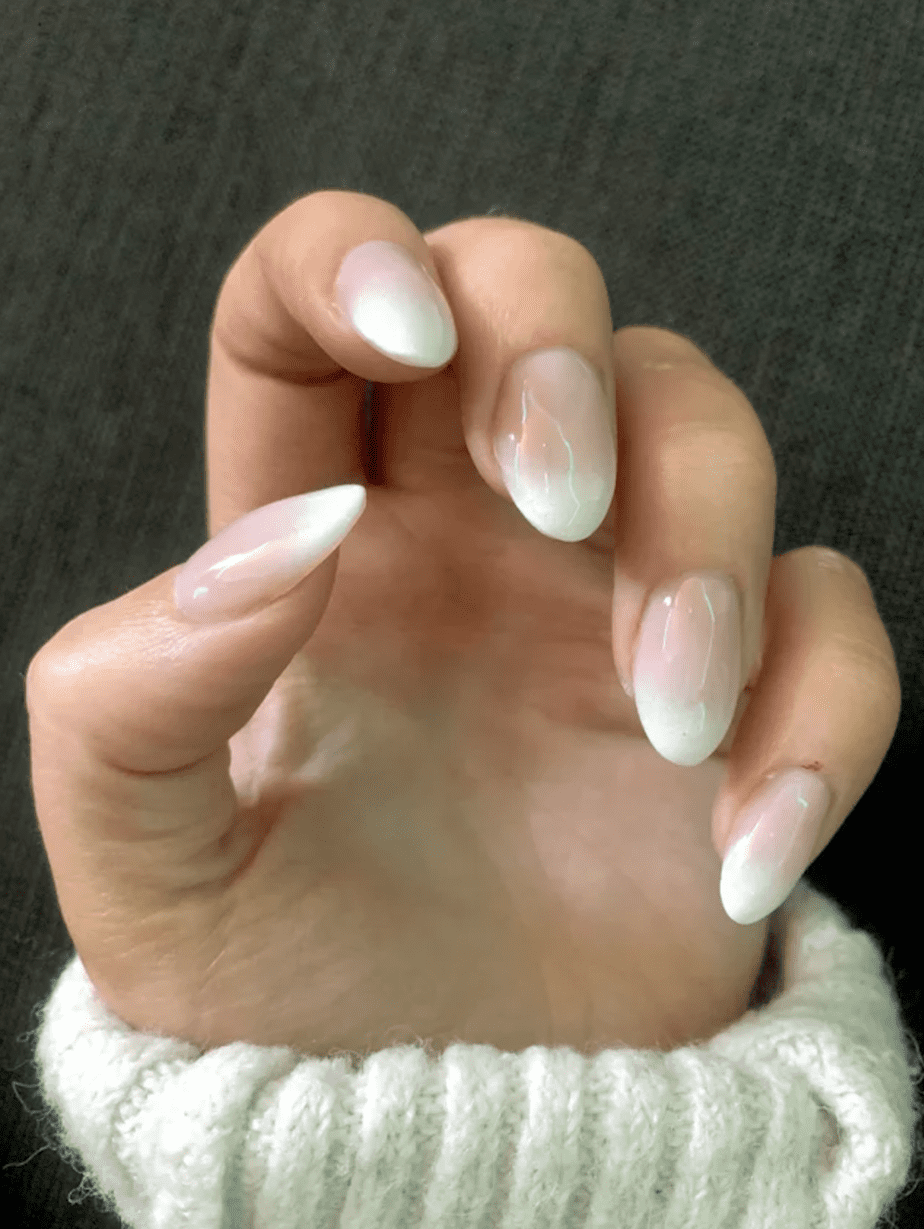 I think these white ombre nails would be absolutely perfect for any occasion – including graduation! So simple and classy.
21. Black And Gold Graduation Nails
Want something a little bit more bold? Go for these super classy and glam black and gold nails for your graduation day.
22. Gold Ombre
Another cute nail look for graduation is these simple gold ombre nails. I love the idea of doing ombre that starts at the tip of the nails rather than the base.
23. Square French Tips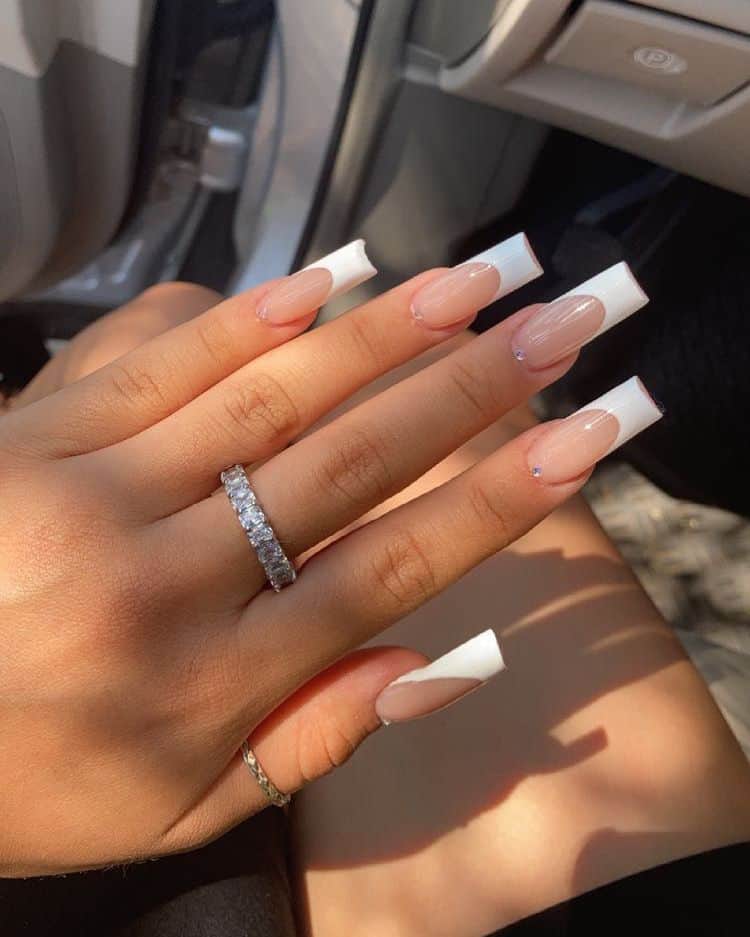 The square french tip is an elevated version of the classic french tip manicure. It looks way more modern and glam than the original version so it's perfect for a big day like graduation day.
24. Simple White Nails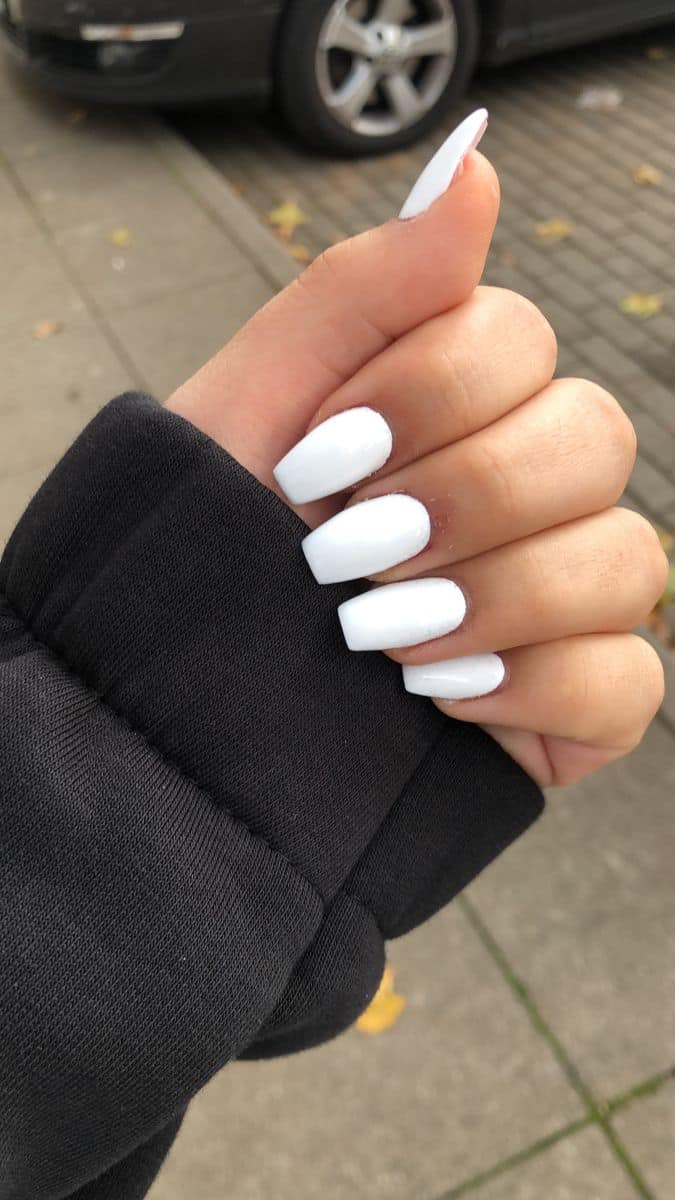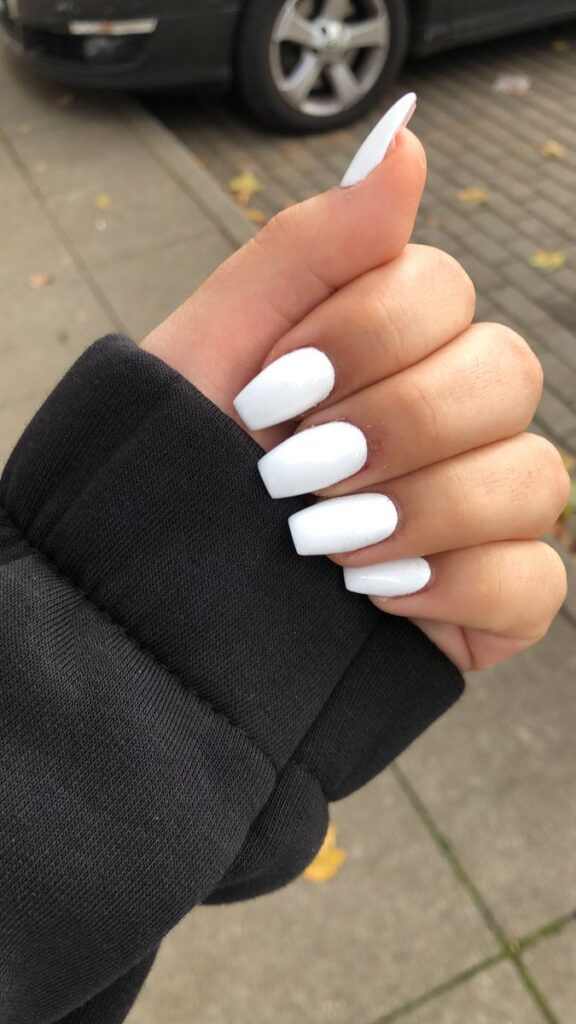 My go-to is a simple white nail for any occasion. A lot of girls will wear white dresses under their graduation gowns so these white nails would match perfectly with that look.
25. White Swirl Nails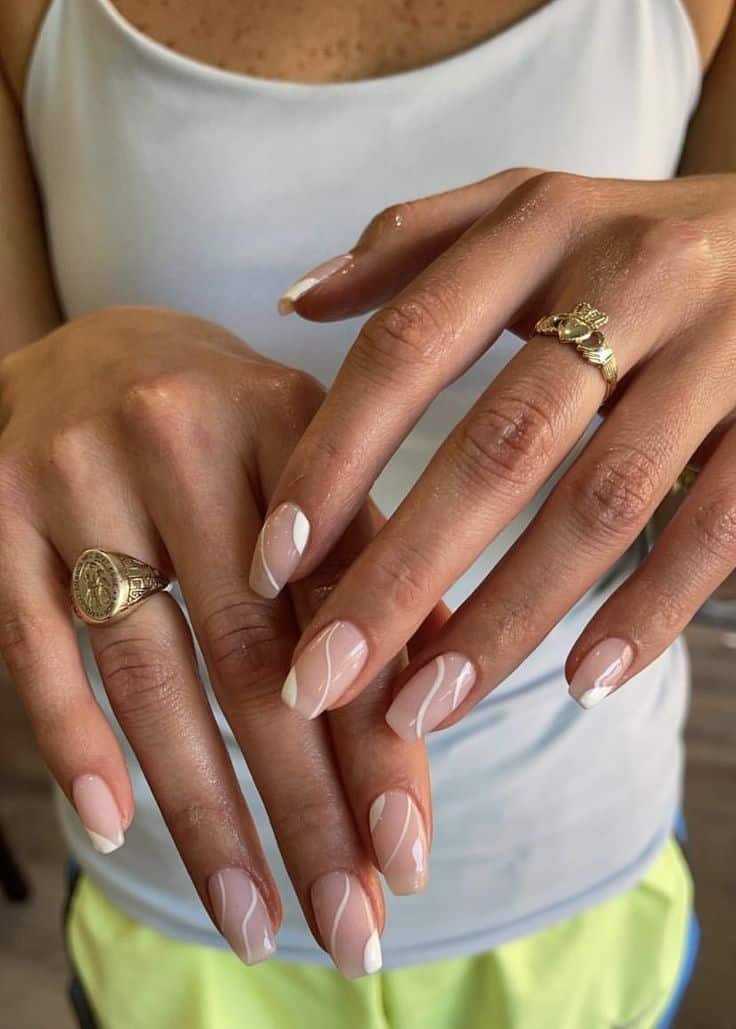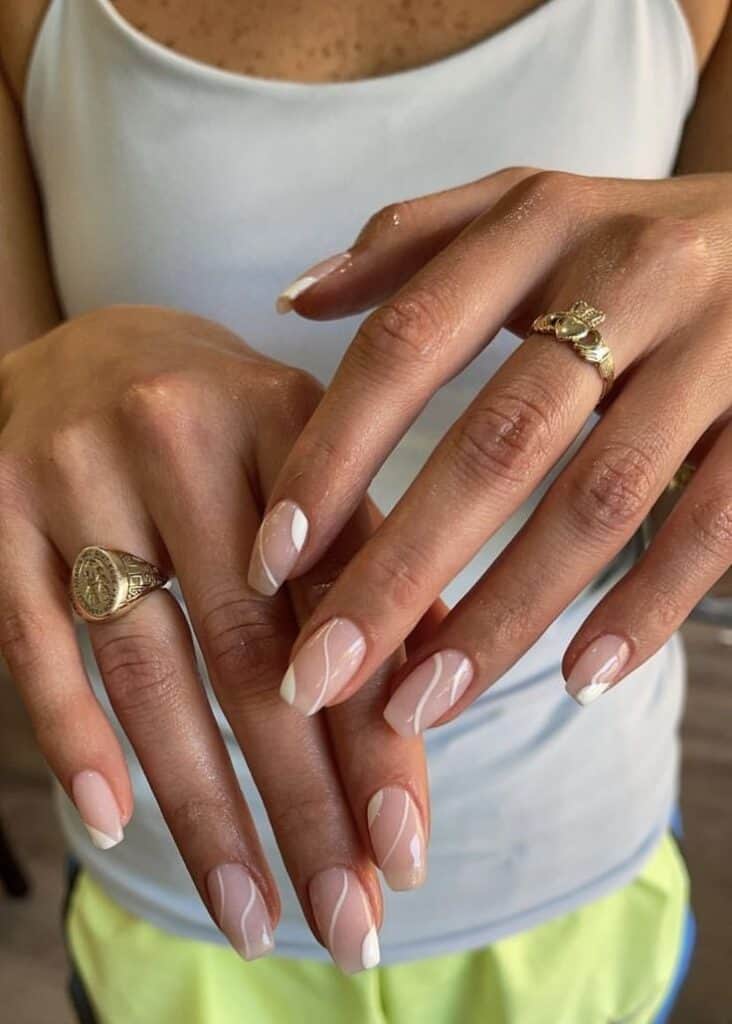 This swirl design is super modern and fresh right now. I love that the colors are very neutral but the design keeps things a little bit funky.
26. Nude Nails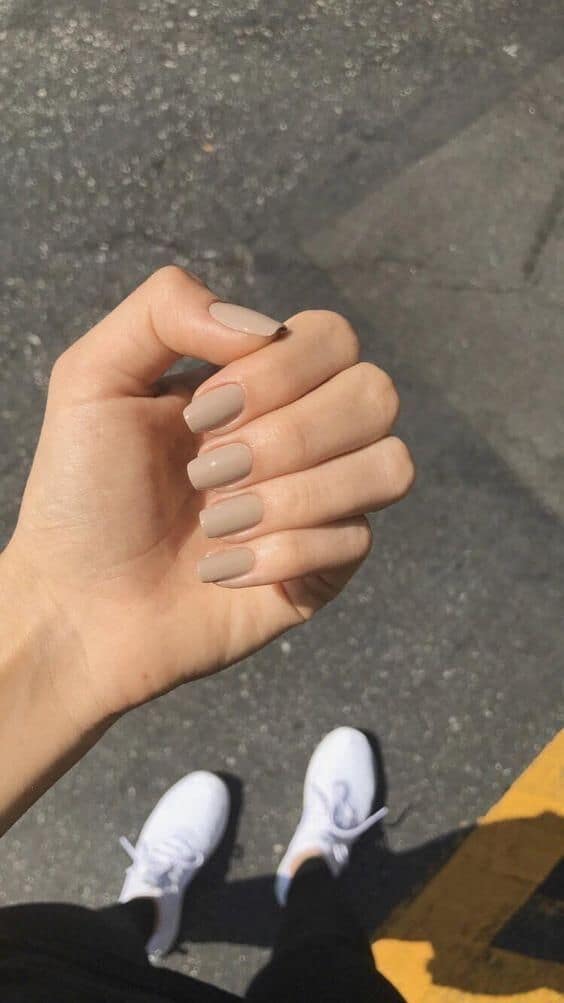 Want the most minimalist look possible? Go with a plain nude nail for your graduation day nails.
27. Nude And Gold Nails
These are one of the classiest graduation nail ideas that I've seen. Pair a neutral base with a really fine gold tip. It's subtle overall, but the pop of gold really adds some excitement to the look.
Fun And Colorful Graduation Nails
Are you into the bold and colorful nails right now? Graduation typically takes place in the Spring or Summer so it's a great time to try out some bright colors on your nails.
Here are some of my favorite fun and colorful graduation nail ideas:
28. Pastel Swirls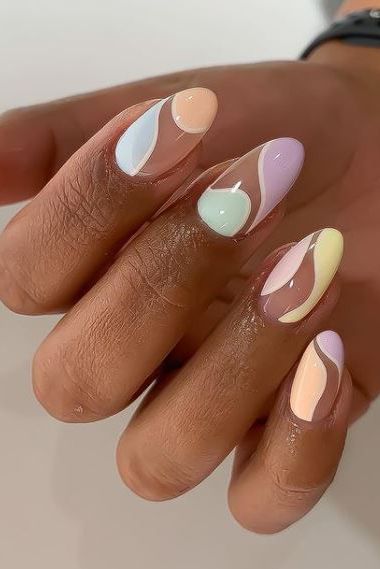 These pastel swirl nails are super fun and modern. I think they would look amazing at a Spring or Summer graduation ceremony.
29. Cute Flowers Graduation Nails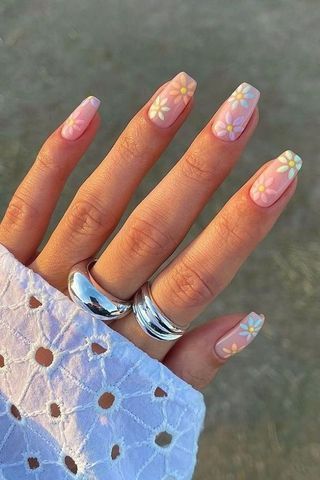 These flower nails are super cute and girly. They're perfect for warm weather and some celebration!
30. Colorful Tips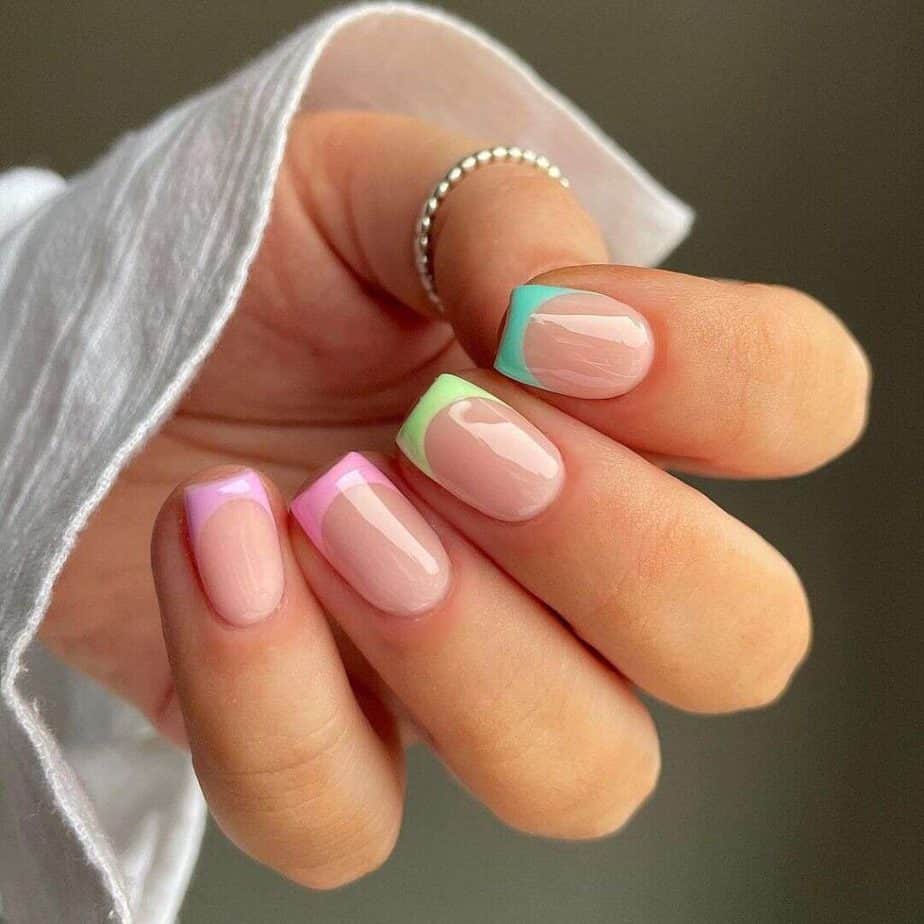 Looking for something subtle but still super playful? Go for a clear coat with some colorful tips!
31. Colorful Cow Print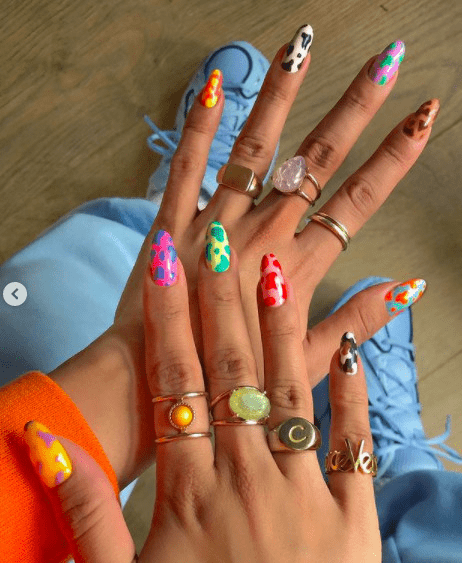 I love how funky these colorful cow print nails look. You'll definitely have the boldest nails at the graduation party.
32. Funky Retro Nails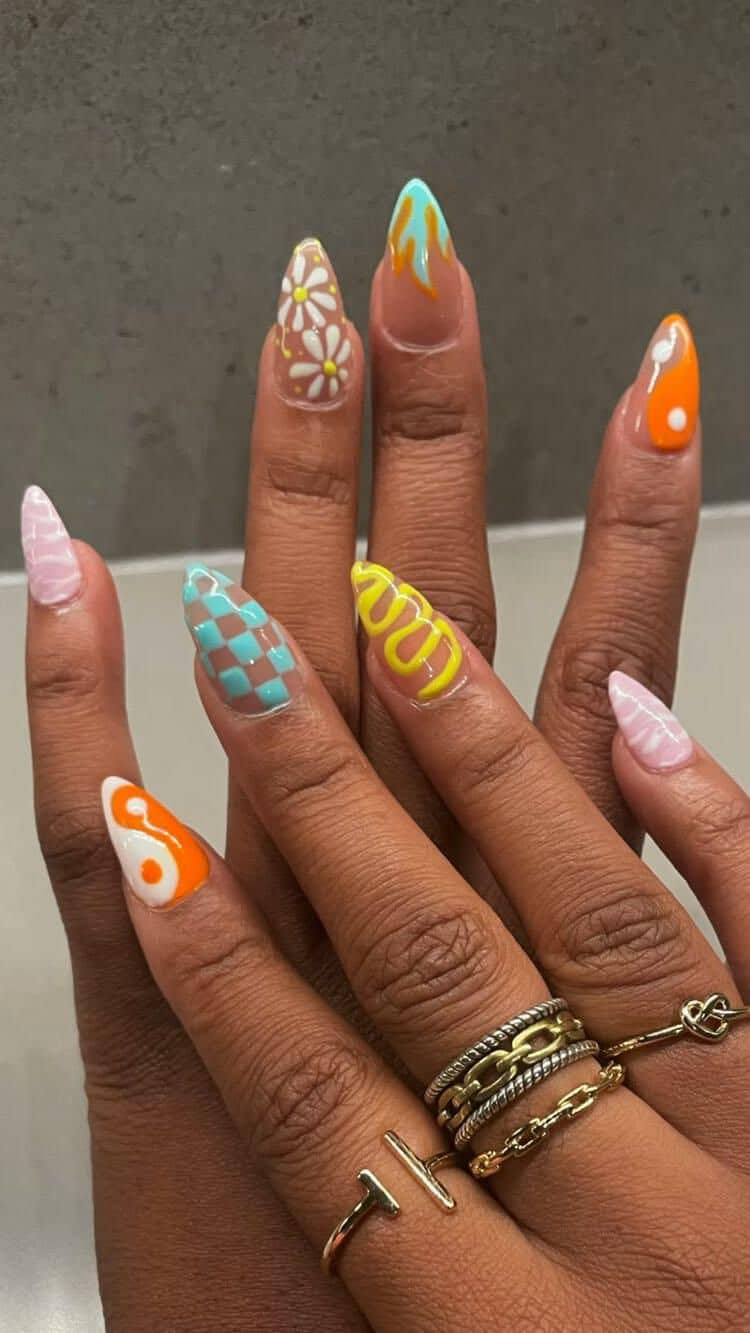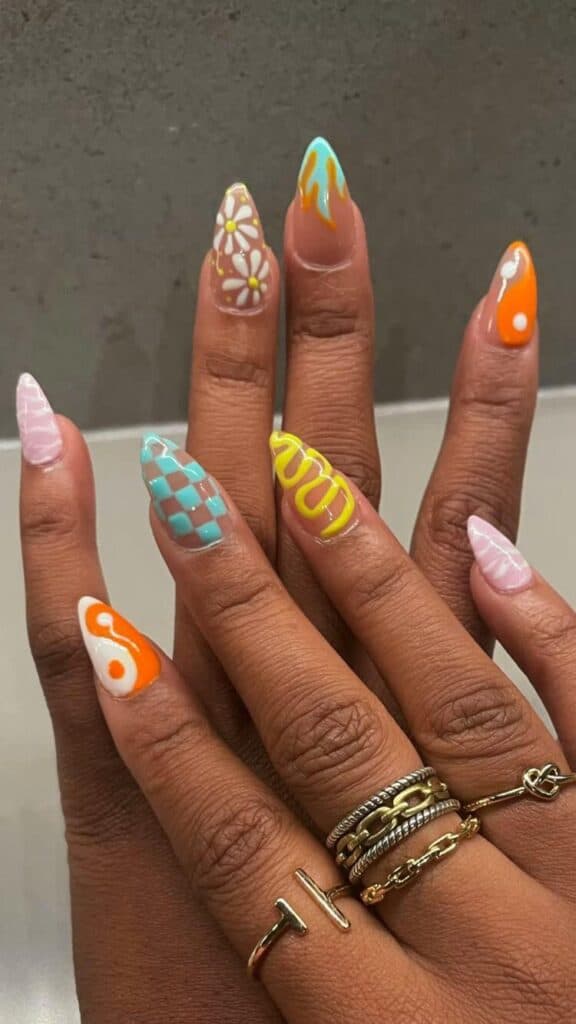 Another really fun look for graduation would be these funky Y2K nails. They'll add a pop of color underneath your otherwise-boring graduation gown.
33. Rainbow Graduation Nail Ideas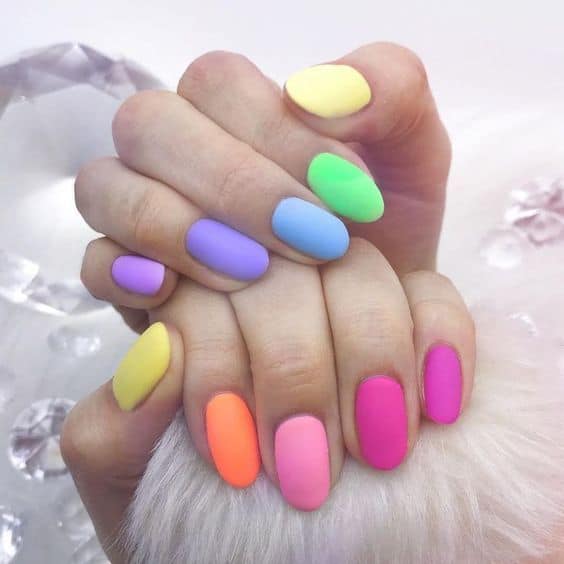 How stunning are these matte rainbow nails for Spring? These would look so cute with a white dress on graduation day.
34. Smiley Face Nails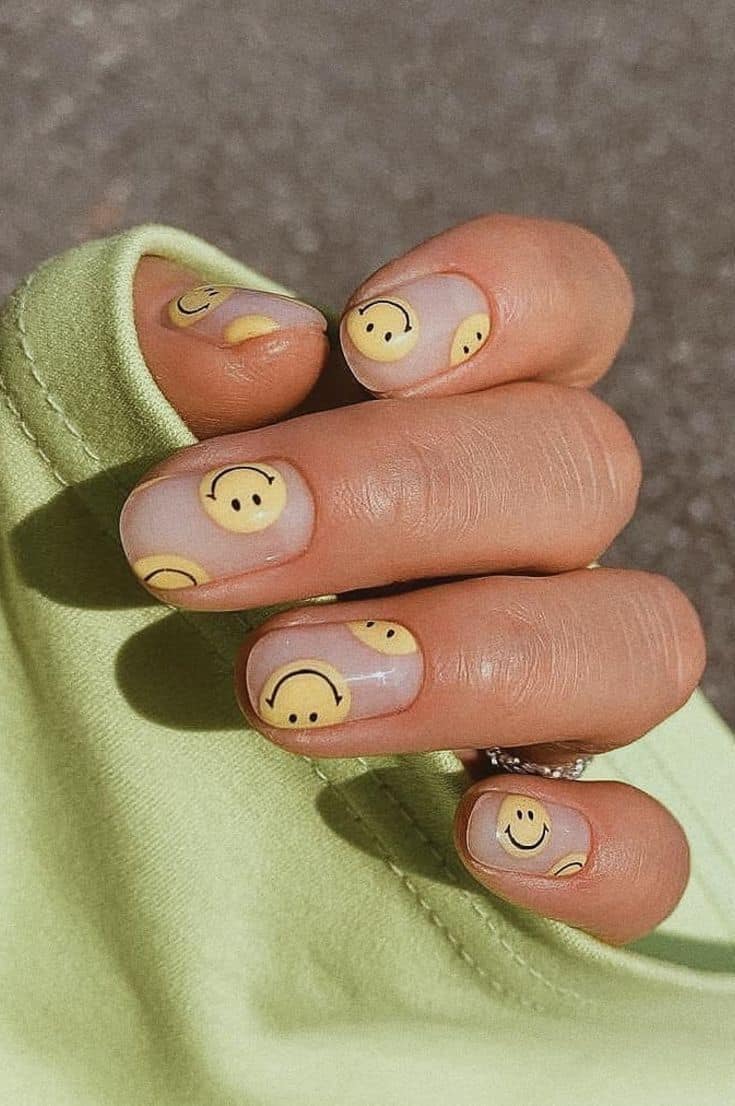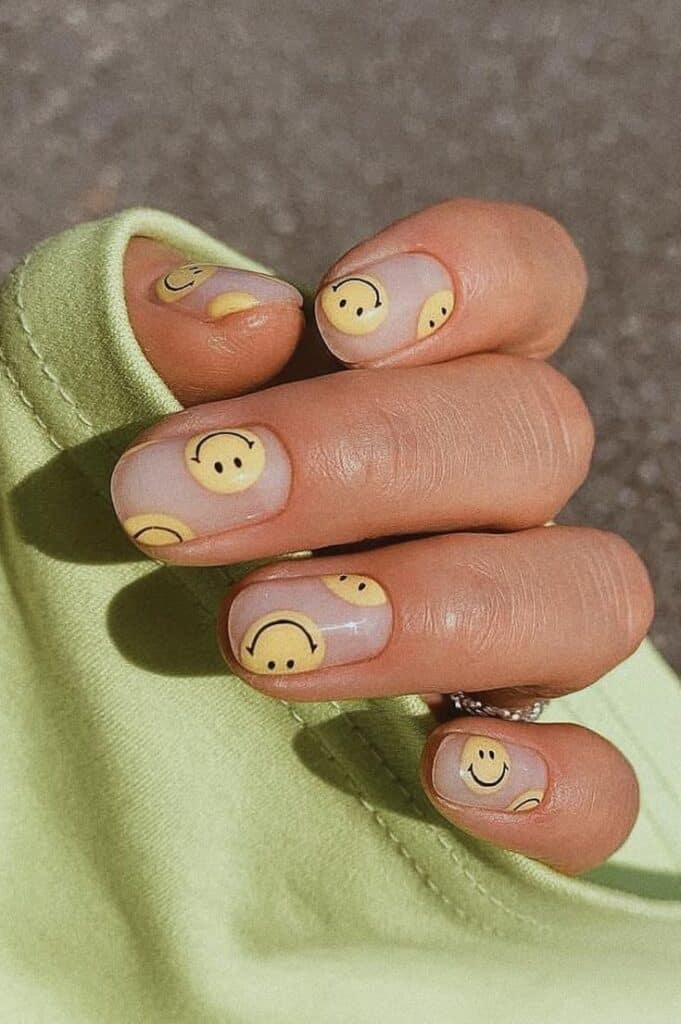 Need a little bit of extra sunshine on graduation day? Add some cute smiley faces to your graduation nails.
35. Dainty Flowers Graduation Nails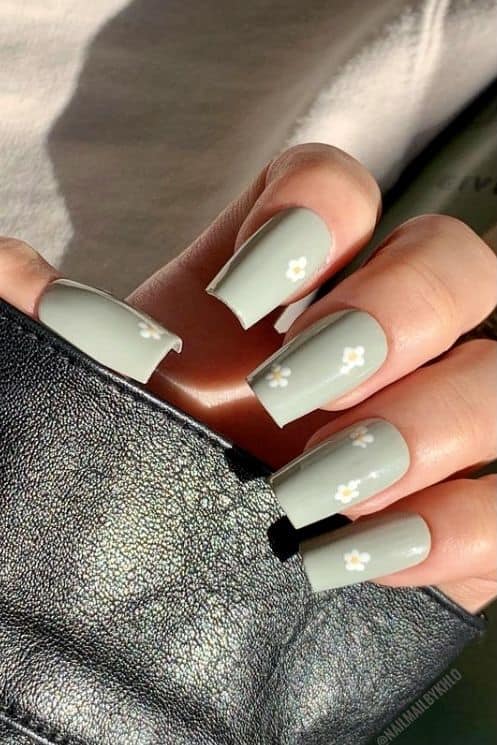 Nothing says Spring to me like pastel colors and little flowers.
This post was all about the cutest graduation nail ideas for 2022.
You may also like: