This post is all about the best graduation party centerpieces.
This post may contain affiliate links, which means I'll receive a commission if you purchase through my link, at no extra cost to you. Learn more: Affiliate Disclaimer.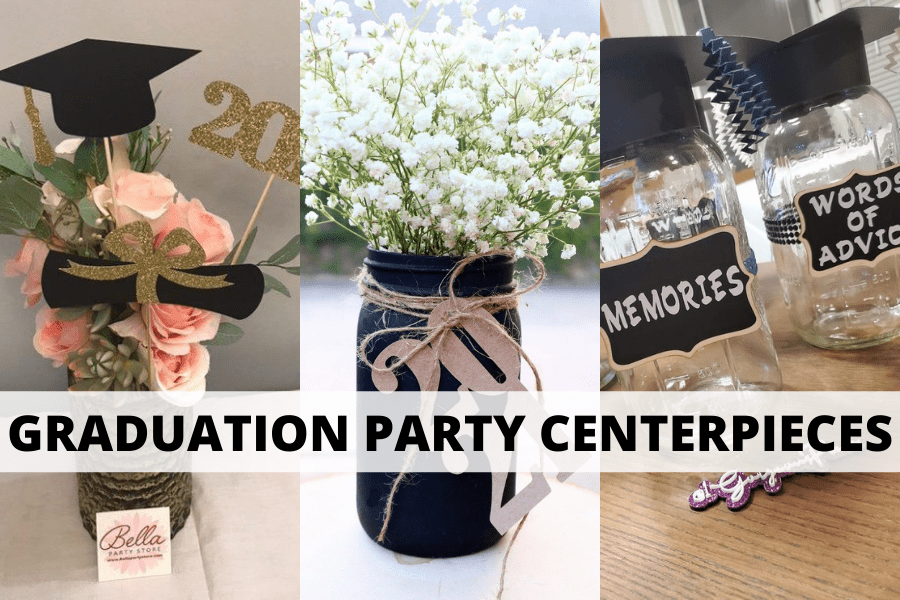 Graduation season is approaching quickly, which means it's time to start thinking about your grad party decor!
One of the easiest ways to make your graduation party look amazing is to decorate your tables. That's why I put together this list of 15 of the cutest graduation party centerpieces that you'll want to copy for your party.
P.s. running low on time? Sign up for a free 30 day trial of Amazon Prime so that you can get your graduation centerpieces delivered to your door within two days!
 P.s. we do not own the rights to these images. If you are the original copyright owner, please email [email protected] for credit/removal.
Graduation Party Centerpieces
1. Gold Painted Wine Bottles
This graduation centerpiece idea is super classy AND eco-friendly! Re-use your old wine bottles by spray painting them gold and filling them with flowers.
Recreate this table decor idea:
2. Personalized Flower Jar Centerpiece
This is such a sweet and simple graduation party centerpiece idea. Fill jars or vases with a small arrangement of flowers and add these custom graduation signs from Etsy to each one.
You can customize them with your graduate's name and graduation year, which is totally fun! Plus, you can send guests home with the bouquets at the end of the party for a super easy favor.
3. LED Balloons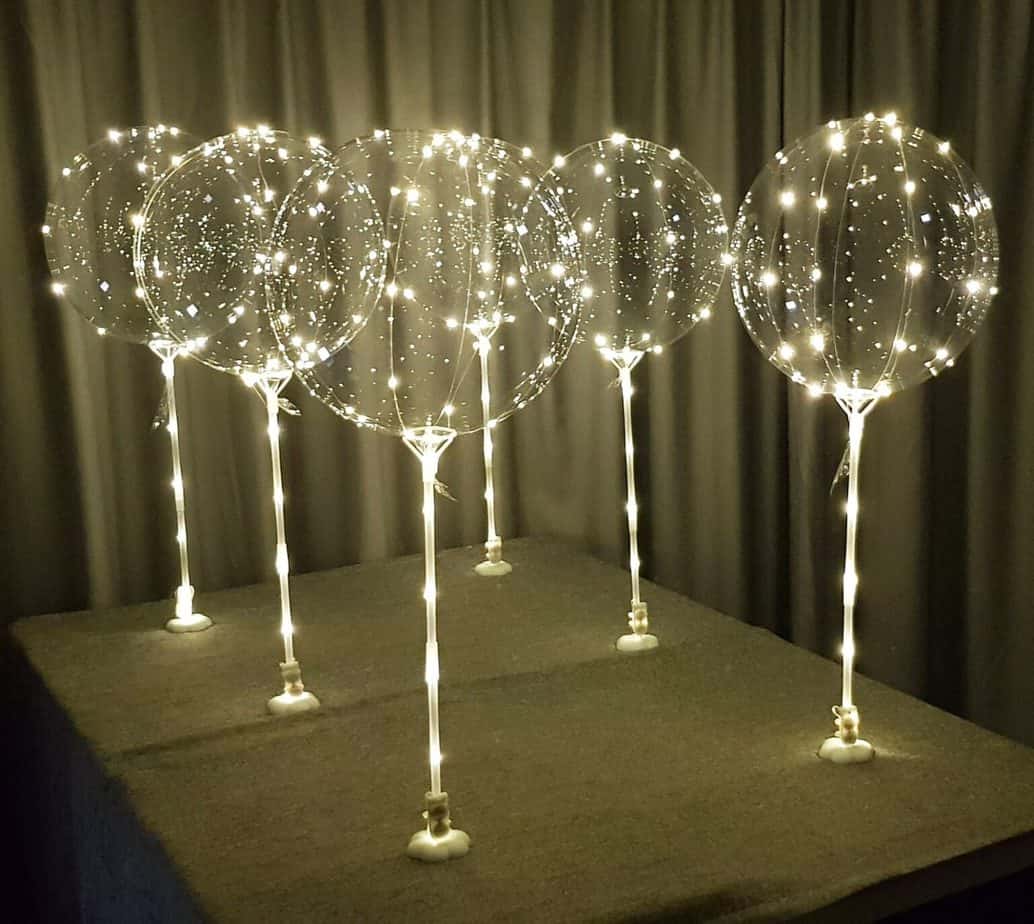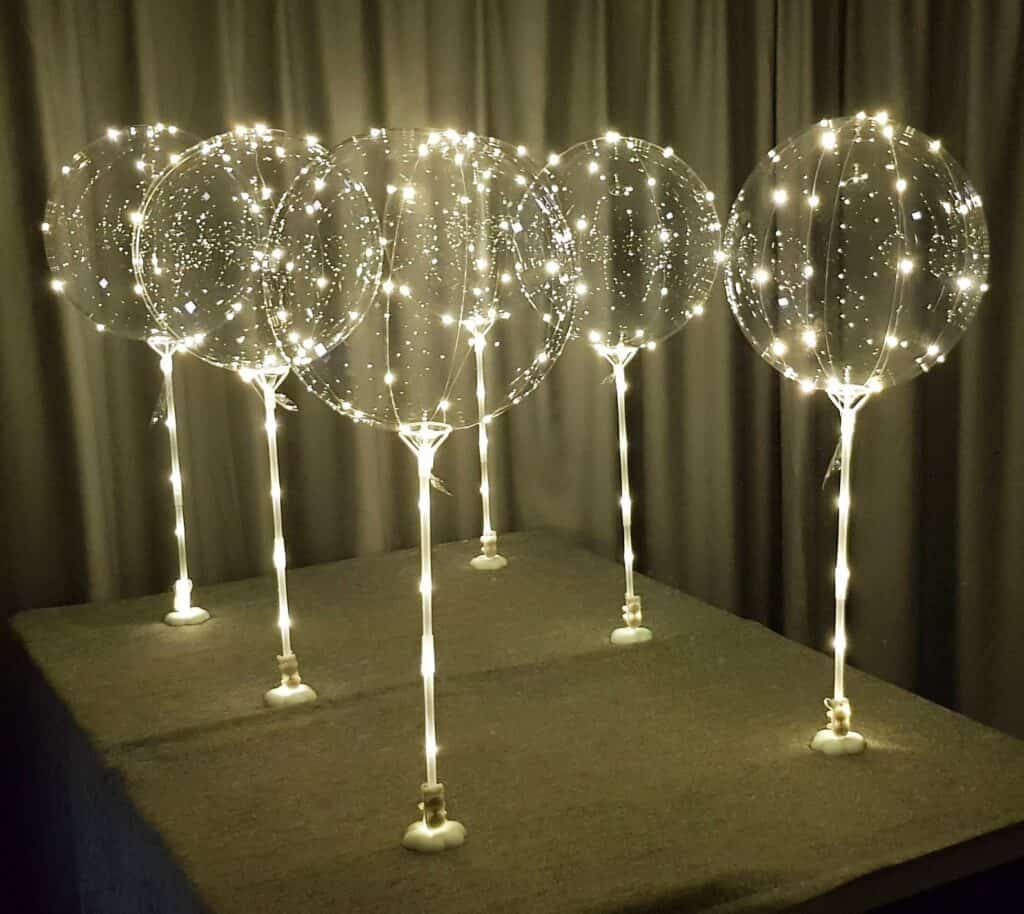 This would be SUCH a fun centerpiece idea if you're having your graduation party at night. These balloons seriously look so magical when they're all lit up.
[RELATED: 25 Insanely Fun High School Grad Party Ideas]
4. Photos And Chalkboard Signs
These graduation party centerpieces are a great way to show off your graduate's accomplishments! Display photos that show off their senior pictures, portraits for sports, and other things they've done throughout their years in school.
I love that they also included chalkboard signs with the graduate's name and graduation year. You can get these chalkboard signs on Amazon for really cheap!
Recreate this graduation party centerpiece:
5. Flowers With Graduation Decorations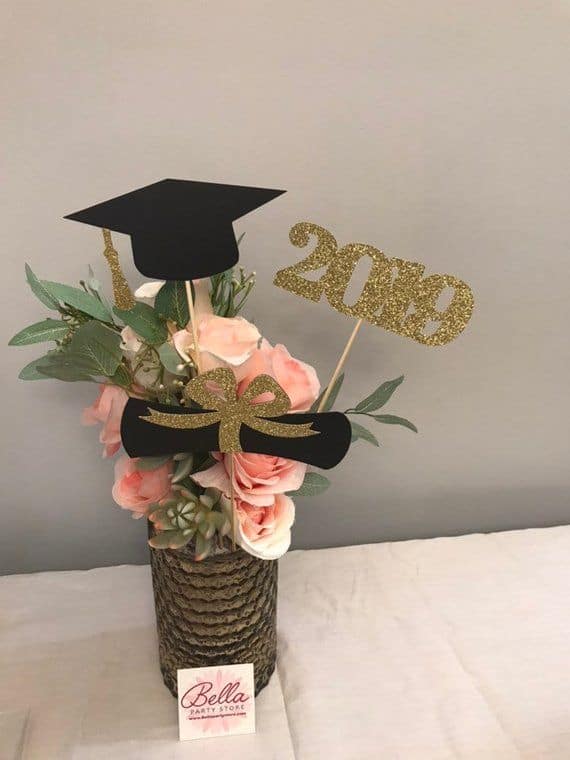 How adorable is this centerpiece idea? I love that it totally sticks with the graduation theme without looking too cheesy or out of place. These graduation decorations are available on Etsy and you can stick them into any vase with flowers.
[RELATED: 23 Creative Graduation Party Themes Your Guests Will Love]
6. Advice Jars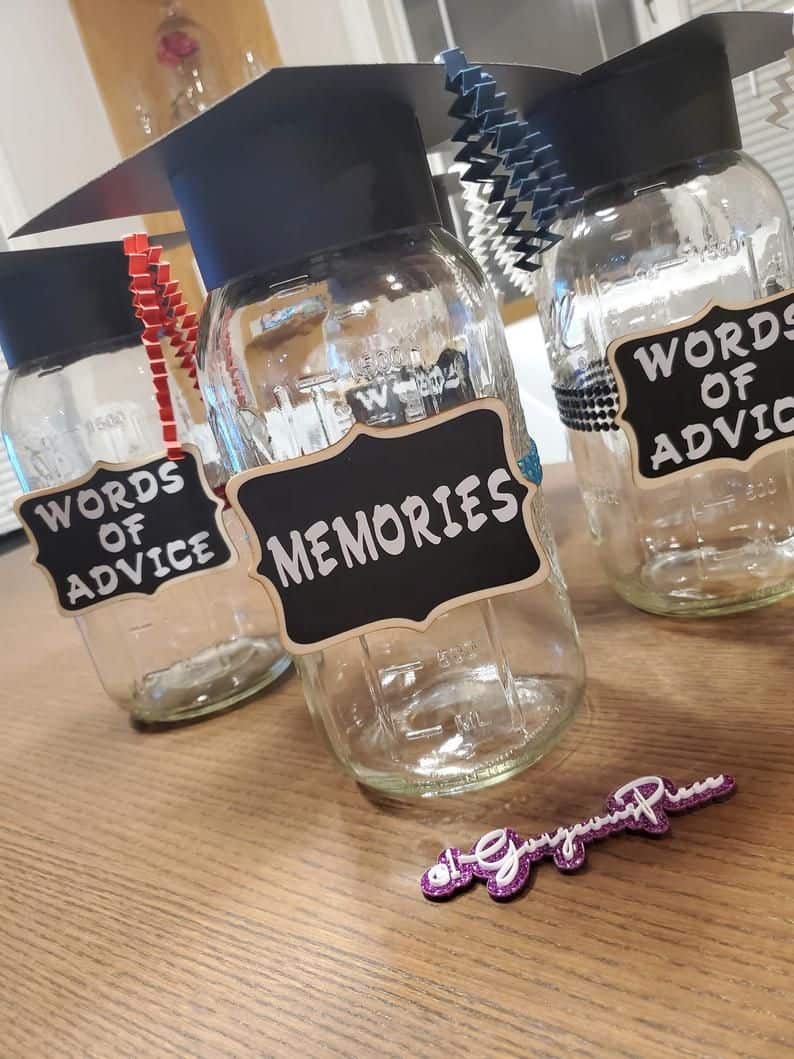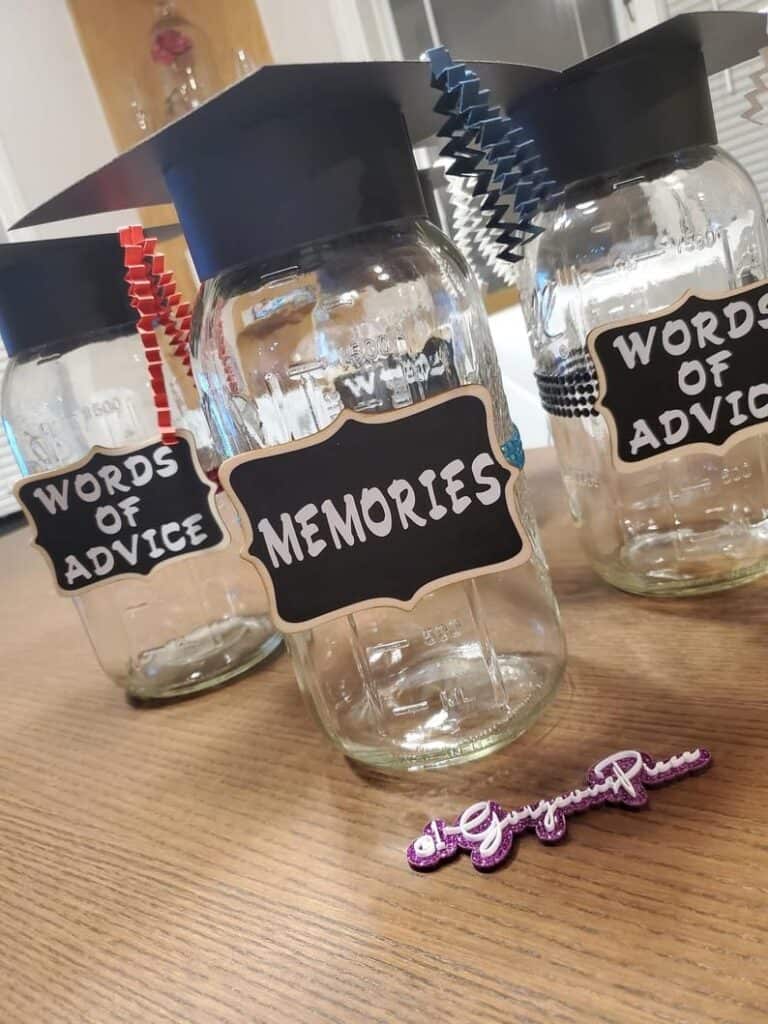 I'm so obsessed with these graduation centerpiece ideas! You can scatter these around your party and let your guests give words of advice to your graduate. Make sure you set out pens and small pieces of paper for them to use!
You could easily DIY this centerpiece idea or you can buy them pre-made on Etsy.
7. Rustic Bouquet With Grad Year Tags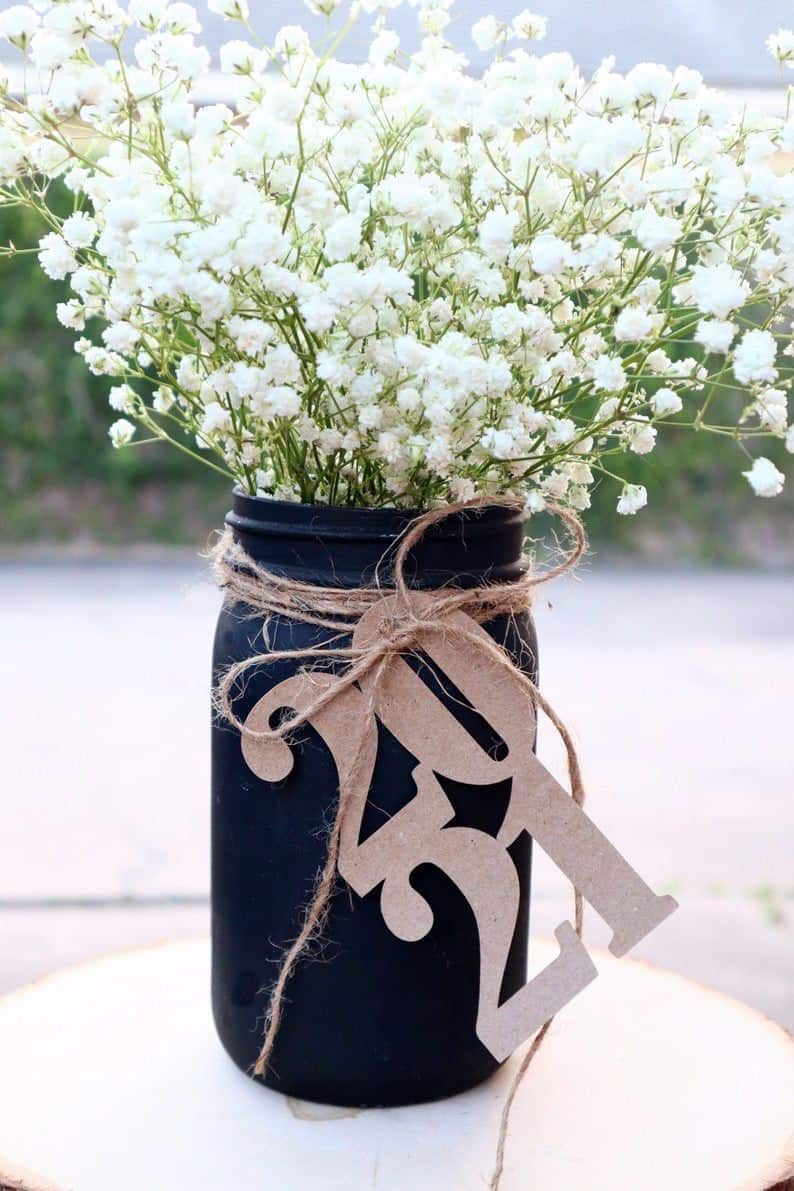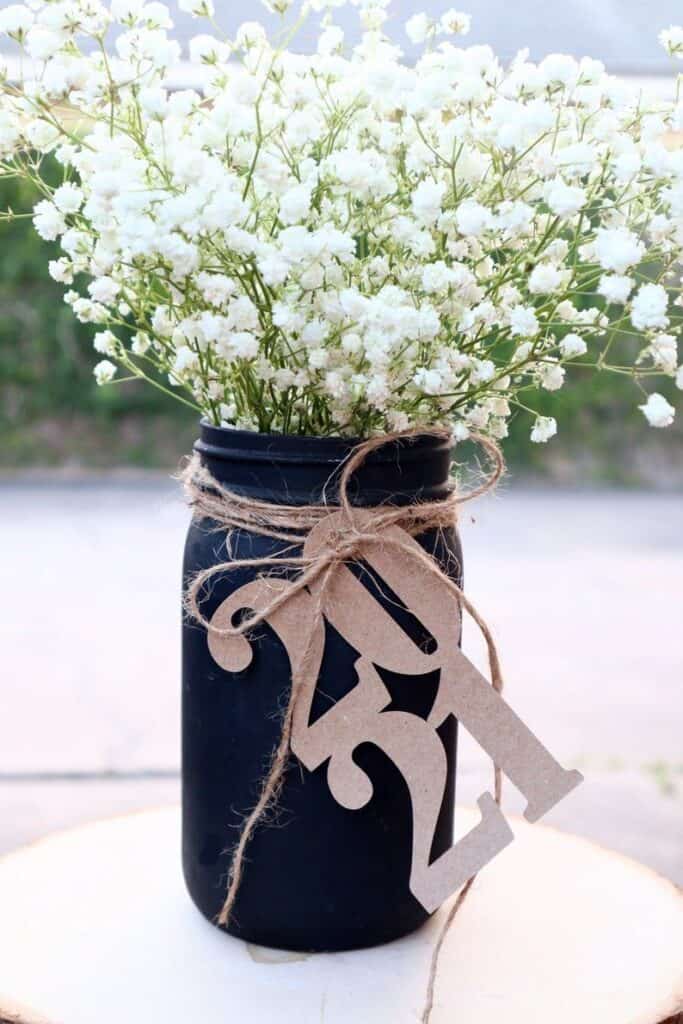 This is another super affordable graduation party centerpiece idea. Just take any jars or vases you have around the house (or thrift them!) and add these custom graduation year tags with twine.
You can fill them with any flowers you'd like, but I love this baby's breath bouquet for a rustic themed grad party.
8. Personalized Paper Lantern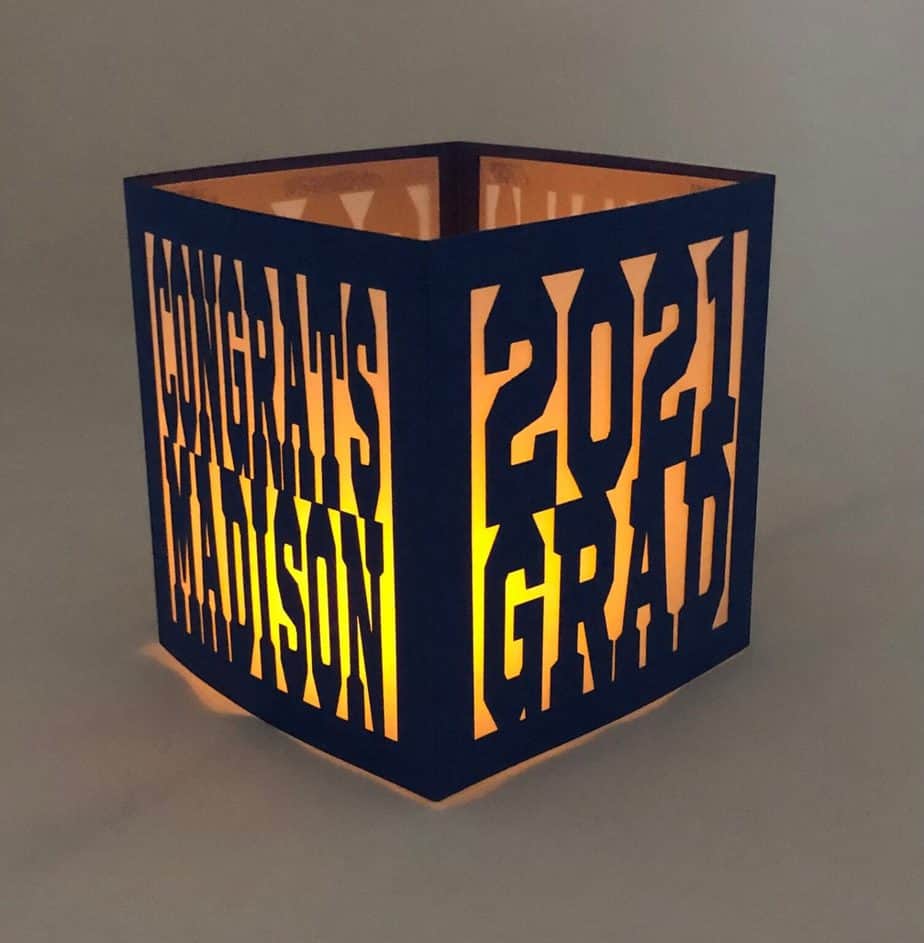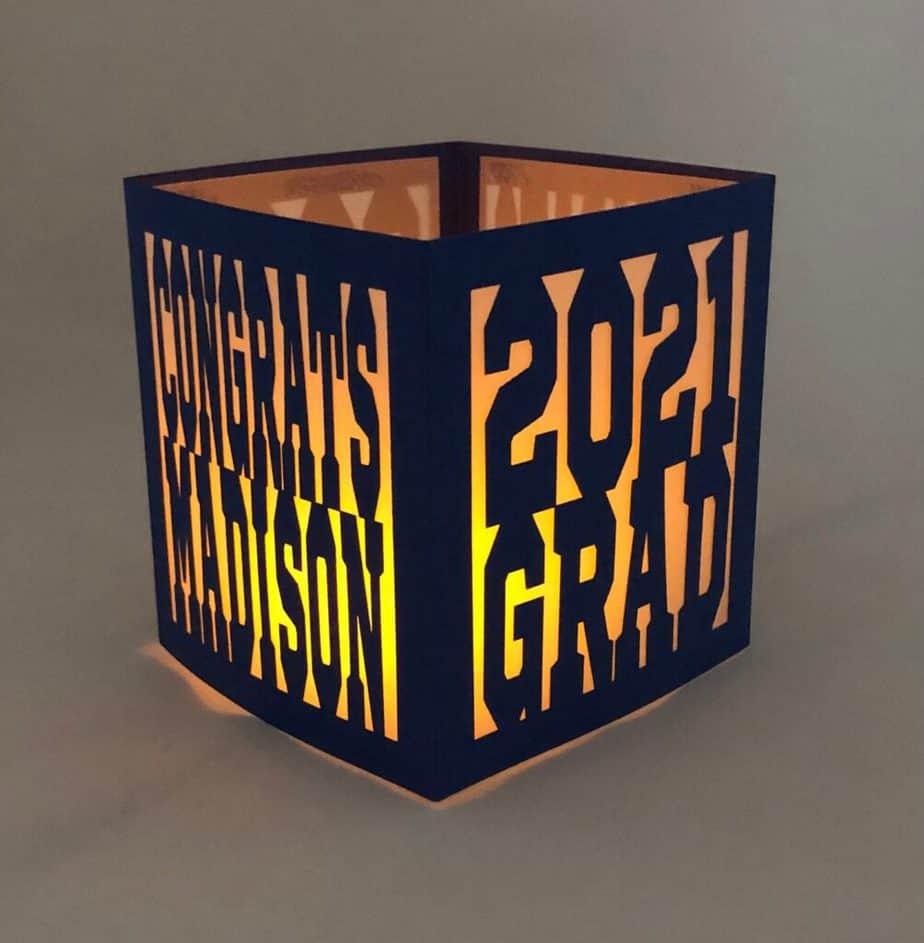 This is such a unique table decor idea for graduation parties. These paper lanterns from Etsy can be customized to display your graduate's name and graduation year.
I recommend sticking a flameless candle inside for a really pretty ambiance.
[RELATED: 31 Clever Graduation Cap Ideas You'll Obsess Over]
9. Succulents And Candles
This is definitely one of my favorite ideas for graduation party table decor. Set out a few mini succulents and surround them with votive candles for a really pretty and simple look.
You can even give out the succulents as favors when the party ends! Succulents are actually pretty cheap when you buy them in bulk so this is an affordable party favor idea.
Recreate this grad party centerpiece idea:
10. Vintage Book Centerpieces
This is the perfect graduation party table decor for anyone who is into books or vintage style! I absolutely love the book stacks with teacup vases as a centerpiece.
Plus, this centerpiece idea would be super easy to recreate with thrifted elements. Thrift stores are always full of old books and vintage teacups!
Recreate this graduation table decor idea:
11. Globe Centerpieces
This is the perfect centerpiece idea for a travel themed graduation party. You could even add decals of your graduation year to each globe if you don't plan on reusing them for anything.
Recreate this centerpiece: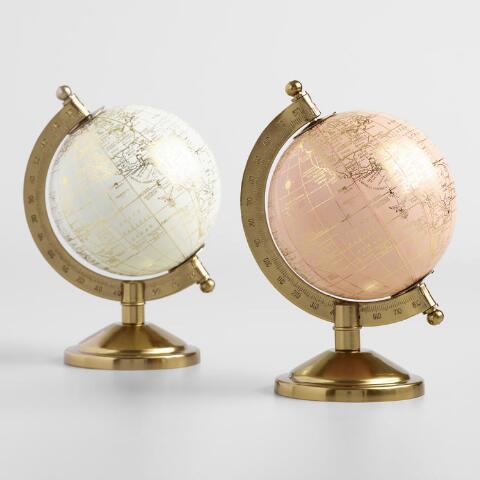 12. The Adventure Begins Frame
I love adventure themed graduation parties because you really are off on a new adventure when you graduate! This centerpiece idea is so adorable and would fit really well with a travel or adventure party theme.
But no matter what your theme is, you could use this centerpiece idea! Just buy the frames and fill them with any picture or graphic that fits your decor.
Recreate this centerpiece:
13. Candy Jars
I love the idea of setting out candy jars on each table for guests to snack on. Plus, it encourages your guests to mingle because they'll have to visit other tables to get different types of candy!
The little graduation themed puns on each type of candy are also so dang cute!
Recreate this table decor idea:
14. Tassel Centerpiece
This picture is actually from a baby shower, but I think this would be the perfect centerpiece idea for a graduation party too! You could do tassels in the graduate's school colors for a school spirit themed party.
You can DIY the tassels using this tutorial and then attach them to wooden dowels.
Recreate this centerpiece idea:
15. Graduation Cap Photo Holder
How perfect are these photo holders from Oriental Trading? They're in the shape of graduation caps which obviously goes with the theme of the party perfectly! Plus, they're a great way to display senior pictures at your party.
This post was all about the best graduation party centerpieces.
You may also like: