Looking for thoughtful ways to congratulate a college graduate? Here are 90 perfect messages and quotes for graduates.
This post may contain affiliate links, which means I'll receive a commission if you purchase through my link, at no extra cost to you. Learn more: Affiliate Disclaimer.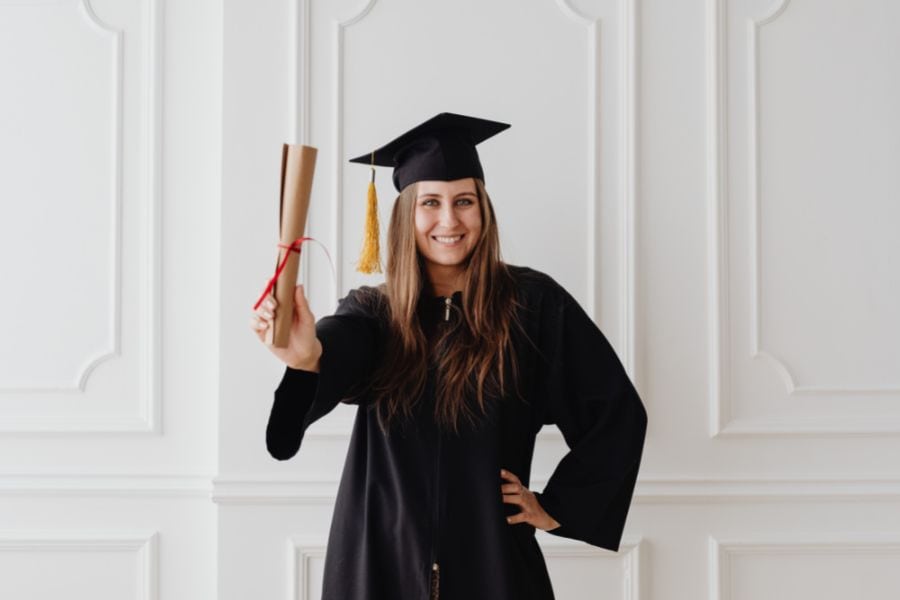 We can't all be wordsmiths. The pressure is even higher when looking for the perfect words to accompany a significant milestone like graduation.
If you're not sure what to write in a graduation card, we have you covered. Here are 90 perfect graduation wishes to help you congratulate a recent college grad.
Graduation Wishes To Write In Their Card
Here are some messages to help you congratulate a college graduate.
Short Ways To Congratulate A College Graduate
Looking to wish a graduate well without using a lot of words? These graduation messages are short and sweet:
1. Happy Graduation Day!
2. You are one class act!
3. Caps off to you, Graduate!
4. Cheers to four years!
5. What an impressive accomplishment!
6. You did it, Graduate!
7. Good luck with your new beginnings!
8. Be glad you're now a grad!
9. That tassel was worth the hassle!
10. It's official: You're too cool for school!
11. May your hat fly as high as your dare to dream!
12. Good for you!
13. ConGRADulations!
14. Never stop reaching for the stars!
15. Big brain energy—congratulations!
16. Congrats to the brightest youngster around!
[RELATED: 19 Graduation Party Centerpieces You'll Want To Display On Every Table]
Funny Messages For Graduates
Make sure to use these on a graduate who shares your sense of humor:
17. My deepest condolences on the passing of your college life.
18. All that work for a single piece of paper?
19. You graduated? I just lost a bet!
20. Did you ever think this day would come? Neither did I!
21. Graduating is a breeze in comparison to getting a boss!
22. Why did the college graduate cross the stage? To move back in with their parents.
23. When they hand you your diploma, run! (Just in case they try to take it back)
24. I hope your college memories will last longer than your student loan.
25. I can't wait to hear your name mispronounced at the ceremony!
26. Here's to the end of surviving on Top Ramen!
27. As you graduate, don't forget to thank Google, Wikipedia, Command C, and Command V.
28. Congratulations on working four years only to get a piece of paper.
29. How does it feel to be only one degree wiser?
30. You made it just in time for the hard part: real life.
31. You may call it graduating. I call it a miracle!
32. Graduation: A practice where they hand you a diploma, hoping you've learned enough to read it.
Sentimental Things To Say To A College Graduate
When sentimentality doesn't come easy, you may need help finding the right words:
33. Nothing is more beautiful than finding your way in life!
34. Today is just the start of all the amazing things life has in store for you.
35. Keep adding to the goodness and beauty in the world as you have done up to now.
36. We're so incredibly proud of you. But it's more important that you take a minute to be proud of yourself.
37. It seems like you were starting school yesterday, and now, you're leaving. It's been a privilege to watch you grow and achieve so much over the years.
38. You can never cross the ocean if you do not dare to lose sight of the shore.
39. You've come a long way since that frightful first day of kindergarten. Look at you now!
40. All good things must end, but I'm glad we have created incredible memories I'll cherish forever.
41. I am so proud of your accomplishment, but even more proud of the person you have become.
42. You have always been the captain of your own ship. You can feel proud that you've steered it toward victory.
43. I hope you are proud of yourself. You deserve all the successes you worked towards.
44. Watching you grow closer to your dreams has been inspiring.
45. It has been a privilege to witness you grow and develop into the extraordinary human being you are today.
46. Your perseverance and hard work never went unnoticed. You are a true inspiration to all!
47. Every laugh, tear, joke, and secret we've shared these last four years have made the journey worthwhile!
48. I am proud of your achievement but even more excited for your future!
49. The greatest gift you can give someone is believing in them. Rest assured, you have a whole team of people who believe in you!
50. Nobody deserves this accomplishment more than you!
[RELATED: 40 Insanely Fun High School Graduation Party Ideas]
Words of Wisdom For Graduates
Nothing says you care like sharing life lessons you've learned from experience.
51. Chasing your dreams requires hard work, passion, and sacrifice.
52. When anxious about the future, remember to build a door if opportunities don't knock.
53. Never stop growing, exploring, learning, and challenging yourself.
54. Always follow your heart. It will show you the right way.
55. Imposter syndrome is a reality. Always remind yourself that you deserve to be here.
56. Enjoy the little things in life. One day, you will look back and understand they were the big things.
57. Graduation isn't the end of a journey; it is the beginning of a new one.
58. Do all the ambitious and vital things in life, but always make kindness your priority.
59. Remember that you are braver, stronger, and brighter than you think.
60. Life is a journey; only you hold the map – no one else.
61. Remember: there is no limitation to what you can do, but only if you genuinely believe in yourself.
62. The future holds no promises. It holds mysteries and surprises instead. What you've learned will prepare you for both.
63. From now on, know that all paths are different and that you are where you are supposed to be.
64. Being a graduate doesn't mean that you know everything. However, it does mean that you are better prepared to deal with life.
65. Every person you encounter matters—no matter what, treat them with respect.
66. Wake up each day believing in yourself and watch the magic happen from there.
67. Before you react, listen. Before you speak, think. And, before you quit, try.
In Absence
When you can't attend a graduation event in person, the right words become especially important.
68. We share in your pride and send you love from afar.
69. Please save a slice of the celebratory cake for me!
70. Just because I can't see you in your gown doesn't mean I am not incredibly proud of you.
71. We are disappointed that we won't be there to watch you get your diploma, but we will celebrate your success soon.
72. I will be right beside you emotionally.
73. *Redeem this message for a free celebratory dinner when we see each other again*
74. Our absence doesn't take anything away from the significance of your graduation. Congratulations!
[RELATED: How To Celebrate Graduation Without A Party (9 Fun Alternatives)]
Messages For Graduates Who Are Going Through Difficult Times
As precious as the moment of graduating is, it doesn't always happen under fairytale circumstances.
75. I know things are tough, but I hope you take a moment today to savor all your hard work and this amazing accomplishment.
76. You have been through a lot and still graduated. That says more about you than any piece of paper.
77. Amidst everything life has thrown at you, be proud of yourself for reaching this milestone.
78. Life has taught you some hard lessons. Pat yourself on the back for getting this far, diploma in hand!
79. I know this is not how you envisioned your graduation day, but nobody can take this achievement away from you.
Congratulatory Quotes
There's always going to be someone famous who once said it better than you ever could. Rely on these quotes to inspire and encourage:
80. "I hope that in this year to come, you make mistakes. Because if you are making mistakes…you're Doing Something." ― Neil Gaiman
81. "Formal education will make you a living; self-education will make you a fortune." – Jim Rohn
82. "All real education is the architecture of the soul." – William Bennett
83. "Education is the movement from darkness to light." – Allan Bloom
84. "Your time is limited, so don't waste it living someone else's life." — Steve Jobs
85. "An investment in knowledge always pays the best interest." —Benjamin Franklin
86. "You don't go to university, so you can punch a clock. You go to university so you can be in a position to make a difference." – Janet Napolitano
87. "Your education is a dress rehearsal for a life that is yours to lead." – Nora Ephron
88. "Learn as if you will live forever, live like you will die tomorrow." – Mahatma Gandhi
89. "Strive not to be a success, but rather to be of value." – Albert Einstein
90. "Don't aim for success if you want it; just do what you love and believe in, and it will come naturally." – David Frost
This post was all about the best ways to congratulate a college graduate. Hopefully this post gave you some inspiration for what to write in a graduation card!
You may also like: