Looking for the best graduation cap ideas to recreate? Here are some of the most clever grad cap decor ideas.
This post may contain affiliate links, which means I'll receive a commission if you purchase through my link, at no extra cost to you. Learn more: Affiliate Disclaimer.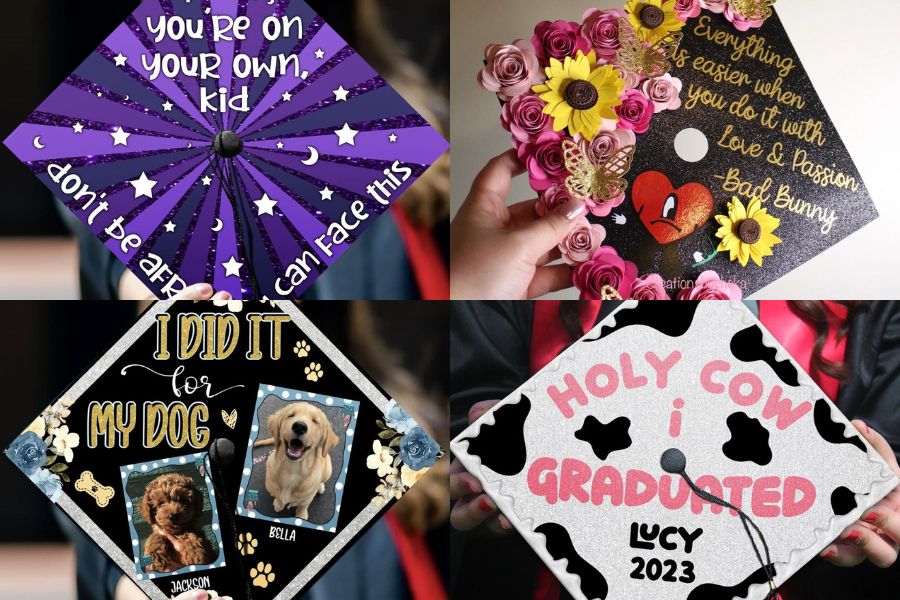 Graduation is the time to celebrate your years of hard work. You deserve to have some fun and look incredible on graduation day. Which is why it's a popular tradition to decorate graduation caps in fun and beautiful ways.
If your school allows you to decorate your graduation caps, it's a great way to stand out from the crowd and show off your creativity.
By the way – if you've never DIY'd a graduation cap before you'll want to check out our post on how to decorate a graduation cap without damaging it.
Here are the most clever graduation cap ideas that you can copy:
Clever Graduation Cap Ideas
1. School Themed Grad Cap
Starting off strong with this adorable school spirit themed graduation cap idea.
Show off your future college with a graduation cap designed in your school's colors or mascot. It will be an awesome piece of school memorabilia you can hang on to forever.
2. Mean Girls Themed Graduation Cap
This quote from Mean Girls will never not be a funny graduation cap idea.
Even if you've had the best time in school, it's time to celebrate leaving with a grad cap that says "she doesn't even go here…anymore".
Make sure you use the lettering style from the burn book in Mean Girls.
If you're not into the whole DIY thing, you can buy a super similar done-for-you graduation cap topper on Amazon:
3. Thank u, Next Grad Cap Design
This Ariana Grande-inspired graduation hat is a perfect way to say that you're on to bigger and better things!
The lettering style for this DIY graduation cap is similar to the previous one on the list. It's pretty easy to recreate with some black and white construction paper and letter stickers.
Recreate this clever graduation cap idea:
4. Now Hotter By One Degree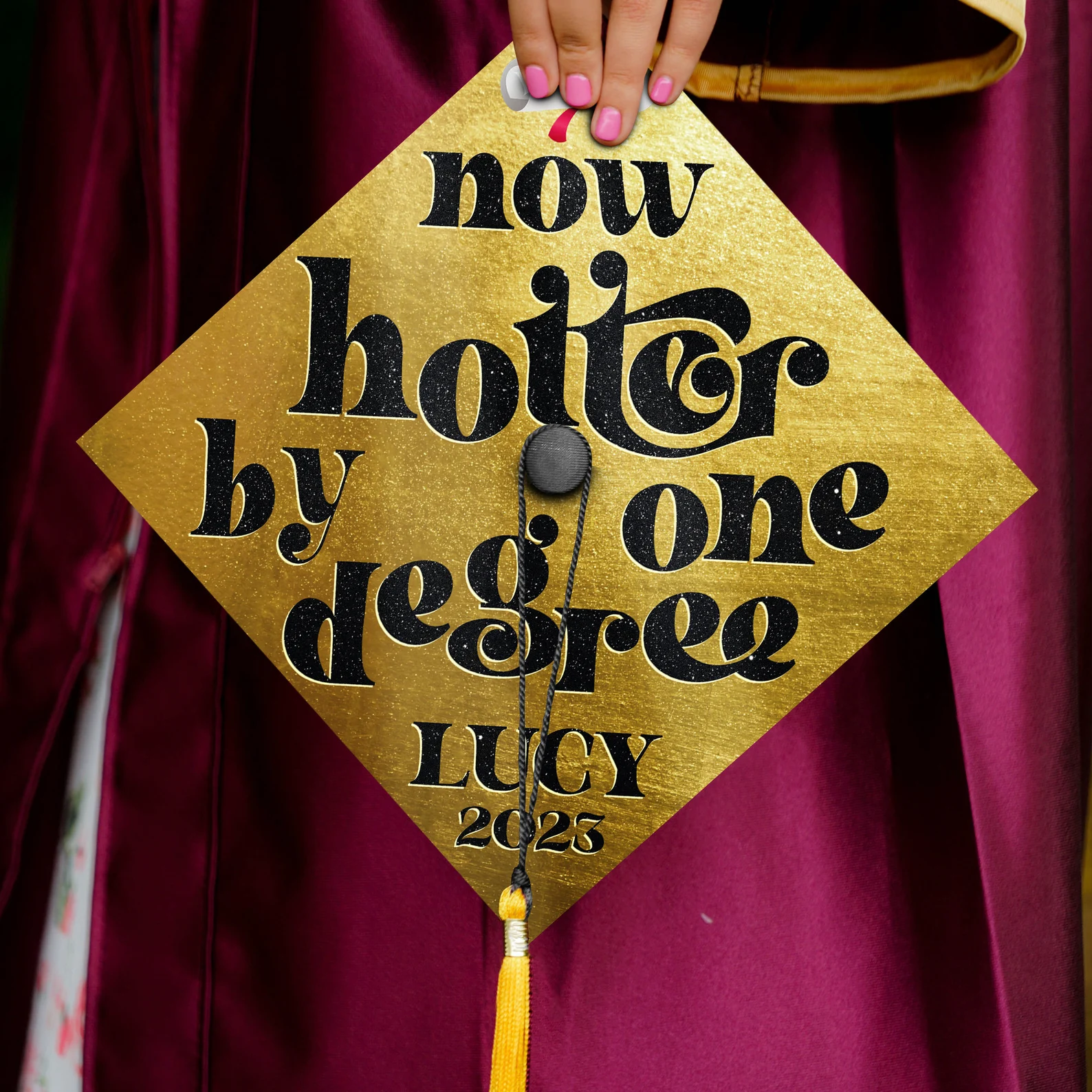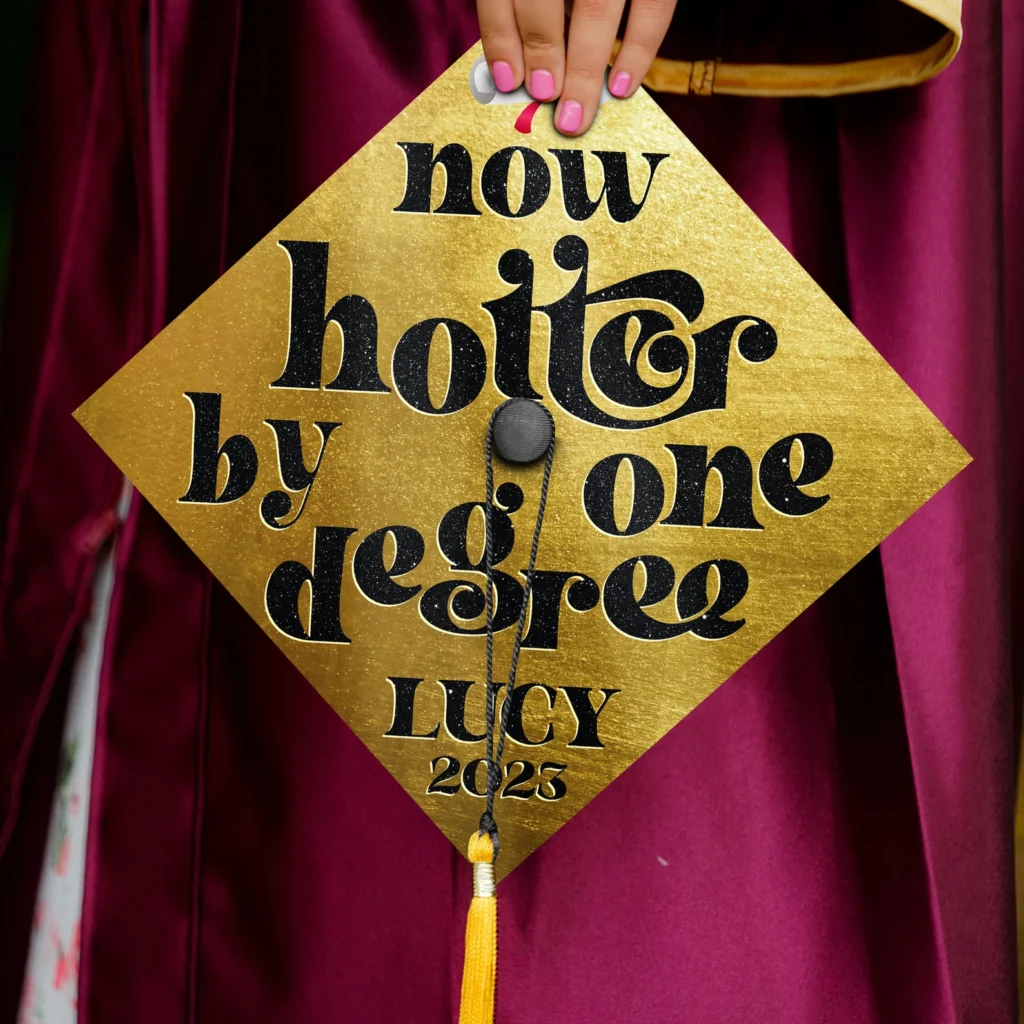 Graduating is total hot girl behavior. Show off how much hotter you are now with this adorable graduation cap topper from Etsy.
Grad cap toppers are a great option for anyone who isn't comfortable DIY'ing their cap design. They basically just slip right on your existing graduation cap – no cutting or gluing needed!
5. She Believed She Could So She Did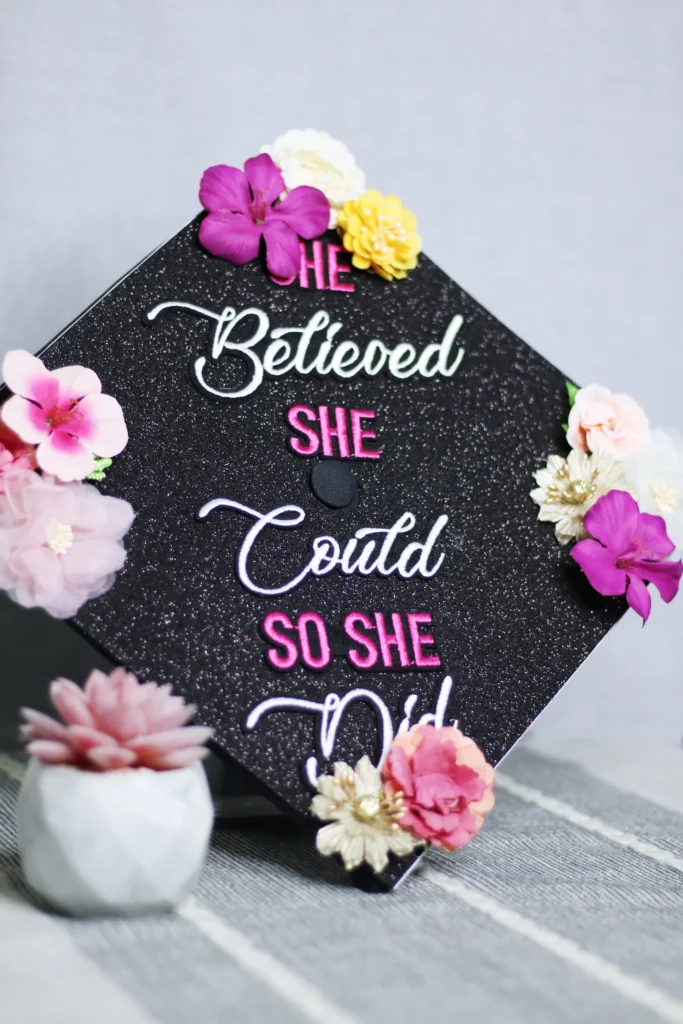 This graduation cap idea is so adorable. I love the fake flowers that add a 3D element to the cap.
You can buy the done-for-you graduation cap topper on Etsy, or you can DIY it with some letter stickers and faux flowers!
6. Post Malone Cap
This has to be one of the funniest graduation cap ideas out there. In case you can't read the text, it says "Postpone Ma Loan".
We can all relate to the stress of graduation with student loans so this cap design will definitely get some laughs from your fellow graduates.
[RELATED: 75 Hilarious The Office Graduation Cap Ideas For Ultimate Fans]
7. Spongebob Meme Graduation Cap
We're ALL sick and tired of hearing the question "what are you doing after graduation".
Make it known to your relatives that you're living in the moment with this funny Spongebob graduation cap design.
8. The Debt Graduation Cap
Yes, graduation is an exciting time in your life. But it's also the time you're going to have to start paying back your student loans.
This grad cap is absolutely hilarious. I'm sure you'd get so many laughs if you wore this to graduation.
Recreate this funny DIY graduation cap:
9. Thanks To My Sponsors Cap
One of the most relatable cap designs I've ever seen. Celebrate what got you through college with this hilarious graduation cap collage.
10. Last Minute Graduation Cap
This one is totally perfect for high school or college graduation caps.
If you're a huge procrastinator, this is probably the funniest grad cap you can make in under 2 minutes.
11. Catch You On the Flippity Flip Office Cap
If you're an Office fan, this would be such a hilarious cap design.
There are SO many great The Office themed graduation caps out there that we made a whole post about 75 Office themed graduation cap designs.
Recreate this cap idea:
12. Adventure is Out There Cap
You're about to embark on one of the greatest adventures of all time… post-grad life. This graduation cap celebrates all of the beautiful possibilities awaiting you!
You could definitely DIY this cap if you're feeling crafty, but there's a really similar graduation cap topper on Amazon if you just want the finished product:
13. I Already Forgot Everything Grad Cap
This graduation cap idea is SO relatable. I've pretty much forgotten every single thing I learned in college already.
Recreate this funny graduation cap idea:
14. Elf Themed Grad Cap
This is one of the funniest graduation cap ideas I've seen. The post-grad job hunt is such a struggle so this cap is just hilarious.
You can easily recreate this design with some colored construction paper, gold letter stickers, and a printout picture of Buddy the Elf.
Recreate this cap idea:
15. Wined Graduation Cap
Did Franzia get you through college? Pay tribute to all of the wine nights over the past 4 years with this hilarious graduation cap design.
Recreate this cap idea:
16. And My Story Continues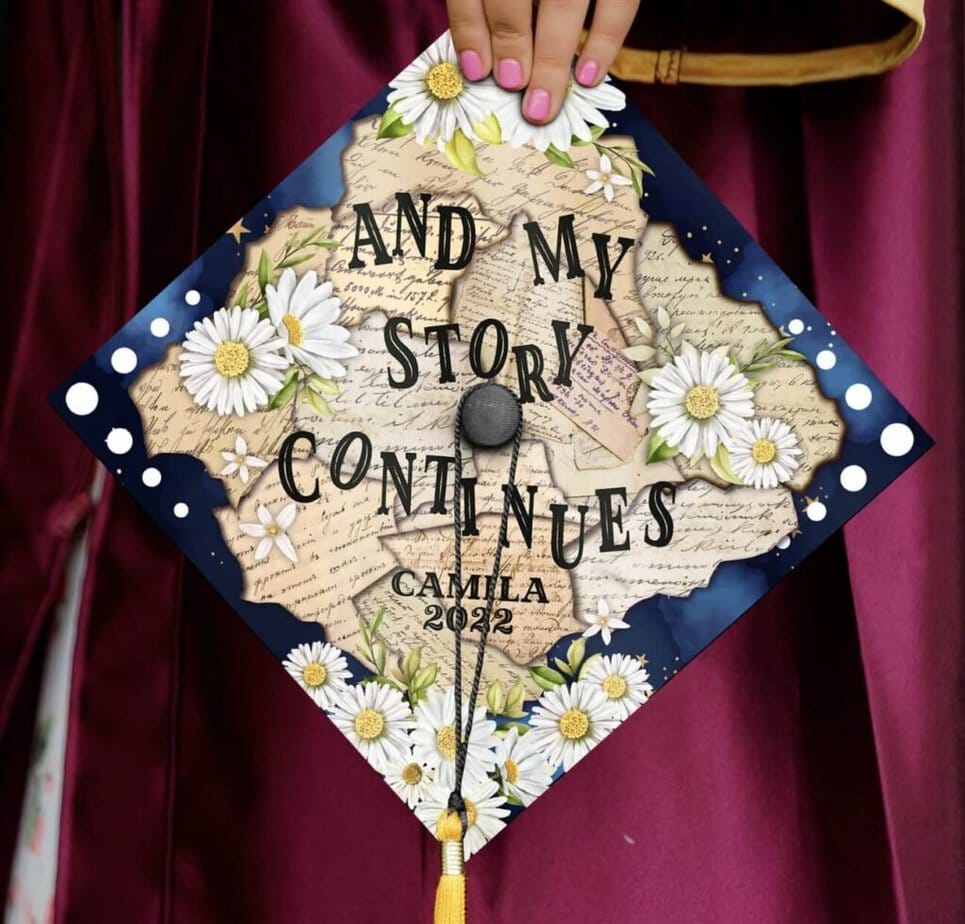 This chapter of your life may be concluding, but the story will go on! Celebrate what's coming with this gorgeous grad cap topper.
17. THIS Close grad cap design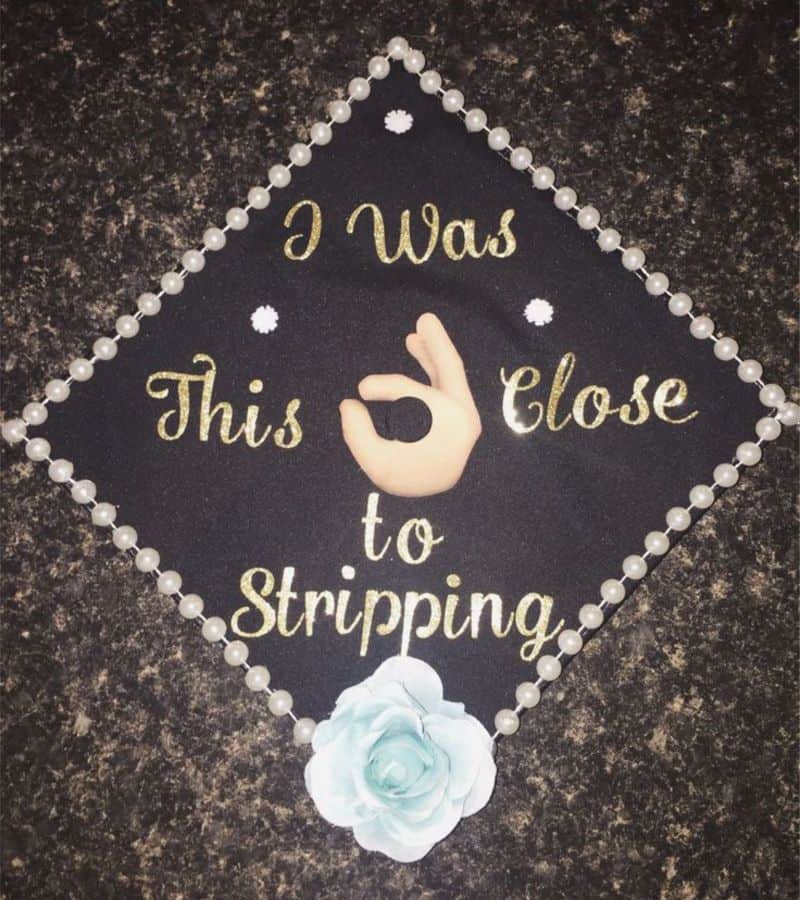 This may not be the most family-friendly cap idea (unless your family has a good sense of humor) but I think it's absolutely hilarious.
18. Travel Grad Cap Idea
If you have your sights set on travel after graduation, this cap is the perfect way to celebrate your future adventures.
You can easily DIY this with gold glitter construction paper, black card stock, and some sparkly letter stickers.
19. Customized Pet Graduation Cap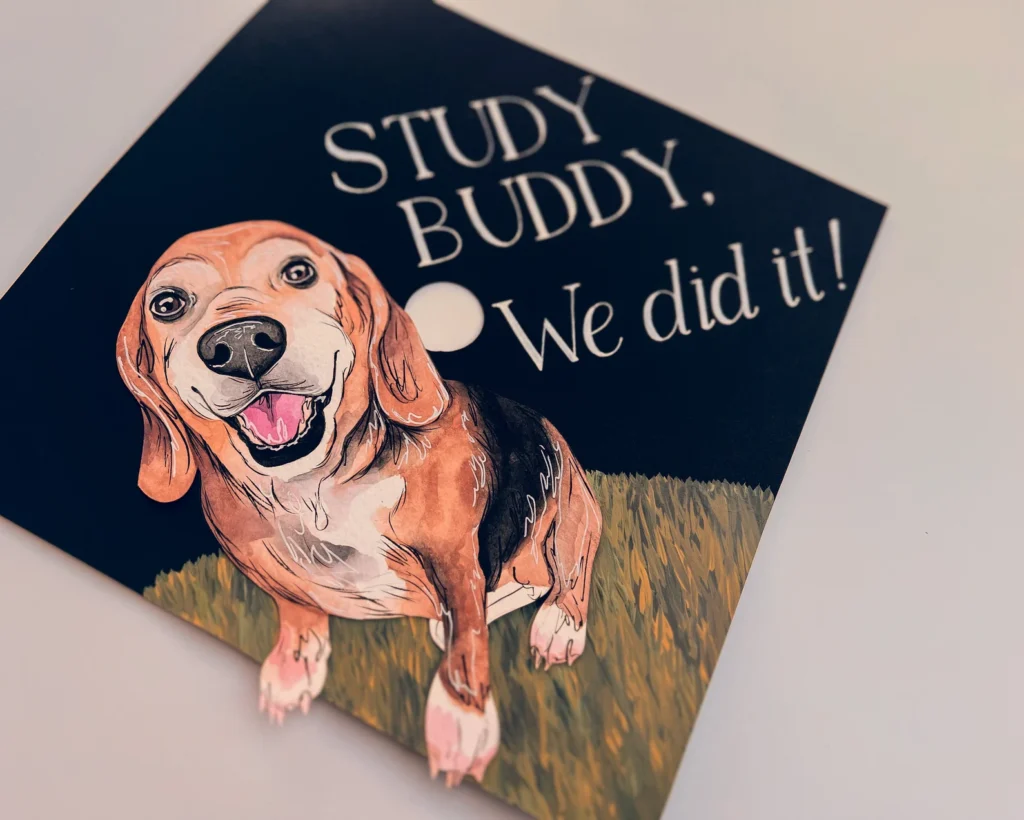 Want to pay tribute to a furry friend who helped you through your schooling? This handmade graduation cap from Etsy is so perfect!
You can send in a picture of your cat or dog, along with what you want written on the cap. The seller will make a custom grad cap topper that you can use on your big day.
Because this is 100% custom, it does take awhile to arrive. Be sure to place your order early if you want it for your big day!
20. Bad Bunny Graduation Cap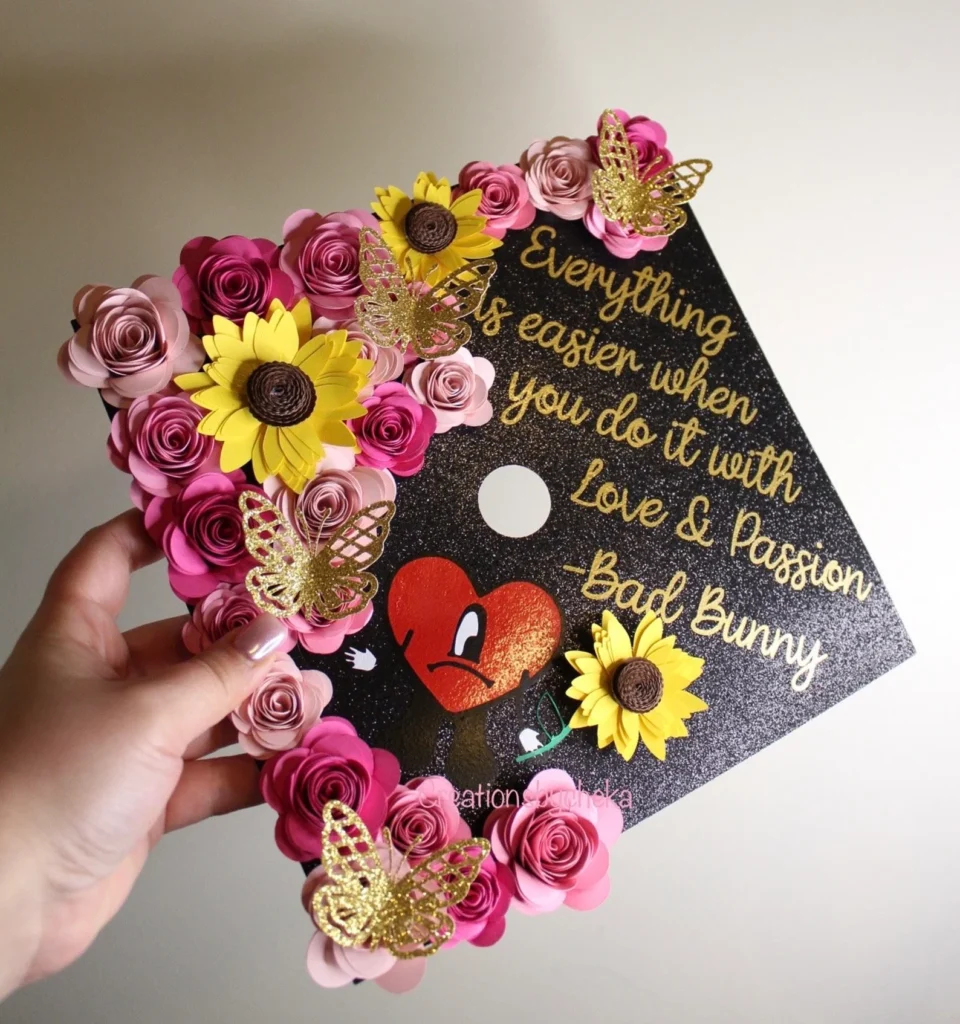 Are you a Bad Bunny superfan? If so, you NEED this cute graduation cap from Etsy.
It says "everything is easier when you do it with love & passion", which is a quote from Bad Bunny's Grammy acceptance speech.
21. Hire Me Cap
Still haven't locked down that post-grad job? Send the message that you're open to job offers with this hilarious 'hire me' graduation cap.
22. Game of Loans
If you're a big Game of Thrones fan, you have to do this hilarious game of loans graduation cap design.
23. Disney Inspired Grad Cap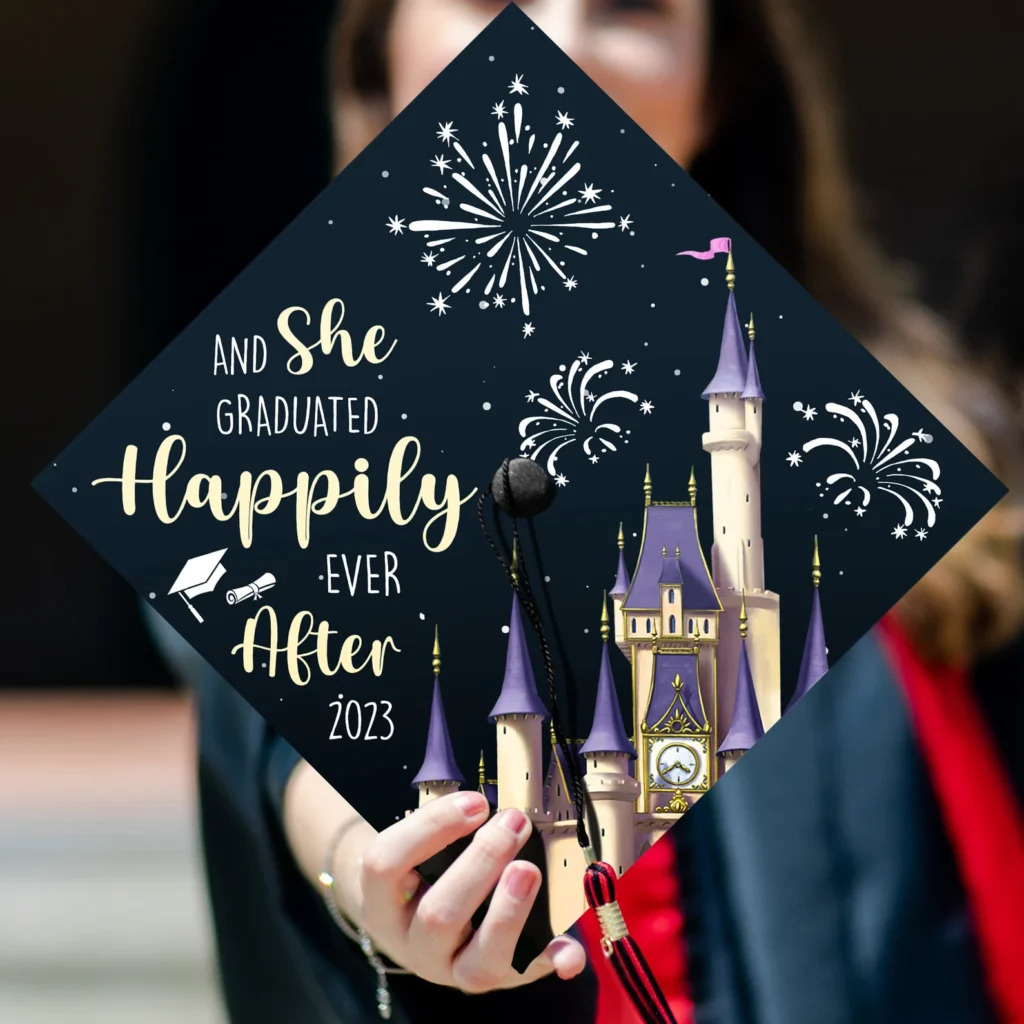 How magical is this Disney-inspired graduation cap topper? The quality is amazing and it's super easy to attach to your cap.
24. Off She Went to Change The World
You're graduating and you're ready to change the world. This graduation cap idea is such a great way to show that off.
25. Freddie Mercury Graduation Cap
You kept on fighting until you graduated! I love this Freddie Mercury inspired graduation cap.
Recreate this cap design:
26. Michael Scott Graduation Cap
Let's be real here, the Office probably got you through college.
Pay a tribute to your favorite show with this hilarious (but still inspirational) Michael Scott grad cap.
27. Four Years Later
It's been a long four years (or more – no judgement!) but you did it!
28. Holy Cow I Graduated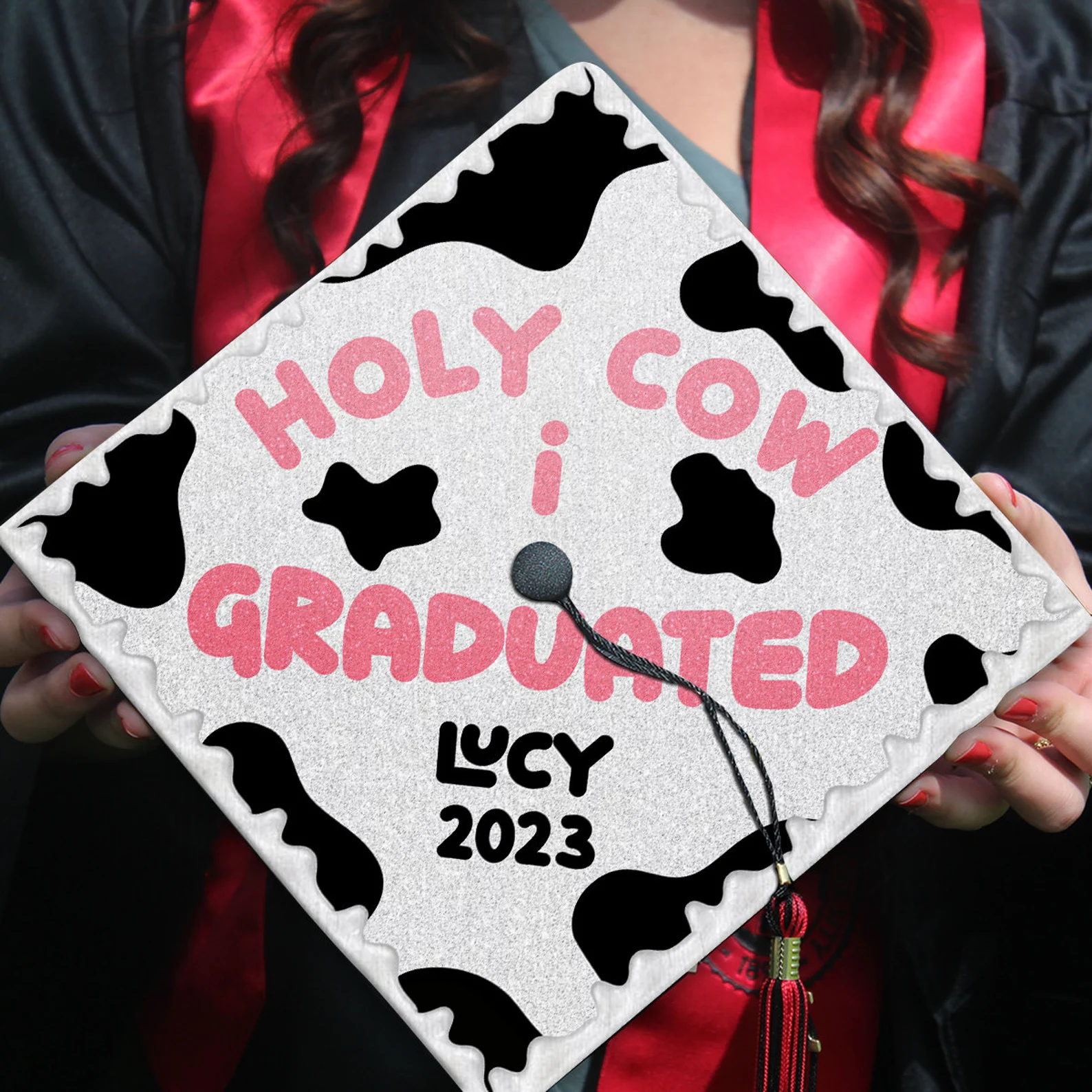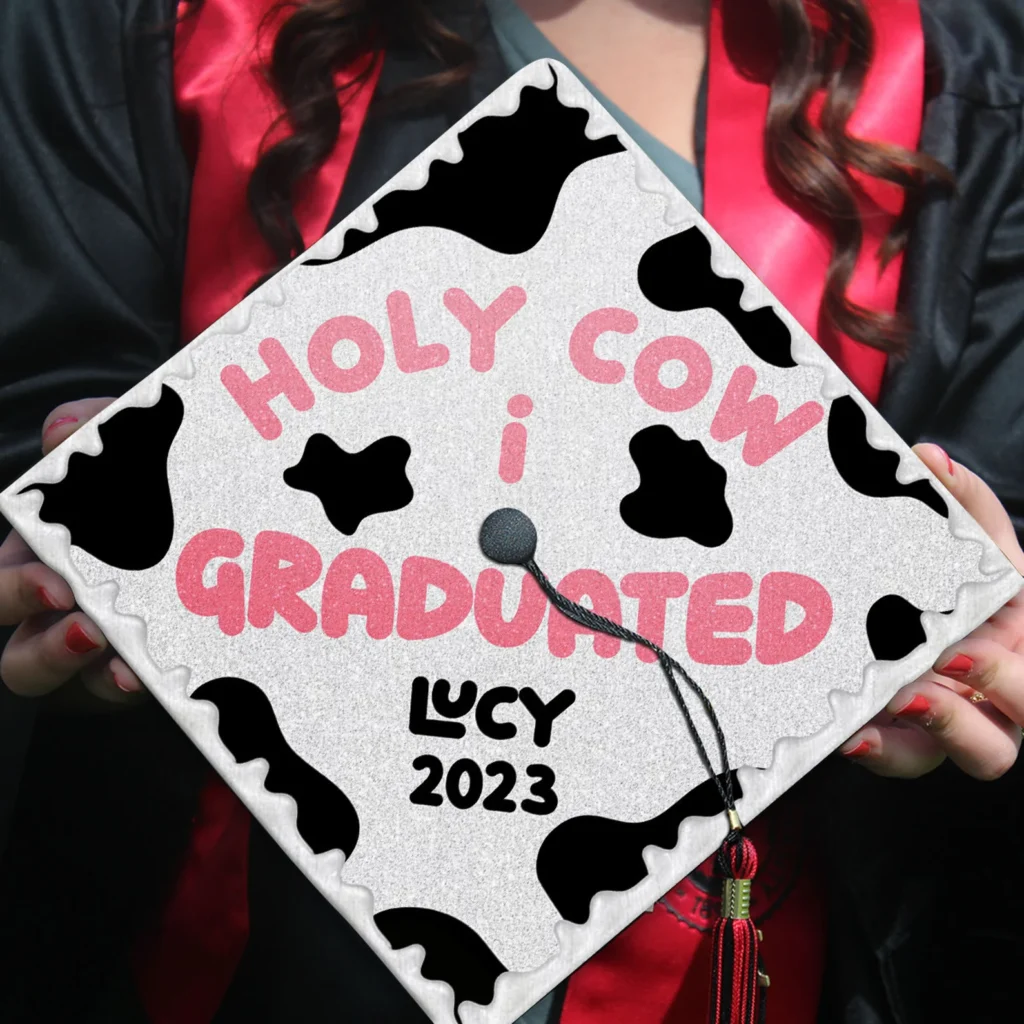 This is such an adorable grad cap design for lovers of cow print. Plus, it's super easy to just attach to your existing graduation cap – no DIY'ing needed!
29. One Of Those Job Things Cap
Fans of the show Friends will immediately understand this funny reference. It's also perfect for graduation – it's time to go get one of those job things!
30. Not a Tiara
You thought you'd be a princess by now, but I guess being a graduate will have to do.
Recreate this cute DIY graduation cap:
31. Bob Ross Grad Cap Design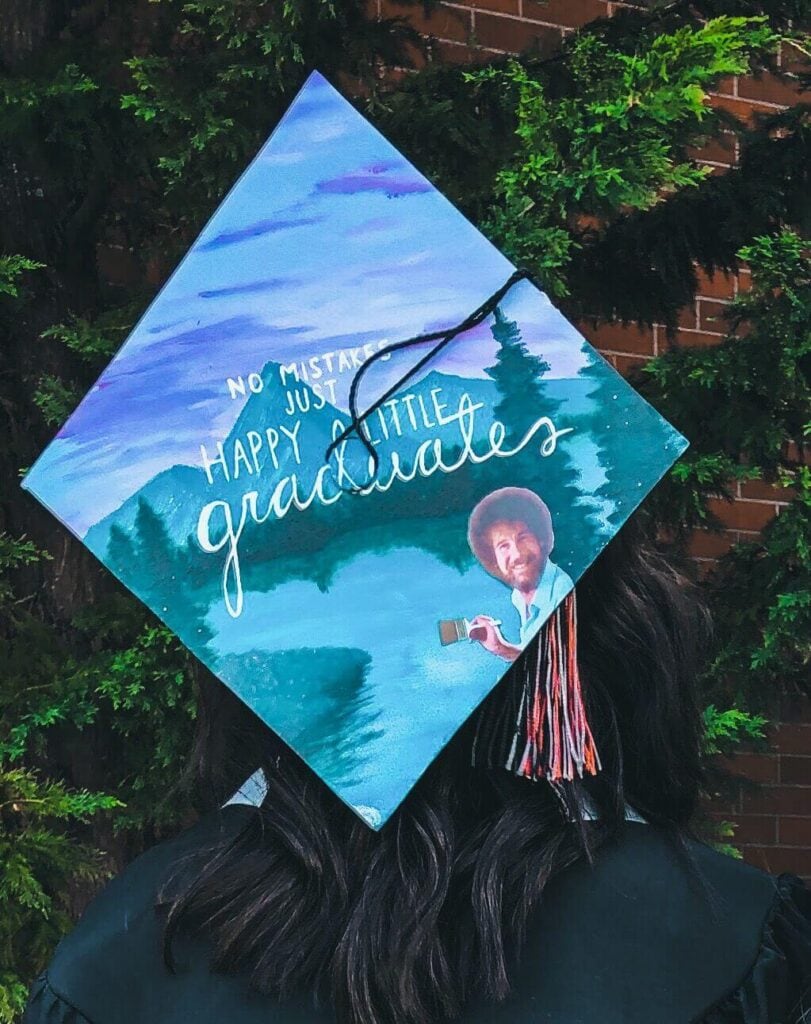 No mistakes here, just happy little graduates. This is a great graduation cap design to DIY if you're a talented painter.
32. That's All Folks Grad Cap Topper
If you grew up watching Looney Toons, you probably have this quote engrained in your memory. It makes such an adorable graduation cap topper!
Plus, it's available on Amazon so it's perfect for a last-minute grad cap design.
33. Hogwarts Graduation Cap Idea
If you're anything like me, you've been waiting YEARS for that Hogwarts letter to come. In the meantime, this diploma will do I guess!
This is the perfect graduation cap idea for fans of the Harry Potter movies.
34. Thanks Quizlet
Let's be honest here, most of us probably wouldn't have graduated if it weren't for Quizlet. Give them a good shoutout with this clever "Thanks Quizlet" graduation cap idea.
35. Hamilton Graduation Cap
Hamilton has been so popular over the last few years. Draw inspiration from this hit broadway show for your graduation cap this year.
Recreate this Hamilton graduation cap design:
36. Done With This B.S.
This graduation cap design is simple but hilarious. Obviously, this only works if you graduated with your bachelor of science.
37. The Tassel Was Worth The Hassle
"The tassel was worth the hassle" is a classic saying to add to your graduation cap. This topper from Amazon is super affordable and looks great.
[RELATED: 50+ Hilarious Graduation Puns For Instagram Captions]
38. Sticker Collage Graduation Cap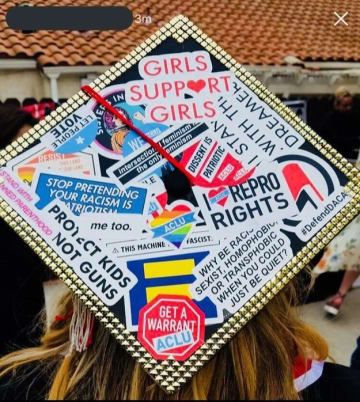 One really easy graduation cap idea is to make a sticker collage with things you care about. It's a great way to share what you're passionate about during your graduation ceremony.
39. All That I Am & Hope To Be Grad Cap Topper
Want to thank all of the people who helped you along your school journey? Then this is the perfect graduation cap design for you.
You can upload pictures of all of your friends and family and this Etsy seller will add them to your custom grad cap topper! Such a sweet idea.
40. That's A Wrap Grad Cap
Looking for the cutest graduation cap design for film students? Well look no further!
This adorable grad cap topper from Etsy will look amazing at your film school graduation ceremony. And it's totally customizable with your graduation date, school, and name.
41. What, Like It's Hard?
Fans of Legally Blonde will immediately recognize this quote from the movie.
It's the perfect graduation cap for law school, but honestly it could fit with anything you're graduating from.
42. Taylor Swift You're On Your Own Kid Graduation Cap
You're in your graduation era right now, so show it off with this Taylor Swift themed graduation cap.
You can even customize it with your own name and graduation year. So cute!
43. High School Musical Graduation Cap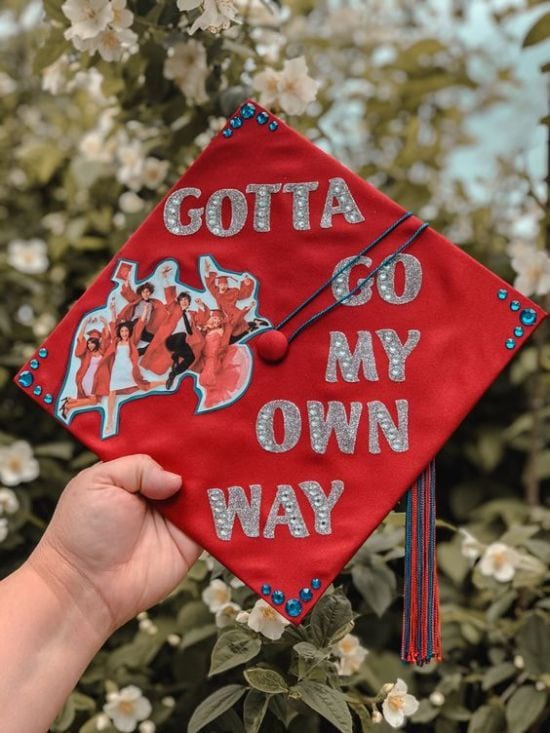 Let's be honest – High School Musical basically shaped our upbringing. So this would be the perfect cap design for a high school graduation.
44. Custom Girly Graduation Cap Idea
Do you already have a quote in mind for your graduation cap? This totally customizable graduation cap topper is perfect for you then!
It comes with 3D flowers and butterflies and you can add any quote you want to it! Perfect for anyone who doesn't want to DIY their cap but still wants a custom look.
45. I Did It For My Dog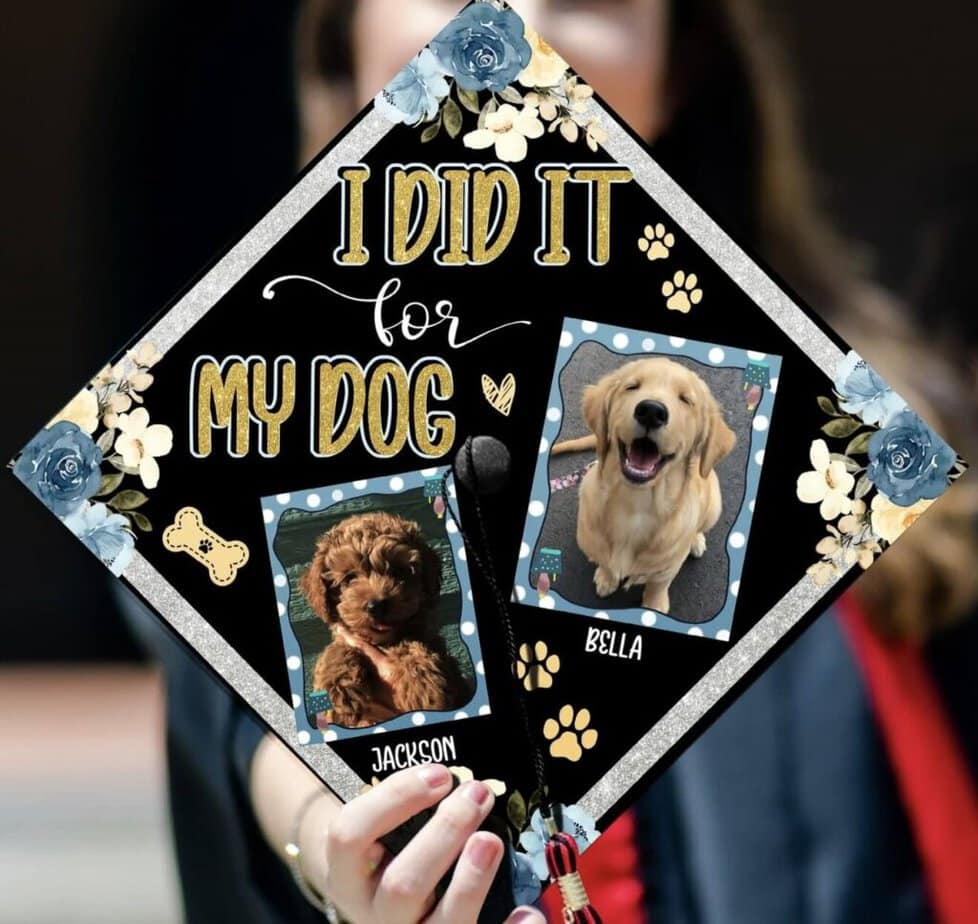 If you're a proud pet parent, this is definitely the graduation cap for you. It's amazing the things we'll do for our furry little friends – including bettering ourselves!
You can send in your dog's pictures and you'll get back a totally custom graduation cap topper.
Whether you're graduating from high school or college, I hope you were inspired by these grad cap ideas. These grad cap ideas are perfect for graduates who want to show off their style or make a statement on graduation day.
Looking for more graduation ideas?